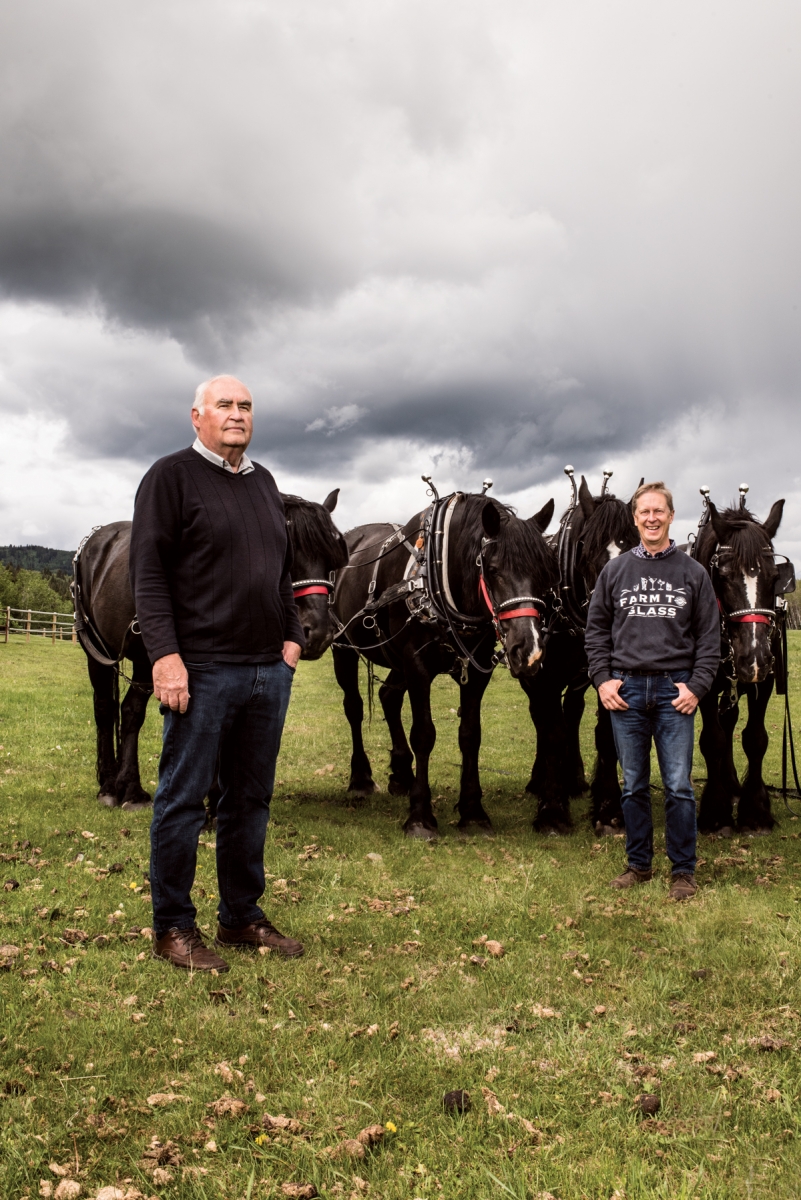 With 450,000 barrels aging across 10 warehouse buildings at its location, Alberta Distillers is on an entirely different level from the local micro-distilleries that have popped up in recent years. And it is an important player in the story of local spirits. Founded in 1946 by oilman Frank M. McMahon and B.C. distiller George H. Reifel, it is the first and oldest distiller in the province. Its factory, tucked away in the Alyth/Bonnybrook industrial area, still sports the original, polished-hardwood floors in some areas, though the operation has expanded significantly since its inception, growing from four fermenters and six small tanks to more than 30 product and processing tanks.
Though Alberta Distillers is known locally for value-priced whiskies like Alberta Premium, it is an important player on the global market, one of the few producers in the world distilling 100-per cent-rye whisky, considered a Canadian specialty. Former head distiller Rick Murphy, who retired in 2018 after 35 years with the company, says in spite of its long history most people in Calgary don't even know there's a major distillery in the city.
Last year, Alberta Distillers won best Canadian distillery at the Canadian Whisky Awards (CWA) and, in 2018, the CWA honoured Murphy with a lifetime achievement award. "Alberta Distillers has a reputation for expertise, in particular with rye mashing, that plays prominently in some of the world markets. In Calgary, and in Canada, it's almost exclusively known for producing the Dark Horse and value-price brands, which is kind of odd," says Murphy. "Alberta Distillers produces products that are shipped all over the world – there's probably no place on the planet that you can go where you won't find something [from Alberta Distillers]."
1521 34 Ave. S.E., Calgary, albertadistillers.com
The first craft distiller in Alberta Eau Claire Distillery in Turner Valley pays tribute to its unusual origin in its logo, which depicts two draft horses hitched to a plow. The equines reference the preferred pastime of distillery co-founder David Farran – traditional horse-farming using 100-year-old equipment to produce rye and barley. It was over drinks after an arduous evening of harvesting their shared crop back in 2013 that Farran, a former vice-president at Big Rock Brewery, and a group of fellow horse-farming enthusiasts decided to start distilling their grains.
Though provincial legislation at the time required distillers to produce more than a million litres, Farran wasn't deterred. After a trip to Oregon, where he saw first hand the growth of craft industries like beer, coffee and spirits, he convinced his Big Rock associate and master brewer Larry Kerwin to come on board. The duo ordered a still from Germany and began lobbying to change the legislation. Initially, they were given 18 months to produce the minimum required amount of 500,000 litres per year, but a few months later, in December of 2013, the AGLC eliminated the minimum-production requirements for liquor manufacturers and Eau Claire was free to produce its artisan vodka, gins and flavoured spirits in smaller batches. (Kerwin has since become one of Eau Claire's master distillers, along with Caitlin Quinn.)
Though it does buy some grain to supplement production, all the cereals harvested in the traditional method by Farran and friends go into Eau Claire's whiskies, an amount that equates to roughly 37,000 bottles' worth. (Total whisky output is 50,000 to 75,000 bottles per year.) Its spirits, which vary from straight vodka to creations using prickly pear or even frankincense and myrrh, have gone on to win numerous awards, including a medal at last year's San Francisco World Spirits Competition for its Parlour Gin and a Consumer Choice Award at the U.S.-based Sip Awards.
113 Sunset Blvd. S.W., Turner Valley, eauclairedistillery.ca