For a restaurant inside a hotel named after an author and his famous novel, (Oscar Wilde and his classic novel, The Picture of Dorian Gray) The Wilde restaurant, located on the 27th floor of the newly-opened hotel The Dorian, has less of a quaint, storybook setting and more of a chic, cosmopolitan vibe. An electrifying gold-accented bar is flanked by velvety, white bar stools and pastel pink lounge chairs, before leading into a glass-enclosed, rooftop patio that offers soaring views of downtown which can also be seen from a white-on-white dining room.
Inside and atop this boutique hotel, the first new build downtown Calgary has seen in years, The Wilde is one of three eateries onsite, including Prologue Café and Cocktails and Bistro Novelle. The Wilde is focused on the cocktail and dinner hours. Executive chef Kevin Birch has bold ambitions for the menu of this urban dining experience, leading a team of highly skilled chefs and servers, such as pastry chef and chef de cuisine Abhi Patil, to take inventive twists with everything from appetizers to desserts, like the Modern, an almond cake dessert made with guanaja creameaux, grapefruit and feuilletine crunch, and airbrushed chocolate on the outer layer topped with a gold flake.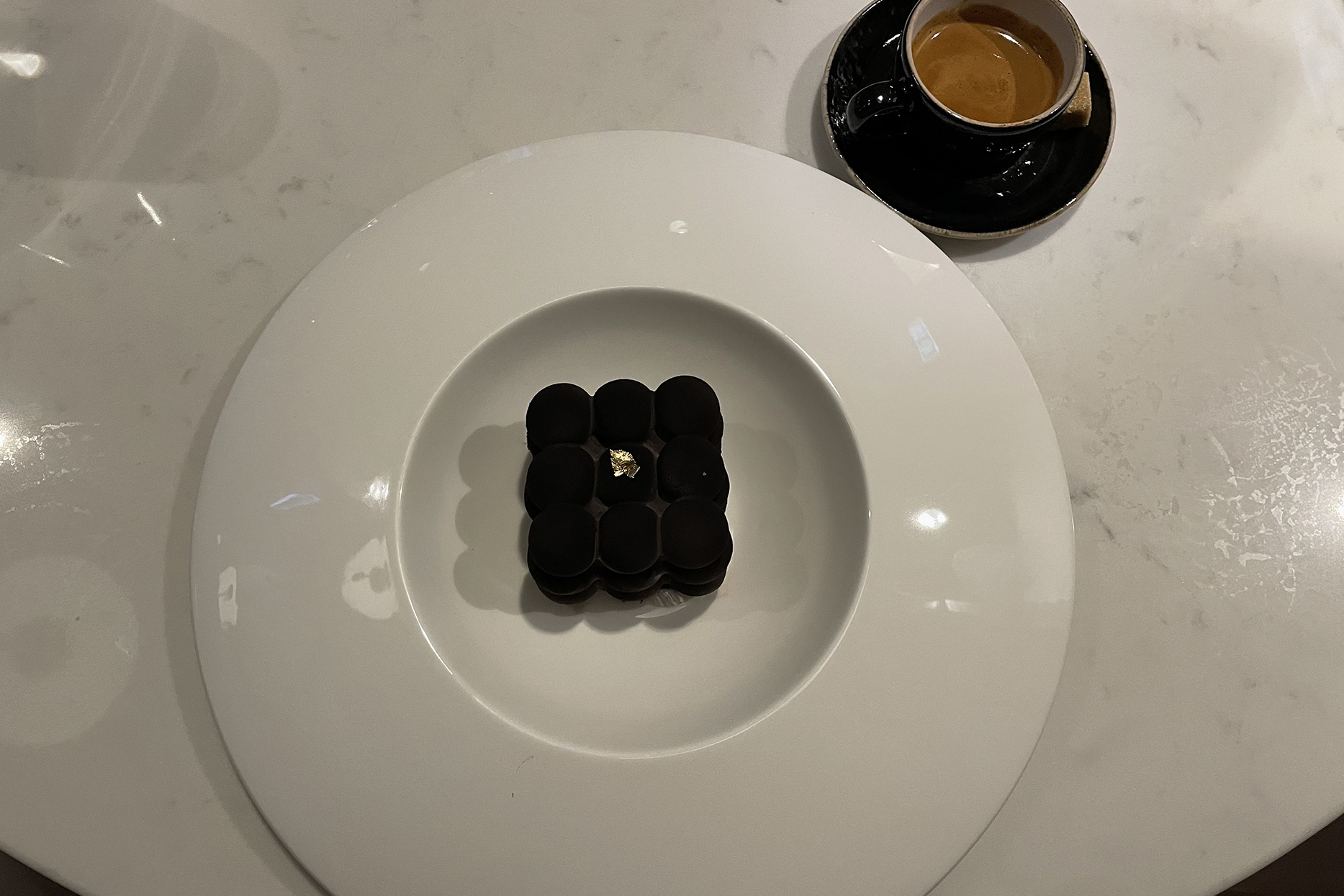 "I really want it to be a culinary experience so people walk away and go, 'wow, what an amazing dish.'," said Birch.
Signature cocktails include the Oscar Wild, a two-and-a-half ounce cocktail of Woodford reserve, pineapple juice, lemon and crème de cassis black walnut bitters. And familiar dishes like beef, bison or duck—the Wilde's duck dish is made with Yarrow Meadows breast, pomme anna, coeur de canard hickory nuts, sauce bigarade, crispy shallot and blue haskap berry—are presented on plates in a minimalist, elevated style.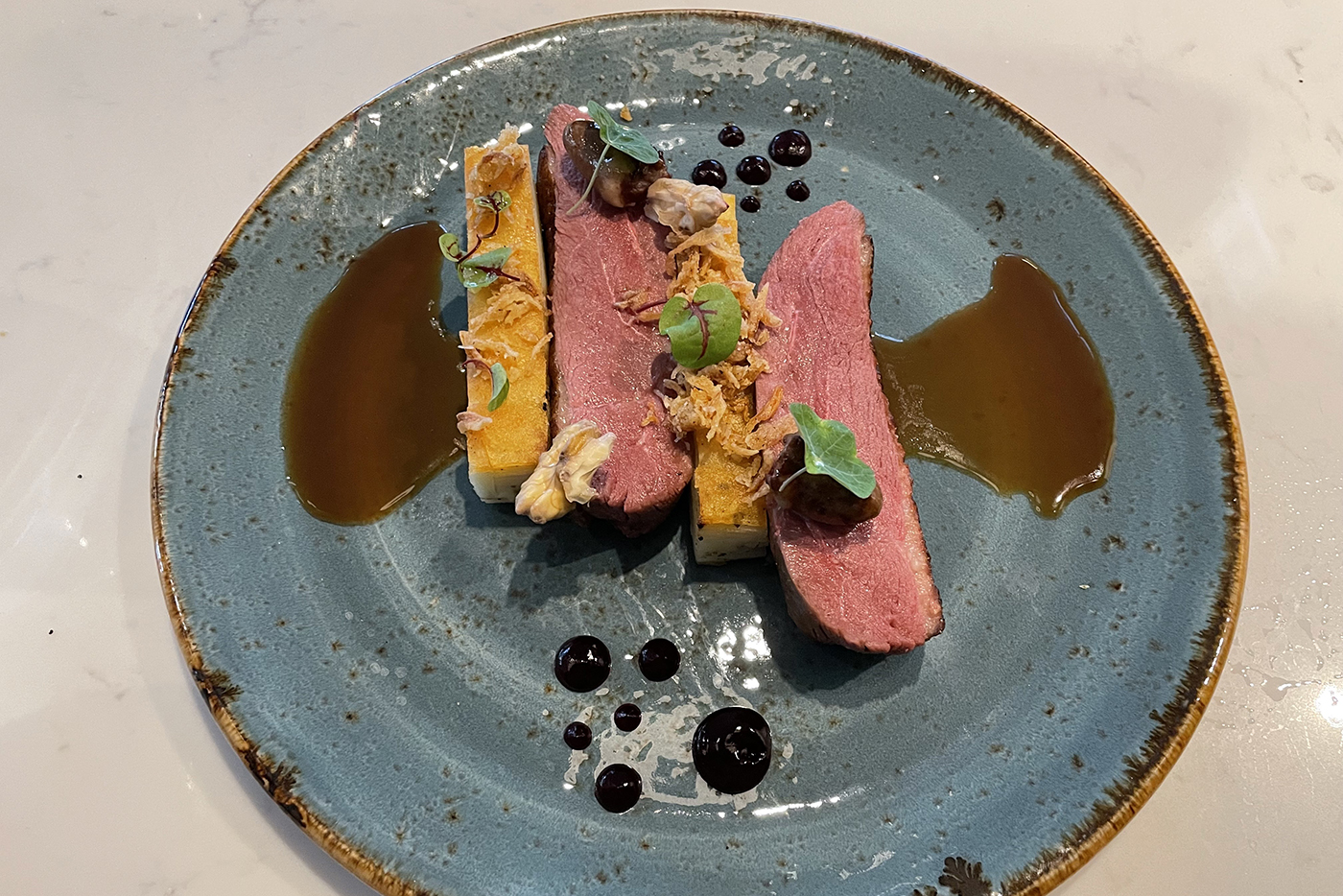 "[We] make sure that the ingredients we're using are organic and sustainable," said Birch. "Understanding how the animal was raised, fed, treated its whole life, that's important. It's a story on the plate. And then everything changes." Birch said the restaurant will likely change the menu once a week, based on availability of local product.
"The thing is, it's still meat and potatoes. When you see that menu, it's still a lot of familiar fare. But again, it's organic, it's local farmers every other week and it's modern presentation."
Open to the public and guests of the hotel alike (by reservation only for the dining room and walk-in for the lounge) The Wilde focuses on intimate, exclusive gatherings, evidenced by the tables arranged in groups of two, four or a maximum of six, in the full 100-seat capacity dining room and lounge.
"We do reserve some tables for guests that are seen in the autograph side of the hotel because that's important," said Birch. "We want guests who stay here to feel like they can access their restaurants. But I want this to be a culinary mecca."
The Wilde Rooftop lounge is open from 3 p.m. to 12 a.m. and the dining room is open from 5 p.m. to 10 p.m.
525 5th Ave. S.W., 403-300-6633, thewilderooftop.com