Move over doughnuts, cupcakes and macarons – there's a new sweet treat that's about to take centre stage in Calgary.
Utca, which means "street" in Hungarian, is a new eatery in Victoria Park that makes chimney cakes and chimney cake cones. The Hungarian street food is made with dough that's wrapped into a tubular, hollow shape and rotated in the oven until its cooked.
It's called a chimney cake because when the hot, cooked dough is taken off the rotating spit, it looks like a chimney or stove pipe with steam coming out of it. The dough has a soft, slightly sweet taste, and its spiral-wrapped dough is easy to pull apart and eat.
The chimney cakes come with your choice of toppings like shredded coconut, sprinkles, almonds, walnuts or cinnamon sugar. When you order a chimney cake cone, the cake is filled with your choice of vanilla, chocolate or swirl Fiasco Gelato soft serve. You can also get one of the toppings on the outside and line inside of the cone with syrups like Nutella, dulce de leche, organic honey from Drizzle, chocolate or berry sauce.
In addition to the sweet options, there are savoury chimney cakes with topping like sesame seeds, cheese and olive, cheese and bacon bits, and cheese and herbs. You can also order a chimney sub, which is served with cold meats, or get a breakfast chimney cone that features eggs, sausage and bacon inside the dough cone.
Grab a chimney cake to go, or stick around to enjoy it with a cup of Rosso coffee in Utca's 28-seat cafe.
207 13 Ave. S.E., 403-819-1259, utca.ca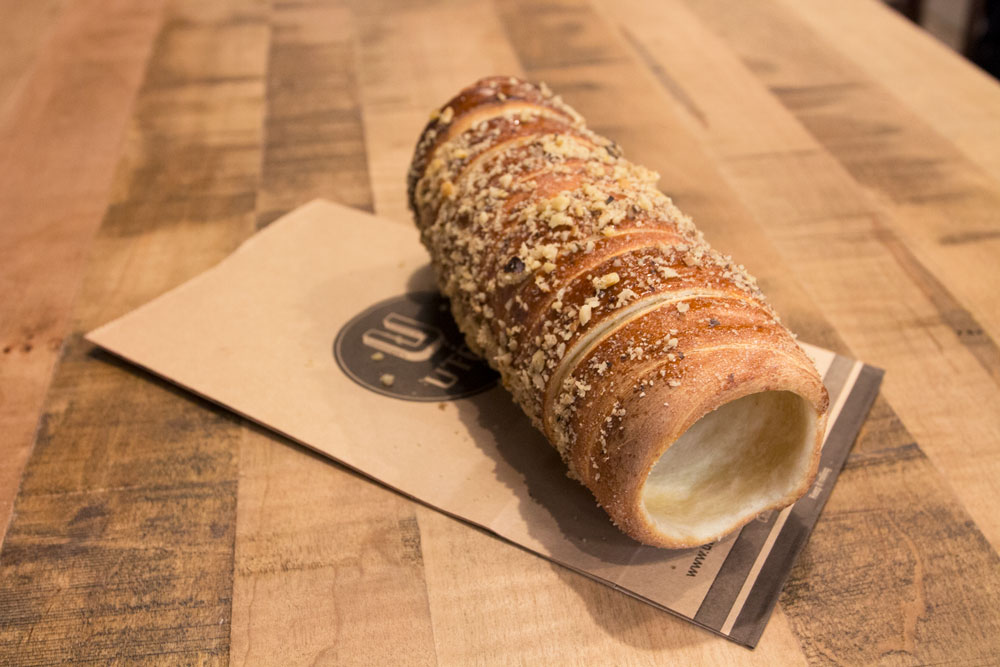 A chimney cake covered in walnuts from Utca.