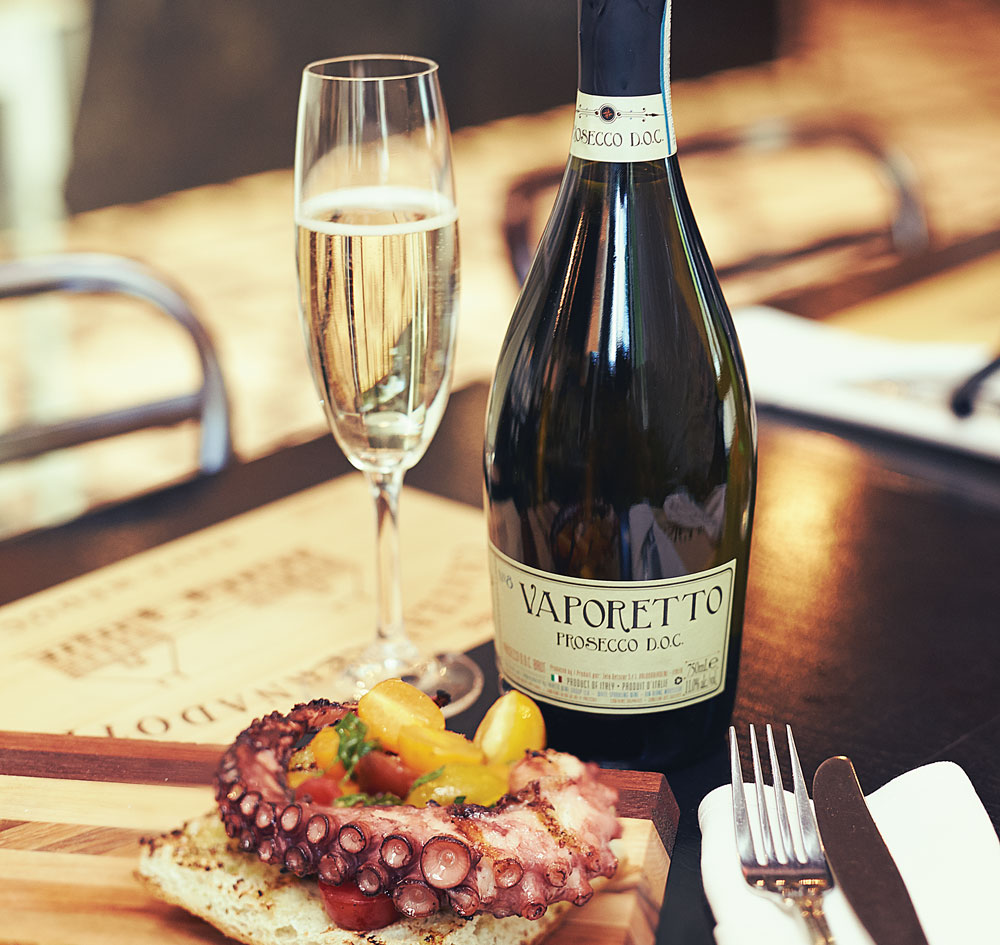 photograph by tiernan green
Grilled octopus and Vaporetto prosecco at Cucina.
Value, just like beauty, is in the eye of the beholder. Over the last decade, a lot of attention in the wine world has shifted to China. While the Chinese traditionally don't have a culture of fine-wine enjoyment, with the country's increasing personal wealth and large population, even a small increase in the percentage of wine drinkers has affected the premium wine market, driving up prices of highly desirable wines such as Bordeaux and Napa Valley cabernets – simple supply-and-demand economics.
On the flipside, regions that fly under the radar of Chinese attention, such as the Languedoc, the southern Rhne and even Beaujolais, offer plenty of quality wine for the slimmer wallet. The same is true for countries like Argentina, whose wines continue to represent excellent value, especially when it comes to grapes that are lesser-known than its superstar, malbec.
Some regions are long established as providing great value. Germany, for one, has a reputation for high-quality winemaking, but, in recent decades, it hasn't quite managed to capture the attention of the average wine consumer, which keeps prices relatively stable. Other countries, such as Australia, have currency performing at the same level (or lower) as the Canadian dollar, which keeps our purchasing power strong. Quite a lot of the Australian wine we see here is dominated by large wineries making very consistent, well-priced bottles that are very good value. Wines from Chile and Spain are generally quite good value, as well.
Why does a bottle of wine cost what it does?
To start, there's the cost of land, the cost to farm or buy grapes and the cost to turn grapes into wine. A region like the Languedoc is a far less expensive region to acquire a vineyard than, say, Chablis. A region like the Douro in Portugal will have far more labour involved in grape growing than, say, a highly mechanized vineyard in a larger one in Western Australia. That said, labour has a lower cost in Portugal (or Chile or South Africa) than it does in, say, Canada.
Then there are packaging costs, and don't forget marketing or distribution. Economies of scale also affect the price. A country like New Zealand is relatively small on the world wine stage – No. 33 in 2010 for global vineyards, with 37,000 hectares – while its larger neighbour, Australia, is 12th with 170,000 hectares.
Good wine doesn't have to be pricey
Sure, wine can be overpriced. A fancy label, a compelling story or a celebrity connection can skew the price of a bottle, as can high review scores. If well-known critic Robert Parker gives a wine a 97, that likely means your distributors will want more of it, and the price will likely go up. (Conversely, a bad or lesser score the next year rarely causes the price to go down.) There are also taxes to consider; though, in this great province, the Alberta portion of the liquor tax (before the GST) is only about $3 for a bottle of wine (which is added onto the price before it gets to the store and onto the shelf).
Whatever your perception of value is, there are plenty of good wines out there with interesting varietal character that are exciting to drink. Outside of a few, very specialized styles (vintage port, anyone?) or regions (Echezeaux?), there are good wines that I am proud to drink and share in that magical $25 to $35 range. And there are plenty of decent offerings for less as well (especially those that show plenty of fruit) that are perfectly suitable on the table for all but the fanciest occasions.
Rarely are the wines in that sub-$25 price category suitable for long-term aging. Most are released ready to drink, or, at most, could benefit for two to five years in the cellar just to soften some tannins or allow for better integration of flavours.
---
3 perfect pairings
Cucina: Grilled Octopus and Prosecco
Grilled octopus with yummy heirloom tomato salad? Yes, please! Try matching it with the Vaporetto prosecco ($9 by the glass). Floral, fizzy and refreshing, it's the right sort of wine to bring out the best in this dish.
515 8 Ave. S.W., 587-353-6565, eatcucina.com
The Block: Burgers and Malbec
Malbec and burgers go so well together. Enjoy Chakana malbec ($8 by the glass) with the Block's signature burger. The burger alone is great, especially when you add all those extra fixings (please do), but the malbec really takes it to the next level.
2411 4 St. N.W., 403-282-1339, eatdrinkblock.com
Feudi di San Gregorio's primitivo ($10 by the glass) is a real treat for anyone who thinks that zinfandel only comes from California (different name, same grape). Earthy and spicy, it works very well with the penne salsiccia complementing every spicy, earthy bite.
1B 8330 Macleod Tr. S.E., 403-255-1212, toscanagrill.ca
---
6 wine picks
Chteau Pesqui 2014 Terrasses Ros Ventoux, Rhne Valley, France

A great ros should be celebrated for its versatility with food, but also for purity of fruit. Floral blossoms with strawberry and cherry fruits and a hint of dried herbs. Crisp and quite dry, it's subtle, tasty and should go with anything from a salad to pork tenderloin. $20.
La Mirada 2014 Cabernet, Sauvignon, California

A well-made, reasonably priced bottle of California cabernet with cherries and tobacco, blackberry and cedar aromas. Some surprisingly good structure is found in the glass, too, with chocolate, berry fruits and smooth tannins. Heck of a bottle for the price. $18.
Miguel Torres 2013 5G Garnacha, Campo de Borja, Spain

A textbook example of a wine that has white-pepper spices, black licorice and raspberry fruits on both the nose and palate. Tannins are on the softer side, but the acids and pure fruit call for pairing with food. May I suggest seared pork chops, deli-style sandwiches or herb-rubbed poultry? $18.
Weingut Thrle 2015 Kabinett Riesling, Rheinhessen, Germany

Great riesling sings to the soul. Deep and expressive with hints of petrol, lemon, almonds and steel, backed by slightly under-ripe apples. Juicy and tropical, there is a welcome dose of sweetness that nails the pleasure points of your brain. A wonderful example of Kabinett riesling. $21.
Xavier Vins 2012 Ctes du Ventoux, Rhne Valley, France

At the southern end of the Rhne Valley lies the Ventoux AOC. Ventoux might be best known as a brutal hill on the Tour de France, but the wines are getting a great reputation. Based around syrah, grenache and mourvdre, look for firm-ish tannins, berry fruits and lots of spice. A great go-to bottle. $16.
Yalumba 2014 Organic Shiraz, South Australia

Deep and spicy from start to finish, with plummy fruits and a definite character of blackberry jam. Well-balanced in terms of restraining the fruit (for Aussie shiraz) with spiciness, acids and alcohol heat. Should be a really pleasing wine for dinner guests or entertaining in general. $18.