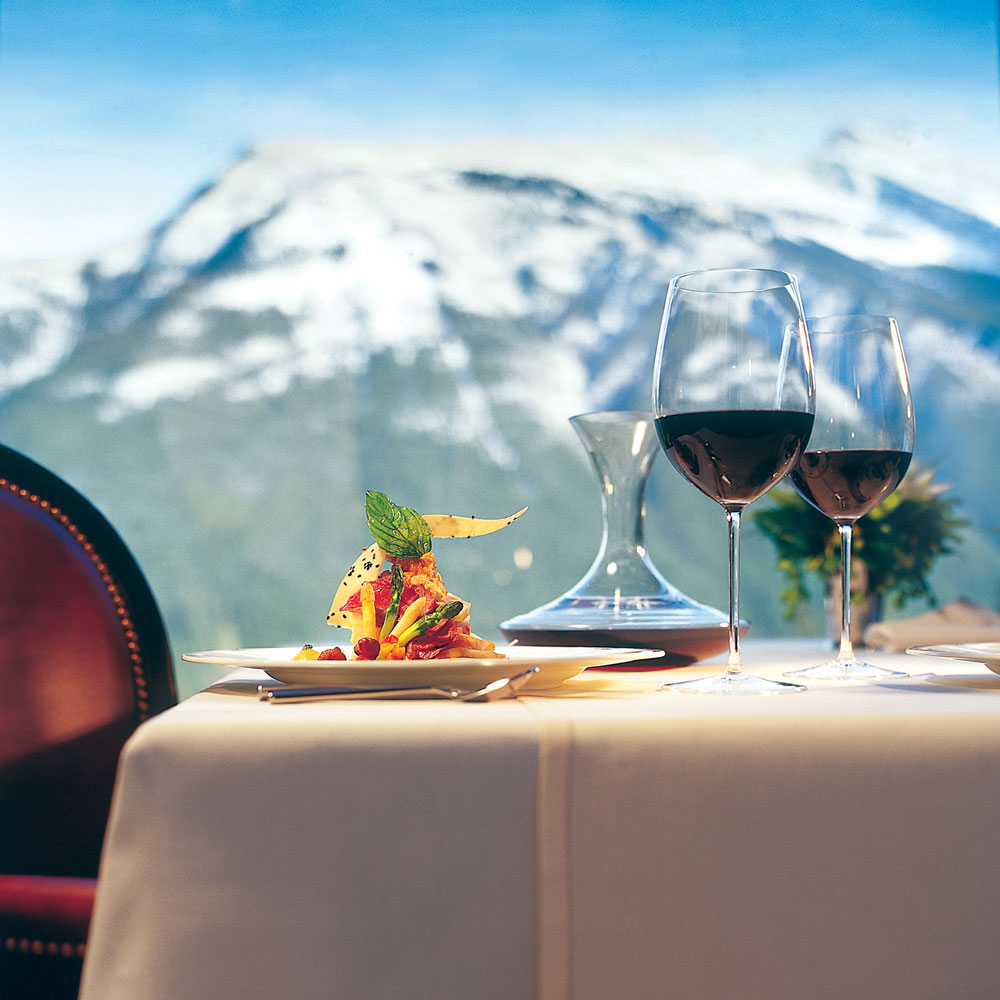 Photograph courtesy of the Rimrock Resort Hotel
Eden Restaurant at the Rimrock Resort Hotel.
With so many visitors flocking to the Rockies, it's not surprising that there are some very worthwhile restaurants nestled in mountain communities like Banff, Jasper, Canmore and Golden, offering everything from contemporary takes on local game to traditional fondue.

Banff
It's all about the locally sourced meat and produce at this Banff restaurant that straddles the line between upscale excellence (when it comes to the food) and relaxed charm (when it comes to the atmosphere). Executive chef Brendan Robson works with locally farmed and sustainably sourced bison (the bison short ribs are the house specialty), venison, duck and other ingredients to create contemporary classics. Check out the "urban cultivator" at the main entrance, which grows the herbs and garnishes used in the restaurant, and take advantage of warm weather to sit on the terrace for the best seats in the house.
211 Bear St., Banff, 403-762-5550, thebison.ca
Canmore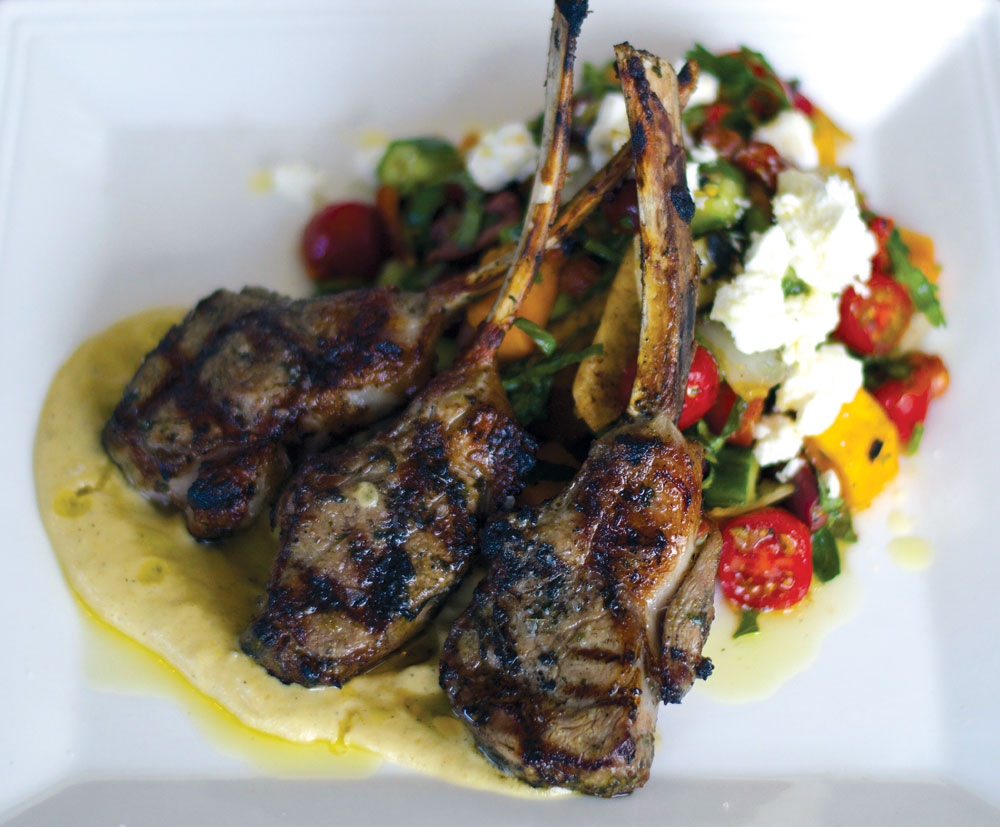 photograph courtesy of crazyweed
The lamb at Crazyweed.
This restaurant alone is worth a drive up to Canmore – chef and owner Jan Hrabec has created a dining destination with her creative menu that draws inspiration from flavours from around the world. The entrees and appetizers are definitely on the more elevated end of the spectrum, but you can also pop in for a wood-fired pizza for something more casual.
1600 Railway Ave., Canmore, 403-609-2530, crazyweed.ca
Banff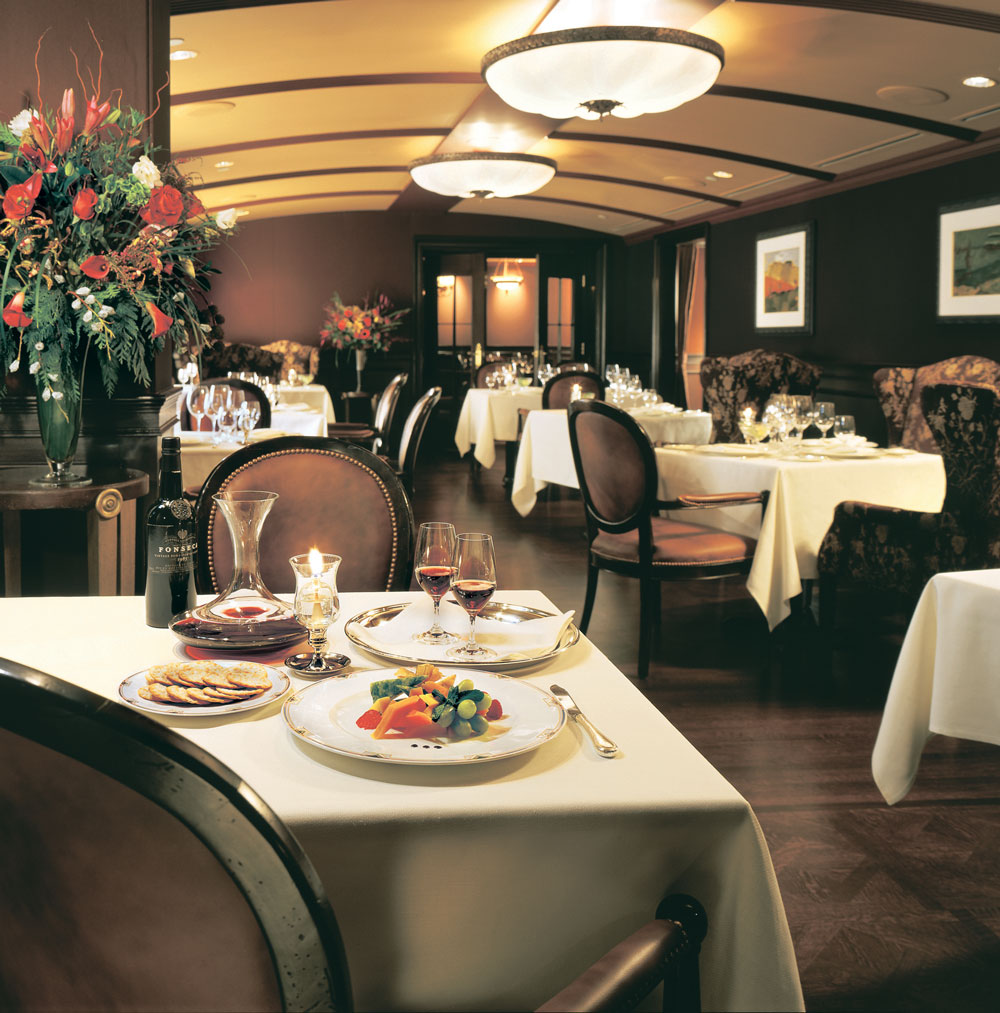 PHOTOGRAPH COURTESY OF THE RIMROCK RESORT HOTEL
As the only restaurant west of Toronto with a CAA/AAA Five-Diamond rating, Eden is one of the most luxurious dining spots in the Rockies. Chef Randy Luft's menu is full of locally informed takes on French classics, with the impeccably plated tasting menu (paired with wines from Eden's massive cellar) drawing in discerning gourmands. The 10-course Grand Dgustation menu offers a once-in-a-lifetime dining experience, made all the more spectacular considering the mountain setting. Closed Mondays and Tuesdays throughout the winter, Eden is open seven days a week from June to September.
300 Mountain Ave., Banff, 403-762-1848, banffeden.com
Jasper
It's unusual to find a top-notch seafood restaurant in a small mountain town, but Fiddle Creek's menu highlights fresh and responsibly sourced Canadian crab, cod, salmon, lobster and char, as well as game meats like wild boar and elk. The rustic-themed dining room is situated on the second floor of the building so diners can enjoy the view while they dig into signature dishes like the Earl Grey smoked candied salmon appetizer or the braised elk stroganoff.
620 Connaught Dr., Jasper, 780-852-3032, fiddleriverrestaurant.com
Jasper
Last year the Fairmont Jasper Park Lodge's lower level restaurant (complete with an uncompromised view of Lac Beauvert) became Orso Trattoria as part of the JPL's $16 million renovation to mark its 100th anniversary. The new restaurant focuses on Northern Italian cuisine, featuring signature dishes like foraged mushroom risotto and braised veal osso bucco.
Fairmont Jasper Park Lodge, Jasper, 780-852-6052, fairmont.com/jasper/dining/orso-trattoria
---

Banff
Small and hip, the Block tends to be quite busy, but if you're looking for a lively atmosphere and a good selection of tapas plates, this is the ticket. Load your table with items like duck spring rolls, pig and fig creations, and seared saikyo miso scallops and wash it all down with a prickly pear cocktail or a signature house Caesar. There's also a late-night menu to help soak up those drinks if you make a night of it.
201 Banff Ave., Banff, 403-985-2887, banffblock.com
Jasper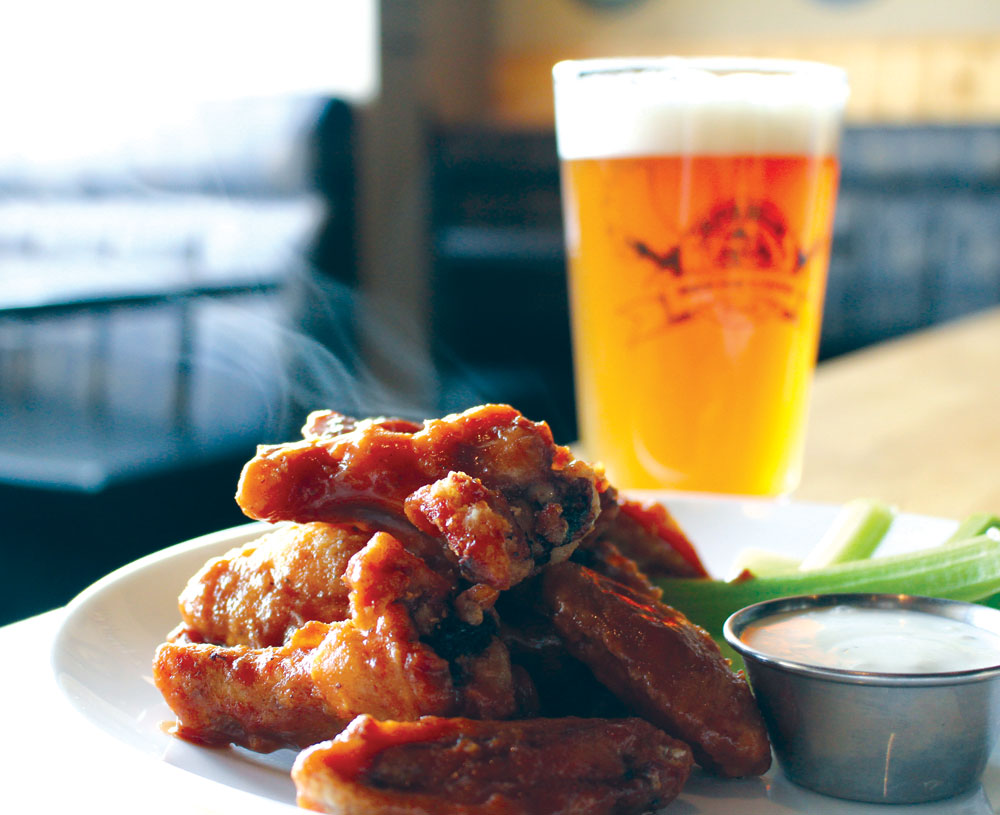 photograph courtesy of jasper brewing co.
Wings at Jasper Brewing Co.
A mountain haven for beer lovers, this brew pub serves a selection of its core beers as well as small-batch seasonal specials. The casual, laid-back space also offers a top-notch food menu with lots of upscale pub fare and salty snacks that go perfectly with beer, like rye whisky caramel popcorn, duck confit sliders, and Dr. Pepper barbecue wings.
624 Connaught Dr., Jasper, 780-852-4111, jasperbrewingco.ca
Banff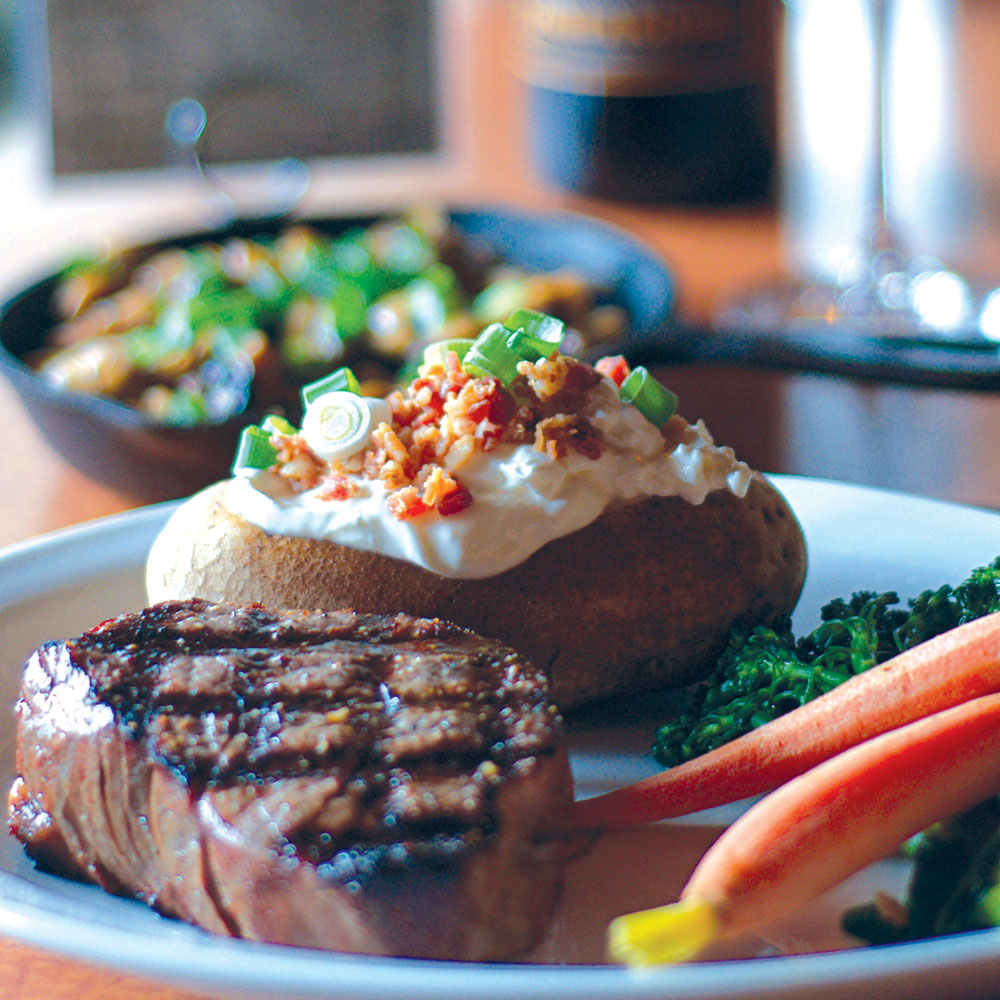 photograph courtesy of melissa's missteak
A Banff institution if there ever was one, Melissa's feels pretty old school (and, quite honestly, a little long in the tooth), but that's part of its charm. With a dinner menu full of steakhouse-style entrees Mel's (as its known to locals) isn't exactly cheap, and the food doesn't match some of the more contemporary restaurants in town, but it is definitely worth a visit, if only for the nostalgia. If you're feeling thrifty (and are up for a party) stop in for a bite in the legendary upstairs bar.
218 Lynx St., Banff, 403-762-5511, melissasmissteak.com
Banff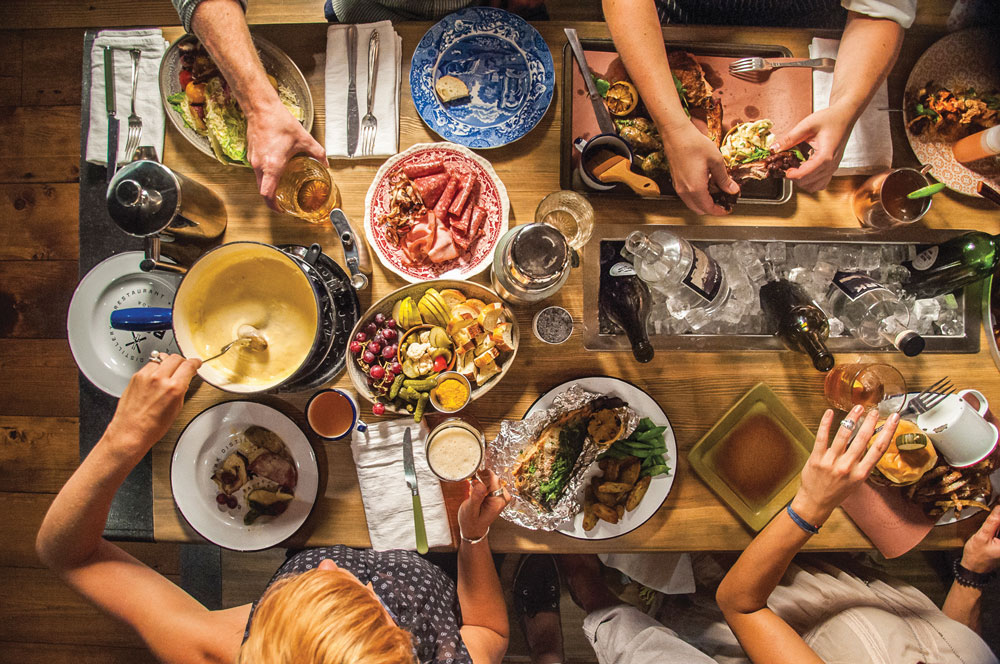 photograph by anna robi
You'll want to pop into Park, one of Alberta's newest boutique distilleries, to pick up a bottle of vodka (either the classic or one of three special flavours) or rye, but be sure to stay for the above-average bar snacks and meals. Branded as "campfire cooking," the rustic-style restaurant (the decor is best described as "Boy Scout chic") has a massive menu of rotisserie and wood-fired grilled meats, a cheese and whisky fondue, and absolutely addictive cornflake pulled pork fingers served with a maple whisky and bacon dipping sauce. The cocktails are also, unsurprisingly, on point (booze is their business, after all), and if you want to expand the experience, hop onto a free distillery tour.
219 Banff Ave., Banff, 403-762-5114, parkdistillery.com
---

Banff
This cozy and casual Banff eatery has been in business for 23 years and its affordable, high-quality food has made it a favourite of locals and visitors in the know. Coyotes prides itself on a Southwestern/Mediterranean menu built around concepts of healthy eating and whole foods, with virtually everything made in-house. Tuck into a plate of enchiladas or drop in for a hearty breakfast any day of the week.
206 Caribou St., Banff, 403-762-3963, coyotesbanff.com
Jasper
Located in the Best Western Jasper Inn & Suites, the vintage sign outside of this woodsy, family-style restaurant sets the mood for its solid, though surprisingly varied menu. There are plenty of internationally inspired dishes for guests looking for something different, or, if you're there on a Saturday, get the prime rib dinner, which is a steal at $25.
98 Geikie St., Jasper, 780-852-3232, inngrilljasper.com
Canmore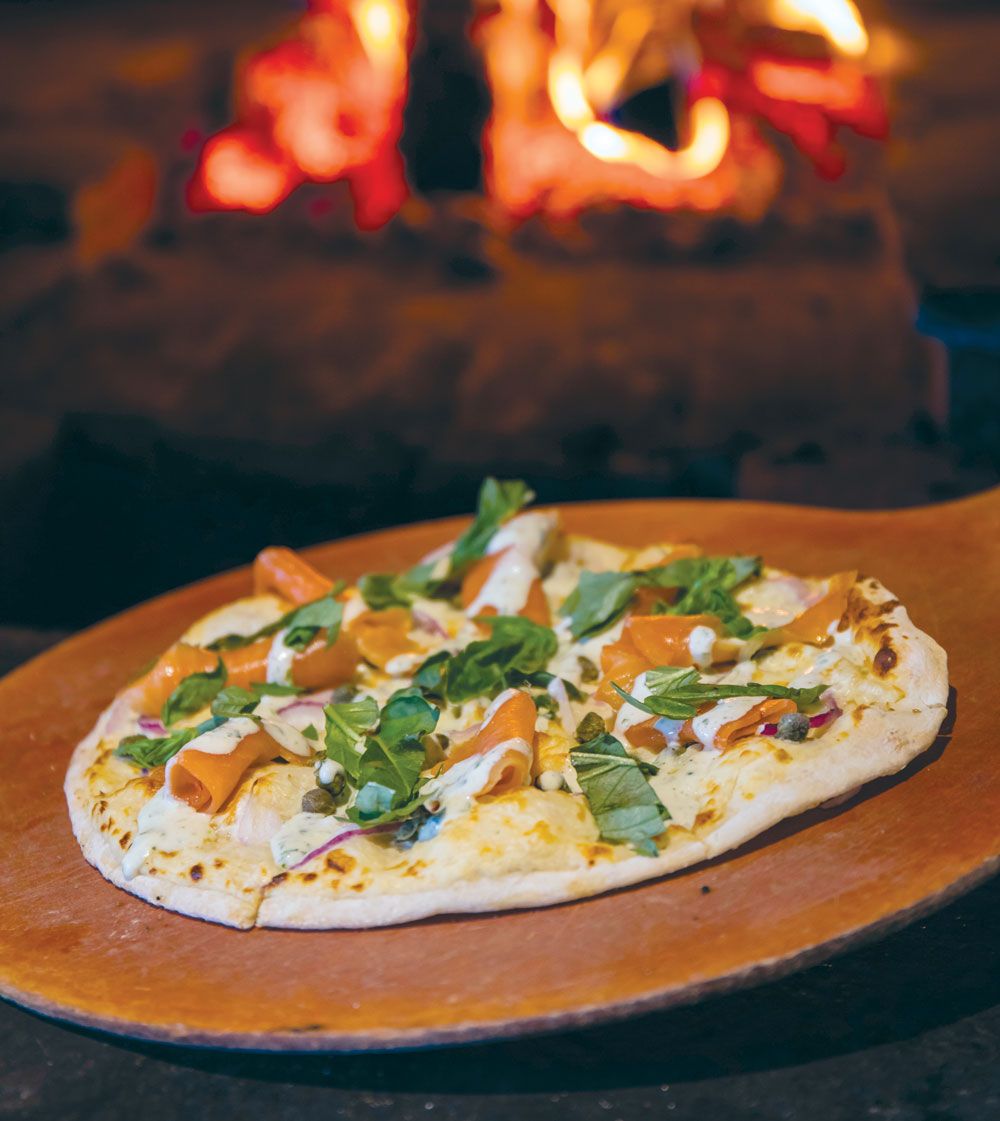 photograph courtesy of rocky mountain flatbread
The West Coast flatbread.
Yes, "flatbread" is basically a fancy way of saying "pizza," but despite its artisanal ovens and gourmet toppings (everything from fig and brie, or bacon and blue cheese, to classics like good ol' pepperoni), this family-friendly spot is comfortably laid-back. If the pizza doesn't fit your mood, the menu is rounded out with salads and pasta dishes. There's even a play area tucked in the back so kids can burn off some energy while waiting for their pizza.
838 10 St., Canmore, 403-609-5508, rockymountainflatbread.ca
Field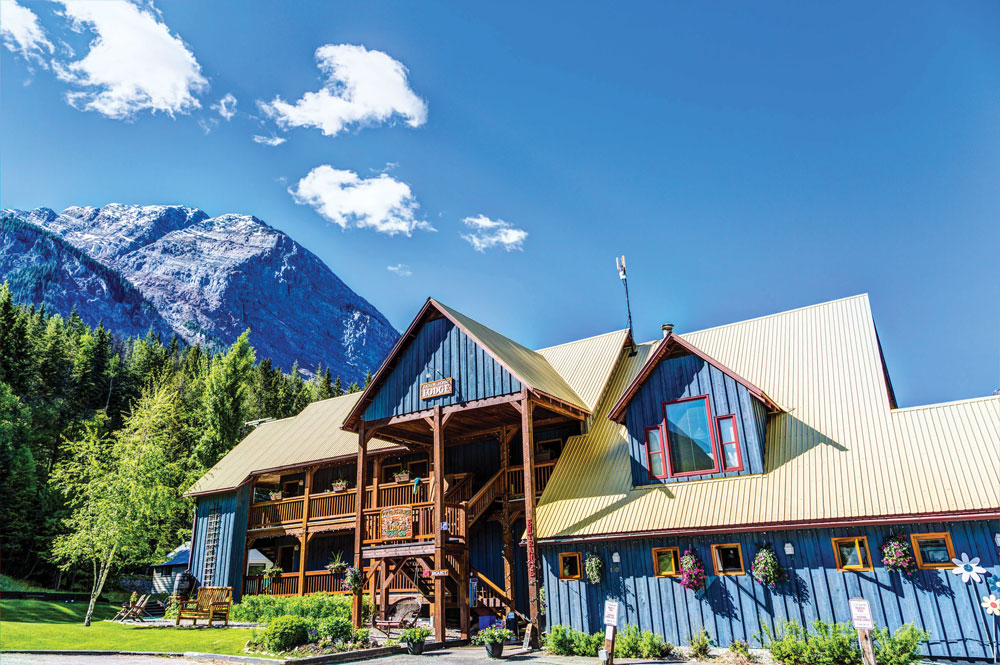 photograph courtesy of truffle pigs bistro
The town of Field is not a large one, but its proximity to Lake Louise and hiking spots like Lake O'Hara makes it a perfect home base for a weekend of mountain adventures. Plus, it's home to Truffle Pigs, an outstanding restaurant nestled on the opposite side of town from the highway. The building is invitingly homey, the service is somewhat slow-paced, and children are encouraged to roam about, but head chef Everett Cooper's take on elevated comfort food is surprisingly high-end.
100 Centre St., Field, 250-343-6303, trufflepigs.com
Golden
In downtown Golden, this restaurant offers a place to relax (possibly with a bottle of wine from its extensive list) after a day of skiing, biking or golfing at Kicking Horse. The menu selections are casual and comforting with a gourmet touch, with dishes like Carmen Creek bison meat loaf for the grown-ups and a decent kids menus for children under 10.
427 9 Ave. N, 250-344-5120, whitetoothbistro.com
---

Lake Louise
Another aprs-ski favourite that is open year-round, the Post Hotel's cozy fondue room (it seats just 24) has a menu as tiny as its square footage. Opt for traditional Swiss fondue, a fondue Chinoise (beef slices served with a hot cooking broth and Asian sauces) or a fondue Bourguignonne. Naturally, there's a Swiss chocolate fondue option for dessert. Fondue Stbli sits just off of the Post's main dining room, which features a much-celebrated menu by renowned Swiss chef Hans Sauter and one of the best wine cellars in the Rockies.
The Post Hotel, 200 Pipestone Rd, Lake Louise, 403-522-3989, posthotel.com
Banff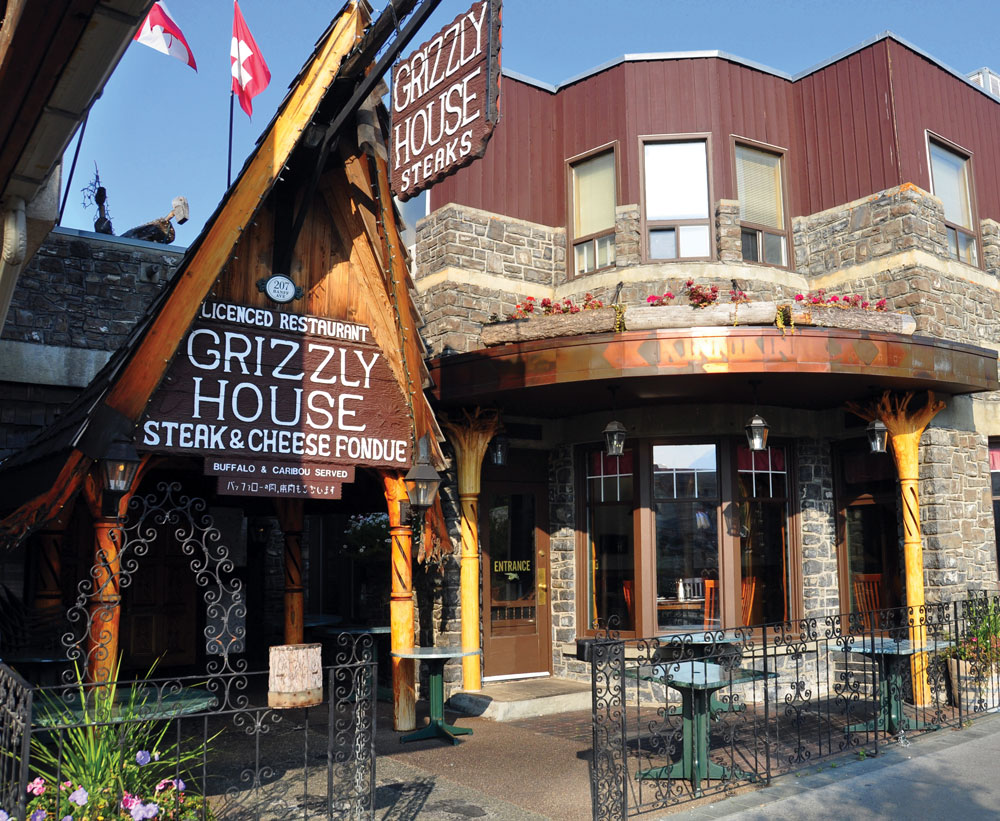 Thinkstock
Delightfully eccentric, this retro wood cabin restaurant has been an icon on Banff's main drag since opening in 1967. Offering hot rock or oil cooking methods and a wide variety of meat and seafood (the exotic fondue features shark, rattlesnake, ostrich, alligator, frog legs, buffalo, and venison) and kitschy table-side phones (apparently leftover from the establishment's original incarnation as a swingin' disco club), the Grizzly House is the ultimate old-Banff experience.
207 Banff Ave., Banff, 403-762-4055, banffgrizzlyhouse.com
Banff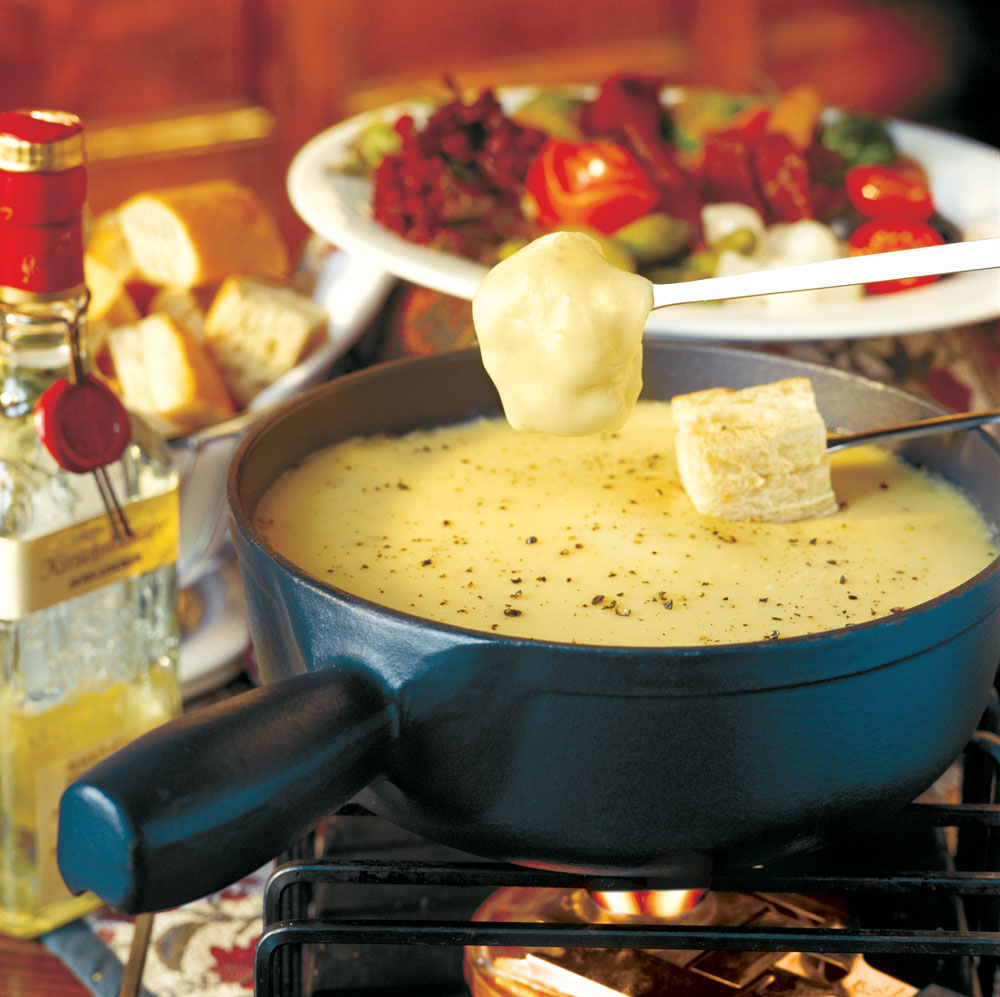 photograph courtesy of the banff springs hotel
Located in a cottage behind the Banff Springs, overlooking the Bow and Spray Rivers, this Swiss-Bavarian-style refuge features German dishes (bratwurst, sauerbraten, schnitzel), as well as cheese, beef and chocolate fondue. For those who don't feel like immediately hoofing it back to the main hotel, there's a pub on the lower level where you can go for a nightcap. The pub also serves brunch, featuring Black Forest French toast, on weekend mornings.
Banff Springs Hotel, 405 Spray Ave., Banff, 403-762-2211, fairmont.com
Lake Louise
Offering perfect aprs-ski (or aprs-hike) meals, the Fairmont Chateau Lake Louise's fondue spot is tucked away from the rest of the hotel, allowing guests to feel like they've been transported to the Alps. The decor is chalet elegance and the house specialty is Swiss kse – a cheese fondue served in traditional, black-truffle or roasted-garlic-and-morel-mushroom preparations. Make a night of it with the "Chateau experience," a three-course menu made up of the cheese fondue, chateaubriand, and Toblerone chocolate fondue for dessert.
Fairmont Chateau Lake Louise, 111 Lake Louise Dr., Lake Louise, 403-522-1601, fairmont.com
---

Banff
For the second year, the Fairmont Banff Springs Hotel is hosting a pop-up Indian restaurant in the upper level of the Rundle Lounge, opening in mid-May. A nice alternative to other heavy hitters in the Banff Springs like the 1888 Chop House and Grapes Wine Bar, Indian Summer serves deliciously flavoured curries, developed by chef Gaurev Gaba. As with the other dining rooms at the Banff Springs, there's a focus on regional and sustainable ingredients.
Fairmont Banff Springs Hotel, 405 Spray Ave., Banff, 403-762-6860, fairmont.com
Lake Louise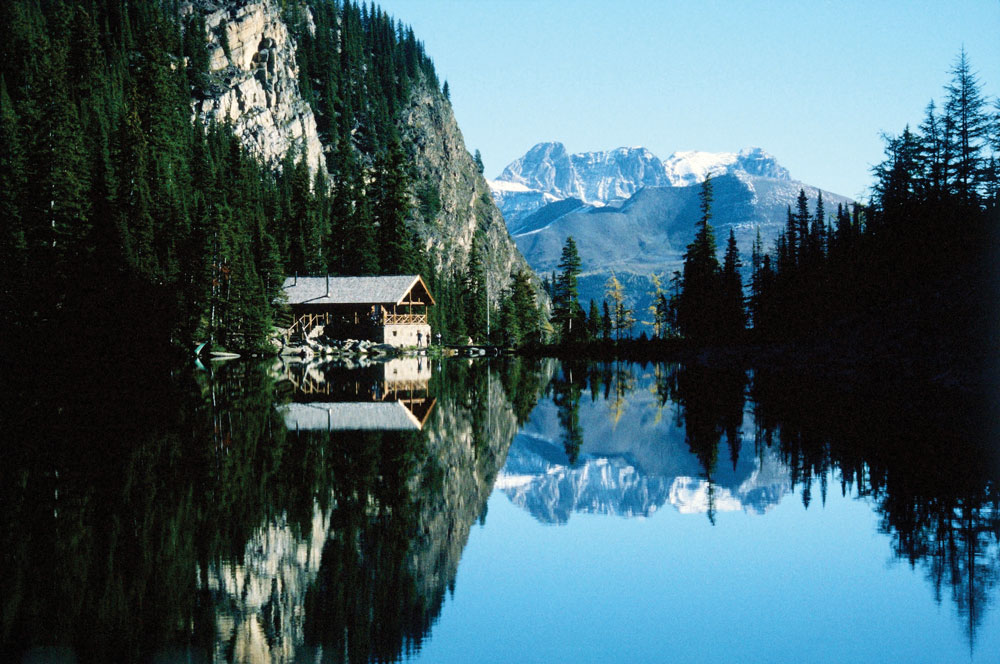 photograph courtesy of lake agnes teahouse
Lake Agnes Teahouse.
Completing an uphill hike is always satisfying. It's even more satisfying when there's a meal waiting for you at the top. Open from June through Thanksgiving, the Teahouse is at Lake Agnes, a relatively easy 3.5-kilometre hike from Lake Louise, and serves sandwiches, baked goods and 100 varieties of loose-leaf tea. If you're looking for a longer hike (and a less busy teahouse), try the Plain of Six Glaciers Teahouse, a 5.5-km hike from Lake Louise.
Lake Agnes Tea House: Lake Louise, 403-763-7242, lakeagnesteahouse.com; Plain of Six Glaciers Teahouse: Lake Louise, 403-667-4663
Canmore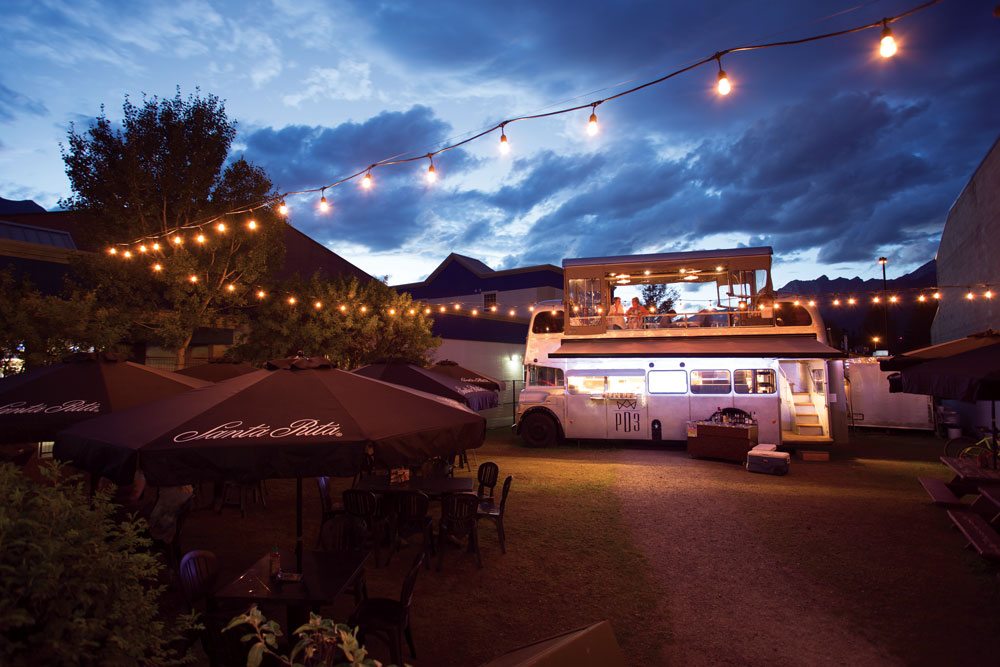 photograph courtesy of blake flann
Blake Flann is rapidly building a culinary empire in Canmore, due largely to the success of his innovative double-decker food bus PD3. Downstairs it's a walk-up food truck focusing on Asian street food and a fully operational kitchen. The upper deck is a proper restaurant serving up sandwiches and charcuterie at lunch and fun and surprising chef's creations for dinner. PD3 opens for the season in May (along with Flann's Japanese hot dog truck YuGo Eat). Look for a new restaurant (in an actual building) called Blake, scheduled to open later this summer.
806 Main St., Canmore,403-609-4928, blakecanmore.com
Lake Louise
Housed in the oldest building in Lake Louise (an actual CP railway station built in 1910), the experience at The Station is as impressive as the food (and the food – contemporary creations made with locally sourced ingredients – is indeed quite impressive). Dine in the main restaurant in the station building or, if you're lucky enough to be invited to a special function, in the Delamere dining car.
200 Sentinel Rd., Lake Louise, 403-522-2600, lakelouisestation.com