Pancakes are the quintessential breakfast item. There are certain things in life that wouldn't be the same without them – a diner, a road trip, a Stampede breakfast, and a good number of movies where the weary heroes stop in to the aforementioned diner to refuel themselves for their journey ahead with – what else? – a stack of pancakes.
Whether you're celebrating Shrove Tuesday on February 13, or you're celebrating National Pancake Day at IHOP on February 27, there are pancake celebrations aplenty to keep pancake aficionados happy. Calgary is a hotbed of pancake innovation. If you're on the lookout to branch out from traditional pancakes, here are seven restaurants where you can find cool twists on this classic, from the sweet to the savoury.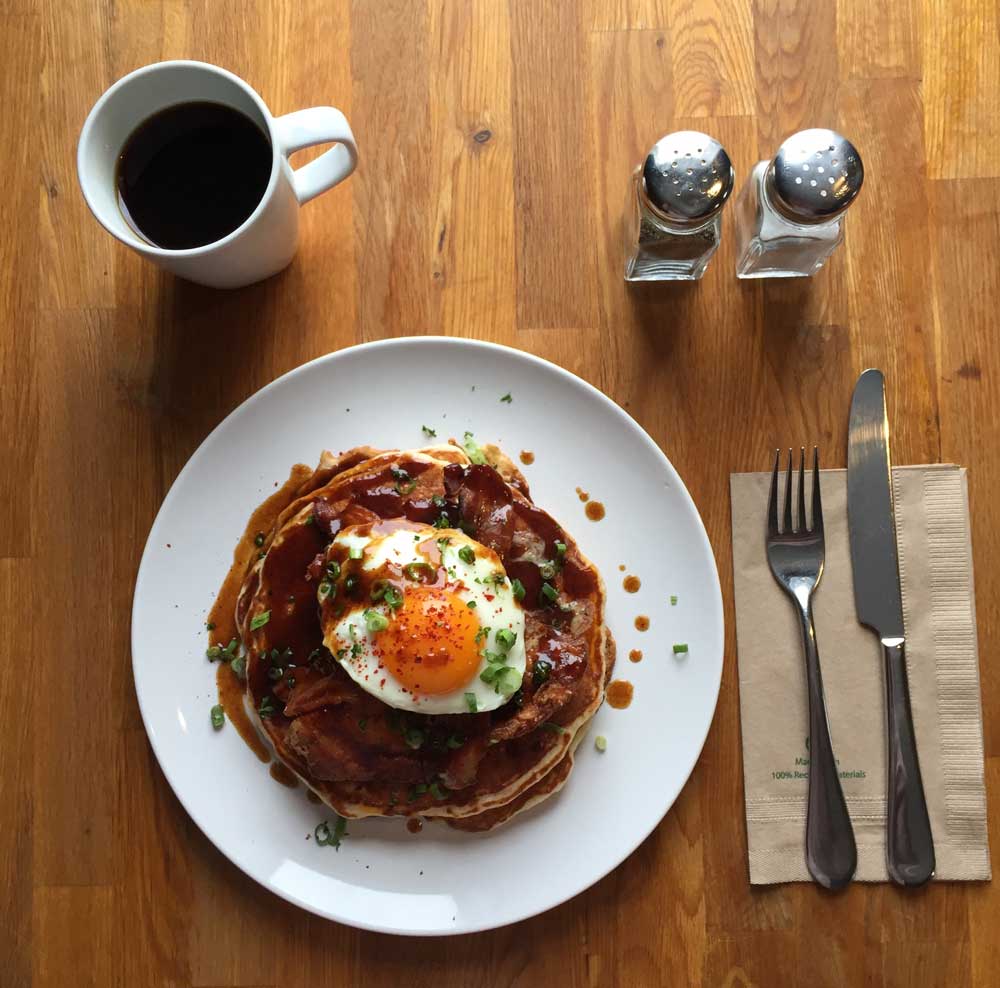 photograph courtesy of blue star diner
While fried chicken and waffles is a tried and true brunch classic, Blue Star Diner created its own version by replacing the waffles with pancakes. This Bridgeland restaurant emphasizes the importance of community, and puts its money where its mouth is by using local ingredients in their dishes. For the fried chicken and pancakes, the bacon and honey are both sourced locally.
809 1 Ave. N.E., 403-261-9998, bluestardiner.ca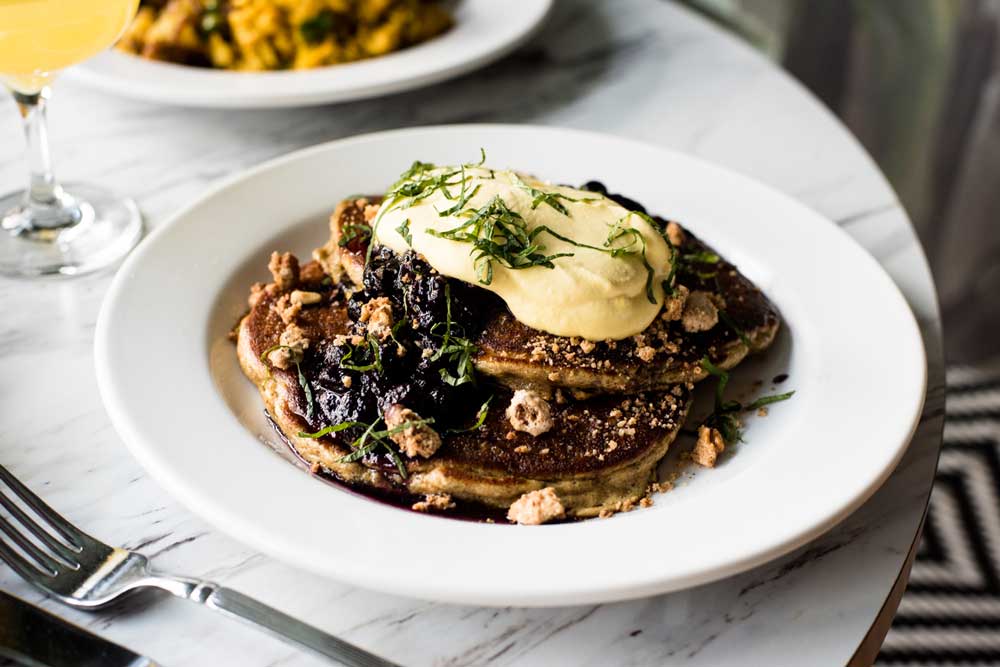 photograph Courtesy of Calcutta Cricket club
Calcutta Cricket Club offers its version of the pancake with Ovaltine-chai pancakes. Blueberry compote, saffron chantilly and candied walnuts are served with it. Restaurant partner Shovik Sengupta explains why Ovaltine was the perfect ingredient for the restaurant's unique dish: "It's a chocolate malted milk powder. Any kid who comes from an Indian family or spent any time in India will be super nostalgic to hear of Ovaltine, because every kid, before they went to bed, would get a cup of warm milk and Ovaltine."
340 17 Ave. S.W., 403-719-1555, calcuttacricketclub.com
Saskatoon Berry Sourdough Pancakes at Deane House
Deane House has seen more than a century of Alberta history. Its latest resident, the restaurant of the same name, creates new history through what head chef Jamie Harling describes as a "focus on seasonal, regional, Canadian cuisine." Harling says the Saskatoon berry sourdough pancakes were inspired by Alberta and the Saskatoon berries that grow abundantly in the province.
806 9 Ave. S.E., 403-264-0595, deanehouse.com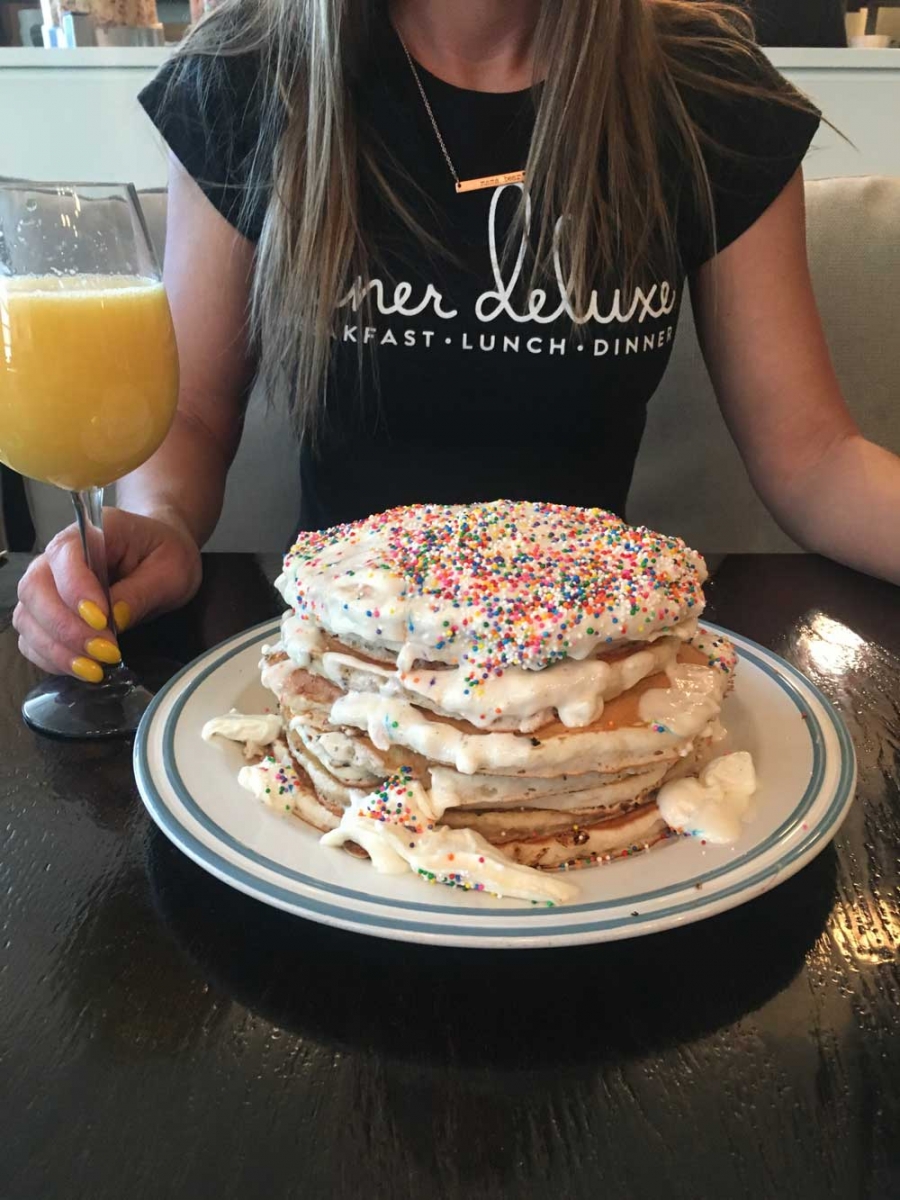 photograph by ryan turbide
The hot new way to celebrate your birthday (or any other special occasion) is with breakfast, according to Ryan Turbide, owner of Diner Deluxe. The diner's Birthday 'Cakes are the perfect celebratory meal. This treat features a stack of eight chocolate chip pancakes, with mascarpone mousse, and vanilla frosting topped with rainbow sprinkles. It's a special dish that doesn't appear on the menu, so those in the know will have to request it be specially made. Diner Deluxe also offers DD pancakes, which is a more classic version of pancakes except for the special ingredient of quinoa.
804 Edmonton Trail N.E., 403-276-5499 and 104, 350 Aspen Glen Landing S.W., 403-457-3000, dinerdeluxe.com
photograph by dylan draper
Harvey, a play and subsequent 1950s-era film, and the rabbit population in Bridgeland are the inspirations behind Elwood & the Rabbit, according to executive chef Dylan Draper. This new restaurant offers the perfect antidote to those whose sweet tooth is aching from the usual brunch fare. According to Draper, he created the savoury pancake to "balance the tides of the menu." The savoury pancake features basil salt cured trout, trout roe, sunny side up egg, sauce gribiche and a wood sorrel and butter leaf greens.
24 4 St. N.E., 587-349-9008, elwoodandtherabbit.com
Plowshare Artisan Diner's spin on the traditional pancake is an orange and ricotta pancake. Chef Michael Scarcelli describes the pancakes as "fitting with a Christmas feeling… it was really one of those dishes to bring comfort." It's the perfect antidote to a day that's below -20C.
817 1 St. S.W., 403-454-4953, facebook.com/plowsharediner/
Chef's Seasonally Inspired Feature Pancakes at Yellow Door Bistro
Yellow Door Bistro offers a new pancake creation each month, making this a must-stop brunch spot for those who are excited to keep trying new things. February's pancake is a lemon ricotta pancake, which has been brought back especially for the restaurant's fifth anniversary. Executive chef Quinn Staple says the lemon ricotta pancake "was our first pancake we had when we opened." Staple also hints at next month's pancakes, which sound equally exciting: "We're going to be doing something with carrots."
119 12 Ave. S.W., 403-206-9585, yellowdoorbistro.ca
If you're more of a pancake purist, here are five places to get your classic pancake fix:
Hot tip: Check out this restaurant's website and Instagram for some pretty rad pancake art.
2008 33 Ave. S.W., 403-242-6782, belmontdiner.com
243 12 Ave. S.W., 587-955-1555, thebeltliner.com
102, 524 17 Ave. S.W., 403-452-1211, cleavercalgary.com
500, 70 Shawville Boulevard, 403-873-9102, ihop.com
1415 4 St. S.W., 403-266-3448, and two other Calgary locations, redsdiner.com