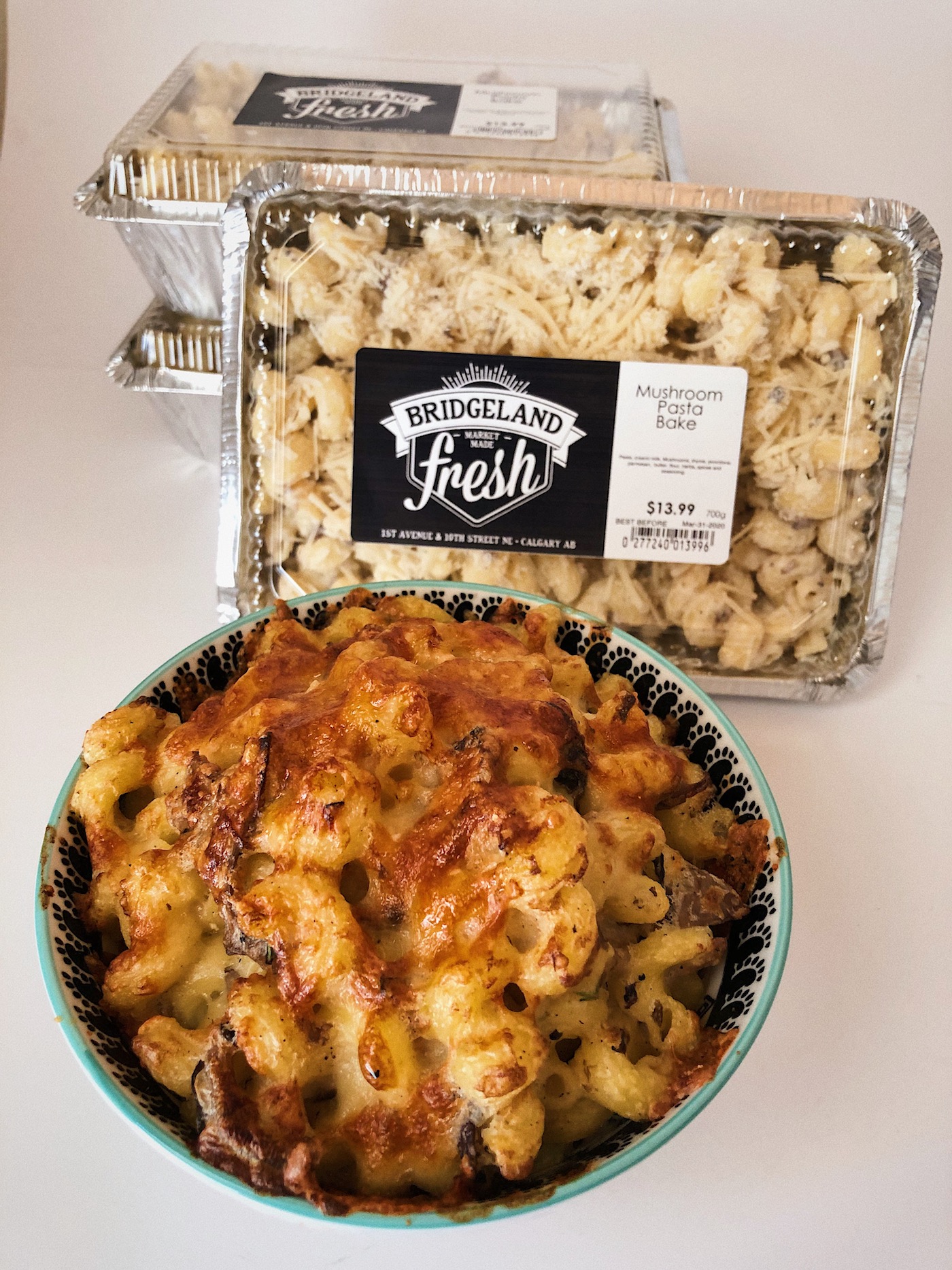 This story was part of Avenue Calgary's Food & Drink newsletter. For more stories on how Calgary's restaurants, bars and markets are serving you safely during the coronavirus crisis, sign up here. 
Life is stressful enough right now without having to worry about what to cook for supper, so we're grateful there are so many local grocery stores, markets and catering companies offering pre-made meals that you can pick up or have delivered. Most of the options freeze well, too, so you can stock up on a few and rest a little easier knowing you have a wholesome backup if your best intentions to cook don't quite pan out.
We're focussing here on "heat-and-eat" types of meals. If you're also interested in restaurant meals to eat at home, click here.
This list may change as Calgary's Covid-19 situation changes. We will endeavour to keep it as up-to-date as possible. If you are a grocery store, market or a catering company offering ready-made meals for takeout or delivery, please let us know by emailing SupportLocal@redpointmedia.ca.
View this post on Instagram
Shop in-store for soups, pasta dishes such as mac 'n' cheese and hearty salads. Online ordering, delivery and curbside pick-up available soon.
1104 1 Ave. N.E., 403-269-2381, bridgelandmarket.com
View this post on Instagram
There's an abundance of prepared meals and other heat-and-eat options available from various market vendors. Fill out the order form online and staff will shop for your items and call you to pay online, after which it will be available for curbside pickup. The service is temporarily suspended due to the overwhelming response but staff is working to restore it. Orders accepted Wednesday to Saturday for pickup Thursday to Sunday. The market remains open if you choose to shop in person.
510 77 Ave. S.E., 403-240-9113, calgaryfarmersmarket.ca
This gourmet market has always carried house-made soups, stocks, stews and meals and now they're amping this up, offering even more ready-made-meals and pantry staples for delivery or curb-side pickup.
722 11 Ave. S.W., 403-265-6066, cookbookcocooks.com
View this post on Instagram
Soups, chili, cabbage rolls, beef stroganoff and other comfort-food options are available, as is wine and beer. Curbside pickup or free delivery on orders over $20.
7207 Fairmount Dr. S.E., 403-252-2083, cravingsmarketrestaurant.com/togo/
View this post on Instagram
This Ramsay farmers' market remains open for shopping Friday to Sunday, 9 a.m. to 5 p.m. and there are lots of different options for prepared meals to take home.
1235 26 Ave. S.E., 403-291-5208, crossroadsmarket.ca
This company specializes in fresh, healthy multi-day meal plans that you can have delivered free on orders over $25. Meal plans are geared towards folks with particular goals — there's a plan to improve physical performance and one to help you lose weight — and are offered in six-day or 18-day packages that include breakfast, lunch, dinner and snacks.
587-839-2348, fitkitchen.ca
View this post on Instagram
Doorstep drop-off menu includes soups, stews, casseroles and desserts. Order by 7 p.m. on Tuesday for Wednesday delivery. Free delivery on orders over $48.
3508 19 St. S.E., 403-269-6551, foragefoods.com
View this post on Instagram
Meal delivery of soups, salads and entrees such as peppercorn New York striploin or lemon and herb-marinated chicken. Order by Wednesday at 4 p.m. for Friday delivery or Friday at 4 p.m. for Monday delivery.
403-454-8933, gathercatering.ca/delivery-menu
View this post on Instagram
Shop in-store for Italian specialties such as baked pastas, chicken cacciatore and beef Florentine. Curbside pickup and delivery available soon.
9919 Fairmount Dr. S.E., 403-238-4869, italiancentre.ca
View this post on Instagram
This catering company specializes in gourmet frozen entrees such as pork tenderloin with mushroom port sauce as well as soups, sauces and sides for curbside pickup or delivery (free over $75).
5321 4 St. S.E., 403-640-3663, meezcuisine.com
View this post on Instagram
Craving Mexican? Think carnitas, pork in green salsa with potatoes or chicken tinga, all vacuum-sealed and frozen, with salsas, chips and tortillas also available. Free delivery on orders over $100, please place 24 hours in advance.
View this post on Instagram
This market and cafe specializes in fresh, healthy prepared foods, now available for order online via DoorDash or pick-up in-store.
1507 29 Ave. S.W., 403-457-0422, ourdailybrett.com
View this post on Instagram
This market has a wide selection of prepared meals, including its popular Friday night feasts — three-course meals featuring Thai noodle salad, coconut shrimp curry and mango mousse cake, for example. Menus change weekly. Order online for pickup and delivery for $8 with minimum $50 purchase.
Multiple locations, sunterramarket.com