Men's grooming is becoming increasingly popular, with gentleman sporting styles from classic handlebars to the full lumberjack and everything in between. Taking the opportunity to develop an individual look is becoming even easier to achieve with the plethora of barber shops in the city. Stay sharp with a visit to one of Calgary's many shops that are carrying on the age-old tradition of barbering.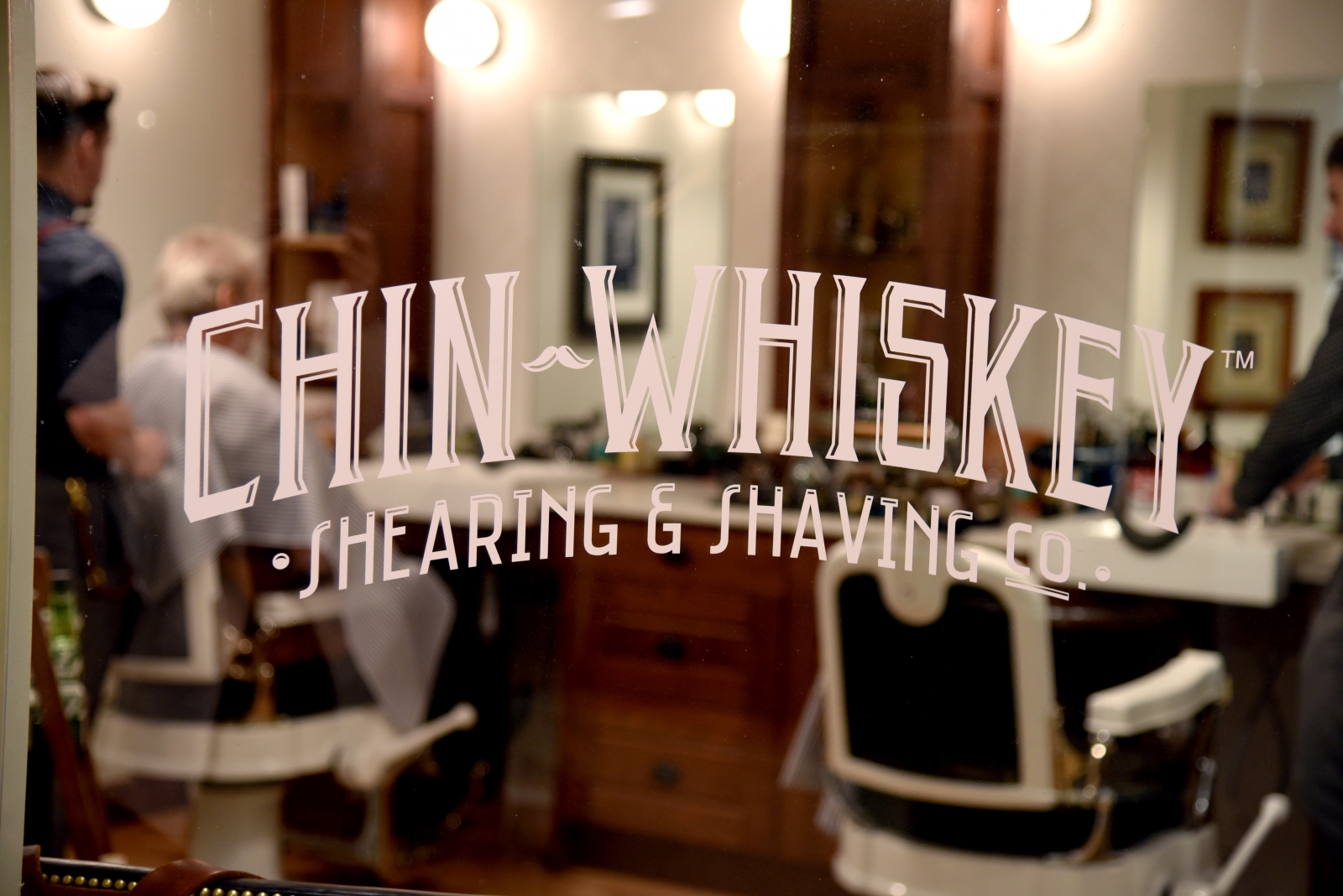 Chin Whiskey is on Edmonton Trail in Renfrew and gets its intriguing name from an age when men would use whisky as an astringent to prevent infection post-shaving – much like after shave does today.
The store takes care to pay homage to the history-steeped tradition of barbering. It has 1920s barber chairs and a smattering of western-influenced details such as a collection of whisky bottles.
"Back in the 20th century men would come go for a shave once or twice a week," says owner Michael Campbell. "Barbers were surgeons back in the day and were very important – they were above the doctors."
Chin Whiskey also sells its own line of products that includes grooming clay, aftershave balm and beard oil.
904 Edmonton Tr. N.E., 587-351-0414, chinwhiskey.com
Tommy Gun's Original Barber Shop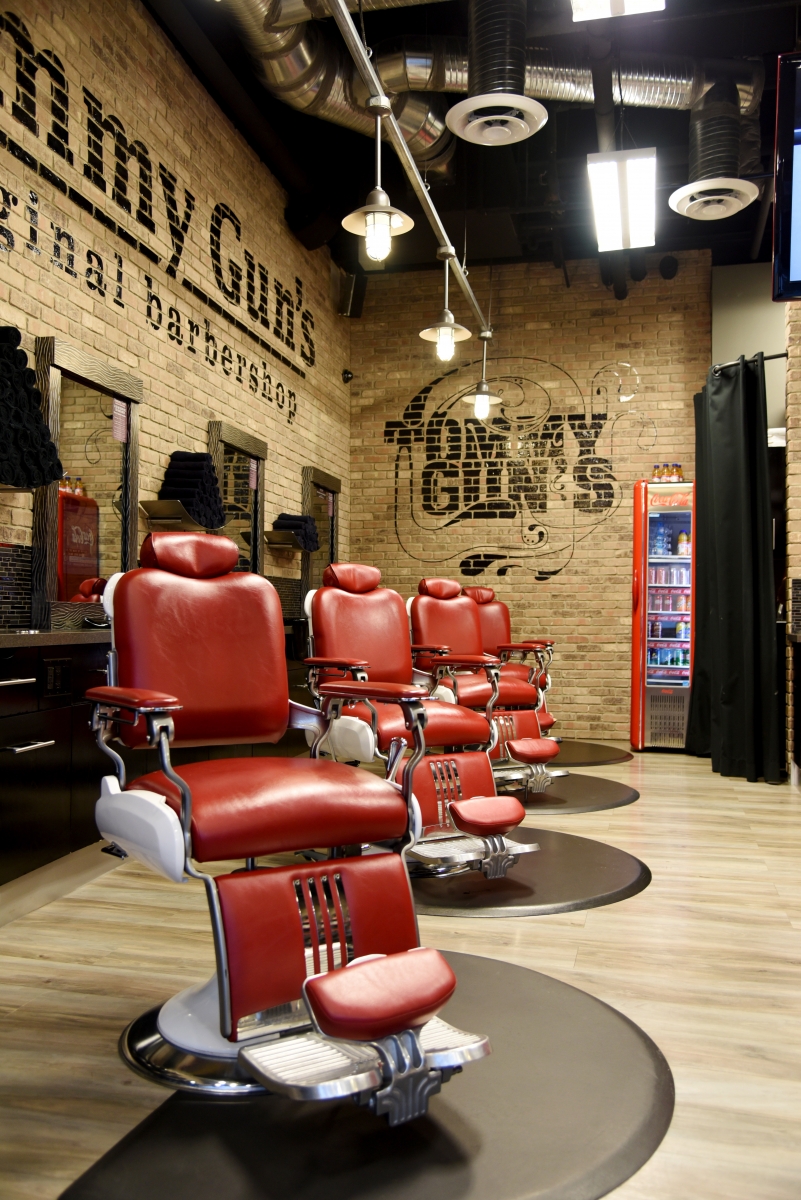 Tommy Gun's Original Barber Shop first opened in Red Deer and now has 50 shops across Canada including 11 in Calgary. It includes traditional haircuts, buzz cuts, classic shaves and neck, moustache, goatee and beard cleanups on its list of services. Kid's cuts make it easy to carry on the old-school tradition of going to a barber shop with your dad.
The decor at all of the Tommy Gun locations is 1930s inspired, but there is modern tech like touch-screen check-ins and an app that gives you wait times.
The Core and 10 other Calgary locations, 403-264-1071, tommyguns.com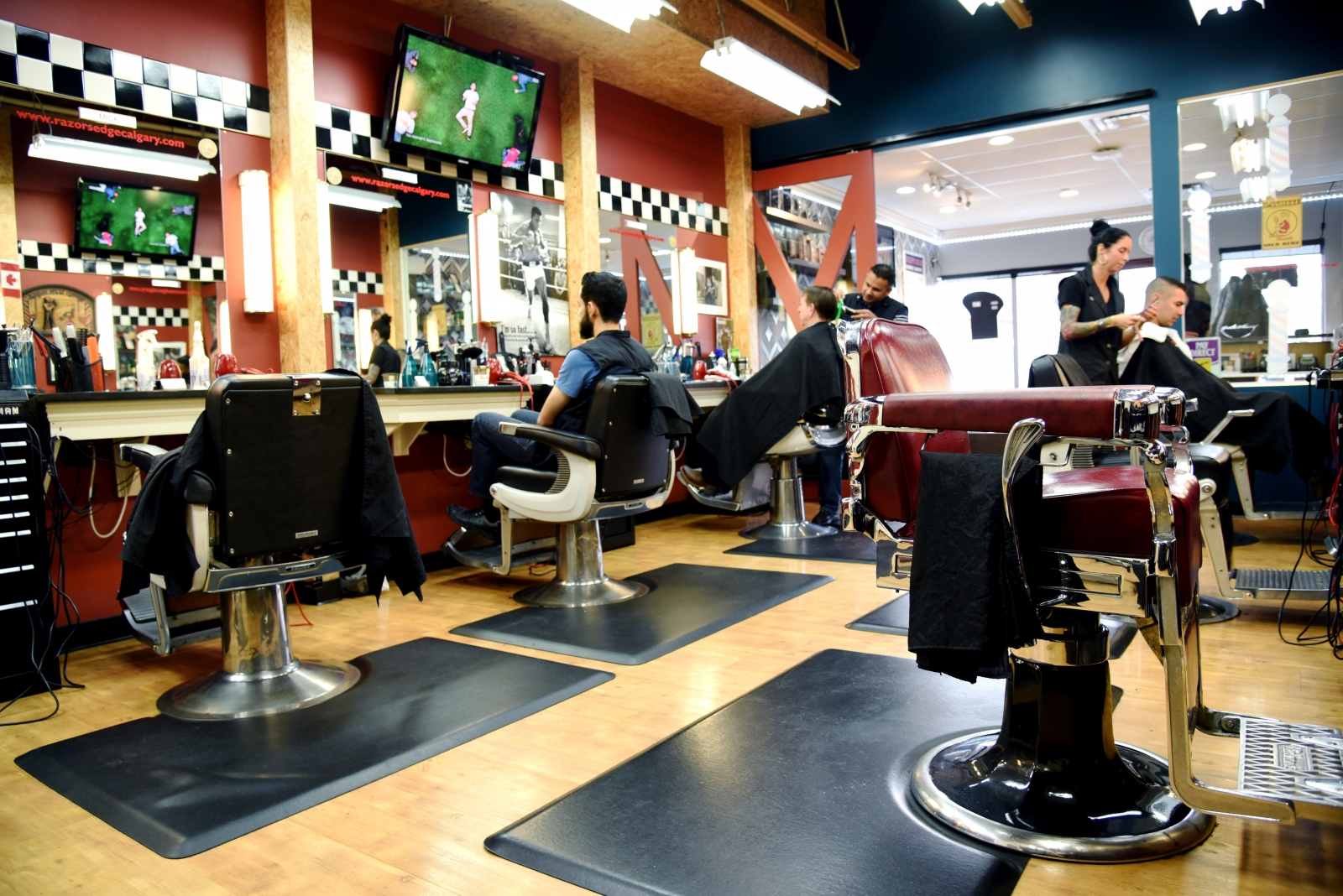 Family-run Razor's Edge Barber Shoppe is tucked away in Calgary's southeast. Its design is inspired by a mechanic shop. The barbering area has black and white tile backsplash and cherry red, vintage chairs from the 1940s and 1950s that face large mirrors and wide-screen televisions. At the back of the building, a garage door adds an industrial feel to the polished space.
Many of its barbers have immigrated to Calgary and learned their trade from countries such as Syria, Iraq, Turkey, Lebanon, Fiji and Kosovo.
107, 12100 Macleod Trail S.E., 403-278-6655, razorsedgecalgary.com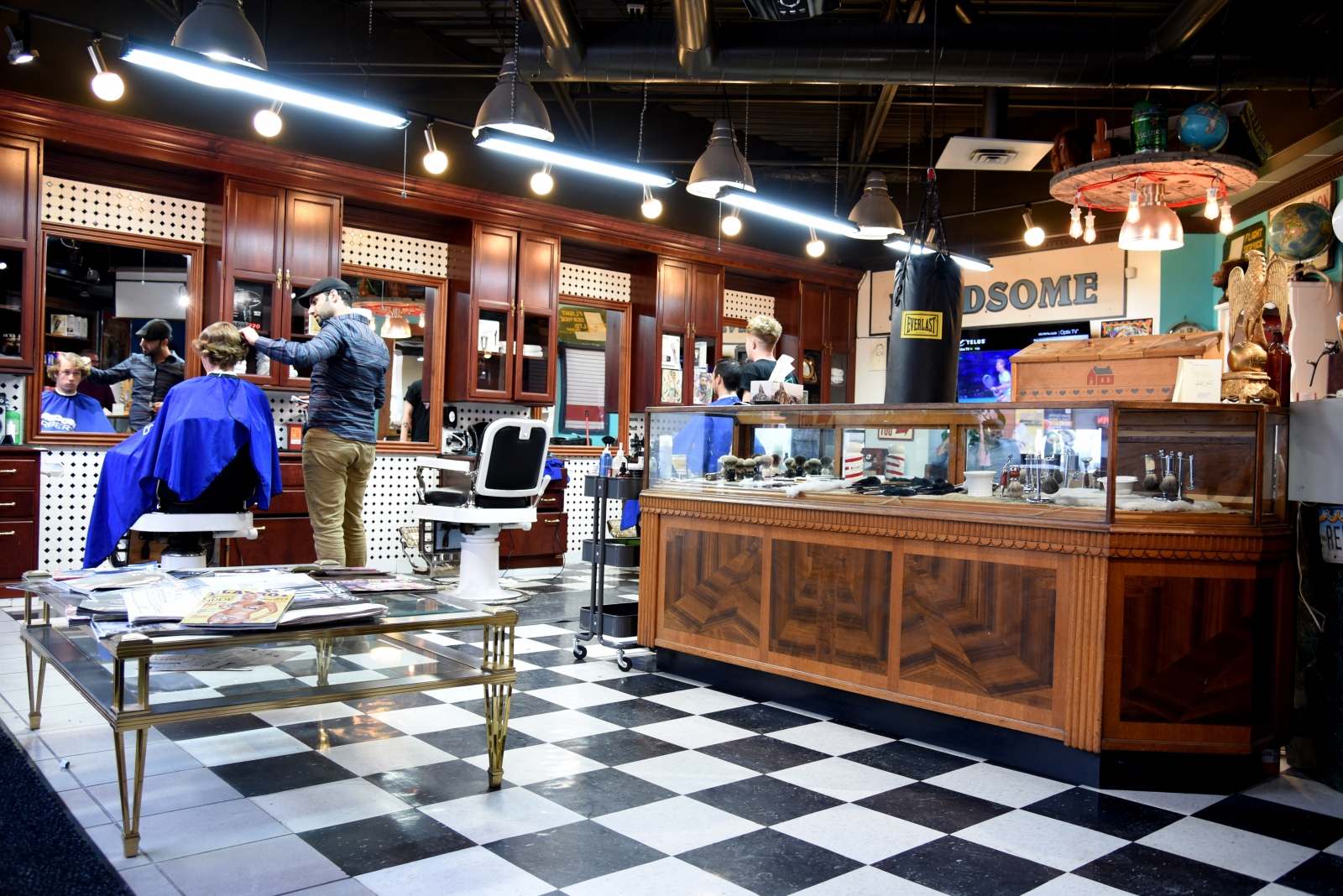 When shop owners Essa and his brother M.J. Ashour opened their first London Barbers location in 2010, barbering was not as popular as it is today.
"We had our challenges because guys used to go to hair salons," says Essa.
London Barbers has since grown to three locations, including the Beltline, Kensington and Eighth Avenue Place.
London Barbers is working to keep the tradition of barbering alive and Essa says that part of the appeal of barbershops is that they are social places.
"A barber is like a good bartender, they take in information and have a good friendly chat and then you can go about your day," says Essa.
Essa's Kensington location buzzes with both razors and chatter as men visited the shop. With business picking up over the years, Essa attributes much of that growth to the growing interest in personal grooming amongst young men.
"Now you see a lot of young hipsters who are excited about style, looks and hygiene. It's becoming more of a fashion statement," he says. "Guys are starting to care about their appearance more and more."
Three locations in Calgary, londonbarbers.ca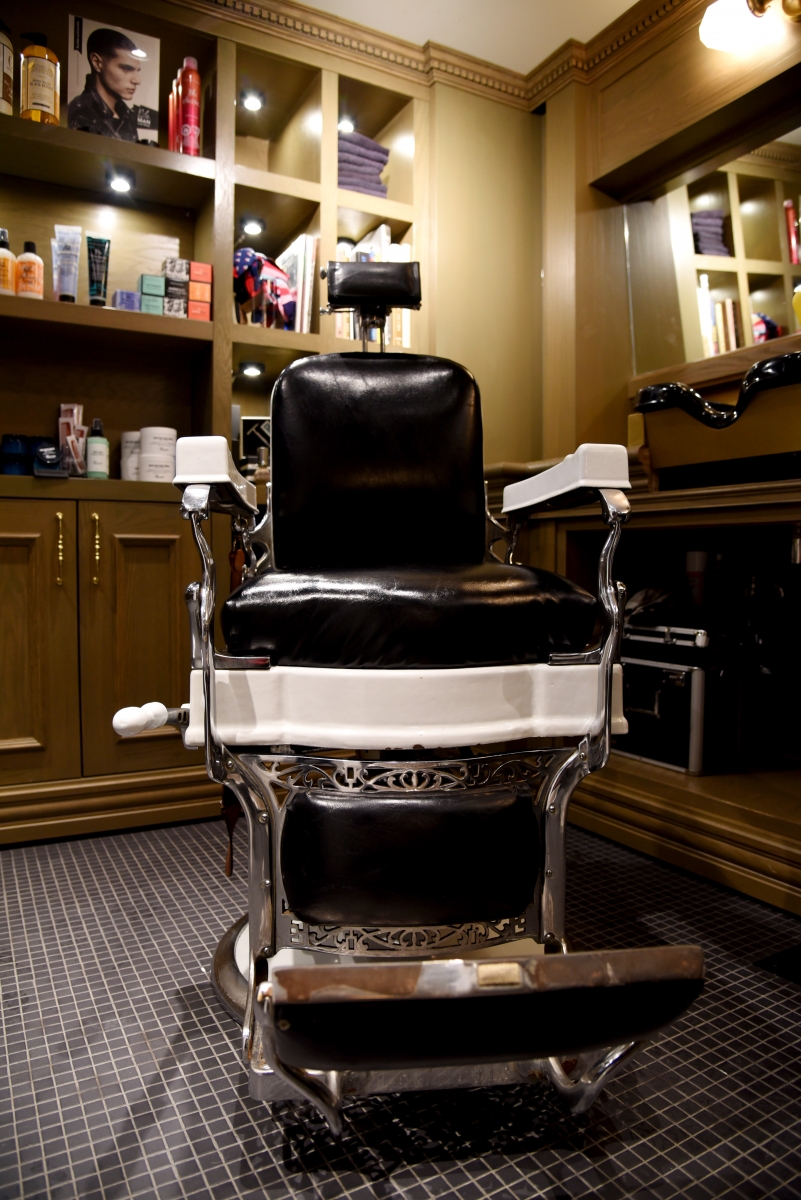 Jereme Bokitch, founder of Hedkandi Salon and Butter Beauty Parlour, says that he has wanted to open a barbershop for years. When the opportunity to move into the basement of Last Best Brewing & Distilling opened up, it was an easy decision to make that dream come to fruition.
"It's a little bit different here," says Bokitch. "We like to do things that are a little bit, hopefully, ahead of the curve."
While Johnny's Barber + Shop honours the time-old tradition of barbering and respects the history of the craft, the shop is also trying to branch out from the "typical barbershop" aesthetic.
"I feel like everybody is trying to create something that happened so many years ago and I want here to be a little more modern," he says.
Johnny's Barber + Shop aims to create a curated, custom experience for men who come for a cut or shave – a place where they can have a drink or bite to eat while they wait.
"There's a closeness between the barber trying to give men something that a salon gives to women," says Bokitch. "That's what we are trying to provide here. We are trying to make Johnny's an equivalent to men as to what Butter is to women."
You'll also find Johnny's Barber + Shop in Henry Singer at Eigth Avenue Place.
Last Best Brewing and Distilling, 607 11 Ave SW, 403-671-2016, and Henry Singer, 545 8 Ave. S.W., 403-452-3917,  johnnysbarberandshop.com