Giant Simple Single from The Cyclepath.
Aside from the occasional snowfall, the sun is shining and the temperatures are (mostly) above zero. That means it's time to stop spending money on gas and start pedalling instead.
But don't think that spring cycling requires Tour de France spandex, race wheels and funny, pointy helmets. Au contraire: bike manufacturers have made it easier than ever to look trendy while commuting on two wheels. Here are our 6 favourite picks for looking stylish on the bike paths.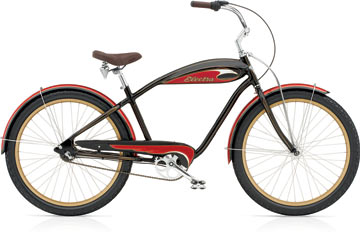 Warm springtime weather should mean slower, less stressful commutes. And what better way to cruise into work than on a cruiser? This bike has a light aluminum frame, a vintage red paint job and hand-stitched leatherette tape on the handlebars. The fatter tires mean you won't have to retire this bike when it gets frosty again, and frankly, the pinstriped fenders are simply enviable. $900.
(The Bike Shop, 801 11 Ave. S.W., 403-264-0735,thebikeshop.com)
This is a commuter bike that does everything you need it to. Not only are the mechanics ideal for daily riding – think high-quality Shimano shifters – the bike is also equipped with must-have accessories like full-length fenders, a front basket and a bell. And, the sleek, silver frame is classic chic. $700.
(The Bike Shop, 801 11 Ave. S.W., 403-264-0735,thebikeshop.com)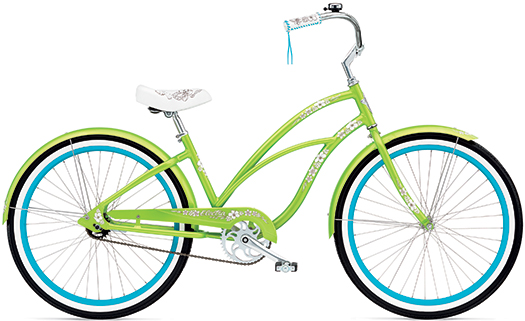 A bright green frame and electric blue rims? Enough said. $630.
(Bow Cycle and Sports, 6501 Bowness Rd. N.W., 403-288-5422,bowcycle.com)
This is a classic beach cruiser, with sturdy balloon tires, a plush saddle and a lightweight frame. It's also a single speed bike, meaning nervous riders can avoid that gear changing hassle. This bicycle is available in matte black and bright green. $399.
(The Cyclepath, 917 Macleod Tr. S.E., 403-253-7717,thecyclepath.ca)
There aren't many bikes that can fold up to fit perfectly under your desk at work or in your hall closet at home. Weighing just 14 kilograms, it functions like any other bike – sometimes even better. It's a 7-speed bike that is also equipped with a full-size floor pump hidden in the seat post for those emergency flat tire moments. Manufacturers made it incredibly easy to make this bike part of your daily routine. $650.
(Mountain Equipment Co-op, 830 10 Ave. S.W., 403-269-2420,mec.ca)
With a sleek steel seat post (with a lamp attached) and equipped with fenders to protect your backside from the spring spray, this is a trendy pick for spring. The subdued espresso-coloured frame also means it's easy to pair your work outfit with your mode of transportation – bonus. This bike is known to be a reliable, and comfortable, commuter bike that doesn't sacrifice city style. $580.
(Ridley's Cycle, 223 10 St. N.W., 403-283-1421, ridleys.com)