Now that fall has arrived, you might be looking to update your wardrobe or clear out a cluttered closet. For those who want name-brand clothing but balk at the thought of brand-new prices, consignment boutiques are a great option. Many consignment boutiques are highly curated and discerning in terms of what they accept, stocking high-end brands and pieces in perfect condition. They all want clothing without rips, stains, or missing buttons. Depending on the store, they accept items that are in season and less than two years old, and will offer consignors up to 40 per cent of the sale price.
Here are some tips from consignment store owners and fashion stylists around Calgary to help you find boutique-quality fall trends without breaking the bank, and make a profit on your own used clothing.
This online consignment store carries high-end brands like Gucci and Prada alongside mainstream lines such as Topshop. Designer accessories are particularly popular. "In this economy, people still like luxury items, but they don't want to pay as much," says founder and CEO Joyce Jebose. "With consignment, not only are you saving money, you can also make money."
Jebose's clients want fall staples like boots, coats and statement handbags. All the inventory here is less than two years old and must be dry-cleaned before consignment.
403-608-6078, joycescloset.ca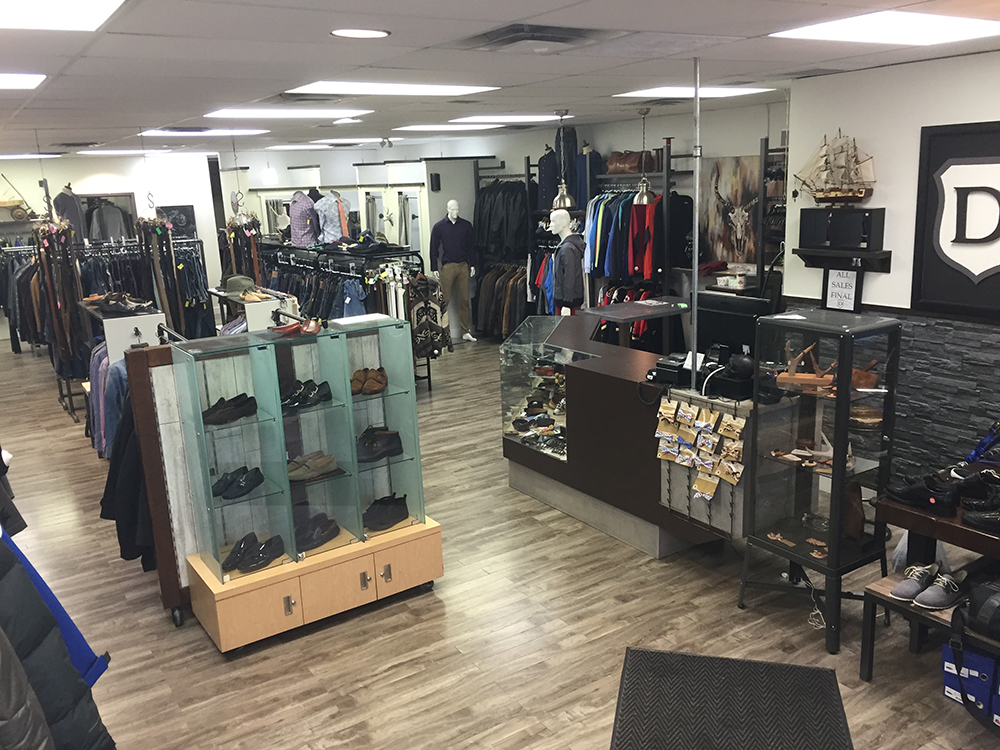 Photograph courtesy of man of distinction
The owner a ladies' and a men's store within steps of each other, Kristin Halpape says faux fur, leathers and wraps are all selling well at Expressions, which carries brands like Theory and Rebecca Taylor. Meanwhile, Man of Distinction is expanding the options for men's consignment.
"Lots of men aren't huge shoppers, so we have lots of selection, but not too much," says Halpape. "It's presented in a way that's very shoppable."
Expressions: #202, 12100 MacLeod Tr. S.E., 403-278-0966, expressionscalgary.com 
Man of Distinction: #115, 12100 Macleod Tr. SE, 403-523-0120, manofdistinction.com 403
-523-0120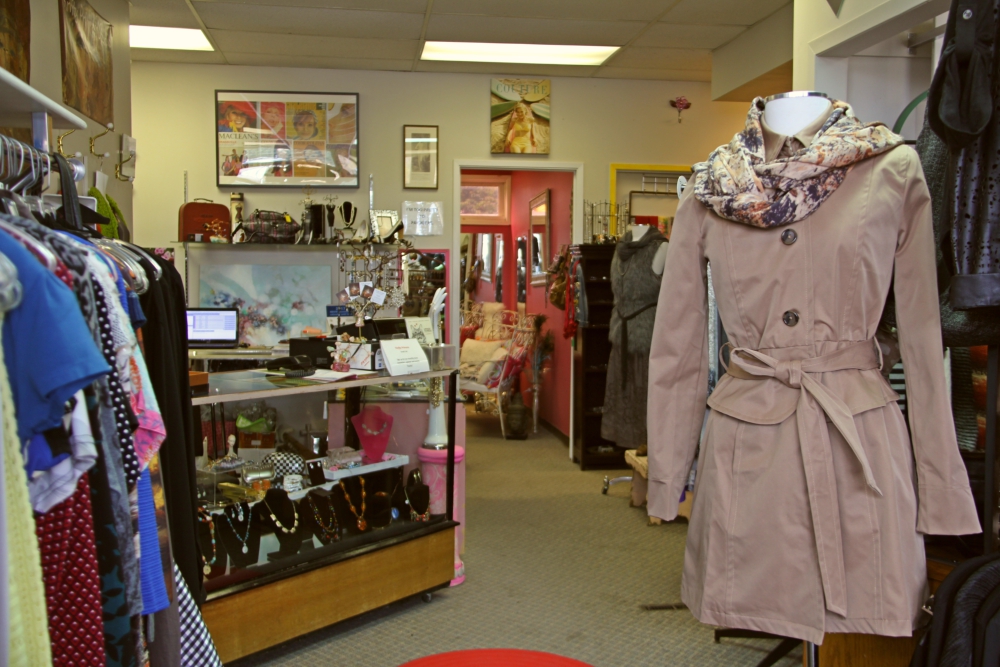 Photograph by madison farkas
This Brentwood store sees a wide range of clientele, from university students to career women. It carries a variety of brands, including Lululemon, Alice + Olivia and Kate Spade. "It's a very intimate space. It's about searching in every corner because you never know what treasure you'll find," says owner Jennifer Jensen. "We love helping people put full outfits together."
Shawls, sweaters and tunic-style tops are all selling well this fall.
810 Edmonton Tr. N.E., Calgary, 403-289-4425, thriftyprincess.ca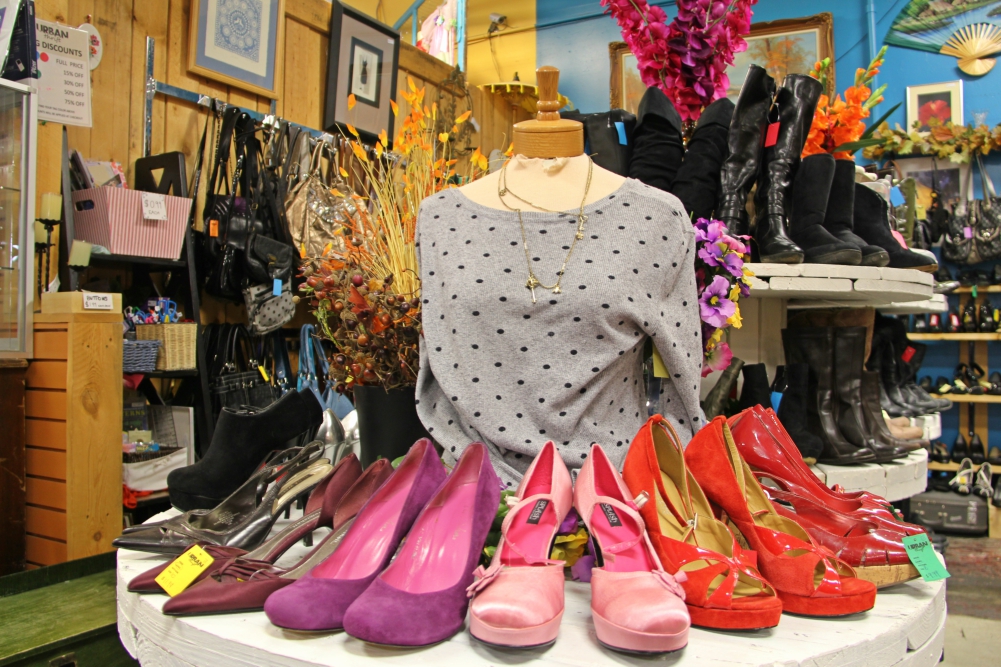 Photograph by Madison Farkas
Women's, men's and children's fashions are available here. Manager Kelly Trueman says Kenneth Cole and Banana Republic always sell well. They also take consignments from brands like Joe Fresh.
"We have a wide range of prices, so we can really accept anything as long as it's in good condition," says Trueman. Trueman adds that this fall, shoppers are looking for versatile pieces. Ponchos are a popular item, as are sweater-dresses that can be worn with knee-high boots.
3434 34 Ave. N.E., Calgary, 403-769-1934, urbanthrift.ca
---
3 stylists' suggestions on making the most of consignment
Now is the time to find quality. "In this economy, people are offloading great pieces to make extra money," Flanagan says. "You can find leathers or look for labels that you might not be able to afford new."
The trick is to keep specific pieces in mind. "What are you missing? Do you want something with fur trim? A designer shoe? If you go in willy-nilly, you'll get overwhelmed."
Flanagan's consignment store suggestion: Danielle's Consignment
908 17 Ave. S.W., 403-244-4752, daniellesconsignment.com
It is possible to consign menswear. "They might have beautiful Hermes ties that cost a fortune at one point, but that no longer fit with their wardrobe. Those do well," Larsen says.
Men should look for rich jewel colours like burgundy and indigo, vintage designer pieces and anything from Japan. "They use such great fabrics," Larsen adds. "If the label says 'made in Japan,' it's probably awesome."
Larsen's consignment store suggestion: SalvEdge
Don't get bogged down by a wide selection. "Rather than going through one by one, I might run a hand down the rack," Mckenzie says. "If it feels nice or it's got an interesting print or colour, I'll pull it out. It can take a little more time, but I love a good bargain."
This fall, Mckenzie suggests looking for velvet, over-the-knee boots, bomber jackets and anything embellished.
Mckenzie's consignment store suggestion: the-upside.ca