Artists to Look for at New Craft Coalition
This sale is curated, small and full of work from some of Calgary's best artisans.
By Sarah Comber
The New Craft Coalition, held at Festival Hall in Inglewood.
Photos courtesy of the New Craft Coalition.
Feeling that fall shopping itch? Satisfy your buying needs and support local artists at New Craft Coalition. NCC is an art, craft and design market created three years ago by local artists Kari Woo, Laura Sharp and Natalie Gerber. The organization aims to nurture the creative Calgary community by providing mid-career to professional artisans a platform to sell their wares in a carefully curated and intimate setting.
Its next sale is October 16 and 17. Here are a few artists to look for.
ACAD graduate Adam T. Lefebvre's ceramic are inspired by the concept of "vestige."
Adam T. Lefebvre graduated from Alberta College of Art + Design this year and will be joining NCC as its emerging artist for the October show. Lefebvre is completing a residency at Medalta Potteries in Medicine Hat. In his artist's statement, Lefebvre says that he incorporates the concept of "vestige" into his work – illustrating a fascination with creating visible traces of something that no longer exists. Natalie Gerber, co-founder of the NCC, says that Lefebvre's submission to partake in the market stood out because his ceramics "touch on both the conceptual and functional sides of art."
Heather Buchanan's portraits range from quirky and humourus to feminine and ethereal.
Painter and illustrator Heather Buchanan has been a long-standing participant of the Calgary art market circuit – showing her work at other sales like Market Collective – but this will be the first time she will show at the NCC. "We are really excited about Heather because we love her style," says Gerber, adding that Buchanan's work conveys a great sense of humour, utilizes quirky wordplay and incorporates a feminine touch.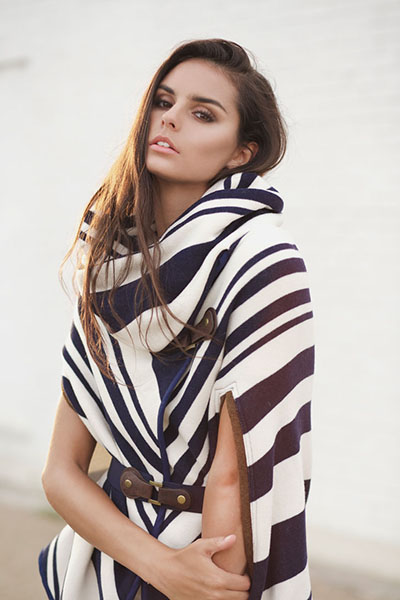 Rebecca King Design Studio offers a variety of sophisticated knits perfect for the fall season.
Rebecca King has been designing women's wear in Western Canada for ten years. Although she has recently relocated her business from Calgary to Saskatoon, she will be making a return trip for the NCC. King's designs are edgy and contemporary, yet classic and cosy. The team at NCC was drawn to King's work because of its distinctive aesthetic and wearability. "She's very skilled and definitely knows her medium, which in fashion I think is really rare," says Gerber.
Samantha Reed's debut knit collection will be showing at the NCC.
Samantha Reed is also a graduate from ACAD, where she earned a Bachelor of Fine Art, majoring in fibre. Reed additionally received a Master of Design at the Glasgow School of Art, specializing in knitwear and pattern cutting.  She is launching her debut knitwear collection at the NCC. "She does this really cool technique where she machine-knits her scarves and then felts them afterward, so that they look like coral," says Gerber. "They are really sculptural and beautiful."
Returning Artists
Sean Kunz Ceramics beautifully balance function and form.
Providing consumers an intimate, curated shopping experience is part of the NCC's mandate. Thus, the organization rotates artists throughout different markets in order to keep the selection fresh for consumers. The market this October will feature the return of Sean Kunz Ceramics, Van Charles Art and Stephanie Wong, the artist behind marymake. Wong was the first emerging artist from ACAD that the NCC featured.
New Craft Coalition is Friday, Oct. 16 from 4 to 9 p.m. and Saturday, Oct. 17 from 10 a.m. to 6 p.m. at Festival Hall, 1215 10 Ave. S.E. Entry is $2., newcraftcoalition.com