At Home With Amanda Duke and Michal Waissmann
After moving in together, this Calgary couple learned how to work together to create a style all their own.
by Jennifer Friesen
Michal Waissmann and Amanda Duke at their Calgary apartment.
Photo by Jennifer Friesen
After dating for two and a half years, Amanda Duke and Michal Waissmann decided it was time to move in together. Melding Duke's cottage style with Waissmann's functional and modern aesthetic produced a design entirely their own. Of course, bringing all their belongings together into one 1,200-square-foot apartment brought on a new set of challenges. But through Duke's crafty design and Waissmann's hands-on approach to building, they made their home comfortable and quirky without leaving it looking cluttered.
What's your design philosophy?
Amanda Duke: Our place is very mid-century modern, but it has a soft side. I like to walk into a room that looks beautiful and clean with a lot of straight lines and a little bit of colour. But I also like to walk into a room and feel welcomed and warm. So for me it's like a balance between beauty and comfort.
Michal Waissmann: And I need stuff that works, otherwise it doesn't really add anything to the space.
AD: That's definitely where Michal comes in, so maybe more beauty and function.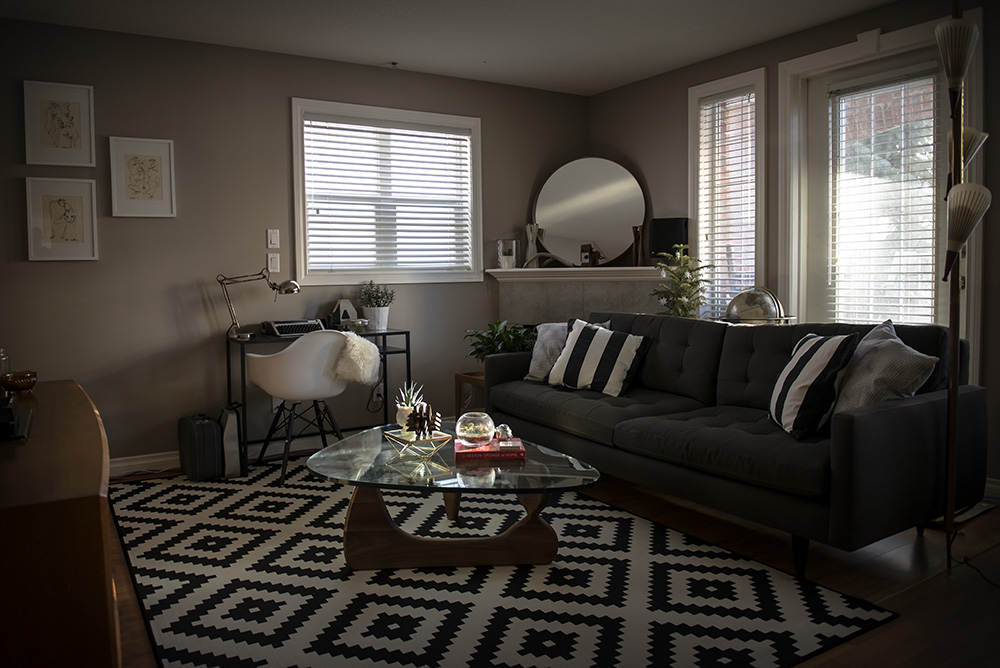 photo by Jennifer Friesen
Amanda Duke and Michal Waissmann have recently moved in together and have blended their styles to create a beautiful yet functional space.
Where do you find inspiration for decor?
AD: I'm inspired by Michal's style, and my friends and colleagues. I work at Critical Mass, so I'm not a designer, but I get a lot of inspiration from the beautiful and creative people I work with. I also spend a lot of time looking through design sites, searching Instagram and reading articles online. I love browsing Rue Magazine, Apartment Therapy and Dwell.
What's your favourite room in your home?
AD: The bedroom. It's taken on a couple different versions, but I think that now, with the shelving and the placement of the bed, it's become super welcoming. I feel like it sums up our entire space because it's comfortable, but it has some quirky elements. It also ties our personalities together, like Michal gets one half and I get the other.
MW: Well…
AD: Well, okay, it's more like he gets a quarter and I get the other three.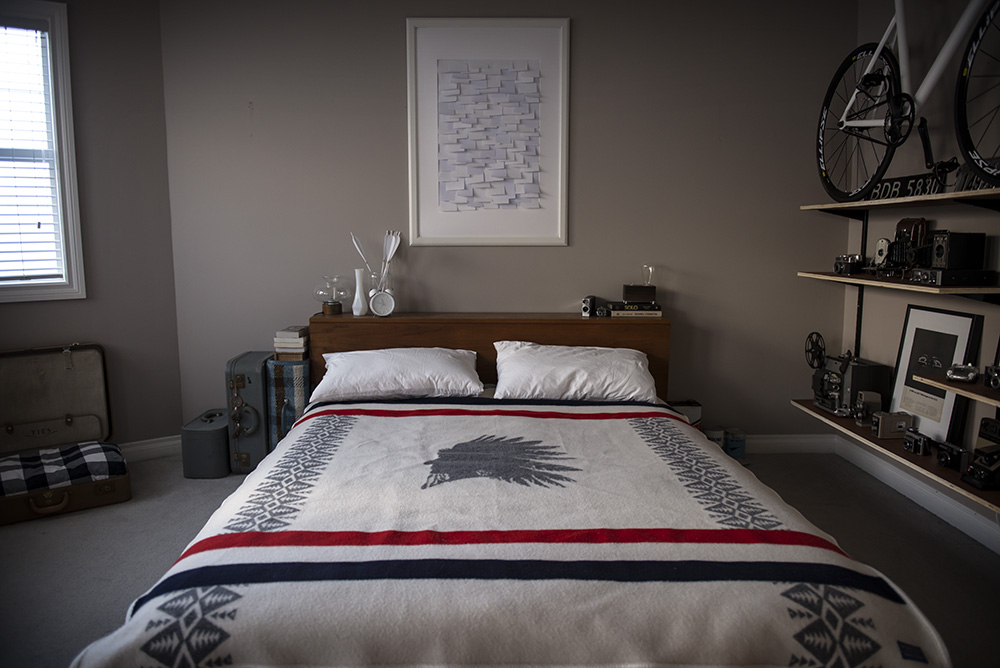 photo by jennifer friesen
The expansive bedroom is on of the biggest spaces in the 1,200-square-foot apartment.
What's your most treasured item and where is it from?
MW: You mean besides me?
AD: Yeah, exactly. [Laughs] I'd have to say it's probably my milk glass lamp in the bedroom. I have an obsession with milk glass, and this lamp was a birthday gift from my best friend. The milk glass was still intact, but the pieces were old and we didn't even know if it would work, so Michal re-built it for me as a present and it's just gorgeous.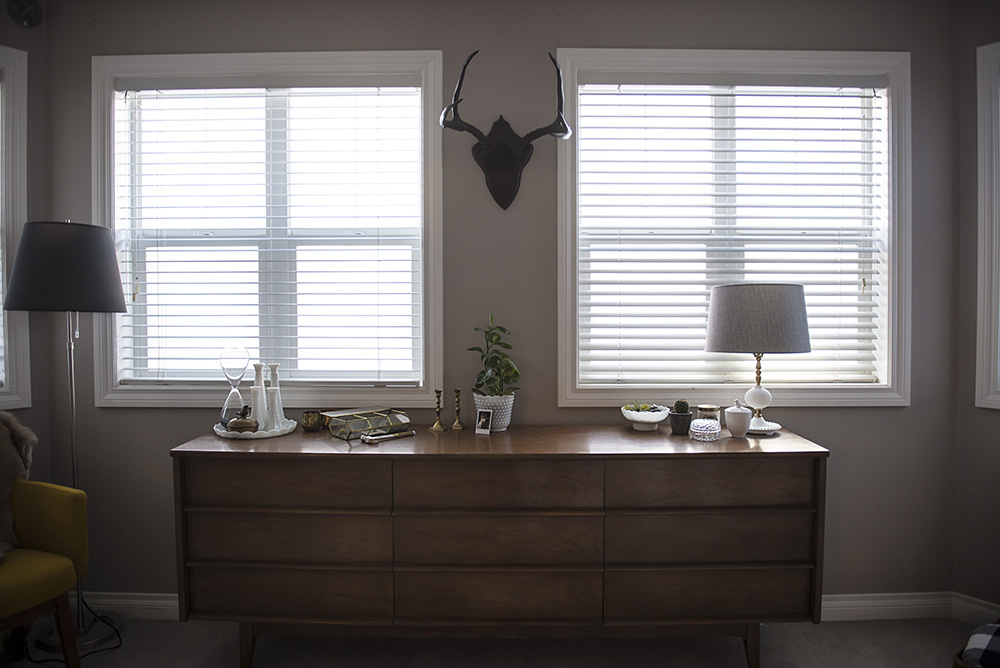 photo by Jennifer Friesen
The milk glass lamp on the far right of the dresser was restored by Waissmann after Duke received it as a gift from her best friend.
What is it that draws you to milk glass?
AD: My best friend introduced me to it. She had a few beautiful vintage milk glass vases and I fell in love with them, so I was soon on a mission to start my own collection. Searching for milk glass was a bit of a stepping stone for me into the world of antiquing. I probably have over 50 unique milk glass pieces, and the collection is still growing, but now I focus more on those unique, hard to-find patterns and designs.
Where do you like to shop for home decor locally?
AD: We hit every thrift store around and we do a lot of vintage sales. But we also have pieces from Crate & Barrel and West Elm, and we don't discount IKEA. We also get a lot from Kijiji.
MW: Kijiji is a godsend, really. There's so much stuff we find on there but also a lot we've sold, so it's like this recycling process.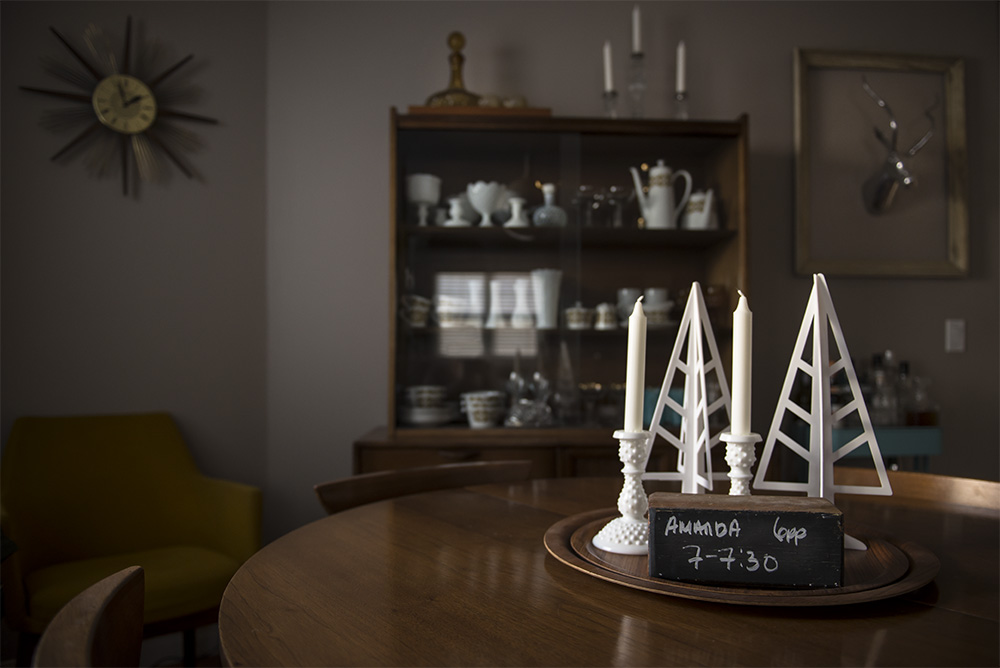 photo by Jennifer Friesen
As a relic from a night out with friends, Duke brought home the block marking her reservation – but she swears she got the go-ahead from her server beforehand.
Did you encounter any decor challenges in your home?
AD: This place has more space than I used to have, but combining our things together made us realize how much we have. We had to downsize, and it was about understanding what fit in the space. But Michal's just super creative and he'd say, "Let's work it out, let's build it, let's make it functional for us." That's where his functionality side comes in.
MW: I'm kind of a do-it-yourself kind of guy and I know how to build a lot of things. I think it comes from growing up in a Polish household. My parents' mindset was that you're going to paint and you're going learn to build, because that was what they did.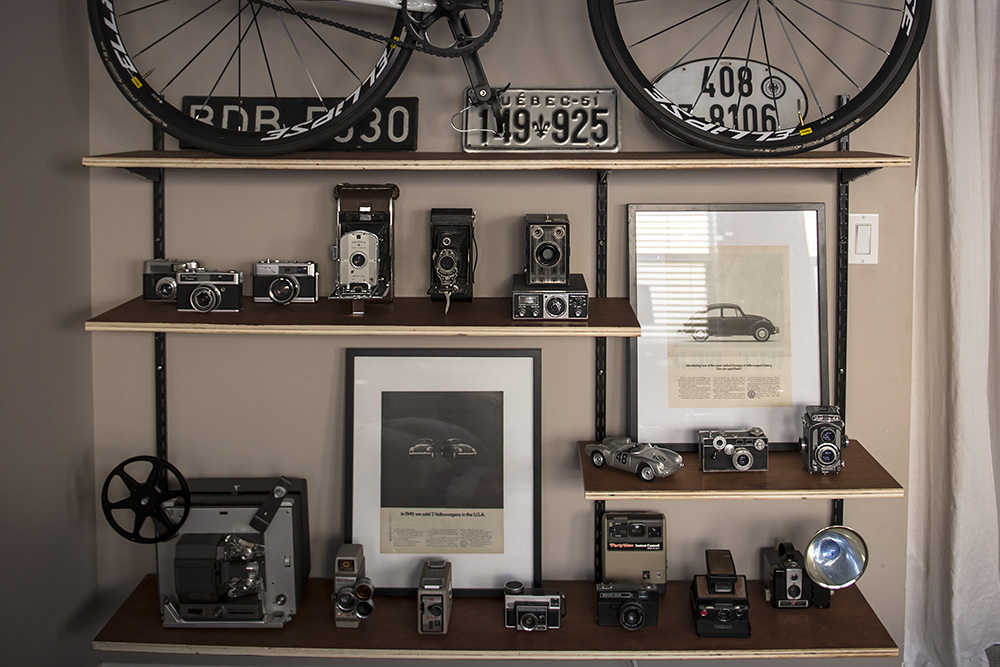 Photo by Jennifer Friesen
Waissmann recently built this shelf in the bedroom to display his vintage camera collection and store one of his bicycles.
What's your favourite view from your home?
MW: The problem with being on the main floor is that there's a walkway right by our living room that goes to the side entrance. If the blinds were open people could look right in, so I actually covered all the windows in frosting. The only windows that don't have frosting are the patio doors.
AD: And we can't really see much from the patio, so it's just a challenge of living on the main floor.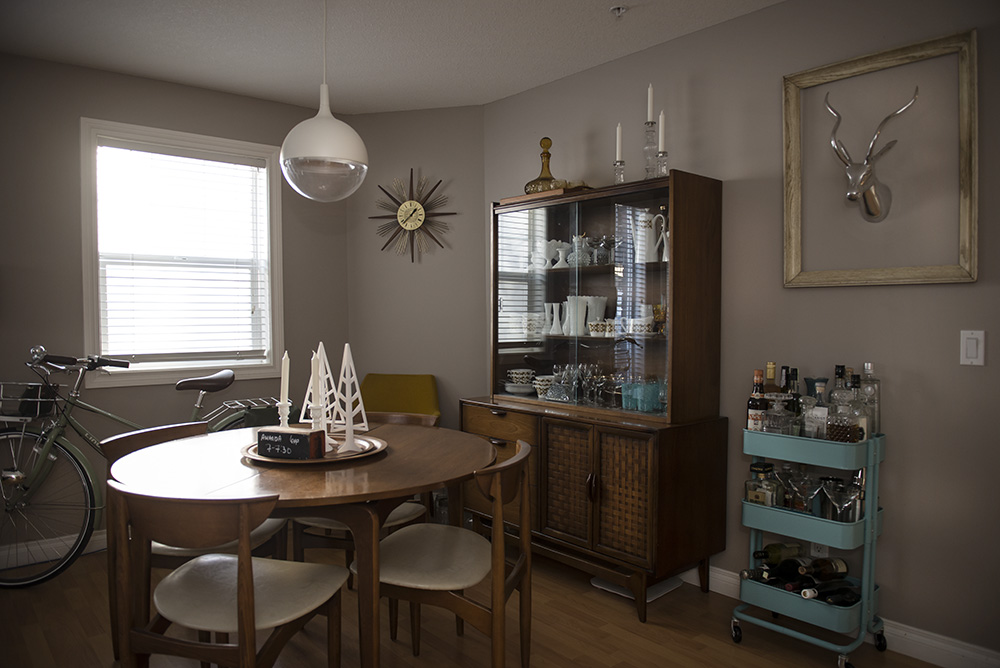 photo by jennifer Friesen
Describing themselves as "bargain hunters," Duke and Waissmann have a collection of vintage furniture and antique accessories.
What's your favourite thing about living here?
AD: Honestly, moving in with Michal and just being able to combine our styles and bring everything together. It was exciting to move in and be able to share all of our pieces and really make it our home.
MW: Yeah, before Amanda moved in, I had IKEA shelving units that were just easy. And now there are items that stick out for her, she hates the speakers for example, but I love technology. So we managed to fit it into a mid-century unit that has no business being an entertainment unit, but we found some tricks like that.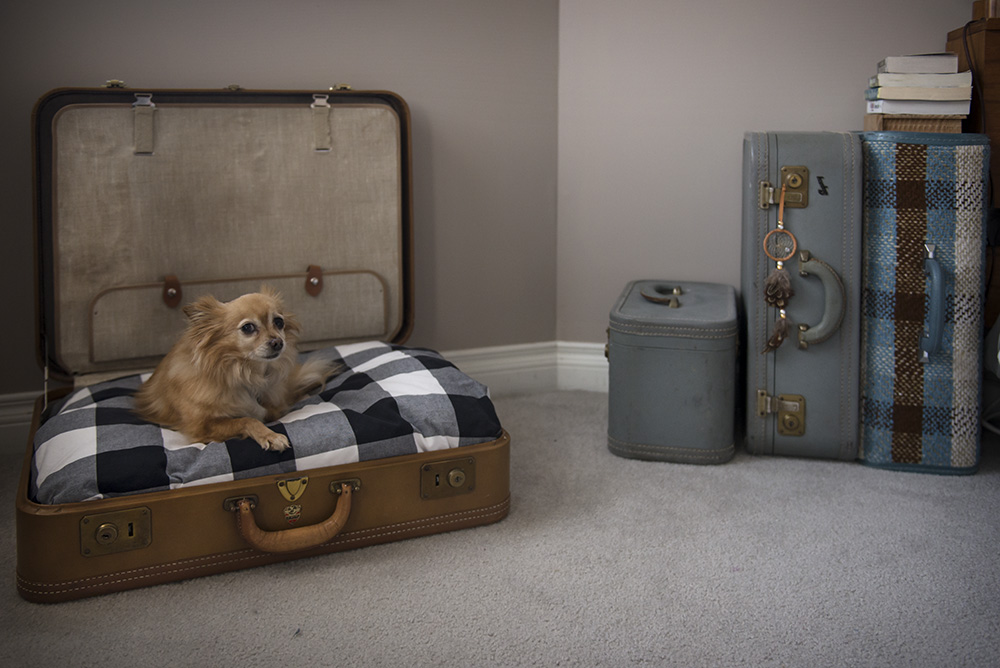 photo by Jennifer Friesen
By converting an old suitcase, the couple has made a bed for their dog Harry.
What do you want your next home to be?
AD: We're hoping to find a small detached bungalow in the neighbourhood. I think that that style of home would showcase our things so nicely. And we really don't need a massive house, we just want one big open space
MW: I don't want 2,500-square-foot home, we need 1,200 square feet at most. And the thing about a single floor bungalow is that it can be converted into an open concept a lot easier than a multi-story family home with wall support, and we want something completely open.
AD: I want white walls, a massive, open floor and a vaulted ceiling. Really, I just want a clean slate.
This story was part of Avenue's free weekly Style Newsletter. Sign up now and get home decor and fashion information and advice in your inbox every week.