Walking into Julya Hajnoczky's Glamorgan apartment is a lot like walking into her brain. Enormous photo prints, art pieces and fragments of drift wood fill the space, with each item purposefully chosen to tie her back to a happy memory. Hajnoczky only recently bought the apartment, but it already looks like she's lived in it for years. It's the first place she's owned entirely on her own, and she says that this time around, she's really dedicated the time to turn it into a reflection of herself.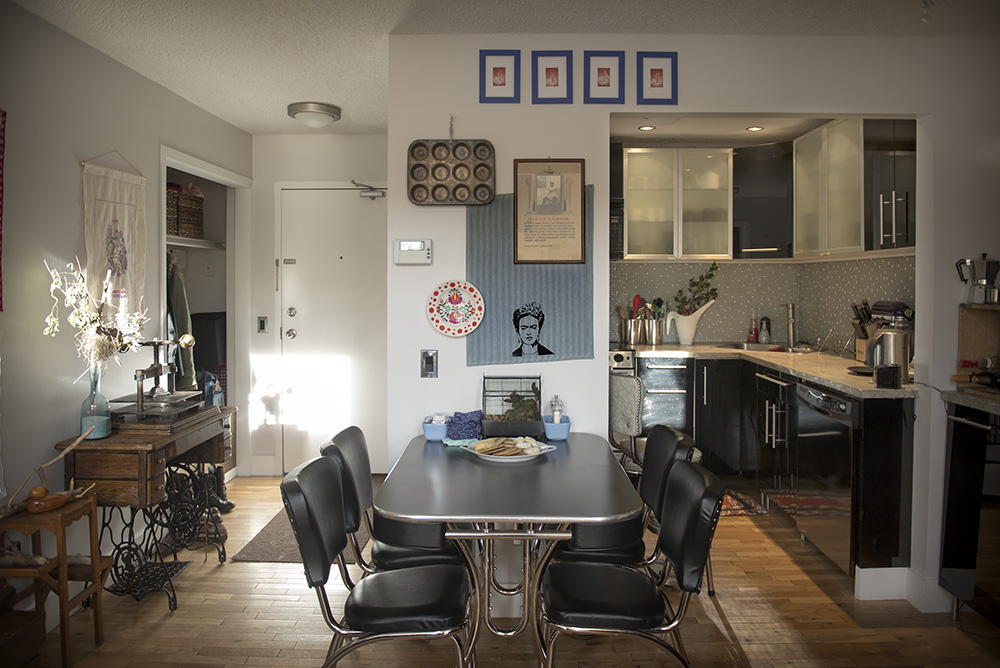 Hajnoczky's kitchen table and chairs are the very same set she grew up with in southwest Calgary.
What's your design philosophy?
I thrive on having a calm home to be in; I think it's a part of being an introverted person. My home is definitely driven by nostalgia and warmth. I really feel like this house reflects me. In a weird way, my apartment is like the movie Being John Malkovich, where you're inside of his head. Form and function are also very important to me. I don't want to have an "accent chair" that I can't sit in; I have to be able to use everything.
What's your favourite room in your home?
The bedroom, actually. It's a really calm place for me. All the things that are up in there are from places that I've really loved and felt content in. I just wanted to make it feel like a sanctuary. I'd say the whole house is a sanctuary, but the bedroom is the ultimate calm space for me.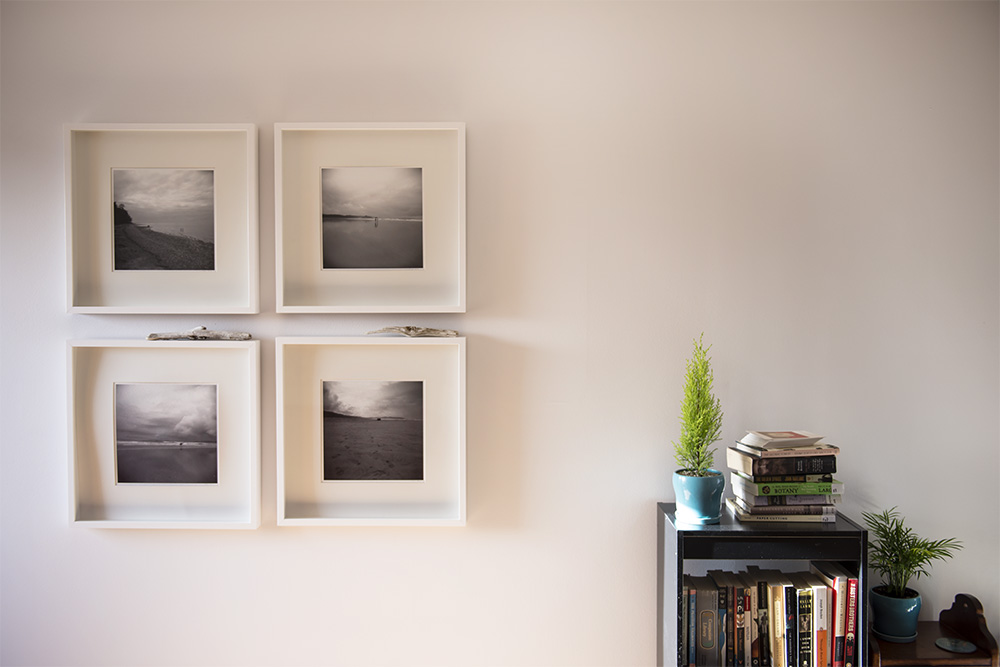 Hajnoczky's photography prints line the walls of her bedroom.
What is your favourite decor find?
I think the funniest thing is my footstool that has the old Hudson's Bay blanket covering. I wanted a chair in my reading corner, so I actually went and measured out what the ideal footstool dimensions would be. Then I was doing the rounds at all the antique places I like, and I see this funny little stool stuffed away under something else. I had already planned on hanging some Bay blankets for curtains in that room, so I pulled out my tape measure and it matches the dimensions exactly. I sort of figured that it was fate.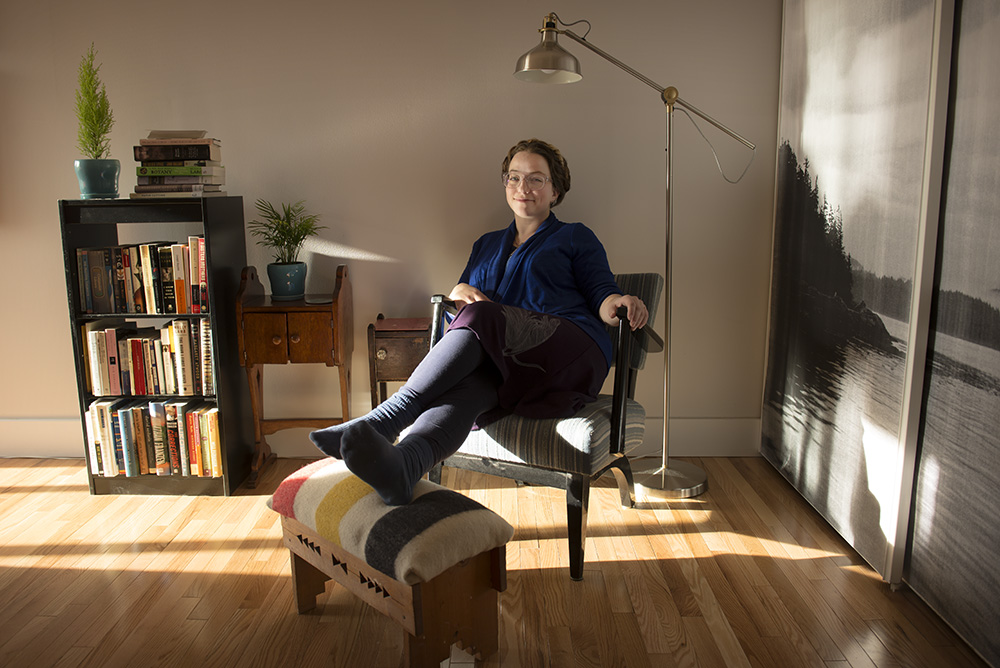 The footstool in Hajnoczky's bedroom is her favourite decor find. It's covered with a vintage Hudson's Bay blanket.
What's your most treasured item and where is it from?
Right now there's this bird's nest I found while I was in Griffith Woods Park. My mom and I go out there for walks all the time and we spotted it in this low-hanging willow bush with two little birds in it. We got to watch them grow and leave the nest, but once they had flown away, there were two tiny eggs in it that hadn't hatched out. I knew I just had to have that nest, so I ended up going back and cutting the branch out.
Where do you find inspiration for decor?
My inspiration probably comes from my summers at the lake when I was young. My family has had this place at Lake of the Woods in Ontario for three generations, so I have a lot of nostalgic pieces from there around my place. When you're a kid those family vacations are just so relaxing, and it just brings me back to spending time in the forest or at the lake.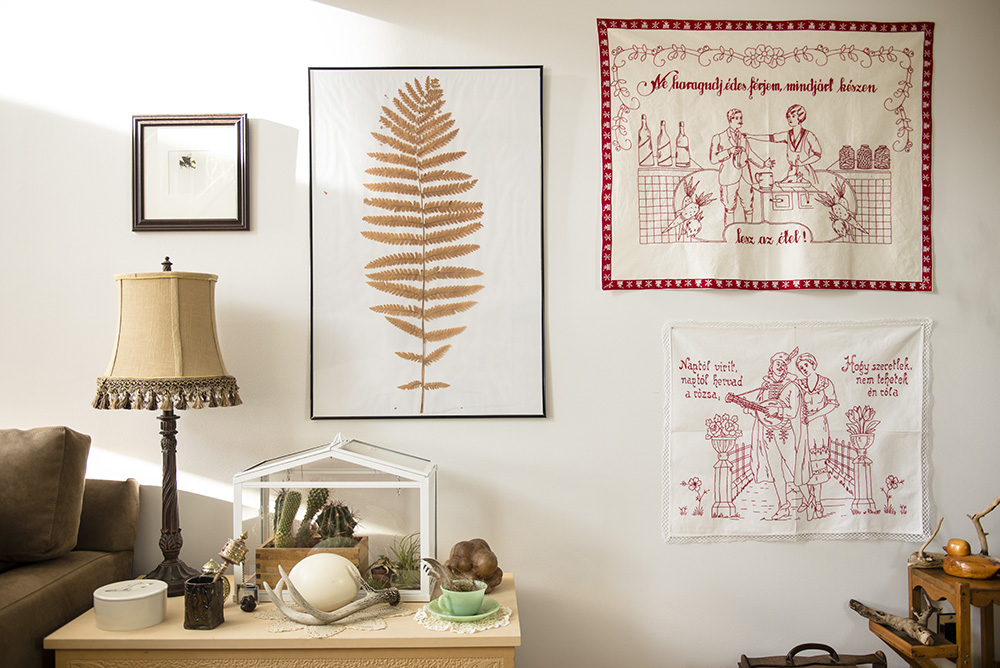 Hajnoczky describes her home decor, with its collection of wood, plants, stones and art, as "nostalgic and warm."
Where do you like to shop for home decor locally?
The New Craft Coalition and the ACAD show and sale are both great. Being a local artist myself, I think it's good to be able to support local artists, and it's really important to keep feeding that circle. Aside from that, I would rather get something old that someone else has treasured, or something made of wood rather than particle board. I always seem to find things at Crossroads Market, Reclaimed Trading Co., Inside Avenue Antiques and the Heritage Park antique store.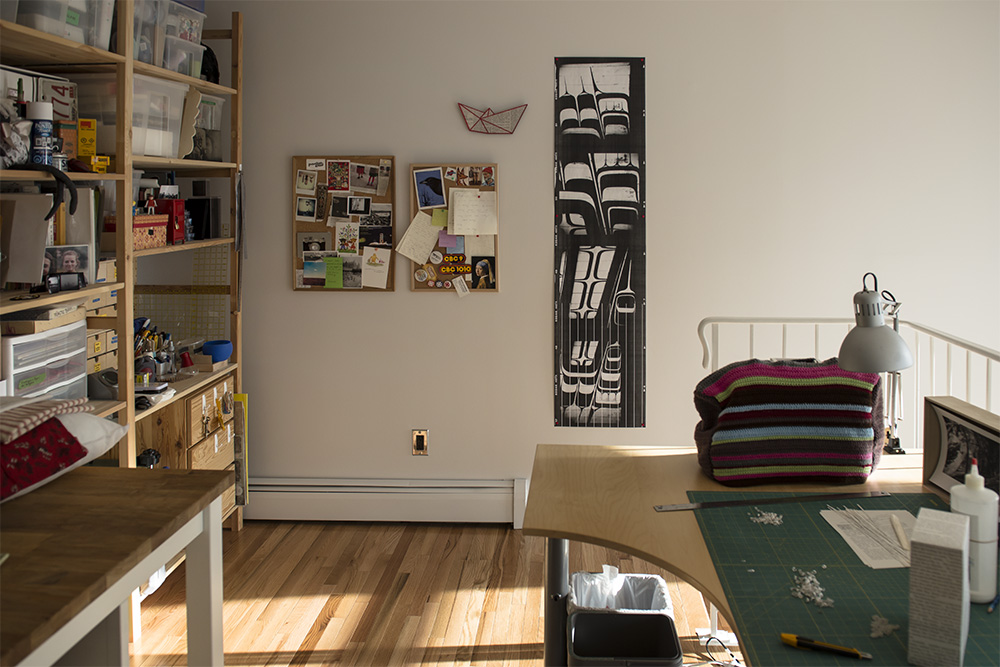 Hajnoczky has transformed her upstairs landing into a working studio for her art and photography.
Did you encounter any decor challenges in your home?
The biggest challenge for me is the balance between art and clutter. There are just all these surfaces that are sitting there, empty and blank – and I know I could just fill them up with stuff. I mean, I have six or seven more embroidered pieces that I could put on my wall with the others, but you have to learn to reel yourself in, because it doesn't have as much of an effect if it's just "stuff" everywhere.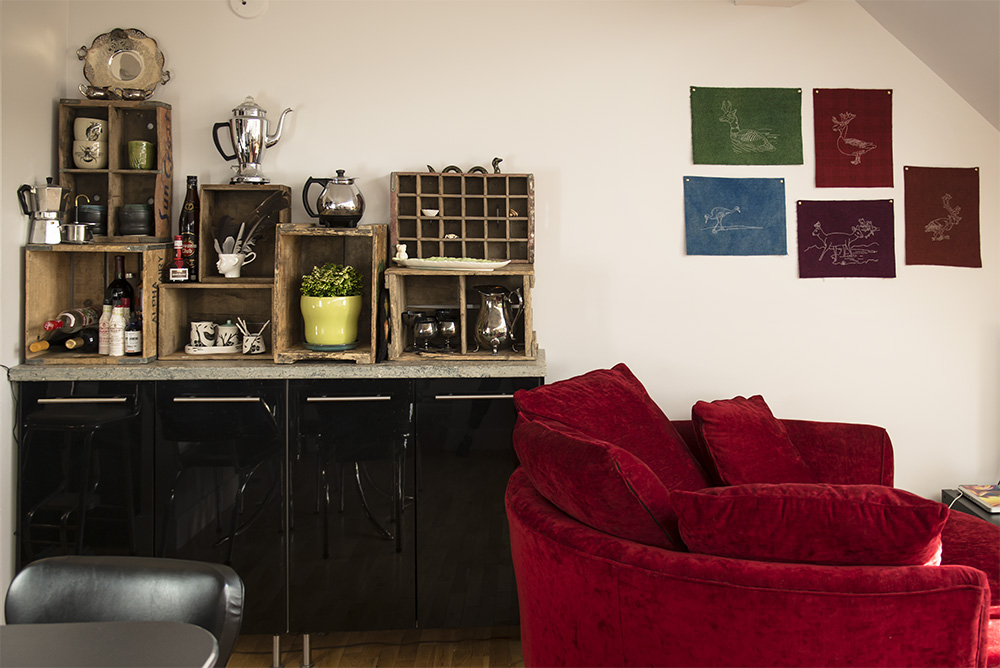 By placing old crates on her counter, Hajnoczky has found a way to display and store her belongings without cluttering the space.
What's your favourite view from your home?
I'd have to say the view from my work space. Because in my last space I had everything jammed into my second bedroom with just this tiny little window that faced a garage. Now, when I look up I can see all the way out to the [Tsuu T'ina Nation] and you can even catch a little bit of the mountains. It's nice to be working and then look up and have this beautiful view off in the distance.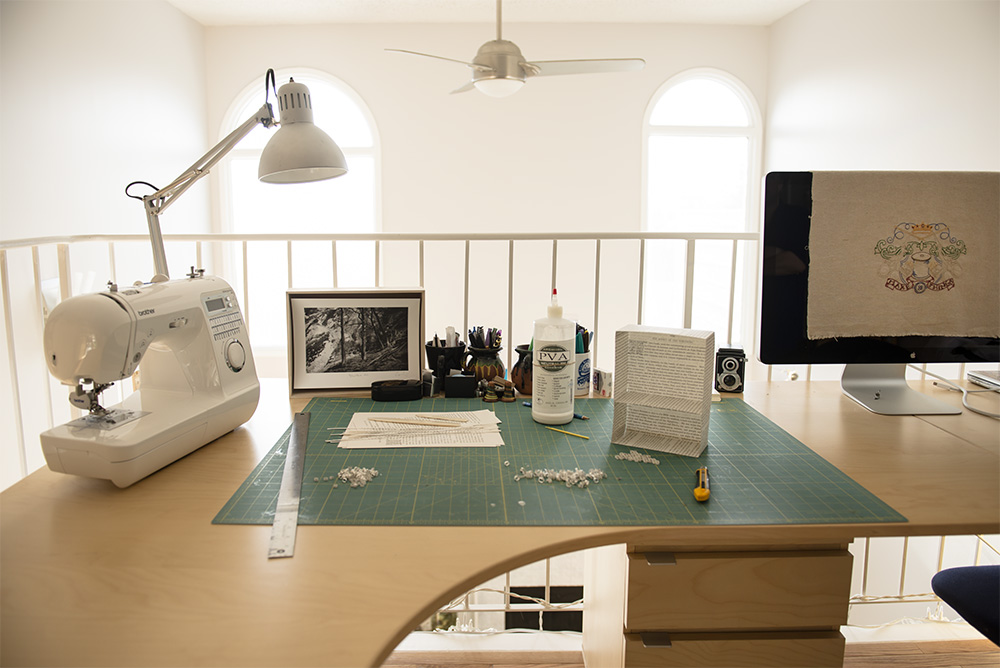 Hajnoczky's work studio on her second floor looks out over Tsuu T'ina Nation.
What's your favourite thing about living here?
Oh, the light! I didn't even have to read about the other features of this place after I saw the photos, all I could see was this light spilling in. I think if you're a photographer, it's one of those things you're always looking at first. The last place where I was renting, it was really quite dim, so I just love it here. It's so energizing.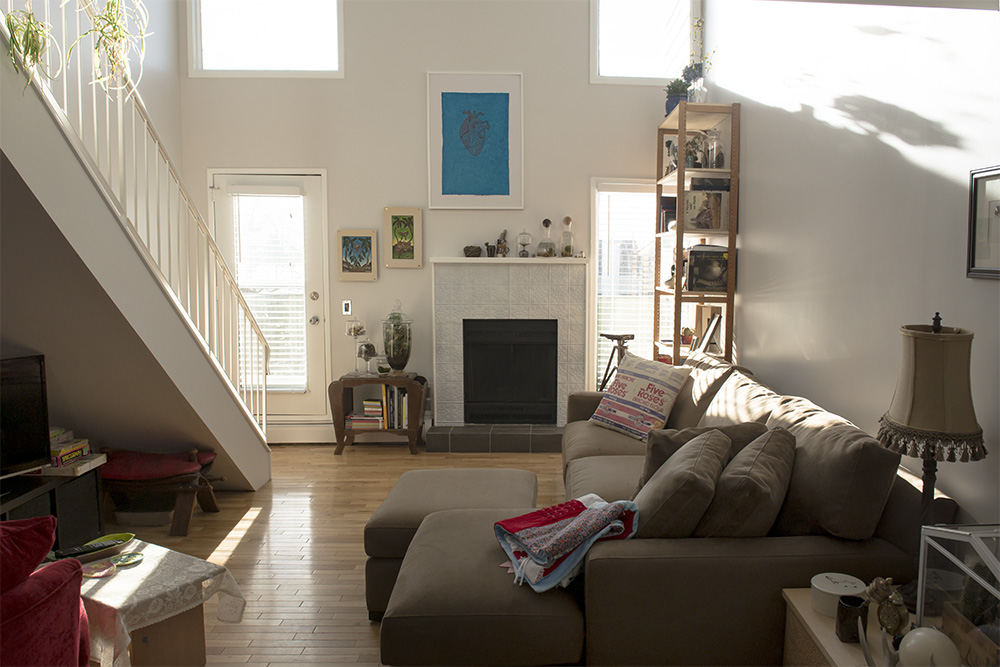 The light coming in from the south-facing windows was the first thing that drew Hajnoczky to buy her home.
What do you want your next home to be?
Honestly, having just moved in here, I can't even imagine packing everything up and moving again. I don't really need more space, because then you just have to find more stuff to fill it with. And this is also the first place that I've owned on my own, so I think I feel a lot more comfortable with really taking over the space. I like it here, just to be able to come home, relax and have things around me that evoke pleasant memories of carefree times.
This story was part of Avenue's free weekly Style Newsletter. Sign up now and get home decor and fashion information and advice in your inbox every week.