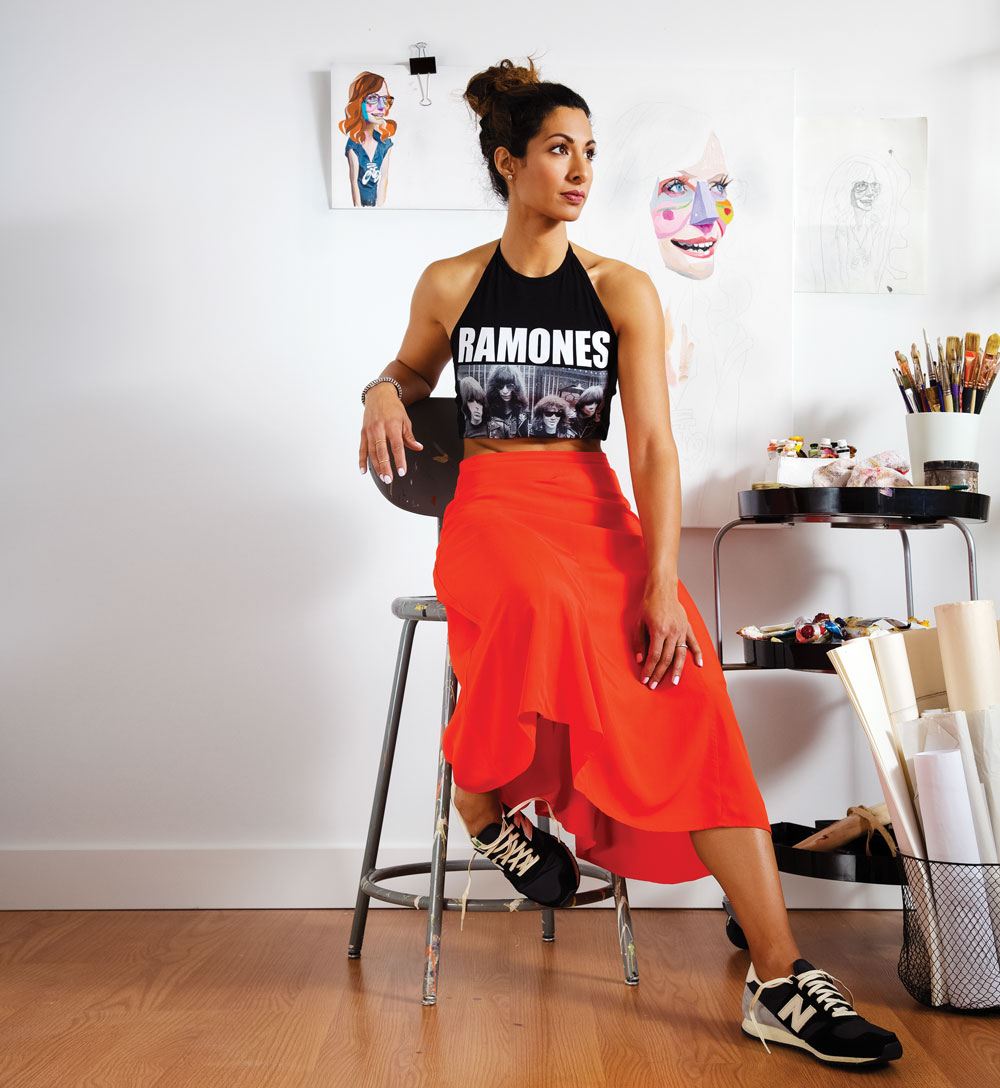 If you've been to Phil & Sebastian Coffee Roasters' new Mission location, chances are you're familiar with Maya Gohill's work. The Calgary-born painter is responsible for the captivating portraits of the coffee shop's owners that hang on the wall at the back of the new caf. The paintings are like the artist herself – eclectic, stylish, colourful and filled with a sense of wonder.
After studying painting at the University of Calgary, Gohill received a master's degree in illustration from the Academy of Art University in San Francisco. Her technical skills in classical portrait painting and illustration influence her ever-growing body of work, which ranges from large-scale classical-style paintings and cheeky character studies to her well-known take on the Star Wars character Chewbacca.
Gohill's own personal style is easy and refined, suiting her busy lifestyle. When she's not working on commissions or teaching at the Alberta College of Art + Design, she's busy raising her son, Deven, and dreaming up her next artistic creation from her inspiring home studio.
Your portraits of Phil Robertson and Sebastian Sztabzyb are highly stylized, yet you captured them perfectly. How did you do it?
I think it's just a question of looking at their faces, or anybody's face, for that matter. It's almost like I'm truncating it, paraphrasing. In a way, it's kind of a caricature.
Is that how painting is moving now?
I think people are straying away from that really formal portraiture where it's perfect and every hair is perfectly in place. We're not trying to paint the Queen. We're trying to be real.
Were you artistic as a kid?
I was totally a dreamer. If I didn't know it, or my family didn't know that I was artistic at that stage, it's really obvious now.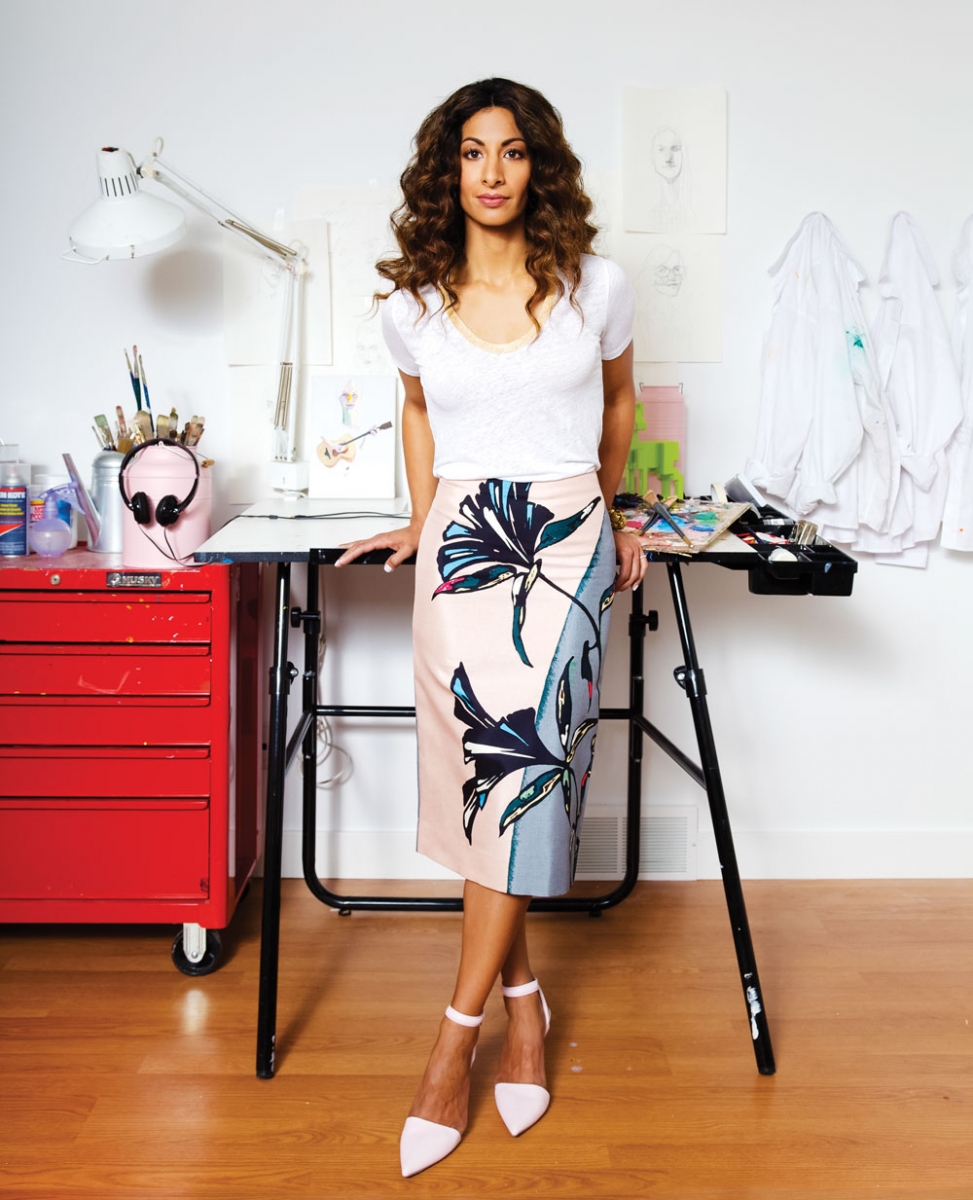 photo by lori andrews
T-shirt and bracelet both from J.Crew; Marni skirt and shoes both from Holt Renfrew.
Did you look at things differently than other kids?
Other kids were more into playing and games and stuff like that. I was always thinking.
Were you also creating?
Yes, I would draw. I was always drawing or making stuff.
What did you draw?
People. Interestingly, it's always been people.
Were you trying your hand at portraits at that time?
I would draw bodies. When I was in Grade 6, I had this book called The Body, and it had all these illustrations of anatomy teaching [kids] what the body does, the functions of the body and anatomy and so on. And I would try to copy them.
Are you very critical of your work?
There are some things that I will look at and think I didn't put my heart into it, but things that I really loved doing, I still love. My paintings are kind of like my little kids. I have this little short-term relationship with them.
What inspired you to do the Wookiee Family Portrait?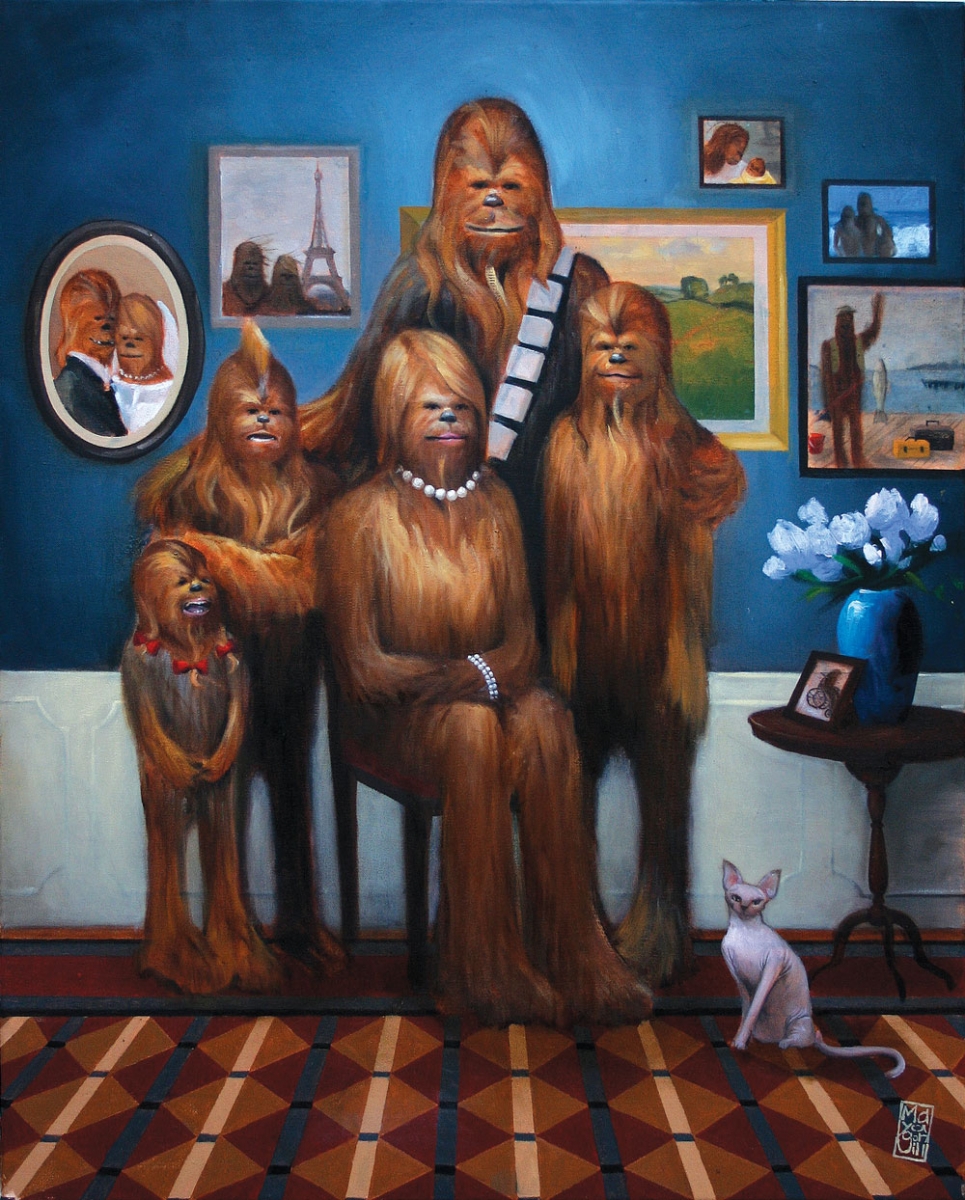 by maya gohill
I was contacted by the Star Wars folks. Don't even ask me how they knew who I was, or any of that. They said, "George Lucas has a shortlist of artists and we'd like you to create something in your style having to do with Star Wars. Are you interested?" I'm like, "Oh my gawd. Hell, yes, I'm totally interested!" So I fired out some sketches and they said, "Choose whatever you want out of those ones." And now it's in a book called Star Wars Art: Visions.
Describe the painting.
The painting is of Chewbacca and his family. He's got three kids: two boys and one girl, who's the youngest. And then his wife – she's wearing pearls and her hair is all nicely coiffed.
His wife is quite the style icon.
She's the one who holds it together. She's the one who plans the schedule for the family, makes sure the sons get to hockey.
If you were to immortalize an outfit in a self-portrait, what would it consist of?
I'm picturing some sort of faux fur. I'd say real fur, but then I don't want to offend anyone. I think it would have a pop of colour. Do you want specifics?
Yes.
A fur collar of some kind, or a vest, or a hat. Maybe a big fur hat, like a big Russian fur hat. A pop of colour in a blouse, or maybe pants. I might be wearing some hot-pink Chucks. This is going to be a crazy, crazy outfit. I don't know if I could actually pull it off.
How would you describe your personal style?
It's eclectic. I like to mix and match. I love T-shirts and I tend to wear a lot of them. T-shirts, I think, can be mixed with anything, really. My personal style isn't very formal and uppity. It's definitely more casual and fun. I really like pattern and colour and texture, but then I love classic stuff, too. Like a classic chiffon, or silk. I love raw silk. And I love classic cuts and shapes, too.
Does art school influence the way you dress?
I think maybe in my 20s, while doing my undergraduate degree, I did push the envelope, but, when I was in grad school, I was kind of more about wearing clothes that were basic that I felt good in and that flattered my figure. I never was one of those crazy, artsy people.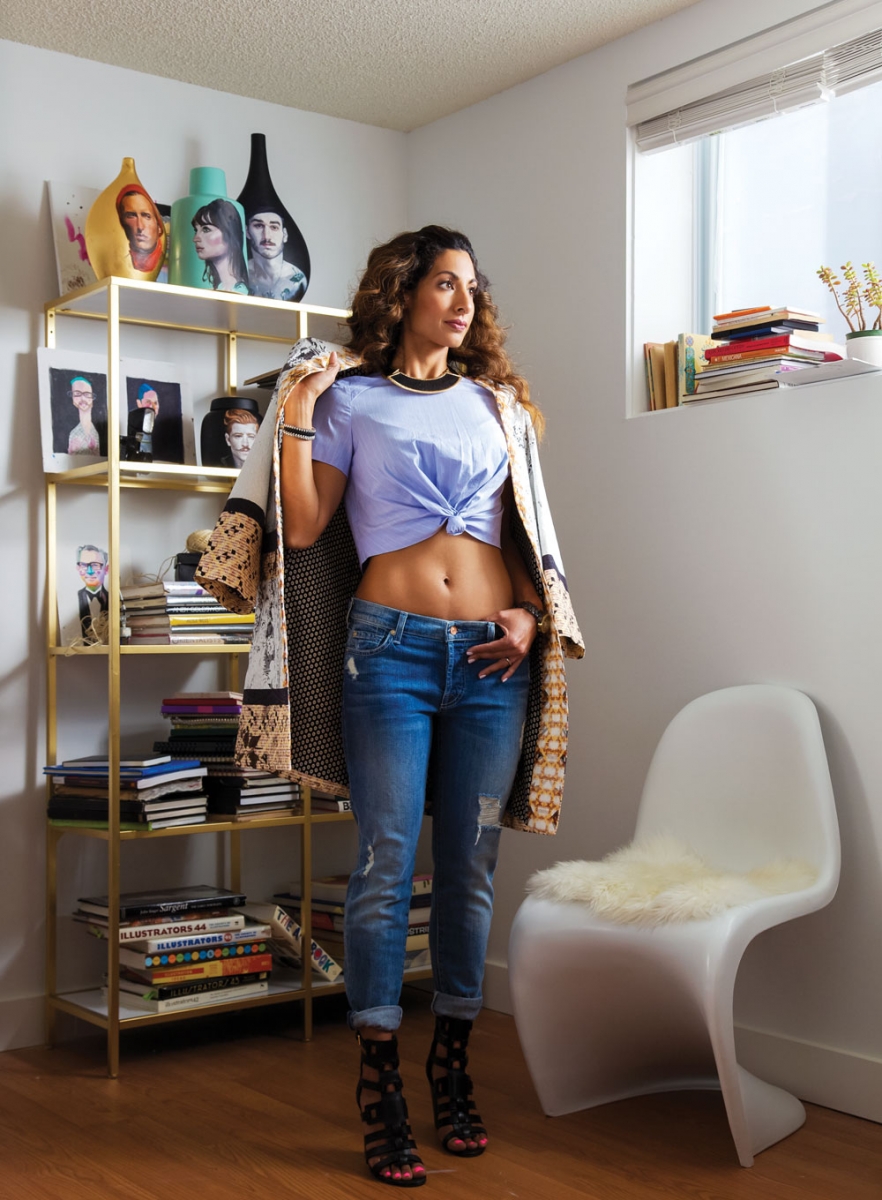 photo by lori andrews
Crop top from Zara; jeans and Etro jacket both from Holt Renfrew; shoes from Winners; necklace from Zellers; watch from Michael Kors.
Where do you like to shop now?
I love Anthropologie. It's kinda got a boho vibe to it. I'll find something that I love from there, and then I'll pair it with something completely different, like something from Club Monaco or Zara. It's good to mix it up.
What are your daily essentials for working at your home studio?
My tea is very important to me when I'm in the studio. And music. It's either "This American Life" or Songza or my own playlist.
What's your favourite playlist on Songza?
It was the Blogged 50, but I listened to it so much, I got sick of it.
What's playtime like for you?
Honestly, it feels like I'm always playing. The best kind of play that's fulfilling and makes me feel completely human is when I'm working in my studio. And, if I'm not doing that, then playtime would be just me by myself wandering around, looking at stuff, observing the world, not thinking about anything.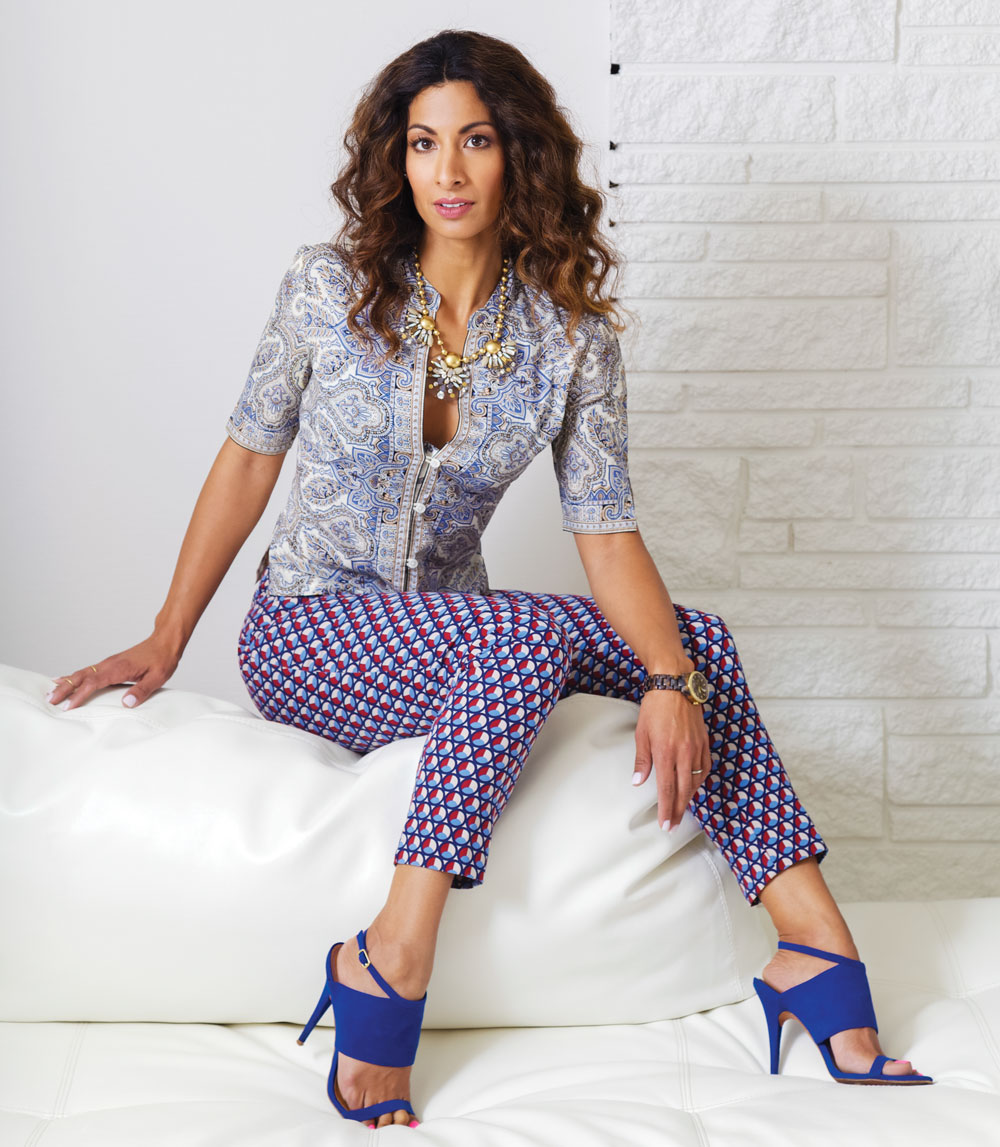 photo by lori andrews
Top from BCBG Max Azria; pants from Anthropologie; shoes from Zara; necklace from J.Crew; watch from Michael Kors.
Your work captures that nostalgic feeling of playing on Saturday
morning with cartoons on.
Watching Hercules. The hours from eight in the morning until around noon, right? What came on after that?
I loved The Littlest Hobo. You know that Littlest Hobo song? My brother would run to turn the volume off because I would always cry. Every single time that song came on, I would totally cry. It's the saddest song in the world.
When you think of it, that dog was a vagrant.
He had no home, no one to love him for an extended period of time.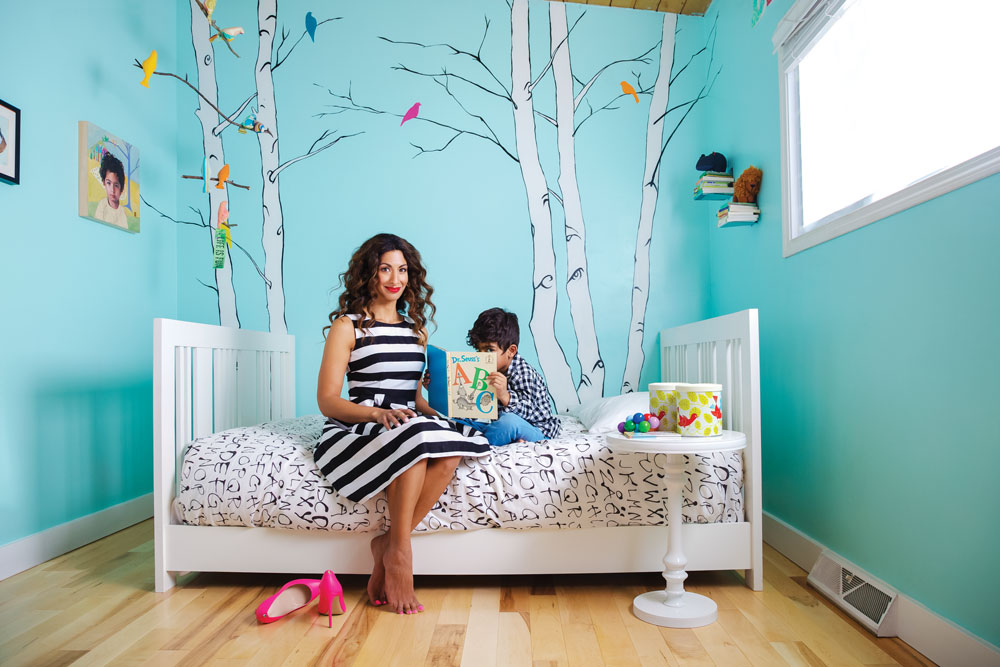 photo by lori andrews
Dress from Femme de Carrire; Valentino shoes from Holt Renfrew.
What was the last show you watched an entire season of in one week?
Probably Breaking Bad, but my favourite show right now is Girls. I love Girls. It's such a good show.
There's such a backlash against it. Why do you like it?
Because it's so honest. It's just so true. I love the fact that Lena Dunham's character is totally imperfect. She completely embraces it, and that's so rare.
Do you relate to her character?
I feel like as we get older we start to feel like our parents must have felt, like you need to fit in, and you need to be doing what society tells you to do. But ask anyone in my family and they'll tell you that I'm not your typical person of my age demographic.
What would they say?
That I definitely buck the trend. I'm totally fine with that. That's who I am, and I wouldn't want to be any other way. And that's how we all should be. We all should do what we're meant to be doing.