Calgary Flames forward TJ Galiardi has a sense of style on and off the ice
"Back up a little; try not to lean into your shoulders," Avenue photographer Jared Sych calls from behind his Nikon.
Straightening his back against the wooden penalty box, TJ Galiardi flashes a grin. "You sound like my trainer," he says. Galiardi is back home in Calgary after two years of playing for the San Jose Sharks, settling into his first season as a forward for his childhood favourites, the Calgary Flames.
Almost immediately after graduating from St. Mary's High School in 2006, he was selected by the Western Hockey League's Portland Winterhawks. But Galiardi opted to take another route and played for Dartmouth College in New Hampshire until 2007. Since joining the National Hockey League, he has played for the Colorado Avalanche, the Sharks and now the Flames.
News came that he was traded by San Jose to his hometown team last summer, and the Flames signed him for a one-year deal worth US$1.25 million. The news came as a surprise – but a welcome one – to Galiardi, a restricted free agent.
"It was always my dream to play for the Flames," he says. "You don't often get a chance like this so early on."
This is actually his second homecoming, as Galiardi was traded to the WHL's Calgary Hitmen in 2007. Now 25, he's pushing himself harder and he's ready to take the red sea by storm.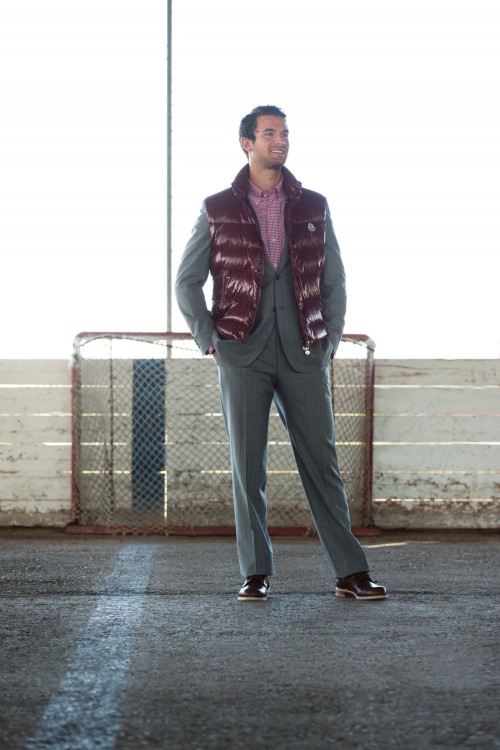 photo by jared sych
Suit by Canali, $1,988, and vest by Moncler, $550, both from Harry Rosen; shirt, $215, fromBrooks Brothers; Whitepine 1000 Mile Boots by Wolverine, $450, from Gravity Pope.
"Going into the summer, I thought there was no chance I'd get traded, but things happen so quickly. I blinked and I'm on a different team. Suddenly, I'm going back to my hometown – definitely the biggest surprise so far. I had a really good end-of-season and playoffs, I was playing with the guys and we had really good chemistry – you just don't expect it. But I'm definitely glad it happened."
"I probably have too many pairs of shoes as well [laughs]. With my dress clothes, I usually wear Salvatore Ferragamo. But, if I were just hanging out, I'd have my sandals. I've had these for probably three years, and they're hanging on by a thread. But they're just so comfortable, I don't want to get rid of them."
"Hockey players are all pretty similar. When you're not at the rink, you just like to go home and relax and get your mind right. I love to play tennis, but not during the season. It's definitely too hard to get out, and the last thing you want to do is waste energy on something other than hockey."
"I was pretty basic before [the NHL]. I had a couple suits that I'd just throw in the rotation, and they definitely weren't custom tailored. The biggest thing for me is to have clothes that are designed for my body, because nothing looks worse than a suit that's one-size-fits-all."
"I probably do 99 per cent of my shopping online – so I've definitely had some tragic misses. I bought this hoodie once that looked like a samurai vest when I got it, so that never got worn. I bought a pair of shoes that turned out to be a completely different colour. They were like a turquoise colour that was way too flashy. There were these other boots I bought that had three or four buckles on them that were kind of sideways. The girls liked them, but the guys didn't so much."
TJ Galiardi's Favourite Things:
Twitter personality: @JoelOsteen
Suit: Hickey Freeman
Hockey player: Shane O'Brien
Band: Radiohead
Book: Shantaram by Gregory David Roberts
Guilty pleasure: Tim Hortons donuts
Article of clothing: Sportique T-shirt
TV show: Curb Your Enthusiasm