Let there be light
To many, modernist design can seem cold and bare. But for Alloy Homes Inc. owner Chris Lemke, modernism is playful and light. In fact, light is the first thing you notice when you walk through Lemke's front door – even the door is full of windows.
After creating and building 200 custom homes for Albertans over more than 20 years, Lemke designed his second detached house for his own family of four in 2015. Of course, he incorporated his signature, self-described "unabashed modernist" values – the same values that earned Alloy a national award for housing excellence by the Canadian Home Builders Association earlier this year.
"We really believe in efficiency," says Lemke on Alloy's overall approach to home design. "We believe in considering a design holistically and we believe in the integration of home and site, house and environment."
For his inner-city, 60-foot-wide corner lot backing onto a park and sitting across the road from a school playground, that integration meant taking full advantage of the views. The 3,300-square-foot home includes wall-to-wall, floor-to-ceiling, wrap-around windows, glass doors and skylights throughout.
With its expansive windows and proximity to the school and park, the home has become something of a "neighbourhood beacon" for keeping track of local kids, says Katherine Perez, Lemke's wife. "We get calls from other parents saying, 'Could you just check the school yard and see if Charlie is there?' 'Yup, no problem. He's playing baseball.'"
The home office and dining room both showcase glass-to-glass corner windows, a signature of Alloy designs that many clients request. "It draws your view out diagonally instead of straight out to the street," says Lemke.
To offset the fishbowl effect created by the abundance of glass, Lemke included white sheer drapes and blackout blinds that provide privacy on demand. Grasses growing in built-in planter boxes beneath the living-room window offer additional screening.
That's not the only place where Lemke has struck a balance between what is revealed and what is concealed. While natural light was a must-have for Perez, especially in the master bathroom and closet, she admits that she doesn't mind having a few areas left in the dark.
One of those areas is the butler's pantry cleverly hidden behind a large wall of built in appliances and cabinets, which Perez refers to as the "tomorrow kitchen."
"My tomorrow kitchen is where the mess is," she says. "If we have people over for dinner and there are pots and pans, they soak in there so I don't have to look at them until tomorrow."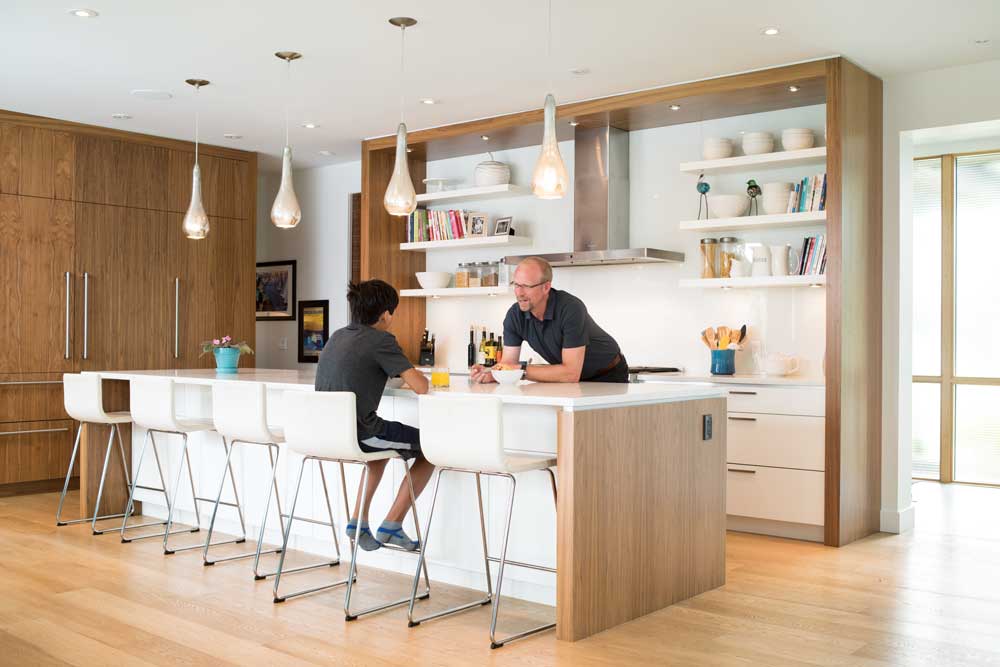 The kitchen features a striking island with a quartz countertop and a hidden butler's pantry that the family calls the "tomorrow kitchen."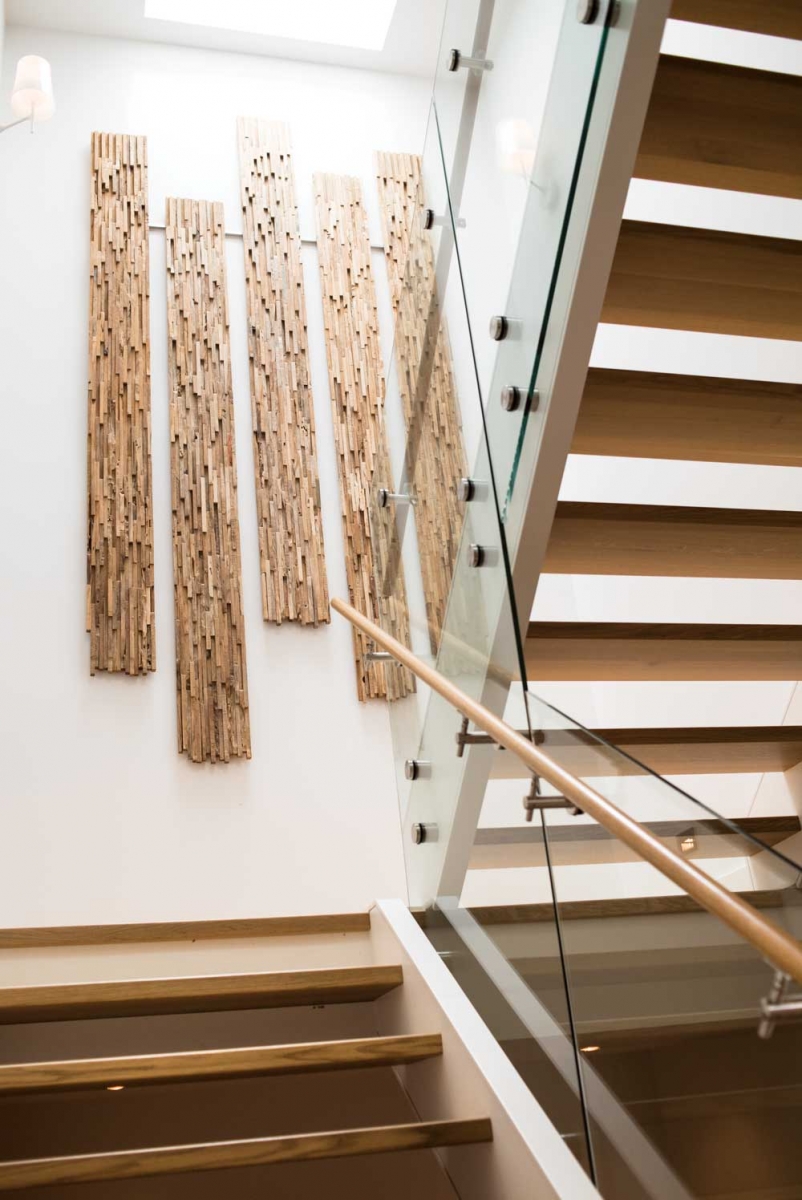 Homeowner and designer Chris Lemke created the staircase art piece out of salvaged wood sourced from Salt Spring Island.
Inside out and outside in
For Lemke, the essence of this home is about connecting the inside with the outside, blending home and site. One of his favourite characteristics of his home is the seamless flow between the dining area and the patio that spills into the backyard.
Three sides of the house and a large eight-foot-overhang cocoon the patio, creating an outdoor room. "When you sit out here, you're not really inside and you're not really outside," says Lemke. "You're kind of in this middle space which makes you feel more comfortable. People like to be embraced by things."
Upstairs, Lemke used glass panels instead of spindles and a railing on the rooftop deck off the master bedroom. The glass extends the view beyond the deck to the city skyline while enclosing the space. In fact, it feels enclosed enough to make it an impromptu campsite from time to time, Perez notes.
"It was a hot summer day and Chris and Nathan, our 13-year-old son, were out of town, and James, our 11-year-old, wanted to sleep outside," Perez says. "I obliged, because I'm mom of the year, of course. We slept out here in sleeping bags for two nights. It was warm and definitely fun."
Lemke's designs often include elements of play. In this home, there's the tree well – a large cut-out in the eave above the front porch for a columnar aspen to grow up through. The eave protects the home from direct western sun while the hole supplies filtered natural light into the dining room. And the tree creates a new landscape around the upper-level deck while providing a green scene at the main-floor level.
"I use [the aspen] as a metaphor for our philosophy for integrating a home in the environment and the site on which it sits," says Lemke. "As this grows, it won't necessarily be clear what was here first."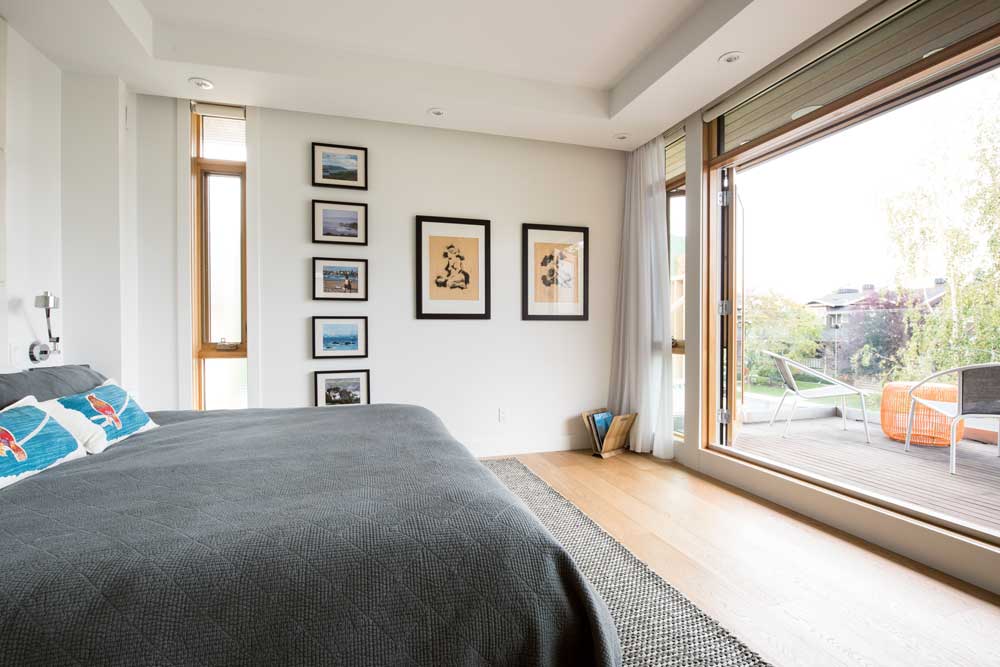 The expansive window in the master suite creates an open and airy feel, while the upper balcony is perfect for impromptu family camp-outs on warm summer nights.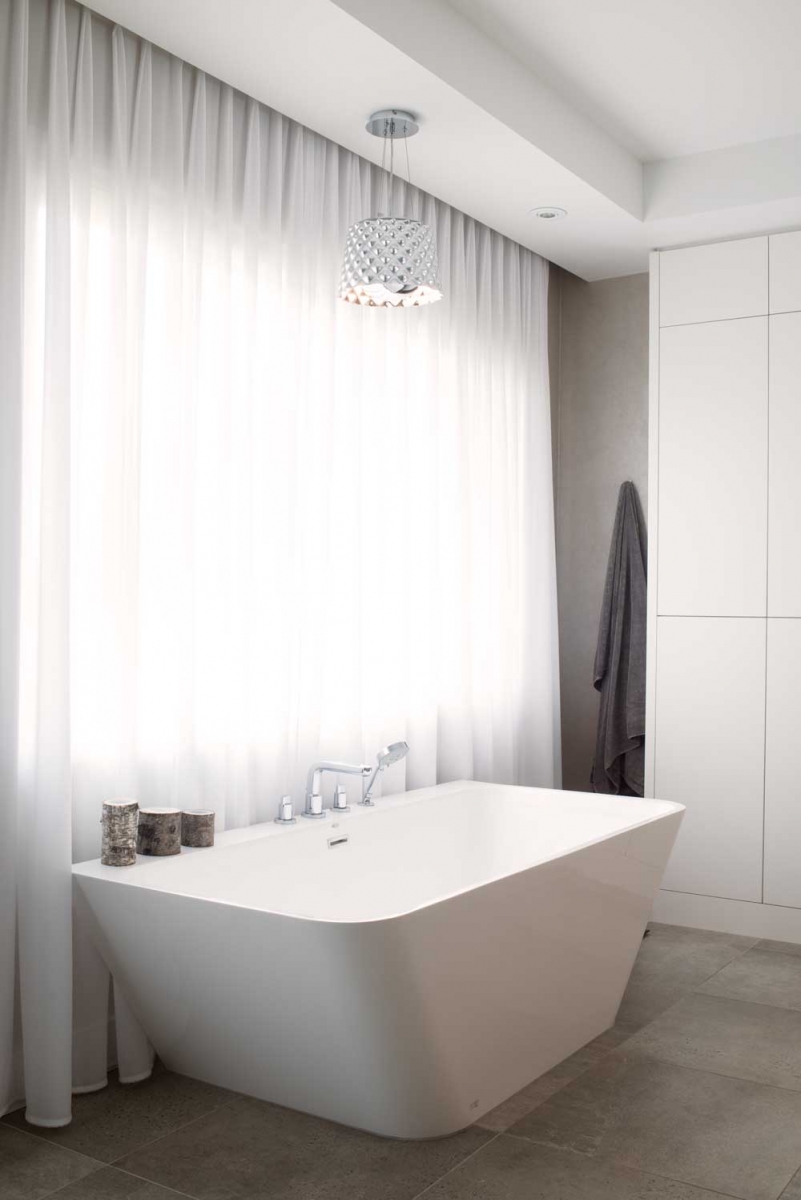 Modern design principles extend to the ensuite in the home.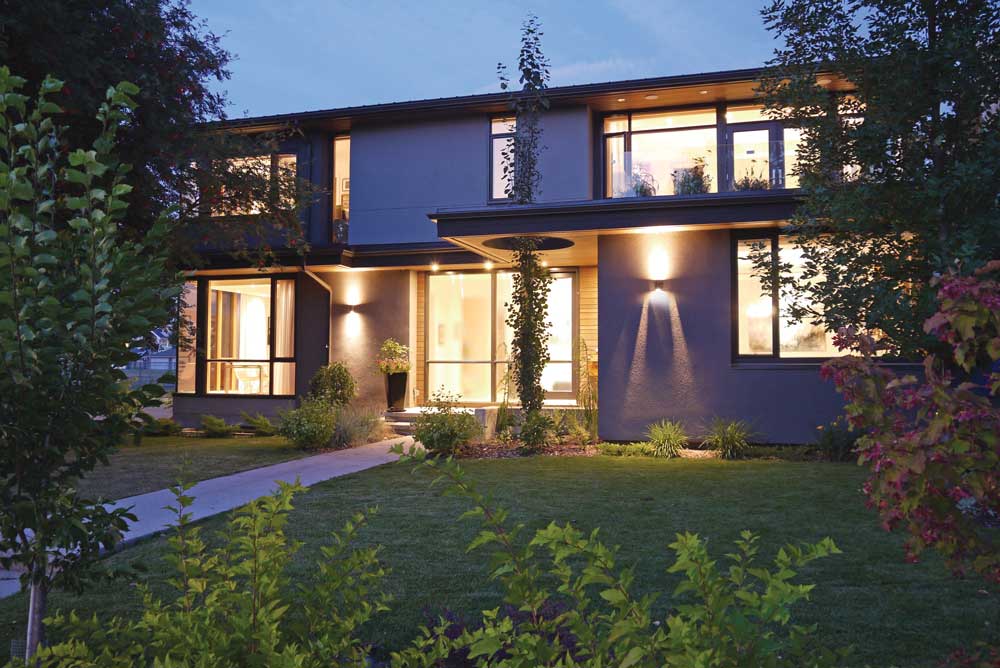 The home's exterior is finished with acrylic stucco and custom-milled stained cedar siding designed by the home builder.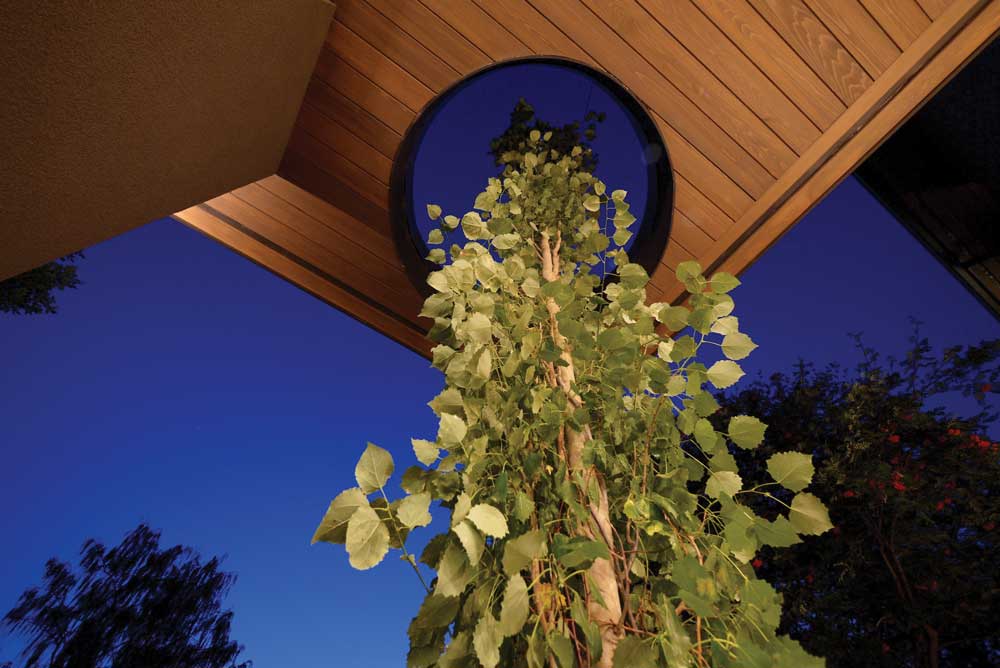 One of the home's more whimsical features, the "tree well," is a cut-out in the eave that accommodates
a columnar aspen.
Architectural detail
An avid sailor for 40 years, Lemke designed his own boat and competed in and won the prestigious Transpacific Yacht Race this past summer. So, it's not surprising that he draws a healthy dose of his inspiration from naval architecture – "most notably the extensive use of cabinetry with all its creative storage arrangements," he says. "There's a real beauty to the way every space is considered in three dimensions to achieve optimum efficiency."
Wrapped around the perimeter of the ceilings, the bulkheads hide curtain hardware and accent lighting. They also deliberately cover the top frame of the windows. Contrary to what you might think, this actually makes the space feel bigger and accents the view.  "All you see is ceiling and sky," says Lemke. "There's no [window] frame. It doesn't feel like you're in a box looking outside the box. It dissolves the envelope completely. It really brings the outside into the house."
The home is finished in natural surface materials. Lemke chose quarter-sawn, white-oak floors; book-matched walnut cabinetry and a concrete fireplace to bring warmth and texture to the white-walled, white-ceilinged, gallery-like space. "We believe in honesty in materials," says Lemke. "We don't believe in faking wood grain. There's a beauty to every material. We try to express that."
How materials align and come together is also important. In the kitchen, a small reveal of wall between the ceiling and the top of the walnut cabinets creates a sleek, white border. "That detail is like the pleat in the pants," says Lemke. "When you have crisp lines and edges, it sort of brings rationality to a space."
All of these concepts and details contribute to Lemke's goal of creating homes that are modern and timeless but also comfortable. "Part of the mission in designing this house was to illustrate to prospective clients how you can have a really comfortable family home that's also a modern home," he says.
Judging by the way that Lemke, Perez and their family live in the home, they have certainly attained that goal. "This is sort of the epicentre of neighbourhood activity, especially after school," Lemke says. "Today, there were eight kids in the house – it's very informal. People just drop over and have a glass of wine. It's a hive of activity."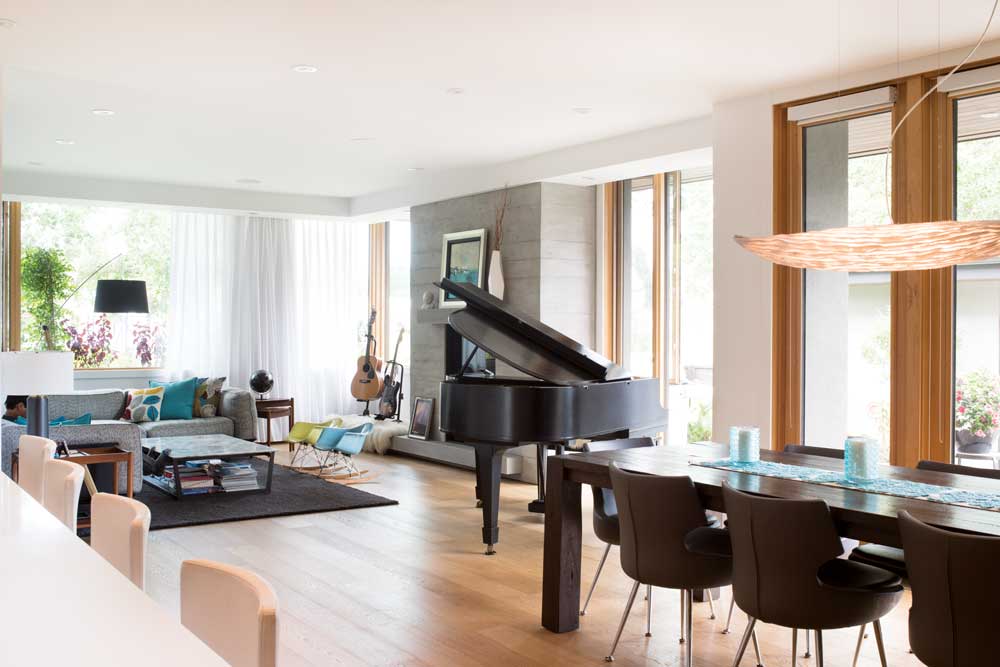 Throughout the home, celiling bulkheads hang down over the tops of the window frames, making the space feel bigger and enhancing the view.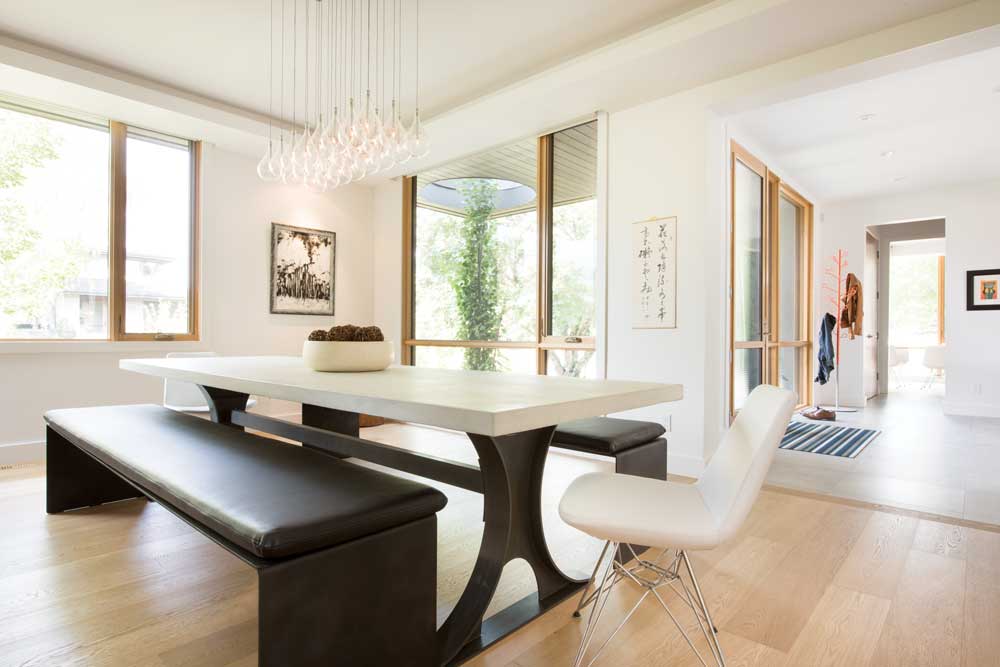 The dining room is centred around a custom honed concrete table with blue steel base and custom benches.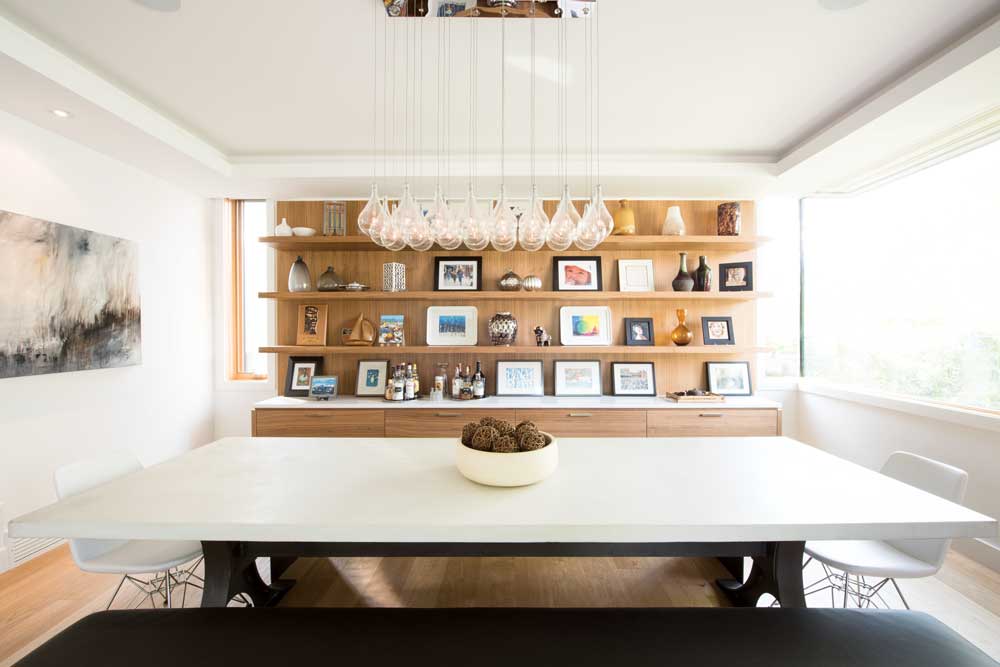 The dining room is enhanced by a 24-bulb pendant lighting feature.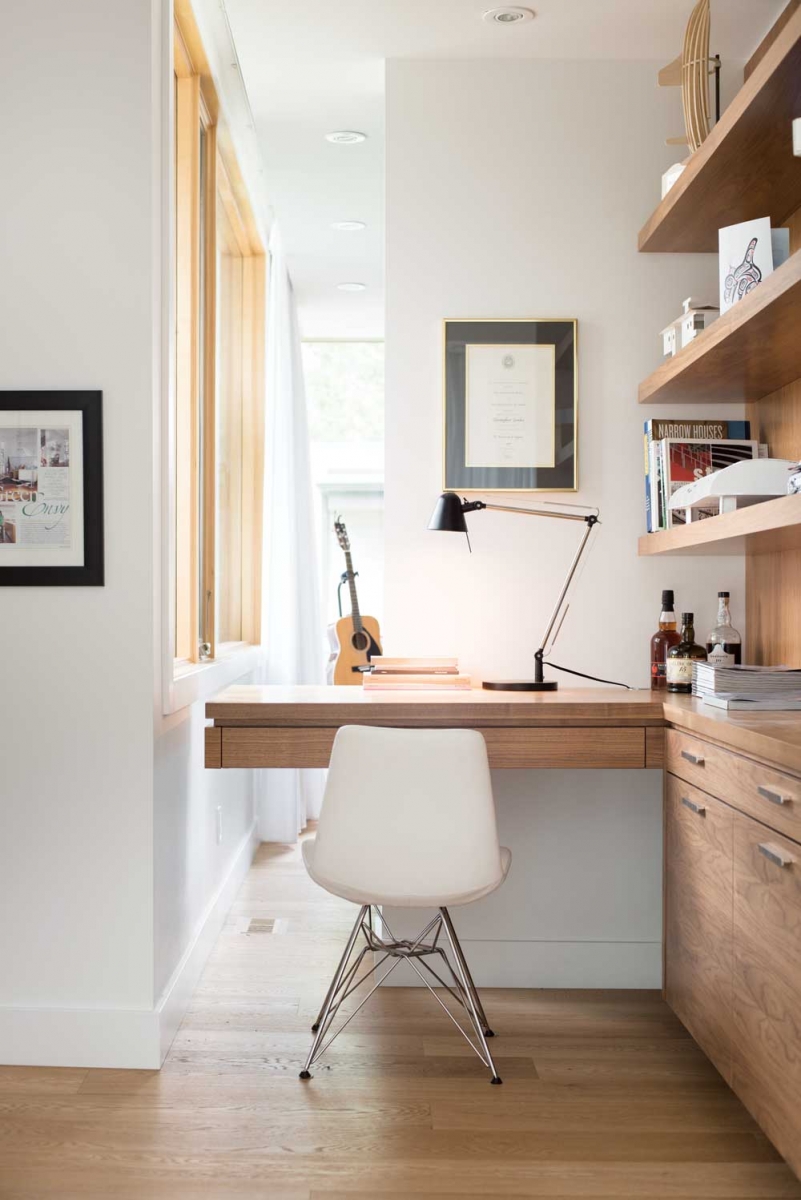 The home features wire-brushed oak flooring throughout.
5 tips to design a timeless, modern home
1. Integrate the house with the site. Note where the best views are and how the sun and wind move in that location. "Consider the trees on the property," says Alloy Homes' Chris Lemke. "Can they help filter light? If you don't have a tree, then start thinking about eaves. There are a lot of simple design decisions you can make that don't cost anything. It just requires you to think a little harder."
2. Use triple-pane, venting windows. Venting windows create cross ventilation, minimizing condensation in the winter and keeping the house cooler in the summer. On Lemke's main floor alone, there are 10 venting windows. "We rough every house for AC, but we didn't install it in this one because you just don't need it," he says. "The energy bills in this house are a fraction of what you'd expect, given the size."
3. Be efficient. "Don't build bigger than you need, spend money on the details and on the things that increase the quality of the space rather than simply adding quantity of space," says Lemke. "For example: overhangs. That's the detail we use all the time. The whole notion of creating an interstitial zone that is neither inside nor outside. You're in this half-way zone and it expands your living space."
4. Choose natural materials. "There's beauty to every material you put into a house. We allow its inherent properties to be expressed, to add character to a space."
5. And finally, "Hire an architect who can take care of steps one to four for you!"