This Mother's Day weekend kicks off with the carefully curated arts and crafts show, New Craft Coalition. Created and co-founded by two local practicing artists and designers, Laura Sharp (White Owl Ceramic Studio) and Natalie Gerber (Natalie Gerber, contemporary textile design), this two-day show represents some of the most skilled and talented artisans from Alberta and beyond. Doors open on Friday, May 6 at 4pm for what promises to be a wonderful evening of art, design and fun at Festival Hall in Inglewood.
Doors will be open on Saturday, May 7 from 10 a.m. to 6 p.m., when Alberta Printmakers will be in attendance doing a hands-on printing workshop outside of Festival Hall. Shoppers can expect to see amazing work from ceramics artists, textile designers, metalsmiths, fine artists and more – including both Sharp and Natalie who are ceramic and textile artists, respectively. Chatting with the two, it is easy to see why the New Craft Coalition became a local's favourite in only three short years.
What was the original vision for New Craft Coalition?
Laura Sharp: The idea grew organically out of a home show that I hosted at my house. We had a great response and turnout – it was then that the idea for New Craft Coalition was hatched.
Natalie Gerber: I think that we recognized that the city needed something that was in-between the smaller shows and the really big shows that come to town. We wanted something that was very curated.
LS: When you are a professional artist you sell your work at a certain price point, so it is hard when you book a table next to someone selling their work at really low price points. We wanted to create something that showcased people that were all at the same stage in their professional artistic career, people who have training and are committed to growth in their field.
How do you curate the perfect group of artists for each show?
LS: Magic.
NG: With both of us having professional experience doing shows like this for so long, we have a group of peers that we bring together – and they all bring people to us too.
LS: Being part of a large arts community and staying connected to the Alberta College of Art & Design (ACAD) has helped us form a large network of talented people.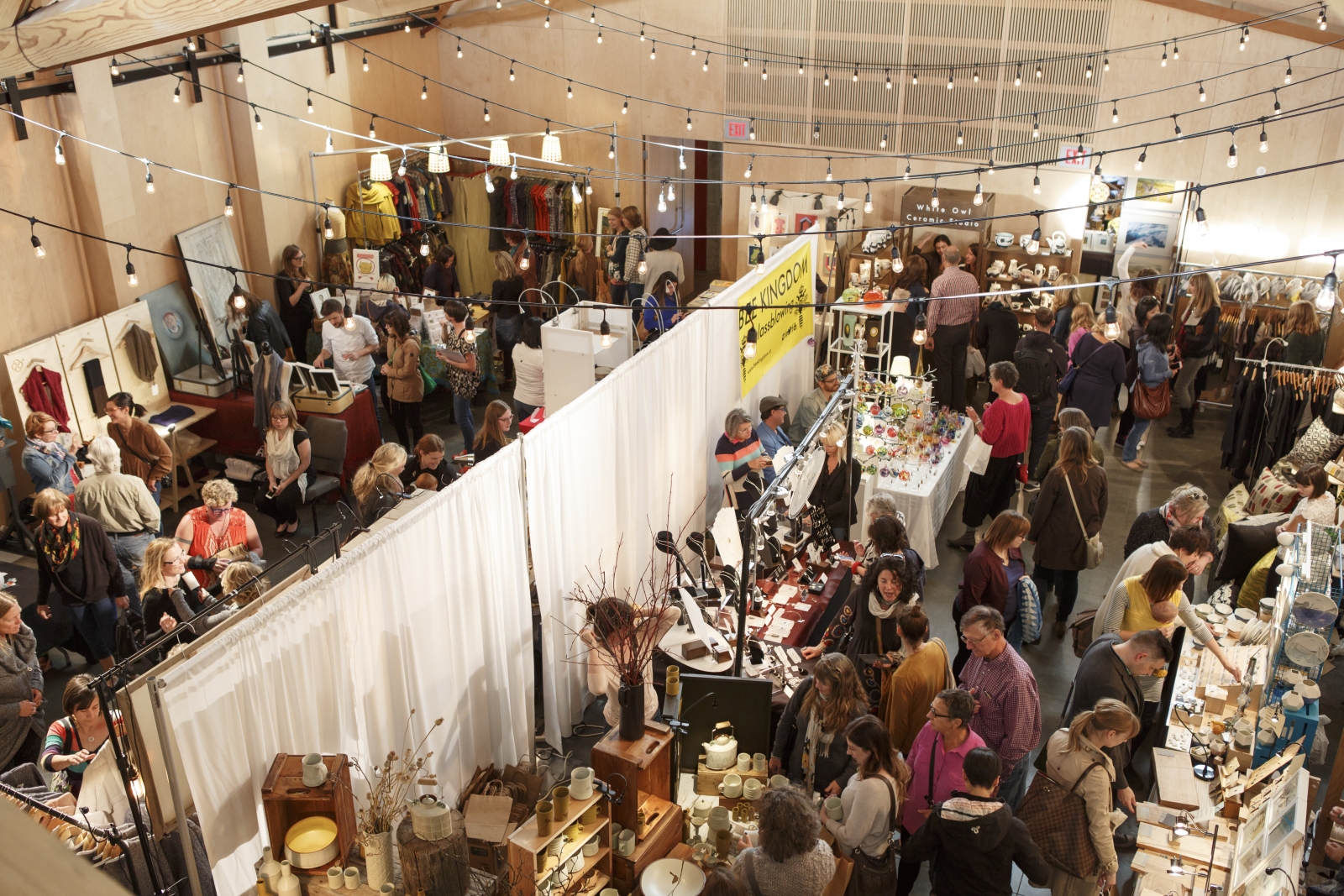 photo courtesy of New Craft Coalition
In a short three years, New Craft Coalition has gained a loyal following of shoppers looking for well-curated arts and crafts.
Tell me a bit about the Emerging Artist Award that you created with ACAD.
LS: We wanted to figure out the best way to build a community and to serve the artists who are graduating. We wanted to help bridge the gap for someone who is graduating from art school and entering the "real world." We are connecting these fresh grads with people who have been working as professional artists for years.
NG: School is a bubble and once you leave you are completely unprepared. We wanted to act as a sort of mentor or stepping stone for these students to enter the professional art world – amongst great people.
 Anything special about this weekend's show to note?
LS: We will have a DJ for the first time on Friday night so we are looking forward to a real party vibe. On Saturday, Alberta Printmakers will be setting up a booth to do hands-on workshops in front of Festival Hall.
NG: Also, nearly 50 per cent of our vendors are new to New Craft Coalition for this show. If you were on the fence about coming down, don't hesitate – there will be loads of fresh new work to check out.
New Craft Coalition, May 6 to 7, Festival Hall, 1215 10 Ave. S.E., newcraftcoalition.com