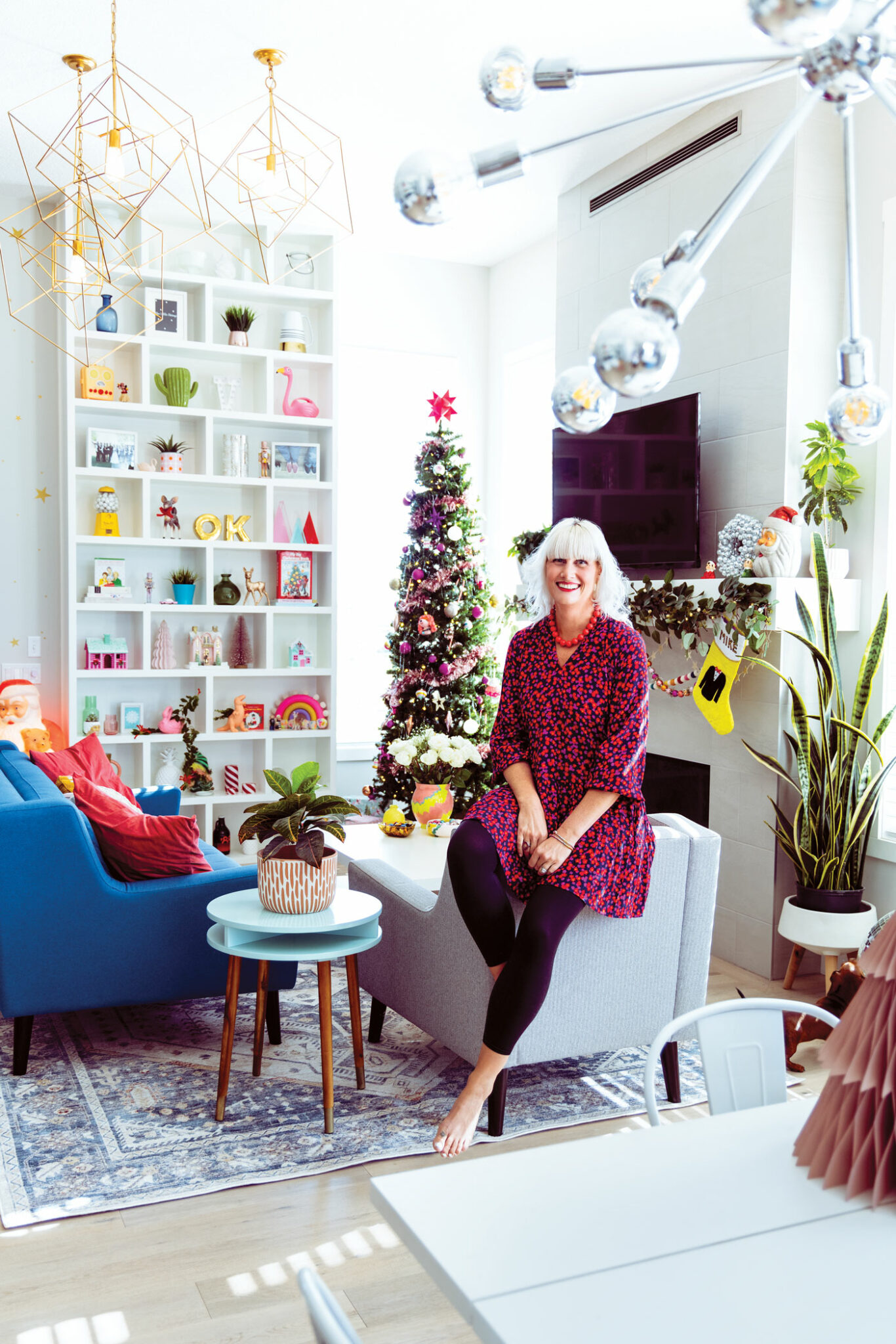 When Amber Sandmoen-Vanee decorates her home for the holidays, it's about more than just the visuals, it's about capturing a feeling. "With Christmas, I want the feeling of childhood in my home," she says. "My two biggest words for every holiday are 'whimsical and magical.'"
In 2014, Sandmoen-Vanee turned a hobby for making party crafts into her online store, Dixie + Twine, where she sells party and home decor items — including paper straws, party banners, cake toppers and, disco ball planters (her current favourite) — in bright, colourful and pastel hues. Though Sandmoen-Vanee isn't one for traditional yuletide reds and greens, she still embraces festive decorating. "My dad is really big into the holidays, and it has always been that way since we were kids," she says. "I like to decorate for [my daughter] to have the same experience and the same feeling in the house."
The home's seating area gets the most attention. Colourful garlands and stockings hang above the fireplace, and a vintage 1961 Santa Claus blow mould sits next to a bookshelf displaying candy-coloured decorations. It's the only spot in the home to feature a classic green Christmas tree — throughout the rest of the home, small Christmas tree figures Sandmoen-Vanee makes from colourful pastel paper, repurposed bottle brushes and sparkly disco balls, pop up on surfaces and shelves.
Sandmoen-Vanee's holiday decor blends nostalgic elements from her childhood with vintage finds. A classic Christmas book from her childhood gets a spot on the bookshelf, while the vintage gumball machine by the tree is also inspired by a childhood memory (she displays an old picture depicting an identical gumball machine close by). Sandmoen-Vanee also keeps a bowl of ribbon candy around, a tradition she inherited from her father. "It feels like young Christmas at my house," she says.
Sandmoen-Vanee buys most of her nostalgic decor pieces from vintage markets, but the stockings above the fireplace are family heirlooms. As a child, she and her sister received stockings made by a neighbour. Years later, when Sandmoen-Vanee married, she had the same woman make a stocking for her husband and, eventually, one for her daughter. Her own yellow stocking with a teddy bear on the front has been with her for 40 years.
While the decorations add plenty of colour during the holidays, the home is cheery year-round, with its bright blue couch, matching kitchen island and white shelves curated with colourful objects. Custom-built by Baywood Homes four years ago, the spacious open layout was designed to suit the family's needs and lifestyle, but also to complement Sandmoen-Vanee's love of holiday decorating and hosting friends and family. The mostly white interior creates a clean backdrop for Sandmoen-Vanee's bright and pastel-forward holiday hues.
The kitchen features simpler decorations, with gold stars and white snowflakes along the walls and a colourful garland adorning the doorway to the patio. Often, Sandmoen-Vanee will put a white Christmas tree on the patio with lights and festive music to expand her holiday decor outside the house and share the festivities and fun.
"I like the social aspect of Christmas and the merriment of it all," she says. "One of the neighbours came by in the spring and said she really appreciated the Christmas music, so people do like it."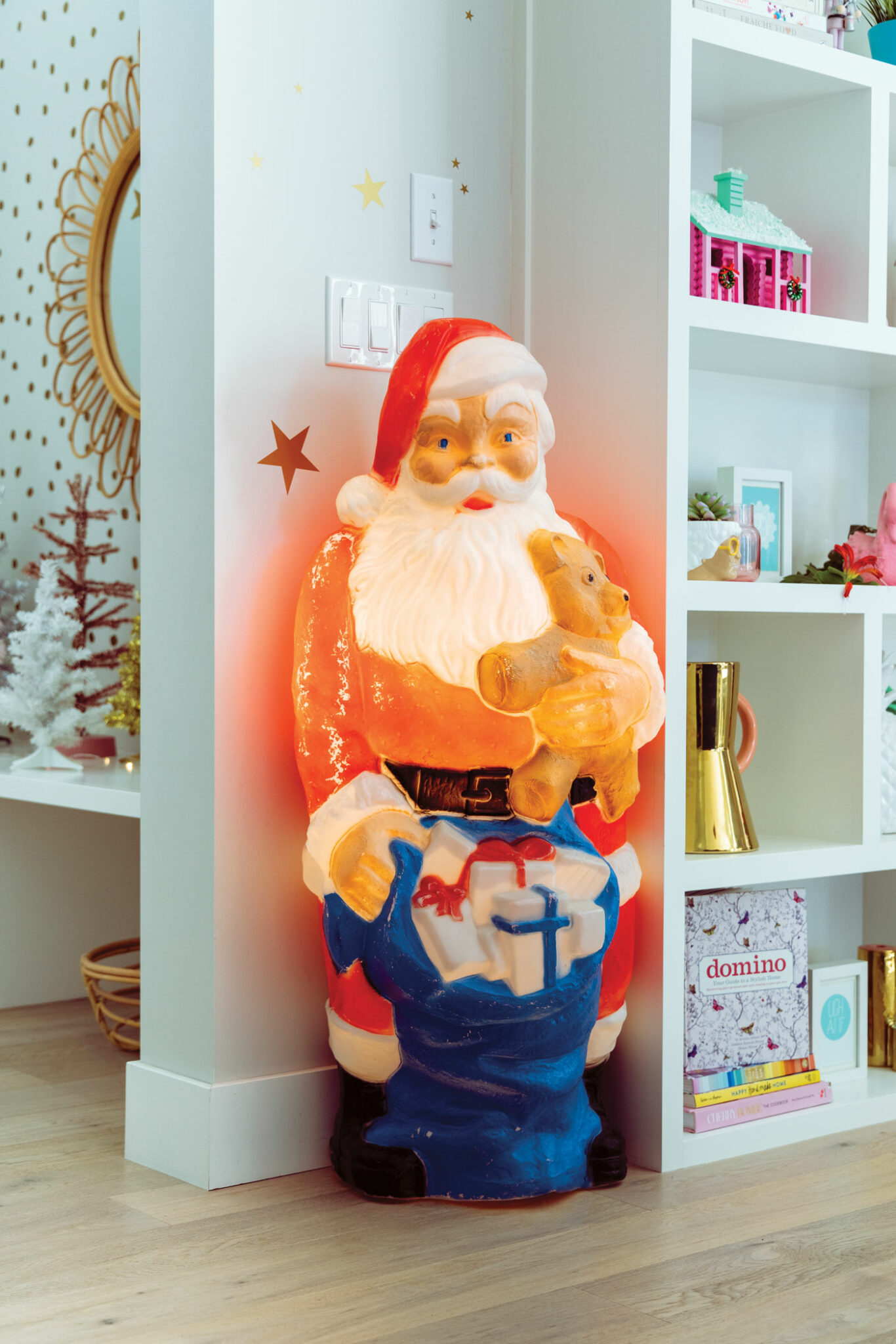 Holiday Decorating Tips
With a passion for bright colours and whimsical objects, party decor retailer Amber Sandmoen-Vanee's holiday decorating style veers from traditional reds and greens. Here are her top tips for making a home festive and fun for the holidays.
Maximize end-of-season sales
"Buy as soon as Christmas is over and make the most of sales and deals, because 11 months go by really fast," Sandmoen-Vanee says. Look for deals on artificial Christmas trees, which can then be stored away.
Break free of traditional colours
"You don't need to stick with reds, greens and golds," she says. "If you have a colour palette that you like, or something that goes with your home or personal taste, then go with that. Break out of feeling like you have to stick with Christmas colours, just because it's what you're supposed to do."
More, or less
Decorating a home is a lot like putting together an outfit, Sandmoen-Vanee says. "If it looks like too much, then take a little bit away. Take a step back and see where your eye is drawn — does that area need more, or less?"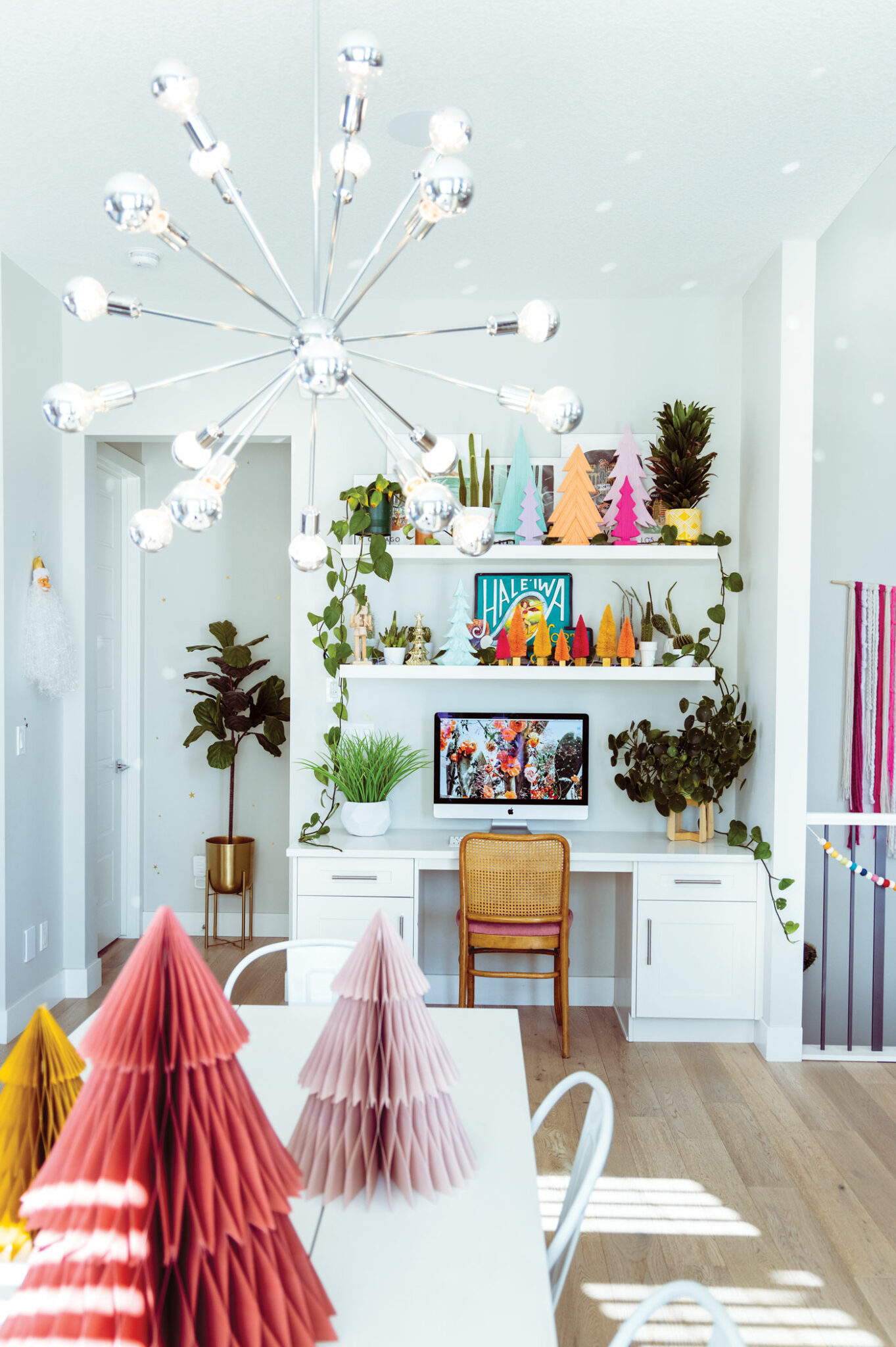 Colourful miniature Christmas trees are a staple throughout Sandmoen-Vanee's home during the holidays. The more decor and colour, the better, she says.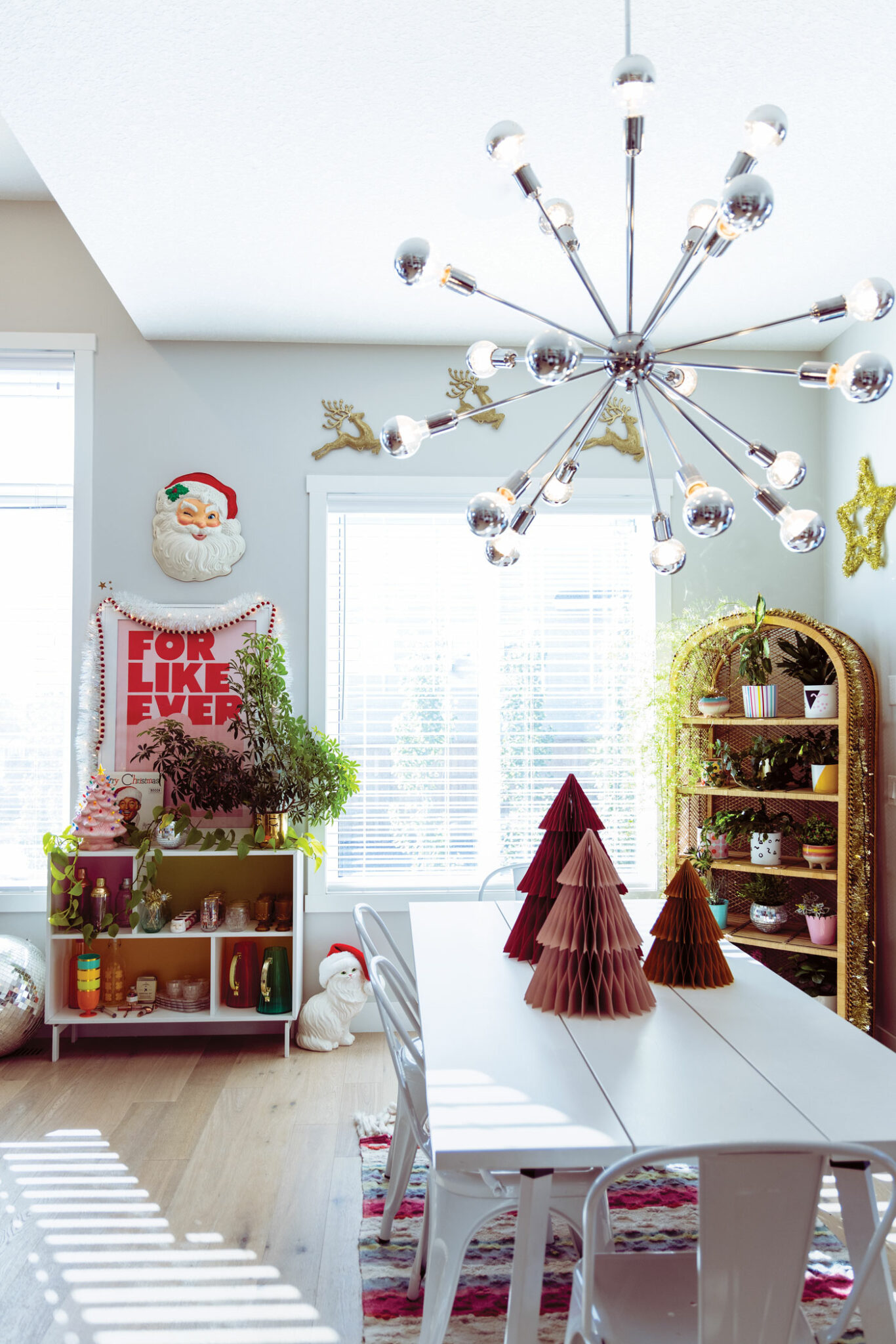 Sandmoen-Vanee's love of holiday decorating and entertaining informed the design of the home, with light fixtures and colour palettes selected to complement her seasonal decorations.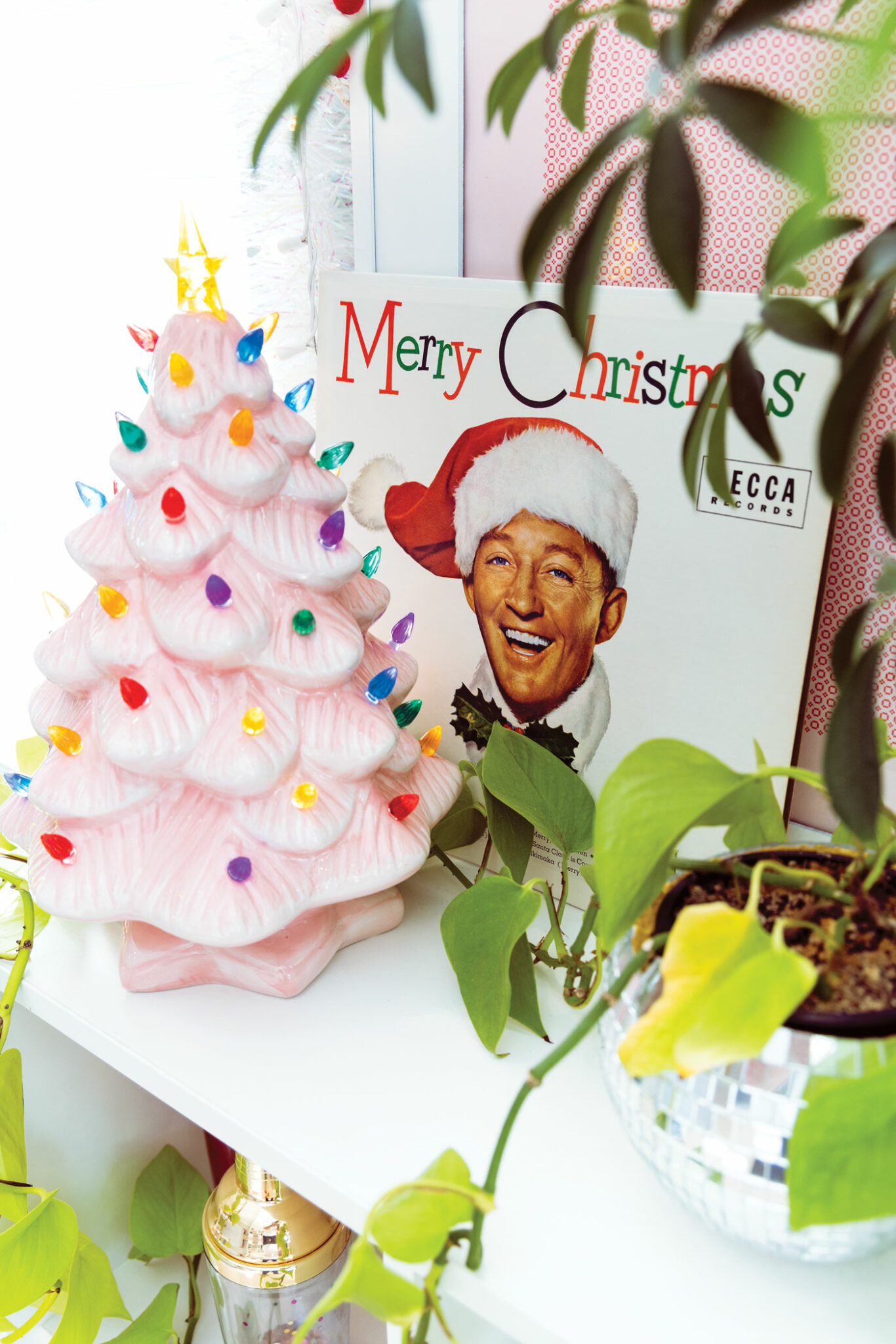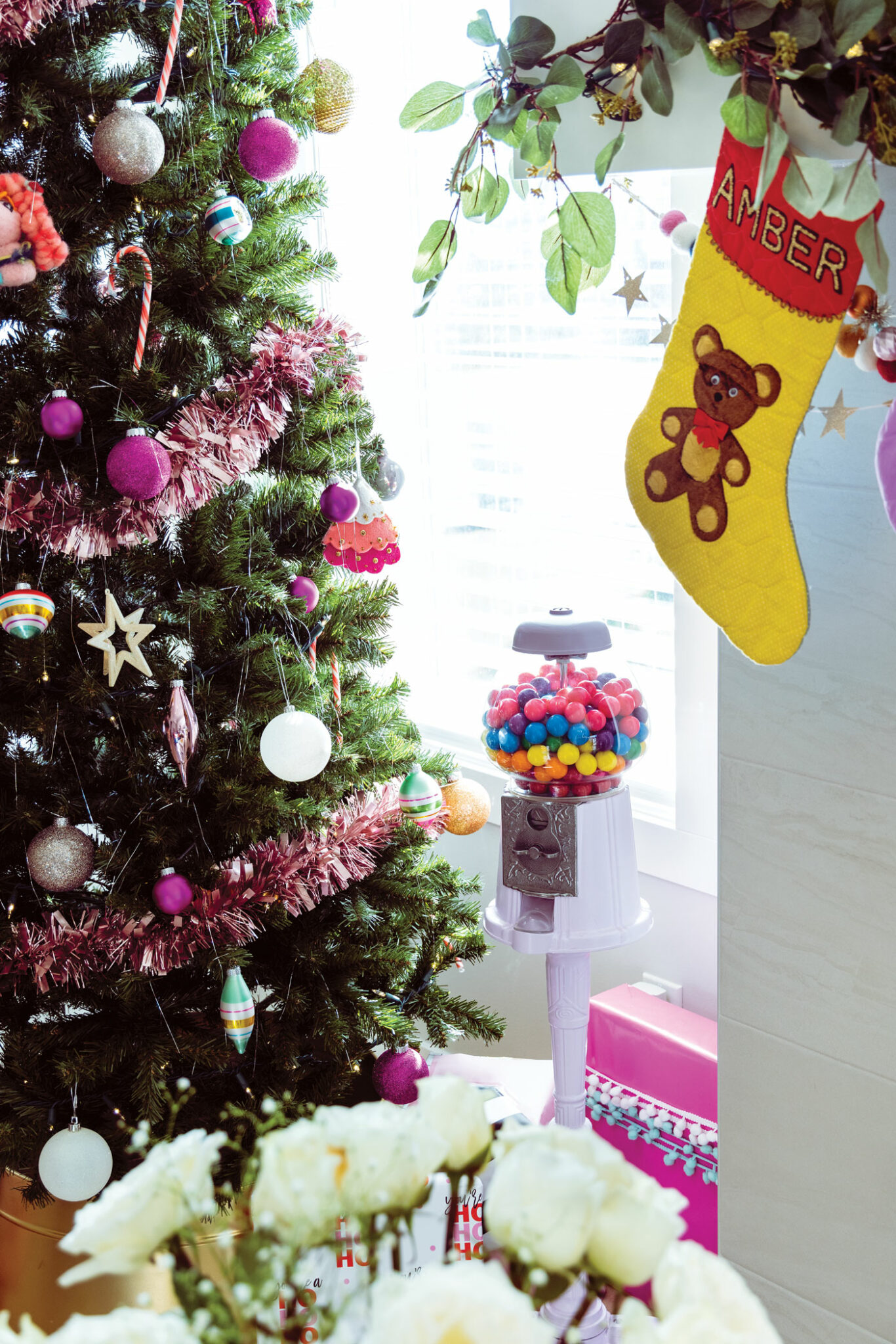 Childhood pieces and other nostalgic items are key elements of the holiday decor. The yellow stocking has been with Sandmoen-Vanee for 40 years, while the vintage gumball machine is a replica of a similar one depicted in a 1980s Christmas photo from her childhood.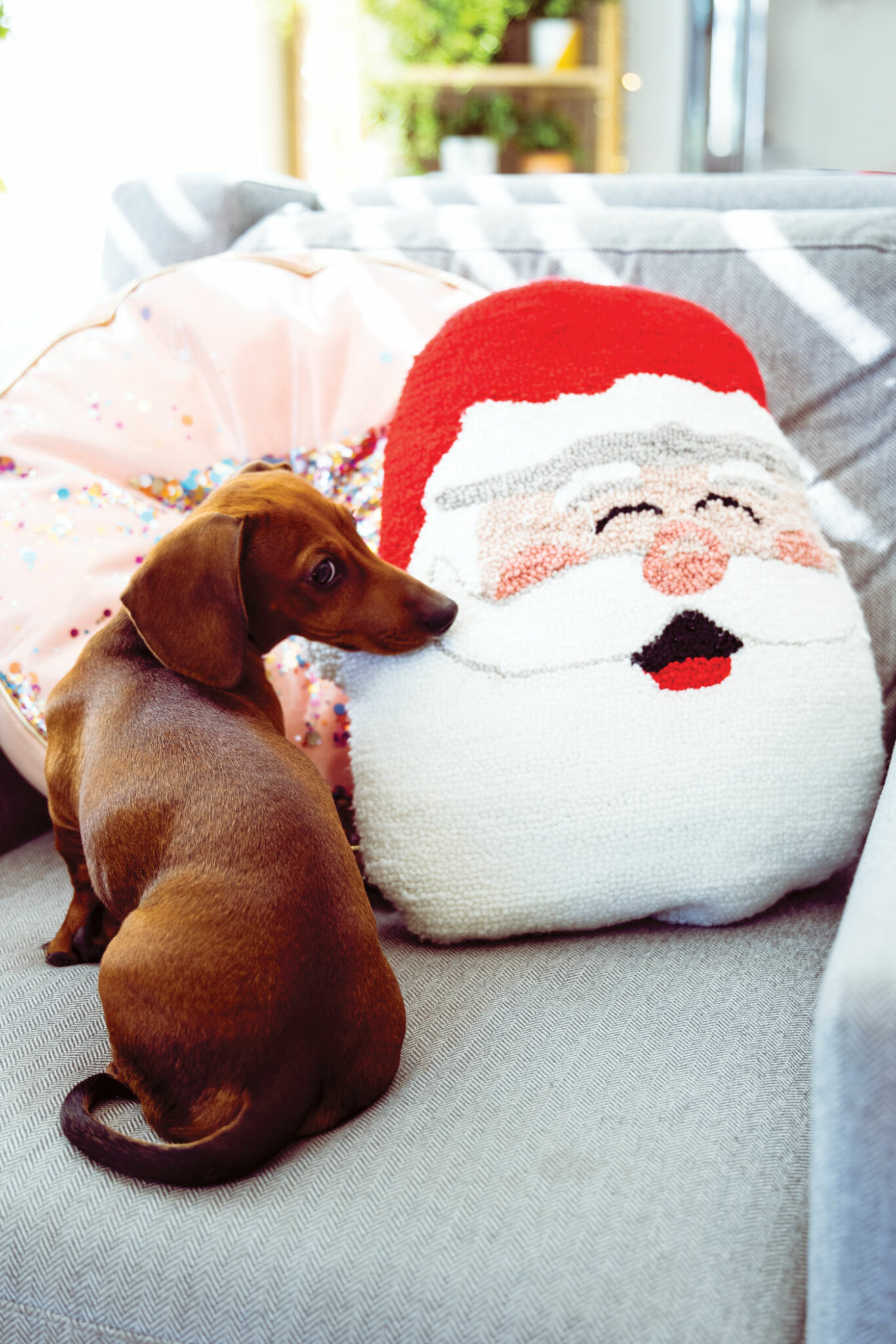 Dave, the mini dachshund (and newest family member), also enjoys the festivities and holiday fun.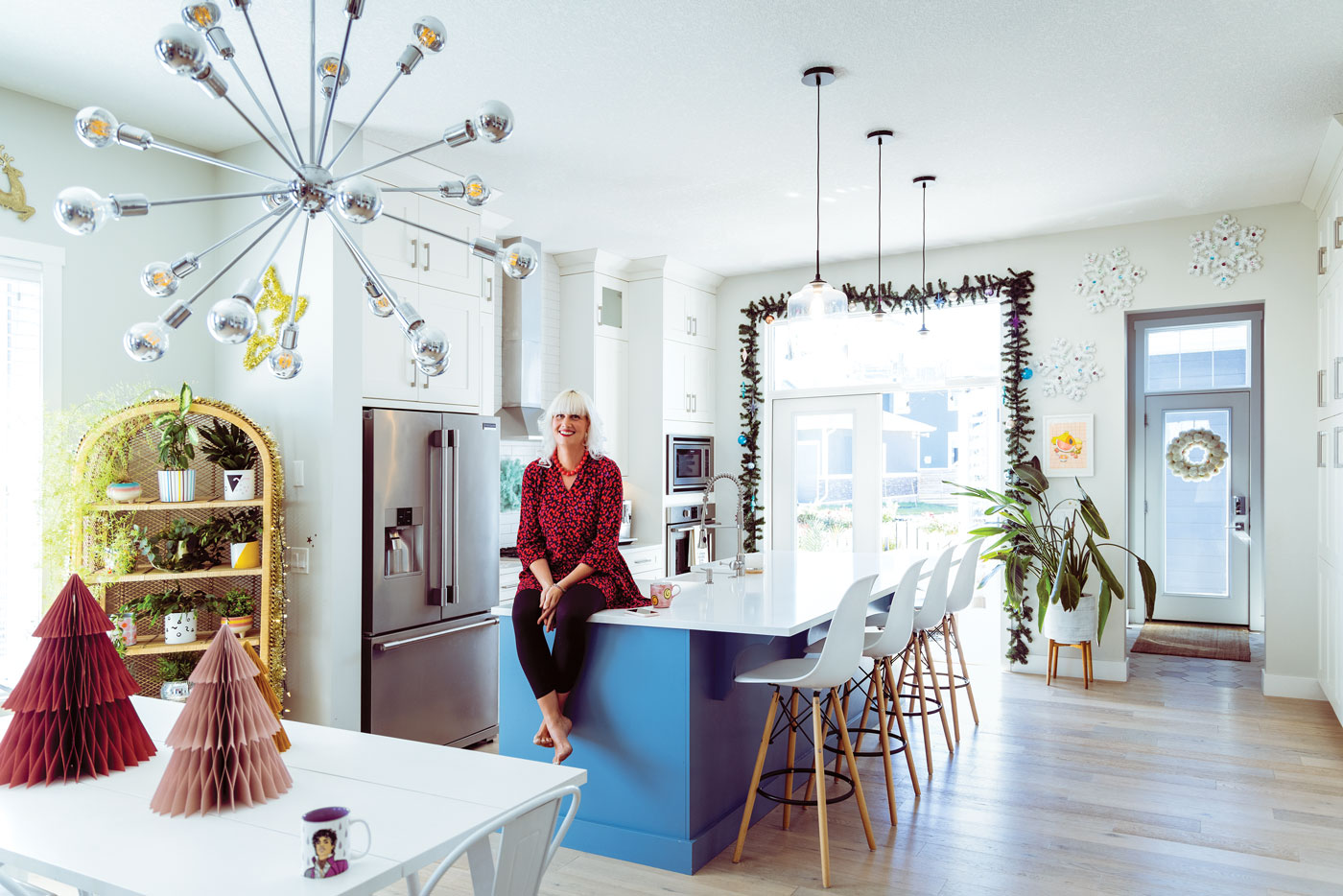 Sandmoen-Vanee chose the bright blue colour of the kitchen island to complement her whimsical holiday decor.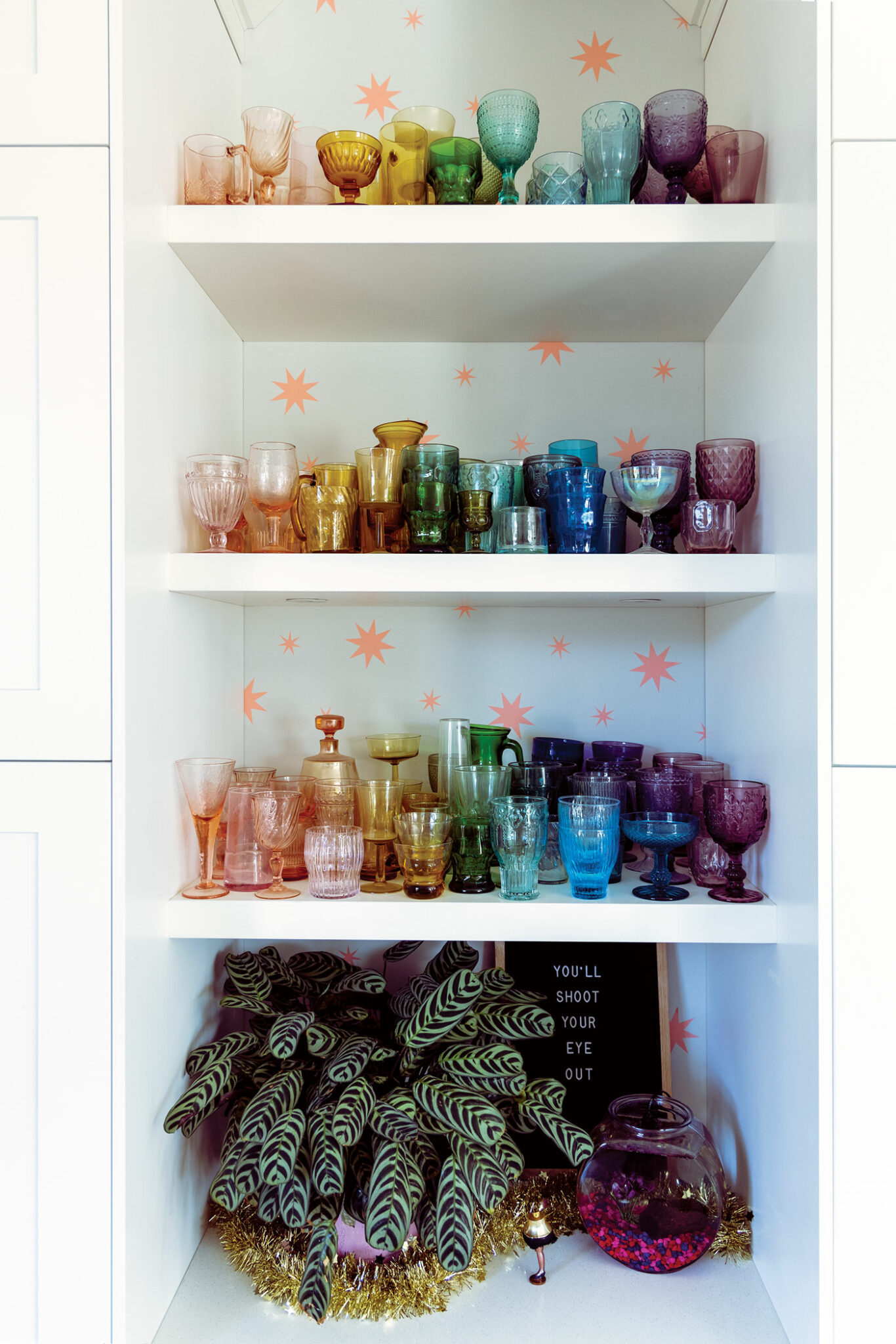 The rainbow-hued glassware comes from various thrift stores and vintage markets. It's tradition for guests to pick their own glass to use during get-togethers.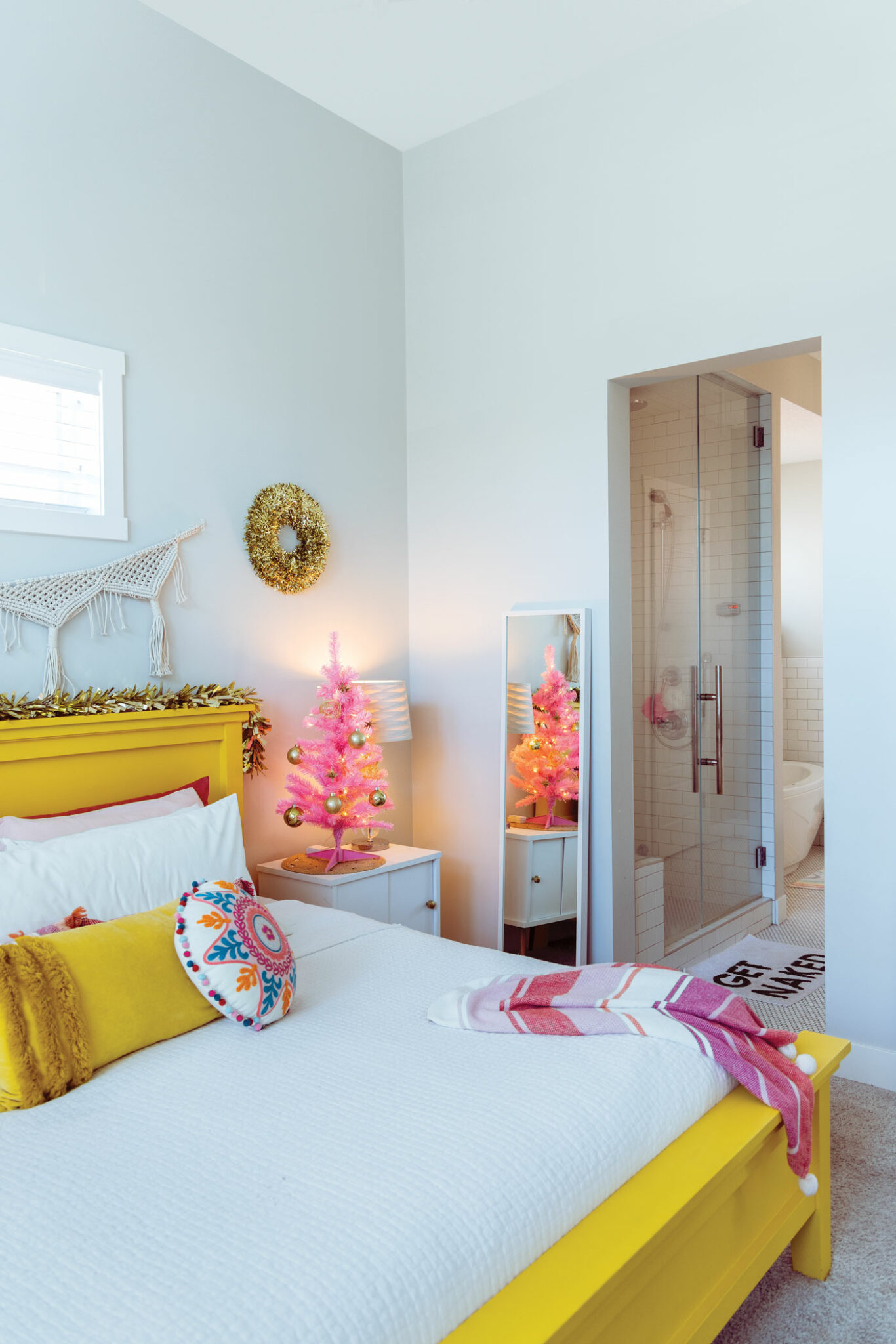 Since the main bedroom is a space where Sandmoen-Vanee goes to relax, she keeps the decorations minimal.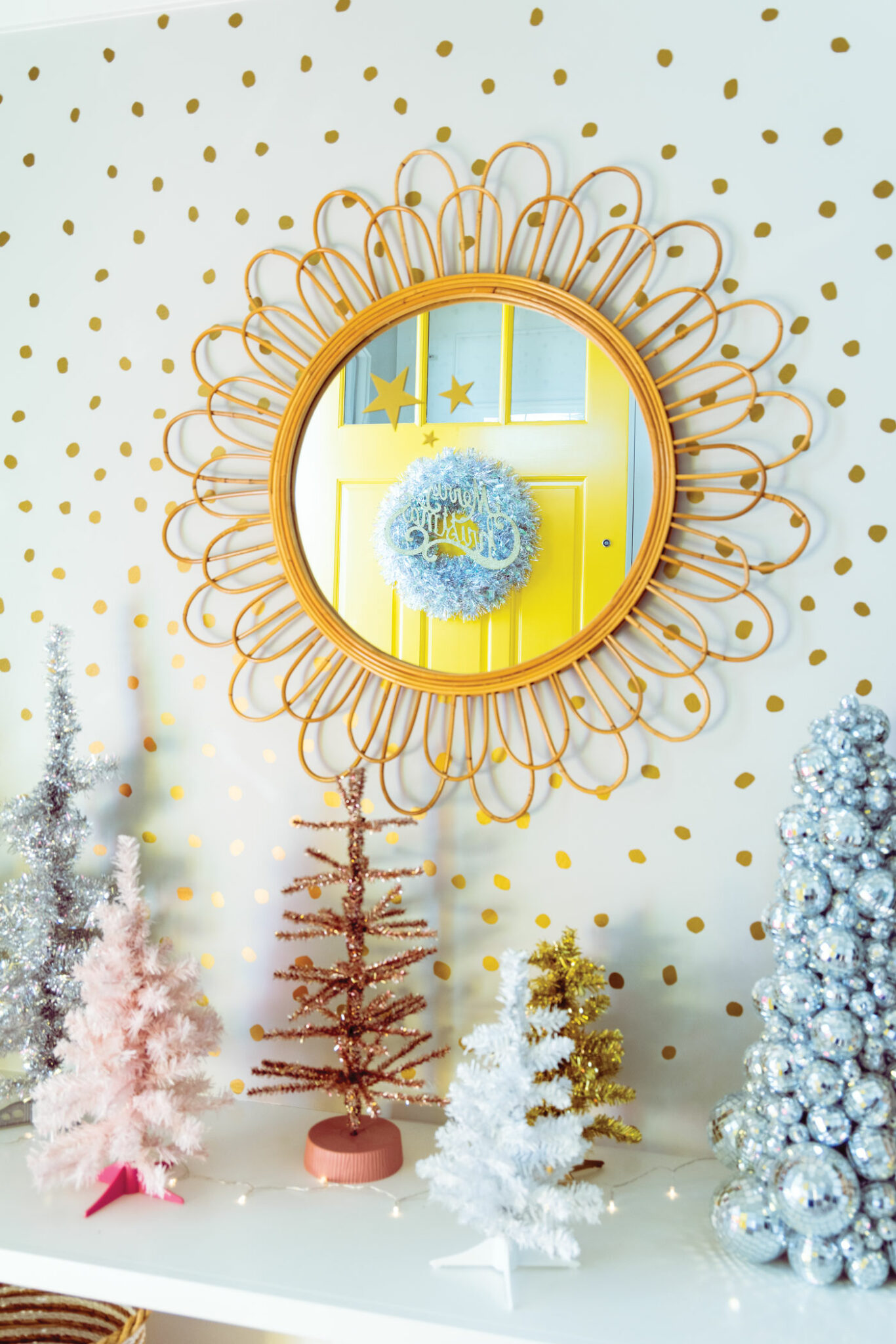 The home's main entrance is adorned with festive stars and colourful trees, so guests and visitors are greeted with some festive cheer.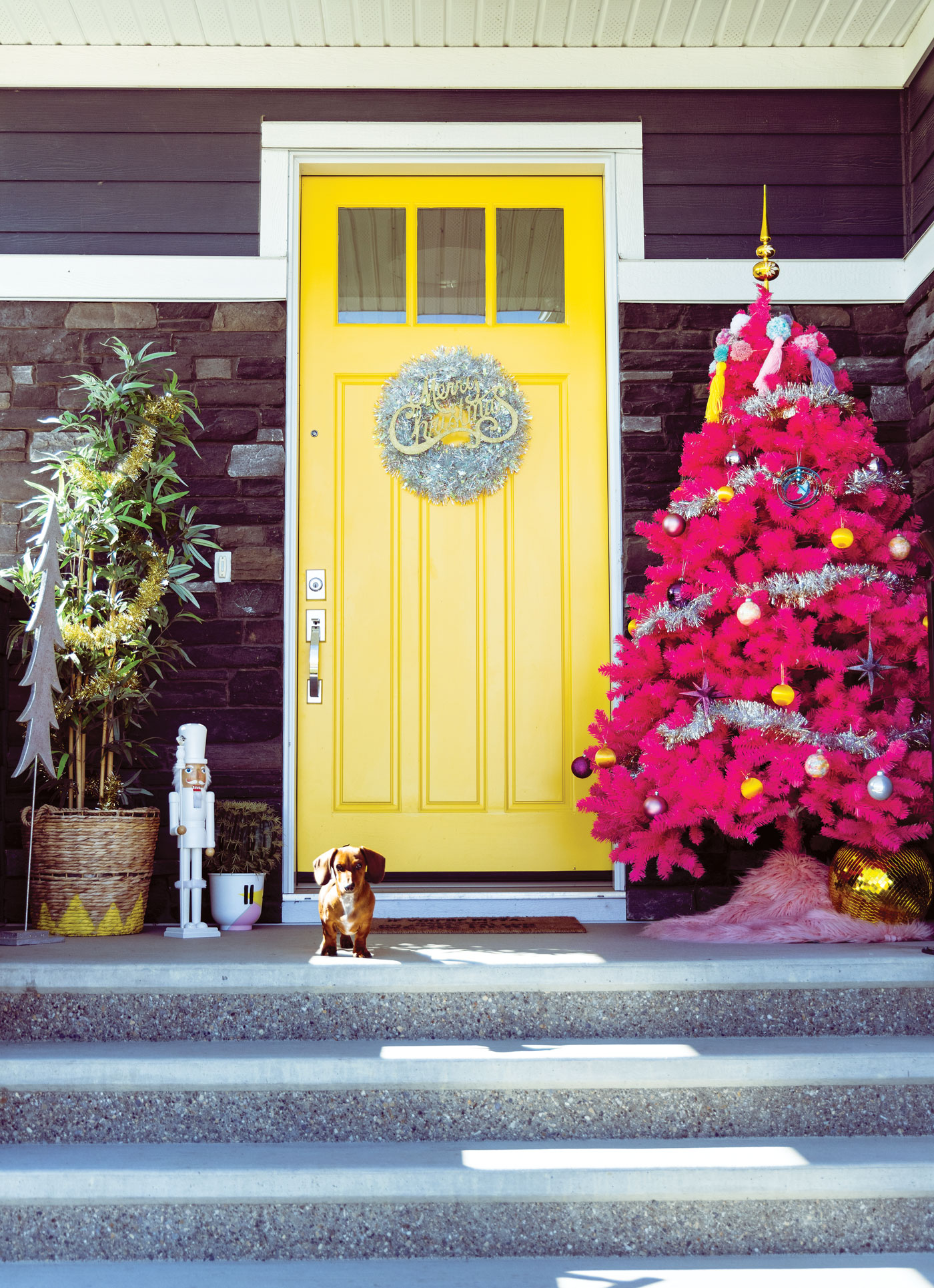 You can't miss the home during the holidays thanks to the eye-catching yellow door and hot-pink Christmas tree.