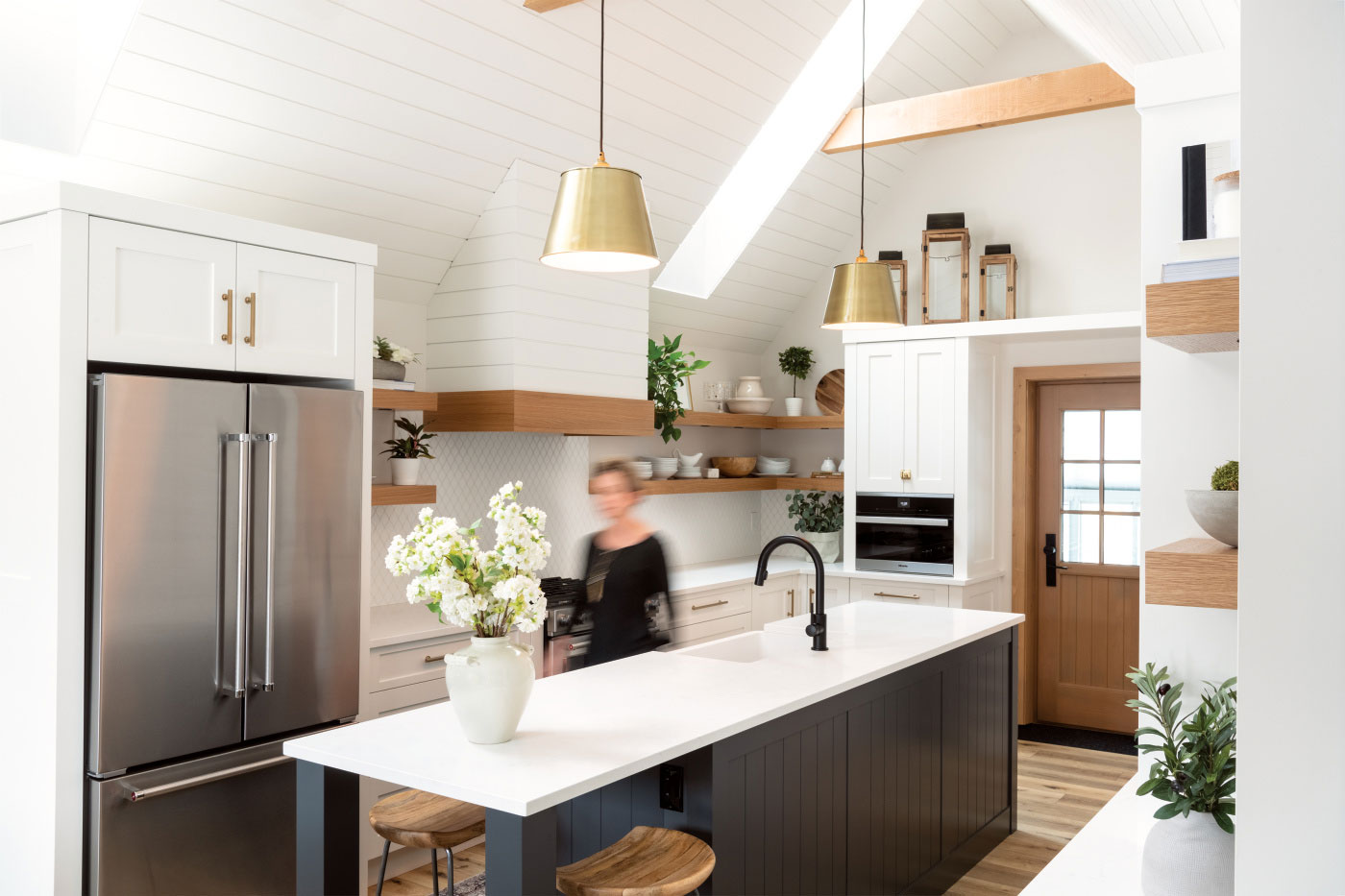 A part-time joint venture analyst at an intermediate oil and gas company, who has been living single since 2005, Karen Mercier came to realize her sprawling former home was just too much. "I thought a four-bedroom home in the suburbs of Okotoks was what I wanted, but I found myself resenting the fact that I was furnishing rooms I never used. The tipping point came after two winters of heavy snow and all the shovelling," laughs the petite Mercier. "That was it."
So she ditched the 3,000-square-foot house and bought an 850-square-foot 1940s bungalow in the historic River District in Okotoks, where she could walk to shops and cafés and stroll by the river with her dog.
The new property was dark, dated and cramped, the layout was a warren of little rooms and the fixtures were at least 40 years old. A full renovation was in order. Mercier enlisted the help of award-winning boutique builder Creek Stone Fine Homes to build her the home of her dreams. While Creek Stone, which is known for modern farmhouse interpretations, handled the bulk of the layout and build, Mercier weighed in on the interior design. "I knew I wanted a large entryway, a showstopper front door, some brick, and shiplap in the kitchen," says Mercier. "Scott and Dani Lawrie, the husband-and-wife team behind Creek Stone, would present ideas and we would decide collaboratively."
Creek Stone gutted the home to the studs and bumped it out two feet in front to accommodate Mercier's request for a larger foyer. After proposing several layouts, the builders mapped out the space with a series of cut two-by-fours. The process helped Mercier envision her desired layout by replicating the rooms in a way that she could stand in and imagine the flow and size of each.
Instead of two cramped bedrooms in the front, the reconfigured design gave the kitchen/dining room centre stage. Thirteen-foot-high vaulted ceilings, clad in shiplap and painted white, not only impart the illusion of a larger space but also channel the modern farmhouse vibe. All-white cabinetry, backsplash and a quartz countertop further expand the room's horizons, while a large island gives Mercier an ideal work zone and a place for everything. Open shelving imparts a feeling of spaciousness, while a "magic corner" with shelves that swivel out, ensures nothing gets lost in the back of the cabinet again.
With only one bedroom in the home, a space-saving Murphy bed and powder room in the basement make for a fabulous guest suite. In addition to the sunroom, the only other visible features remaining from the original bungalow are the fir beams in the basement and a single window. "I loved the natural imperfections of the beams and they worked perfectly with the farmhouse look," says Mercier. The addition of egress windows to comply with building codes visually expand what could be a cramped space due to the six-foot-seven-inch ceilings.
Savvy storage spots and built-ins allow for additional closet space without taking up too much real estate. Except for one feature wall in the main bedroom and bathroom, Mercier maintained a neutral palette throughout the home.
After a full renovation, the once-dated abode has been turned into a cheery space that is as comfortable as it is functional. "Downsizing meant a lot of purging," says Mercier. "But it is no longer about what I own, but what I can do. I asked Scott and Dani to build me a little 'jewel box' and I can't help but smile and pinch myself every time I walk through the front door."
How to Maintain Order in a Small Space
A home that's small in square footage needn't be short on storage, say Dani and Scott Lawrie, of Creek Stone Fine Homes. Here are some of the couple's top tips for maximizing usable storage space and putting an end to cluttered spaces.
Think thin
While deep cupboards are a storage savior, products often get lost in the back. "Install an English-style pantry, which at 10-inches deep, is slightly smaller than a typical one," says Scott. "It doesn't take up as much space and keeps essentials at hand."
Expose shelves
"Exposed shelving makes a space feel larger, due to the absence of more boxes on the wall," says Scott. It also forces one to adhere to the mantra of less is more, keeping the space neat at all times.
Mix and match
"If standard sizes cramp your style, don't be afraid to mix and match pieces that suit the layout," says Dani. "For example, instead of using all chairs, pair a bench with a dining room table to allow for maximum seating without visually consuming the space."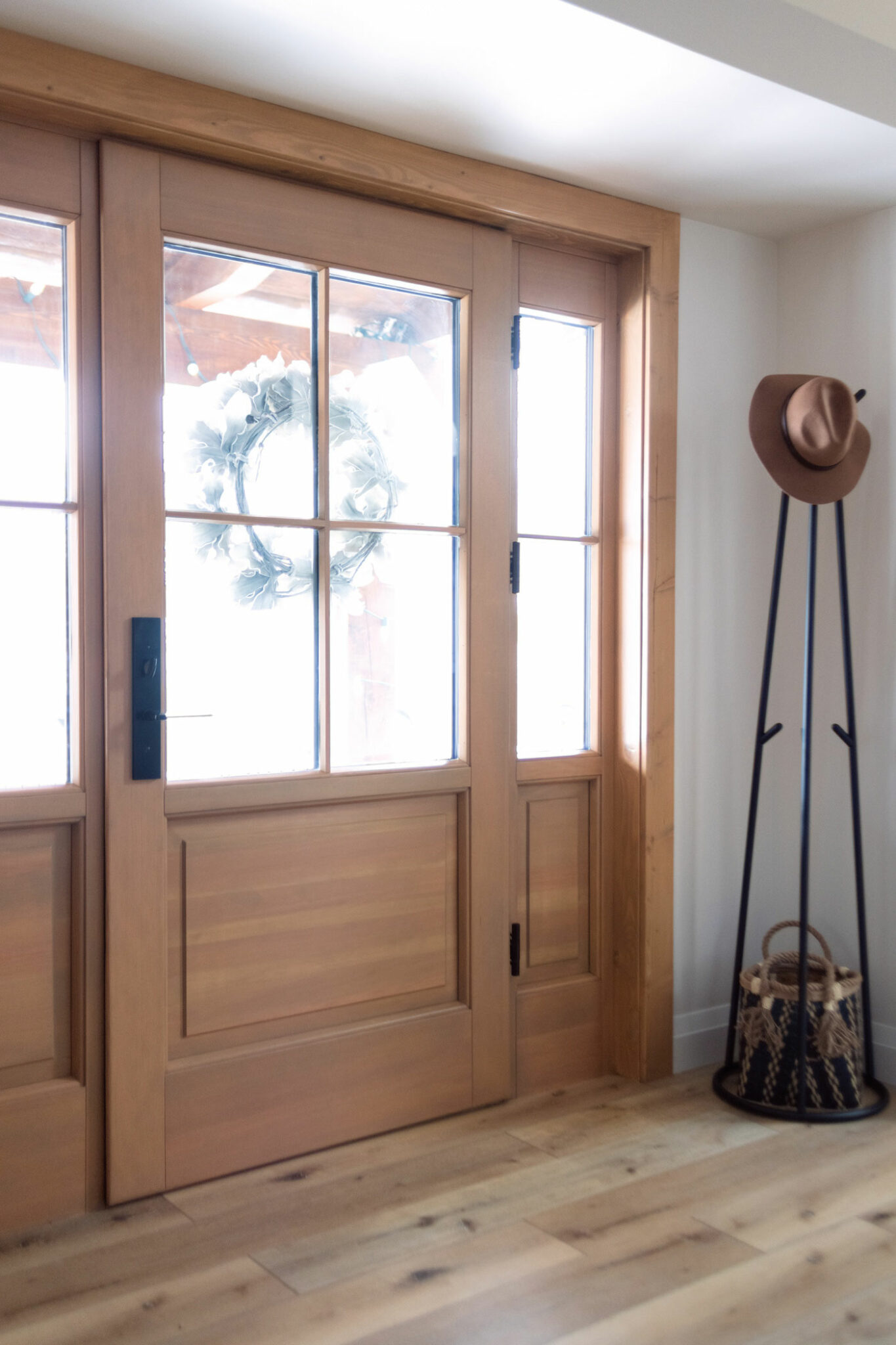 "I'm a big believer in a bold front door," says homeowner Karen Mercier. "This one was made by Crafted Windows and Doors in Nanton."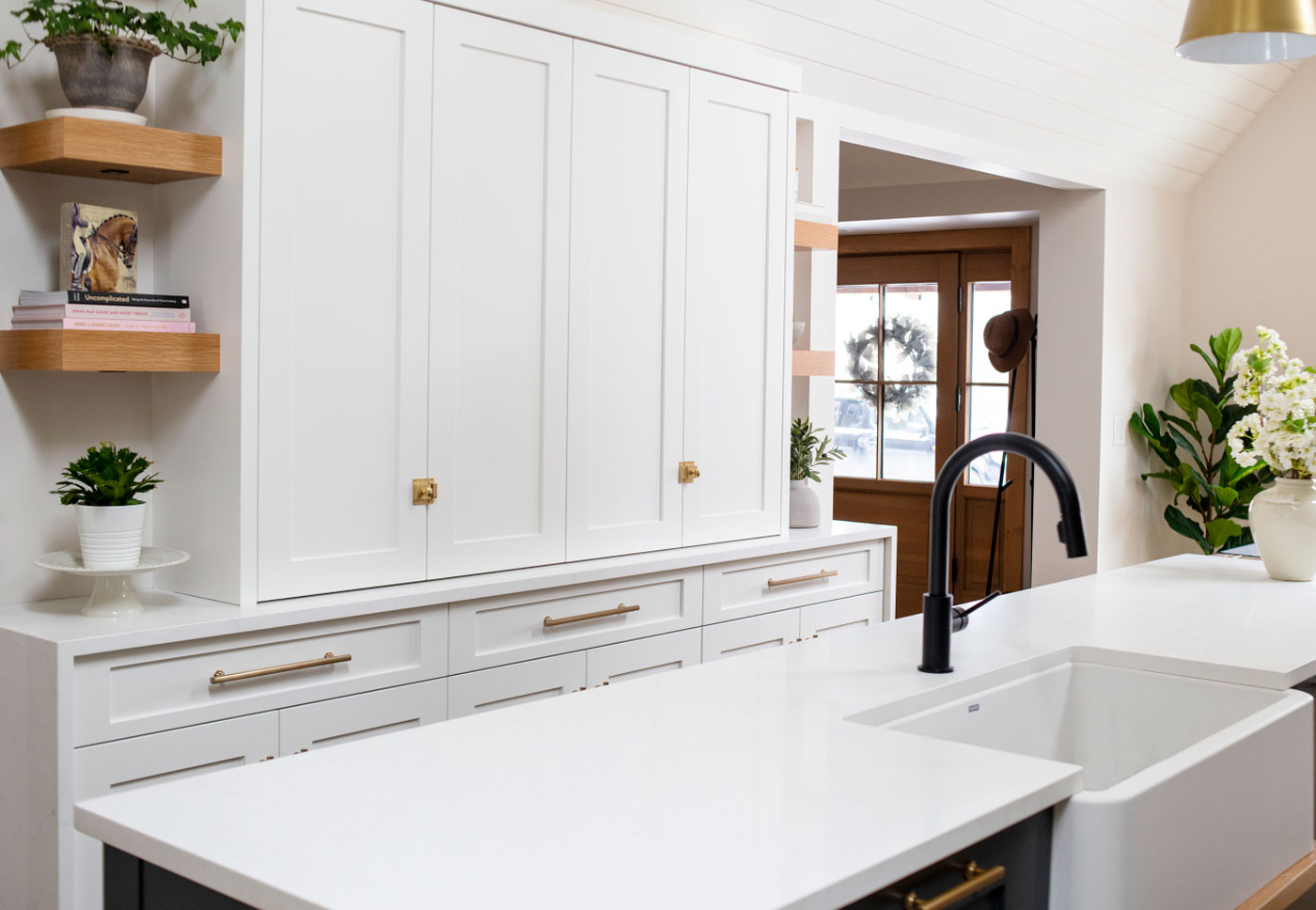 The farmhouse sink and black faucet are in keeping with the rustic vibe.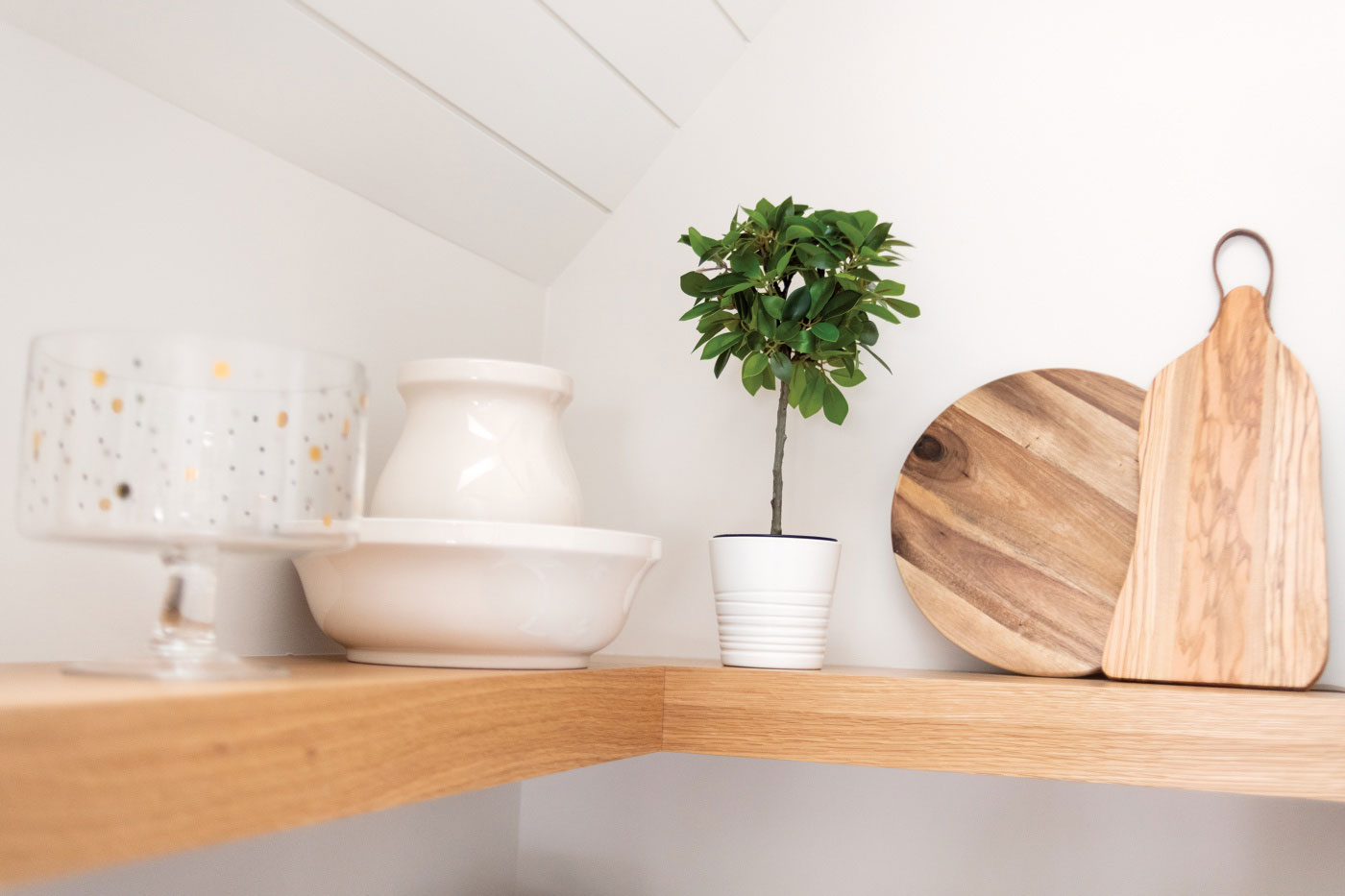 Artfully positioned along a shelf in the kitchen nook, various decorative objets lend a casual look.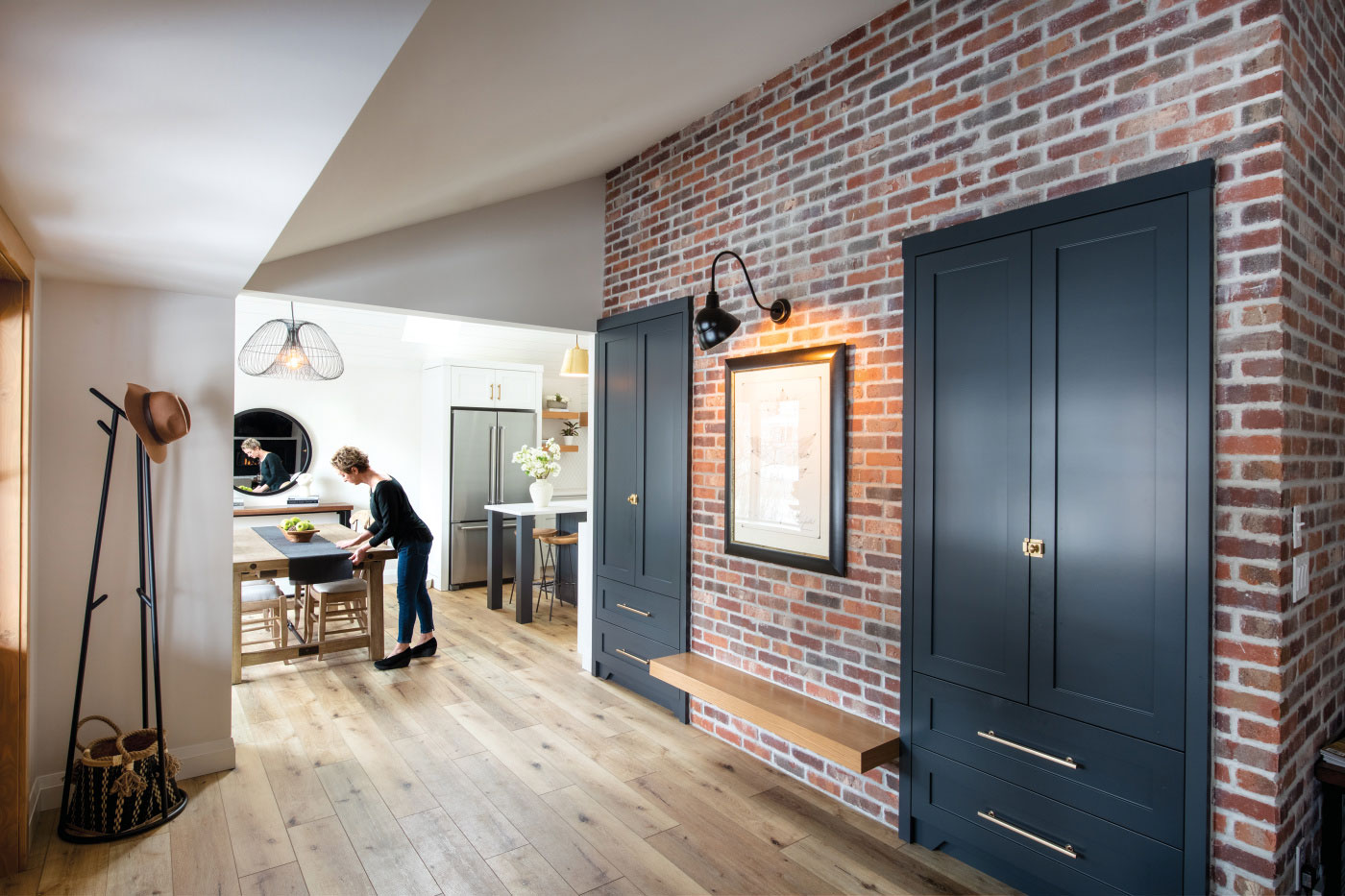 Authentic-looking imitation brick creates a feature wall in the spacious foyer, with custom-built cupboards providing much-needed storage.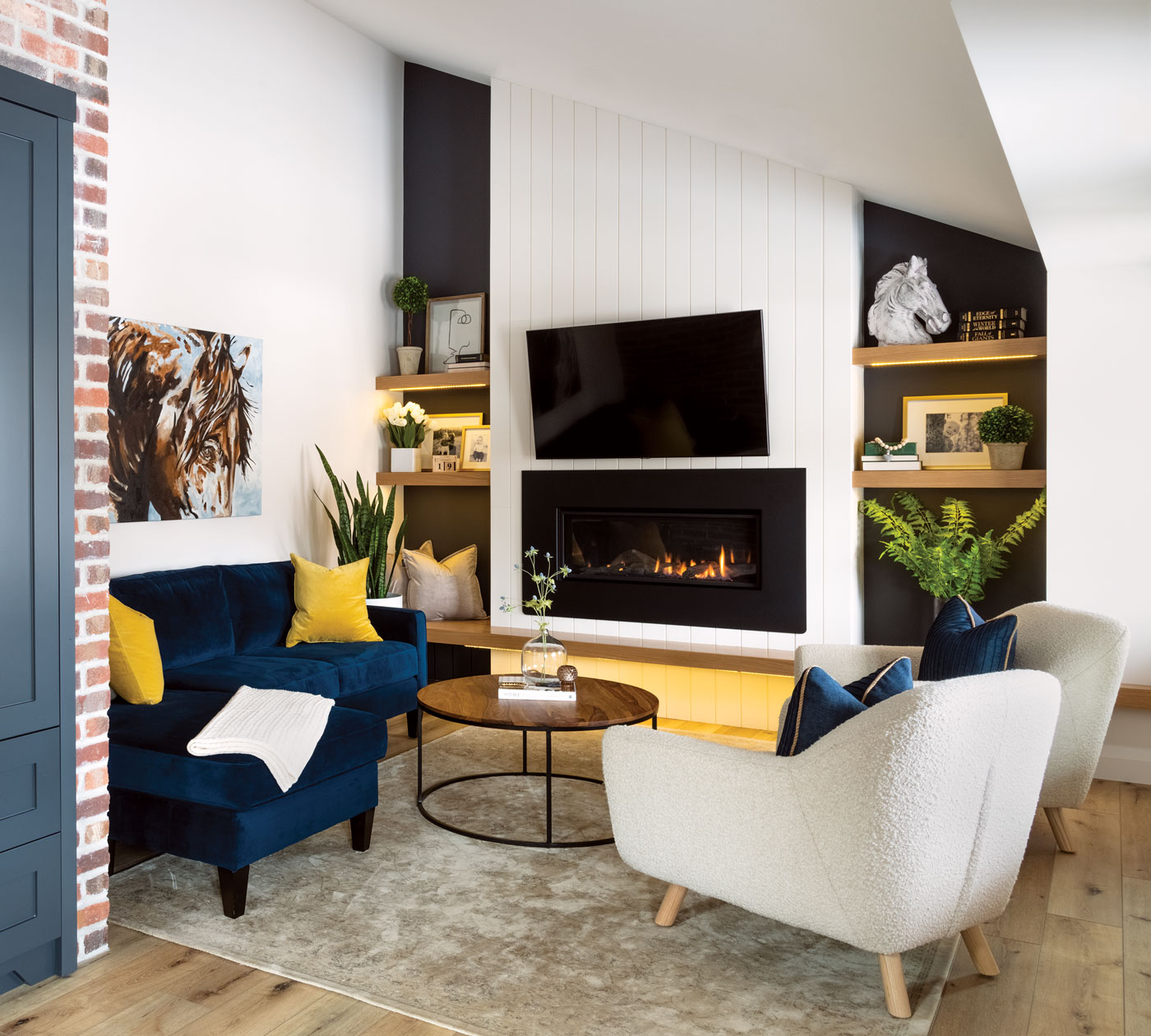 Crisp white walls appear to expand the living room while a deep blue sofa keeps it grounded.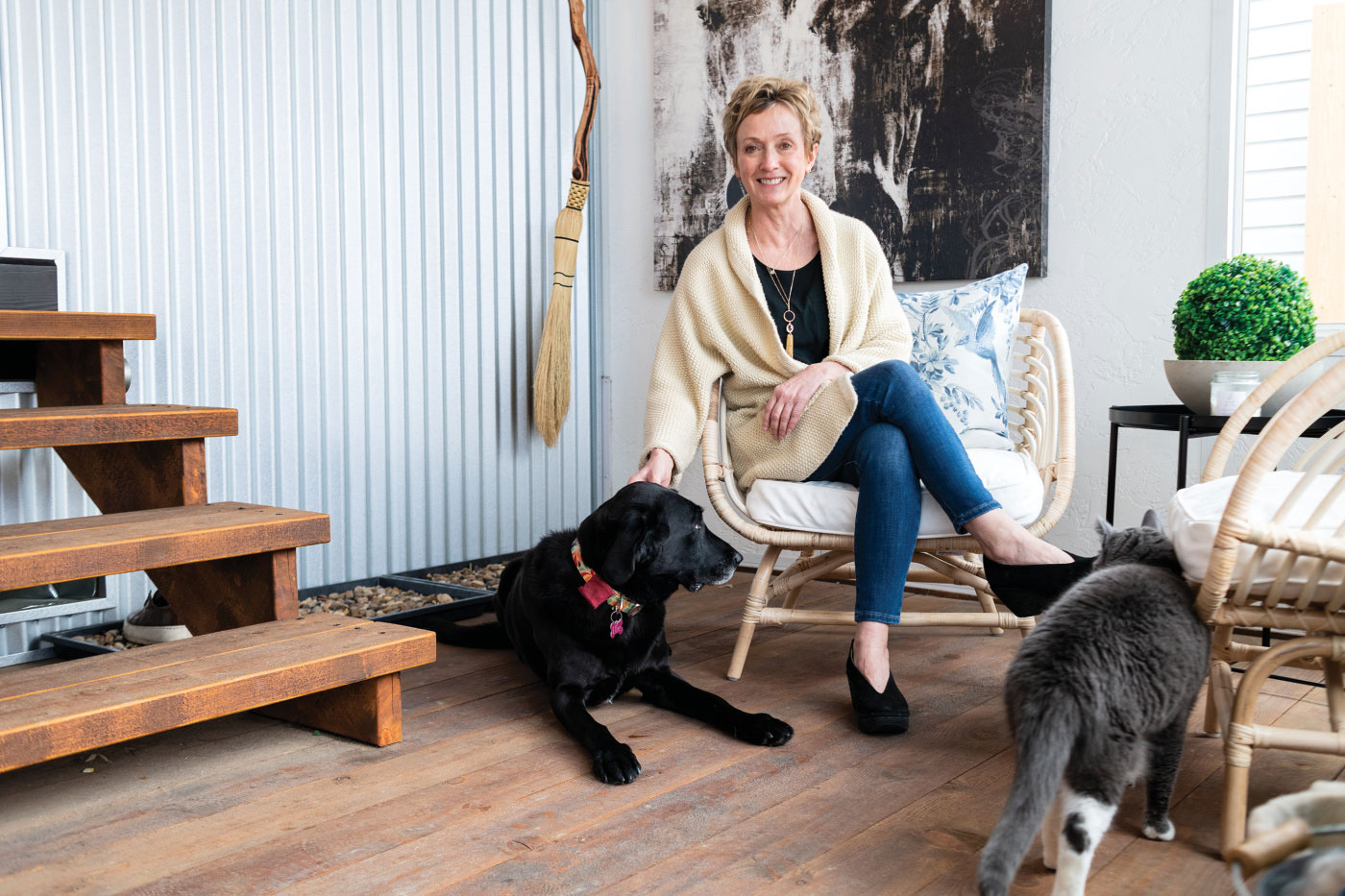 Mercier enjoys her morning coffee in the company of her beloved pets in this large sunroom off the kitchen.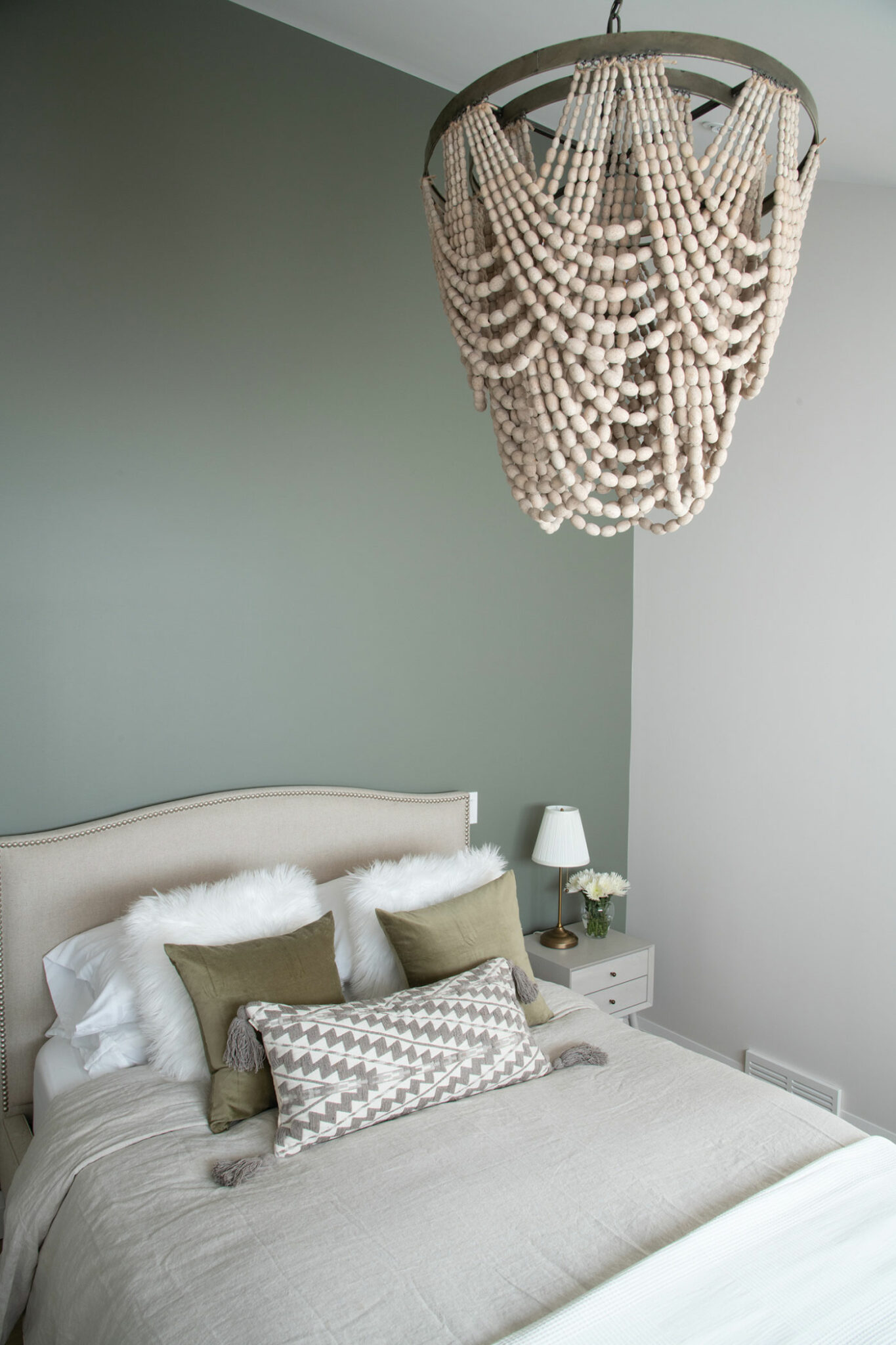 An accent wall painted in Sherwin Williams "Mountain Road" lends a calming feel to the main bedroom while the beaded chandelier brings a touch of drama.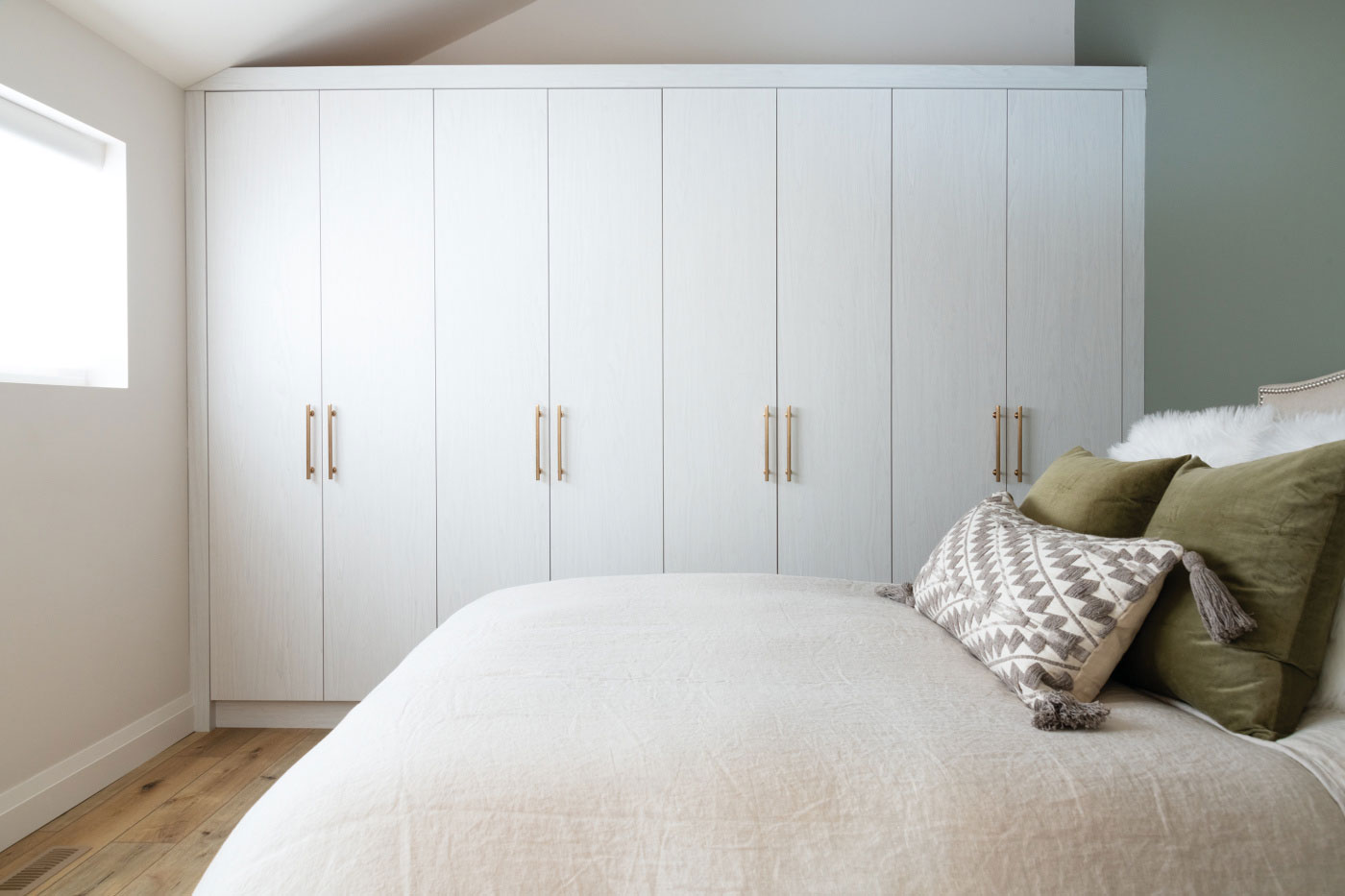 Full-size built-in closets are deep enough to store even off-season items.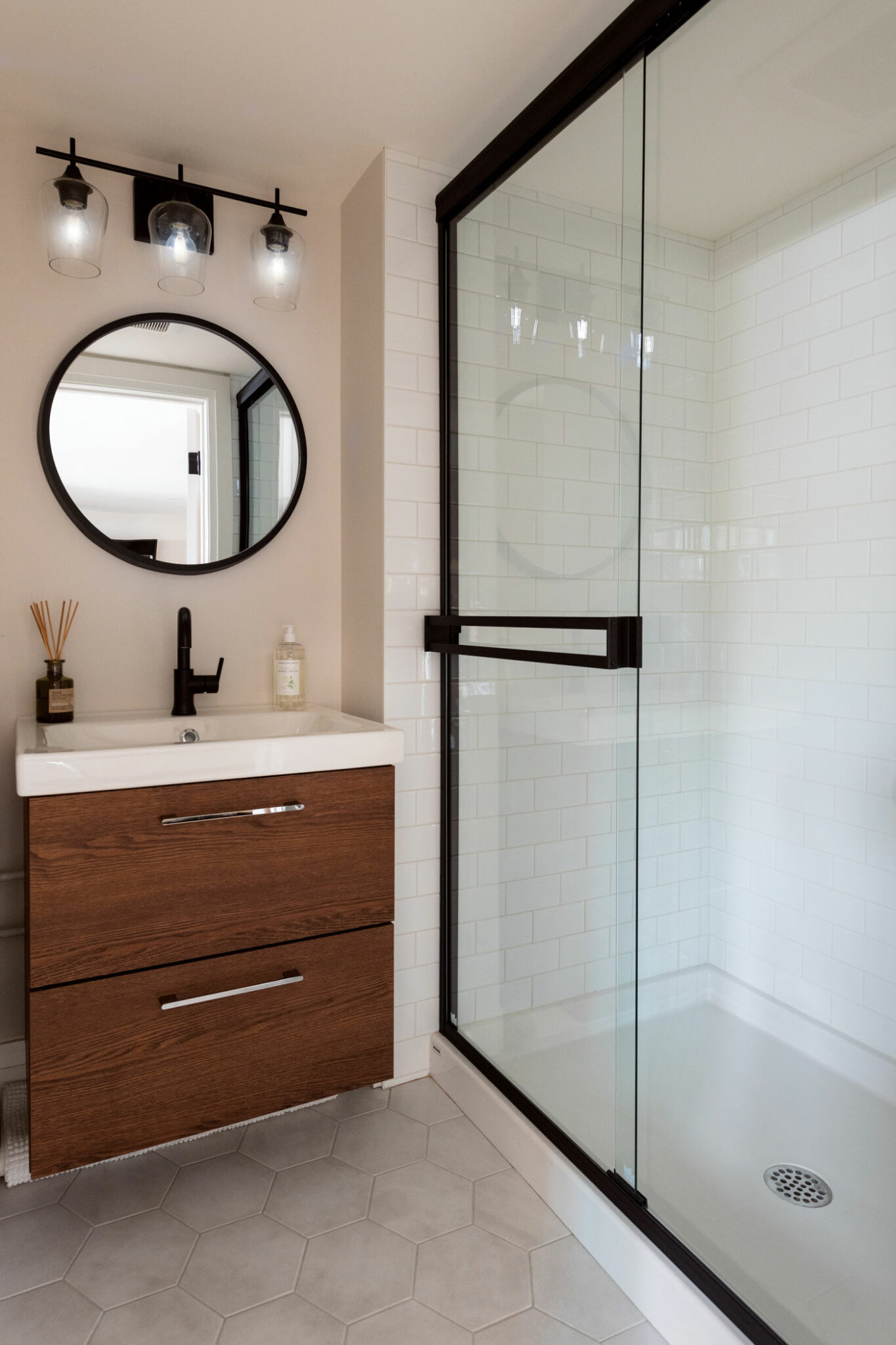 Cool-toned neutrals and a warm wood accent were natural design choices for
 the small main bathroom.
In the basement, a sideways-installed Murphy bed can be tucked away during the day, allowing the space to be used for other activities.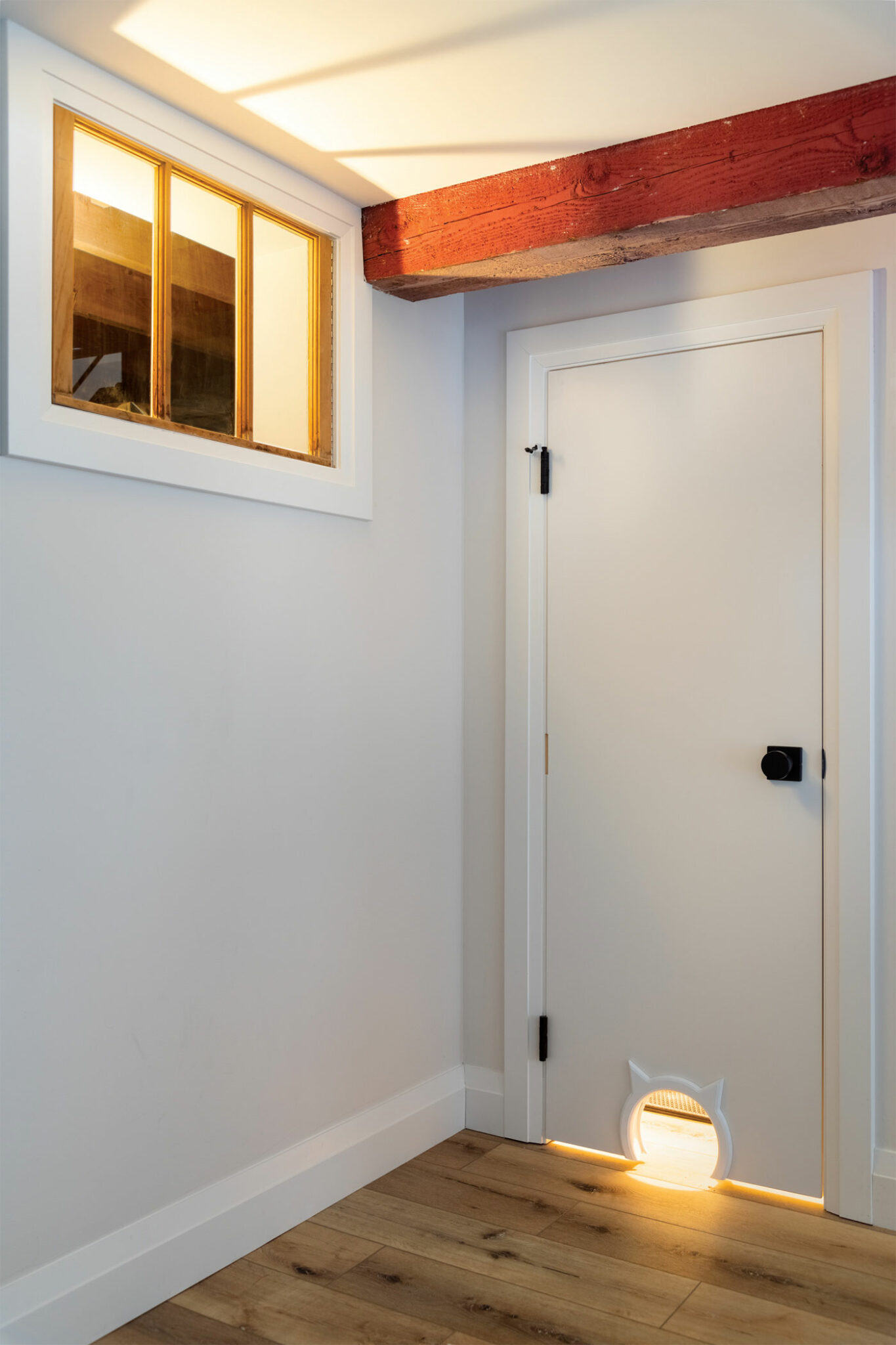 A savvy storage spot underneath the stairs does double duty as the cat's privy.