In the spacious living room of Heather and Hugh Alexander's Kelowna vacation home, large glass doors slide open on two walls and lead to a summer paradise: On the west side of the house, a 16-by-28-foot saltwater pool shimmers enticingly; on the north, a covered outdoor eating area looks out over a vineyard that supplies Quails' Gate Winery. Beyond it is Okanagan Lake.
"When June hits, we are full for the summer," says Heather, who wanted to build a house the couple's two adult children and their families could all enjoy at the same time. "We call it the H&H Inn," adds Hugh with a laugh.
With the help of Calgary-based interior designer Dayle Sheehan (who happens to be Heather and Hugh's niece), the Alexanders made their dream vacation home a reality. There's a primary bedroom and home office upstairs for Heather and Hugh, a main floor designed as an entertaining hub, and a basement with four bedrooms — two for the couple's kids and their spouses, one for the four grandsons, and another for the three granddaughters.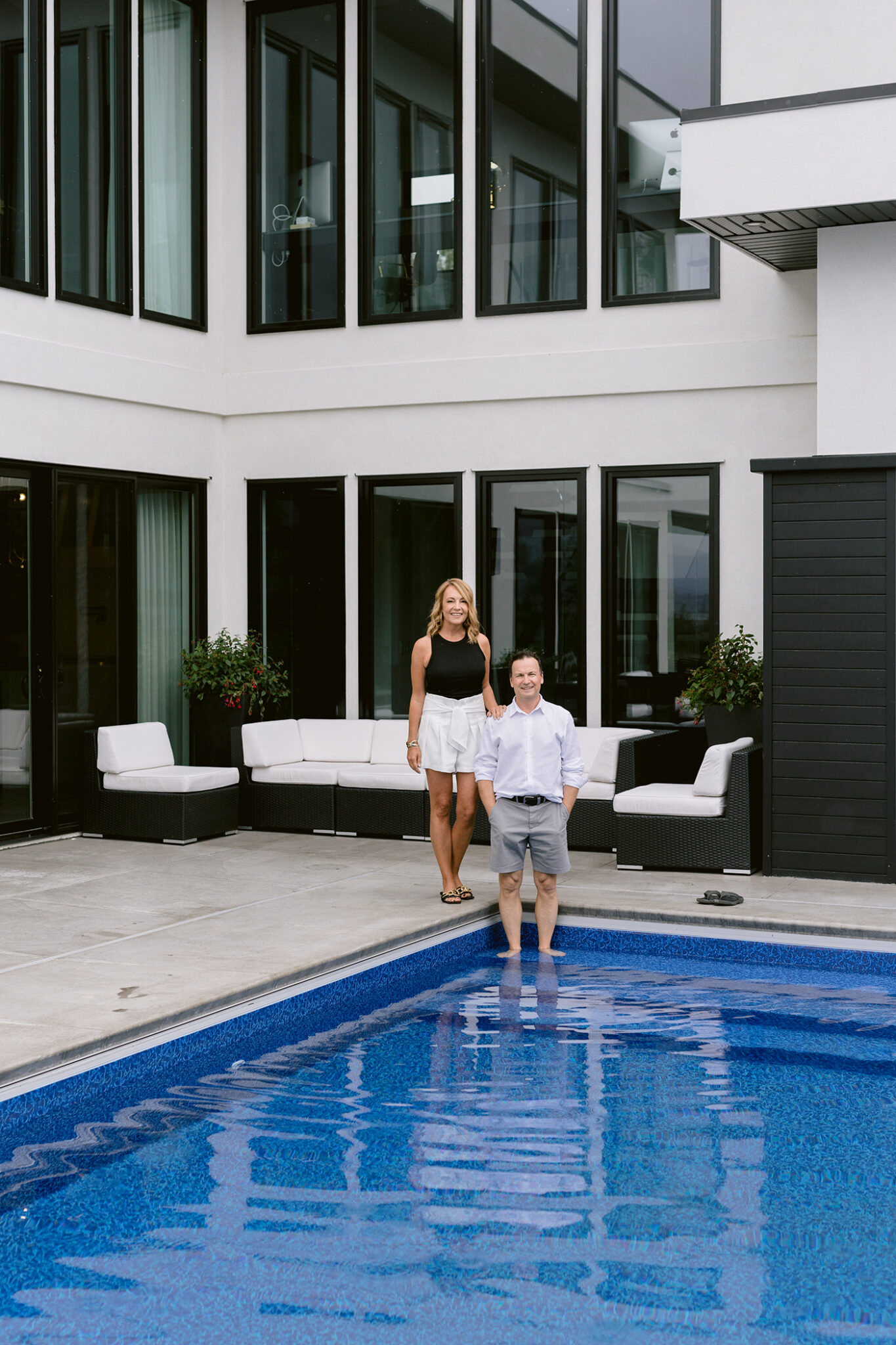 A Modern Home in Canada's Summer Playground
From the street, the two-storey, flat-roofed, white and gray stucco home, built in 2019, appears squat, its many windows stacked horizontally. Step inside, though, and a vaulted entry, open-riser concrete stairs sided by glass, and walls of floor-to-ceiling windows that draw the gaze outdoors welcome guests into the bright 6,000-square-foot residence.
Sheehan was involved in the entire design process and weighed in on the layout, floor plan, finishing materials and decor. She was the one who suggested the home's L-shape, which landed the pool on the side of the main floor, rather than in the backyard off the 3,000-square-foot walkout basement. "Heather and Hugh had a very clear vision," says Sheehan. "They wanted it to be monochromatic, modern and clean." The result is a bold mix of black rift-cut oak millwork, gray engineered European oak flooring, white Silestone quartz counters, gold hardware and faucets, and concrete accents. The furniture — low-slung, boxy sofas and chairs — follows this colour scheme, as does the abstract art.
The couple, who split their time between Kelowna, Grande Prairie and Phoenix, didn't want anything "typical." There's an asymmetrical fireplace with a concrete mantle and hearth, light fixtures that pass for art pieces and bathroom tiles set in a herringbone pattern.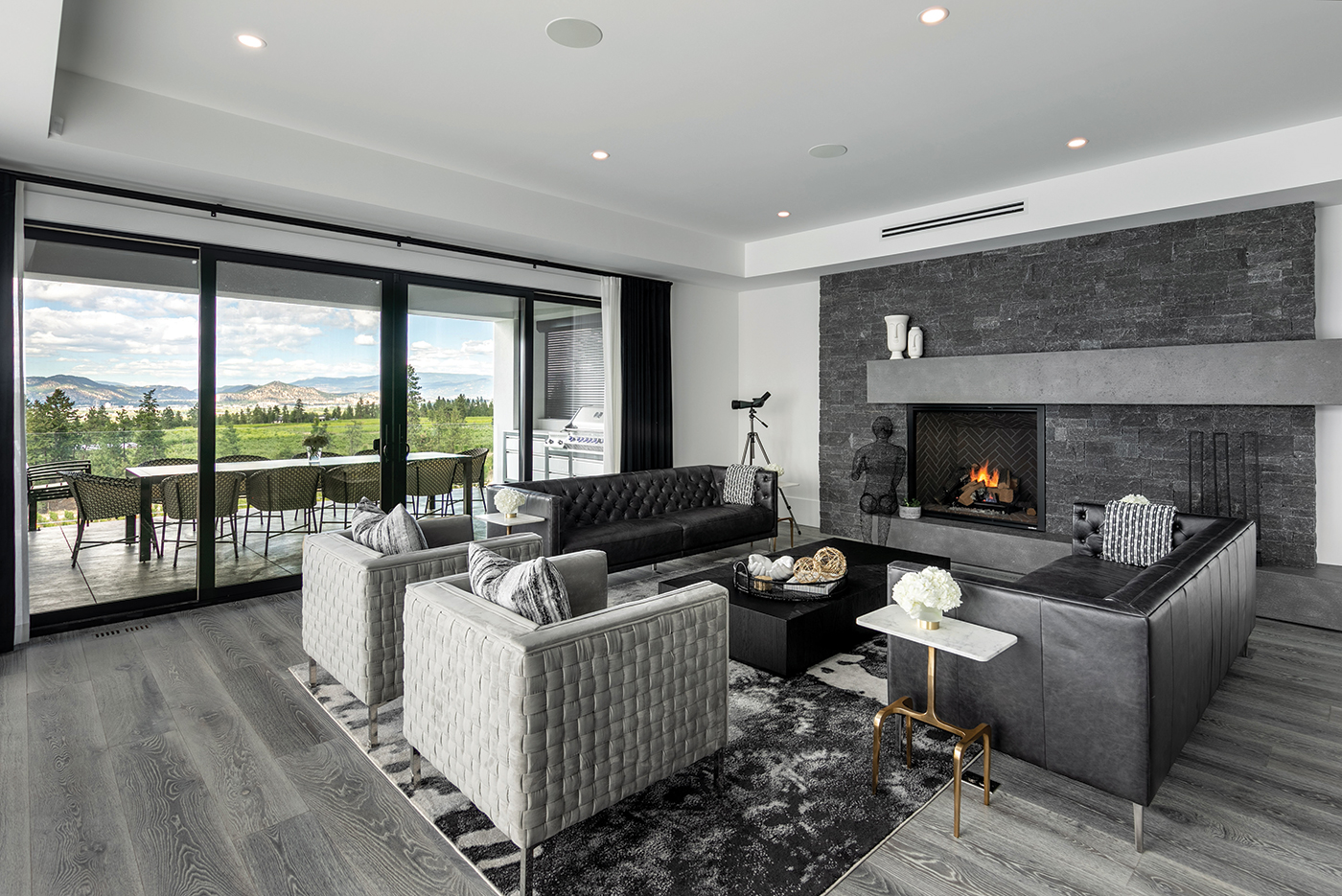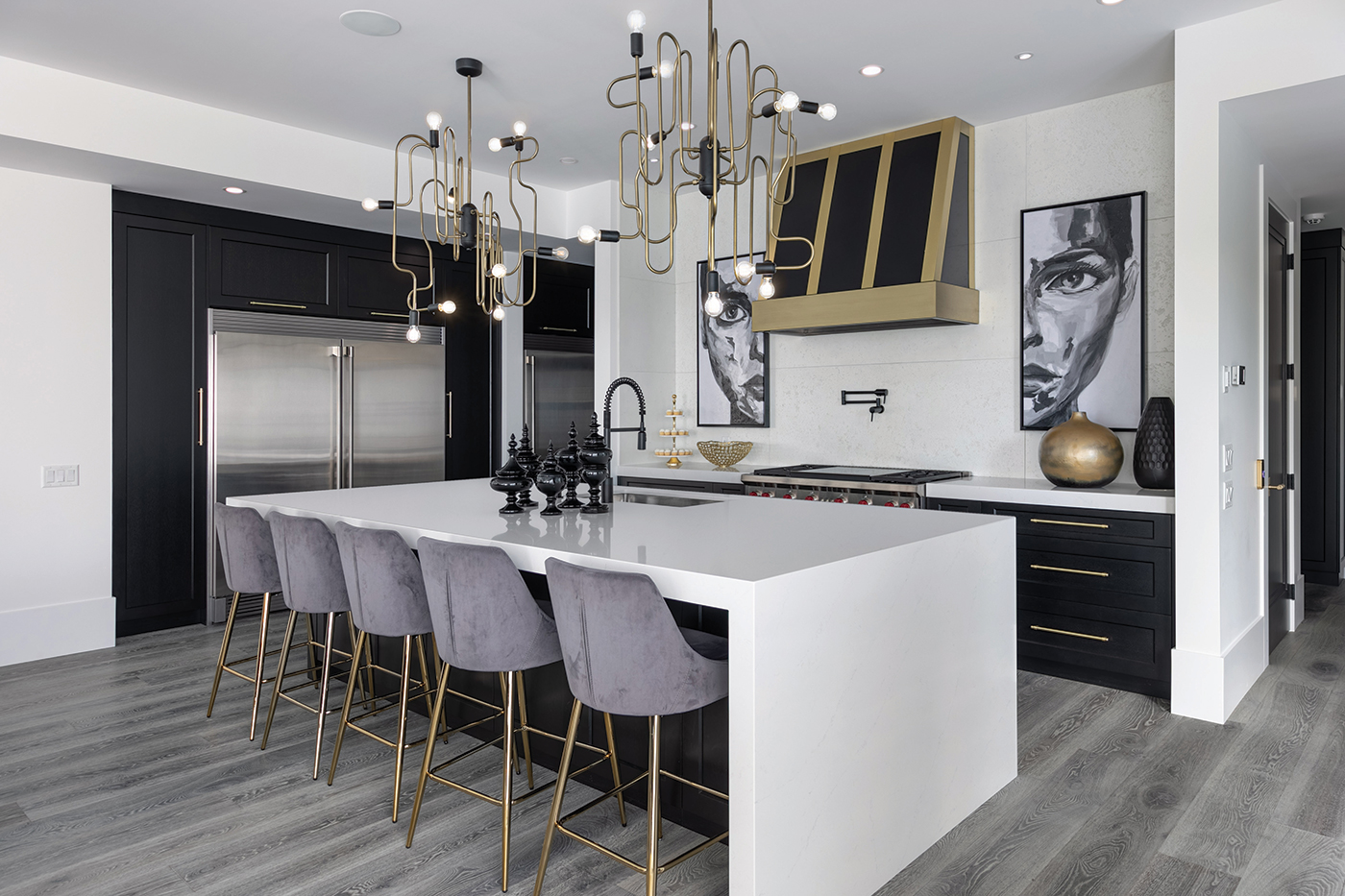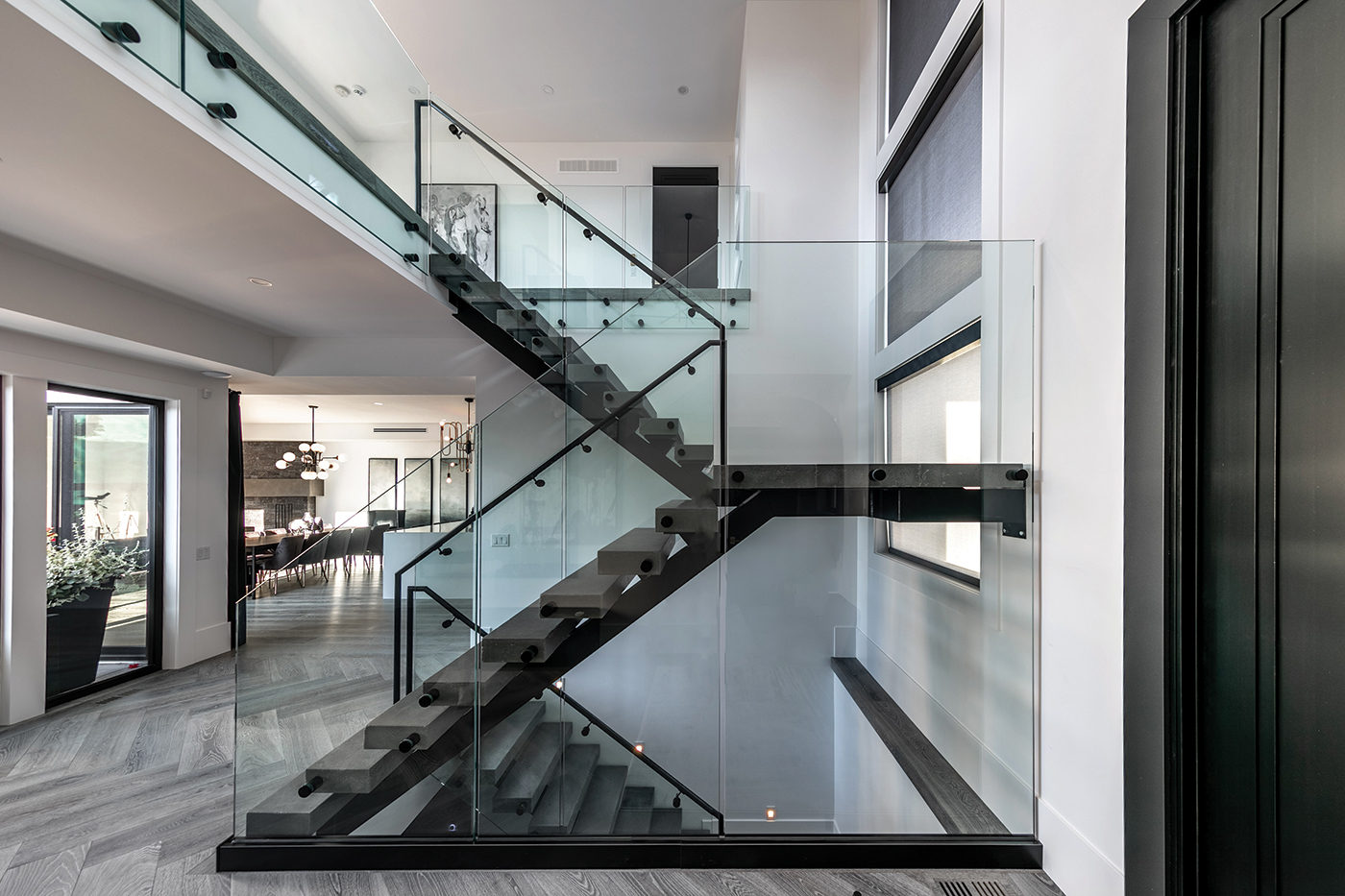 Indoor-Outdoor Living
Designed with all the amenities of a boutique hotel, the home also needed to handle the practicalities of having seven grandkids in wet swimsuits traipsing around. So, Sheehan designed an outdoor bathroom/change room next to the pool, where the kids can dry off when they're done swimming. The room features towel hooks, silver benches and a black-and-white wallpaper mural of a circa-1950s pool party. There's also a staircase off the pool deck that leads down to the basement, so the kids can access their rooms directly.
That's not to say outdoor guests are barred from the main floor. Summertime in Kelowna is all about indoor-outdoor living, so the double glass doors on two walls slide open to integrate the outside spaces with the living room and kitchen, inviting easy movement between mixing a gin and tonic inside and kicking back in a cushy poolside chaise. "Heather and Hugh wanted to be able to sit outside and entertain, or be in the kitchen getting drinks or a charcuterie board ready, but not miss out on the action," says Sheehan.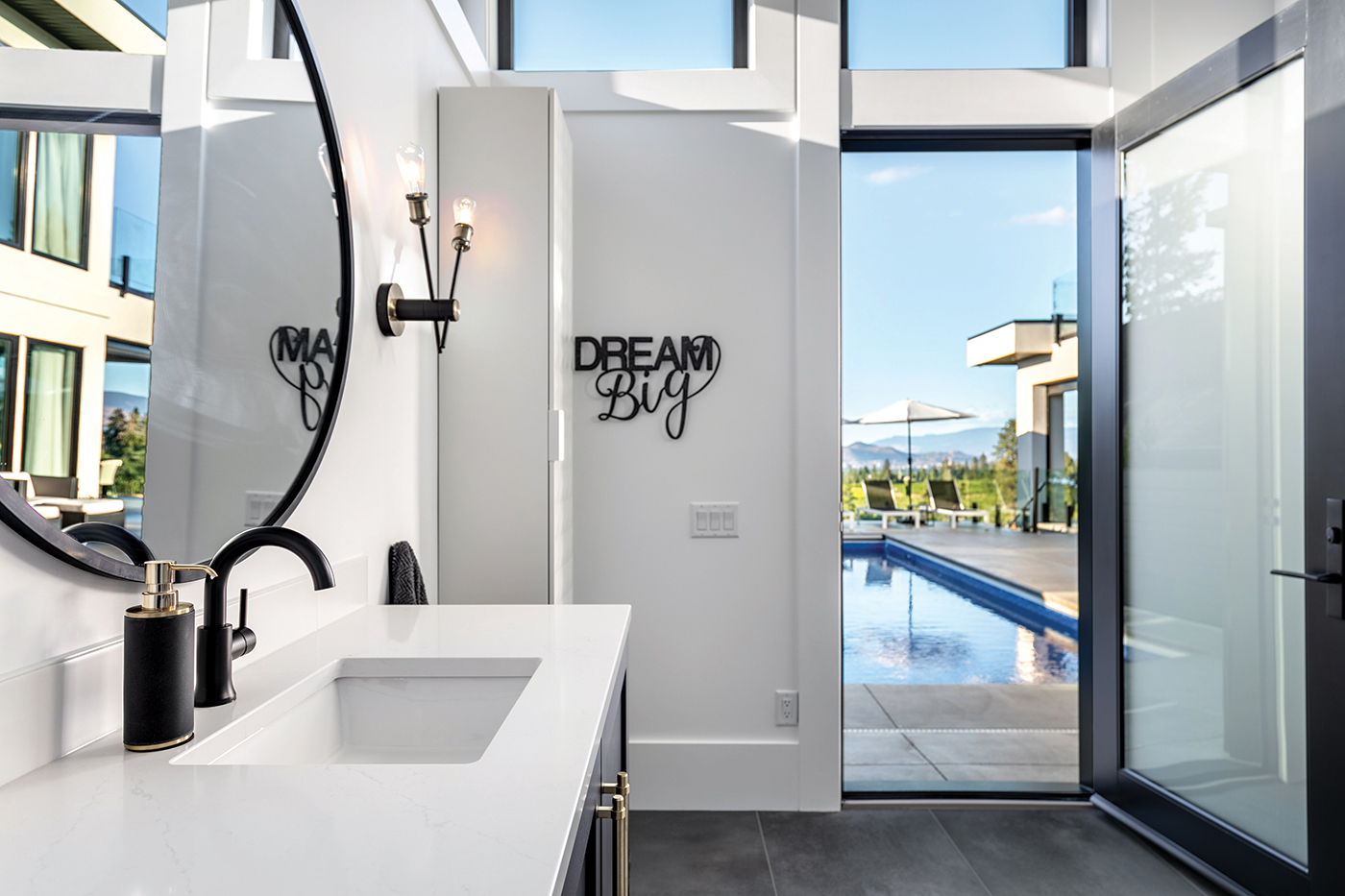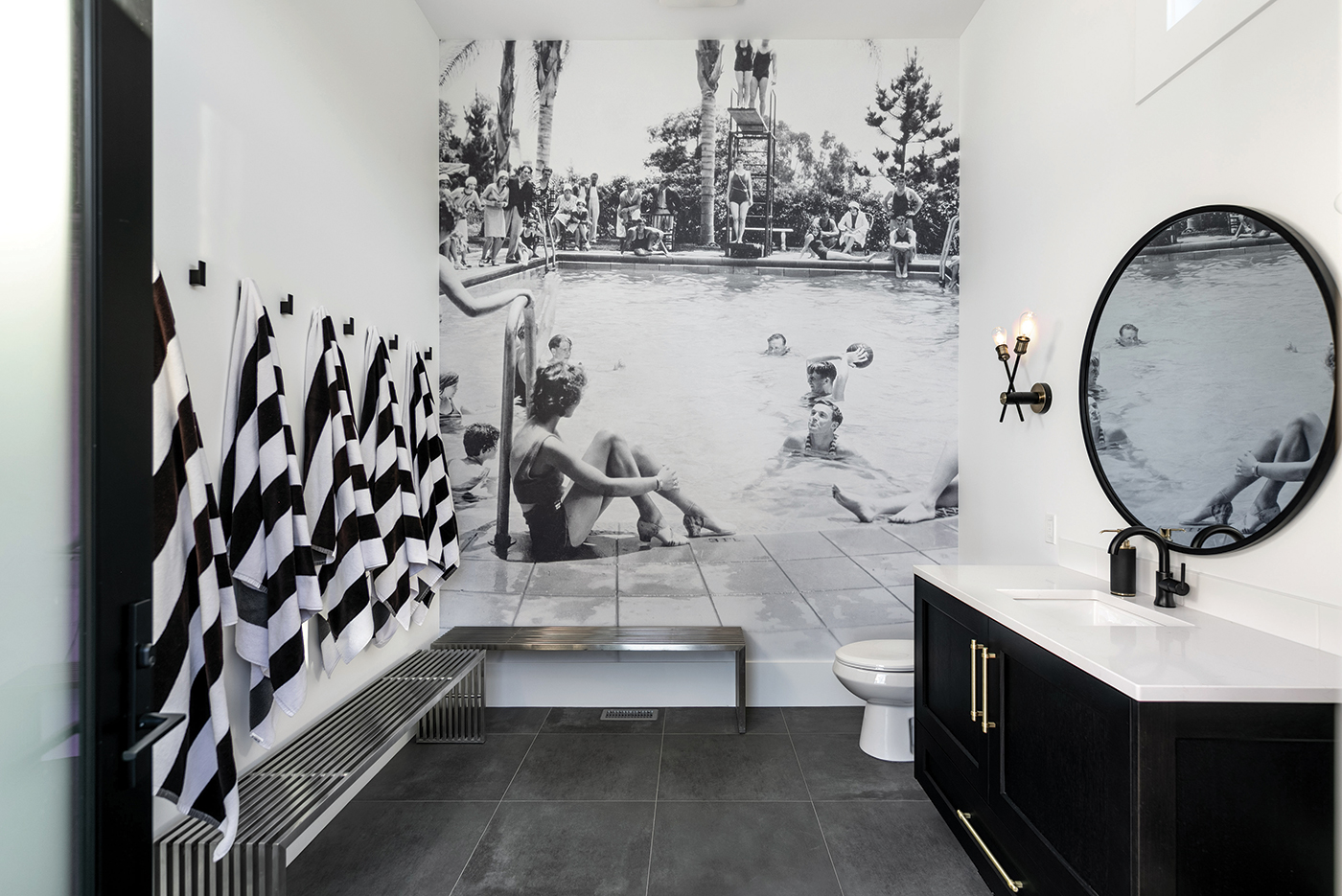 Practical Details in a Boutique Hotel Setting
In the main kitchen, a concrete backsplash is devoid of upper cabinets. Instead, two prints hang on either side of a statement black-and-brass hood fan, giving the wall a gallery look. Around the corner, a butler's pantry houses a second refrigerator, icemaker, two dishwasher drawers and all the small appliances that clutter up the counter. "It's a practical kitchen workspace that doesn't interfere with the boutique hotel aesthetic," Sheehan says.
Another practical design feature: the accessible additions that make it possible for Heather's mom, who has muscular dystrophy, to move around the space when she visits. One of the guest rooms has a roll-in shower and a lower bed and vanity, and the home's five-foot-wide hallways are easy for a wheelchair to navigate. There's also an elevator between the three floors. "I specialize in wheelchair-accessible design, so I encouraged them [to add these elements]," says Sheehan, who uses a wheelchair herself.
Since the home will work for them as they age, the Alexanders plan to, eventually, settle permanently in Kelowna, turning their vacation home into their "forever home." For now, when Sheehan visits her aunt and uncle in Kelowna, she loves seeing the house in action. "What is my wildest dream?" wonders Sheehan, rhetorically. "I got to do that in this house."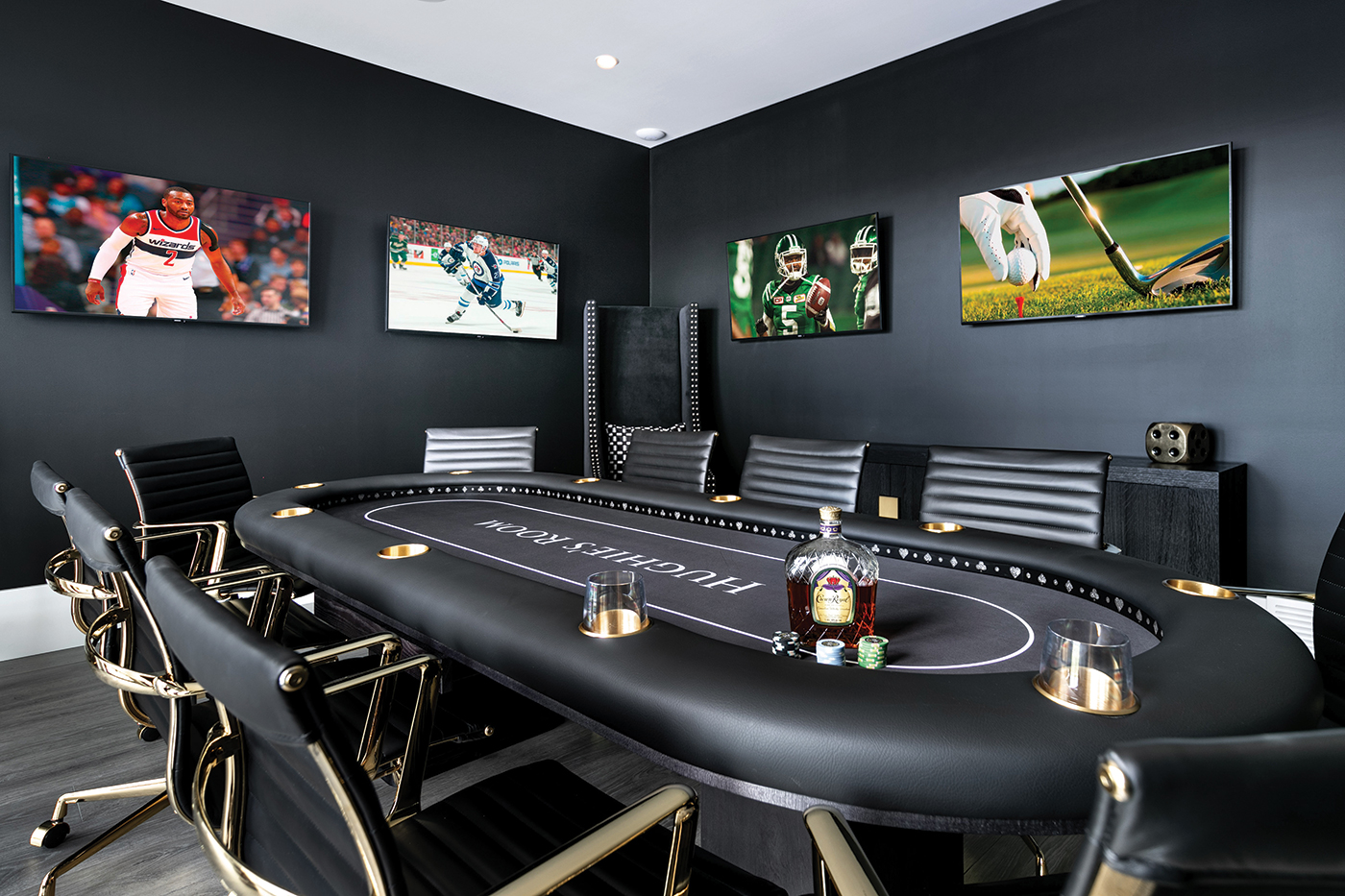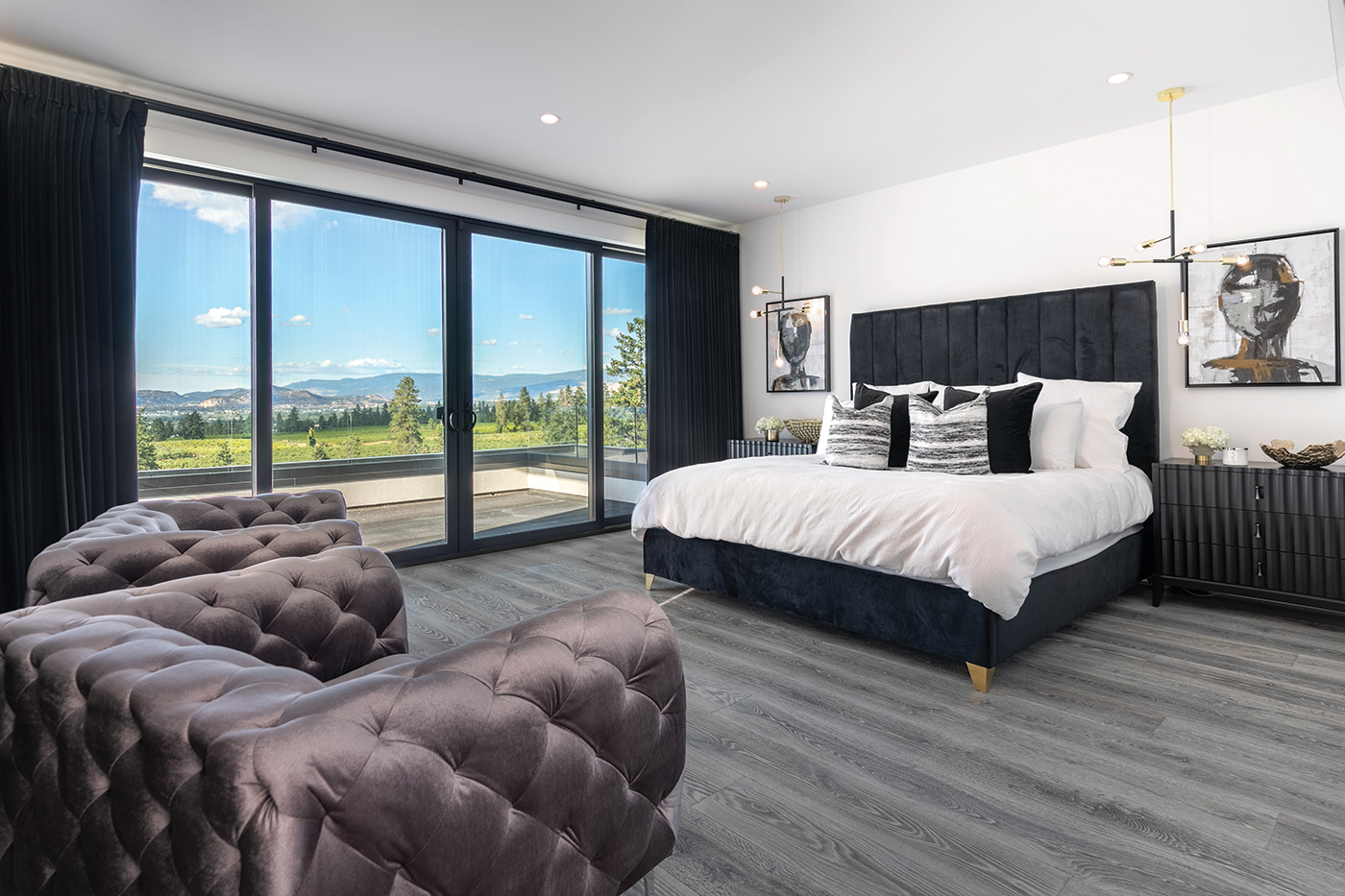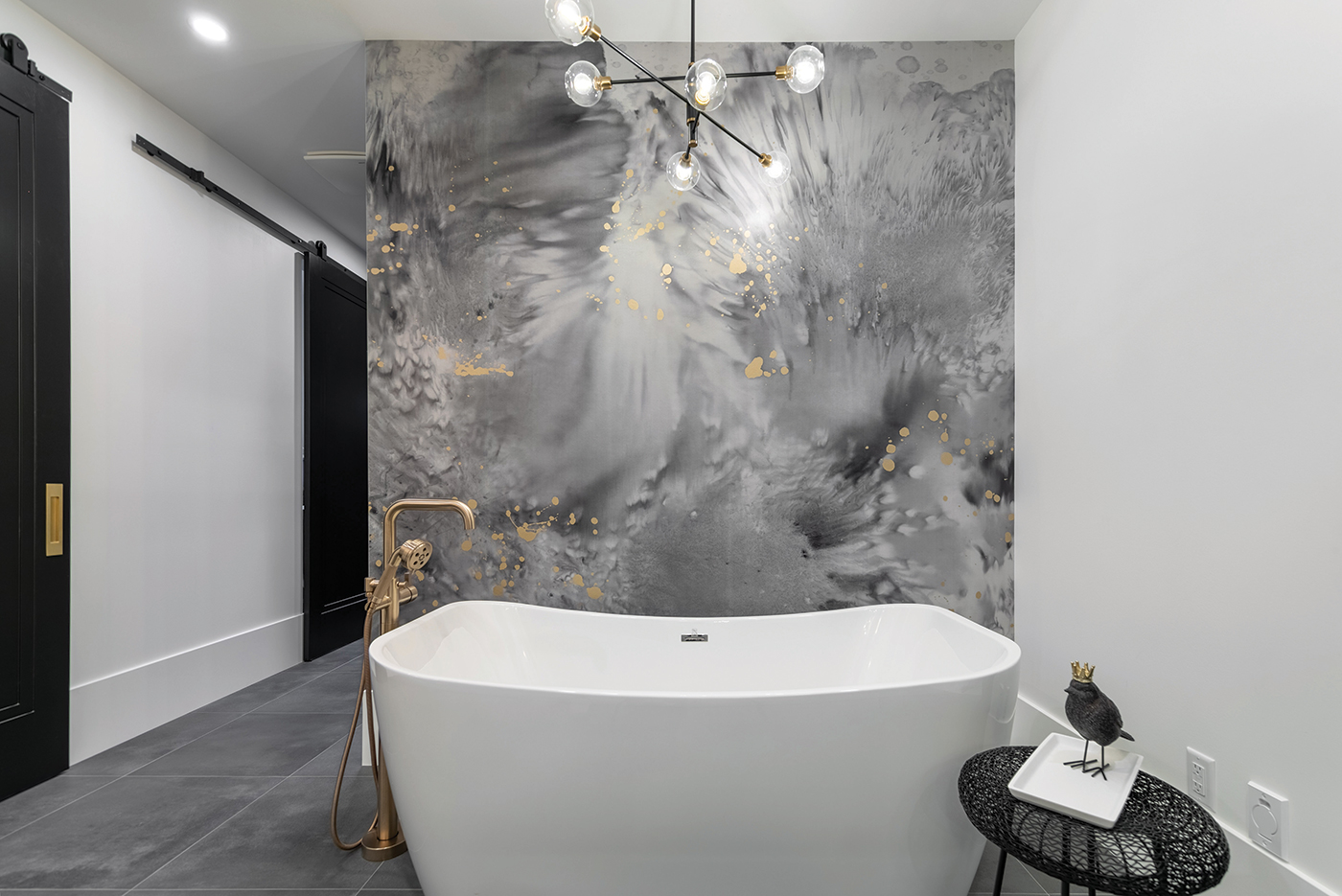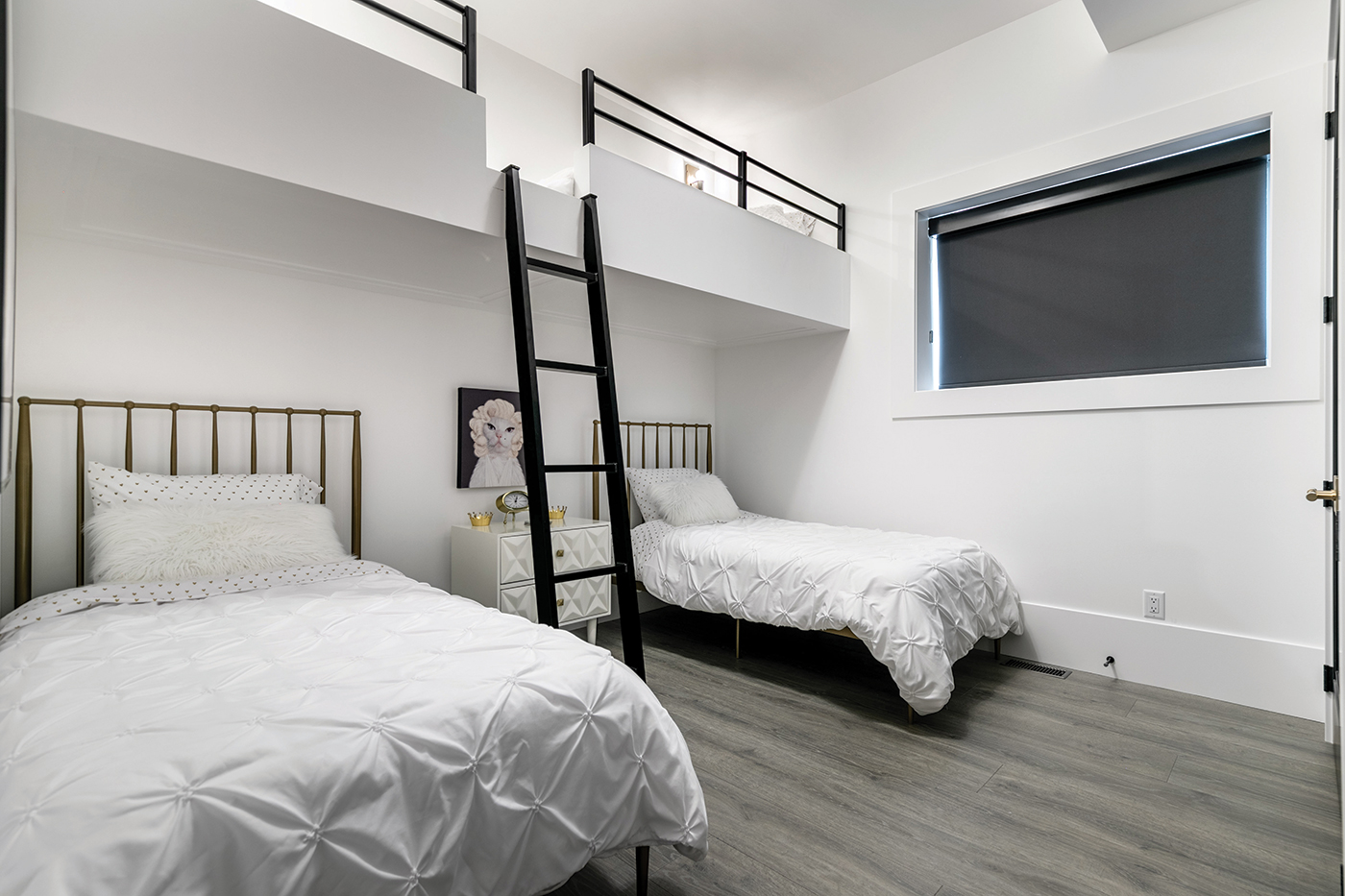 Make a Splash
Designer Dayle Sheehan shares three trends in pool and patio design.
It's Hip to be Square
Forget curvy, kidney-shaped swimming pools: Square or rectangular pools with clean, classic lines are becoming more popular, Sheehan says. (They're also a better fit with a modern-style home.)
Round Things Out with Plants
Add life and colour to the pool deck with indoor/outdoor sphere planters that can be moved inside for the winter, says Sheehan. Pro tip: Plant flowers that can overwinter indoors, such as geraniums or begonias.
Don't Forget an Umbrella
A sun umbrella in a bold colour or pattern, or adorned with fringe, adds a touch of whimsy to any patio. "Get the fun umbrella!" says Sheehan.