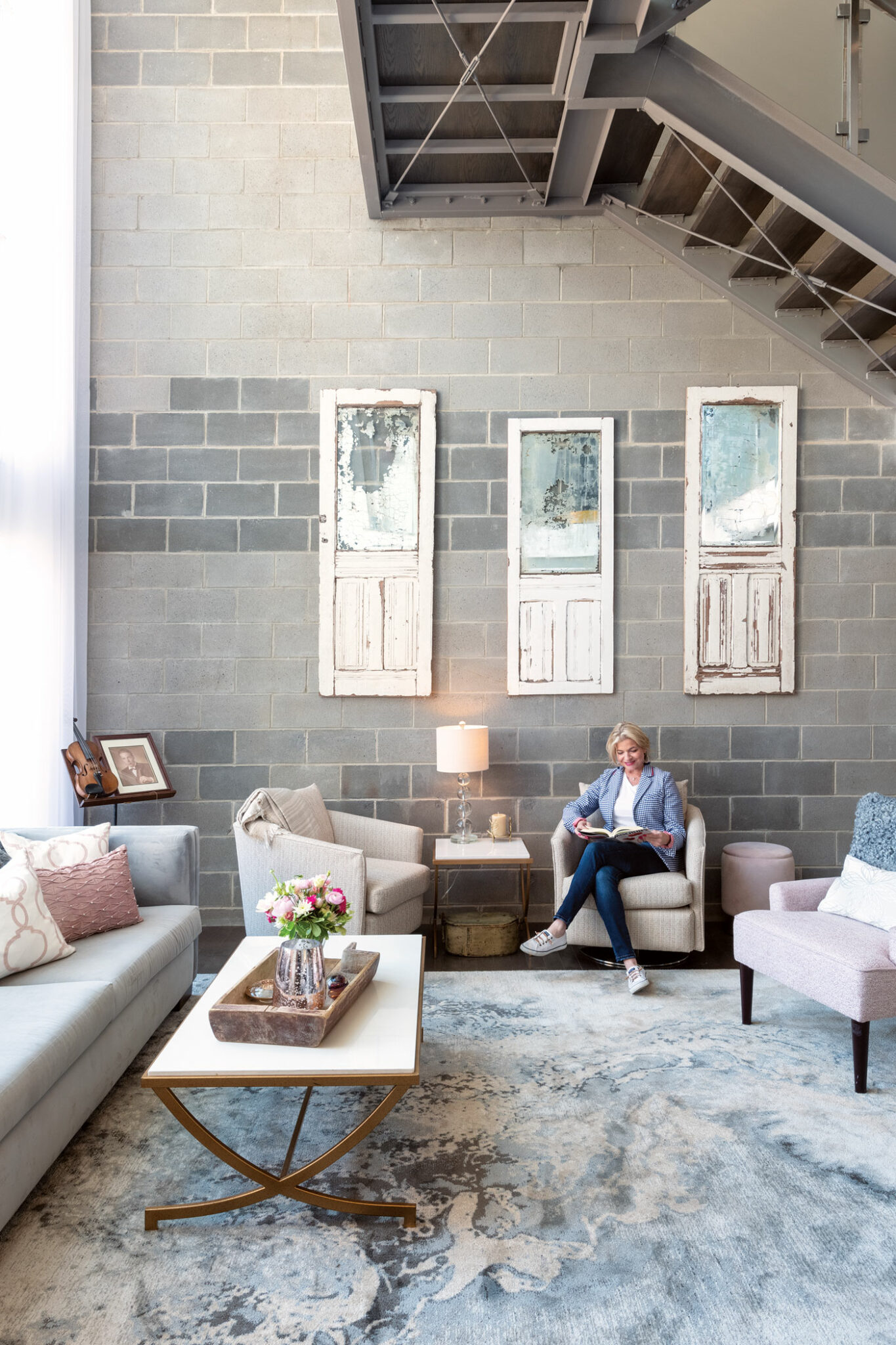 Adene Lucas knows first-hand that life happens when you're busy making other plans. As an interior designer, she is often called in to revamp homes for clients who are making the transition to being empty nesters, or downsizing. But when her partner suggested the two of them, along with Lucas's two university-aged kids and dog move into a four-bedroom, three-and-half bathroom home in Erlton, Lucas became her own client.
"This house came up and we thought, 'you know, we've dated long enough, we either take this and try it or what are we doing?'" she says. After 25 years in a 1950s bungalow, moving in with a new partner into a three-storey infill was a major change. "It was a challenge. I had to flip the switch and look at this more like a job and less as my house," she says.
Lucas transformed the home into a contemporary space for both entertaining guests and curling up for a night in. Right off the bat, her biggest challenge was figuring out what to do with the double-height industrial grey brick wall in the main living space. After she and her partner found a set of light-coloured antique doors to mount on it, her overall vision for the home became clear. "That was the first thing we bought, we didn't even have furniture yet," says Lucas. "You need a starting point and that was it for me."
She began sourcing accent furniture in soft pastels to offset the dark flooring and hard features like the floating metal staircase. "My goal was to soften the space so it felt warm and inviting instead of like a big box," says Lucas. In the living room, she arranged seating so that people could socialize easily. She also added curtains to the wall of windows overlooking downtown. "At night, with the lighting outside, it's really pretty and there's nobody in front of us so I like that," says Lucas.
Her favourite room, the main bedroom, is a hidden oasis. Frosted-glass doors separate the bedroom and fireplace area from the rooftop balcony, walk-in closet and ensuite bathroom with soaker tub and walk-in shower, providing a generous amount of sound insulation. The sense of privacy is another novel concept that Lucas enjoys in her new home. "[In my old home] everything was on one floor, I could hear my kids make their beds or turn on a light switch," she says. "Now, I never have to hear anything."
Trendy Scandinavian Decor Pieces
Not all antiques are meant to be admired from afar. Here are three beautiful and functional items that designer and Scandinavian antiques seller Adene Lucas recommends for any home.
Wooden Trays
Wooden antiques are often crafted to withstand the years, so don't be afraid to use them. In Lucas's living room, an 18th century Scandinavian cheeseboard displays candles and trinkets, but also doubles as a charcuterie board for entertaining.
Sheepskins
These versatile pieces can be used on the floor as rugs or on a sofa or chair as a throw. They are also hypoallergenic and dirt-resistant and add texture, warmth and a natural element to any decor scheme.
Church Pews
Instead of furnishing your dining room with matching chairs all around, use a Scandinavian church pew as a dining bench. The wooden pews have armrests and backrests, allowing dinner guests to sit comfortably together and converse.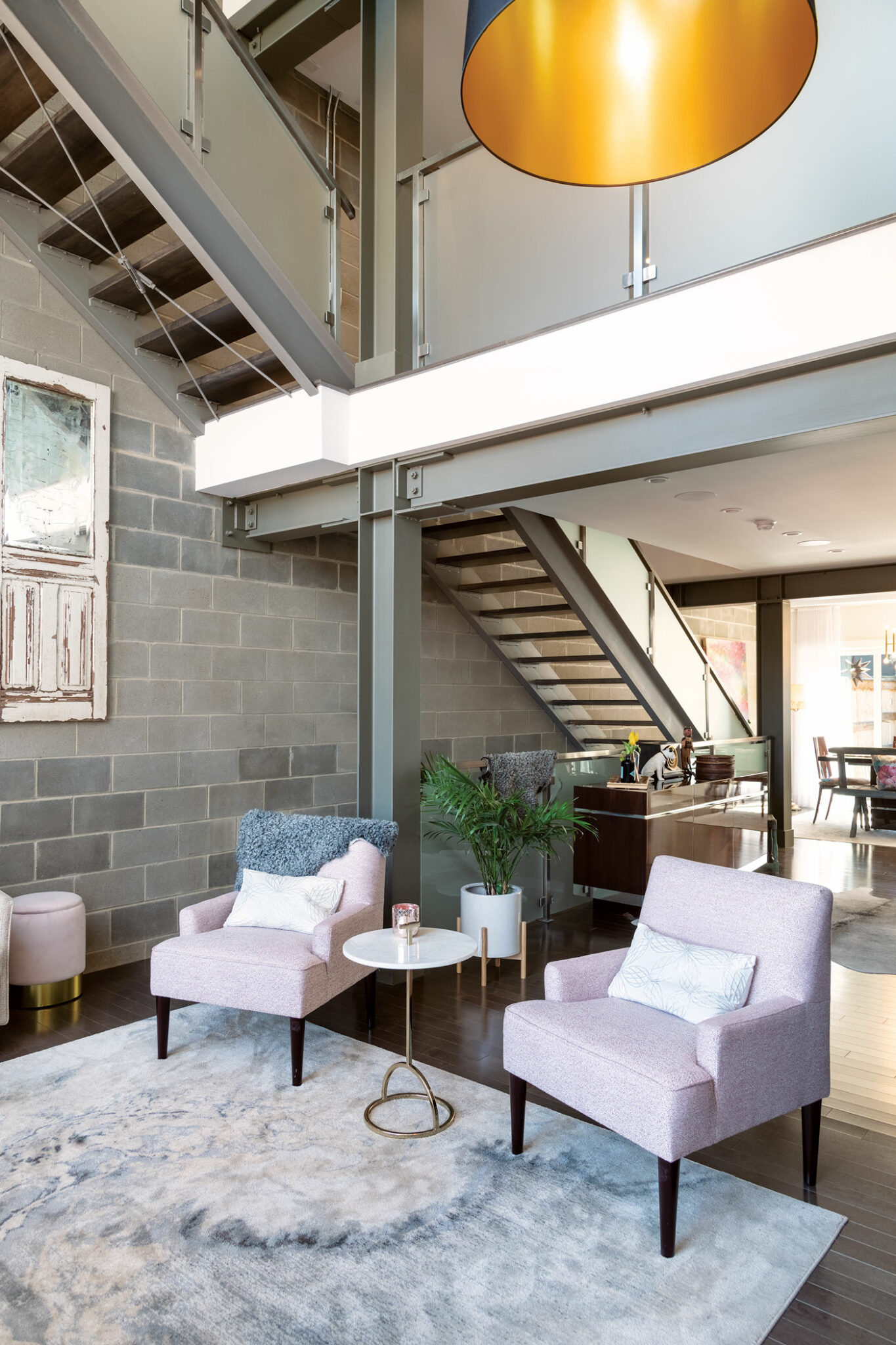 In the main living area, Lucas painted the prominant horizontal beam white and added contemporary furniture in pastel hues to create a comfortable environment for entertaining and taking in the view of downtown.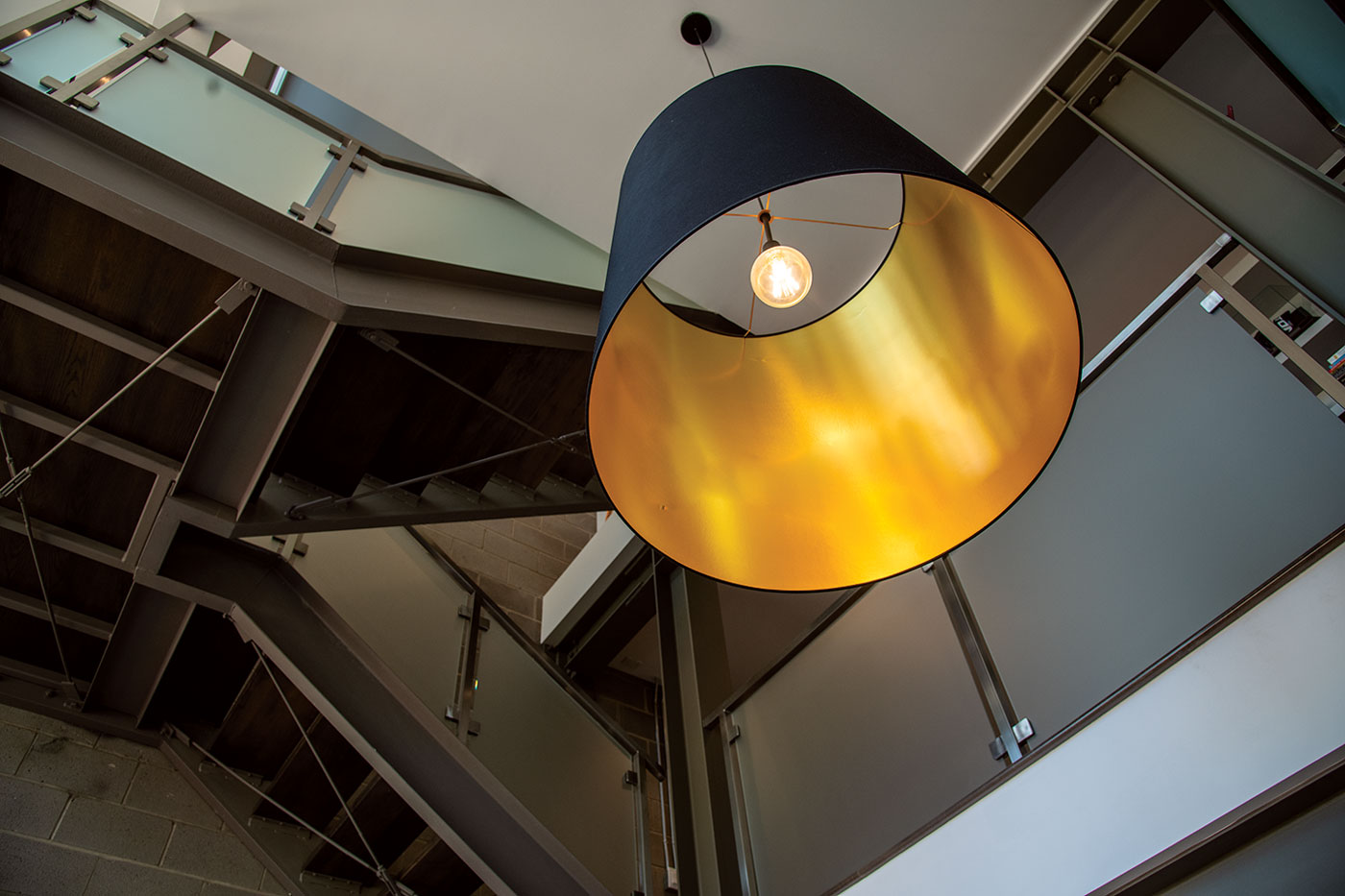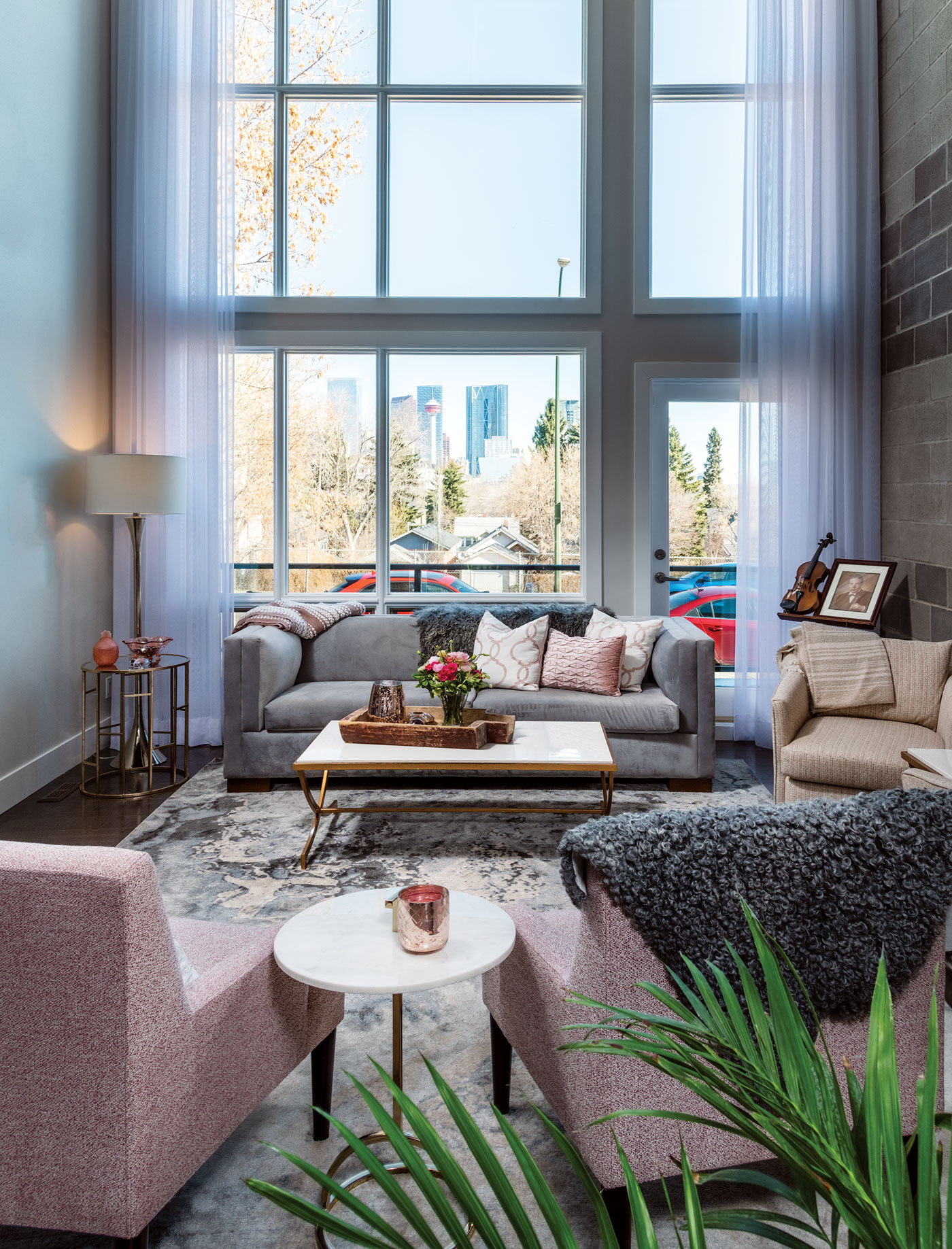 Despite Lucas's love for antique decor pieces, most of the large furniture items for the home were purchased new. "It can be overwhelming trying to incorporate old stuff with a new house," Lucas says. "Sometimes it just doesn't work."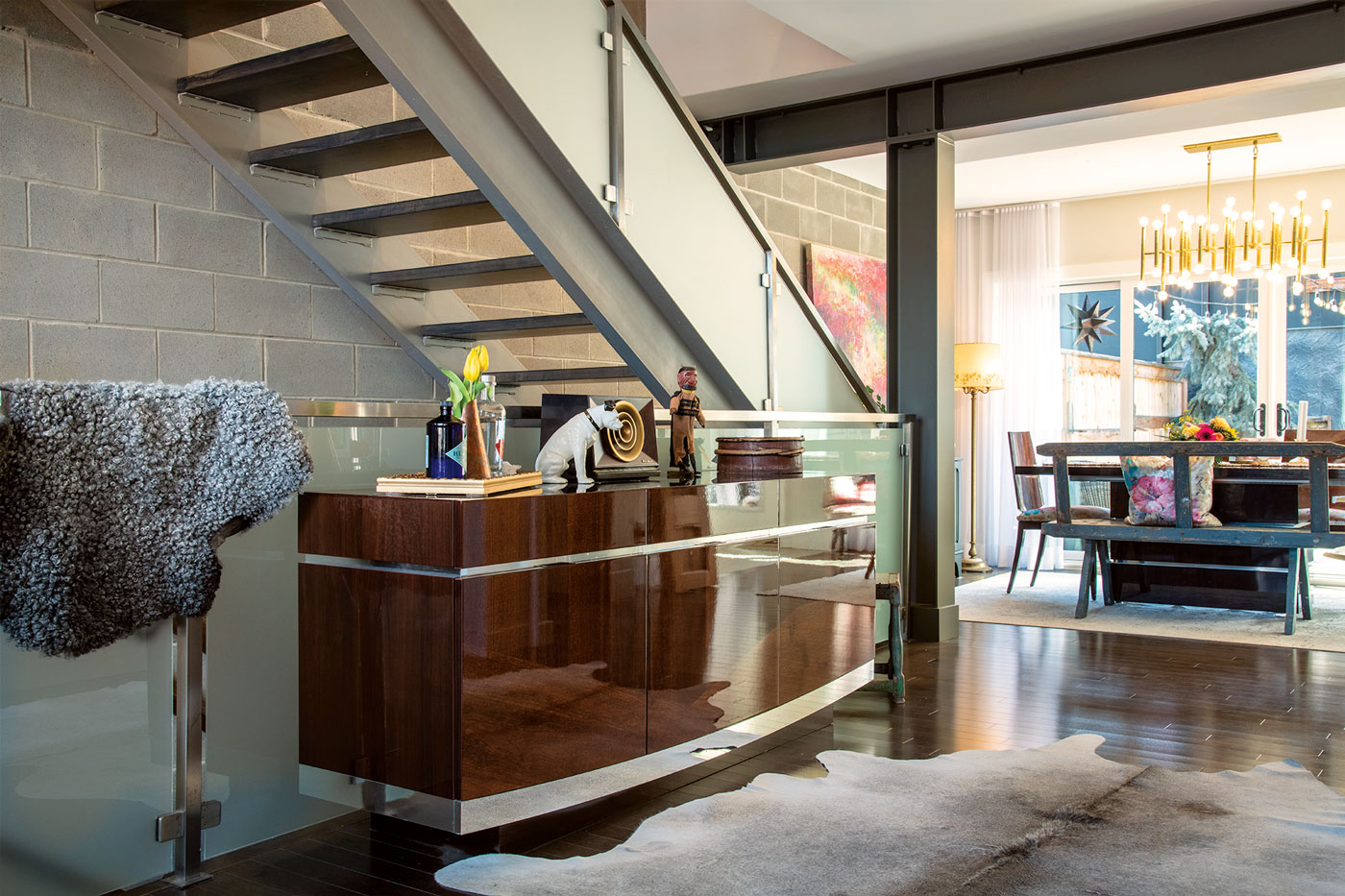 The antique items and artworks in the home are mostly from Freyia Dekor, the Scandinavian antiques business owned by Lucas. Two exceptions are the dog statue and working antique radio, which were contributions from her partner.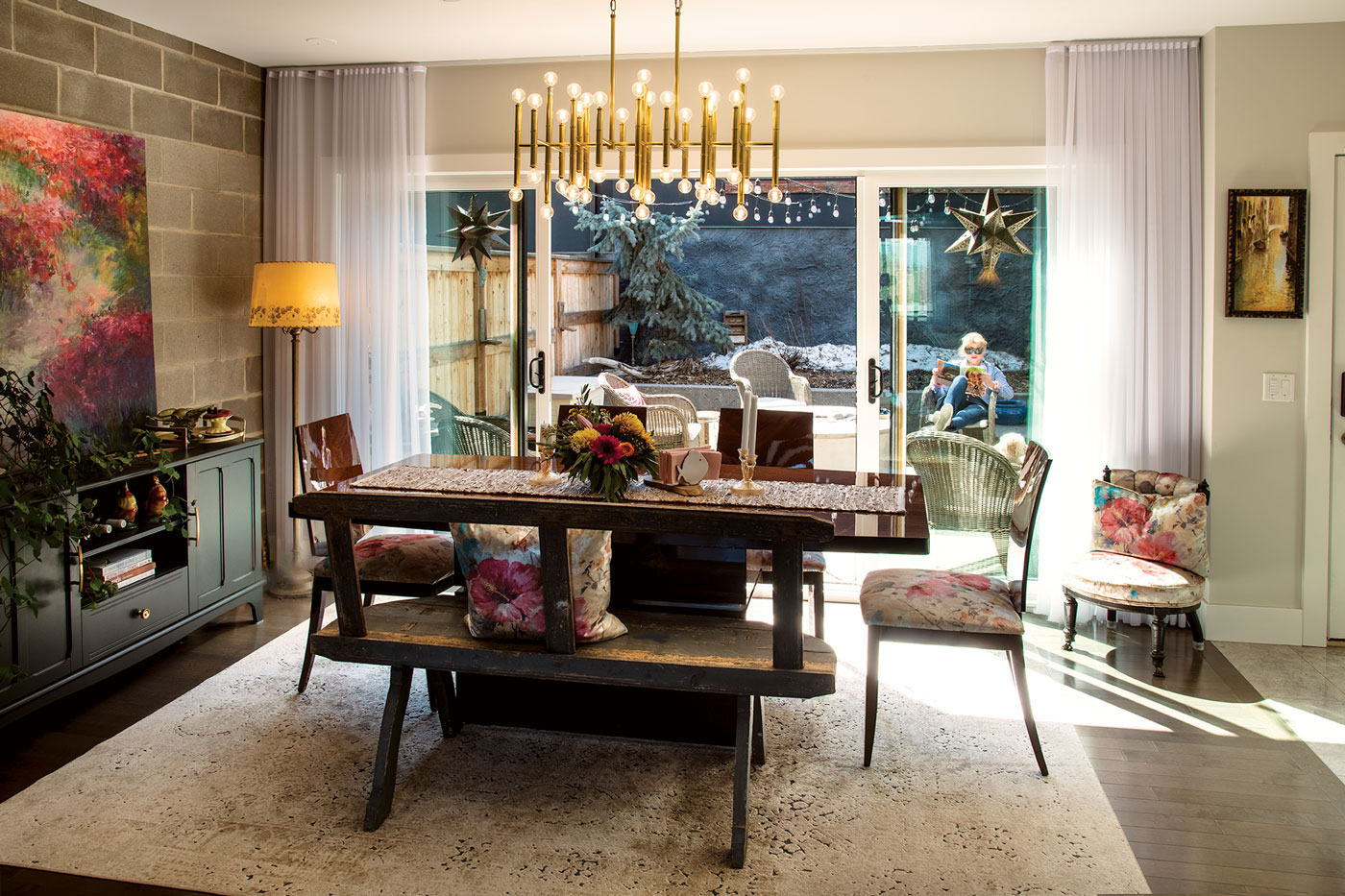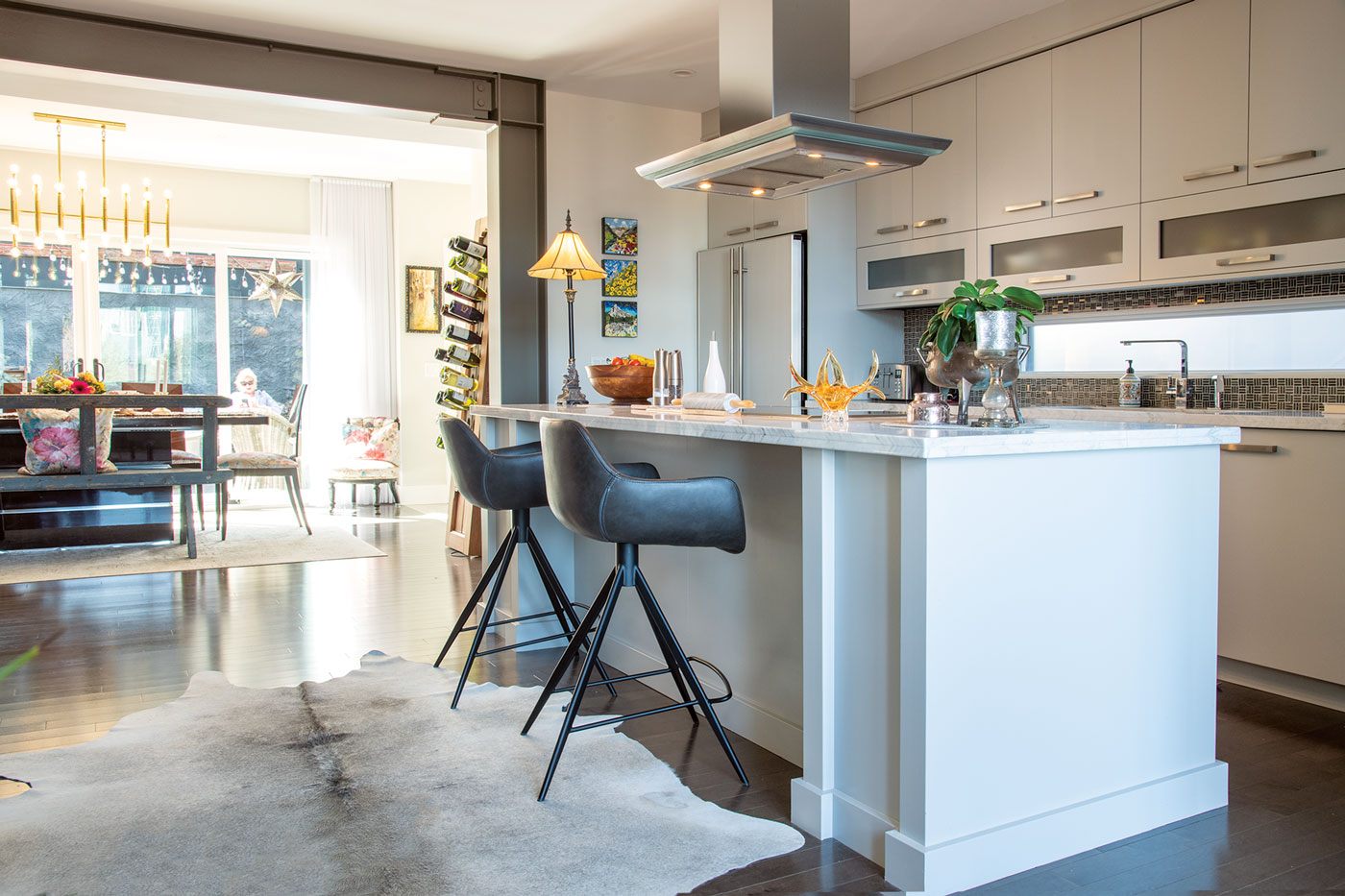 White curtains allow light into the dining room while keeping the space cool and separating it from the backyard outdoor-living space. Light-coloured rugs provide contrast with the dark flooring that runs throughout the main level.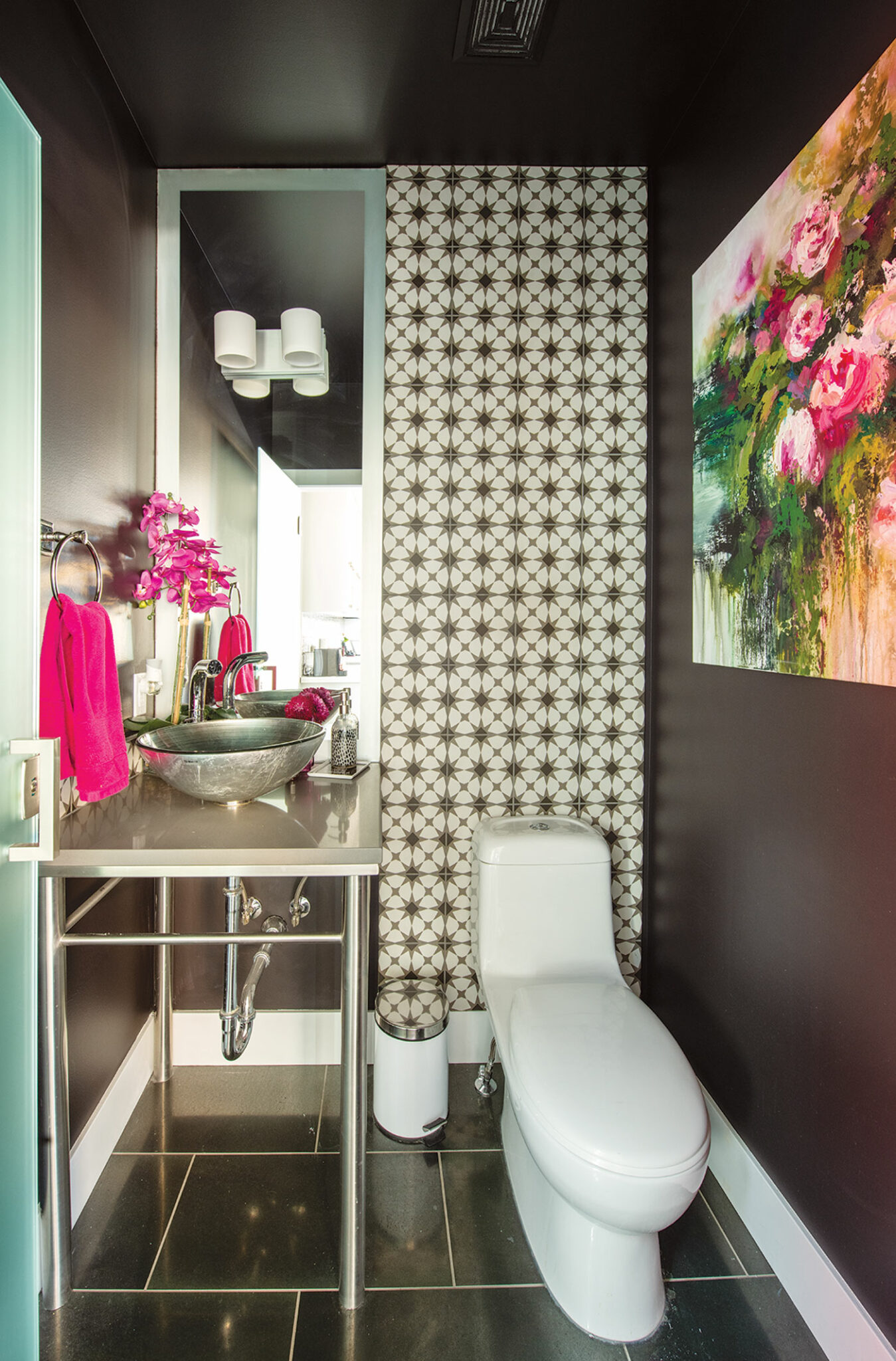 The dramatic main-level powder room is in contrast to the rest of the home's pastels and lighter colours.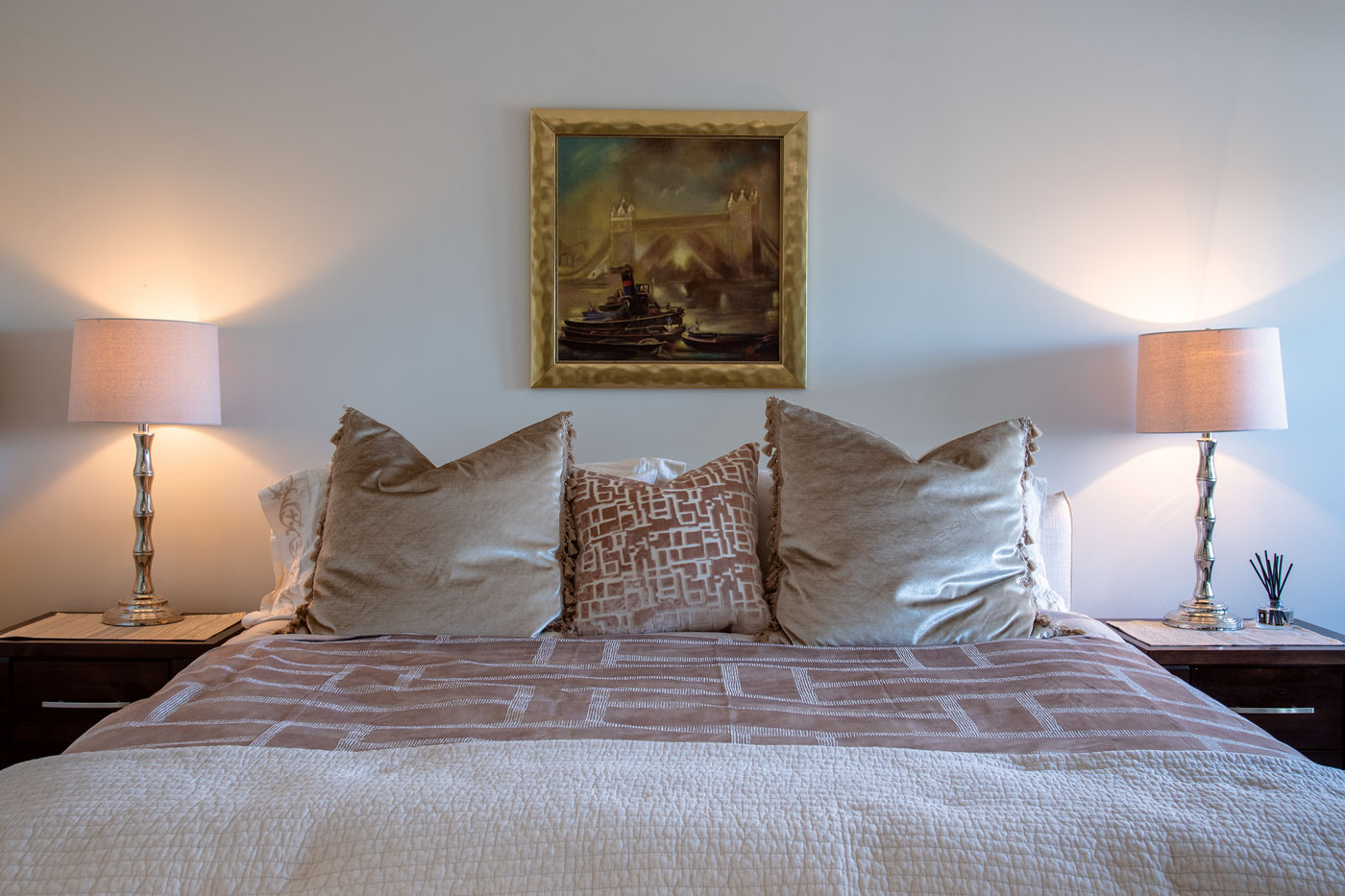 Doors to a rooftop balcony off the main bedroom allow sunlight to stream into the space.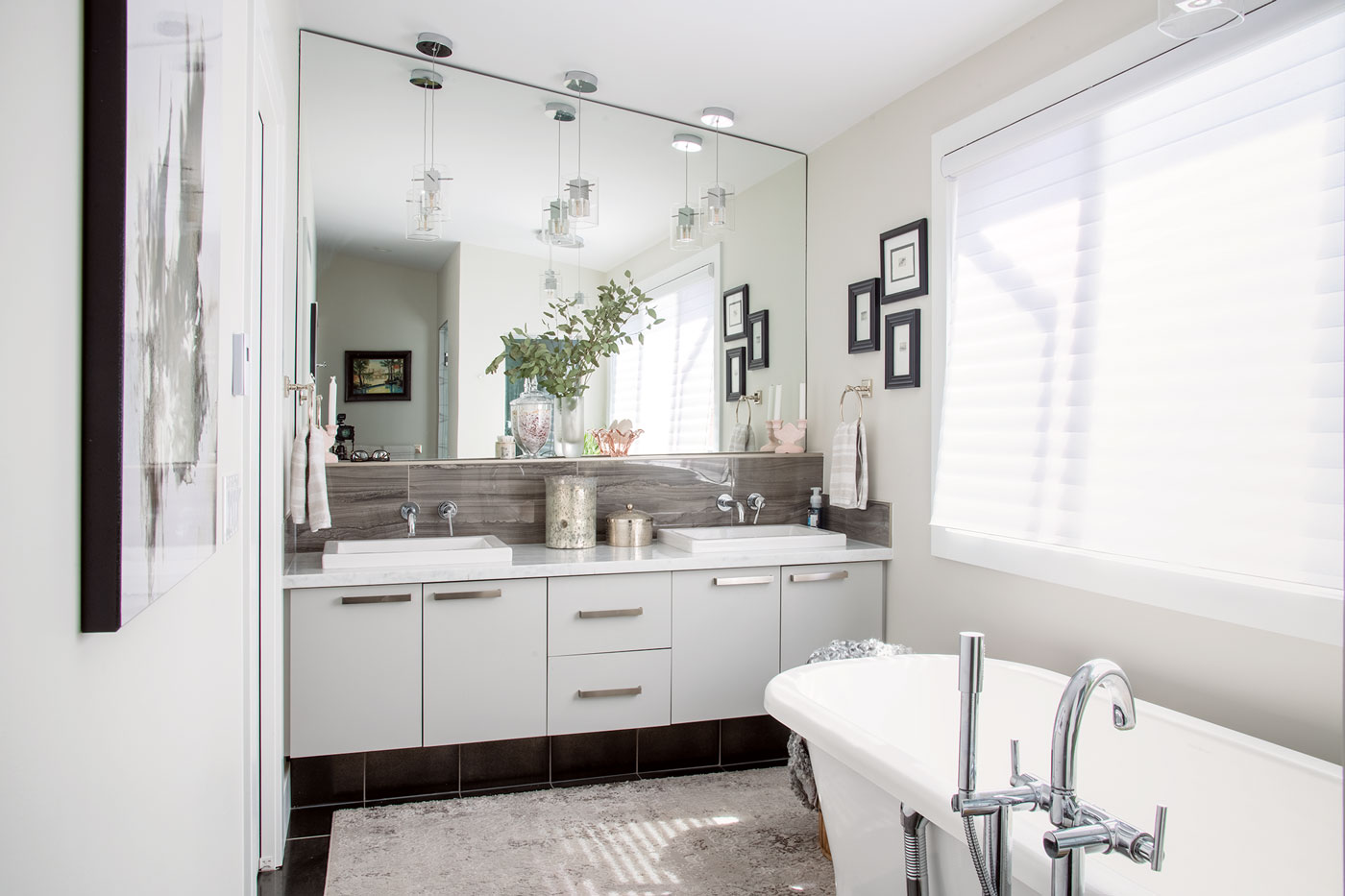 The main bedroom ensuite was formerly a dark, espresso-brown colour. Lucas had the walls and cabinets painted to open up the space.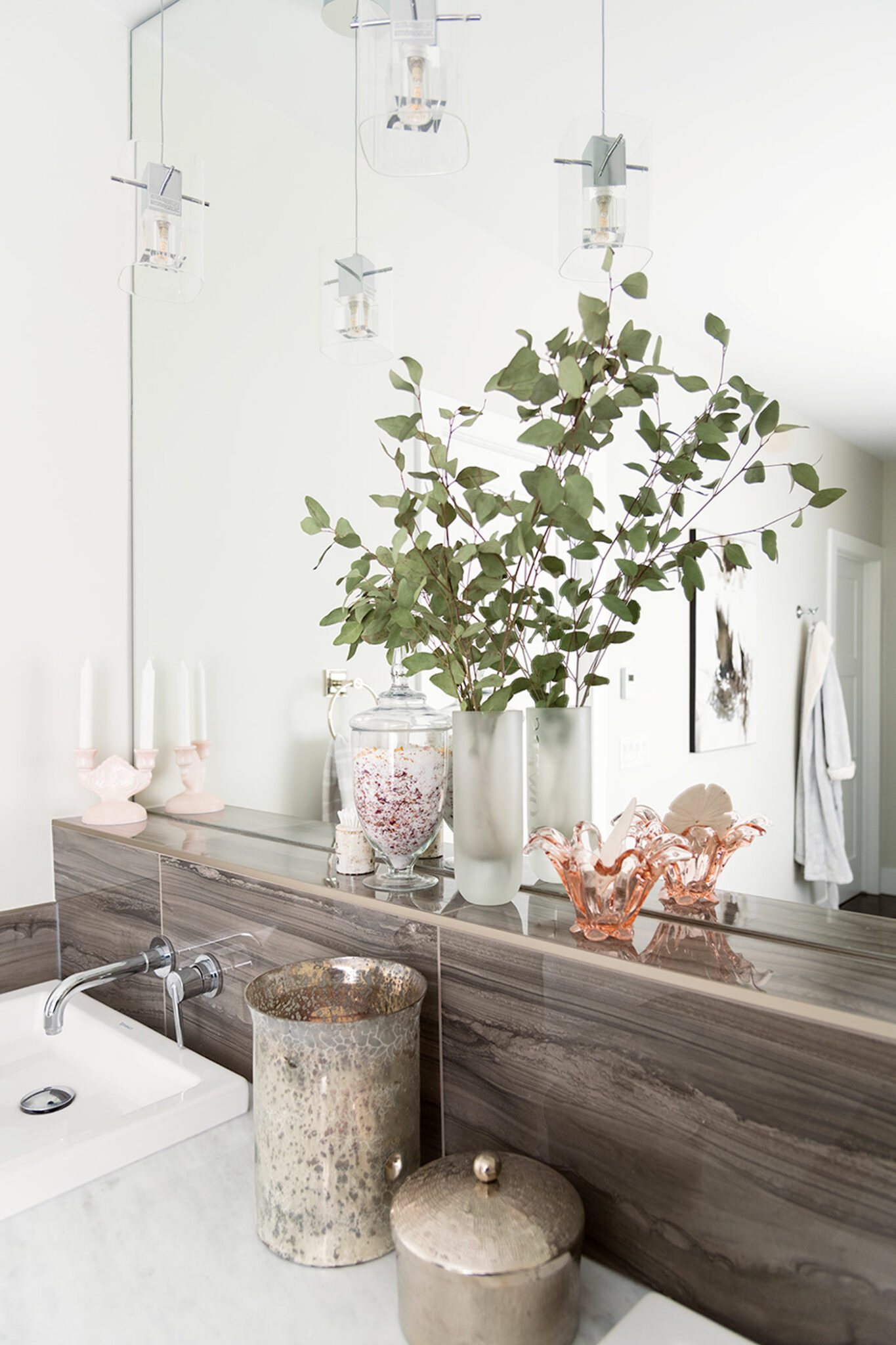 Floral motifs and feminine details provide an elevated sense of style in the main bedroom ensuite.