The compact kitchen in the home of interior designer Paul Lavoie and his husband, Doug Lavoie, is proof that good things come in small packages. (It's also proof that a sprawling Nancy Meyers movie kitchen isn't a requisite for the home of an interior designer.)
Built in 1961, the original A-frame house that the Lavoies purchased 14 years ago in the exclusive community of Bel-Aire came with a kitchen typical of its era: cramped and dark, with very little cupboard space. Doug, an avid cook, had several must-haves when it came to redoing the kitchen — a more practical design and an open feel among them — but, first and foremost, it had to have a place for everything, meaning a lot more storage.
"Because we wanted the kitchen to reflect our love of entertaining, it needed not only to be functional, but also warm and welcoming," Doug says. "Although we gutted it, we maintained the original width of the kitchen at 12 feet. It not only respected the heritage of the home, but also gave me a galley kitchen, which I love."
To expand the functional space, a former laundry room/hallway that abutted the kitchen was repurposed with the addition of a dedicated coffee area, second dishwasher, two Wolf ovens and a microwave. A built-in bar area with a second sink is ideal for cocktail prep. "All the cabinetry has been lined up so it feels like a dresser, as opposed to kitchen cupboards," explains Paul. "With a blend of custom cabinets that read as drawers, in addition to actual pull-outs, the aesthetic is a cleaner, more seamless look, with a lot more storage possibilities."
Double islands, ceiling-height shelving, concealed nooks and an oversize storage cabinet for smaller kitchen appliances, such as the Cuisinart, ensure that everything is in its place and out of sight. "I never have to dig around in any drawer for the cheese grater, or the strainer, for example," says Doug. "A variety of Command hooks, sliding shelves, dedicated knife drawers and Lazy Susan organizers keep everything at hand."
Although Paul admits that the addition of increased storage was paramount, the designer opted for a clean aesthetic with a quirky edge (a trademark of his work) over the cooktop with the removal of the upper cabinets. The hood fan is retractable, and all the controls are hidden in a storage cabinet adjacent to the cooktop.
With a "no-clutter" mantra, every workspace and countertop is free of any and all appliances or kitchen paraphernalia.
"It's almost the 'non-kitchen' as it is an extension of the den and is seamlessly integrated into the open plan," says Paul, laughing. "We have people who have come over and ask: Where is the kitchen?"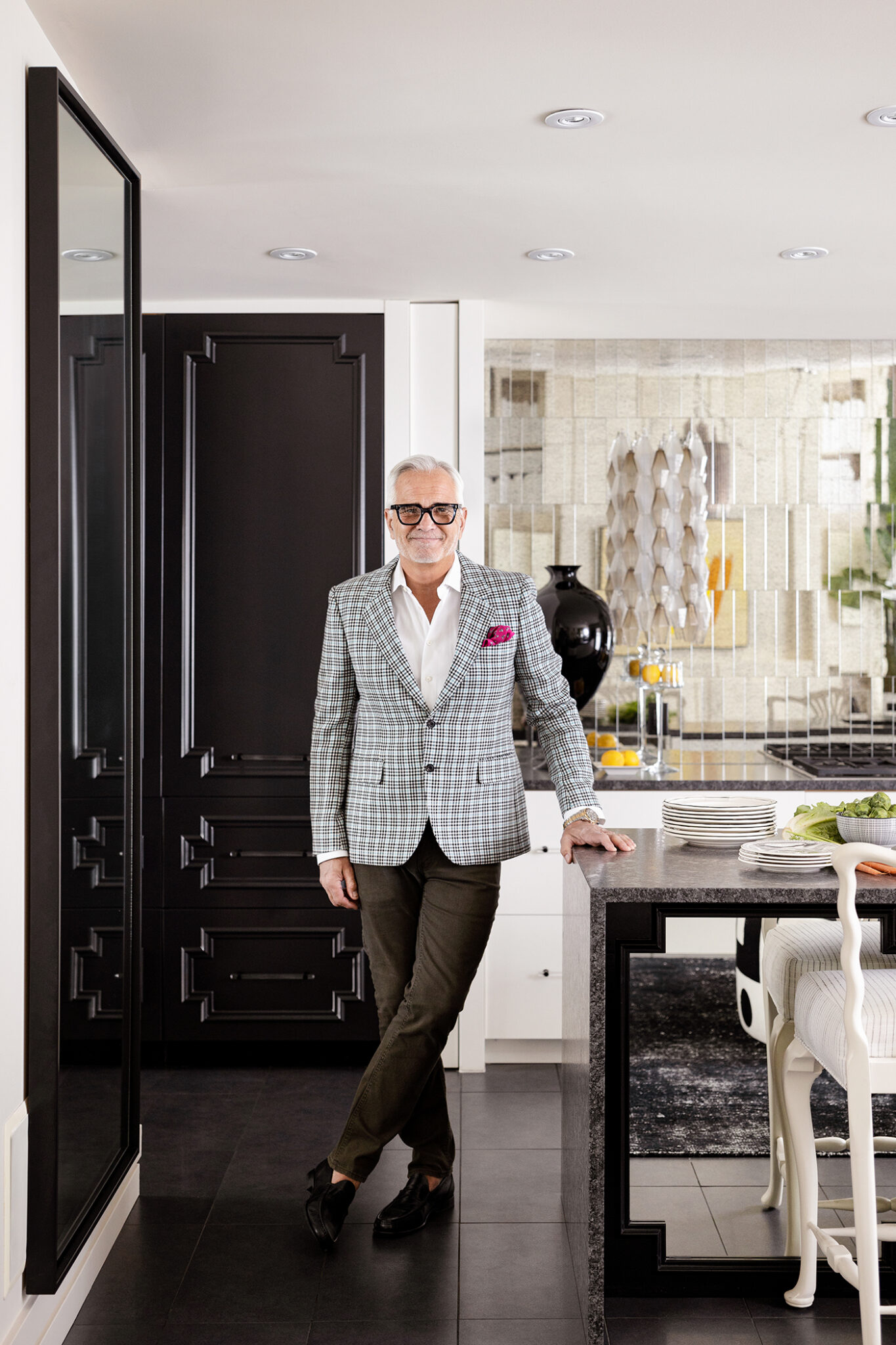 Homeowner and interior designer Paul Lavoie at the kitchen's central island, with chairs from William Switzer.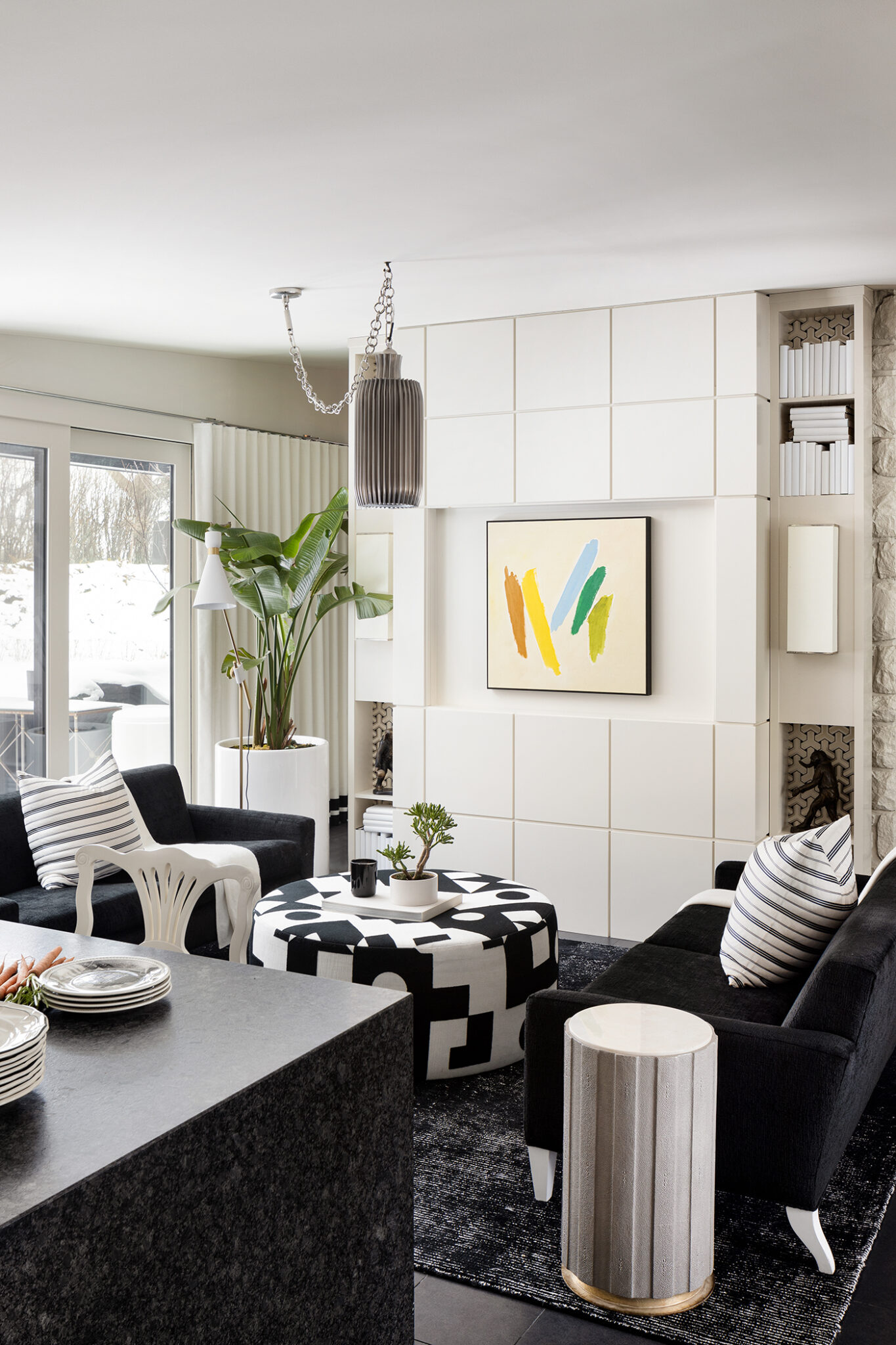 The kitchen-adjacent den features a black-and-white graphic-print ottoman and sofas upholstered in black chenille. A TV is cleverly tucked behind another Perehudoff painting.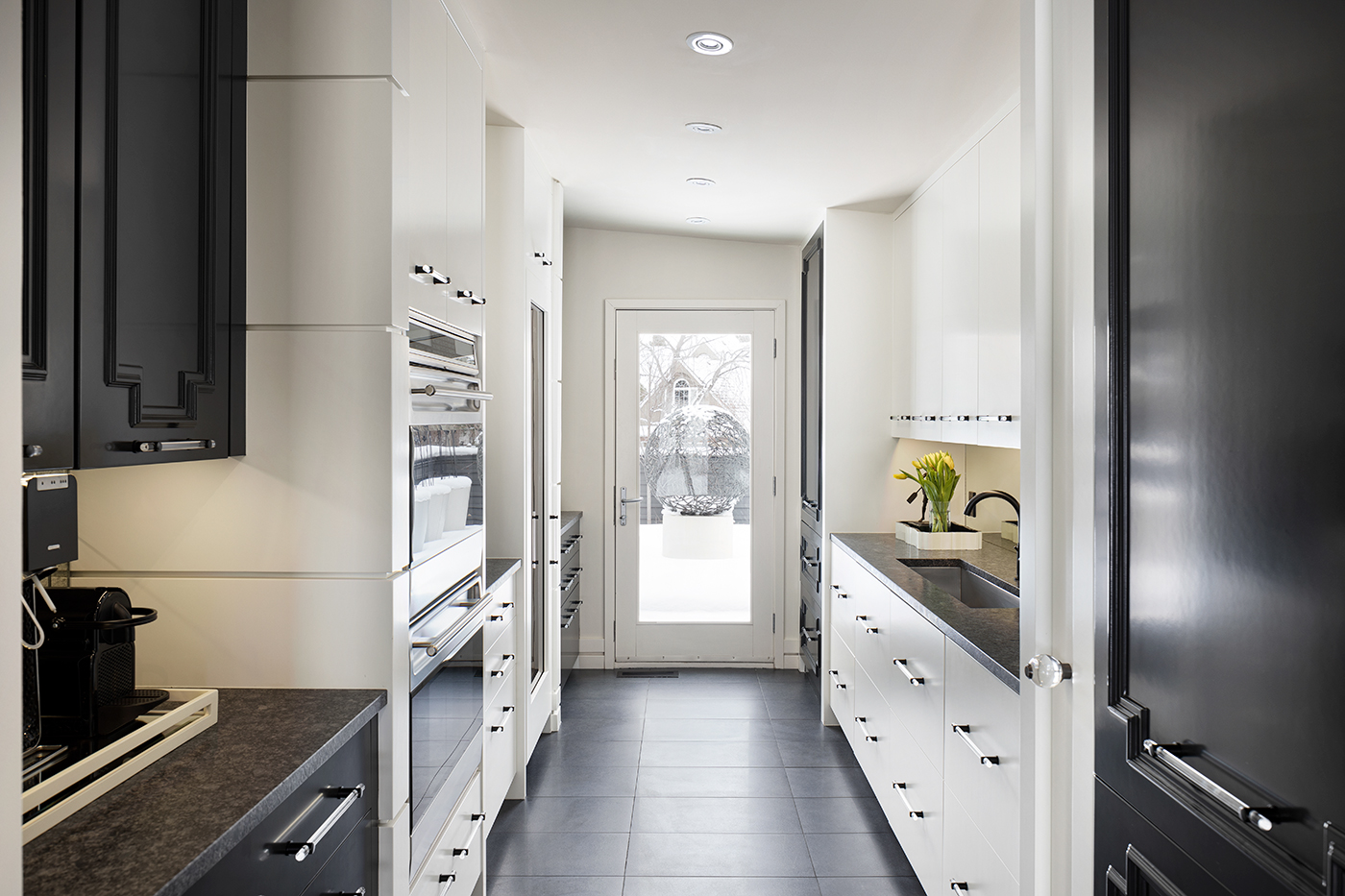 Contrasting shades of black and white add definition to the galley kitchen. Lavoie says the profile on the Sub-Zero refrigerator and cabinets was inspired by the original home.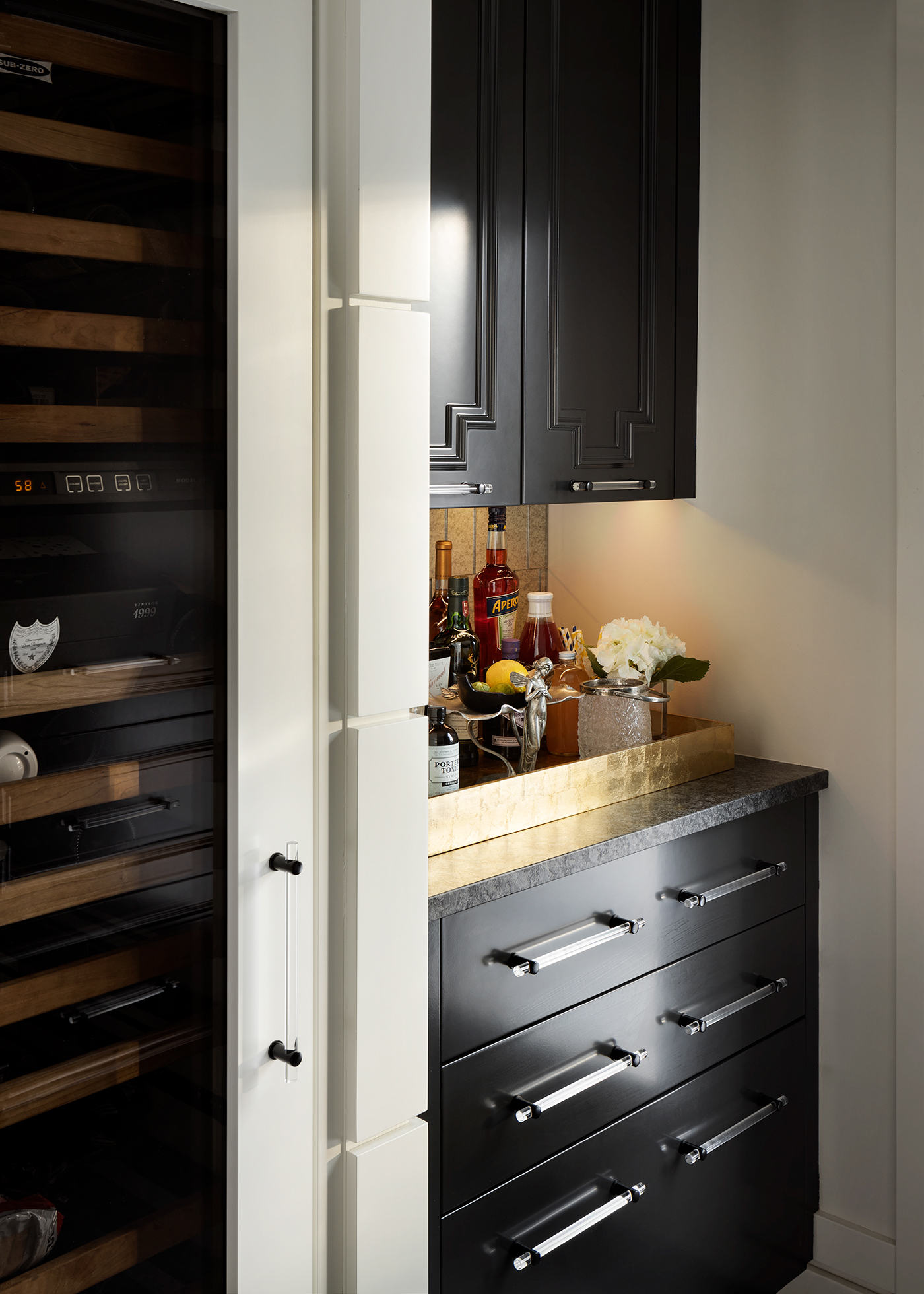 Lucite hardware from Banbury Lane gives a curated feel to the dedicated liquor nook.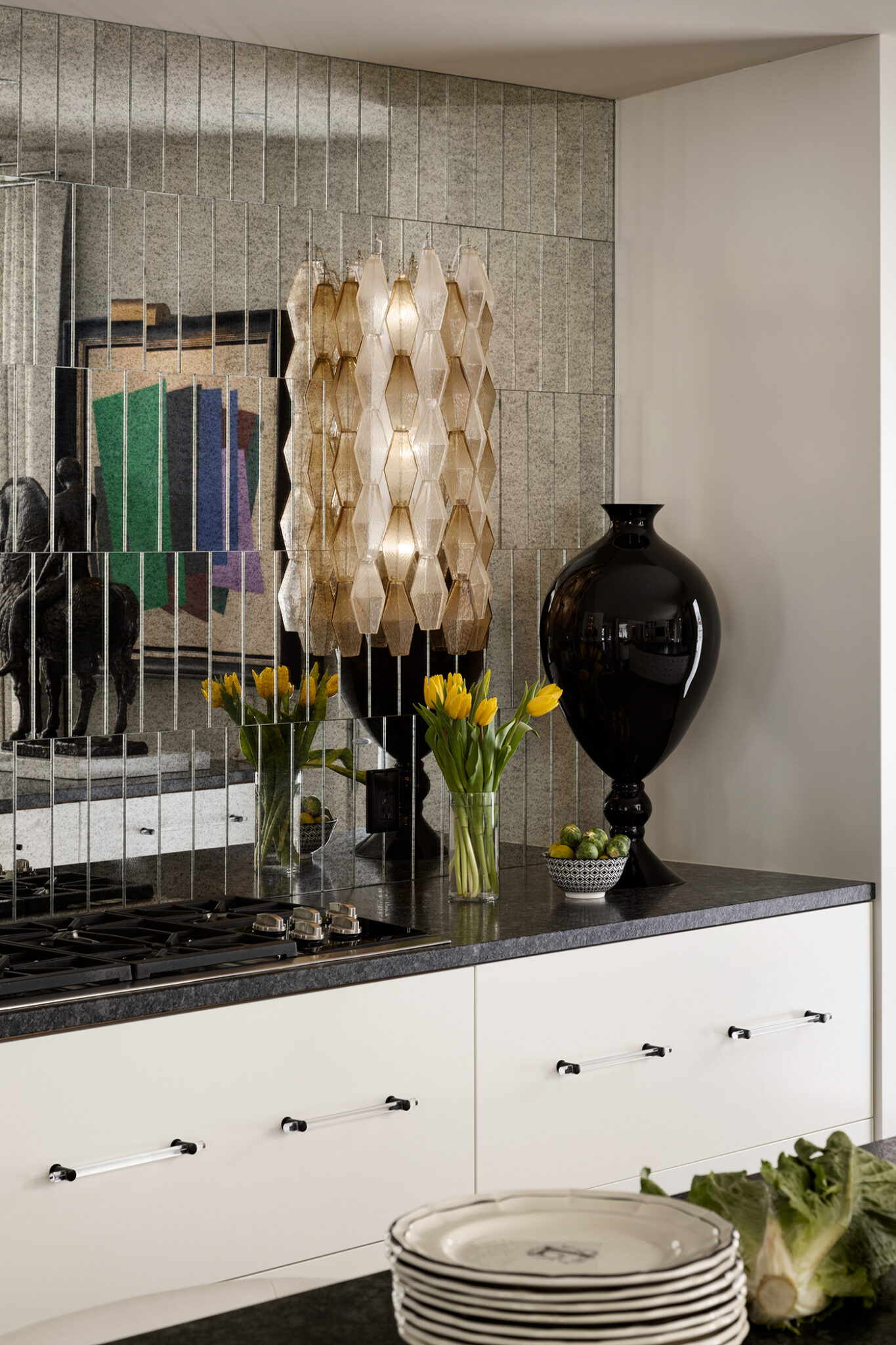 Striking Murano glass light fixtures from the Paris flea market and a mirrored backsplash, are in keeping with the '60s-era vibe of the home.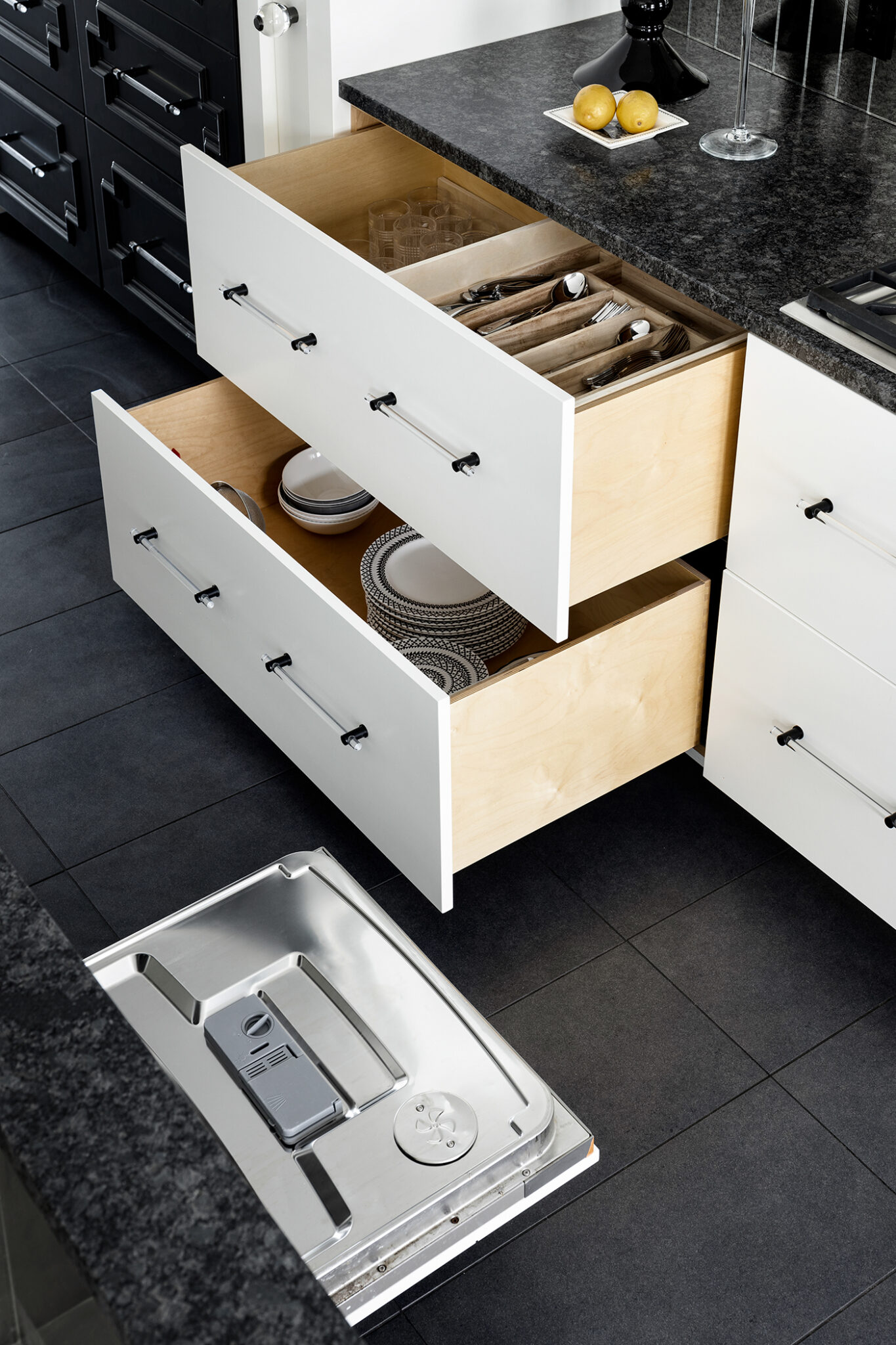 Unloading the dishwasher is a snap thanks to the proximity of deep pull-out drawers.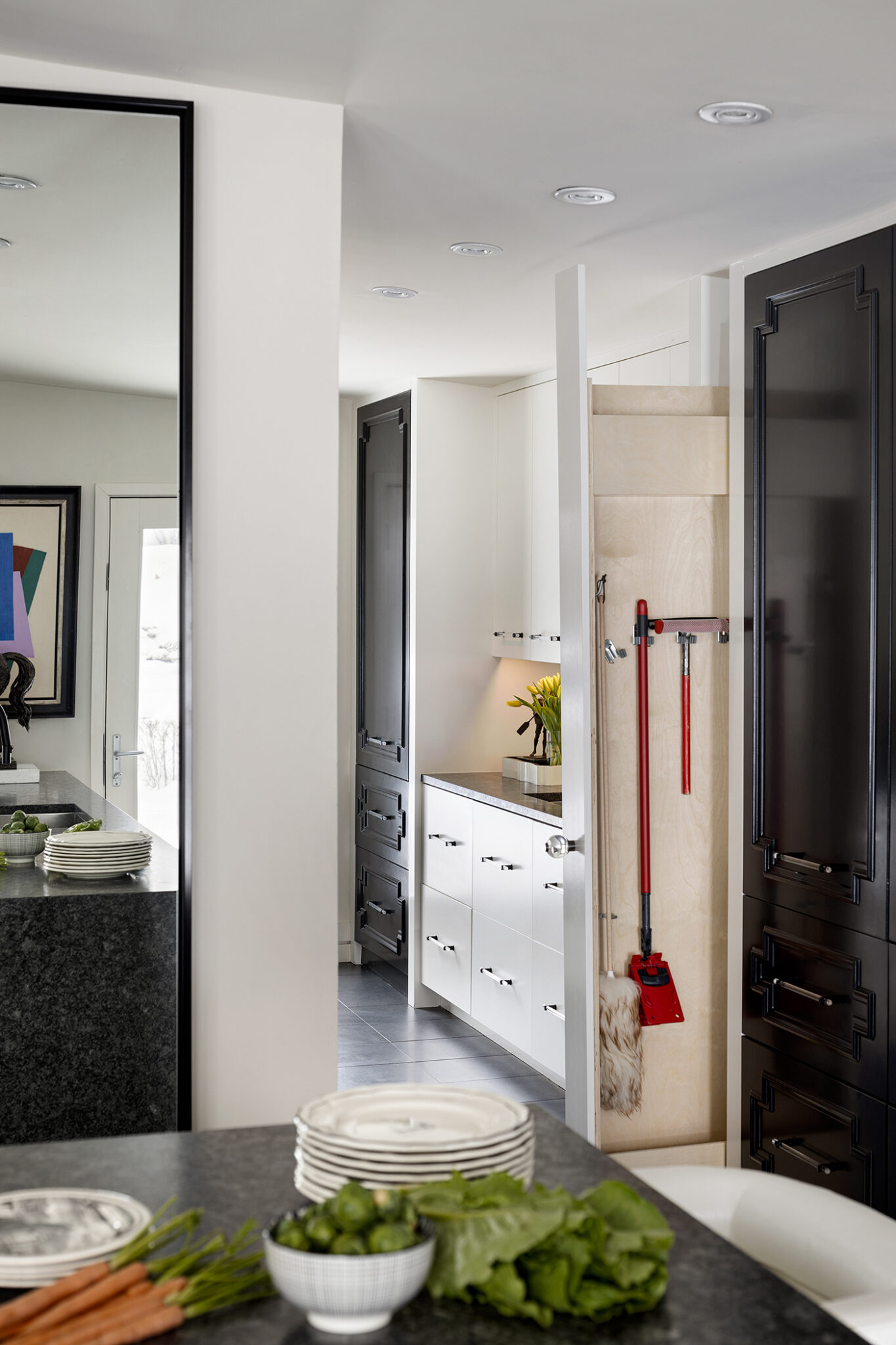 Full-height dedicated closets flanking the fridge slide out to reveal brooms, mops and cleaning supplies.
How to Maximize Storage in a Tiny Kitchen
A small kitchen need not be cluttered. Here are interior designer Paul Lavoie's tips on how to stow away everyday appliances and other items.
Slim Down
Where square footage is lacking, extra-slim cupboards are ideal for storing cooking oils and spices
Top-Drawer Function
Opt for drawers under counters as opposed to shelves. They are easier to accommodate, and provide easier access for pots and serving dishes. 
In Rod We Trust
Installing tension rods in drawers is a great solution for keeping things like cutting boards organized and in place.
Storage-Saviours
Sliding shelves are a way to keep essentials within easy reach.