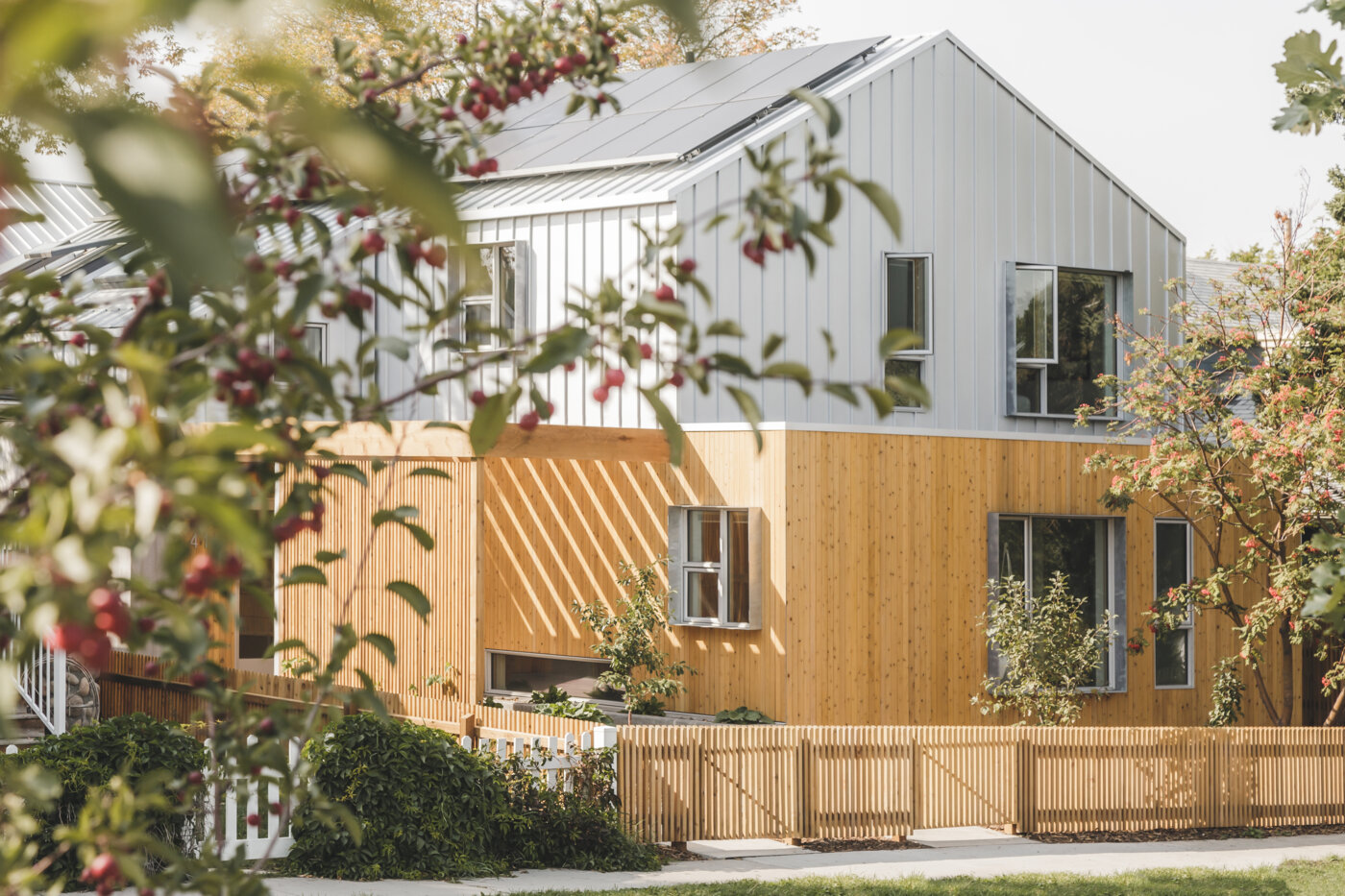 Imagine a house that transitions with you as you age. In this house, there's no need to downsize as your space requirements shrink. You simply stay on the main floor where everything is easily accessible. Should you need help, part of the house becomes a suite for a caregiver. Family members live right behind you for additional support.
The house is beautiful, flooded with natural light — helpful for aging eyes — with spots to display life's mementos and lots of plants. Cork flooring is easy on tender feet and joints. The doors and hallways are wide enough for walking aids, and a gently sloping front walkway accommodates wheelchairs and strollers, alike.
This is no soft-focus fantasy of aging. It's the fully realized, modern, 3,000-square-foot, three-bedroom, three-and-a-half-bathroom house that Dr. Joseph Dort, Sr., and Dr. Leslie Dort had built in Bridgeland — along with an 800-square-foot, one-bedroom, one-bathroom laneway house owned and occupied by their son, Joe Dort, Jr., and his partner, Tanya Puka.
Named the "Sr/Jr House" by Studio North, the Calgary design/build firm that took the project from initial sketches to final finishes, the pair of houses is intended to fit the current, very active lifestyles of two generations, and then adapt to whatever comes next.
"The [senior] house is flexible for when their bodies might not be," says Damon Hayes Couture, Studio North's creative director and lead designer on the innovative project.
The "senior" Dorts recently retired after long careers as respected medical professionals; Leslie as a dentist and researcher who focused on sleep-disordered breathing, and Joseph as a head and neck surgeon. The couple owned a house in West Hillhurst, but were contemplating how they might live in the future. They drew inspiration from watching Leslie's parents successfully age in place — moving from a rambling two-storey into a single-level home.
"We were also excited by the opportunity to do something creative with Joe and Tanya and to move into an inner-city neighbourhood close to our other son, daughter-in-law and grandsons," Joseph says. "It's a pretty sweet combination, and Bridgeland is a fun, interesting and walkable place to live."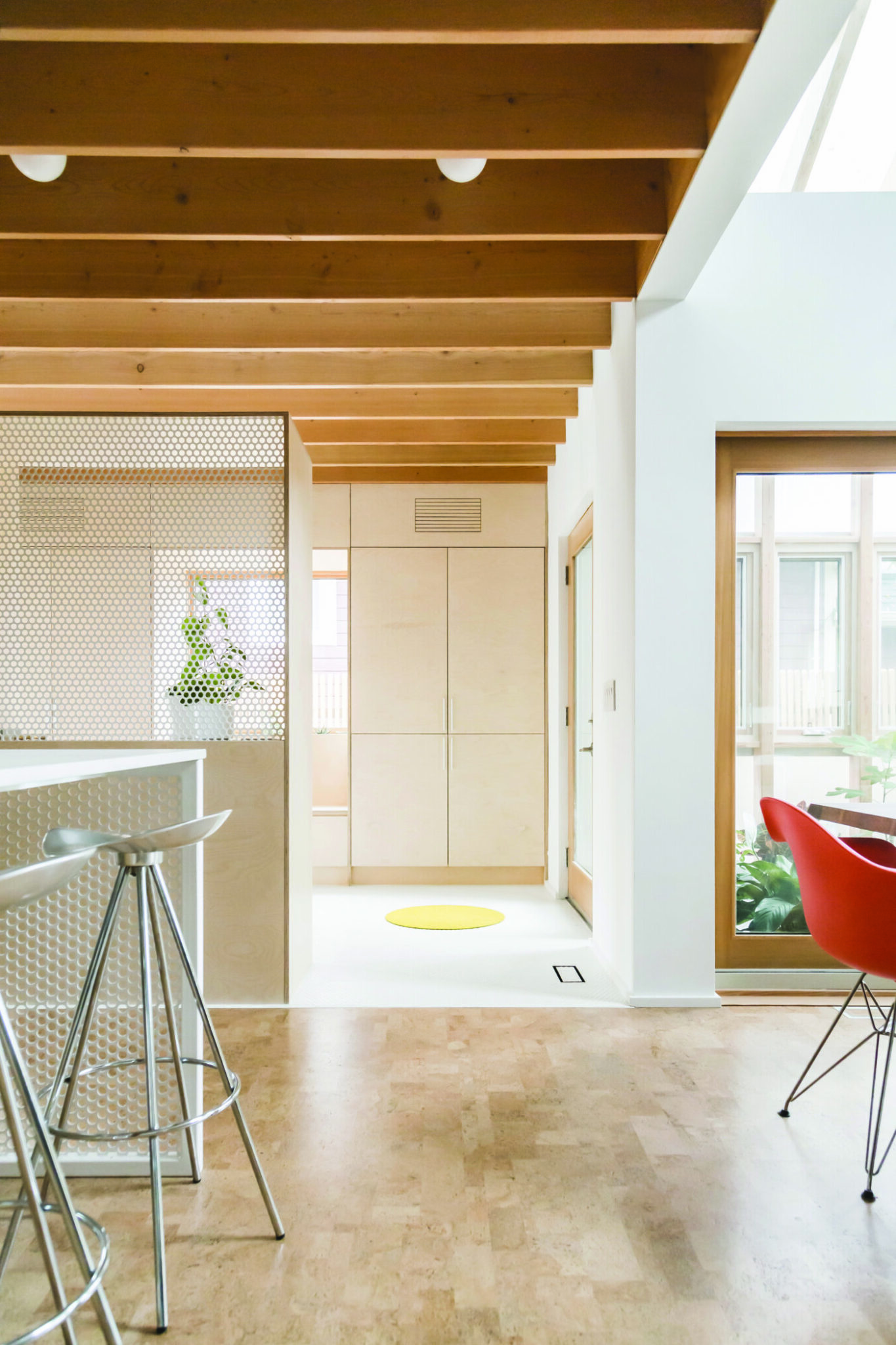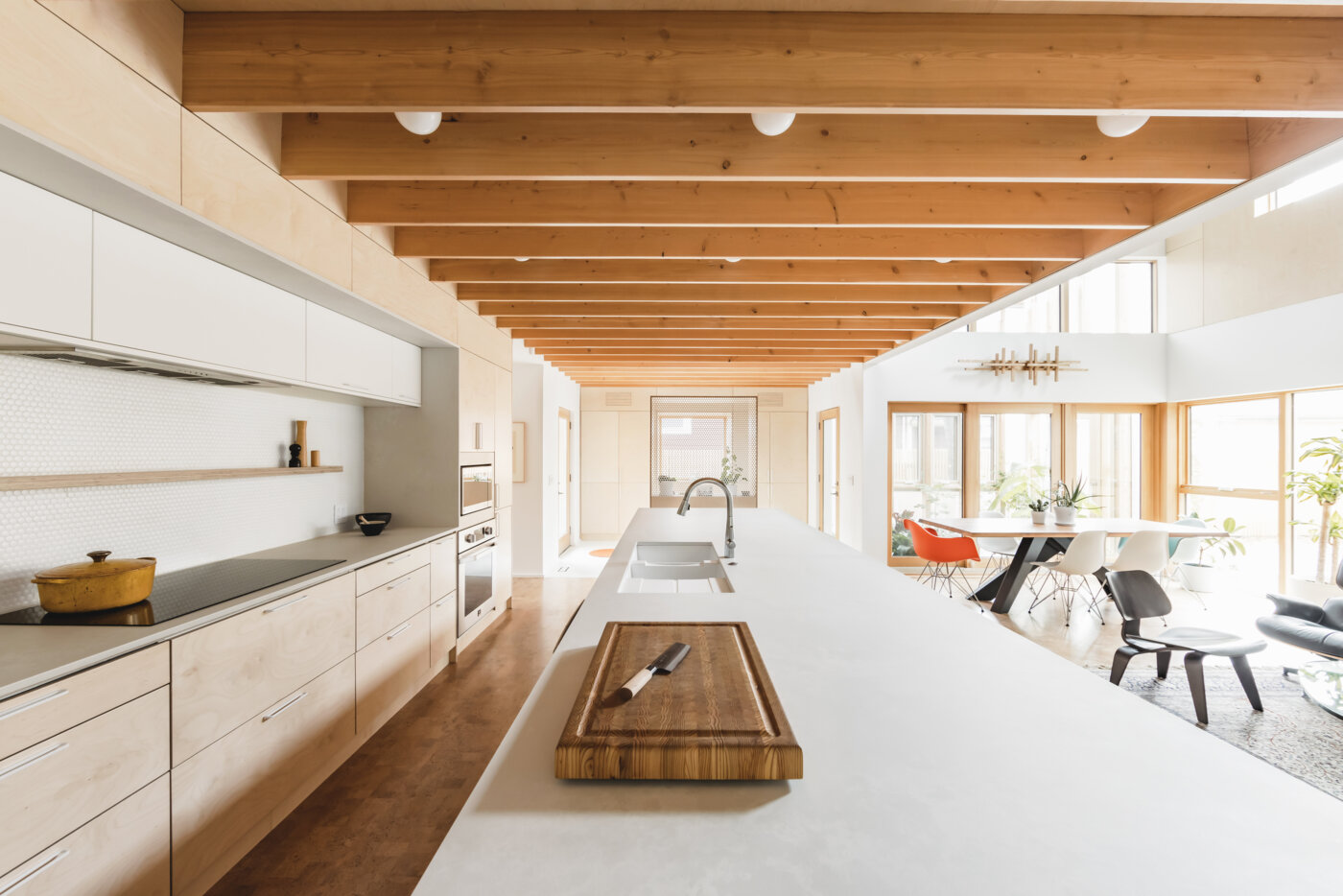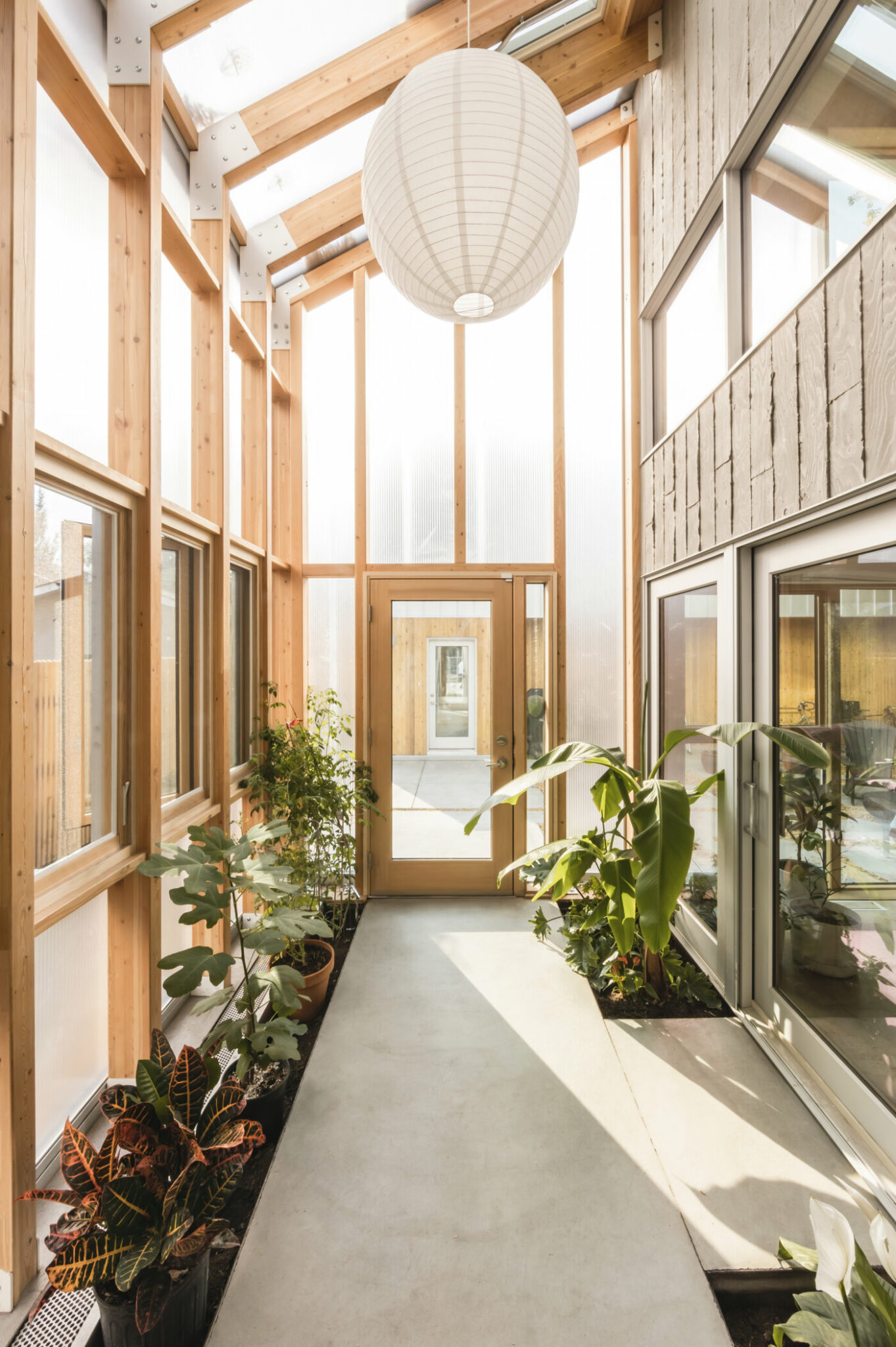 Around the same time, Joe and Tanya, the 30-something "junior" couple, were outgrowing their rental apartment in Mission. But Joe, a trained chef and now regional manager of Calgary restaurants Model Milk, Pigeonhole and Major Tom; and Tanya, a brand strategist who runs her own company, Marrow Studio; couldn't find anything to buy within their budget that would give them more space or a better quality of life. So, when Joseph and Leslie nabbed an old house in Bridgeland, and contacted Studio North about building a new age-in-place home on the property, and the studio suggested putting a small laneway house on the same lot, Joe and Tanya were intrigued.
"We're unconventional, not white-picket-fence people," says Tanya, referring to herself, Joe and their dog (they currently have no plans for kids). Here was an opportunity to create a smartly designed place of their own and make their housing dollars go further by splitting costs with Joe's parents. It required having many frank conversations about caring for aging parents, as well as seeking legal guidance around what happens if, say, a couple splits up, which led to signing a co-habitation agreement because a Calgary lot cannot be subdivided.
Agreements in place, demolition of the old Bridgeland house and construction of the new ones began at the end of 2019. By the spring of 2021, both houses were move-in ready.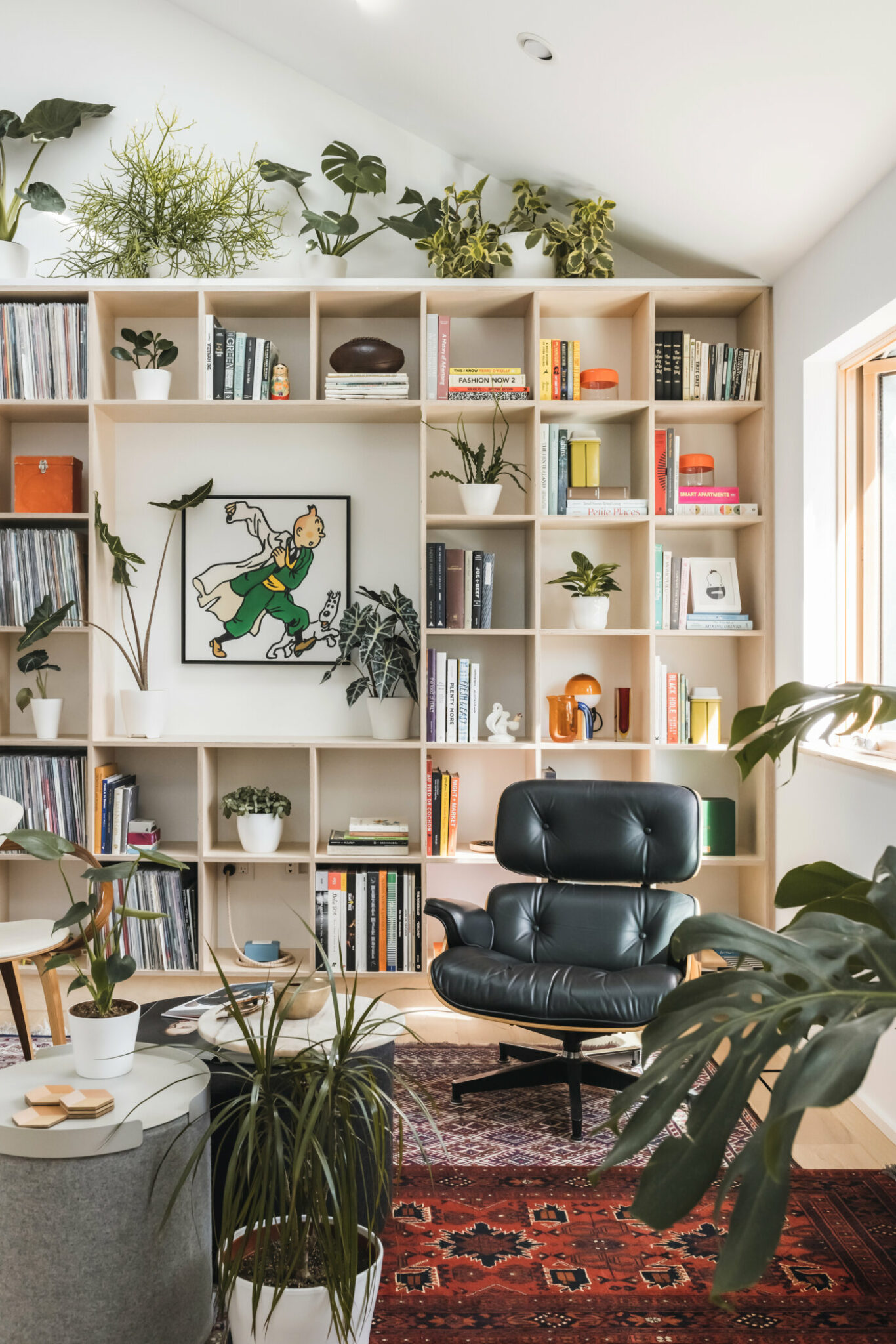 Both houses look inviting from the street, their exteriors a mix of prairie grain elevator and West Coast cabin. Joseph and Leslie, originally from Ontario, moved to Calgary in the early 1990s and spent lots of time on Vancouver Island. The new houses reflect both regions, says Joseph, with open space and the use of simple and natural materials, including galvanized steel on the roof and upper siding, and cedar on the lower.
Inside the senior house, a generous entry has a built-in bench and clutter-busting cupboards, all custom Baltic birch millwork. The pale millwork, white penny tile, white perforated screen and muted colours — punctuated by colourful art — are used throughout. Aging in place doesn't have to mean living in a sterile or hospital-like setting, Hayes Couture says: "You need to feel alive and good about where you live; it's great when it's elegant and beautiful."
Sunlight streams into the vaulted dining and living areas while exposed structural fir beams lend a cozy, intimate feeling to the expansive kitchen and its massive island. Large cabinet pulls allow easy grabbing, bright finishes create high contrast for declining vision and extra width allows for future wheelchair mobility.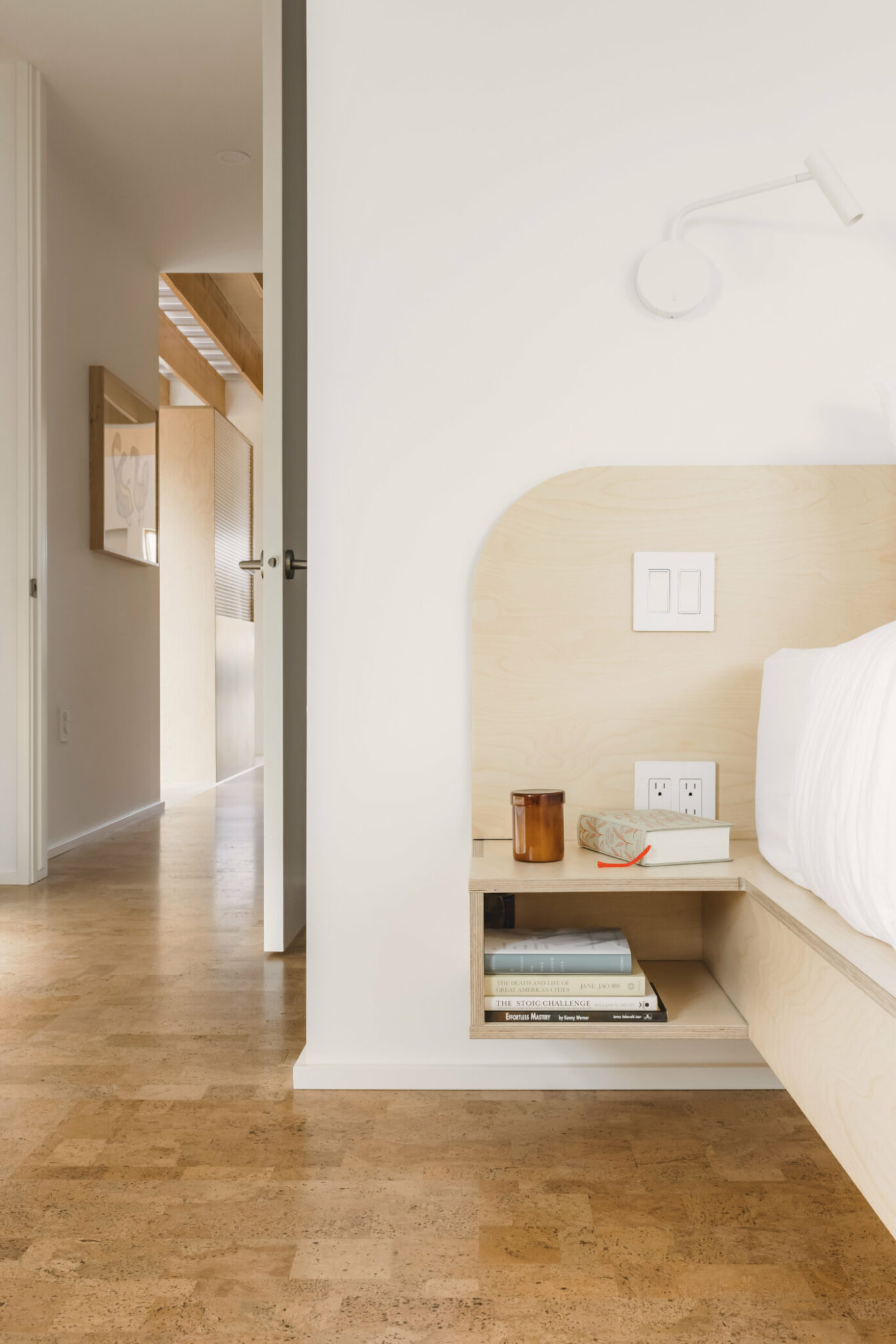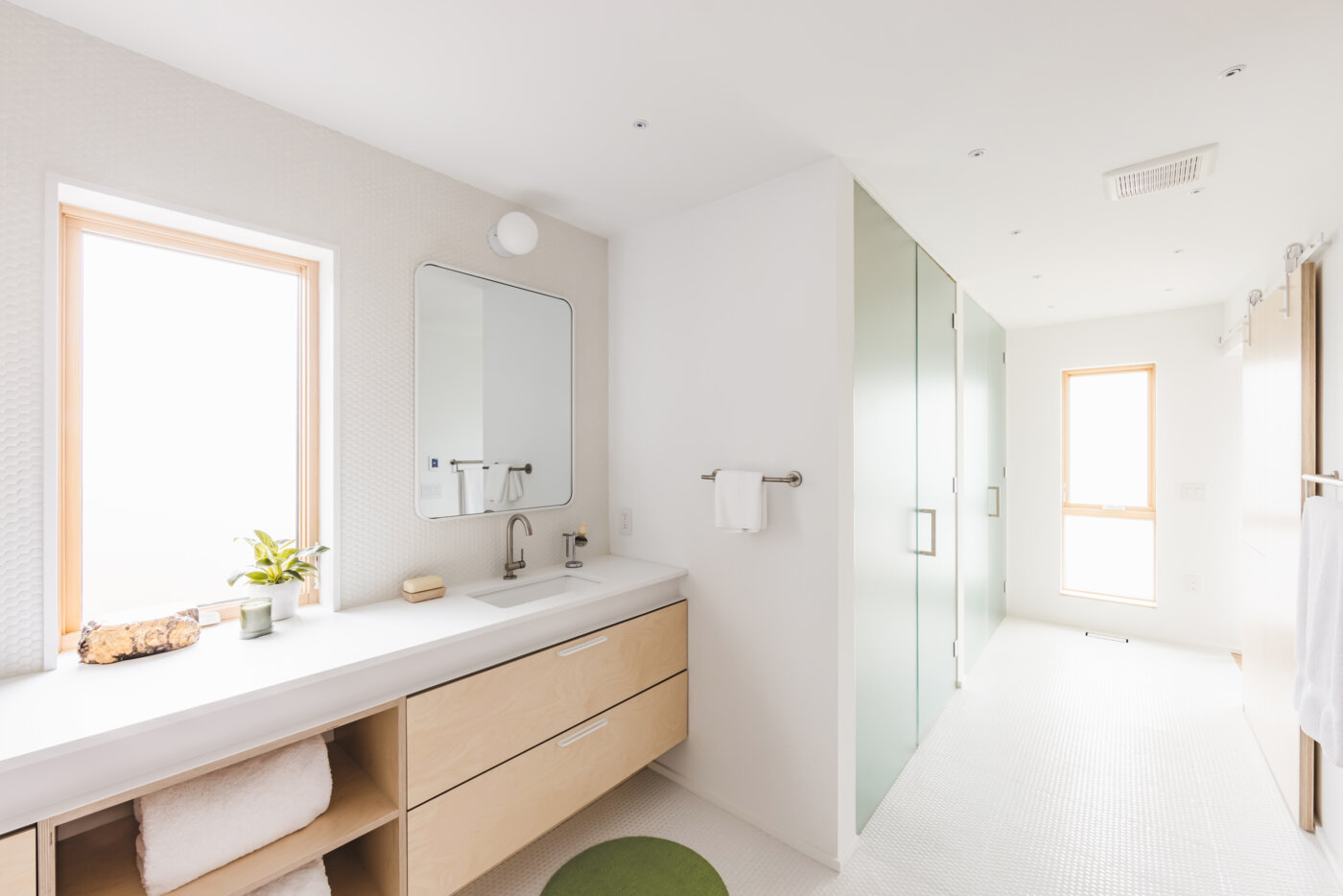 Behind the kitchen, the main bedroom, ensuite bathroom, closets and laundry area are seamlessly integrated for aging in place. The bed frame, custom-made by Studio North, has rounded corners to eliminate sharp edges. A water closet and separate shower with folding seat are wheelchair accessible, while a cabinet under the vanity can be removed to allow wheelchair clearance.
There's provision for an elevator should their mobility decrease, but Leslie and Joseph are currently enjoying the entire house. The upper floor has two offices — hers on a perforated floor above the entrance, with views all round — plus another bedroom for guests, or future caregiver quarters.
The lower level is an open music space where the couple indulges their love of flamenco; Joseph plays guitar, while Leslie sings and dances. There's a small gym that both households use, and a utility room with a large battery for the home's solar system. Both the senior and junior houses are energy efficient, with passive ventilation and particular attention paid to insulation and waterproofing the basement.
One of the most life-giving features is an external solarium, as Leslie is a passionate gardener. "I want to grow as much as possible to sustain us," she says. "There are figs, limes, herbs and bay leaves, with more to come."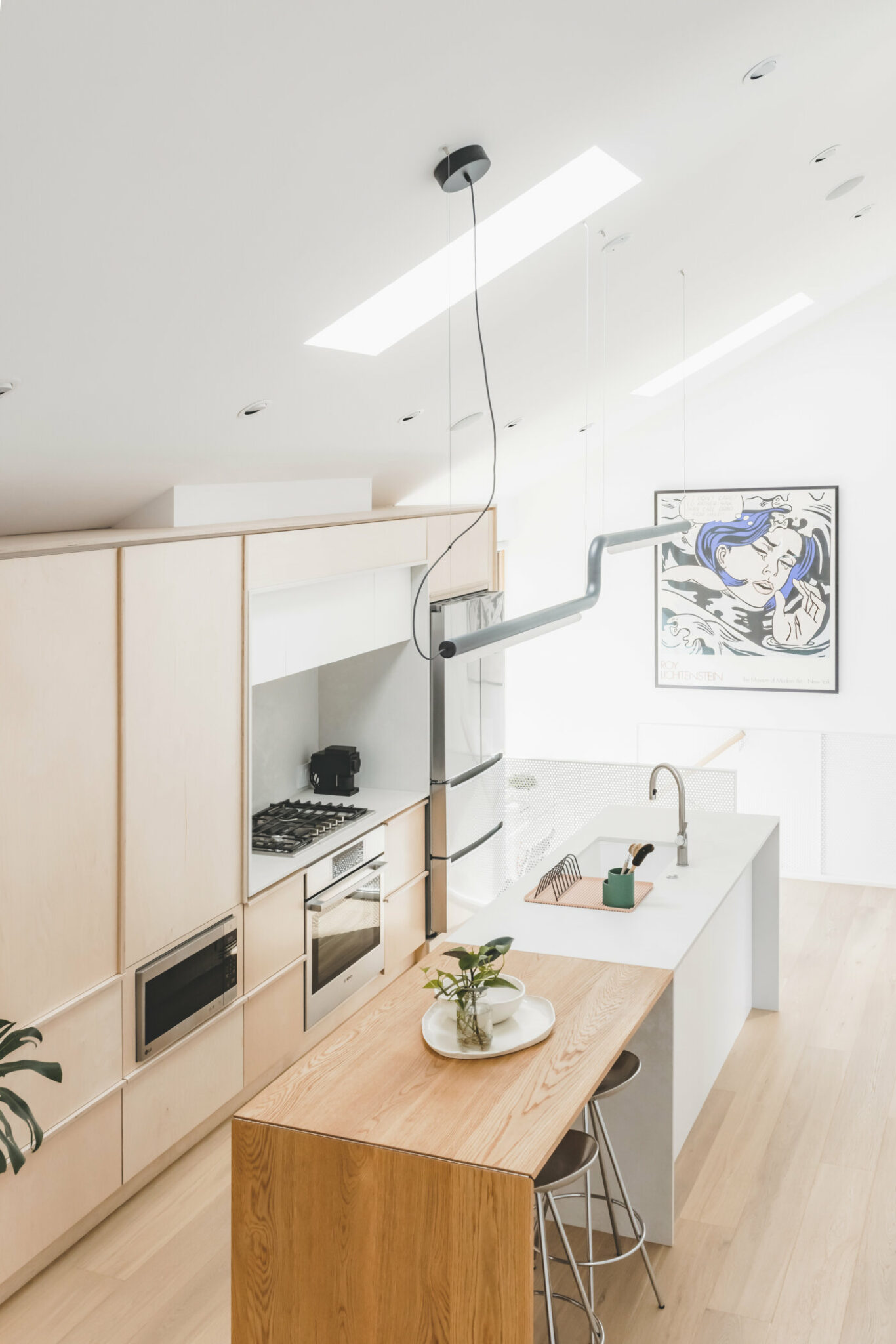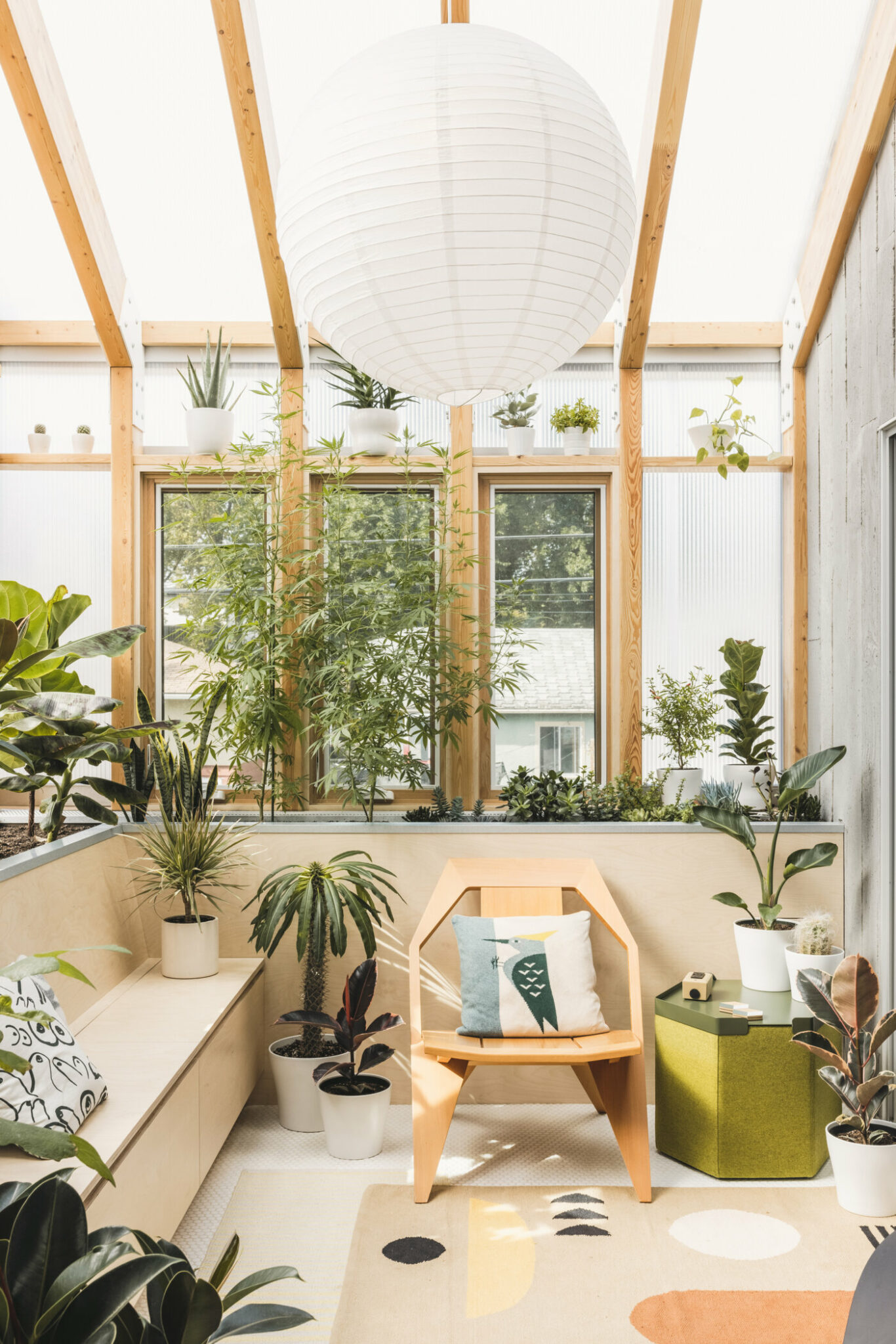 The junior house also has a solarium, with a restrained riot of thriving plants. Joe and Tanya use the space for reading, doing yoga and being surrounded by green year-round.
Their laneway home is a marvel of light, space and efficiency. The front entrance has banks of sleek storage, with doors hiding the laundry, heating and cooling machinery. Open stairs lead up to Tanya's office, a tidy, airy perch. Up from there, the main level has a spacious, chef-worthy kitchen — all Baltic birch cabinetry, no pulls — with an island that can be extended to seat nine people. It's great for entertaining, but Tanya has hosted clients and run training sessions there, too.
The adjoining living area, which Joe describes as an "opium-den crash-pad," features a low-slung Togo velvet sectional, a curated display wall of albums, plants and art, and a ladder to the vaulted listening loft that holds Joe's extensive record collection and sound system.
A tranquil inner courtyard — dubbed the "Dortyard" by Hayes Couture — separates the two houses and provides more opportunities for tending native plants and fruit trees. Here, the senior and junior Dorts can be alone, casually bump into one another or get together for barbecues.
Here, their lives will increasingly intertwine, as they put down roots and age in place.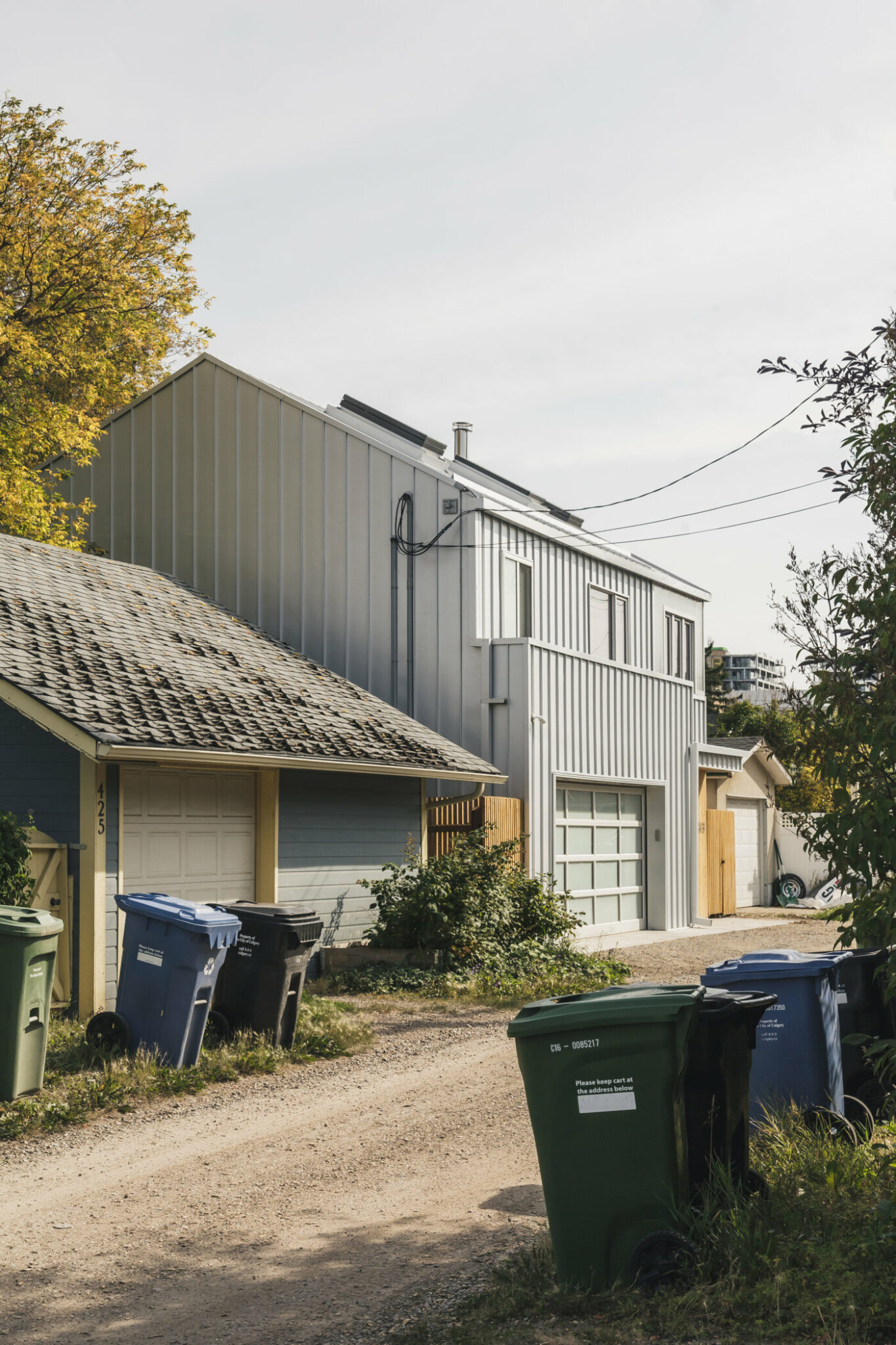 How to Age in Place
Damon Hayes Couture, Studio North's creative director, offers 10 strategies to future-proof a home, all from the Bridgeland senior house.
Create comfort
Recycled cork flooring is a soft, comfortable material that absorbs impact, "great for the joints as you age," says Hayes Couture.
Add places for rest
Place a bench at the entrance where you can put on and take off shoes and coats; and one outside as a spot to rest briefly.
Build in adaptability
The cabinet in the main bathroom's vanity can be removed to allow a wheelchair to roll up to the countertop and sink.
Think about accessibility
A gentle entryway ramp allows access for wheelchairs or other mobility aids.
Make way
Four-foot-wide hallways and three-foot-wide doors throughout allow for easy movement.
Green it up
Solariums provide space for plants to grow year-round and are a buffer between inside and outside.
Plan for hobbies
Have a space to "explore what makes you, you" — in the senior house, this translates as a music area and flamenco stage.
Display memories
Millwork shelves and niches display collectibles. "It's important to remind yourself where you've been," Hayes Couture says.
Light the way
Ample light everywhere, including hallways, helps with declining vision.
Celebrate family
A central courtyard provides a gathering space where the family can spend time together.