Clare McWilliams, an executive marketing consultant, and her husband Kerry, a pharmaceutical sales director, have owned their bright and cozy Royal Oak condo for just over nine years. While they are certainly smitten with their little abode, the couple is currently on the hunt for a larger space to accommodate their growing needs.
As a self-professed Francophile, McWilliams has added a certain je-ne-sais-quoi to every inch of the condo, whether it is through the gold accents throughout the space or the fresh flowers she adds weekly.
What is your design philosophy?
"Seemingly, I'm a traditionalist with an eclectic French twist. I appreciate simplicity and timeless pieces and don't need fussy details in my interiors – or in my life. Living in small spaces compels you to edit down, to have fewer things. What you do possess blends great quality, functionality, and sentimental value. For me, this means a laid-back atmosphere, light and airy colors, natural fibers, and pops of metallics, peppered with treasured worldly things that keep our appetite for adventure fresh and gratitude high."
What is your favourite room in your home?
"I flip-flop between our bedroom and dining room, but I'd have to say that our dining room space is my favourite because of what I love to do most in it: entertain. An open concept connects our kitchen, dining space and living room area, which allows us to cook, mix cocktails and mingle."
What is your most treasured item and where is it from?
"One of my favourite treasures is a rusted steel bison head wall hanging, "Willie Nelson." He's been across the country twice and he reminds me of my prairie roots. I bought him a few years ago at Stonewaters Home Elements in Canmore. I had him shipped back to Montreal where we were living at the time – they thought I was bananas."
What is your favourite decor find?
"I'm flower and plant obsessed, like my British parents. I have a weekly flower run compulsion, be it peonies, dahlias, succulents or fiddle leaf figs. One of my favourite decor finds includes a pair of hanging terrariums, which we've suspended in front of our bedroom windows. Besides adding interest and something organic to the area, they optimize our space by hanging them from the ceiling.
My local petal pushers include Wild About Flowers in Mardaloop, Plant in Inglewood and Sunnyside Garden Centre in Montgomery."
Where do you seek out inspiration?
"Whether I'm picking a pendant lamp, a cocktail recipe, or fresh blooms, I'm inspired by what I'm immediately drawn to, what I instantly love. (My Dad calls it my "magpie effect.") I worked part-time at a Canadian glass gallery during university, and the owner then told me something that, to this day, still drives by decor impulses: "If you love it, it will work perfectly in your space."
For daily Instagram inspiration, I follow publications like Apartment Therapy, Dwell, Home Polish and Rue Magazine. I enjoy retailer feeds from ABC Carpet & Home, Ralph Lauren Home, Crate and Barrel and West Elm. I also follow designers and makers like Martha Stewart, Jillian Harris, Monika Hibbs, Bri Emery, Studio McGee and Emily Henderson."
What is your favourite thing about living in your home?
"I love small spaces, always have, and a small space is what we got. When two adults and a mid-sized dog share 650 square feet, you learn to be extremely civil and organized; otherwise, life can feel cramped, fast. A life-long lesson, I guess, given the largest space I've ever lived in was 1,200 square feet."
Where do you like to shop for dcor locally?
"My local furniture and decor go-tos include the typical chains like West Elm, Urban Barn, Anthropologie, Crate and Barrel, Pottery Barn, Structube and Restoration Hardware. For unique, locally made pieces, I support ACAD's annual Show & Sale and frequent Inglewood's shops like The Uncommons, Plant, Hinchcliff & Lee and Goldgrass Home."
Did you encounter any decor challenges?
"Though our light and bright space feels spacious and organized despite the square footage, we've needed to optimize every inch, especially now that we're selling. Keeping walls and flooring light and uniform throughout was one way. Switching out our darker, heavier furniture for glass and acrylic furnishings to prevent interrupting the eye has also been key. Also, adding matching cabinet built-ins above our office nook, laundry area and bathroom have not only added valuable storage space, but also tucked unnecessary clutter away."
What is your favourite view from your home?
"With quick access to Stoney Trail South, I'm met each morning by an unobstructed skyline of foothills and Rocky Mountains – there's nothing more grounding than starting each day with something much bigger than you."
What would you want your next home to be?
"After living in Montreal's Plateau and Notre Dame de Grace boroughs, we currently have three primary house hunting criteria: one, a character home; two, with a small garden; three, within two blocks of a local patisserie. The bloom-crazed Francophile in me can't deny it."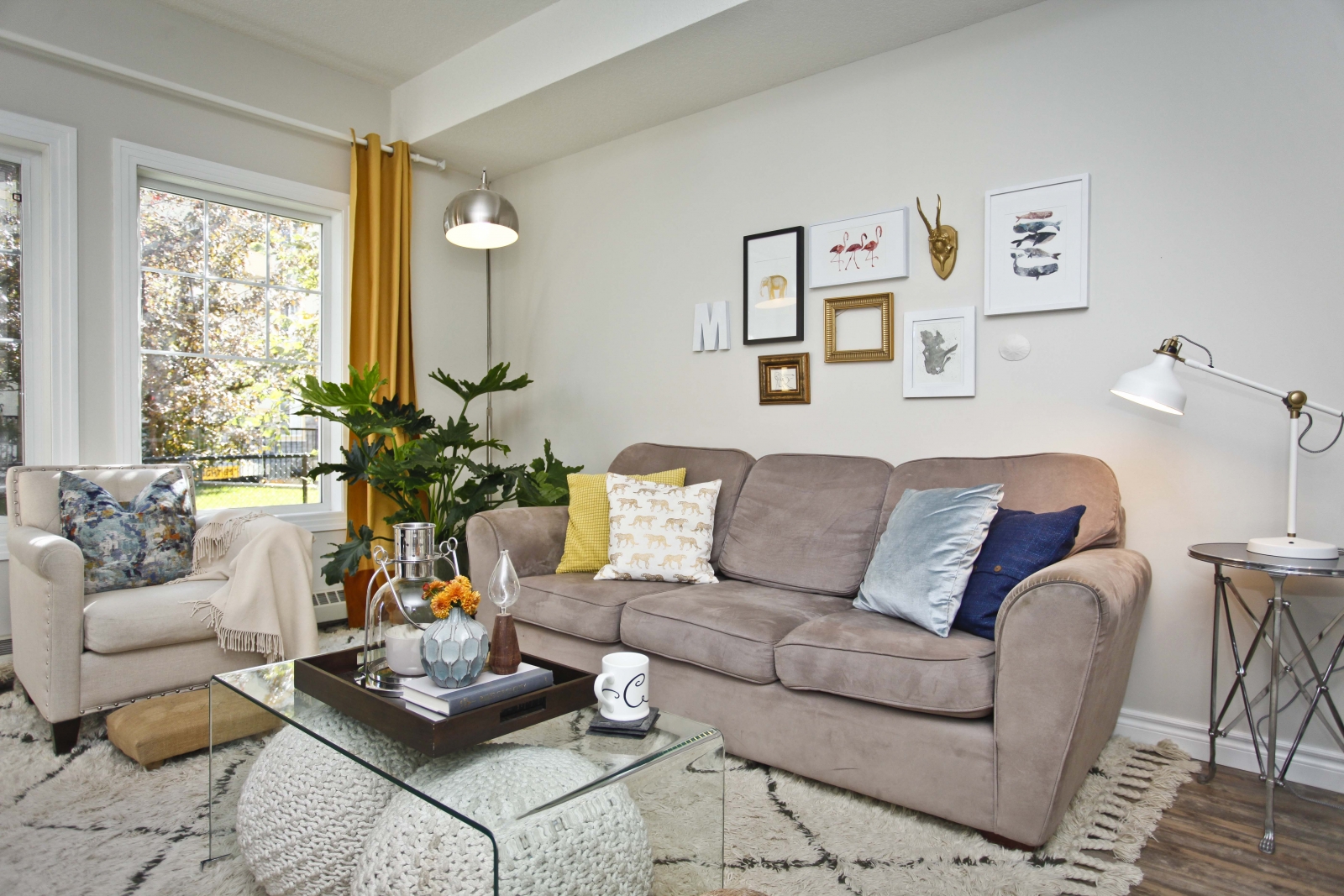 Despite being a smaller space, McWilliams maximized her square footage with clean neutral furniture, a clear coffee table and plenty of natural light.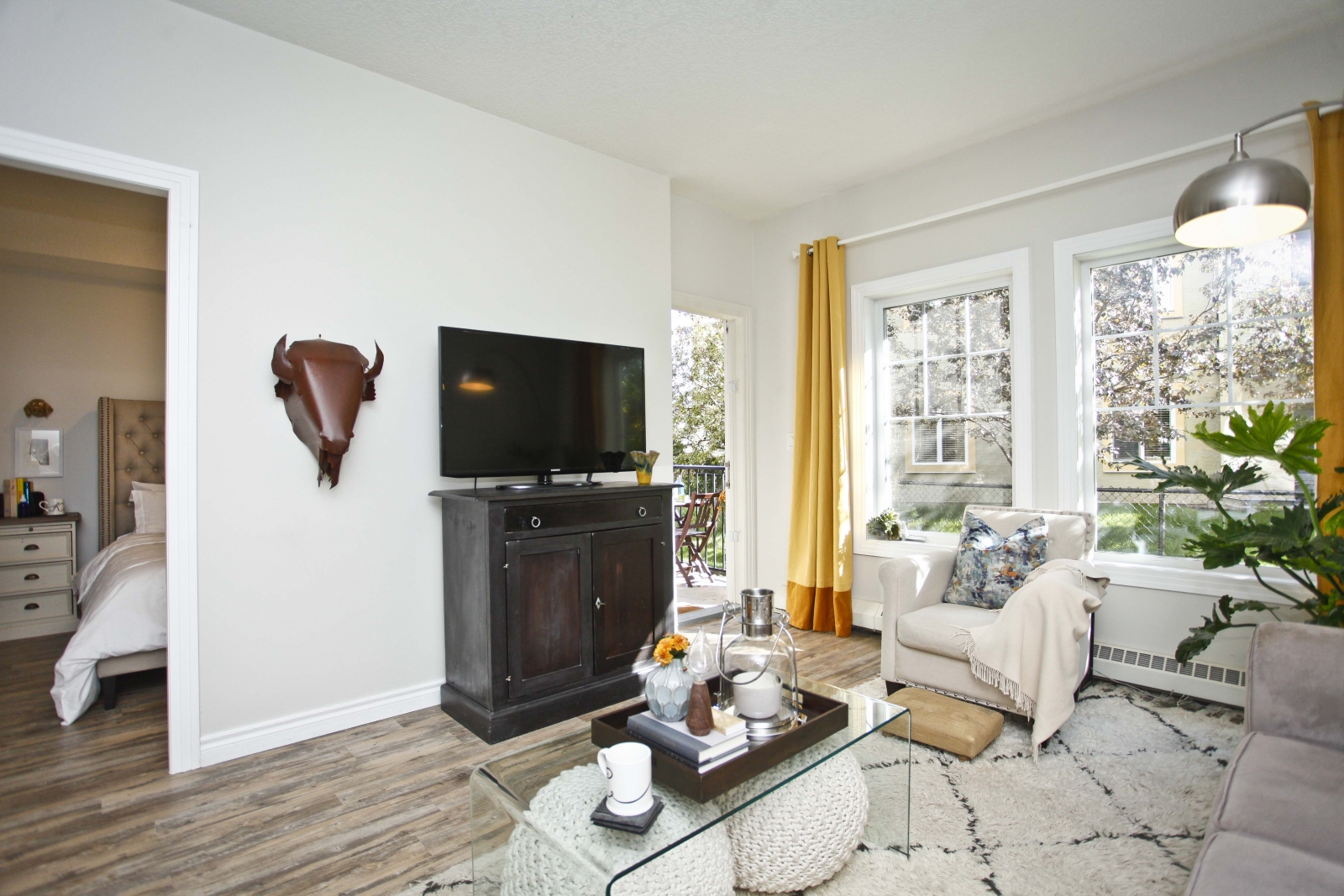 One of McWilliams' favourite treasures is "Willy Nelson" – a rusted steel bison head wall hanging that the couple purchased in Canmore years ago.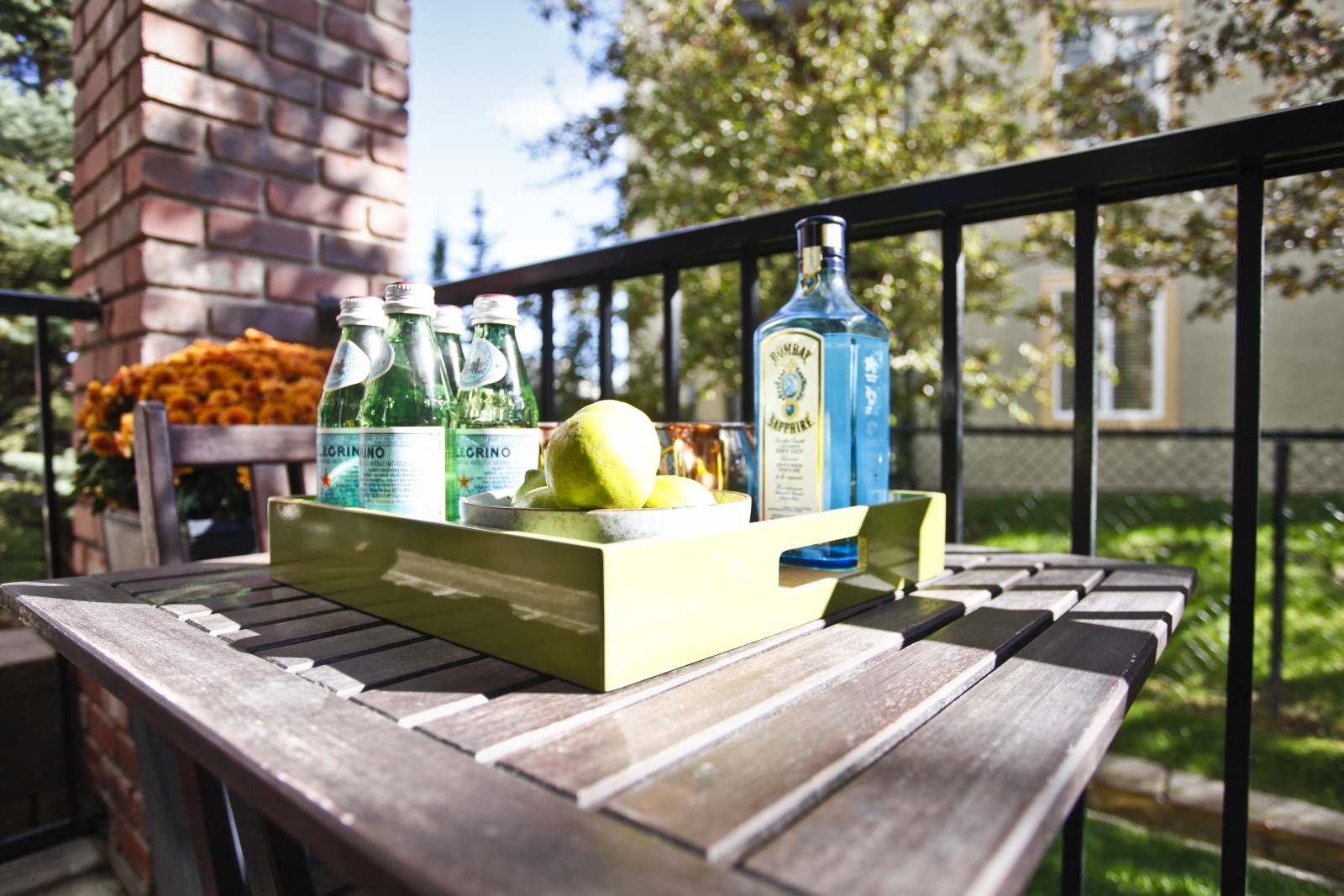 While they may be dreaming of French terraces overlooking the seaside, the couple makes the most of their quaint condo balcony.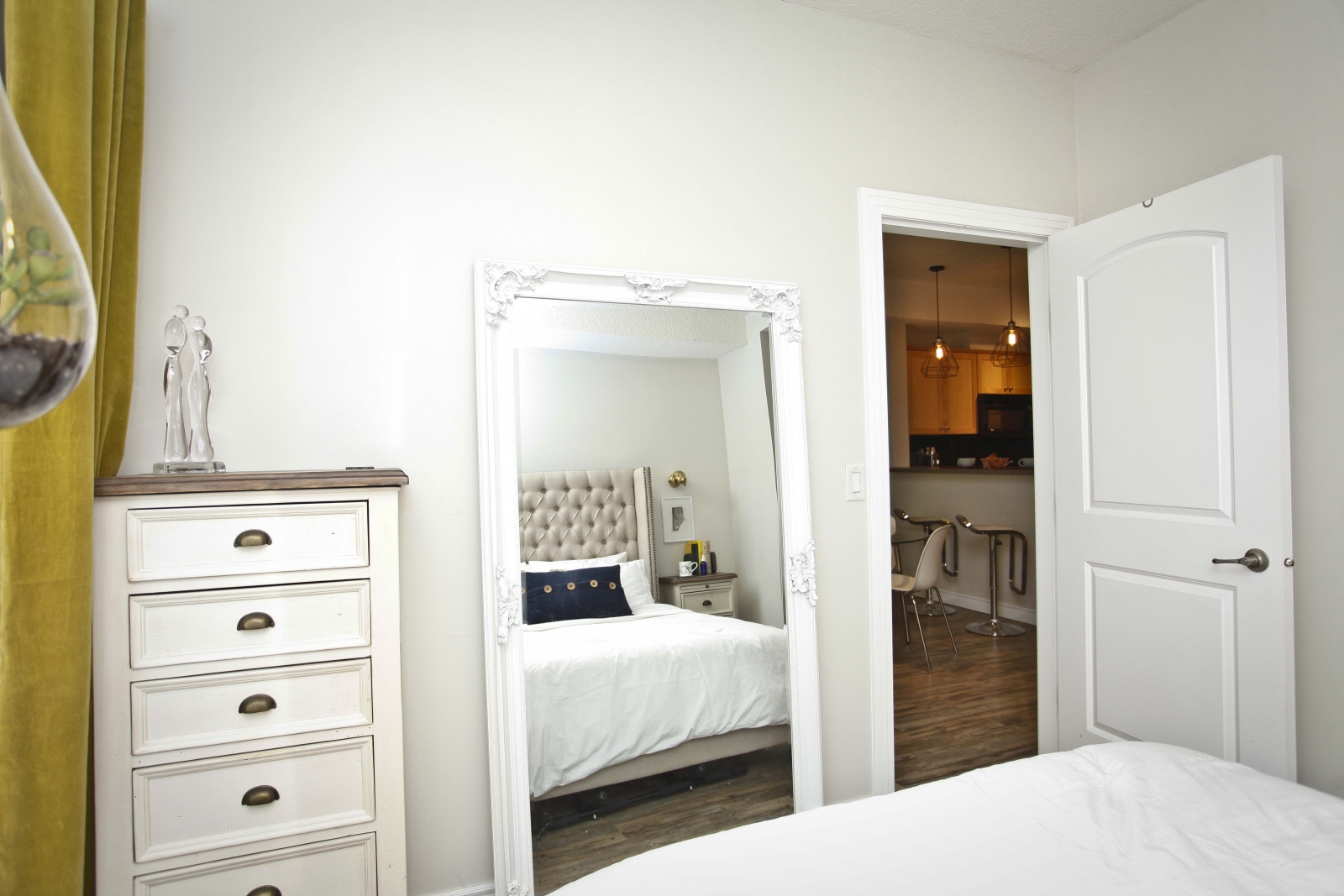 Keeping things fresh and minimalist with an elegant bent, the master bedroom's charm is all in the details. The upholstered headboard is a show-stopper while a large leaning mirror helps reflect light.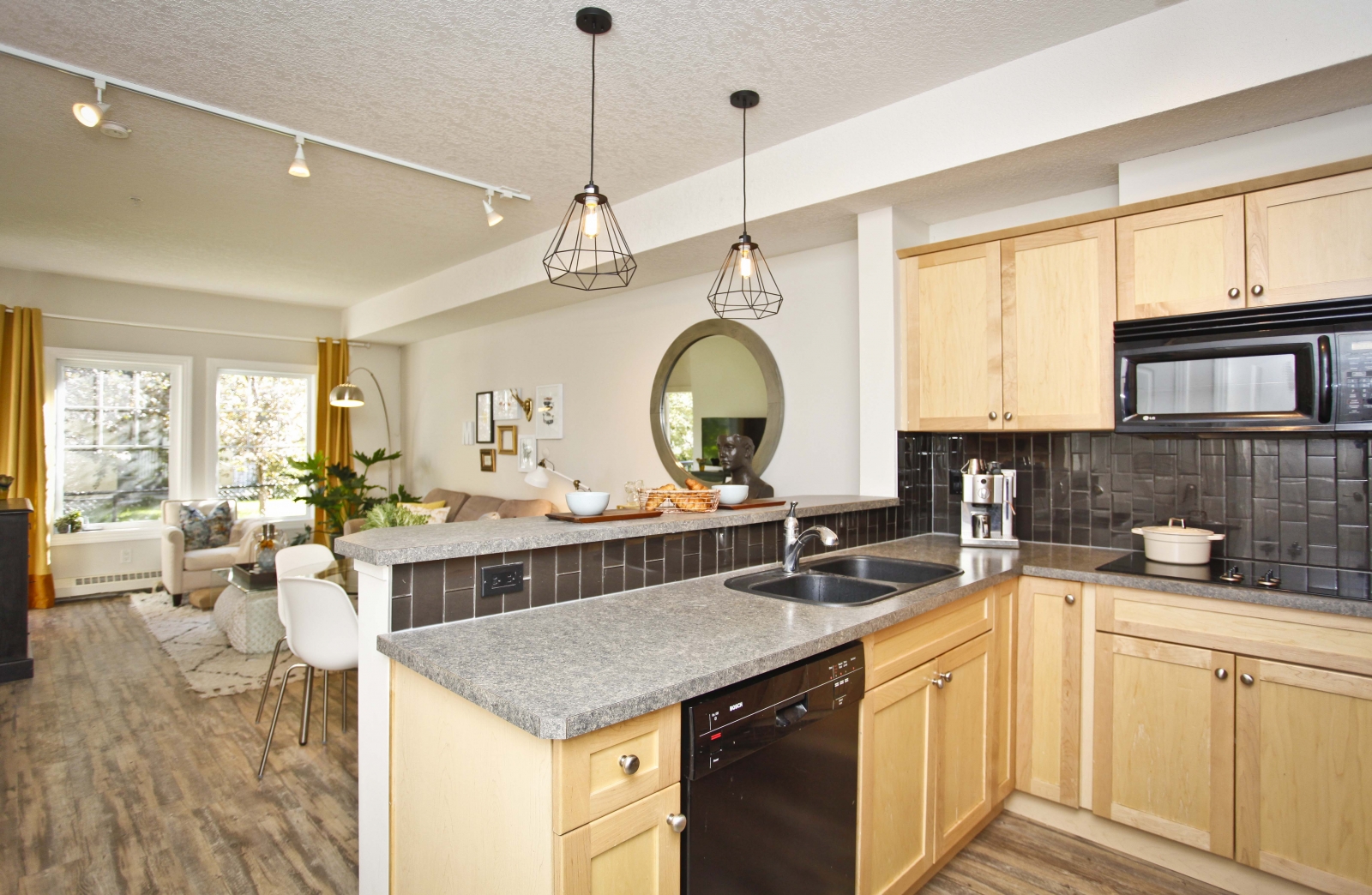 The open concept layout of the condo lends itself well to the couple's love of entertaining. They have updated the space with modern black wire pendants over the kitchen's breakfast bar which adds a bit of that French café flavour they crave.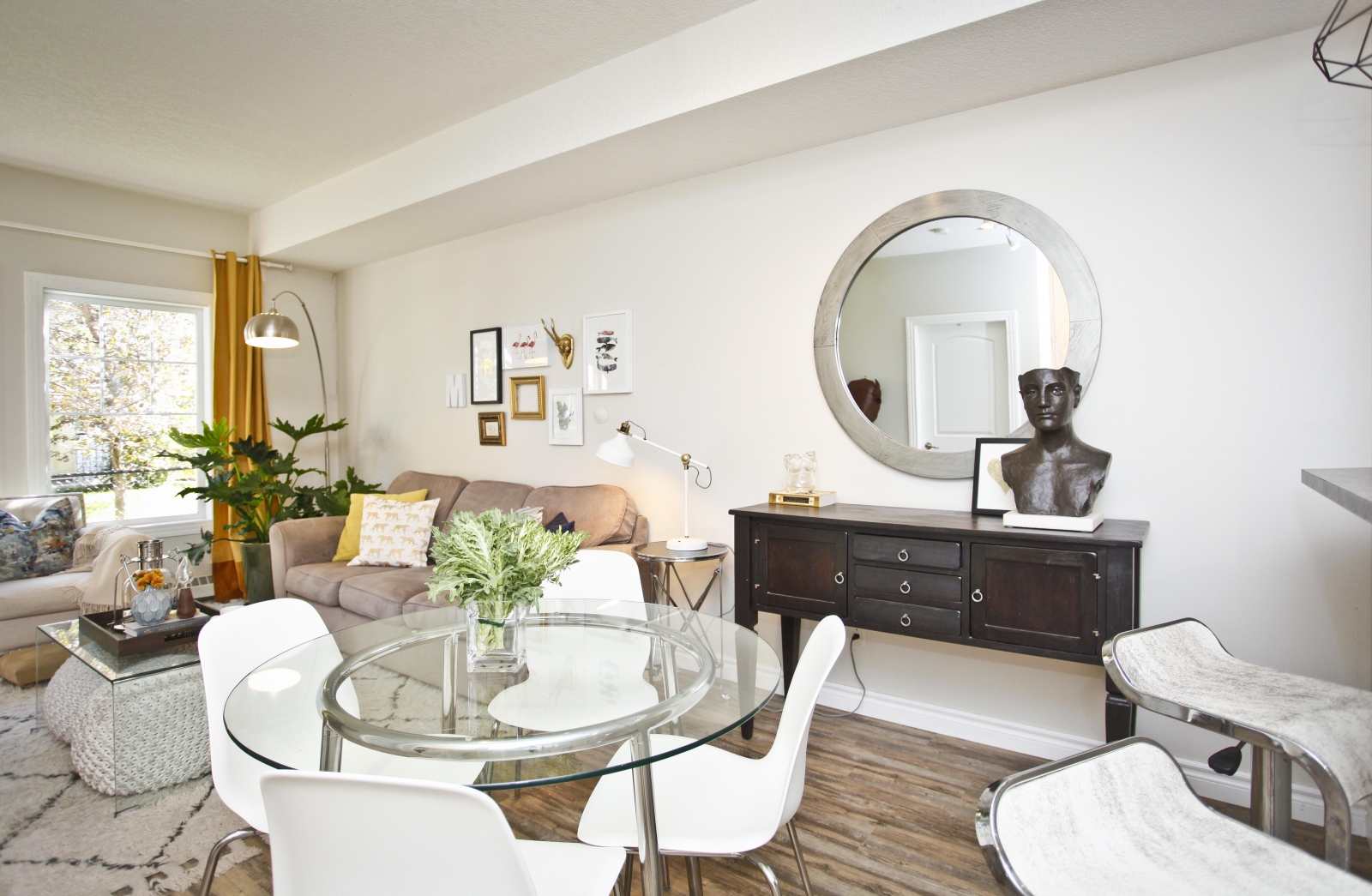 Again, the use of clear or mirrored surfaces opens up the living room and dining room to give the illusion of space and light.