Seven years ago, when Wendy and Don Brownie viewed the Bearspaw home they now live in, they knew they had finally found The One. Built 20 years ago, the Jeremy Sturgess-designed home combines a modern aesthetic with quirky functionality, all tucked away on more than four acres of land.
The property features three ponds, abundant greenery and even a game trail where moose have been known to pass through. "It's almost like having a retreat, but we don't have to drive off to Canmore or Banff," says Wendy.
There are unexpected glimpses of the impressive property from the carefully planned and striking windows. "I think what Jeremy did, which is amazing, is that every window frames a landscape, so it doesn't matter where you look, it's all quite beautiful," says Wendy.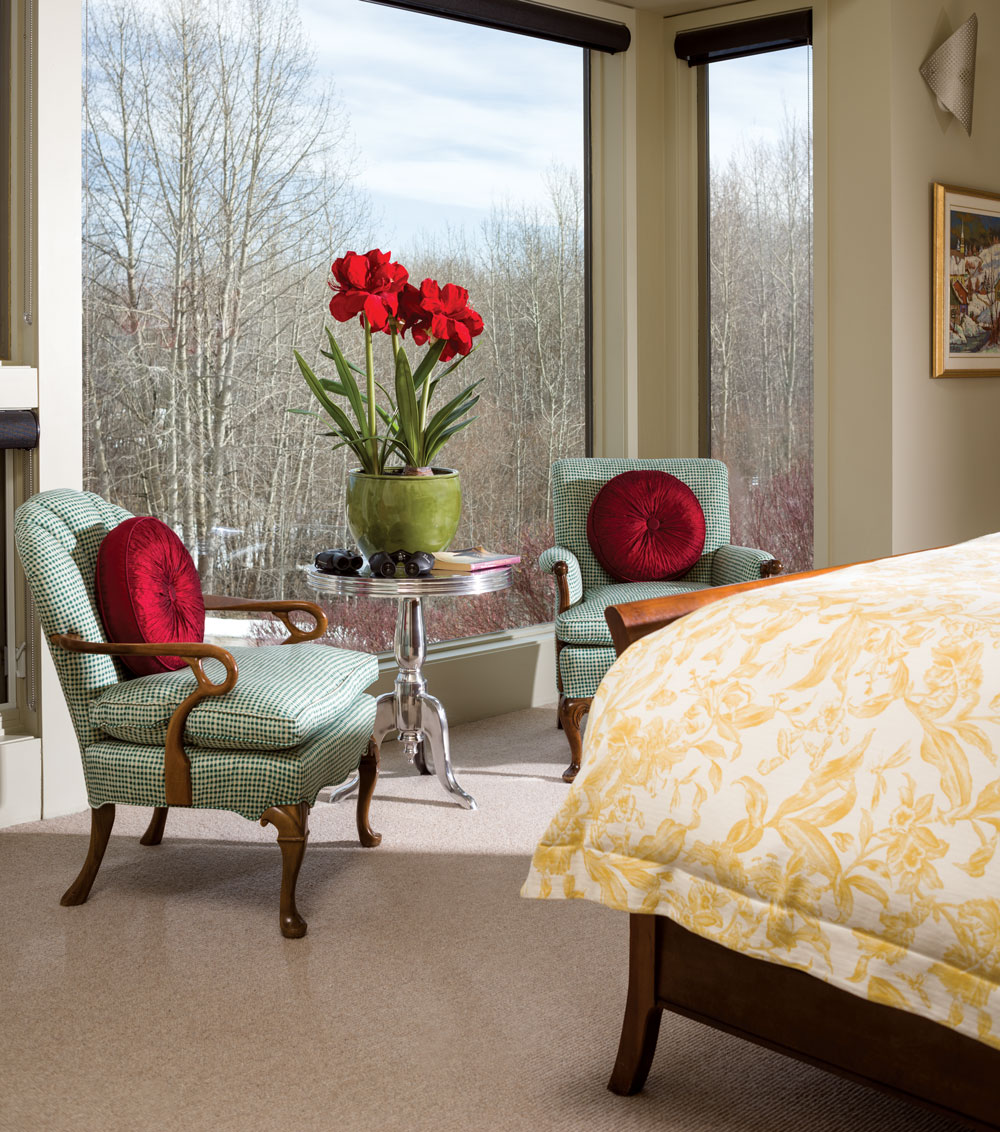 Photo by Jared Sych
An expanse of windows in the master bedroom capitalizes on the private, natural surroundings.
In the master bedroom, wall-to-wall windows treat the Brownies to stunning views, morning and night. "We can see the moon at night and the planes coming and going. It's very relaxing," Wendy says. "Nature is all around us, and I think that's one of the wonderful things about living in Calgary."
Form, Function and the Design of the House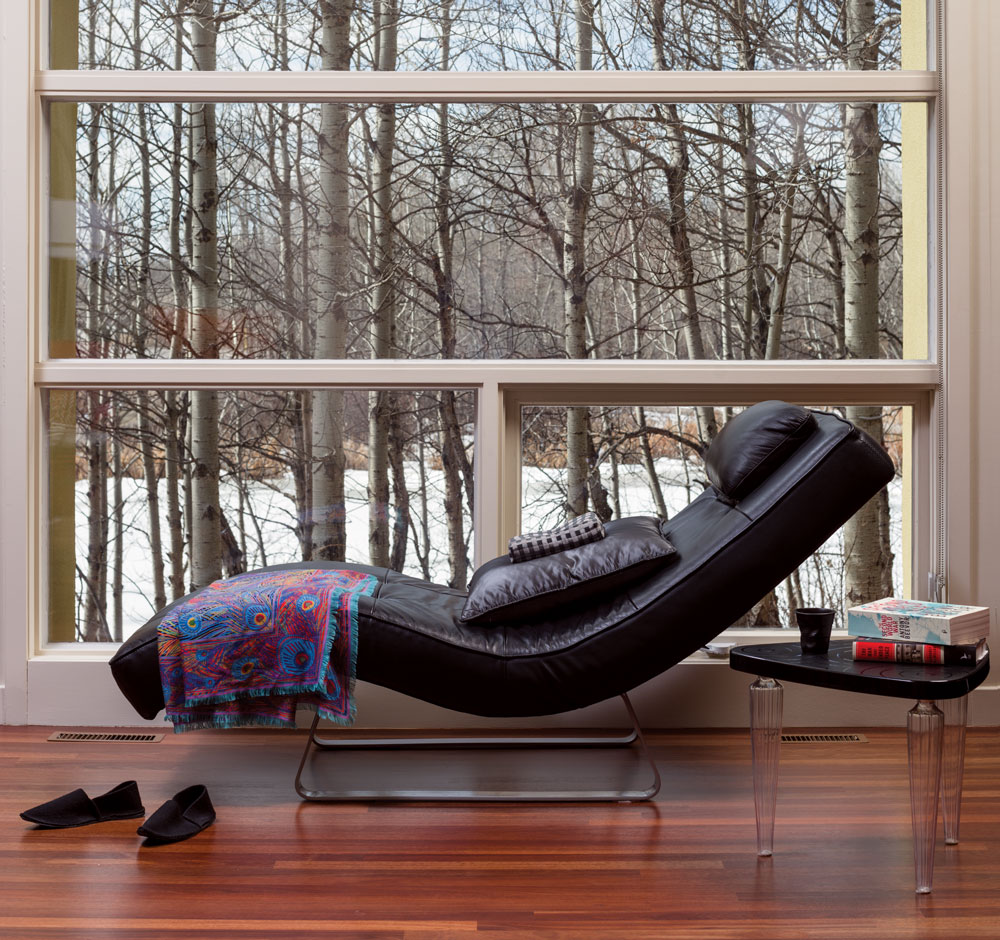 Photo by Jared Sych
A leather chaise in the living room in the perfect place to take in the breathtaking Bearspaw-area views.
Wendy says the house was designed so well two decades ago that not much had to be changed when she and her husband moved in. "The kitchen is right there, but everything is hidden," she says. "This is where the former owners and Jeremy thought of everything, every little nuance."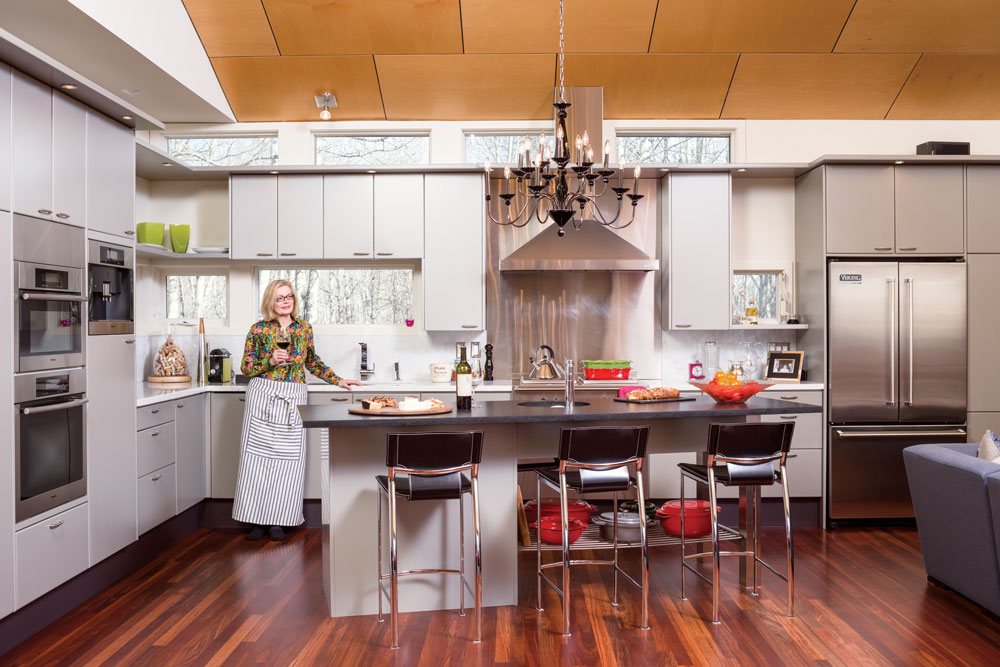 Photo by Jared Sych
Homeowner Wendy Brownie enjoys a glass of wine in her open-concept kitchen.
She points out that not everything was designed to be trendy, but was carefully planned to make life easier. This is seen in the ample storage that blends seamlessly into the design of the kitchen and in the push-through laundry basket that connects the master bathroom to the laundry room.
While the original blue walls, yellow flooring and red countertops got a modern update, the home's bones and original layout remain intact, a sign Sturgess was ahead of his time. Even the original Denca kitchen cabinets remain in perfect condition.
Wendy says she believes that if you invest in the bones of a home it will carry you through the years. "Choose something that has value so you won't have to be looking down the road in five years from now to change it," she says.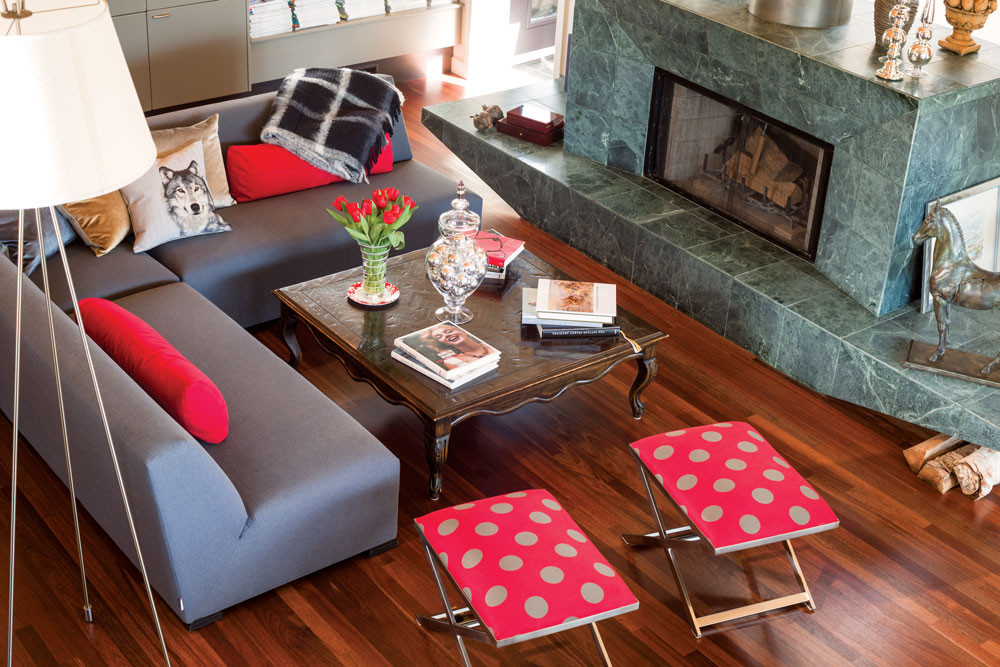 Photo by Jared Sych
A mixture of modern and antique furniture is accented by an ecclectic selection of textiles.
Maintaining Tradition in a Modern Home
There's a sense of tradition and family inside this modern home. Wendy has collected pieces over the years from her travels and from her family's history to incorporate into the design. "It's our past, but it's about framing it in a modern way," she says.
She points to a beautiful, traditional table, framed by modern Ligne Roset chairs. "We can take pieces, such as our dining table, that have been in our family for years and we can combine them with new pieces and it's the perfect marriage," she says, noting the table has never been refinished and shows years of watermarks and scuffs – a sort of family history etched into the wood.
The art, too, has sentimental value – paintings from Italy that remind Wendy of a dear friend, a stunning photo of the Brownies' daughter welcomes guests into the home, and, in a small sitting area next to the master bedroom, there's a collection of framed family photos. The grouping is complimented by a stunning print of Don and his brother as children with their mother in a canoe in Banff.
"We have art that represents our histories," says Wendy. "I think what our house says is, 'You're welcome to be here, we want you to be here.' This is a home that's meant to be lived in."
Putting It All Together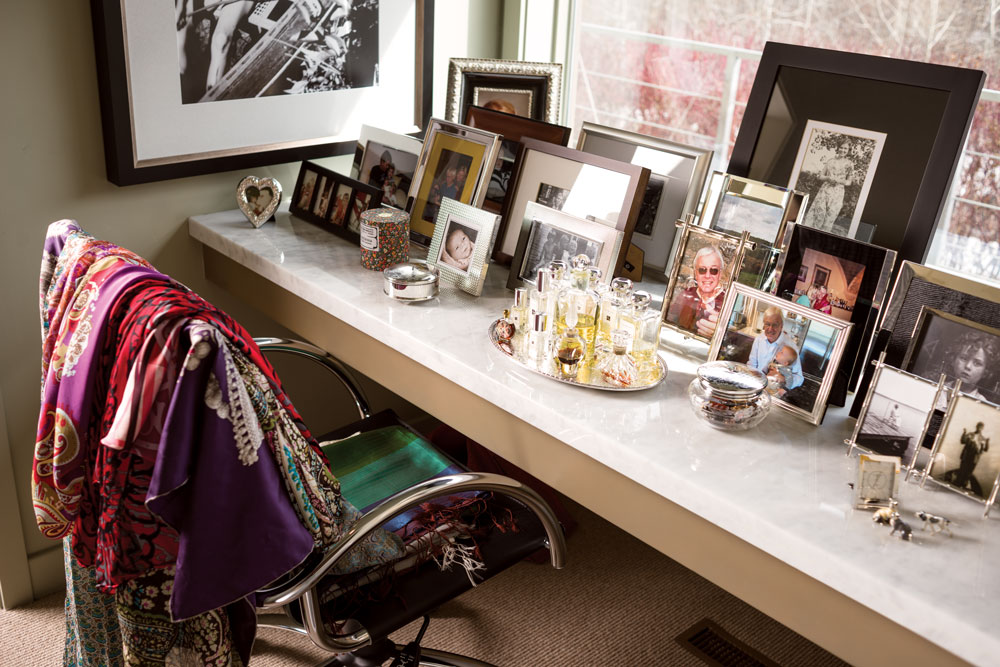 Photo by Jared Sych
Group Frames for Maximum Impact
Modern homes often do not afford much space for displaying personal photos. To remedy this, Brownie turned an office in her home, off the master bedroom, into a dressing room of sorts, covering the desk with a carefully selected group of framed photos, pictured at left. "This house forced me to look at what's important and carefully think about what we wanted to display," she says.
Tea Towels are Inspiration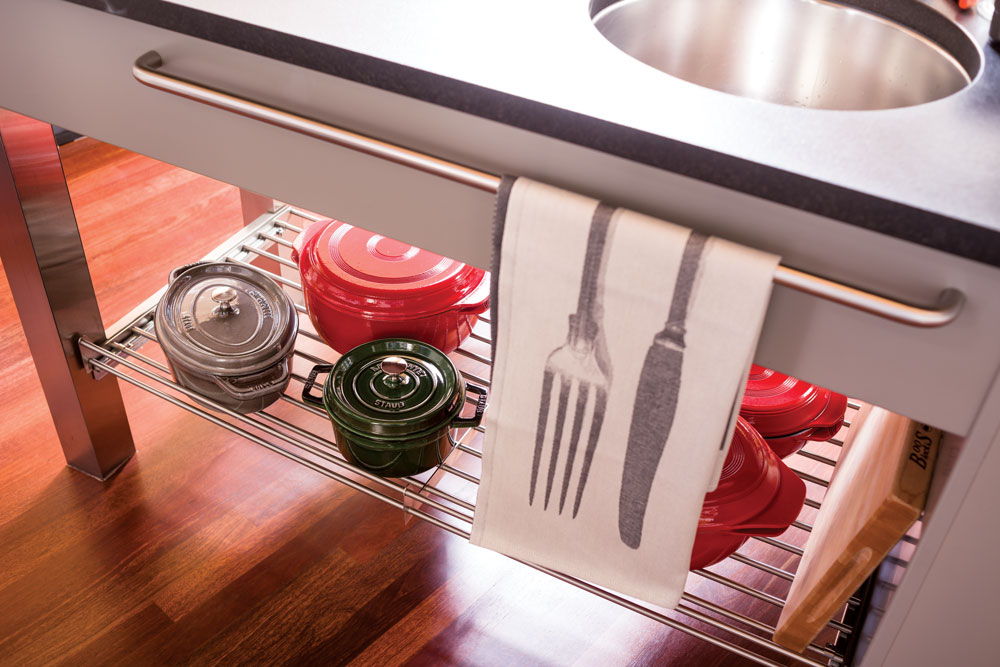 Photo by Jared Sych
A whimsical fork and knife tea towel from Sweden hangs on the kitchen island.
When it comes to decorating and entertaining in her home, Brownie looks to the tea towel drawer for inspiration. The fabrication and colour options are virtually unlimited, with each creating a unique palette for a room, or an entire home. Brownie's lower-level guest bedroom (pictured below) gets an unexpectedly delightful lift from a collection of tea towels and tablecloths displayed on the antique bed.