Lisa Beekman had a very clear idea of what her dream home should be like, and, when construction started on her Strathmore-area home two years ago, she was ready to bring it to life. "I'm not a technical person at all," says Beekman. "I like paper. So, for two years, every time I was getting groceries, I'd buy a magazine, flip through it and go, 'Oh!' Then I'd rip out the page."
Armed with an arsenal of inspiration, she approached Calgary-based interior designer Tanya Stembridge to help make sense of it all. "She had a vision of what she wanted," says Stembridge, "and, by having everything together – all those pictures! – I was able to help her make that a reality."
Beekman favours European fashion and design magazines, and she also wanted the house to reflect her husband, Beerd's, Dutch heritage. "I like the big, heavy, rich homes with a lot of character," she says. "It had to have a feel of some 'old.' Almost like it belonged here, like it was supposed to be here."
Stembridge says the best thing about working with the Beekmans was incorporating their personalities into every element of the house. As a result, Lisa's black-and-white home office is chic and modern, with a brightly coloured green chaise to add a pop of colour. By contrast, Beerd's study is classic and dark, with bookshelves lining the walls. In the Beekmans' shared spaces, antique furniture, family heirlooms and fresh new finds combine to create a style that unifies the family. "They aren't scared to be who they are," says Stembridge. "When I walked in at the end, I thought, 'This feels like home.'"
Inspiration is everywhere
Lisa loves European design magazines, but she also finds plenty of inspiration from the people and places in her day-to-day life. Working closely with Stembridge, she set out to create a character-filled home that incorporates a mix of old and new. The globe-shaped suspension lights that hang over the Beekmans' dining room table were purchased after Lisa spotted them at Alloy, a fine-dining restaurant in southeast Calgary. "I asked the restaurant owner if he would mind if I took a picture," says Lisa. She took Stembridge to Alloy to meet the owner and learned the fixtures came from Bocci, a Vancouver-based design and manufacturing house.
Other elements, including the oversized candle pillars in the living room, were imported from the United Kingdom through Calgary-based Uniquities Architectural Antiques. Beerd was born in Holland, and design touches throughout the Beekmans' home reflect his European heritage, as well as his love of history. One of the most unique features in the Beekmans' home is the antique, arch-shaped door to Beerd's home office. The oak door, which was also sourced through Uniquities, dates back more than 250 years and was originally part of an English chapel.
Rugs from Holland are prominently displayed in Beerd's office, and a green chair in the home's front entrance is a treasured family heirloom. "There's a picture of Beerd's great-aunt sitting in it," says Lisa. "It hasn't been refinished, and there's a big hole in the seat, but I don't want to touch it." Says Stembridge: "There's so much love there," adding the Beekmans' vision was "really cool.
"You can imagine the memories. They've been wanting this for a long time."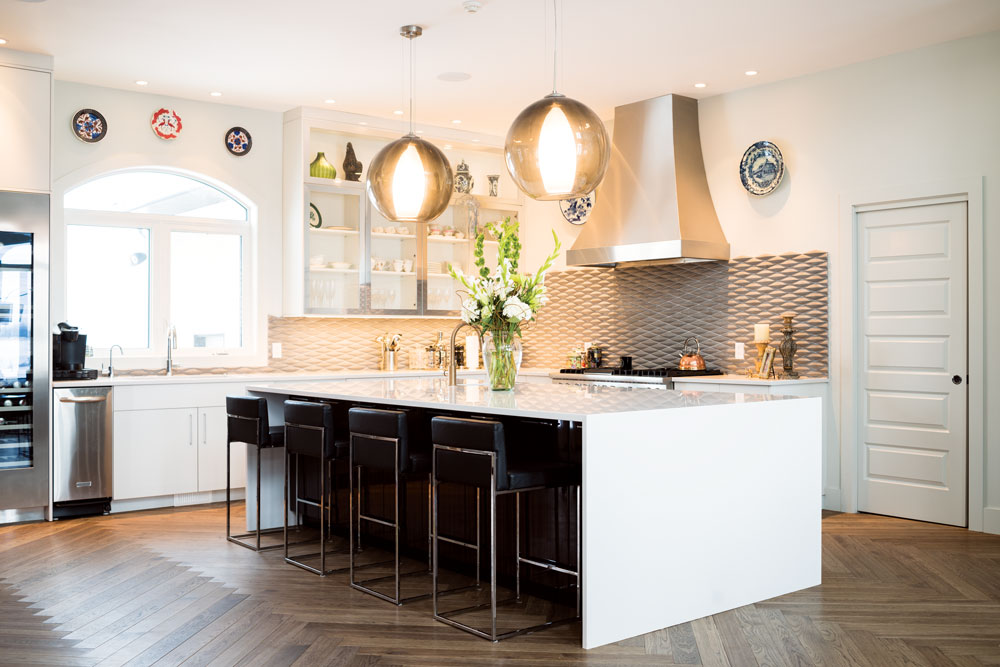 photograph by jared sych
The Beekmans are fans of European design, which is perhaps most evident in their custom kitchen.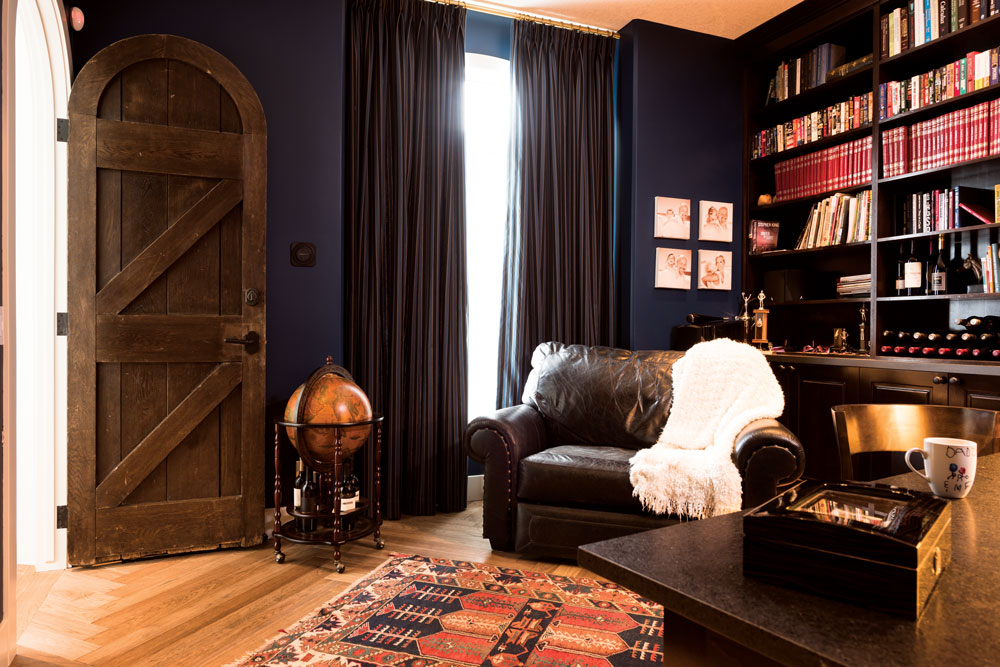 photograph by jared sych
An antique arched door leads into Beerd's home office. The room features several items imported from Europe, including the rug from Holland.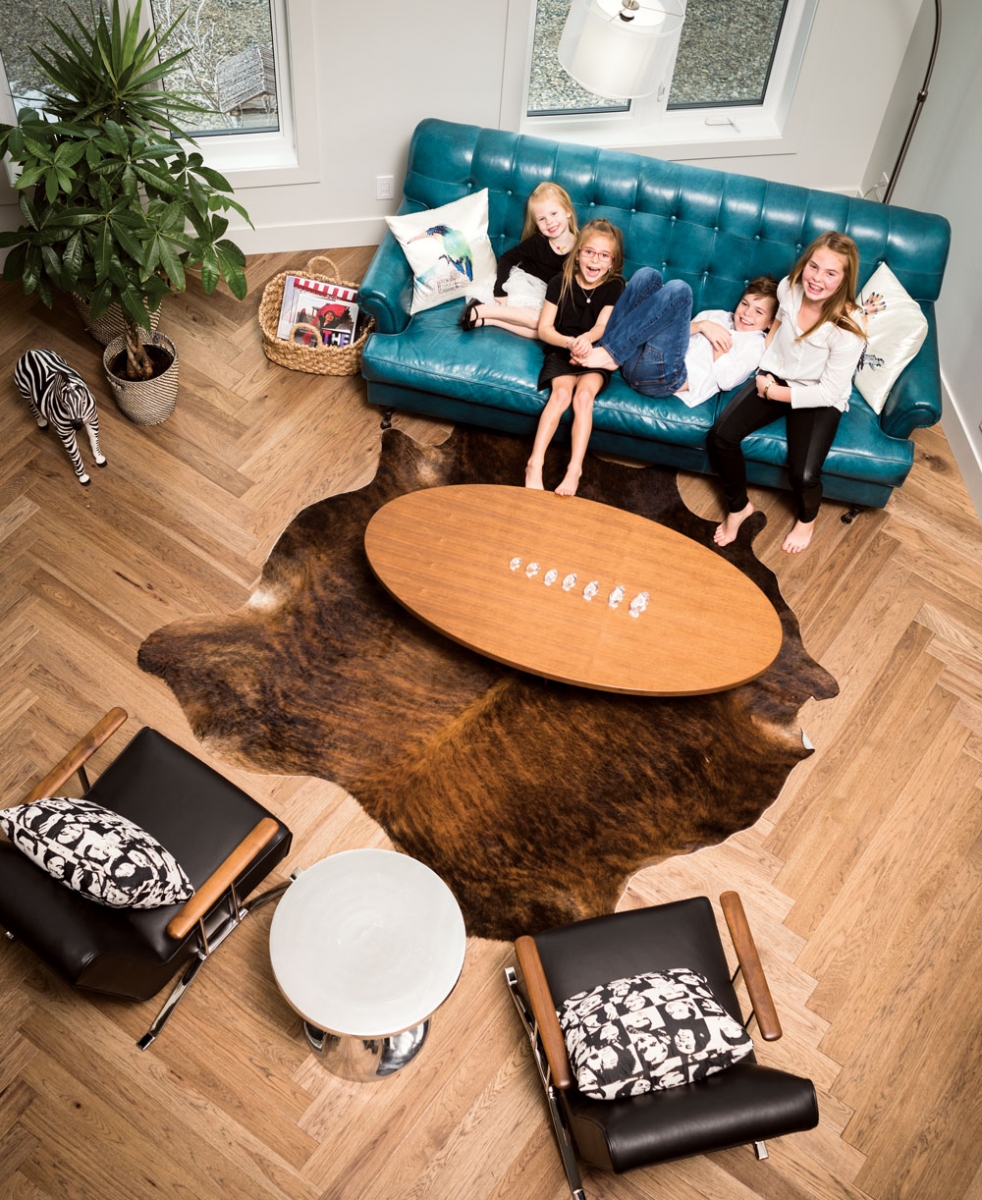 photograph by jared sych
The Beckman children lounge in the family-friendly living room. Light hickory floors laid in a herringbone pattern extend throughout the entire main floor.
A Space for Everyone
With four children under the age of 12, there were certain features that Beerd and Lisa wanted to include when they built their dream home on their 42-acre property just outside of Strathmore.
"We wanted every kid to have their own room," says Lisa. "We each needed to have our own office, because we do some of our own work from home. And we have big families and lots of friends. I wanted everyone to be able to sit down and have a meal."
Stembridge worked with each child to create fun, bright and kid-friendly bedrooms that reflect their personalities, as well as shared spaces for everyone. "They were so willing to just give and take," she says. "Lisa is a blast, and she's so much fun. She's a real mom, and she welcomes you in like you're part of the family."
Everyone in the Beekman home has a favourite space, although Beerd's study tends to be a popular gathering area. "I love the chair in my husband's office," says Lisa. "It fits a few of us!"
Stembridge says the home has a number of features she loves, such as the his-and-her's ensuites. "I love the hexagons in the floor of [Beerd's] bathroom," she says. "I love [Lisa's] bathroom, and I like that his is so different than hers." By the time the family was ready to move in in December 2013, everyone had a space to call home. "When it was all finished, I got into my truck," recalls Stembridge, "and then I had to pull over to do my little happy dance. It's their dream home."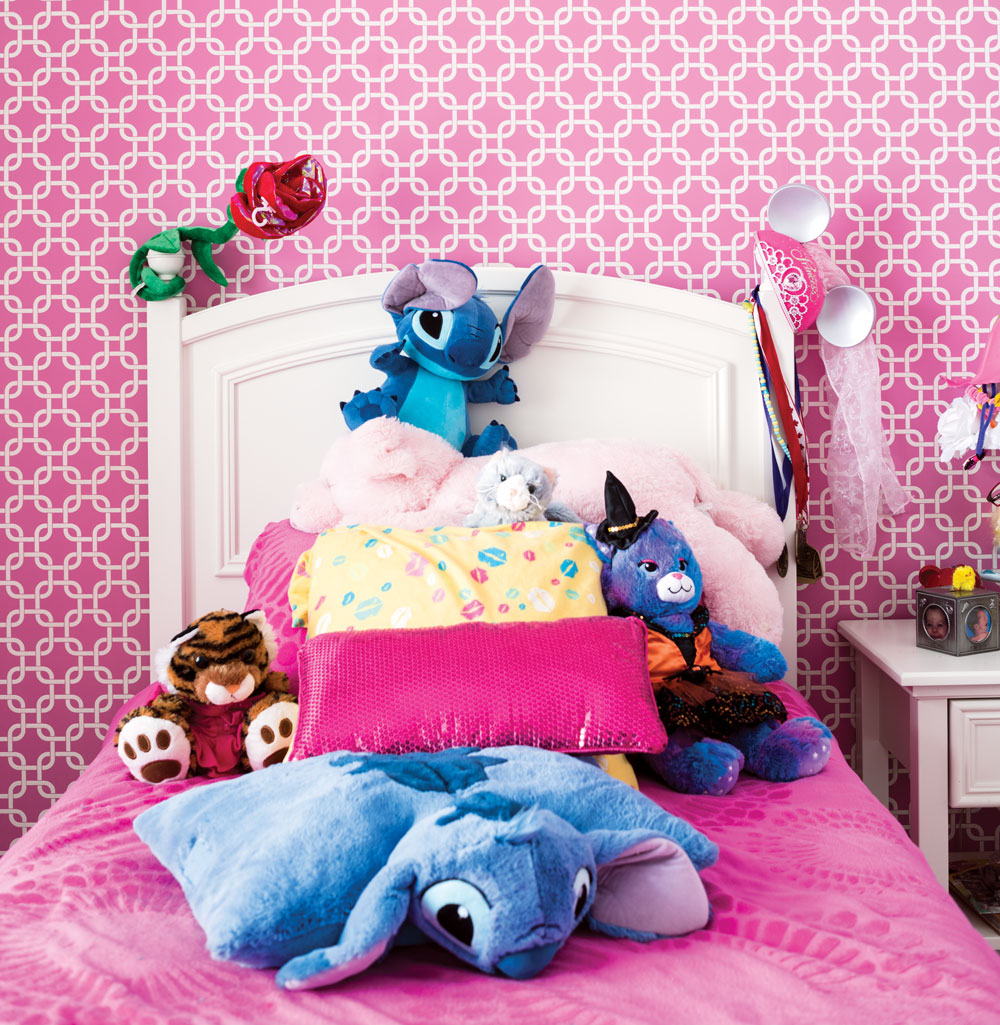 photograph by jared sych
Each of the Beekman children has his or her own bedroom.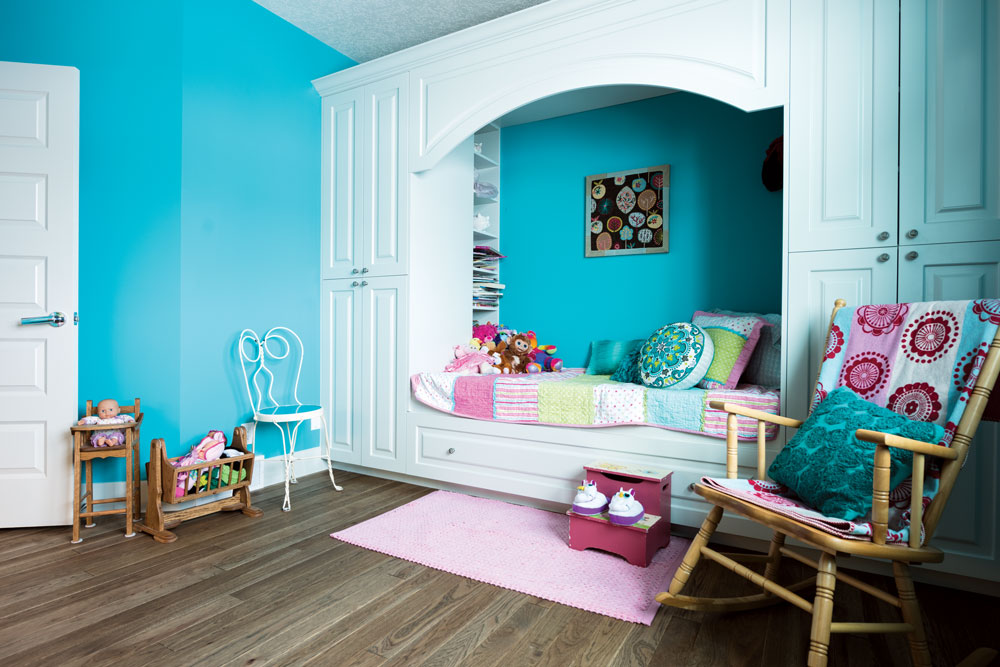 photograph by jared sych
Each room is decorated to reflect the personality of the occupant.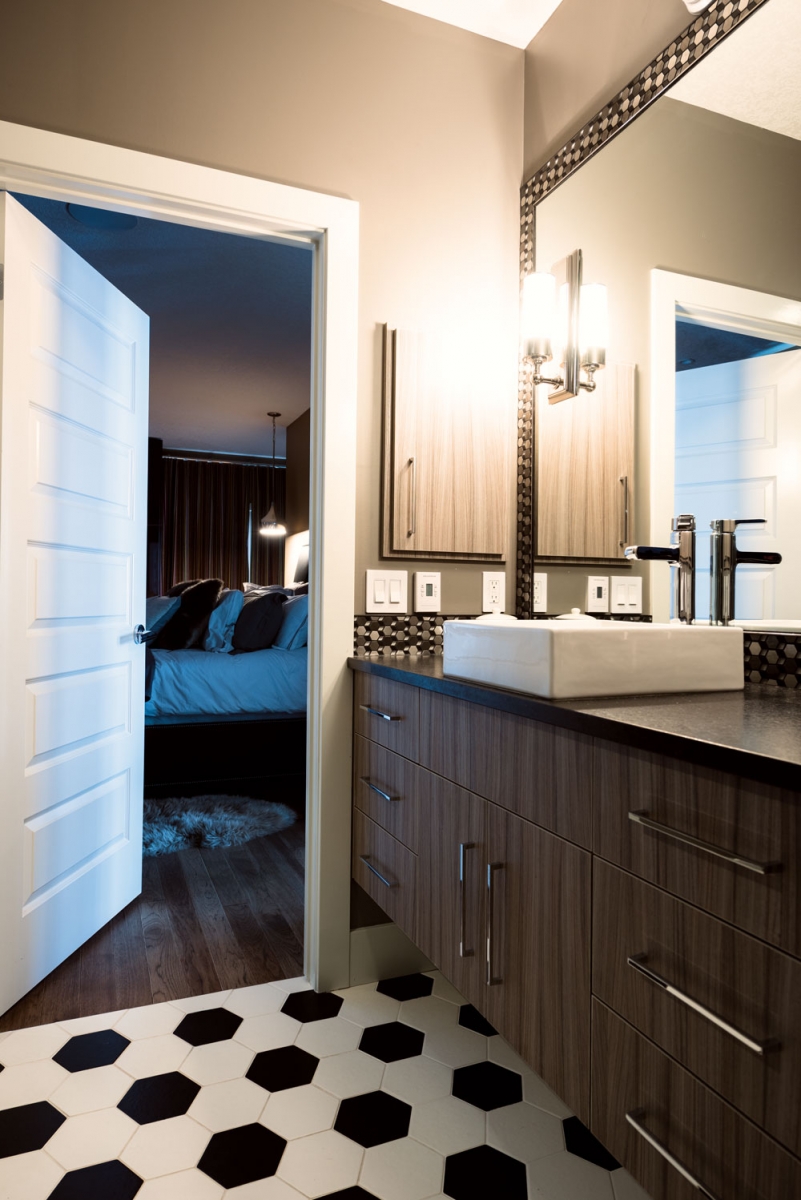 photograph by jared sych
Interior designer Tanya Stembridge says Beerd's and Lisa's his-and-hers ensuites are among her favourite design features in the home.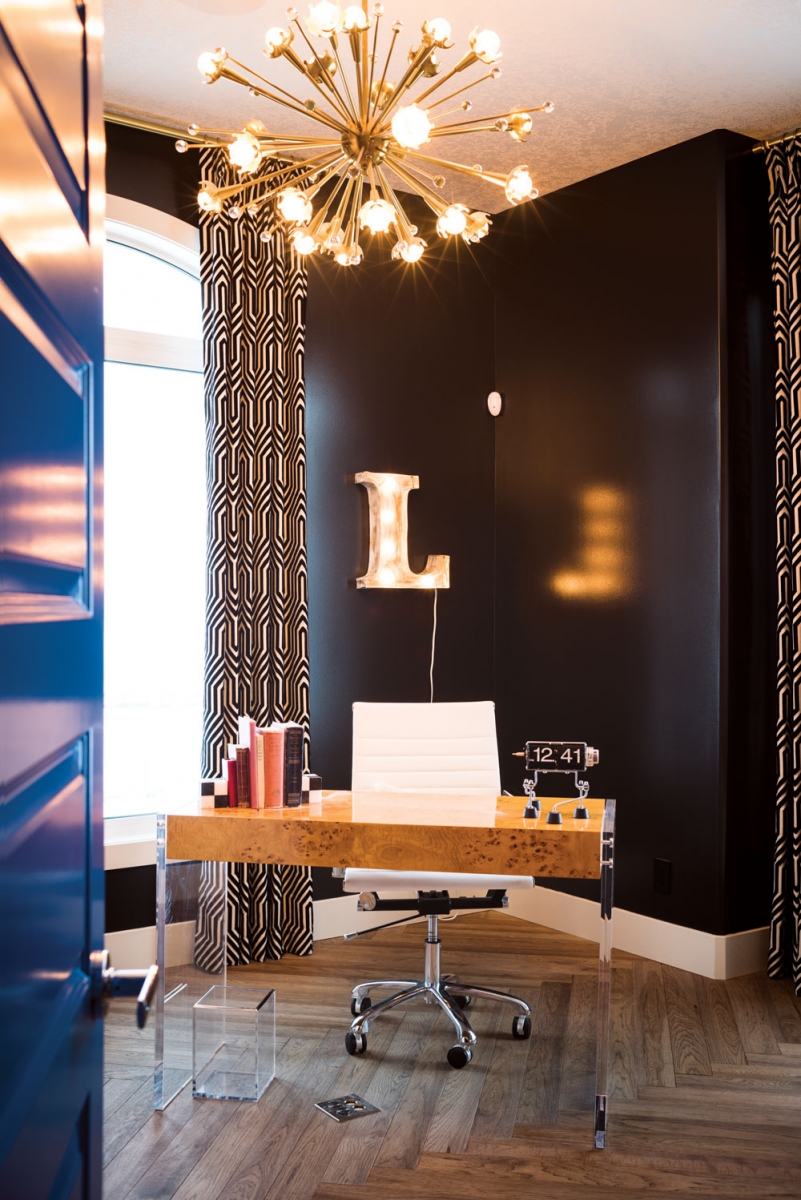 photograph by jared sych
Lisa's home office features an elegant burled wood-and-Lucite desk and a unique Sputnik-style light fixture.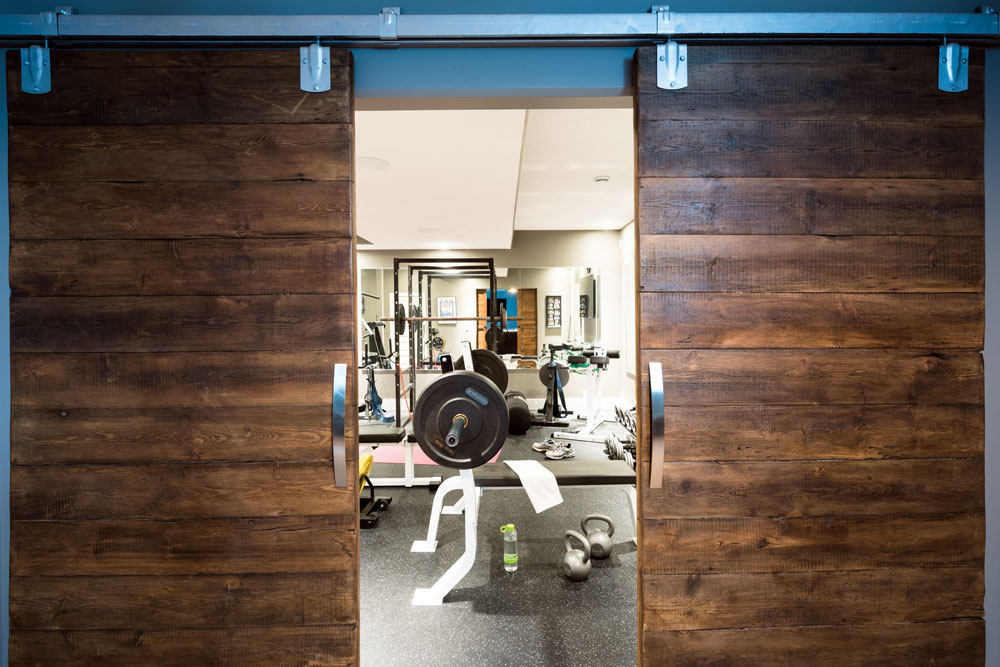 photograph by jared sych
The well-equipped gym is one of the home's many amenities that make living at the 42-acre property more convenient.
It takes a team
Homeowner Lisa Beekman and designer Tanya Stembridge share their tips for successful collaboration.
First impressions matter
"I like to have fun – I have a lot of fun in my life – so I didn't want someone too stuffy," says Lisa Beekman. An initial interview can help you determine whether a designer will be a good fit for your project. "We were very fortunate," she adds. "Tanya and I clicked from the first meeting."
Whose space is it, anyway?
There are some designers, explains Tanya Stembridge, who don't consider the people who live in a space. "It's all about them," she says. "I vowed I would never, ever do that." Good designers should listen to your vision and help you bring it to life.
The power of "no"
Beekman knew Stembridge was a winner because she was able to say "no" when ideas didn't seem to be working. "I'm pretty confident. She was pretty confident, too," Beekman says. "It worked out really well."