How to Embrace the Corsage Trend
Joanna Tsavaras of Lil' Pink Daisy Florals tells us how to wear this season's hottest trend
By Joanna Tsavaras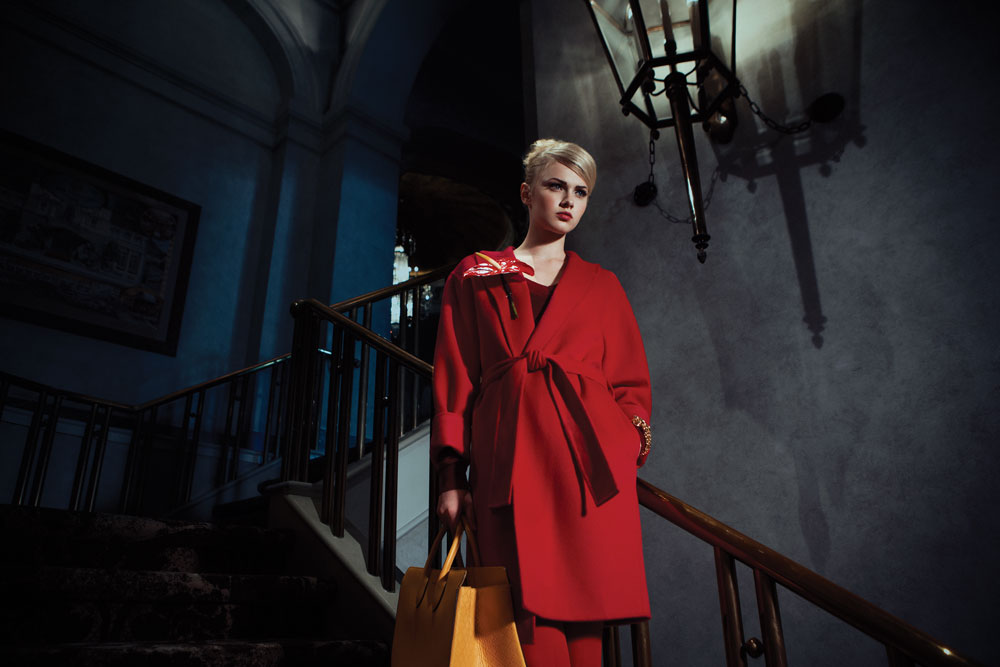 photography by colin way; styling by leah van loon; hair by sue thompson (Chrome hair design); makeup by teslin ward; model josie d. (numa models); Florals by Joanna tsavaras (Lil' pink daisy florals). photographed at the fairmont palliser hotel.
Gucci wool wrap coat, $3,200, cashmere sweater, $895, pants, $895, and bright diamante bag, $2,100, all from Gucci boutique at Holt Renfrew; Gucci Horsebit bracelet $8,060, from Birks.
Corsages are becoming a huge trend. And they aren't your typical single rose anymore. For the September 2014 issue of Avenue we shot a head-to-toe look from Gucci at the historic Fairmont Palliser Hotel that featured a stunning red anthurium corsage. It shows how elegant the look can be, especially when paired with luxury fashion.
Flowers for corsages shouldn't be generic – they now include high-end flowers like garden roses, orchids, ranunculus, dahlias. More and more people are wearing them to weddings, events and nights out on the town. Options range from simple blooms to the dramatic phalaenopsis orchid.
Here are five corsage tips from Joanna Tsavaras of Lil' Pink Daisy Florals:
Special Care
Caring for corsages is a must. I always like to design mine the day of wear so they are fresh and have been in water right up until I'm ready to design with it to avoid the possibility of wilting.
Silk versus Fresh
I don't mind silk flowers, but I prefer fresh. There is something about the fragrance of the fresh florals that adds to the overall appeal.
What to Avoid
I would say the majority of flowers can be used for corsages. The one floral I would stay away from would be the peony. It is a beautiful flower and one of the most popular, but for longevity it's not great.
Staying in Season
In Calgary, because of our climate, at times we are limited in flower selection from our floral supplier as certain varieties are not available during certain seasons from the growers.
Making Your Own
You can design corsages. They are not that difficult to create. There are lots of DIYs out there you can follow. For a wrist corsage, you just need to visit a floral supply store – they carry an array of wristlet styles. You need a glue gun and your floral blooms. For a pin corsage, you need floral tape for your stems, floral pins and your floral blooms, which, again, can be found at a floral store.
This story was part of Avenue's free weekly Style Newsletter. Sign up now and get home decor and fashion information and advice in your inbox every week.