Some summer pleasures, like outdoor pools and strappy sandals, are strictly seasonal. However, you can keep the summertime vibe alive year-round by bringing floral elements into your home. As the autumn leaves start to fall, these flowery features, flavours and fragrances will keep your thoughts turned to warm days in July.
Adding fresh florals to your home
To make a summery centrepiece, Lexie Stewart of Amborella Floral Studio recommends using seasonal blooms that overlap into fall, such as calla lilies, dahlias and lisianthuses, in bright yellows and softer pastel shades. Overall, the arrangement should complement your home.
"Someone who has a modern, clean, white home may want clean, white flowers to match, or bright-coloured flowers to be the only pop of colour in their home," Stewart says. "If you have more of a rustic-themed house, garden-looking florals and wildflowers will look best."
For a table arrangement, Stewart recommends using several cube and rectangular vases, as opposed to a single round vase. Insert greenery first, bigger focal blooms next and accent flowers last. A tip from the pros: tape the top of each vase like a grid, or use floral foam so the flowers don't move.
Furnishing with florals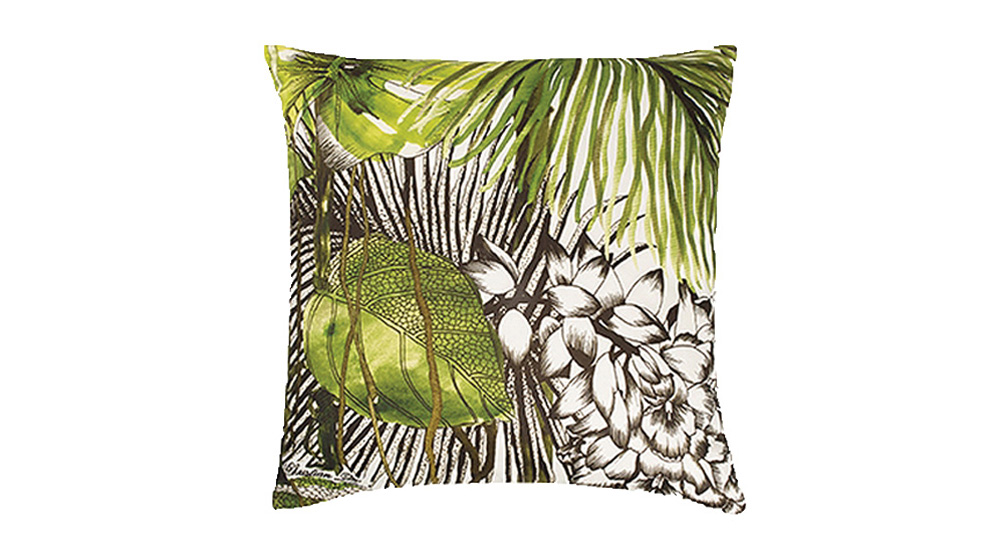 Jardin Exo Rainette pillow from Chintz & Company.
While floral decor is often eschewed on account of being too girly, you can create a more gender-neutral "Zen-garden" look by contrasting flowered sheets, draperies, cushions and upholstered chairs with "foliage furnishings" – think green, brown and white pieces, says Linda Kelly, design manager at Chintz & Company. 
Leaf and branch patterns also work, as does actual foliage. "Bring in ceramic pots with silk leaves or live plants with a lot of height," Kelly says. For a room that will be in style, no matter what the season, look for a white or off-white base with a splash of colour. Blues and purples are trendy summer shades that transition well into fall, Kelly says. 
If you don't want to completely redecorate, try incorporating subtle floral accents like plants or wall art. Whatever your intention, Kelly recommends starting with a design board. "Find something that truly excites you, such as a piece of art or the colours in a piece of fabric, and then create around that one piece," she says.
Making your home smell like a garden
Essential oil diffusers let you enjoy nature's fragrances indoors. Unlike oil burners that heat essential oils and change their molecular composition, diffusers release oils through cold dispersal, providing countless health benefits – lavender, for example, is known for its calming effects, while geranium oil, with both relaxing and uplifting properties, is good for stress relief. 
Katherine Thomas, manager of The Apothecary, an aromatherapy store in Inglewood, recommends ylang ylang as an essential summer scent. The floral aromatic compound has a tropical fragrance and promotes feelings of euphoria. 
As for the diffuser itself, Thomas recommends the Jasmine Ultrasonic for its subtle design and range of colour choices to match any decor scheme. Fashioned from essential oil-safe plastic, it's also shatterproof, making it a child- and pet-friendly option.
Another way to bring summer scent into your home is with handmade potpourri. Jessica Fremont, owner of Willow & Whimsy Floral and Tea Boutique, creates hers by cutting the heads off a bouquet of expired flowers, removing the larger petals and laying everything to dry on a tray. For every four cups of plant material, she blends two to three drops of citrus essential oil and two to three tablespoons of orris root powder (a plant-derived compound available at craft stores) to seal in the fragrance, combining everything in a large lidded container and gently turning over a few times to mix, then setting aside for four-to-eight weeks, turning daily.
For a summery scent, Fremont recommends a combination of spray roses, craspedia and lavender heads, with silver brunia balls for texture.
Tasting florals
Floral garnishes can make an ordinary dessert extraordinary. For an alternative to sugar flowers – an advanced technique that's difficult to master – Lexie Stewart (who is also an avid baker) paints flowers directly onto cakes and cookies covered in fondant. "It's so beautiful, and can be simple or intricate, depending on your painting capabilities," she says.
To make the edible paint, combine powdered Jell-O mix and gel food colouring and apply with a clean paintbrush. Pam Fortier, owner of Decadent Desserts Inc., takes a more natural approach to garnishing by using fresh flowers, albeit ones that are not meant to actually be eaten. "The vibrancy of fresh flowers cannot be beat by anything the human hand can make," she says.
To garnish a cake, Fortier groups flowers of varying colours, shapes and textures in an asymmetrical design. Popular summer choices include rose petals and cornflowers, as well as orchids, which are easy to arrange based on their unique shape.
Fortier is also known to incorporate flowers in her recipes, infusing honey with lavender and adding it to whipped cream for a delicious and fragrant dessert topping.
---
How to make whipped cream with lavender-infused honey
1. In a glass container, combine 1 cup honey with 1 tsp. unsprayed lavender flowers (available at specialty food shops like the Cookbook Co. Cooks)
2. Microwave on high in 30-second increments until the honey has loosened and you can smell the aroma of the lavender.
3. Cool overnight.
4. Microwave again to reliquify for easy straining.
5. Pour honey through a mesh strainer to remove lavender flowers.
6. Add 1 to 2 Tbsp. honey (according to taste) to 1 cup of whipping cream, storing extra honey in a sealed jar.
7. Microwave cream until honey dissolves.
8. Chill overnight.
9. Whisk cream to desired consistency.
Tip: Substitute locally produced Vital Greens for commercial-brand cream.
-Recipe courtesy of Pam Fortier, Decadent Desserts Inc