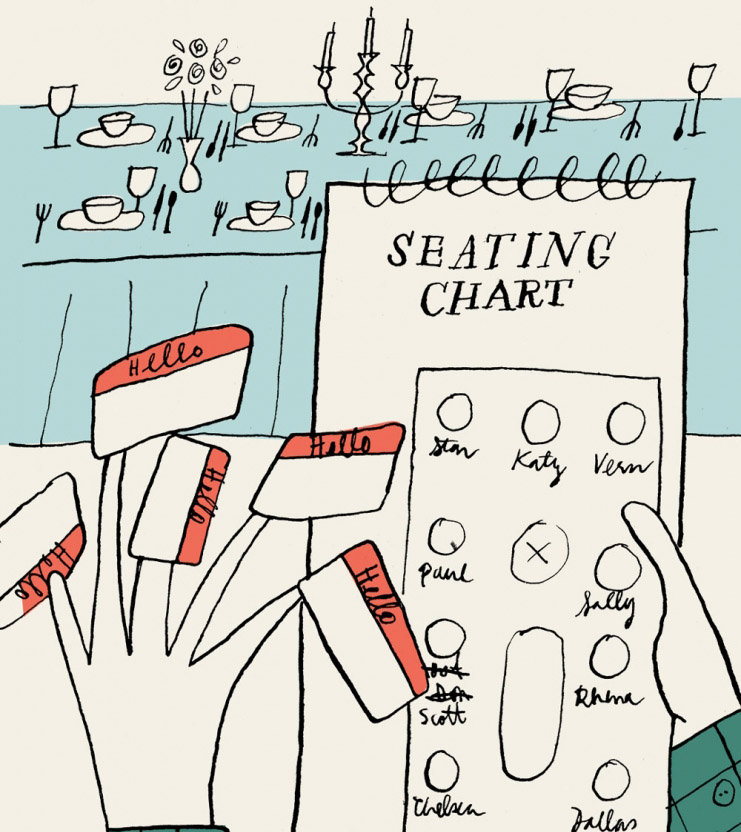 Bringing any group of people together comes with the risk of social disharmony, but it is possible to take the bull by the horns when it comes to guests getting along. Be selective with your guest list, create an environment where they can get to know each other and don't be afraid to make introductions and guide conversations.
Prep and relax
Consumate host Clare McWilliams says she doesn't feel pressured to "entertain" the guests she's hosting, and neither should you. "In my opinion there's nothing boring about eating, drinking, tunes and great company," she says. "The more relaxed you are as a host the more relaxed your guests are going to be." Accomplishing most of the party prep a couple of days before allows you to relax and focus on your guests when they arrive. "That calmness you have when you know you've got everything covered comes through, and you're enjoying yourself so your guests are more likely to feel that level of comfort and enjoyment and emulate that," says McWilliams.
Name tags and icebreaker games
For larger gatherings, where the guests won't all know one another and you may not be on hand to make introductions, [interior designer and frequent host] Paul Lavoie favours using name tags and icebreaker games to get everyone out of their comfort zone and talking. "It sounds ridiculous and kind of tacky, but it's not to me. It lets everybody communicate and it gives you a talking point for someone when you walk up to them," Lavoie says.
Games allow people to share common ground and break down inhibitions. Asking guests to dress to a theme or even a certain colour is another way to help loosen things up.
"Anytime you can make people feel like they're all on one side or part of a larger team they all get along better. It adds a little bit of fun to the air," says Lavoie.
No plus-ones
Greg Fraser, co-owner of Dade Loft, has a novel approach to getting guests at his monthly dinner series to chat more – he hand-selects guests from different industries and doesn't let them bring a spouse or friend. That way, they have to talk to new people instead of just chatting with the person they came with.
"The nature of our dinner series is about creating community and growing a network," Fraser says. This approach might not work for everyone, but it does keep the conversation flowing.
One sentence introductions
McWilliams says if you get the jump on introducing people the conversation will flow. "Be a connector," she says. "Casually introduce your guests to one another; in one sentence explain how each is connected to you or the guest of honour, and say something interesting or unique about each of them. Provide that icebreaker and they'll take it from there."
Congregate in one place
Being strategic on where you choose to congregate can also lead to rapport between guests. Marie-France Lyras, owner of Ateliers Jacob, an interior-design firm that specializes in kitchens and custom cabinetry, says her gatherings often start with everyone casually visiting around the kitchen island. At dinner, Lyras prefers to bring everyone together around one table – kids included. Even if it is crowded, this ensures the energy in the room doesn't dissipate. "It's more enjoyable and it's more fun," she says.
Don't panic
When the inevitable lull in conversation happens, the trick is to not panic, says Fraser, but to take control. "For sure, sometimes there are little blips in conversation, but it doesn't mean that people aren't getting along," he says. "Sometimes it's just a lull."
If you're not confident in your abilities to lead conversation around a dinner table, throw a different style of party, Fraser advises. "Do a cocktail party or an open house."