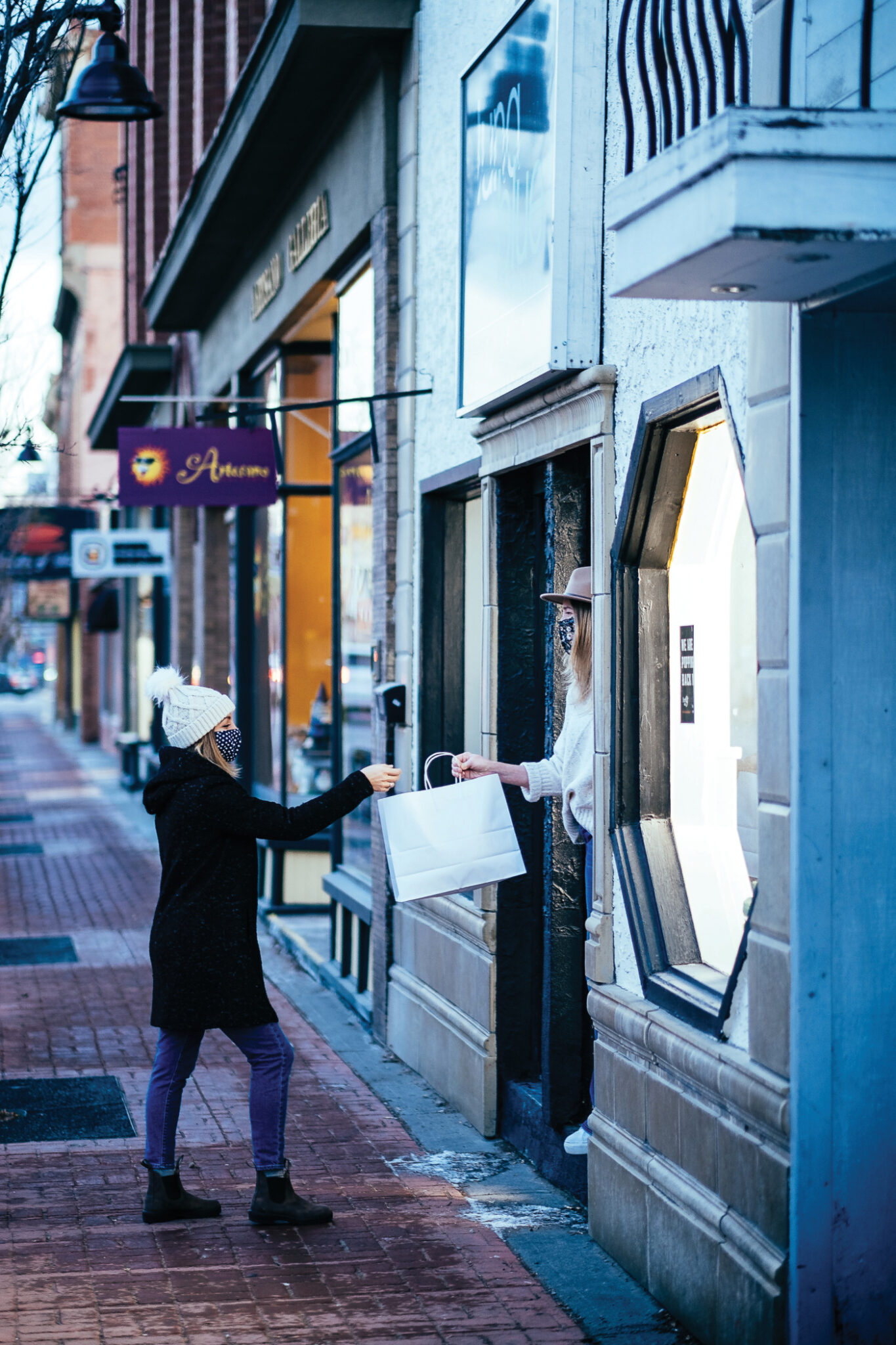 COVID-19 continues to alter our habitual ways of living, and figuring out how to shop this season is just one more thing to consider. Local retailers know there's no room for crowds this year and have implemented some creative approaches. Here are some of the options out there for safer shopping this season.
1. Use Contactless Pick-up and Delivery
When pandemic restrictions first shut down the city, many businesses were quick to add reduced-contact options such as online ordering and curbside pick-up or delivery. These days so many shops offer new ways to access their wares without having to come into their stores that your best bet is to call your favourites to ask about the options. It's best to call ahead (or visit the store's website) even if you are planning to visit in person, as many have new rules in place to control capacity and ensure their customers can stay physically distanced. Plant, located at 1327 9 Ave. S.E. in Inglewood, has implemented a reservation system similar to that of a restaurant: customers can choose to "wait in line" for their turn to shop in-store and are notified via text message when it's their turn.
Other local shops offering contactless pick-up or delivery:
Collab, Southcentre (main level).
gravitypope, 1126 17 Ave. S.W.
Kit Interior Objects, 725 11 Ave. S.W.
2. Shop By Appointment
Booking a virtual appointment or a private shopping appointment for yourself is a practical and personal option to safely visit your favourite store. Saks Fifth Avenue, for example, has a service called Saks By Appointment. You can book time with a personal stylist who will take you through the store before or after regular store hours, decreasing contact with other customers. "We knew that we had to evolve with the times to still make the experience relatable back to our company, because we're a company that really believes in personalization," says Lydia Seifert, vice president general manager of Saks Fifth Avenue at CF Chinook Centre. Saks also offers virtual shopping appointments via video chat with personal stylists who will take you around either Saks Chinook or Saks Toronto locations showing products and options in real time.
Other local shops with personalized shopping experiences:
27 Boutique, 1510 17 Ave. S.W.; private after-hours shopping and one-on-one styling appointments.
Joydrop, Southcentre, Westhills and CF Market Mall; private shopping hours by appointment and appointment shopping during regular hours.
Rubaiyat, 722 17 Ave. S.W.; in-store shopping by appointment (also open at reduced hours for non-appointment shopping in December.)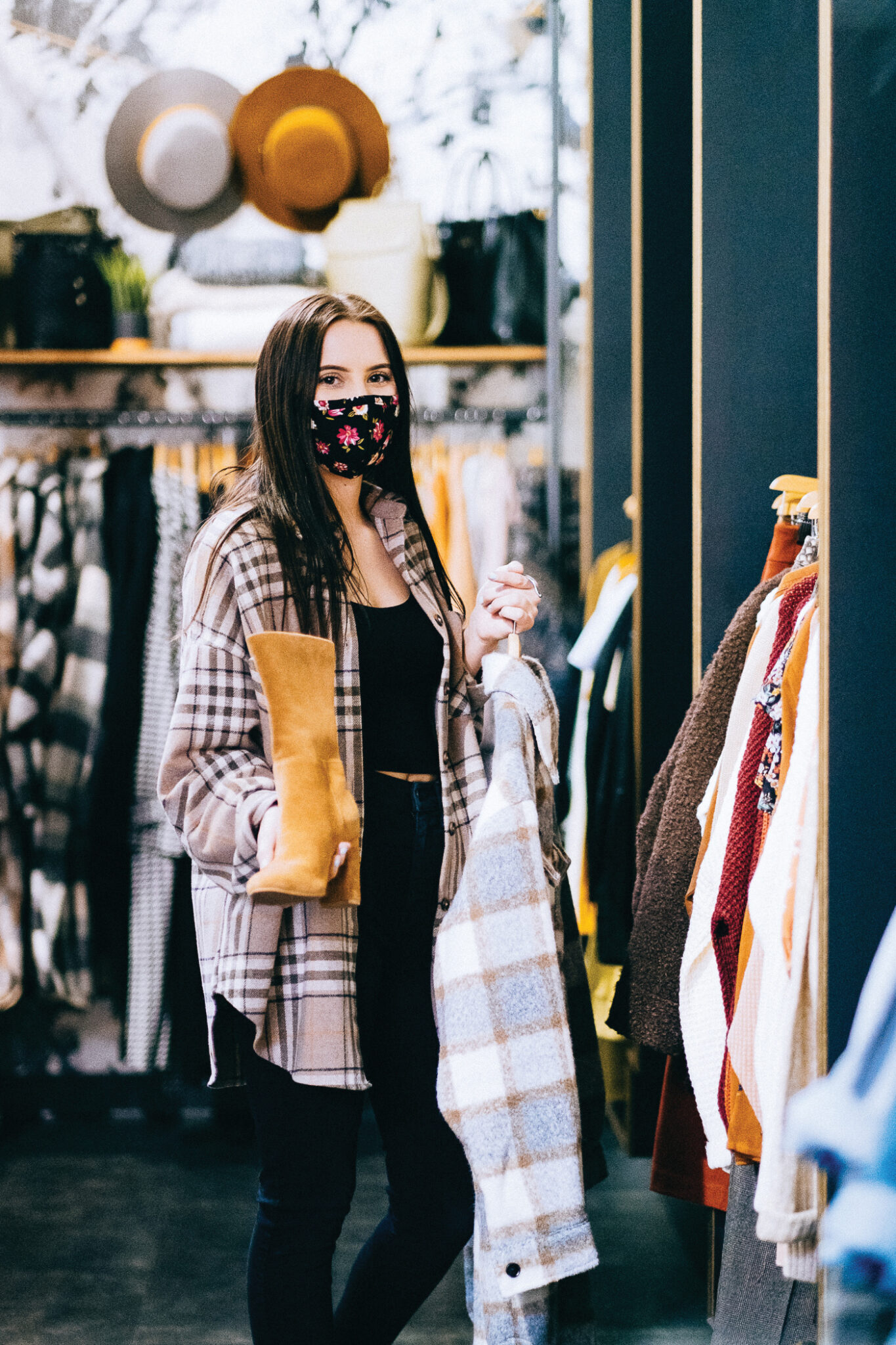 3. Shop for Made-in-Calgary Brands Online
If you prefer to shop from home, or you're unable to leave your home but still want to support local retailers, Calgary-based localshops.com has launched just in time for the holiday gift-giving season, with more than 10,000 products listed and growing by the day. The beauty of this platform is that it gives local artisans and businesses a home advantage in the e-commerce space. Simply select a city you'd like to browse in on the homepage, and shop away.
Etsy, the global marketplace for handmade and vintage items, is another great resource for reaching independent maker-retailers in Calgary who may or may not have a storefront. It's relatively easy to tailor your search to find them: after searching for an item on the Etsy homepage, open the filters on the left-hand side and change your shop location to Calgary, Alberta.
4. Shop the Boutiques in a Retail District
Calgary has more than 10 Business Improvement Areas (BIAs), which are home to boutiques, shops, restaurants and more. Since spending time in outdoor spaces lowers the chances of virus transmission, many BIAs are gearing up to welcome socially distanced shoppers. "Everyone is hungry for experiences that feel like normal life is returning," says Annie MacInnis, executive director of Kensington BIA.
Kensington will be hosting a number of holiday-themed events this December, on weekdays as well as weekends, to help spread out crowds and support local entrepreneurs, and the BIA is also installing more lights to make Kensington look extra pretty. The BIA has partnered with TELUS Business to host a social media giveaway campaign via Instagram, featuring prizes from local businesses. Every Saturday from 11 a.m. to 2 p.m. there will be various street performers outdoors including Santa Claus himself, Princesses Elsa and Anna from Frozen, a juggler act and a magician. There will also be extended hours and late-night shopping. Stores are operating with lowered capacity and mask-wearing is in effect, but planning to get your shopping done during off-peak hours (like when the shops first open or during the weekdays) helps lower contacts even more. Kensington isn't the only BIA to explore this season: check out the shops of 17th Avenue S.W., or stroll 9th Avenue S.E. in Inglewood.
[This story has been updated from its original print version to take the latest Alberta COVID-19 restrictions at the time of online publication into account. For the latest information on COVID-19 restrictions in Alberta, please visit alberta.ca.]