For as long as she can remember, Erin Ferguson has always had a thing for character buildings. Born and raised in Arizona, Ferguson moved around the United States before settling in San Francisco – basically a mecca for quaint, heritage homes. After serendipitously meeting her future husband while on vacation, Ferguson relocated to Calgary, her husband's hometown, to settle down and start a family.
While house-hunting in Calgary in late 2012, Ferguson knew she wanted a home that had historic roots and would fit her more traditional and timeless aesthetic. She chose to look only at century-old homes and instantly fell in love with a four-bedroom, three-bathroom sandstone colonial in Elbow Park.
"It immediately felt like home to me," she says. "Every detail that was original to the house, like the lead windows and old – and functional – fireplaces, made me want it more. The original bones are still here and I love it.
"The only things we really changed were the paint and wallpaper. The built-in cabinets, the old radiators – all of the character is what drew me to it."
Now, as a busy mother of two young boys, Ferguson divides her time as a stylist specializing in children's wear and acting as co-owner of (pre)shrunk baby, children and maternity consignment. The 2,700-square-foot home sets the stage for her family gatherings, her children's playtime and her consignment clothing business.
All-American aesthetic and vibe
Ferguson's decor choices are consistent with the style of her 1912 home. For the living room walls, she chose Benjamin Moore's "Ever Classic" – a colour she says is the perfect neutral, especially when paired with the old hardwood floors and the strong character elements throughout the space. As a tribute to her home country, Ferguson infused a bit of Americana in the living room with an antique American flag, which is housed in a rustic wooden frame.
When seeking out unique pieces and inspiration for her home, Ferguson says she looks "absolutely everywhere," from Restoration Hardware and Target to antique shops; and, in particular, she cites using her own experience in retail merchandising as a source of inspiration. Creating vignettes in various colour schemes and styling in a way that makes you think, "I want one of everything!" is Ferguson's own brand of interior design.
"I purchased my oversized coffee table book, Monsters of the Household Variety from Anthropologie the minute I found out I was pregnant with a little boy. I had seen it before and thought, 'Oh gosh, it is so expensive, but I can totally justify it as artwork," says Ferguson. "It was meant to go in the nursery but it has now found a permanent home on the main coffee table in our living room. I change out the objects and other books around it seasonally, but it has become a mainstay piece."
A curated home and life
The home is filled with many treasured items, such as the extensive collection of brass candlesticks Ferguson has lovingly gathered over the years. For every family dinner or big holiday, Ferguson uses them to create a stunning display down the centre of her dining table. Each object adds more charm and personality to the home, which is essential to Ferguson's personal design philosophy: "Keep the things that you love in focus."
Those holiday gatherings and family dinners are fundamental to the Ferguson household and their love of entertaining. The house, which has likely seen its fair share of parties in its 100 years, certainly sets the stage for it. Ferguson's favourite holiday is American Thanksgiving in November, and it has become a family tradition to celebrate it in a big way each year.
"The first year that we lived here was just after the 2013 flood, so it felt really important to host a dinner for all of our friends and neighbours. We had about 50 people packed into this house," says Ferguson. "We cooked two 25-lb. turkeys and rented some chairs. Everybody ate with their plates on their laps in every room on the main floor. People left our house at 4 a.m. This house was built to be full of people."
---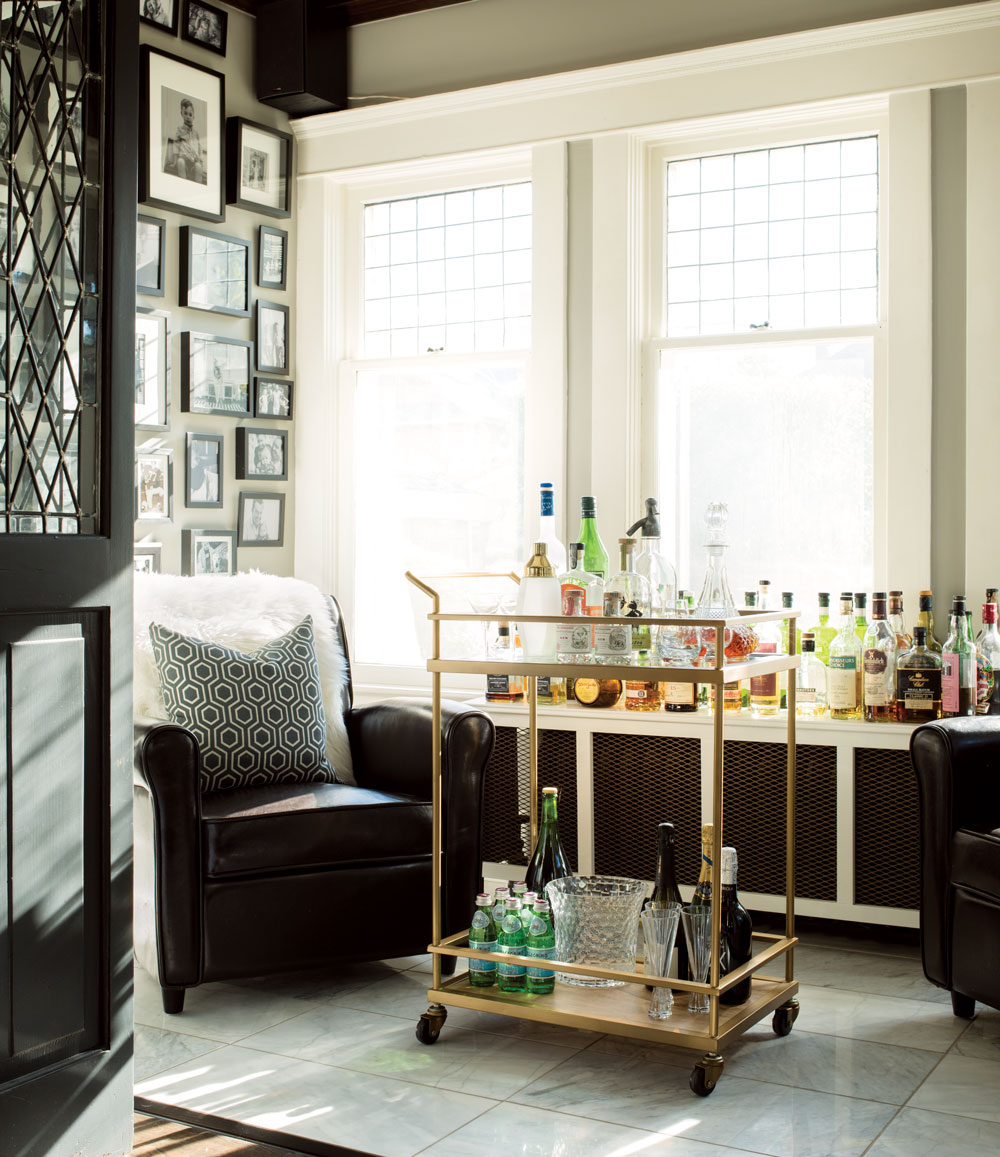 Big, sunny windows, which are original to the home, set a quaint backdrop for the impressive home bar.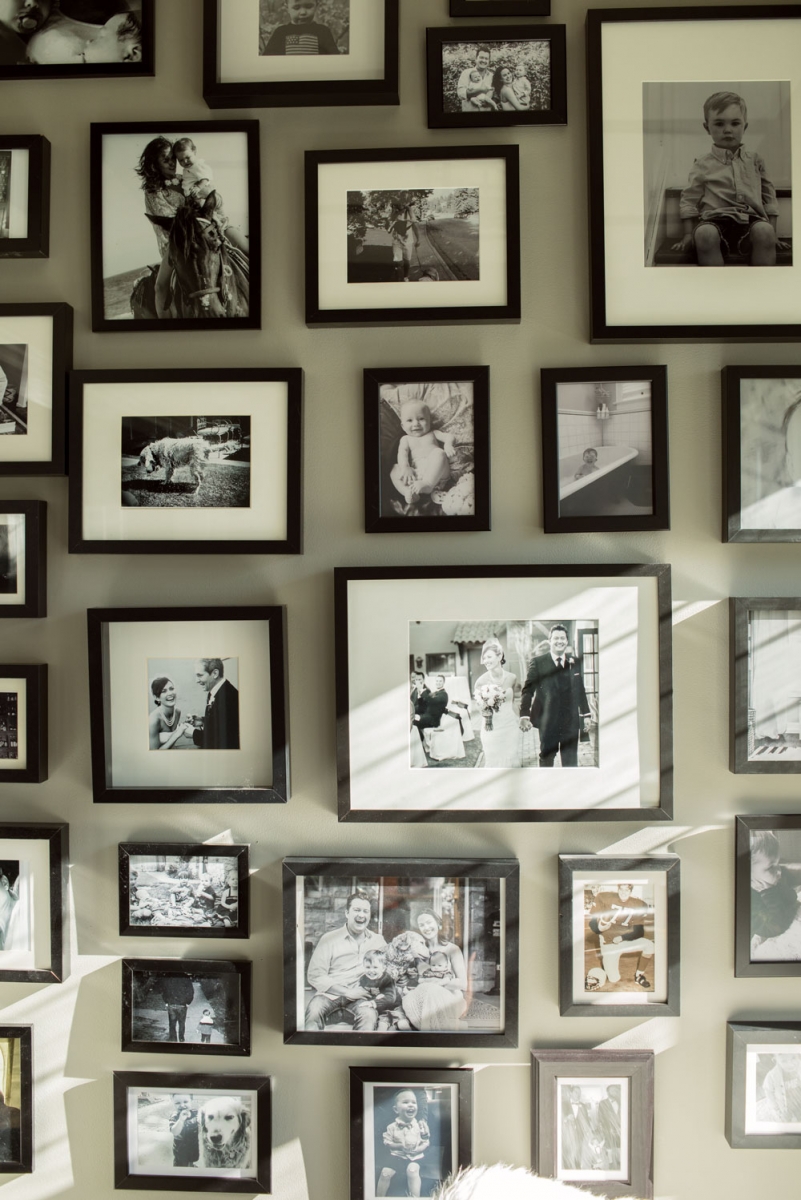 The family-tree gallery wall includes photos of many of the family's special moments.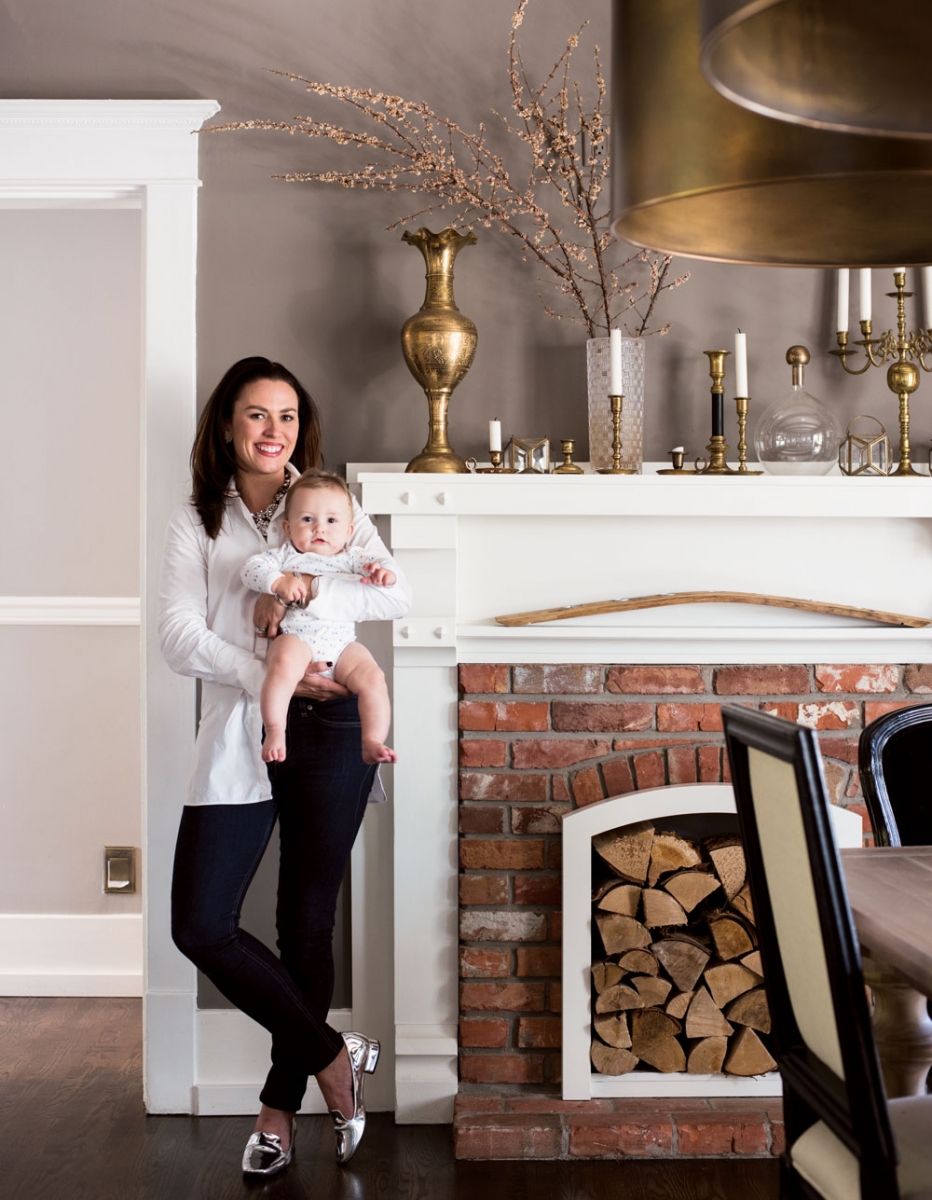 Homeowner Erin Ferguson (with baby Magnus) loves objects that have sentimental meaning. Each brass candlestick on the mantel has its own story.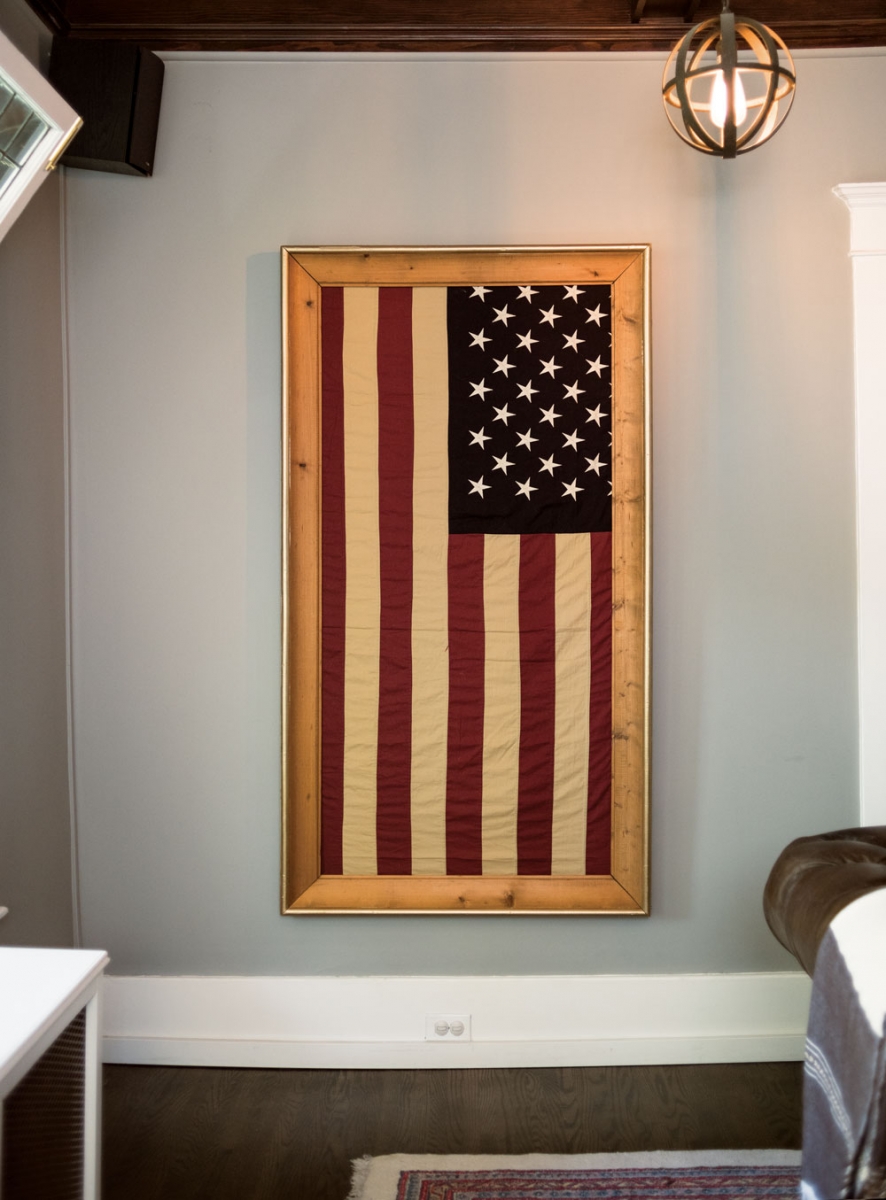 Paying tribute to her home country and her love of classic Americana, homeowner Erin Ferguson recently hung this custom-framed flag.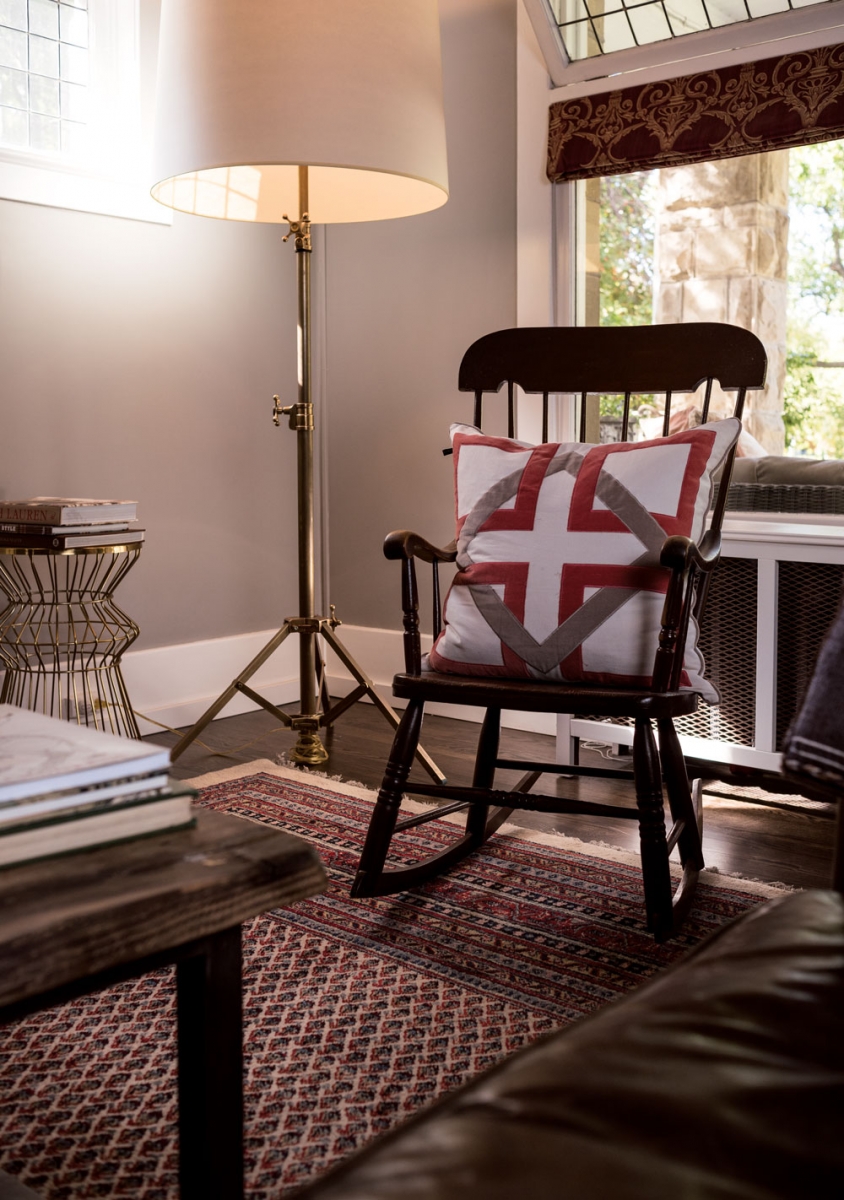 The antique rug in the living room is one of Ferguson's treasured finds from a trip to Palm Springs.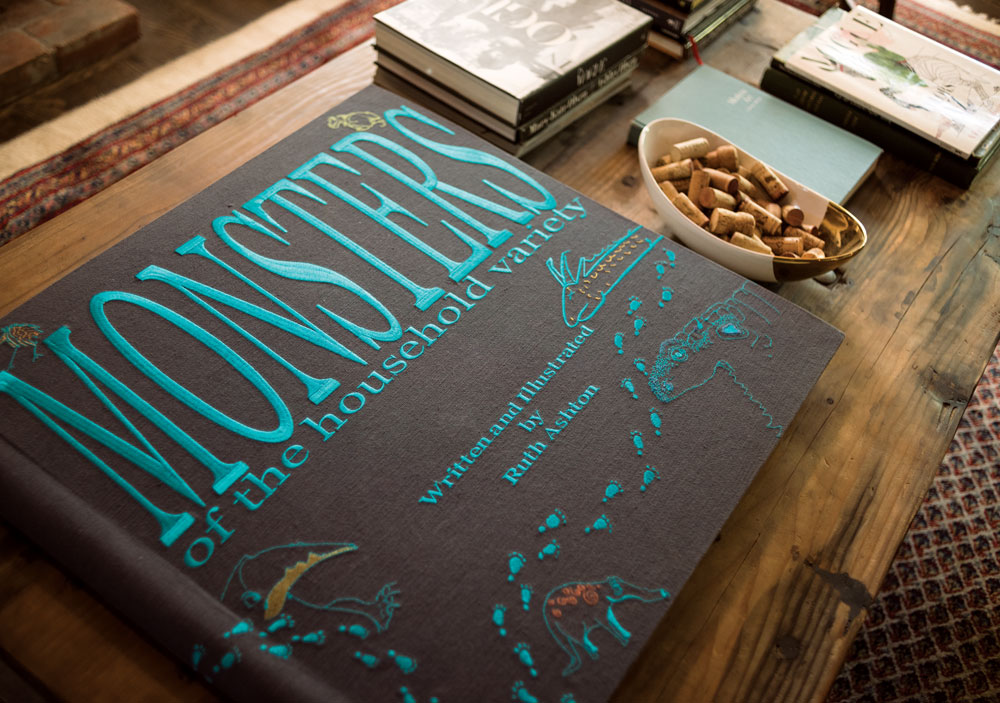 Ferugson purchased this oversized coffee table book from Anthropologie.
The Fergusons' cozy study.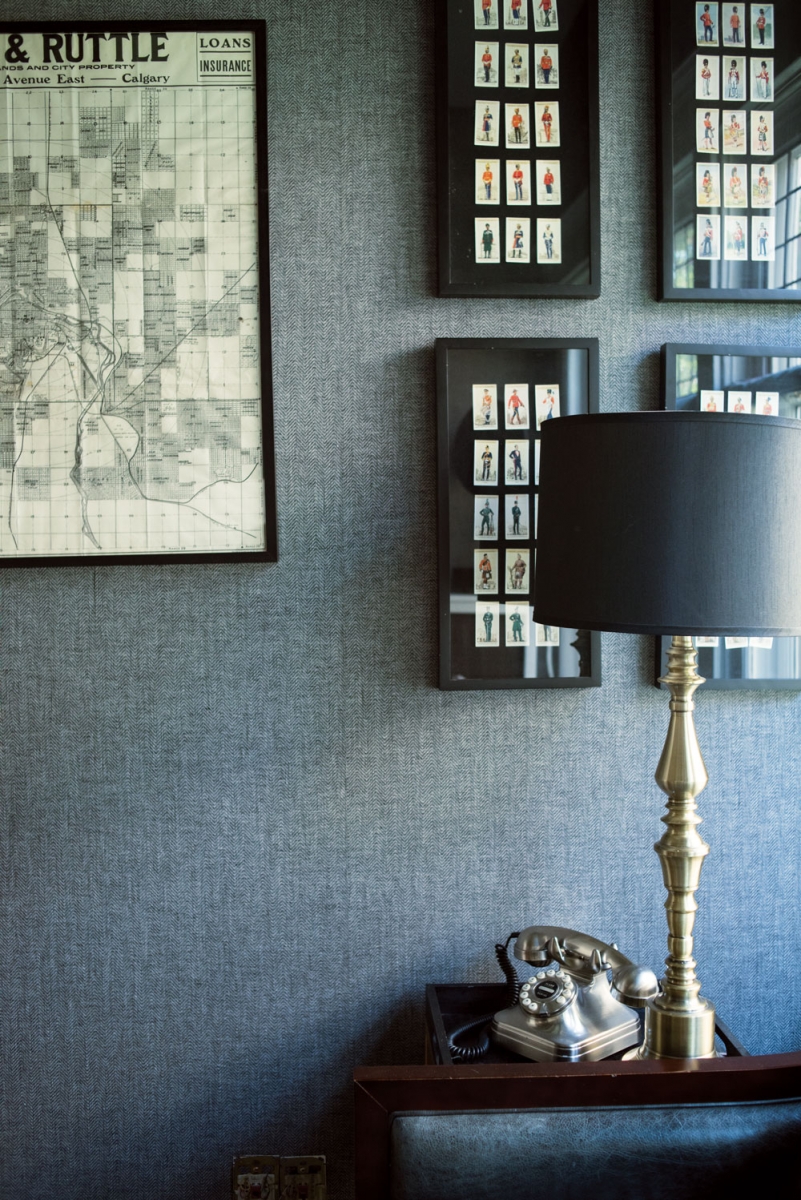 The study features several antiques such as a 1910 realtor's map and framed World War II cigarette- package soldiers the couple found at a flea market in Toronto.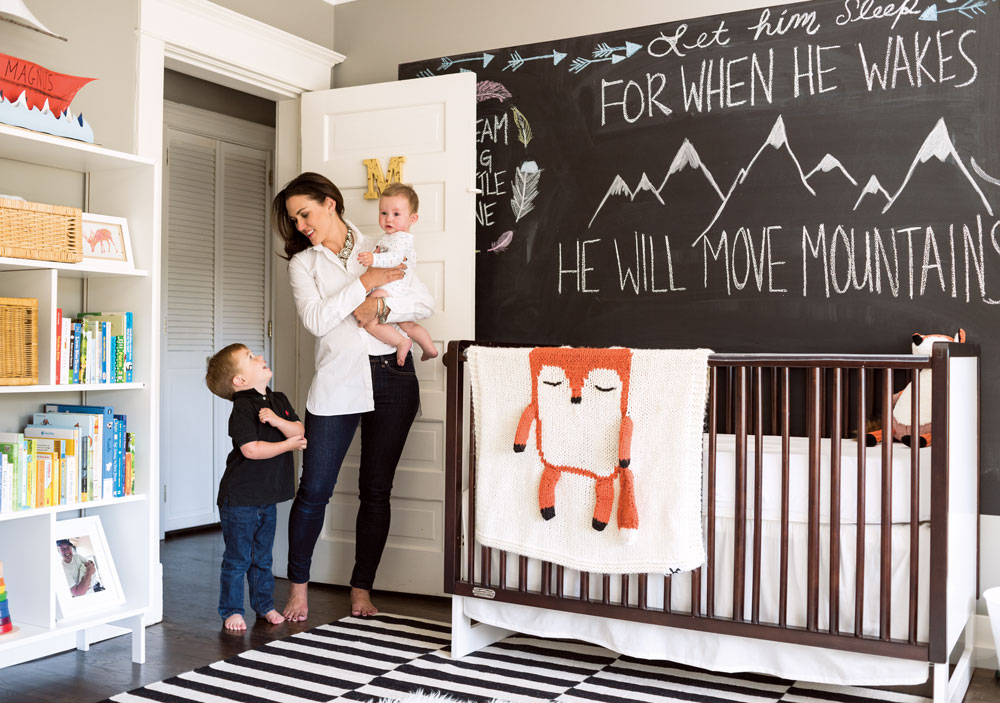 Baby Magnus's nursery is bright and playful with a wall-to-wall chalkboard for future doodling.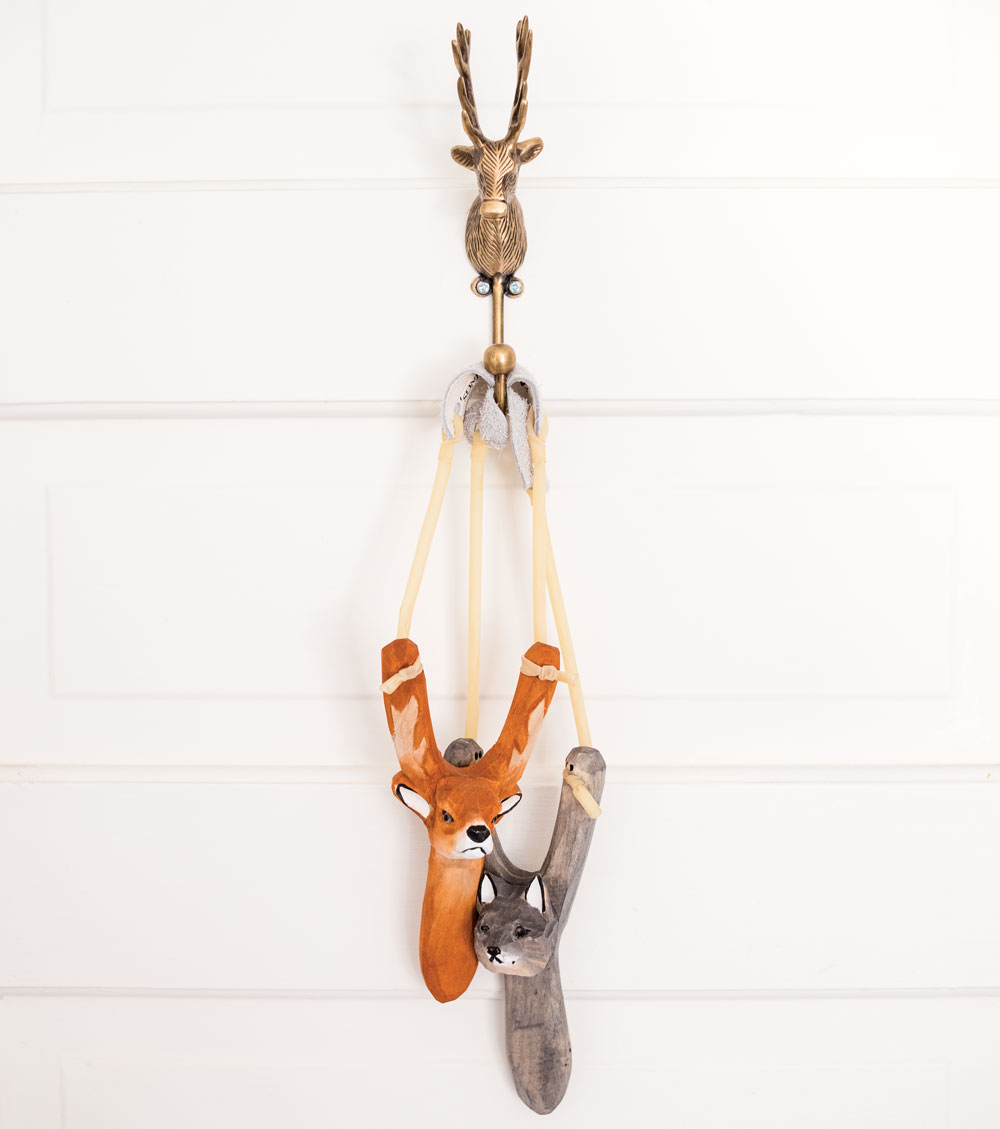 Whimsical decor elements prove kids' rooms can be cute and stylish.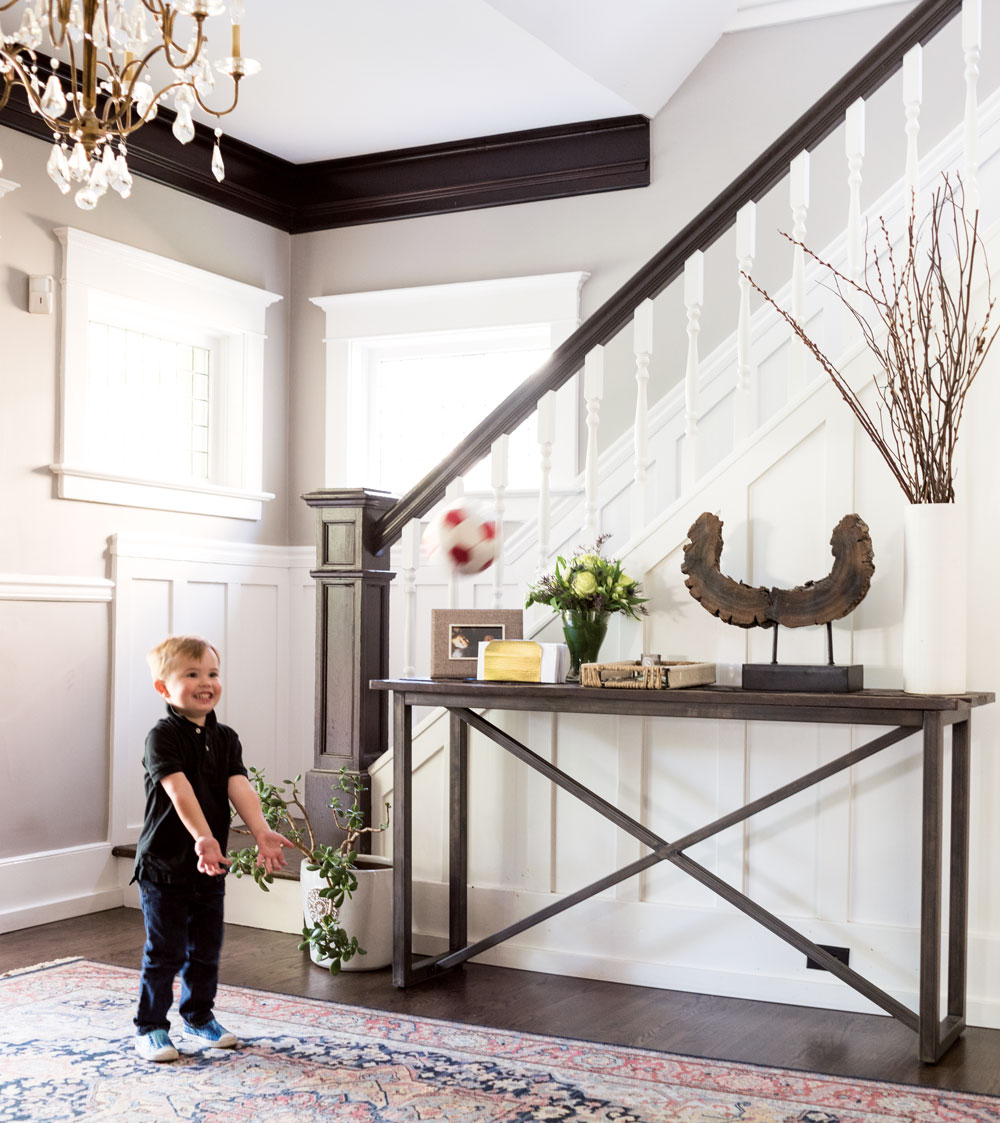 Gunnar enjoying the home's sizeable entryway.
---
Erin Ferguson's tips for accessorizing with style
Change things up
"I love to change things up seasonally, but I'm a firm believer that you don't have to buy everything new. Simply reworking your coffee-table books, throws and pillows is a simple way to tell a new story in your home."
Mix high and low
"It doesn't have to be designer to make a statement. Seek out design inspiration in all sorts of places – you never know when you might find the perfect piece."
Find balance in your room
"One of the first steps to creating a cohesive space is finding a balance – between colours, between scale and size and between objects. Experiment until it looks right."
Curate your clutter
"I am by no means a minimalist, but I still believe that you can own lots of interesting objects in a way that is clean and simplified. Keep the things you love in focus and get rid of anything that doesn't fit."
Oversized is everything
"Personally, when it comes to art, furniture and rugs, I believe the bigger the better. Make a statement in your space."