Inside Jennifer Bassett and David Tyl's Live/Work Loft
Take a tour of the custom-designed live/work loft of architect David Tyl and architecture student Jennifer Bassett (and their dog, Aubergine).
By Kait Kucy
Architect David Tyl, architecture student Jennifer Bassett and their dog, Aubergine, in their Inglewood loft.
Photo by Kait Kucy
When David Tyl and Jennifer Bassett purchased their new home in May 2014 it was a completely gutted and raw space. Located in historic Inglewood in the McGill Block, it had 11-foot ceilings, beautiful west- and south-facing windows and most importantly, incredibly good bones for creating their dream work/live space. Both coming from design backgrounds and working in the architecture field, they designed the space from head to toe. Despite recently completing the major elements of the space in the fall of 2014, the two creatives claim that their work will never be done in the space as they always look to improve and experiment with design, art and functionality.
What is your design philosophy?
I think it is about contrasting the heritage and classic styles with modern elements. The building was built in 1911 and has a lot of historic elements. It was eventually converted into condos in 1987 after a fire gutted the interior. We wanted the floor to be more rustic and make the kitchen into a modern clean space. Even with our furniture choices we consciously decided to contrast warm woods with high-gloss cabinets.
What is your favourite room in your home?
We love our kitchen. We spend about 90 per cent of our time sitting at the big table, spreading out our projects and working. We originally created a workspace in our bedroom, but now we use that more for browsing the Internet and relaxing. It is just nice to be working on our computers, building things or drawing, and being able to look out the windows at the river and downtown while we do that.
Another thing we really love about this place is that there will never be new developments outside of our windows. We live across the street from the Deane House, which is one of Calgary's most important heritage homes. The river is right there too – so what you see is what will always be here.
photo by kait kucy
Tyl and Bassett used a combination of rustic wood and high-gloss black-and-white cabinetry to create a modern yet inviting space.
What is your most treasured item and where is it from?
Our favourite item is definitely the giant globe light fixture. Right before we bought the place we were looking around Reclaimed Trading Co. in Ramsay. We found these spheres and we both had the exact same idea to turn them into a big hanging light fixture. They are originally from the old Metropolitan Grill on 17th Avenue. We created a custom fixture and cap to turn them into a hanging light. We had them before we even had the place and it just worked out!
photo by kait kucy
The giant globe lighting fixture in the living room was salvaged from the old Metropolitan Grill on 17th Avenue.
What is your favourite decor find?
Our favourite decor find is the bench for our big kitchen table. It is from Structube on 17th Avenue. It was a lucky purchase – we were looking for chairs for the table and ended up getting one chair for a different table in our bedroom. We already had the two other chairs for the table and the bench worked perfectly with them. We can keep the bench in the same space against the window wall and move the table back and forth when we have guests for dinner.
photo by kait kucy
Bench seating from Structube lines one side of the multipurpose dining room table, where Tyl and Bassett like to work on ongoing projects.
Where do you find inspiration for decor?
Just because we are both in the design field, we are constantly looking at spaces. Always looking through Dwell and Domino magazines, we find images and designs that we want to replicate in our space. We have tons of magazines and books that we look through. When we are designing spaces we often need to spec finishes and appliances, so looking through catalogues for those items we often find ourselves thinking of how they could work in our space.
Even attending art shows (like at the Esker Foundation) gets us thinking about how we can use sculptural applications practically in our home. We were thinking about how we could use this one sculpture as inspiration for a soundproofing technique and light fixture in our bedroom.
A lot of our ideas come to us this way. For example, ideally, we would love to create a second bedroom above the closets in the front hallway [currently housing one of their bicycles].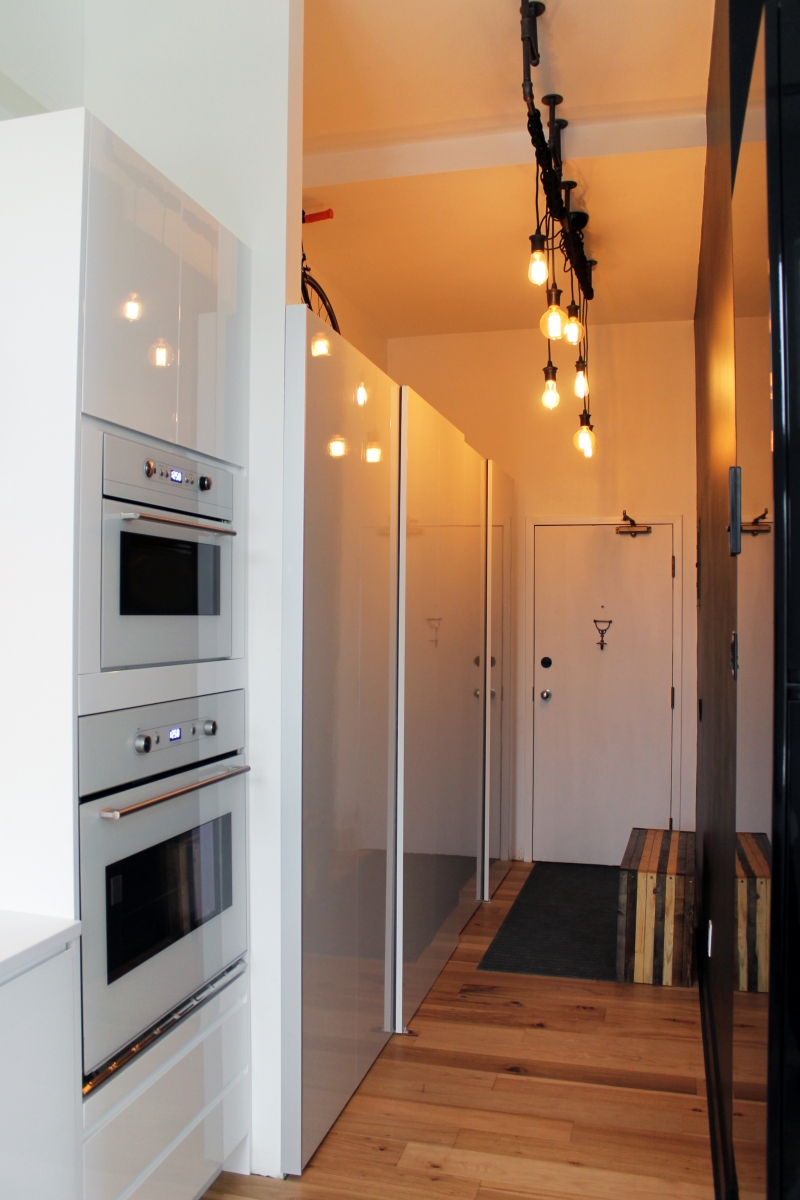 photo by kait kucy
The loft's 11-foot ceilings and open floor plan provide the opportunity to transform the space in the future. The couple would like to one day create a second bedroom above the closets in the front hallway.
What is your favourite thing about living in your home?
The light that we get and the views of the city. The orientation of our space is so important to us. Also, the location. Being part of the community of Inglewood is really great.
photo by kait kucy
Aubergine enjoys prime seating next to a window overlooking Inglewood.
Where do you like to shop for home decor locally?
IKEA, Reclaimed Trading Co., Anthropologie and Home Depot. Since we make a lot of our home decor we have been to Home Depot more times than we can count.
photo by kait kucy
A butcher block surface is decorated with a collection of decor finds that add colour and texture to the home.
Did you encounter a decor challenge?
When we first got the space we were missing walls, floors and there was barely a bathroom. The previous owner had to gut it after a pipe had burst. There were challenges with absolutely everything since we had to learn so many things along the way. We did a lot of research throughout the whole process. There wasn't any major hiccups, however, so we were lucky. As both artists and designers, it was really great to look at the space as a blank canvas. It was exactly what we were looking for.
photo by kait kucy
Natural light floods the loft thanks to its ideal west- and south-facing orientation.
What is your favourite view from your home?
West! The view of downtown. We look down at the RiverWalk a lot. We are really looking forward to when the Deane House is finished with renovations and the landscaping is complete. It will just be nice to people-watch.
photo by kait kucy
The west-facing bedroom window provides a great view of the city.
What do you want your next home to be?
We were just talking about this – whether we would do this [renovation] over again. There are additional elements we would like in our next space. This home is very open so it would be nice to have some enclosed spaces. For example, a second bedroom that is entirely enclosed would be great. We'd like a similar set-up to what we have now but add in a studio, garage or workshop, somewhere we can just build things. We've been trying to acquire a separate workspace but as of now we do all of our building right in the middle here. Having a place where we can use our saw would be amazing. Studio space is key for us.
photo by kait kucy
Deep windowsills in the loft provide extra surface space for pictures and fun personal items, like this neatly spaced collection of toy cars.