Sarah Ward built her company up to a team of four over the past five years with noteworthy clients such as Two Penny Chinese, Donna Mac and Proof Cocktail Bar, among countless others. The 1,200-square-foot space where the vision and planning for such projects unfold is a beautiful snippet of what the Sarah Ward Interiors team can create for their clients. Ward shares her inspiration and design direction for her Beltline studio.
Location, Location, Location
"I really loved the idea of setting up our office in a heritage building," shares Sarah Ward of her top floor office in the 1911-built Roberts Block in the Beltline. "But I didn't know if we would actually end up one. This was the first space the realtor showed me and I immediately wanted to move in. It has 11-foot ceilings, lots of historical character and skylights, which is really important for viewing all of our materials in as much natural light as possible. Beyond that I wanted an office in Beltline that would be close for clients to visit as well as convenient for myself and my employees. Major transit routes and bike lanes end up here as well."
First impressions
The reception area is setup to mimic a stylish apartment with ambient lighting, pops of bold colour and custom chairs by Red Eight Workshop. The custom plaster wall finish by Interiors to Inspire is a real showstopper.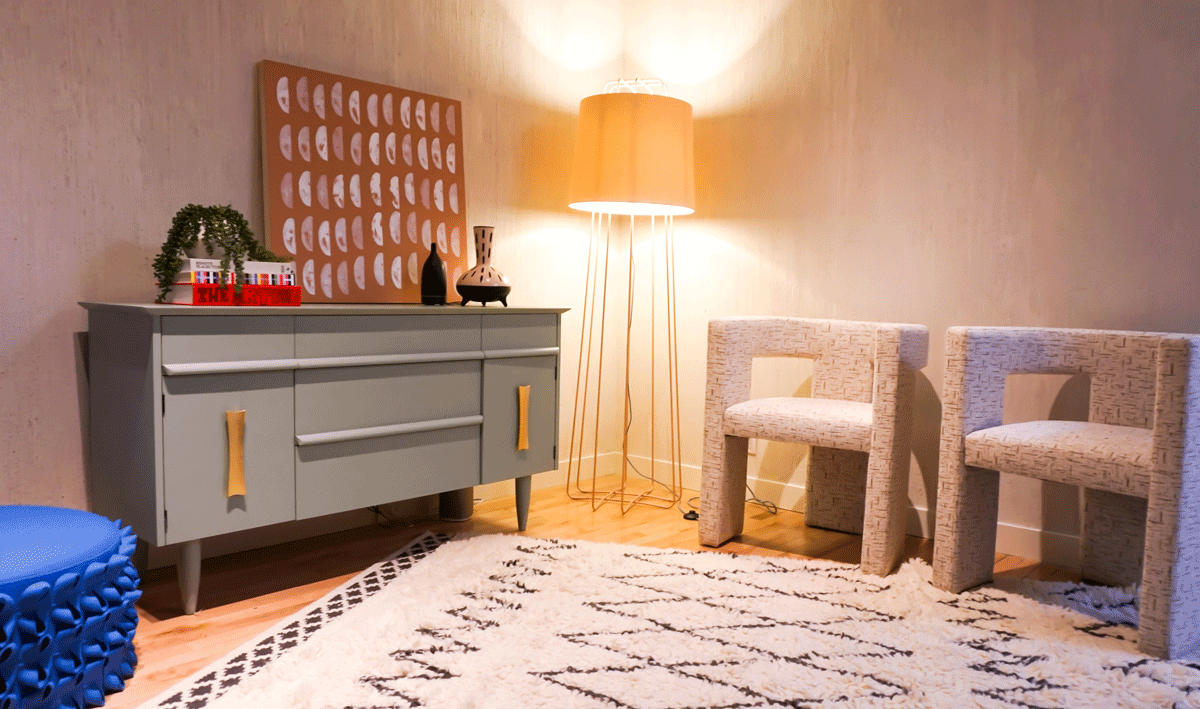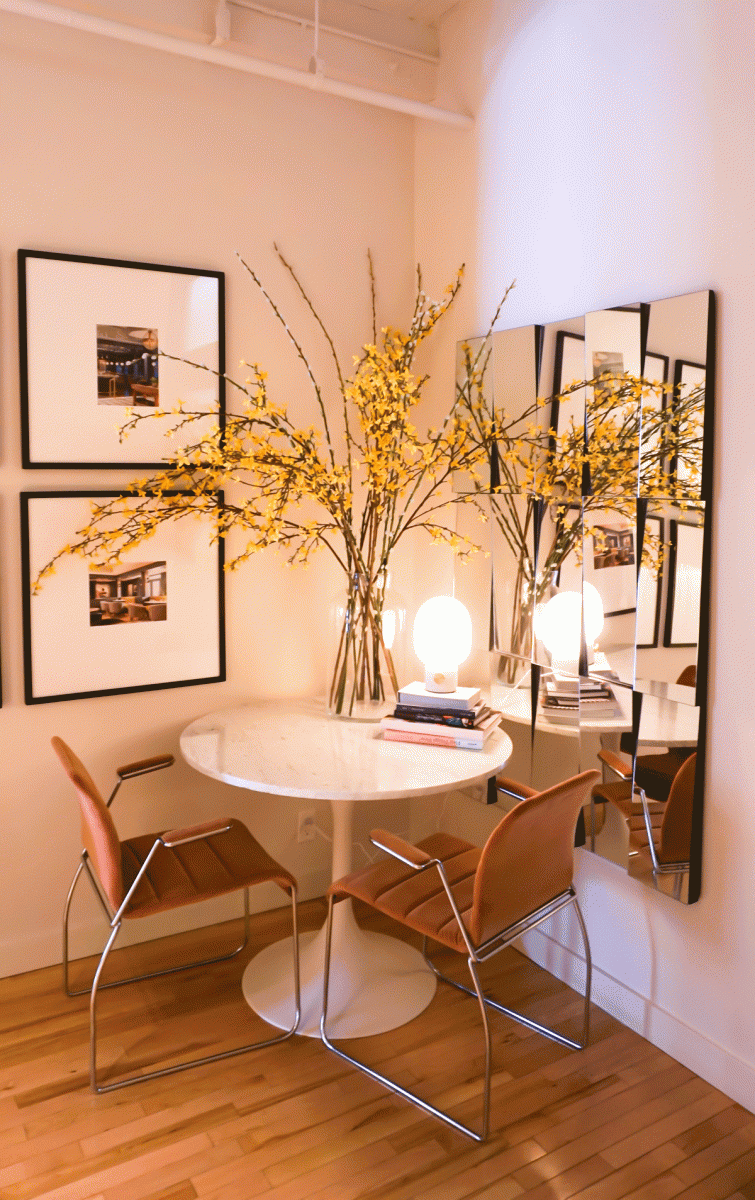 Creating a space where creativity flourishes
"Our studio is designed in a way that is very neutral so that we aren't distracted by any particular colours or really strong design elements while working on client work," explains Ward. "We can focus on exactly what we are doing. Our client forward spaces like the front entrance, kitchen and boardroom have more personality to them. We've brought in cool furniture, more dramatic paint colours and some of our favourite pieces of artwork. I also like to showcase work that our collaborators have done for us, for example our work table and the chairs in the front entrance. It is a great way for clients to visualize what we are capable of as a design studio."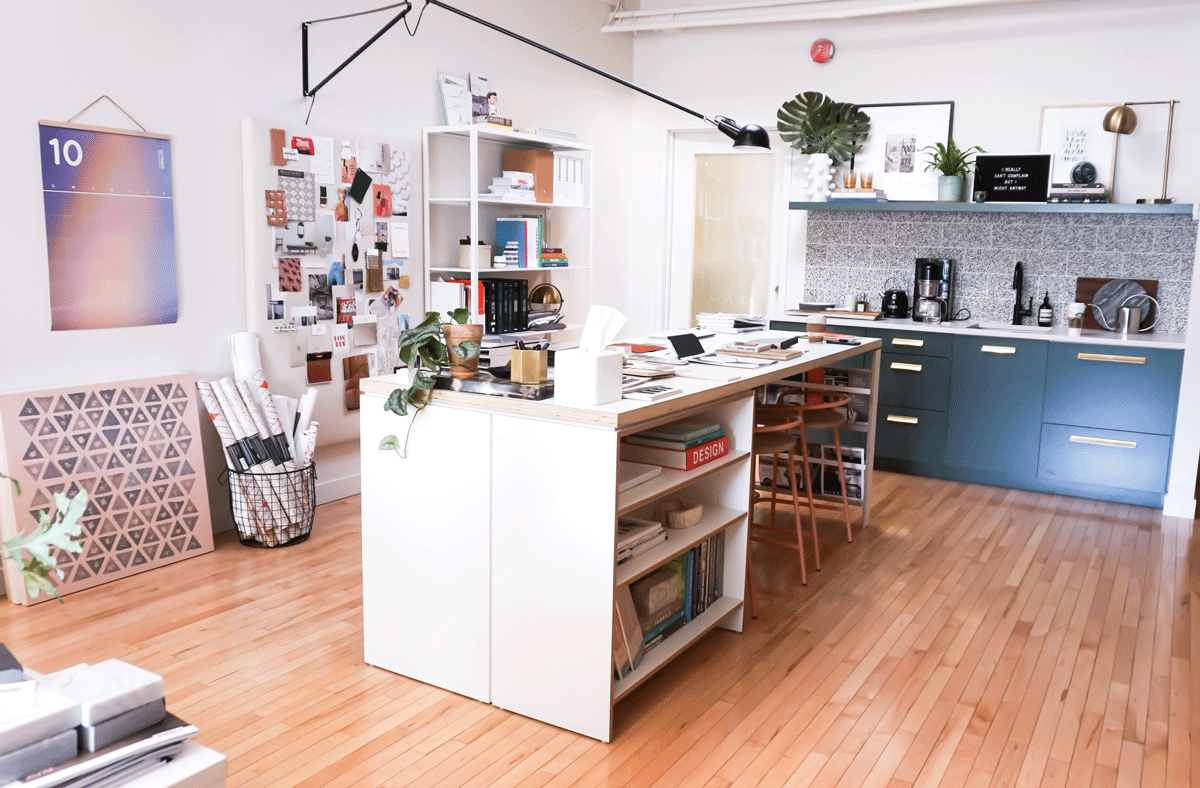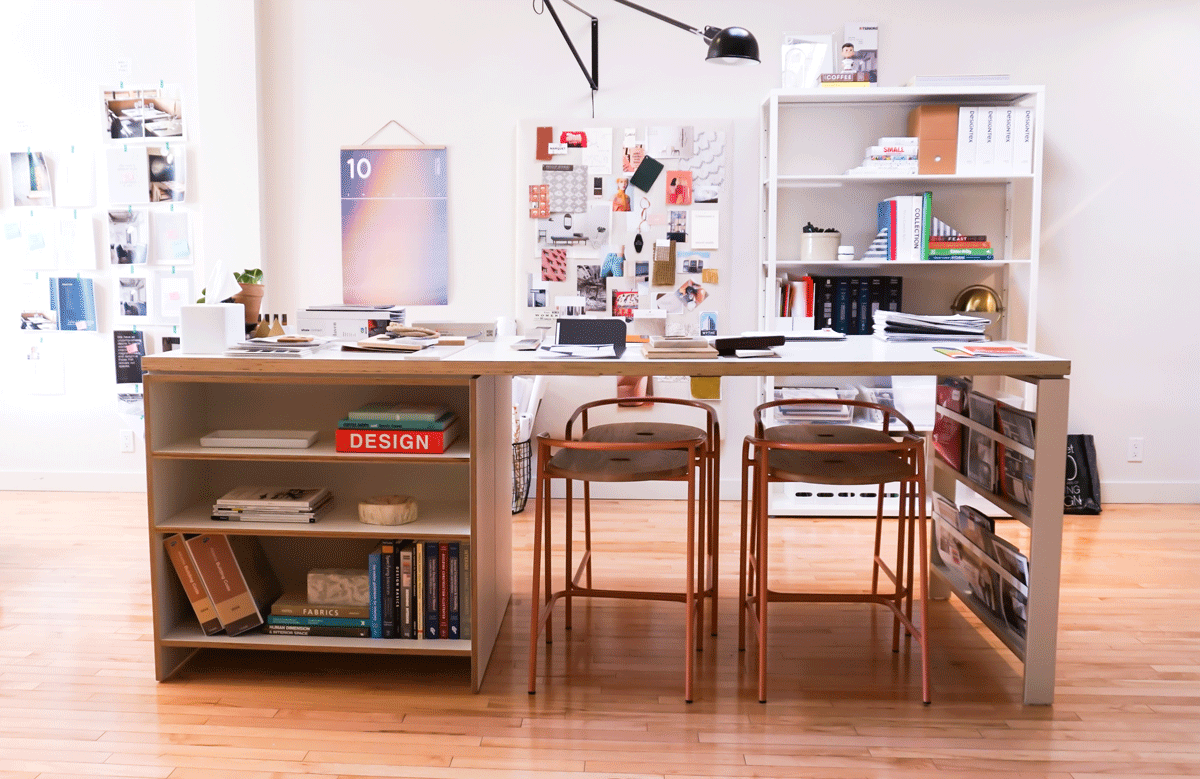 Designing a space for designers
"It's important for us as designers to have a really open work space. We have a very small team so collaboration at all times is essential. It is nice to have everything within view and reach," says Ward. "We're constantly pulling samples and pinning things up. With the open concept we're always aware of what's going on and what is new. When our clients drop by there is a lot to look at; their curiosity is always piqued." One of their partners, Tamarack, built the custom work table that grounds the studio space.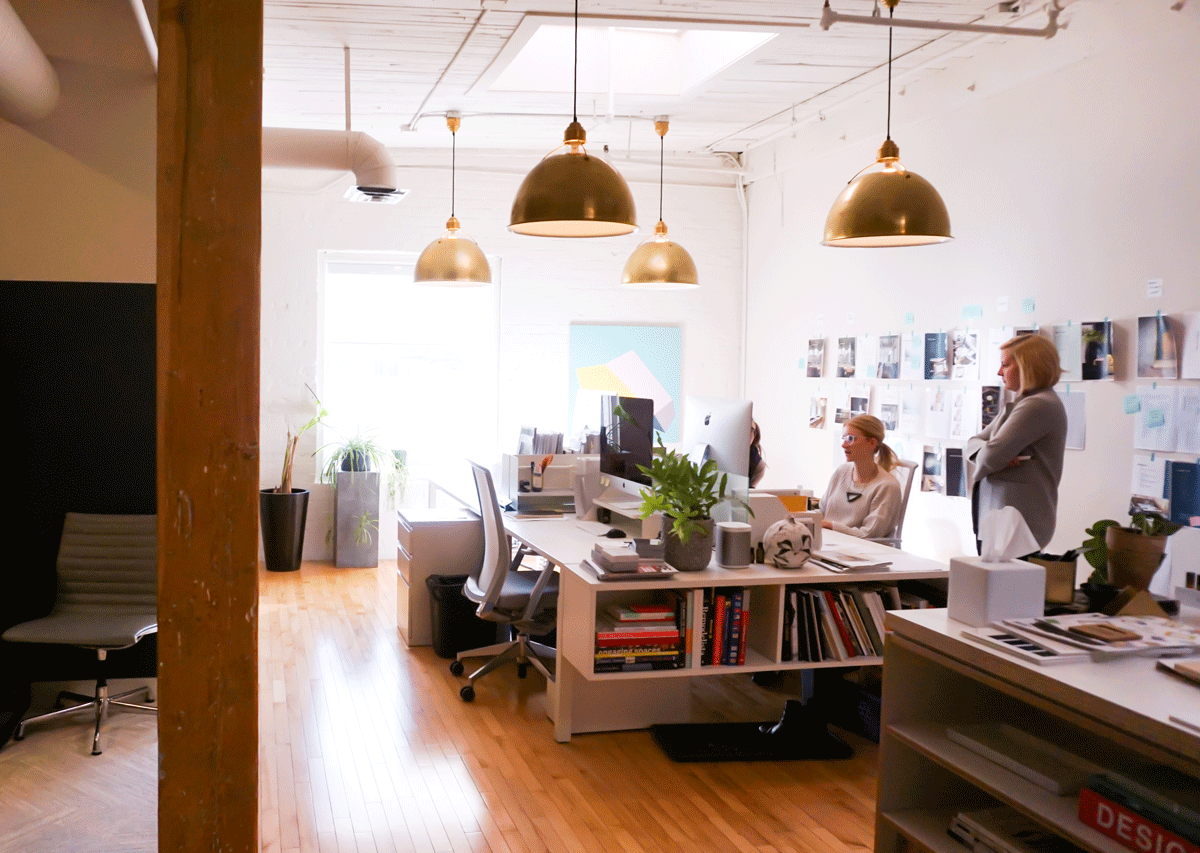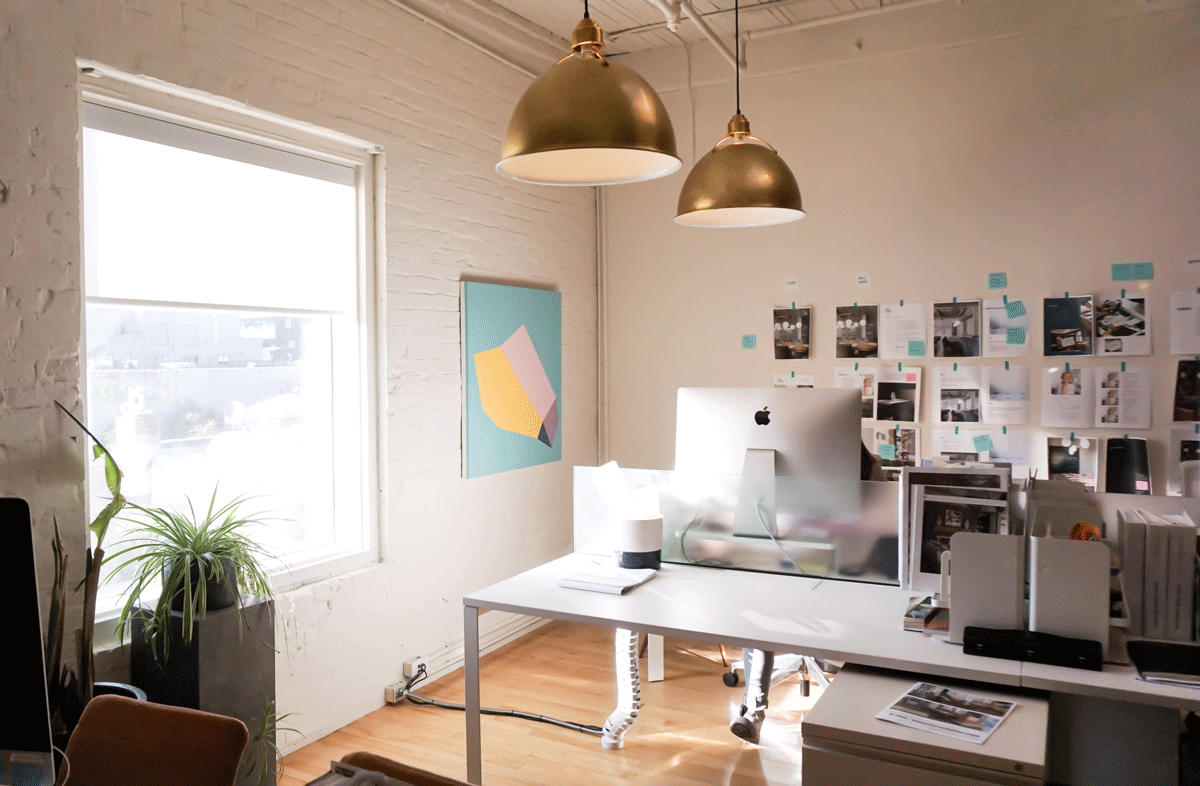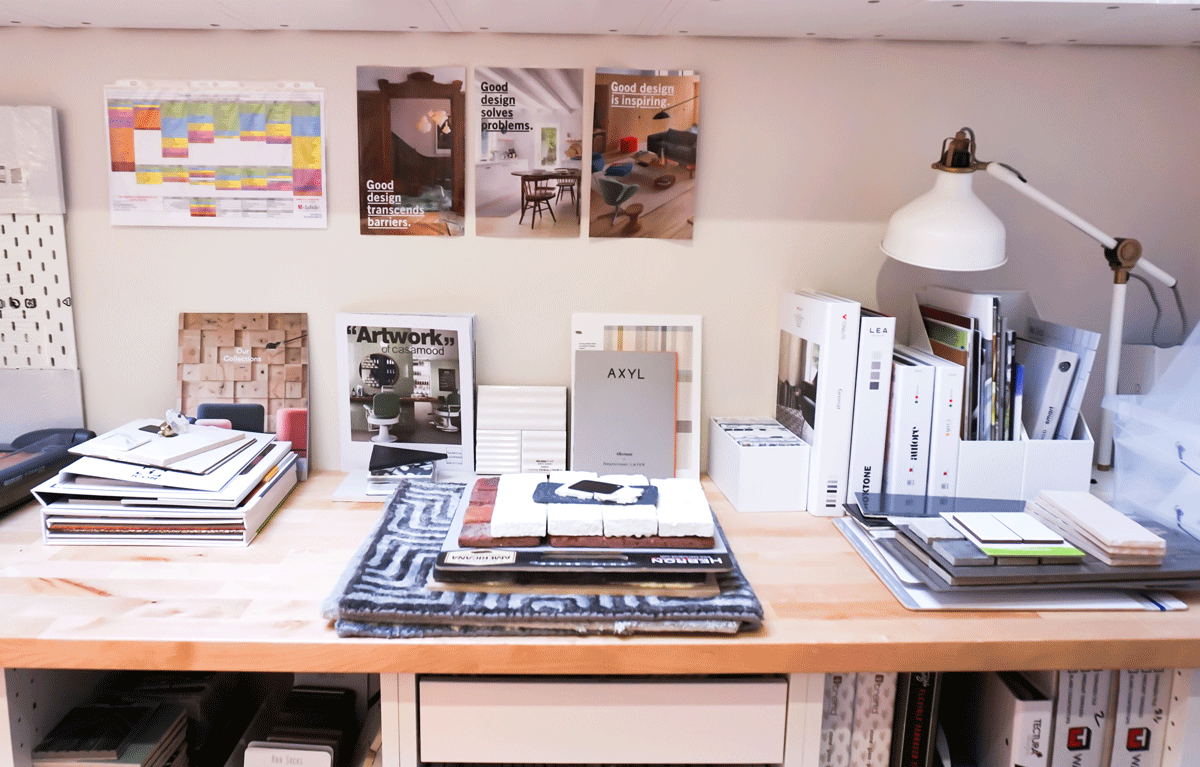 Where the magic happens
"I've run out of wall space at home, so all of the art I've been curating into my collection over the past five to seven years has definitely bled into the office," says Ward of the gallery wall in her personal office space. The collection continues to grow as Ward travels and is introduced to new artists and designers. Her chandelier is a vintage treasure from Vintage Fine Objects in Toronto.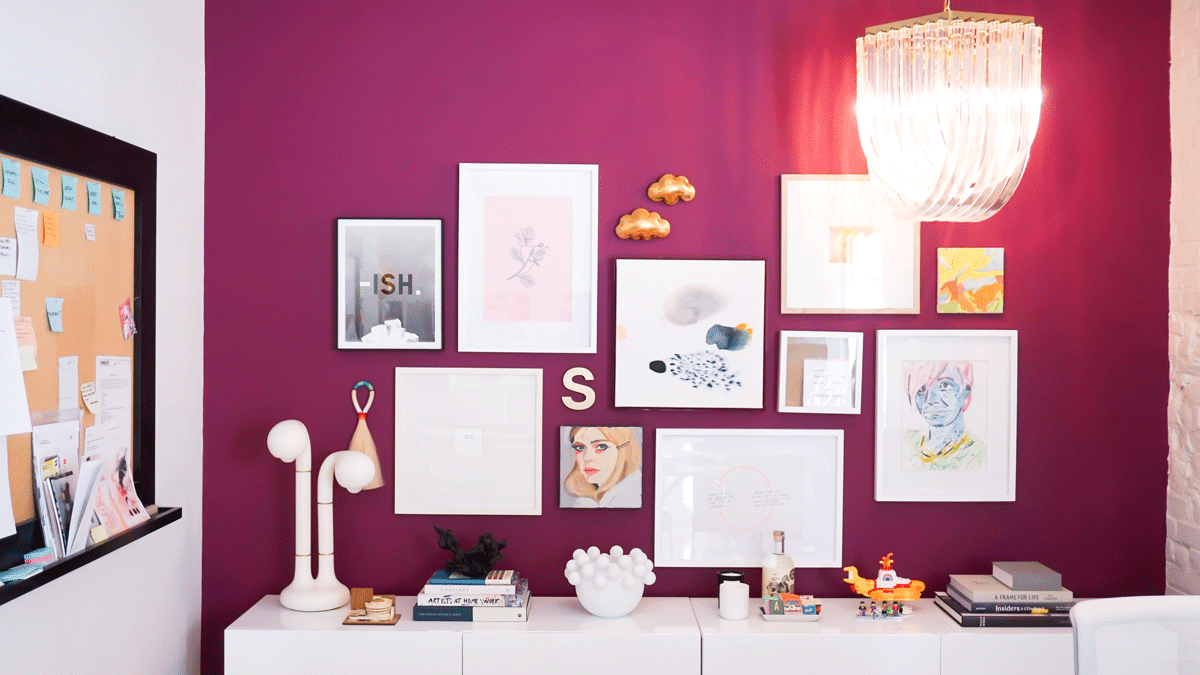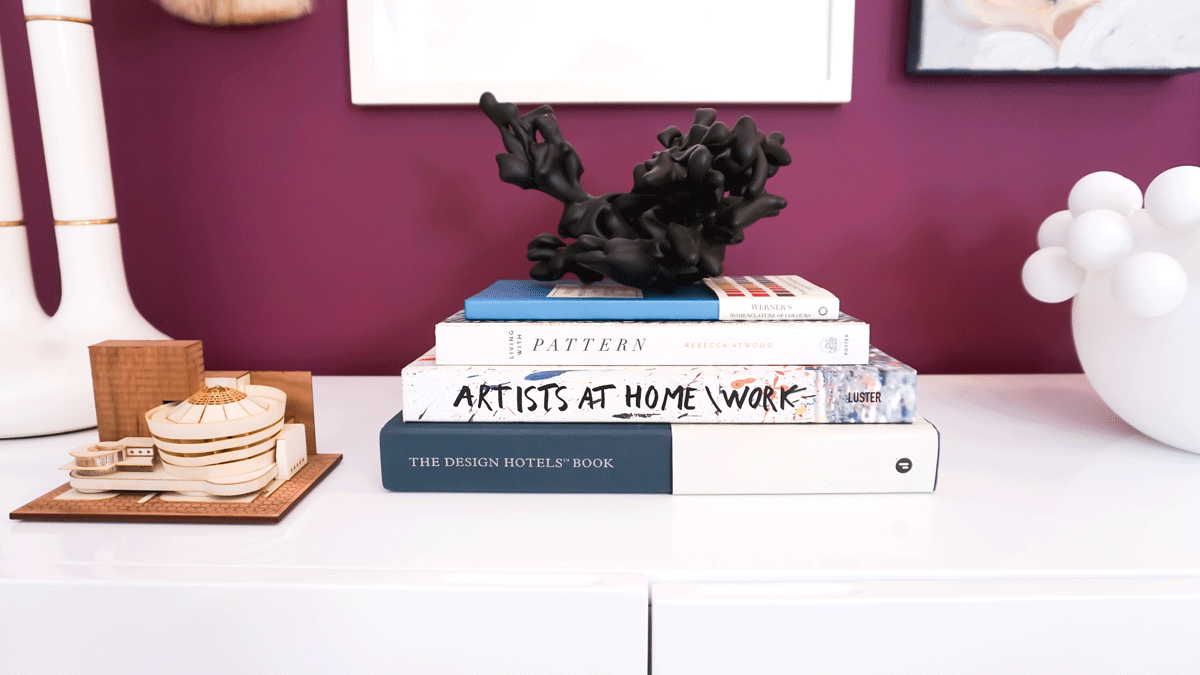 Client-facing spaces
Although the boardroom is still part of the open concept layout of the office, Ward has differentiated it from the rest of the space by painting it a bold dark blue, Heron from Pratt & Lambert, and grounding it with beautiful artwork and a custom meeting table from Tamarack. "We try to bring clients into our studio as much as possible. I feel like clients can experience our brand when they visit the studio," shares Ward. "We also spend a lot of time on site and samples don't travel very well. It is a nice respite for both parties to have meetings in here."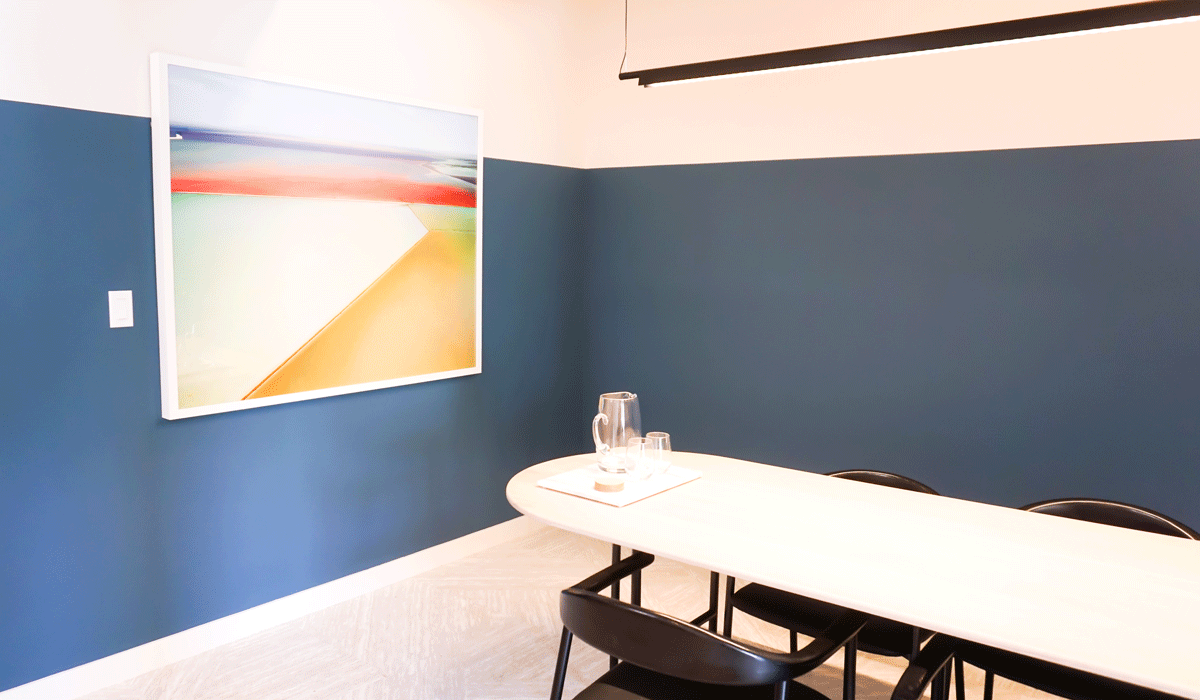 Comes with the territory
While Ward didn't encounter any glaring design challenges moving into the studio, she did encounter a particular wafting challenge upon moving into the historic space: "Our office is right above Last Best Brewery so the brewing scent often wafts up," says Ward. "To combat the scent of yeast and fermentation we are constantly running diffusers in the office. When clients come to visit they've said walking into our office smells like a spa."