With his classic, preppy style, the interior decorator and owner of Barbarian Interior Decoration is never one to shy away from a bold pair of sneakers or his favourite orange sweater. "It shocks people sometimes, but I say life's too short," he says. "So let's embrace beautiful things and surround ourselves with colour."
We sat down with Crosson to get his take on everything from his love of pyjamas to his disdain for garnishes in cocktails.
What do you wear to work?
I'm a huge "knit" guy, so I almost always wear a sweater, a collared shirt and a tie. Usually, I offset jeans with a tie and probably a blazer, as well. I've got a lot of loud shirts and, when you pair with a solid sweater, you just get a little peek of it. That's definitely my work uniform.
What keeps you wearing the uniform, even though you're your own boss?
Even though I work for myself and my office is in my home, I really think it's important that you get dressed up every day, even if you're not going to see anyone. It's about the way it makes you feel.
What do you wear when you're not working?
Usually, my style is very, very simple: Converse high-tops, Levi's and a T-shirt. I'm very big on work-life balance and I think your clothing helps set those boundaries.
How so?
When I get out of my work clothes, I'm done. I like the ritual of getting dressed and getting undressed. To me, throwing those clothes in the laundry hamper is like, "Okay, that part of the day is done and now this is phase two."
What does your phase two wardrobe consist of?
Honestly, I love my lounging pyjamas. I buy the most colourful or exuberant pyjamas, or I have them made for me if I find fabric I love.
What Calgary events are you looking forward to attending?
I would say that my two big blowouts are the Calgary Pride Parade and the Bill Brooks prostate-cancer benefit.
What will you wear to them?
Pride is an occasion to wear bright and summery clothes. For the Brooks event, there's usually a theme, so I try to embrace that as much as I can.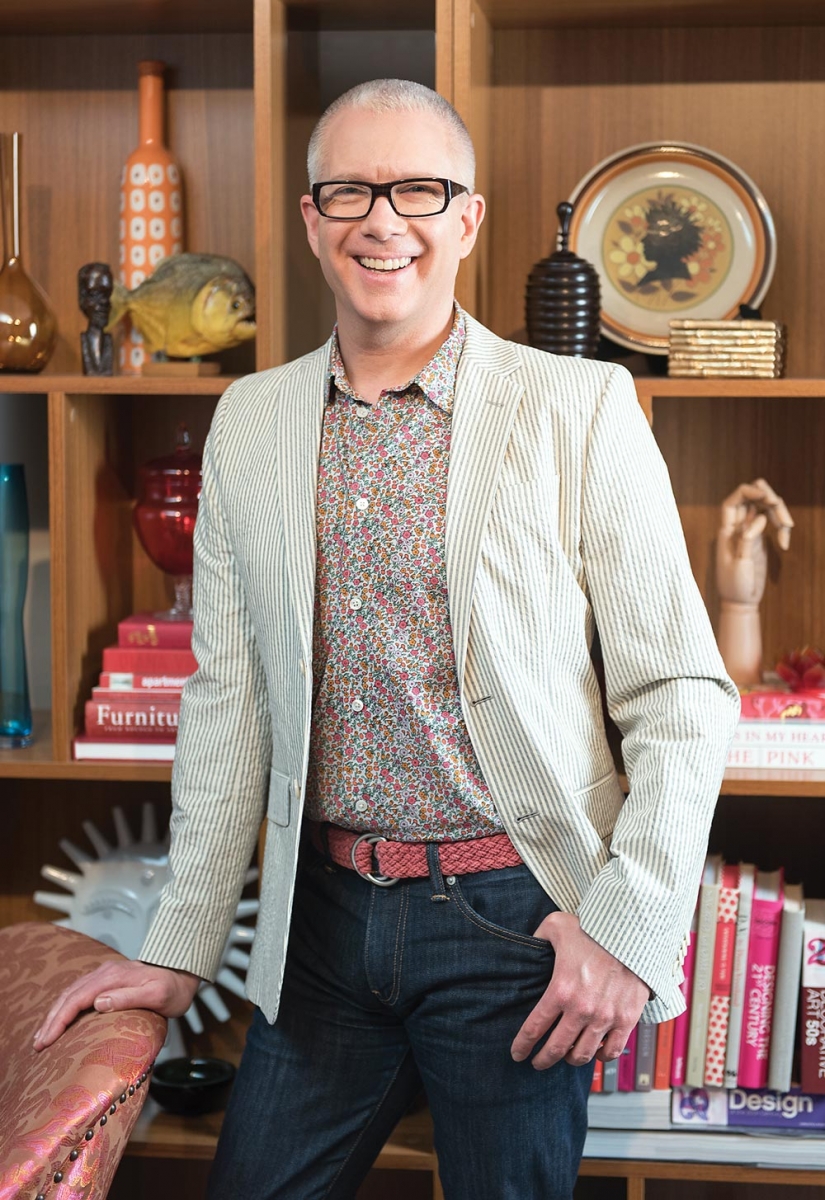 Marc Jacobs shirt from Barneys New York; Etro jacket was a gift from a client; denim from Levi's; belt from Brooks Brothers.
Where are your favourite spots in Calgary to go out?
Caff Beano is great and they have a very interesting mix of people, which I love because I'm a people-watcher, so I like to relax and observe. And when I go out, I do tend to gravitate toward places that are more traditional; I love the Oak Room at the Palliser.
Who are your style icons?
I love Diana Vreeland and Iris Apfel. It might go back to growing up with some really fantastic, fashionable women, but I tend to gravitate toward women because there's more theatricality in it. From a male perspective, I definitely admire the breezy, beachy way American designer Jeffrey Alan Marks dresses.
What's your wardrobe's MVP?
I have this very pale lavender cardigan that I love to bits; the colour is just so perfect. Sometimes, I have to purposefully push it to the bottom of
the drawer.
Is there a specific colour palette you're drawn to?
Pink and orange is my favourite colour combination – it's vibrant and it shocks people, but I think it also delights them.
Where in Calgary do you love to shop?
I'm thrilled that Brooks Brothers is here, and I love what Scotch & Soda does. It has a great aesthetic; it's got that feel of classic menswear that I like.
What's in your bag?
Sunglasses, I always have sunglasses with me. Reading glasses, a tiny umbrella, a notebook, a thousand pens, two wallets – one for business and one personal – and Chapstick, obviously, because it's so dry here.
If you could live in any era, which would you choose?
That's an easy one – the 1920s. Everything was done beautifully in the '20s.
What was the last thing you purchased?
A navy-blue tie with white polka dots.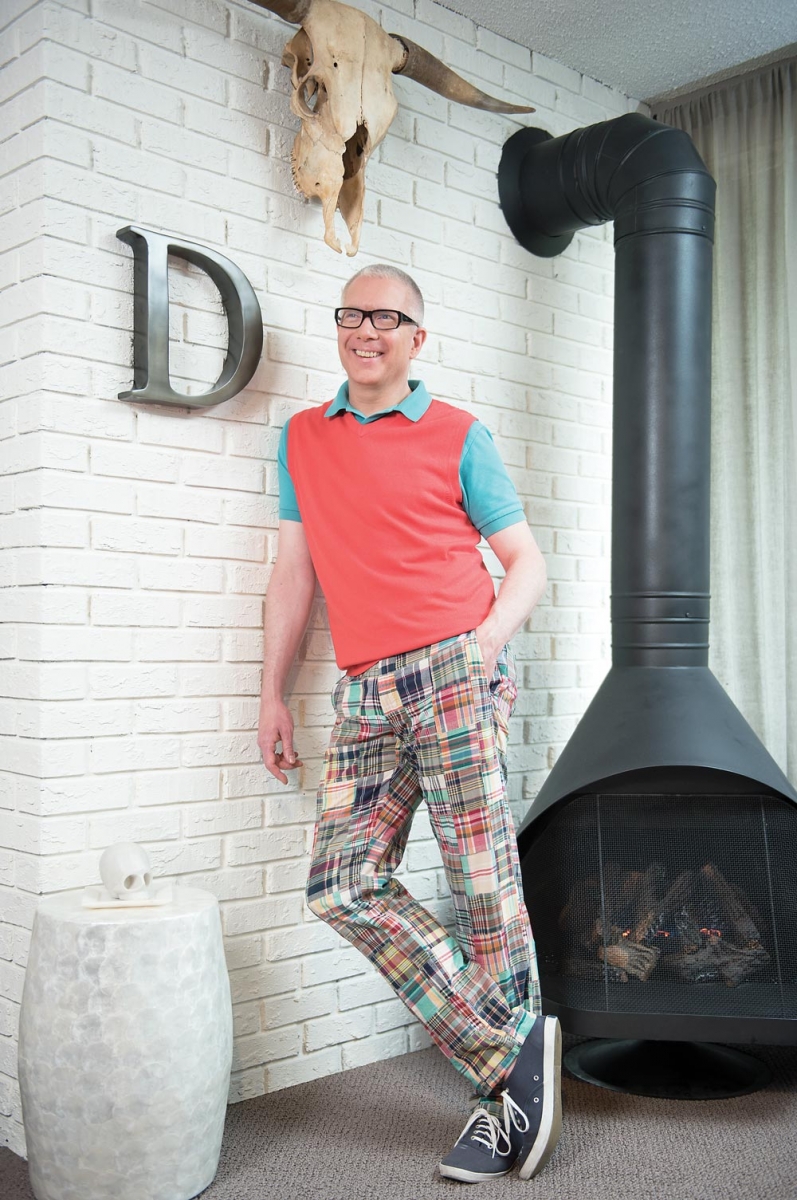 Polo Ralph Lauren shirt from Macy's; vest from Banana Republic; madras pants from Brooks Brothers; Keds sneakers from Little Burgundy.
---
Lightning round with David Crosson
Where are you from? Regina, Saskatchewan.
What do you do? I'm an interior decorator.
What would you say to your younger self? Snap out of it, get over yourself and just do what you love.
What's your current playlist? It might be clich, but I have loads of Broadway and show tunes.
Favourite musical? Ain't Misbehavin'.
What's your favourite TV show? I love Nurse Jackie, just because she really is sort of an anti-hero, and I think there are too many happy endings these days.
What book are you reading? Colors for Your Home: 493 Designer Favorites. I also just cracked a biography of Sister Parish.
What was the last movie you saw in a theatre? I hate going to the cinema now, so the last thing I saw was Little Miss Sunshine.
Red or white wine? White.
Favourite breakfast food? Salmon Benedict.
Pet peeve? People walking slowly in front of me.
Favourite cocktail? A simple gin martini – twists and olives are an affront to alcohol. You might as well throw an anchovy in there.
Favourite locally made edible treat? The rosemary fusion bar at Chocolaterie Bernard Callebaut.
What's your guilty pleasure? Getting into my pyjamas as soon as I can at the end of the day.
Build your ideal nacho platter. Blue corn chips, pulled pork, blue cheese and mango salsa on the side.