Irene Rasetti still gets excited every time she prepares to unroll a freshly dyed bundle of cloth. Working with all-natural materials to create dyed and eco-printed textiles means embracing the probability that the results will vary from batch to batch and enjoying the happy accidents and imperfections that this alchemy yields. Even with her years of experience, each finished piece of cloth is a surprise.
After earning a diploma in fashion design in Milan, followed by many years working in the Italian fashion industry, Rasetti returned to Calgary. It was about five years ago, after taking a class on natural dyeing at the Alberta College of Art + Design, that she really discovered her passion. Now Rasetti produces textiles and garments in her home studio, using a fascinating range of found, foraged, gifted and bought botanicals and minerals to dye cotton, silk and other natural fabrics.
Irene Rasetti will be launching her online shop soon at irenerasetti.com, but in the meantime you will find her at the upcoming New Craft Coalition sale at Festival Hall, May 6 and 7, or contact her to arrange a studio visit. She will also be teaching a beginners workshop on plant based textile dyes at Fresh Laundry Co. (email info@freshlaundry.co to register) on April 28. Her Instagram feed is also worth a visit – you'll see plenty of process shots and previews of completed pieces available for sale.
Using natural materials in her dyeing processes means there are seasonal cycles to her work. When local plants are hidden under a blanket of snow, Rasetti uses materials collected and stored over the summer; or, she uses imported botanicals, such as eucalyptus.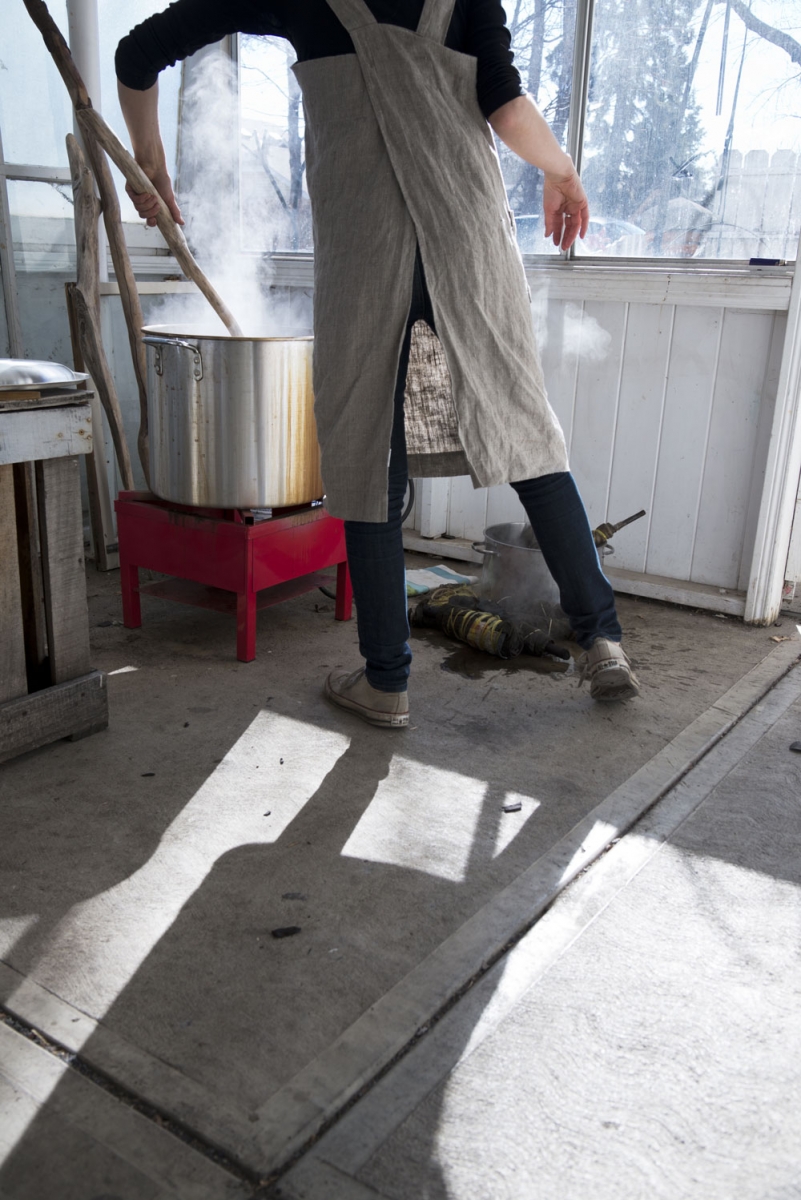 Rasetti's home studio extends outdoors to a large sun-filled porch where she has a great big pot simmering over a flame. Her love of natural materials extends even to the silvered driftwood sticks she uses to stir the contents.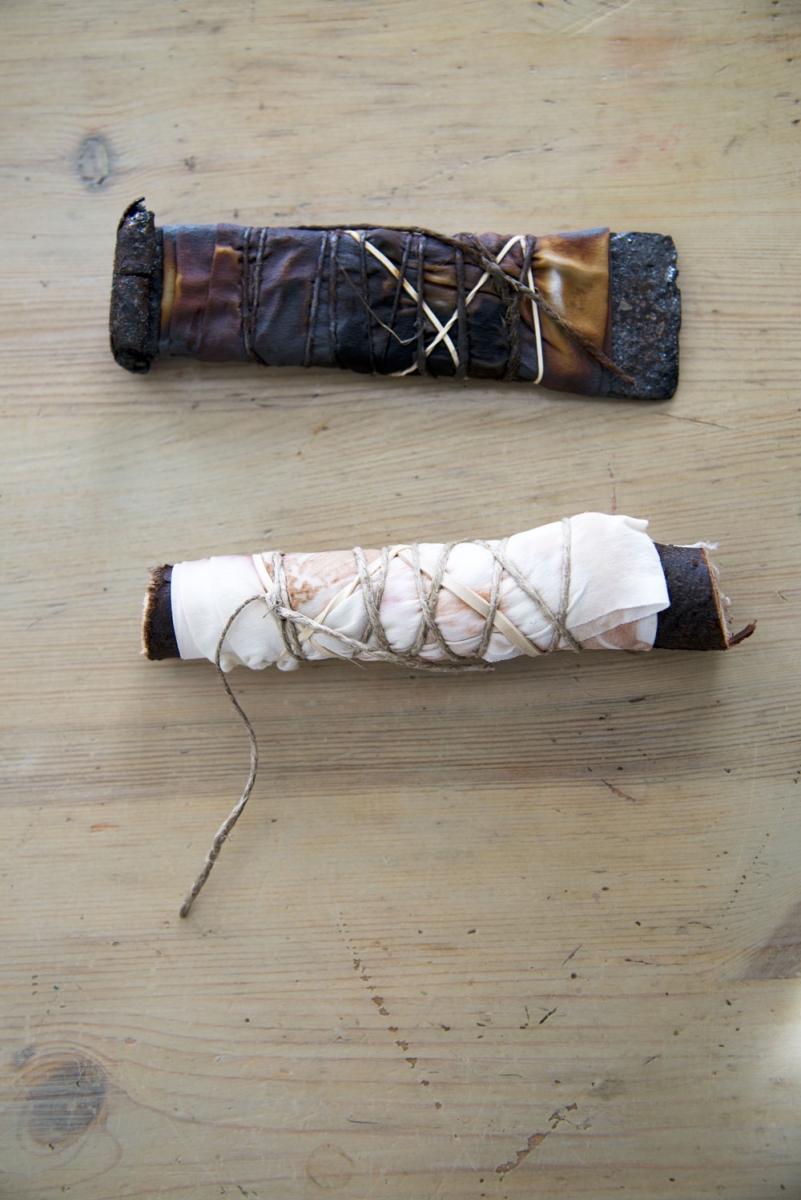 The opportunities for experimentation are nearly endless when it comes to eco-printing. Here, swatches of silk wrapped with onion skins around wood (bottom) and around rusted metal (above), steamed in the same pot, yield strikingly different results.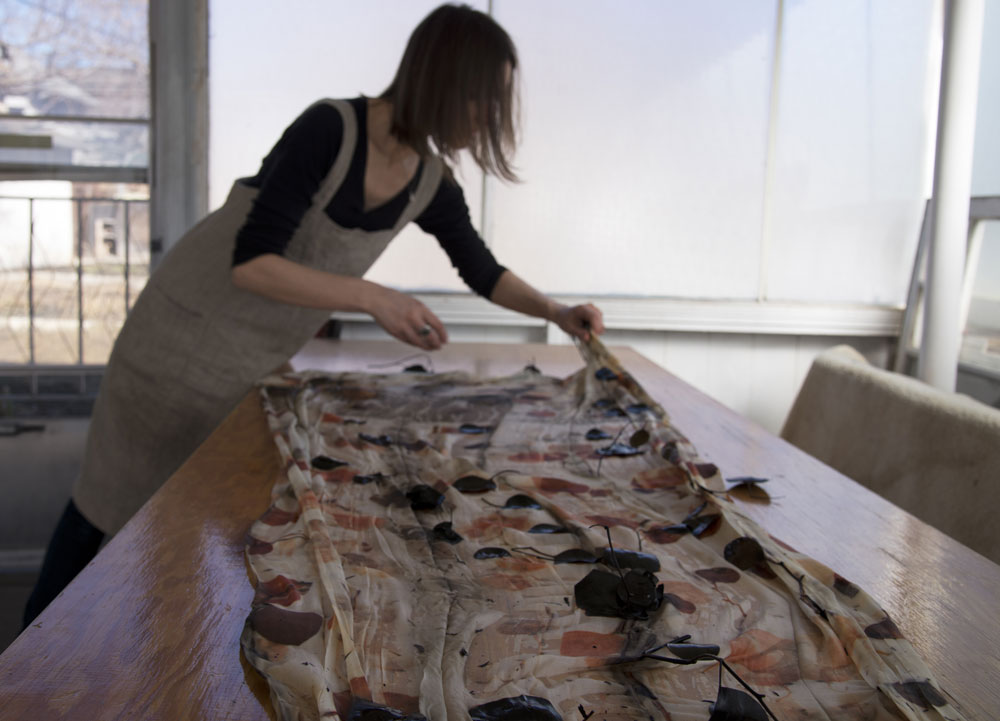 Rasetti spreads a freshly dyed piece of cotton cloth out on a large worktable.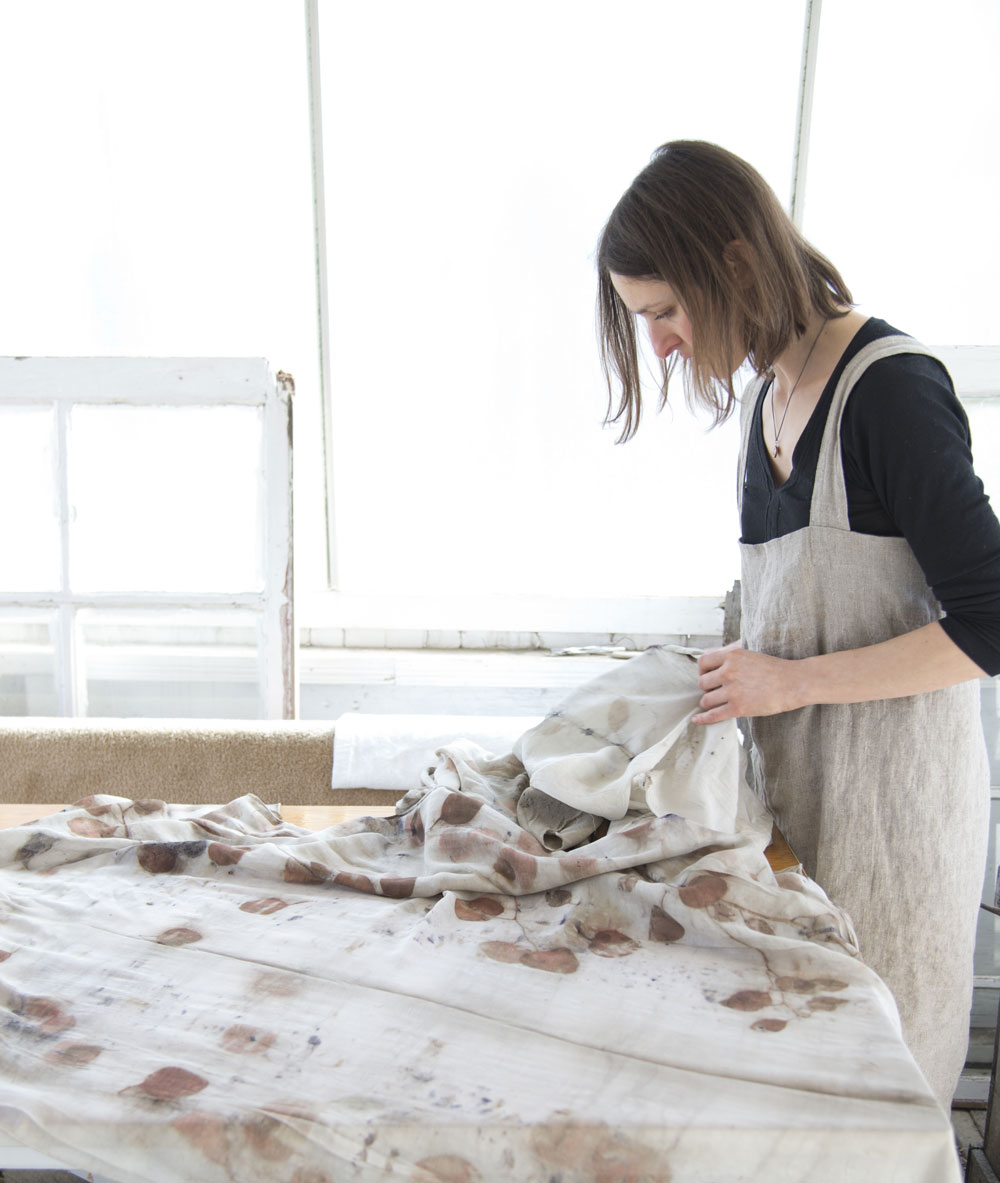 Examining a section of a dyed and dried piece of cotton.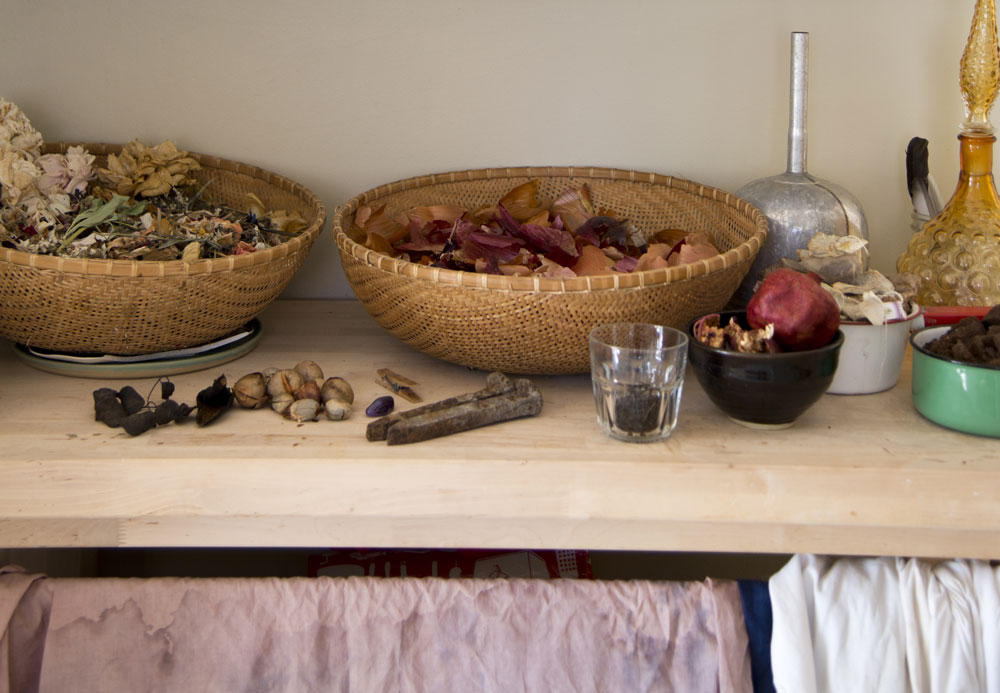 The kitchen counter holds a collection of materials to be used for future pieces, including onion skins, tea leaves and coffee grinds, dried flowers, leaves, and other odds and ends.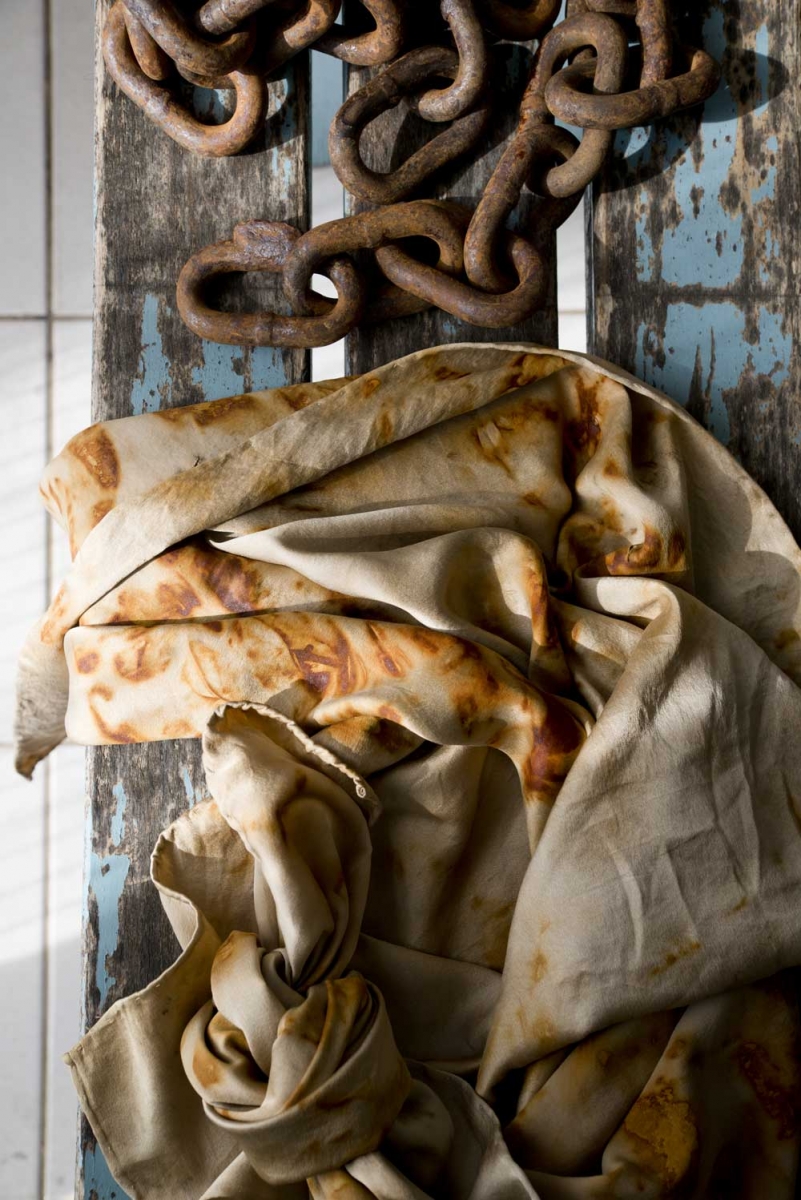 Lucky is the artist who has friends who turn up with huge rusty lengths of chain, asking, "Think you can use this?" (To which the lucky artist obviously replies "Yes!" then uses that rusty chain to dye richly coloured scarves.)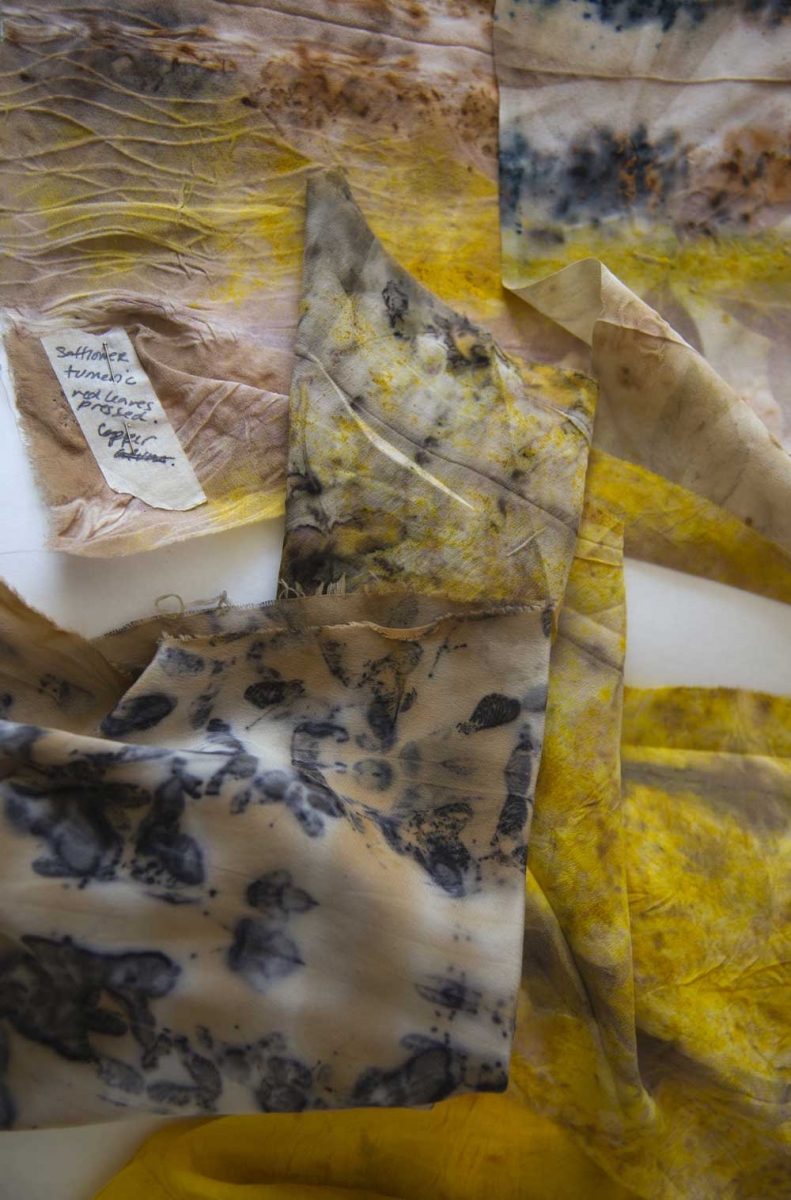 Rasetti keeps books of swatch samples, documenting the various combinations of dyeing materials and fabrics that she has tried. Pinned to this piece, for example, is a recipe that reads "safflower, turmeric, red leaves (pressed), copper."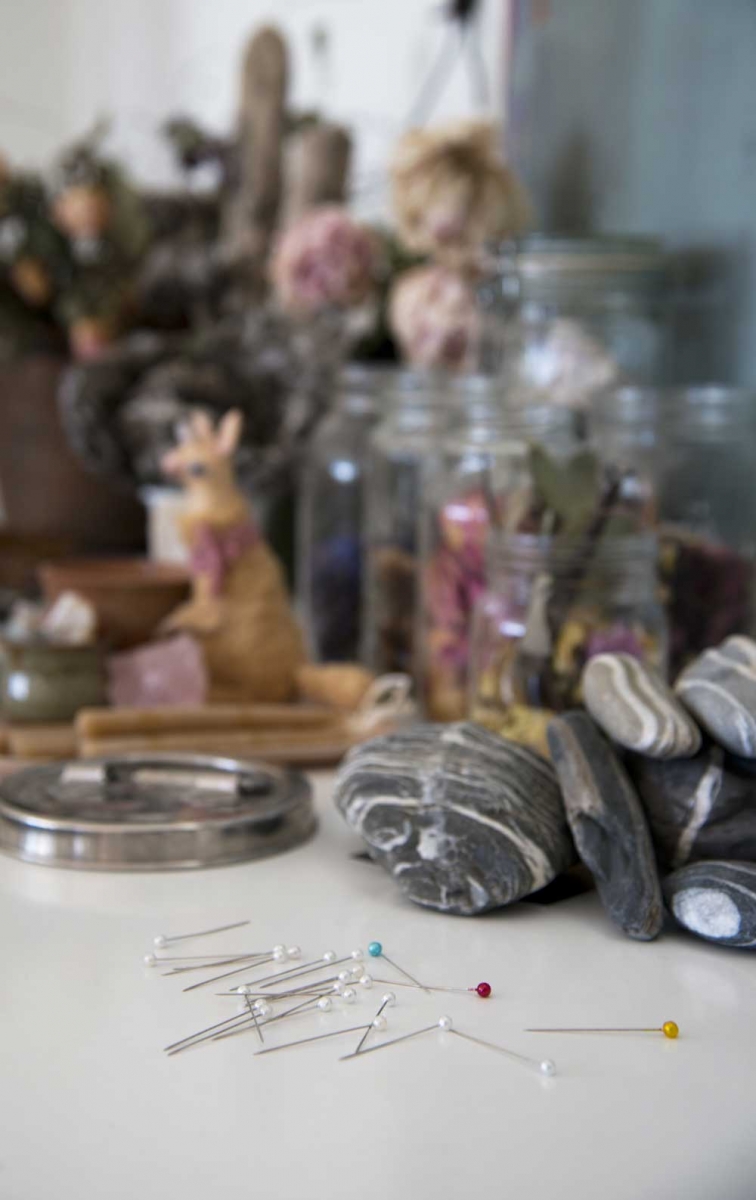 Every little corner of Rasetti's home studio holds another graceful arrangement. Here, a small heap of striped river stones shares a table with dressmakers' pins and jars of dried plants.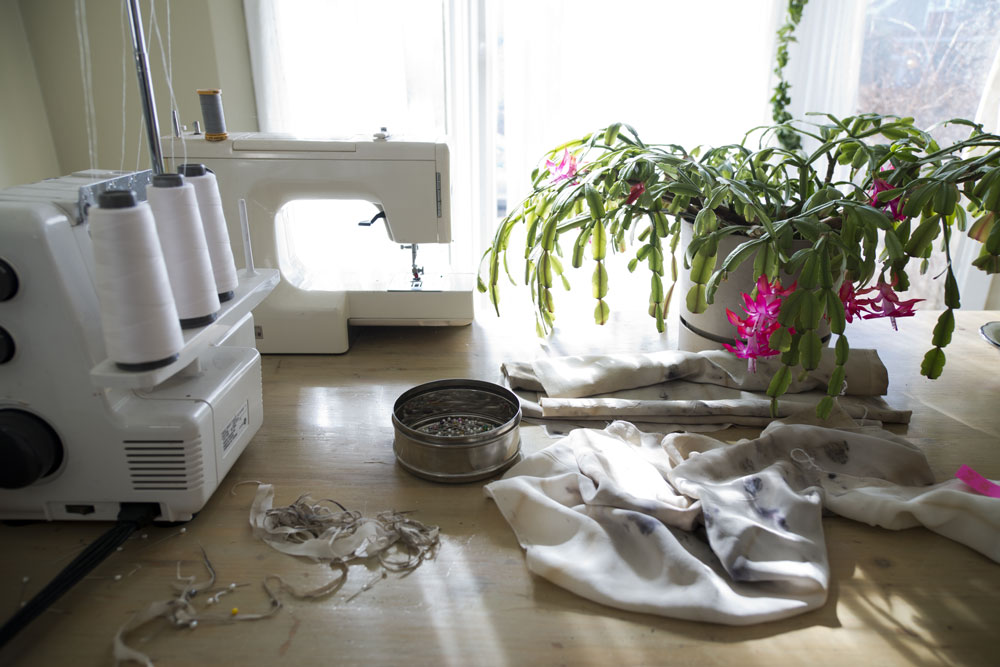 Rasetti will make scarves with many of the cotton fabric pieces, but she reserves the best dyed silk for making garments. Sewing at her kitchen table, she can keep an eye on smaller dye batches she has going on the stove.
Rasetti displays some of the scarves she has made using botanical materials and minerals to dye and print on cotton, silk, and silk-wool blend fabrics. The piece on the left, for example, gets its rich purples from an Indian plant called alkanet, with dried rose petals and madder adding the other hues.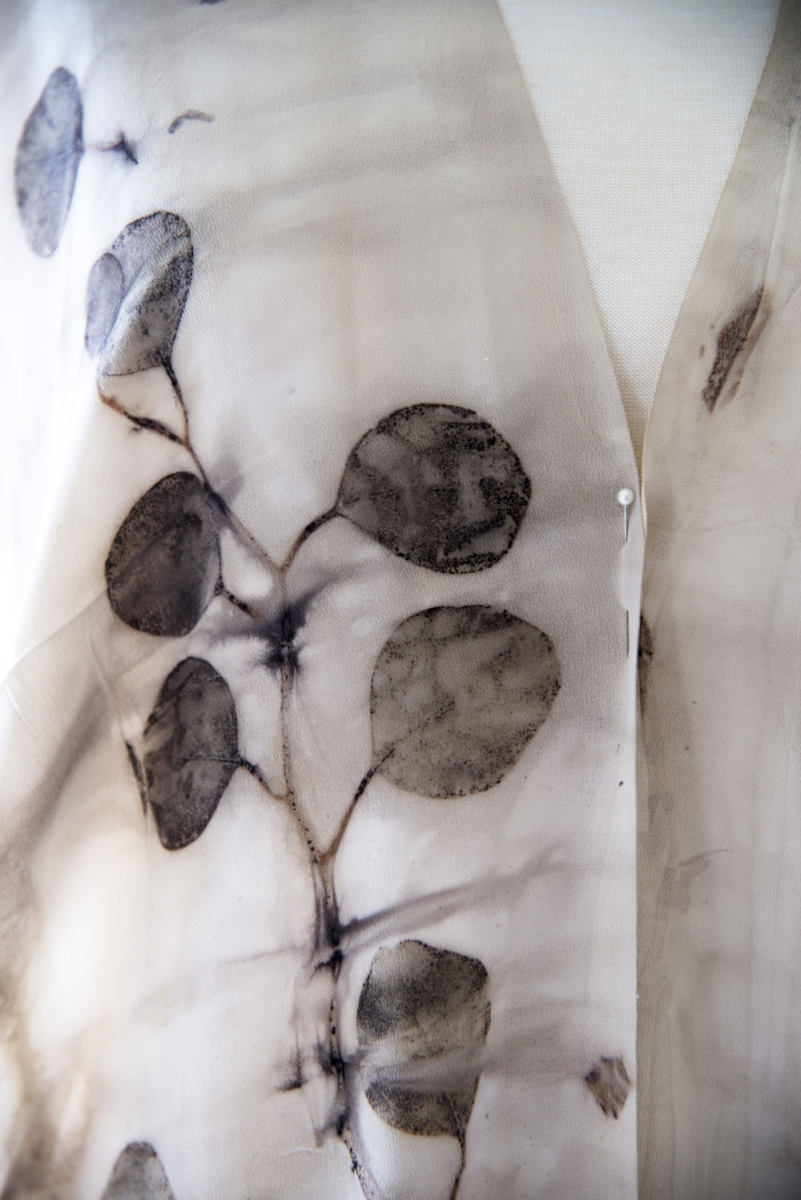 The garments that Rasetti makes are delicate, minimal pieces with designs that highlight the results of the natural dyeing processes used on the fabric. This piece in progress, held together with just a few lines of stitching and a pin, already hangs perfectly on the dress form.