"As far as the finishes are concerned in this space, yes, it's very outrageous, but the finishes are pretty … timeless," says designer Alykhan Velji of the Kenya black marble used in the main sitting area. "This marble is never going to go out of style."
Photography by Jared Sych
When homeowner Jim Madro decided it was time to renovate the basement of his West Hillhurst home, he knew Calgary designer Alykhan Velji was the right man for the job. "From the first time I met him, I knew he got me and my style, and he's nailed it every time we've worked together," says Madro, who previously collaborated with Velji to reinvent the main and second floors of his home.
Getting the

luxe

hotel look

Madro is a frequent traveller and favours the style of the W boutique hotel chain – a look that inspired his renovation. "He wanted it to be super-chic and stylish and something that was totally different than anything he had ever seen," Velji says. The designer wanted the space to feel open and bright, so he used textiles, custom-designed furniture and a mix of man-made and organic materials to create contrast.

"That's what we really played up in here – the textures, the colours, the prints, the patterns – and layered it all to create a beautiful space," Velji says. The standout feature in the sitting area is a stunning wall crafted from Kenya black marble, which features two fireplaces flanking a large flat-screen television.

"We sourced [the marble] from our stone supplier in one huge slab, and then they had to cut it down so they could bring each of the slabs in," says Velji. "They had to cut it so meticulously so that all the veins would match."

"[Velji] was able to develop some interesting concepts that pushed me to do things I would have never thought of," says Madro. "To me, that's the value of a great designer."
A space for entertaining
Madro wanted his basement to become a fun and functional space where he could entertain guests or simply relax and unwind. His wish list for his renovated basement included a comfortable seating area, a "self-sufficient" bar and a space to indulge his passion for fine wine.
"I love wine and I was challenged with what to do with a part of the basement that had a low ceiling," says Madro. "A wine cellar was the perfect solution."
White walls and an innovative glass panel that separates the stairs from the fully stocked bar create a bright and airy feel, but Velji says strategic LED lighting used throughout Madro's bar and stunning wine cellar is the secret to the success of this small space.
"We did the all-white high-gloss cabinetry, keeping it very neutral. But it's the colours – it's the LEDs – that make it so fun," says Velji. "When you have pink or blue or purple, that's how you change it up." Madro now uses his renovated basement on a daily basis and describes it as the "chill-out and entertainment" area of his home.
"Often friends will be over and we'll just hang out in the wine room and chat with a glass of wine," he says. "When larger groups of people are over, it turns into your typical Canadian kitchen party in the bar area, with everyone crammed in and having a great time!"
A Q&A with Alykhan Velji
Calgary designer Alykhan Velji offers advice on surviving a renovation, choosing the right furniture and making the most of every inch of space in your home.
What renovation trends are you noticing in Calgary?
"Whether it's a spare room, basement or a space above someone's garage, I think people are taking advantage of every single nook and cranny in their house. Space is always at a premium – especially with smaller condos – so inventive ways of using space are becoming very popular."
What advice would you give to someone who is in the early planning stages of a renovation?
"Resale is always a good factor to keep in mind, but, if you are planning on being in the home for a while, ensure that it will be usable for you.
"If you are planning any sort of renovation, think long and hard about what you want to use the space for – entertaining, family gatherings, hobbies. The last thing you want is to have the feeling of 'I should have done this!' after it is over.
"Be sure that the renovations flow well with the rest of the home; continuity is key to any good renovation project."
What should I keep in mind when choosing furniture for my renovated space?
"Keep in the mind what you will be using the space for. Do you need a comfortable sectional sofa, a few chairs for lounging or an open space for kids to play? Bulky furniture never really suits any space, so keep the furniture pieces streamlined. Invest in long-lasting furniture and always make sure the pieces will fit into the space. Measure twice and buy once."
---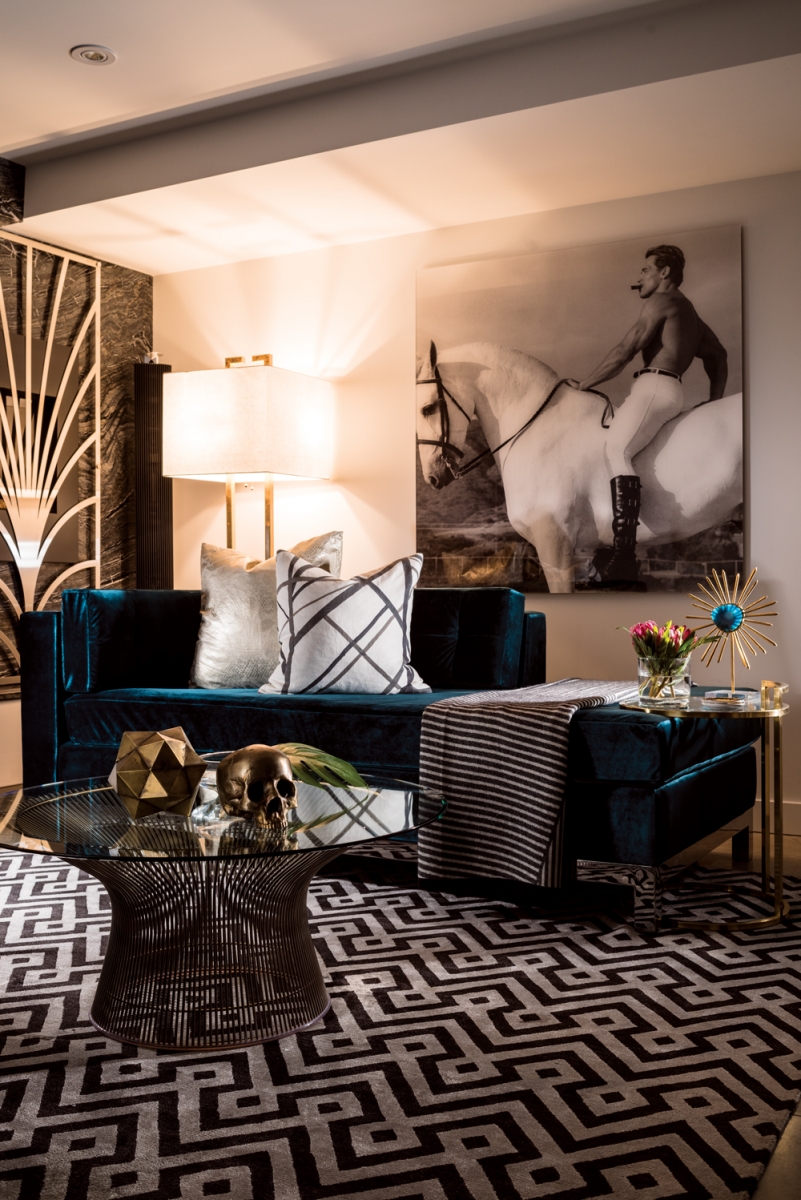 A hand-knotted carpet and custom-designed chaise longue bring dimension and texture to the room. "This turquoisey-blue really hits the spot," says Velji.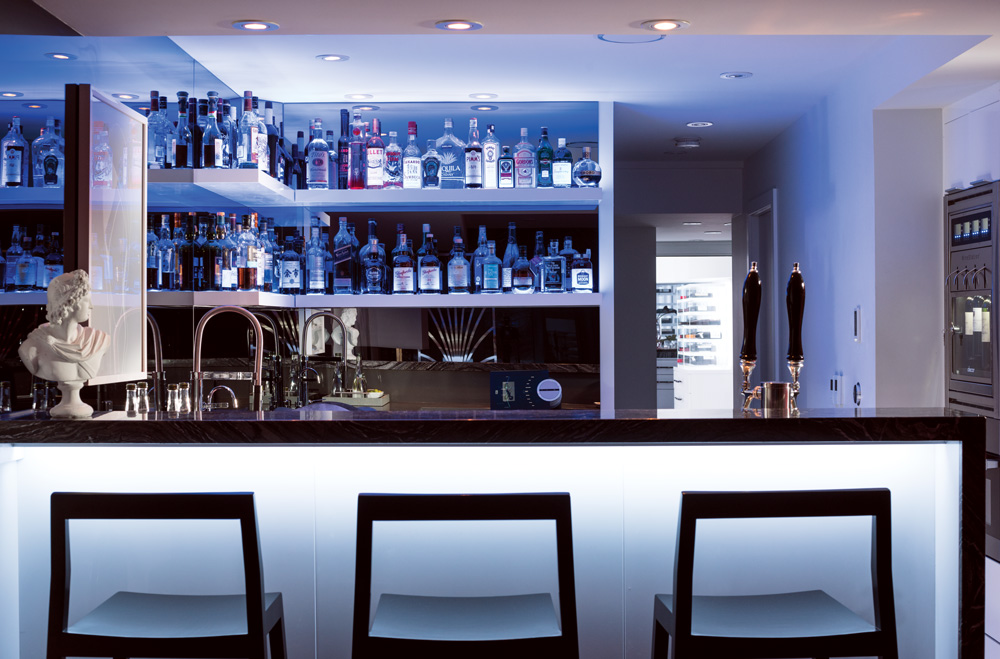 Custom LED lights can be programmed alongside the built-in speaker system, making the basement bar the heart of any party.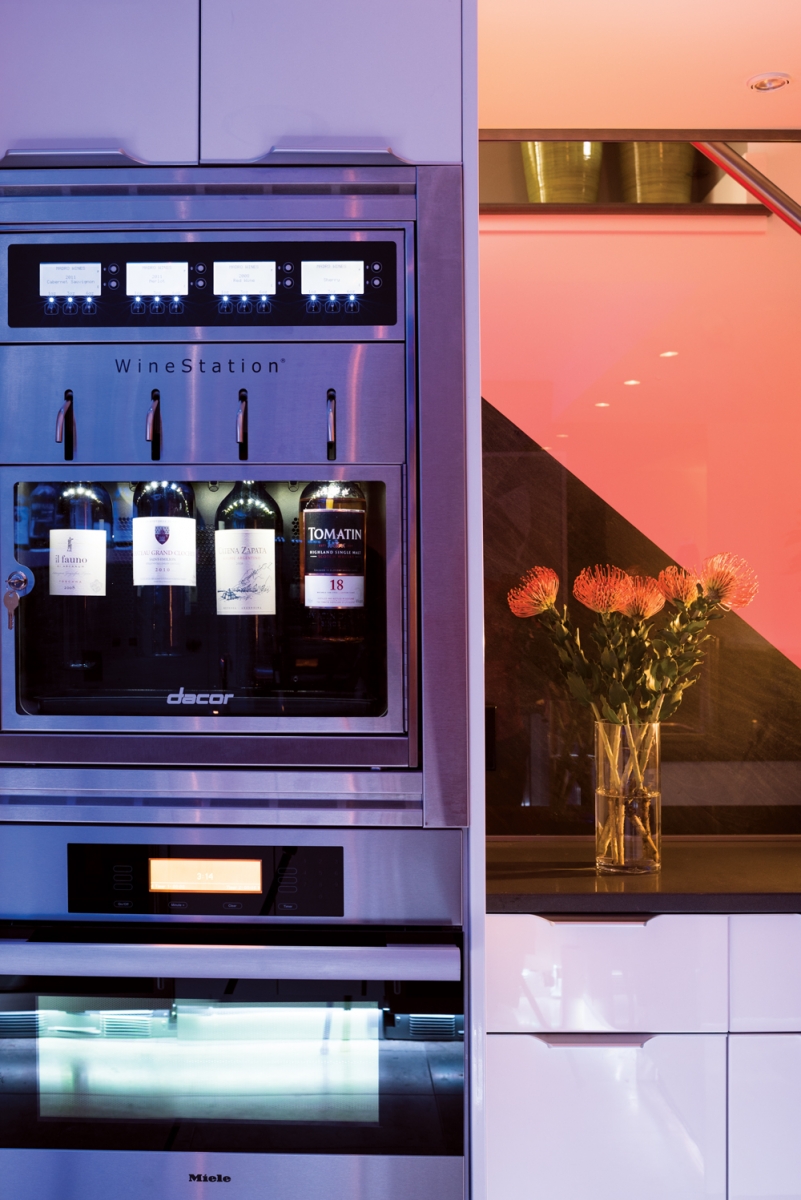 A built-in wine station from Napa Technology ensures wine is kept at the perfect temperature for serving.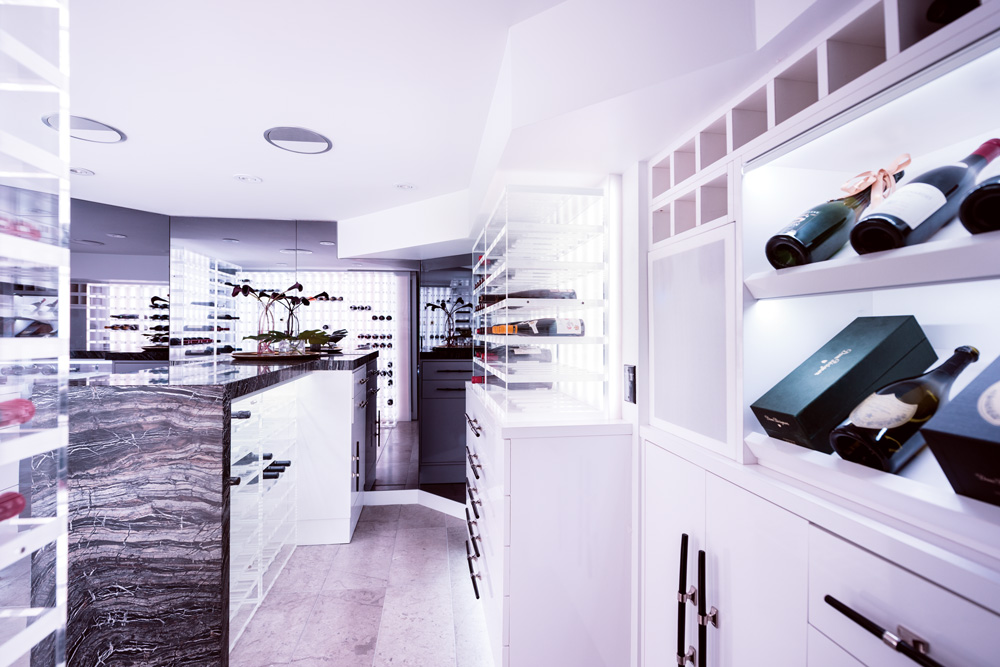 "We wanted the wine room to feel light and airy," says Velji. Custom acrylic shelving imported from California creates a feeling of openness.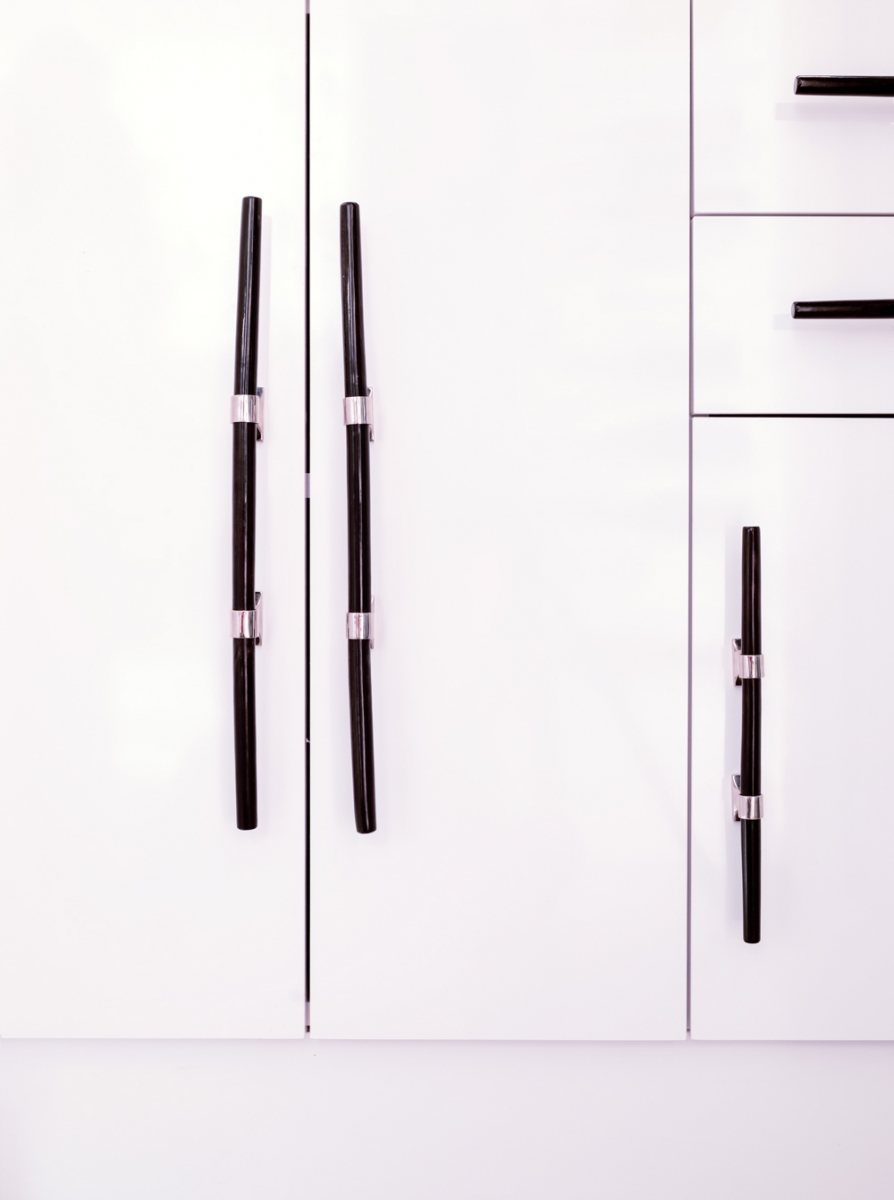 The acrylic storage cabinets were fitted with handles made from horn, which were sourced from Ochre in New York.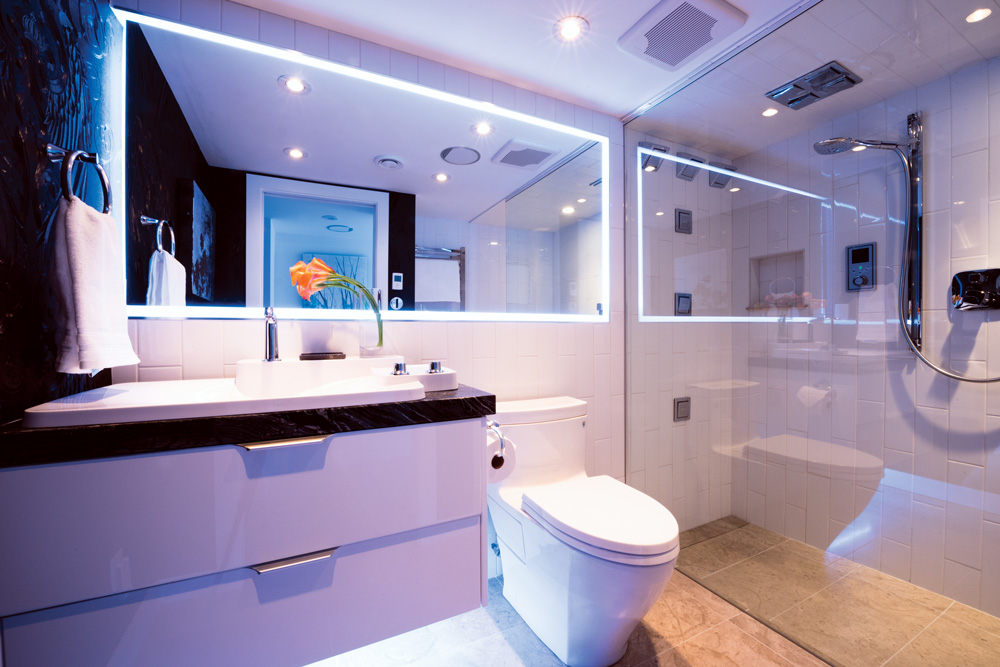 The renovated bathroom "had to be a showpiece," says Velji. Black Kenya marble countertops, textured wallpaper, a custom Hansgrohe sink, a steam shower and a heated towel rack all contribute to the luxe hotel look.
Creating an open feeling in your basement
Designer Alykhan Velji's tips can make any basement renovation feel airy and spacious.
Look to the light
"Walls, baseboards, casings and ceilings should all be white," says Velji. Luxe furniture and interesting accessories can be layered into the space later for added colour and texture, and are easy to change out if you want to experiment with different looks.
Reflective thinking
Finishes that reflect light can prevent a basement from feeling too cave-like, says Velji. "Reflective surfaces such as lacquer, high-gloss cabinets and mirrors are another great way to make a space feel larger," he says.
Keep things simple
"Ornate mouldings, bulky furniture and highly decorative cabinets are not the way to go in a small space," Velji emphasizes.
Compare and contrast
When it comes to white, says Velji, you can have too much of a good thing. "An all-white space can seem stark and an all-dark space will make the room feel closed in." Incorporating darker colours as accents creates interesting tension and balance in your basement space.