Dark and Light
Empty nesters Karen and Ron Ryan were looking to downsize from their suburban family home. Instead of opting for a turnkey condo or infill, however, they decided to redesign the 935-square-foot Mount Royal bungalow that had previously been a showroom and office for Karen's interior-design business. With the project, Karen had carte blanche to create a new space. She knew that dramatic changes would be necessary to accommodate the couple's modern lifestyle but she also wanted to retain some of the charm of the original 1951 home.
The Ryans, who recently celebrated their 29th wedding anniversary, wanted something with character and that truly represented the two of them. "For this next chapter in our lives, we wanted something smaller but still with enough space for us to breathe – and to entertain," says Karen. "We love to ride our bikes or walk to go out for dinner, so naturally an inner-city home was ideal for our lifestyle, but we didn't want to build from the ground up. I do get a thrill out of working with an existing structure and creating something within that."
To bring together Karen's love of natural light and Ron's appreciation for dark wood, luxe fabrics and black everything, the solution was a black and white home – albeit one that is elevated beyond mere colour-blocking by Karen's expert use of texture and lighting and placement of the couple's enviable art collection.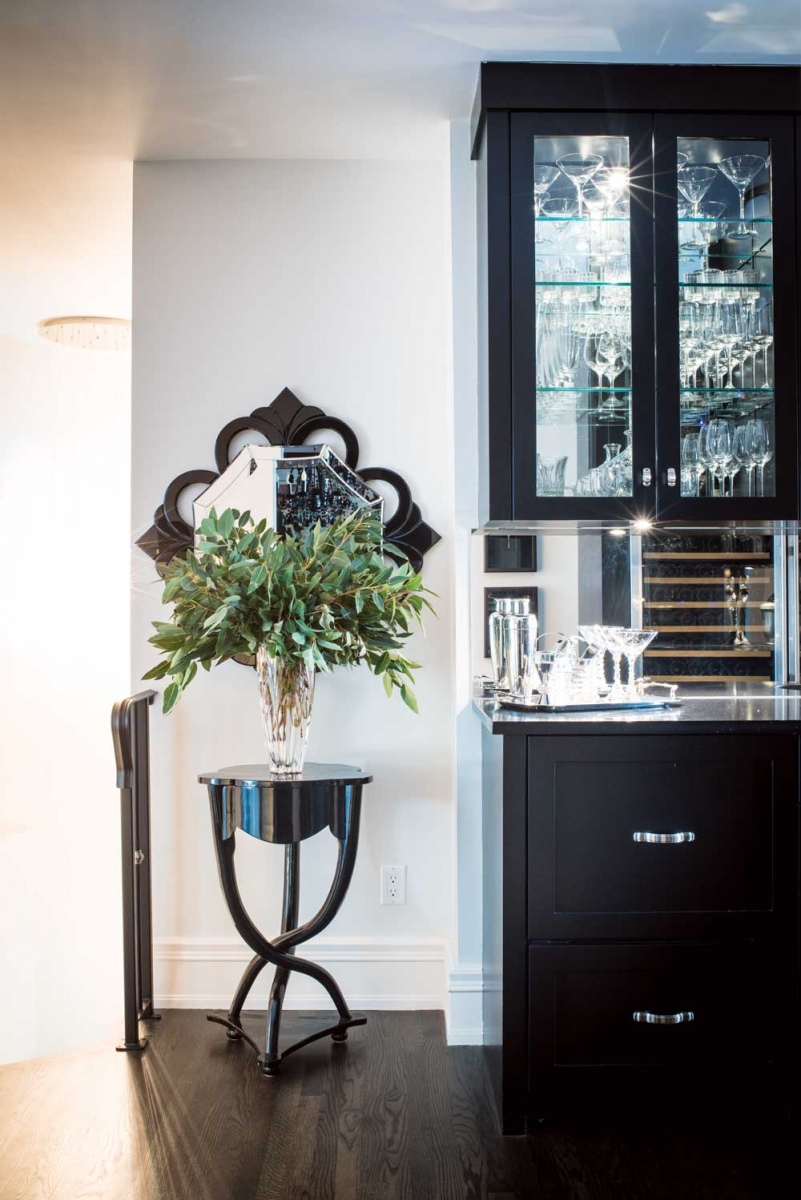 The home is set up for entertaining with the original kitchen converted into a butler's pantry.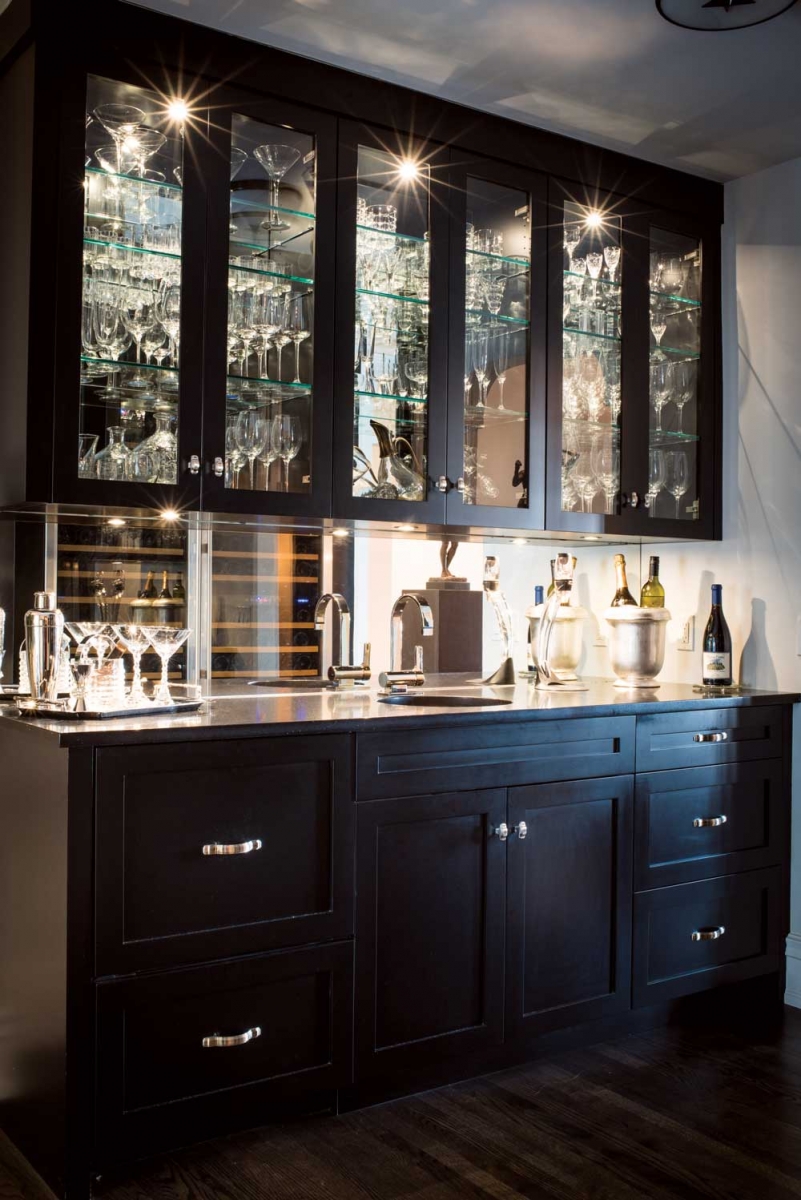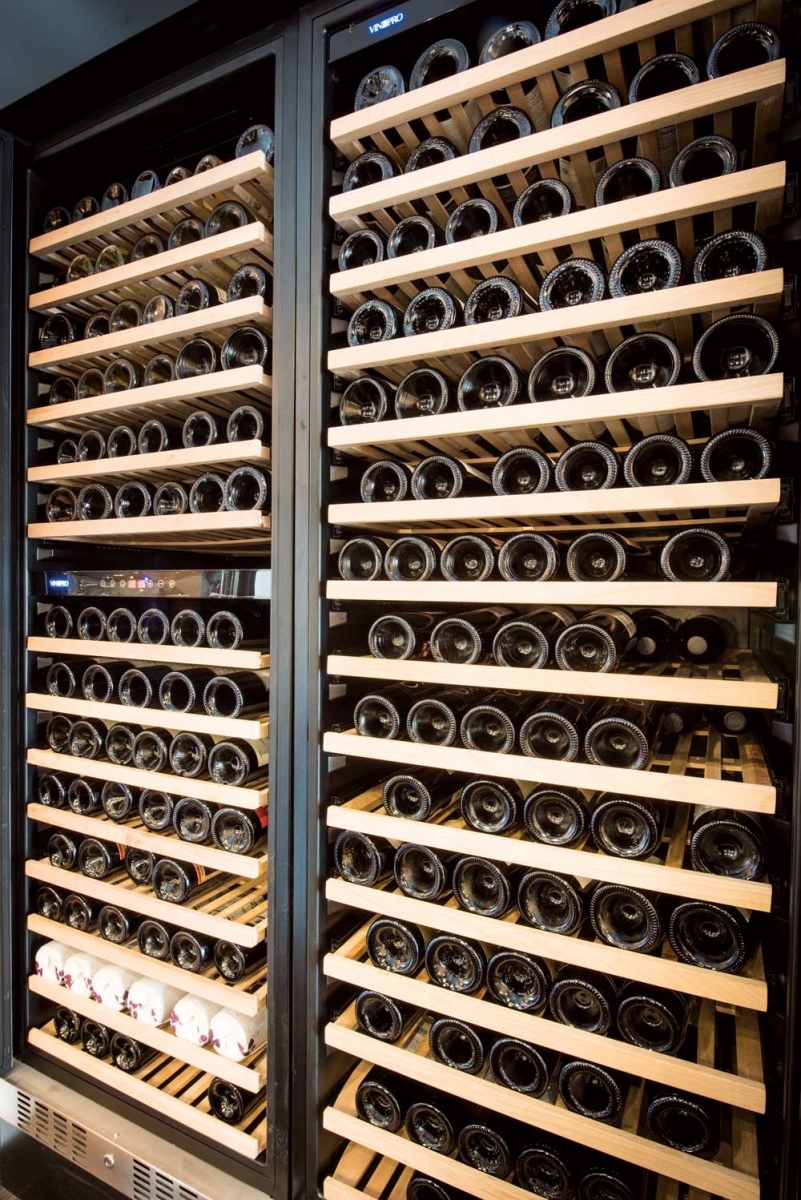 The wine fridges in the butler's pantry.
Raising Expectations
To remodel the Mount Royal bungalow, the Ryans literally elevated the home. "We cut the house in half horizontally, raised it on stilts for 33 days, added four feet to the entire construction and took out 29 loads of dirt," Karen says. "The only thing that fazed Ron was when we were putting the third coat of black paint on our front living room walls."
The room in question, which Karen lovingly refers to as "an ode to Ron Ryan," is a complete visual representation of her husband's personal style: masculine, a bit swanky and with lots of charisma. Filled with artwork that the couple has collected throughout their life together, including blown glass, sculptures and paintings, the front room is the perfect spot to enjoy a cocktail and turn up the music a bit.
"When you're dealing with a historic or older property, you have a little bit more license to go deep with your design," says Karen. "Utilizing the original architectural details of the home, we created a space that has the essence of a Hollywood Regency-era club interior."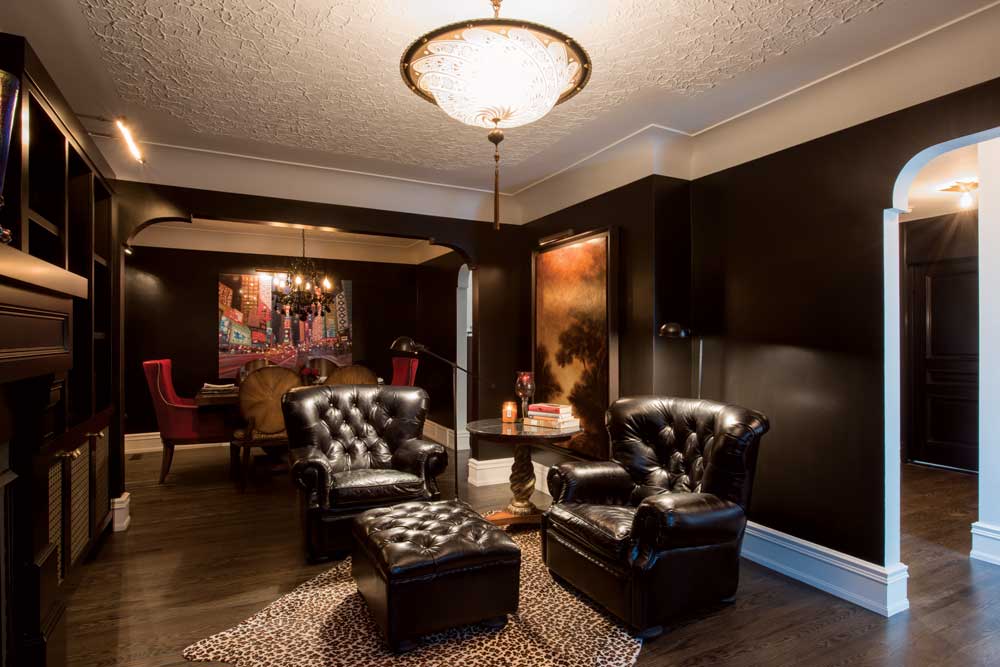 The front room displays a number of pieces from the homeowners' extensive art collection and depicts golden-era Hollywood glamour with glossy black walls and leopard-print textiles.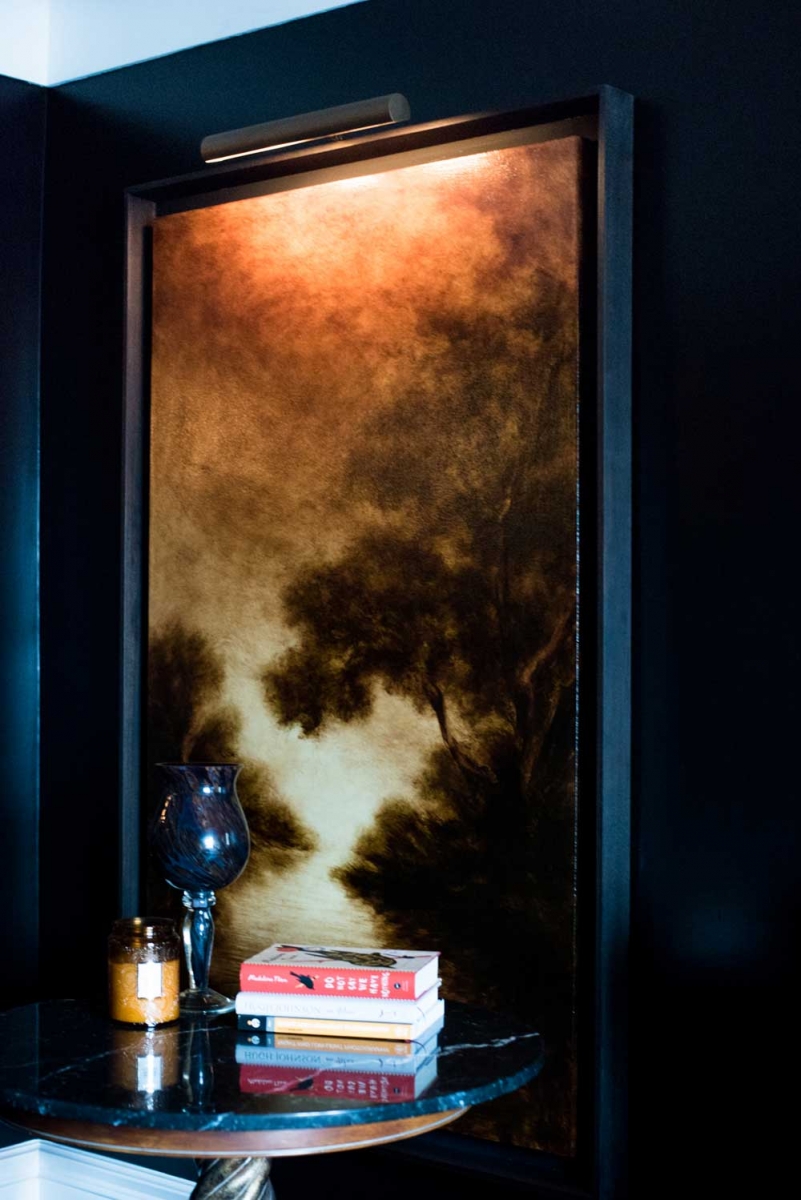 Artwork by Barry Weiss in the front room.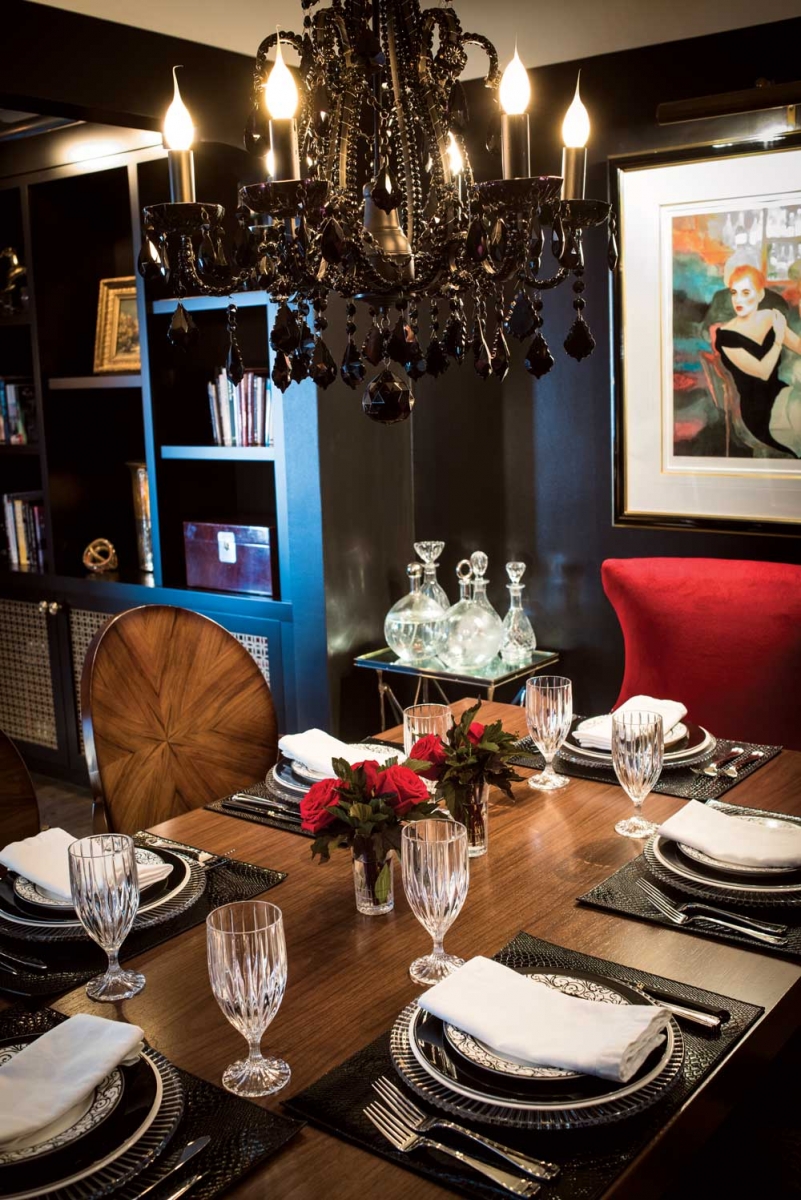 The dining room features red-velvet host chairs and Kreiss rosewood dining chairs, as well as artwork by Sheila Kernan.
Life Alfresco
While the front room may be an ode to Ron Ryan, the back of the home reflects Karen's affinity for natural light. The indoor and outdoor living rooms that connect to the expansive kitchen and to the breezeway that joins the home and the previously attached garage are welcoming spaces for friends and family members.
Karen sketched the addition while sitting in the backyard, before the couple had even decided to make the bungalow their home. Working with her friend Dean Thomas, of the Dean Thomas Design Group, Karen brought the vision to life.
The resulting home includes a protected courtyard living room with harmonious flow between the outdoor and indoor spaces.
"The way we live is very Euro-inspired," Karen says. "We spend as much time out here as possible, whether with a coffee or having a glass of wine with friends. In Calgary, this concept of an outdoor courtyard is still somewhat unique. We wanted something like we've experienced in European cities."
The courtyard has another advantage for the active empty nesters as well. "Since we travel so much, we needed something with zero maintenance," Karen says.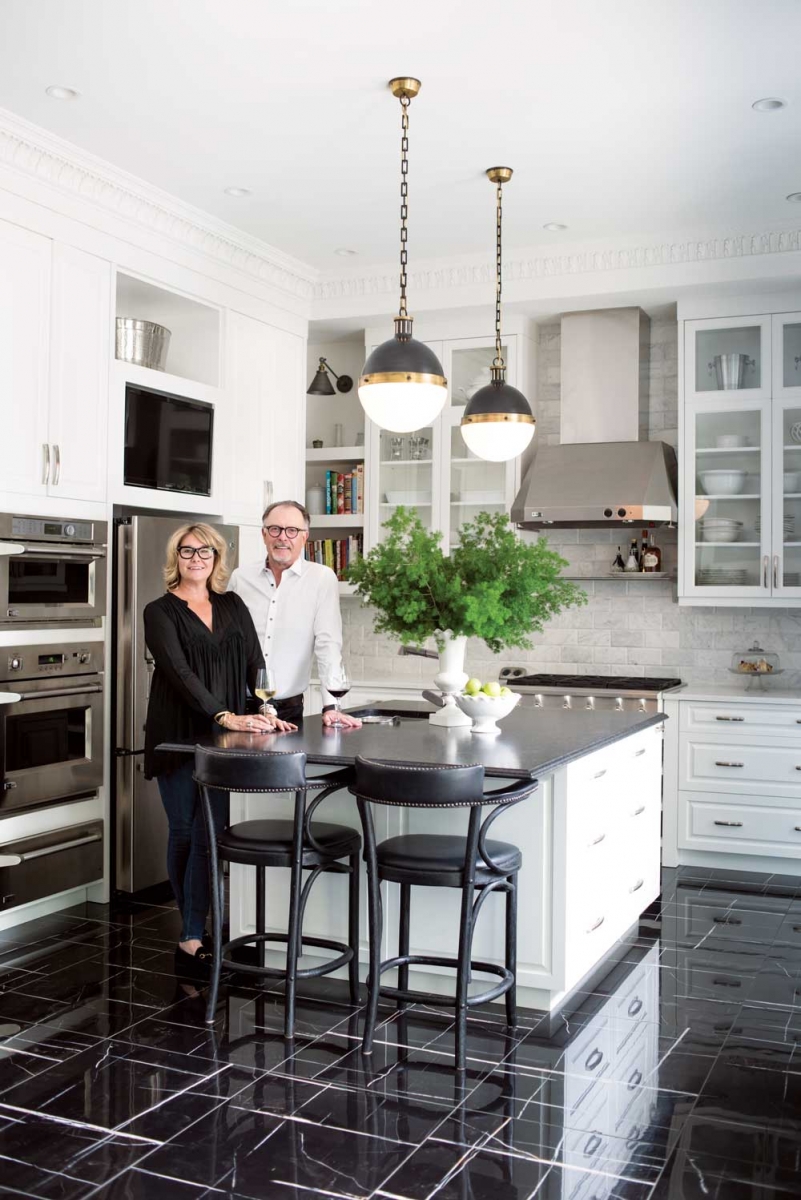 The kitchen is a welcoming space where the Ryans enjoy cooking and entertaining. Claiming Ron is the better cook, Karen designed the kitchen with him in mind.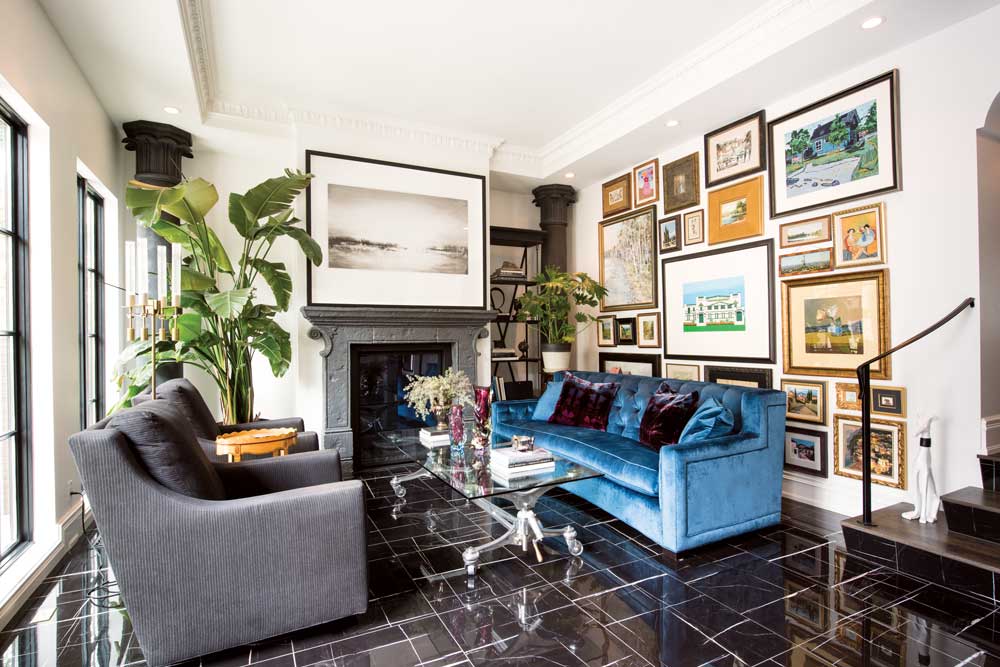 The great room reflects the homeowners' affinities for artful decor and natural light.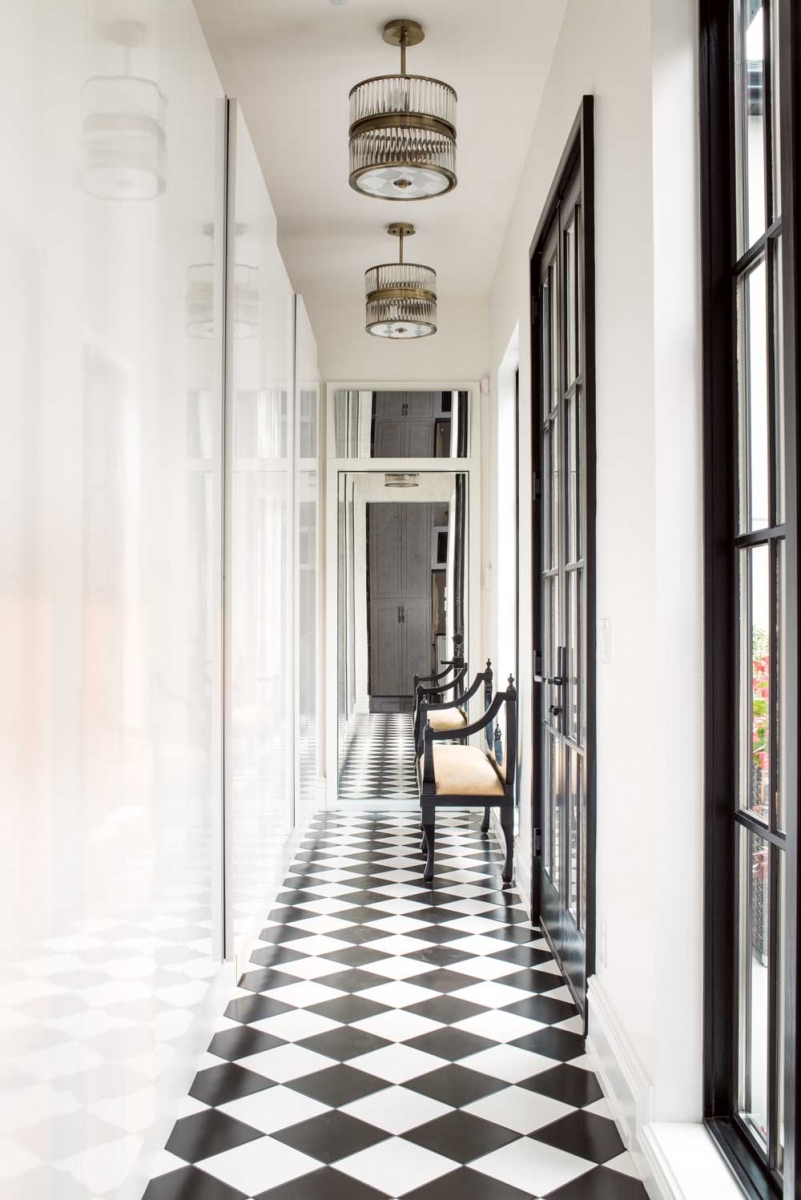 A black-and-white tiled-floor breezeway connecting the house and the previously detached garage features 21 feet of built-in storage hidden behind glossy white cabinetry.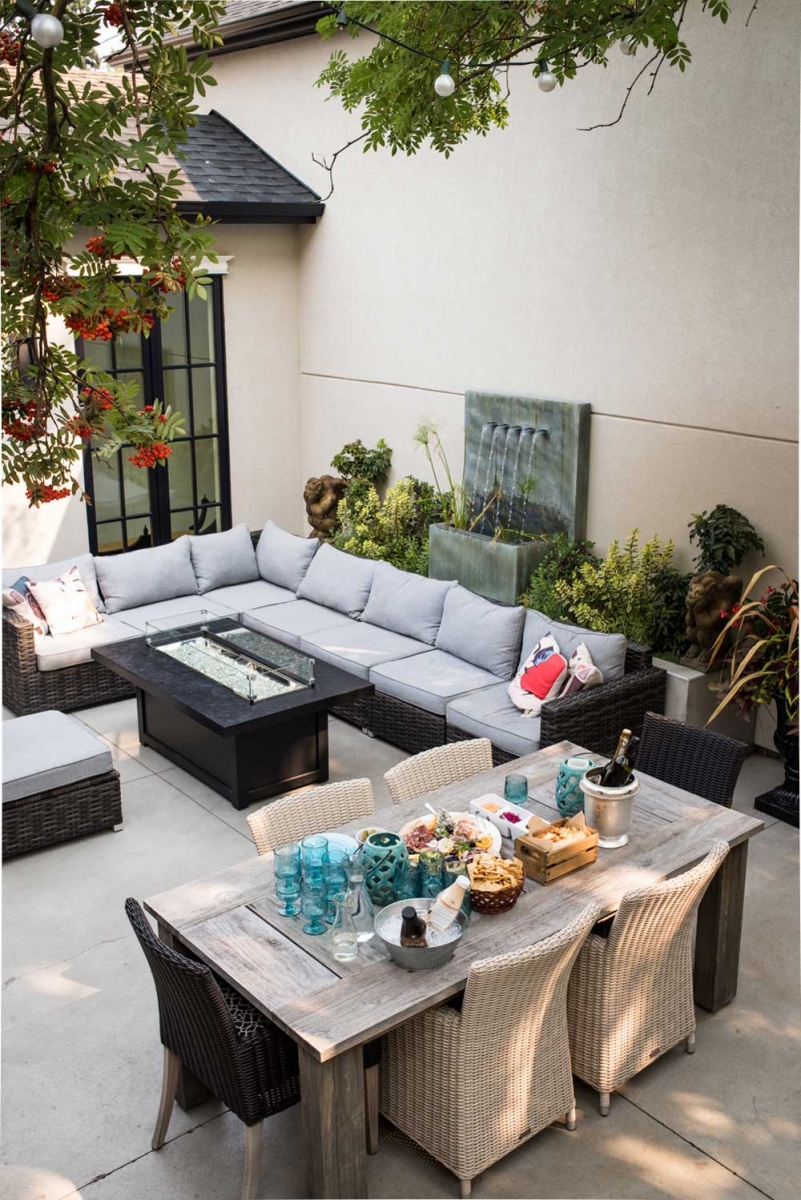 The European-inspired courtyard provides outdoor living space.
Homeowner Ron Ryan's Tips for Building an Art Collection
1. Life In Art "Purchase art when you are celebrating major times or significant changes in your life. When you look at that piece you will always remember the significance of that."
2. Gallery Hop "Wandering through galleries is what I do," Ryan says. "I'm glad that there are so many amazing galleries here in Calgary, and part of our holidays abroad is always to wander through galleries and flea markets."
3. Artful Souvenirs "When you travel, you open yourself up to a whole new world of art. You never know what you might find. If you do find a piece you love, make sure you buy it because you can't just go back. I've experienced that regret and still think of a few pieces we passed up over the years."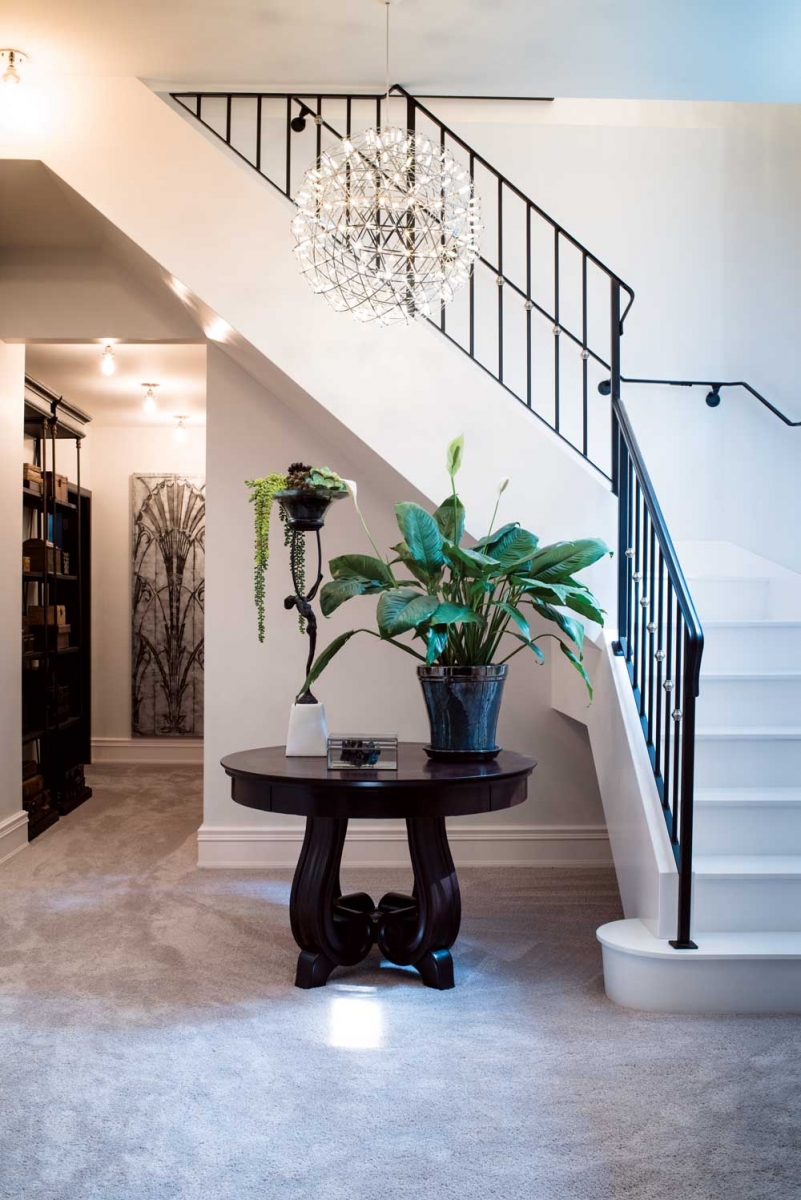 The home was raised to add 11-foot ceilings and plenty of natural light to the lower level, which contains the main suite.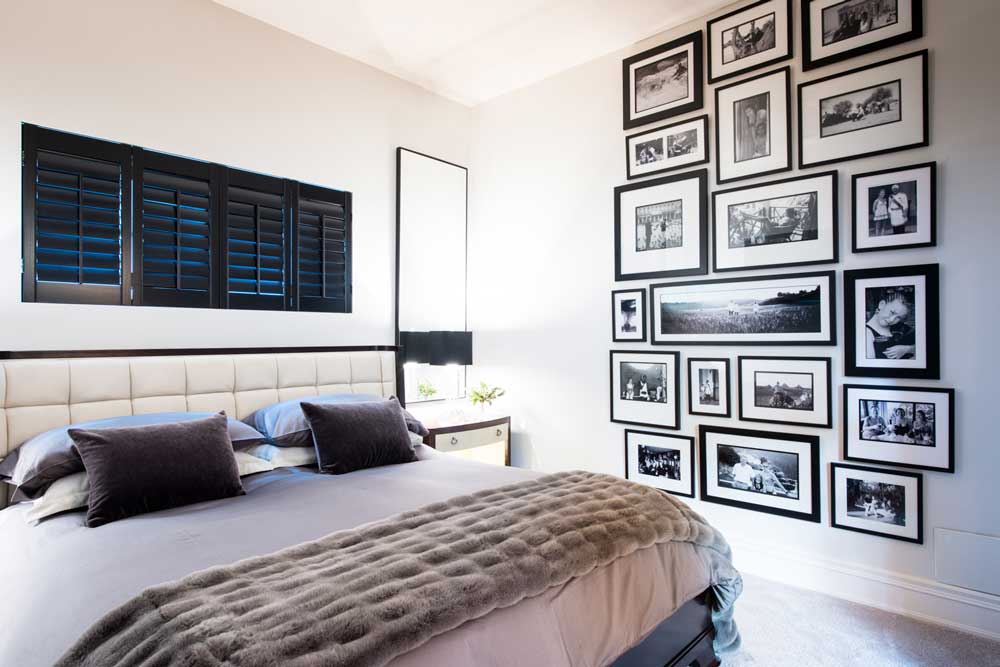 The main bedroom features family photographs on the wall.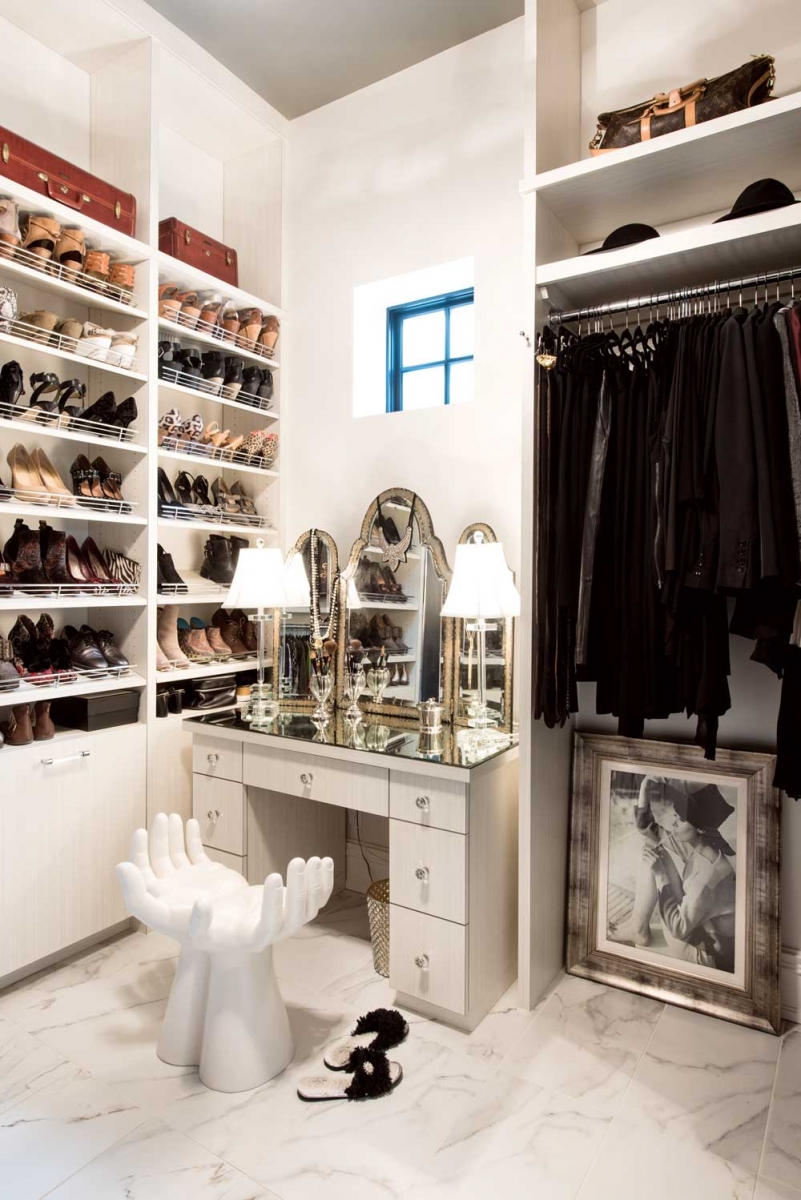 The main-suite's dressing room features glam touches such as mirrored surfaces, and a surrealist vanity stool.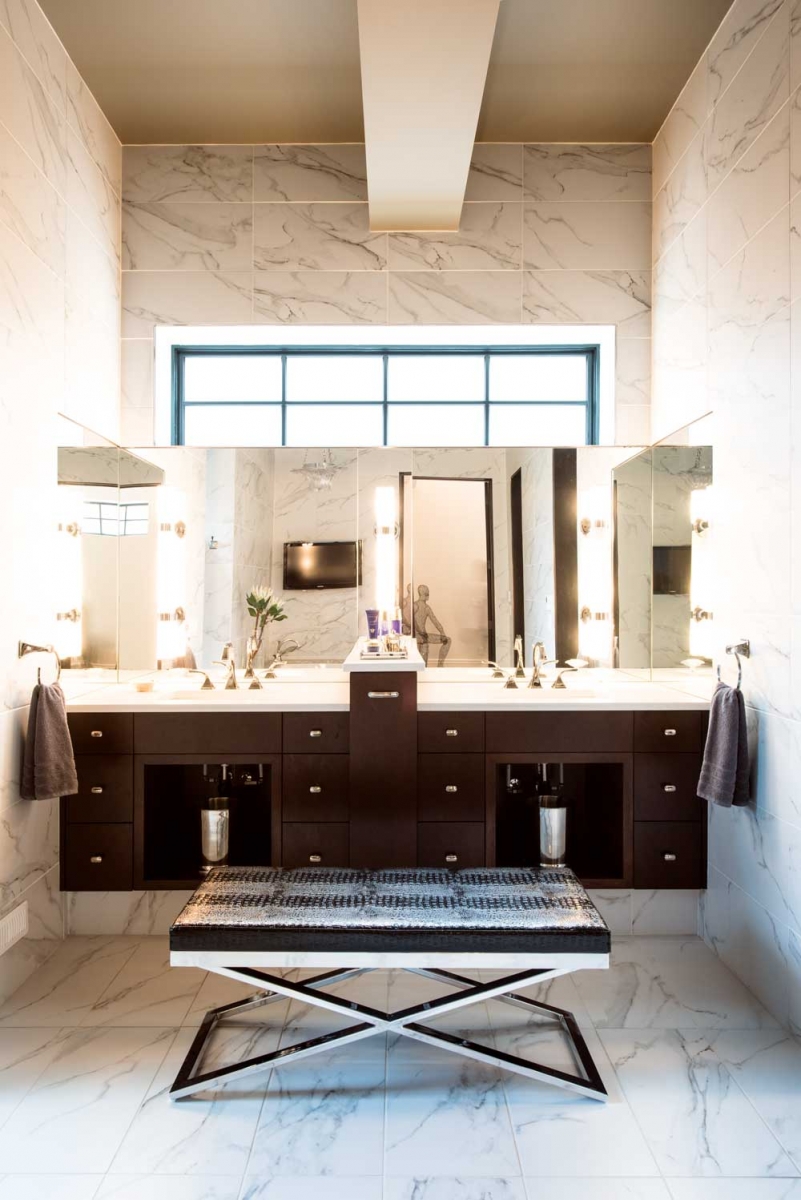 The spacious main bath is the ultimate escape from the hustle and bustle of life with his-and-hers sinks and a soaker tub.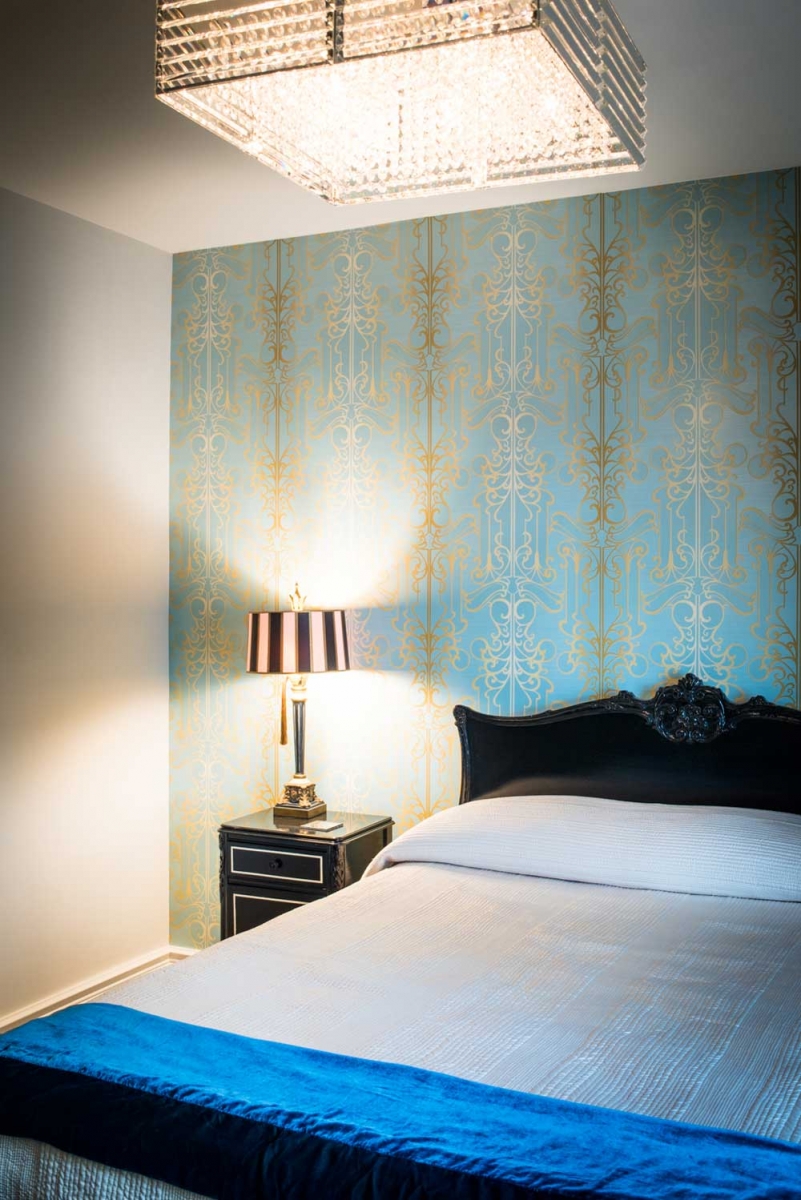 Inside the guest bedroom.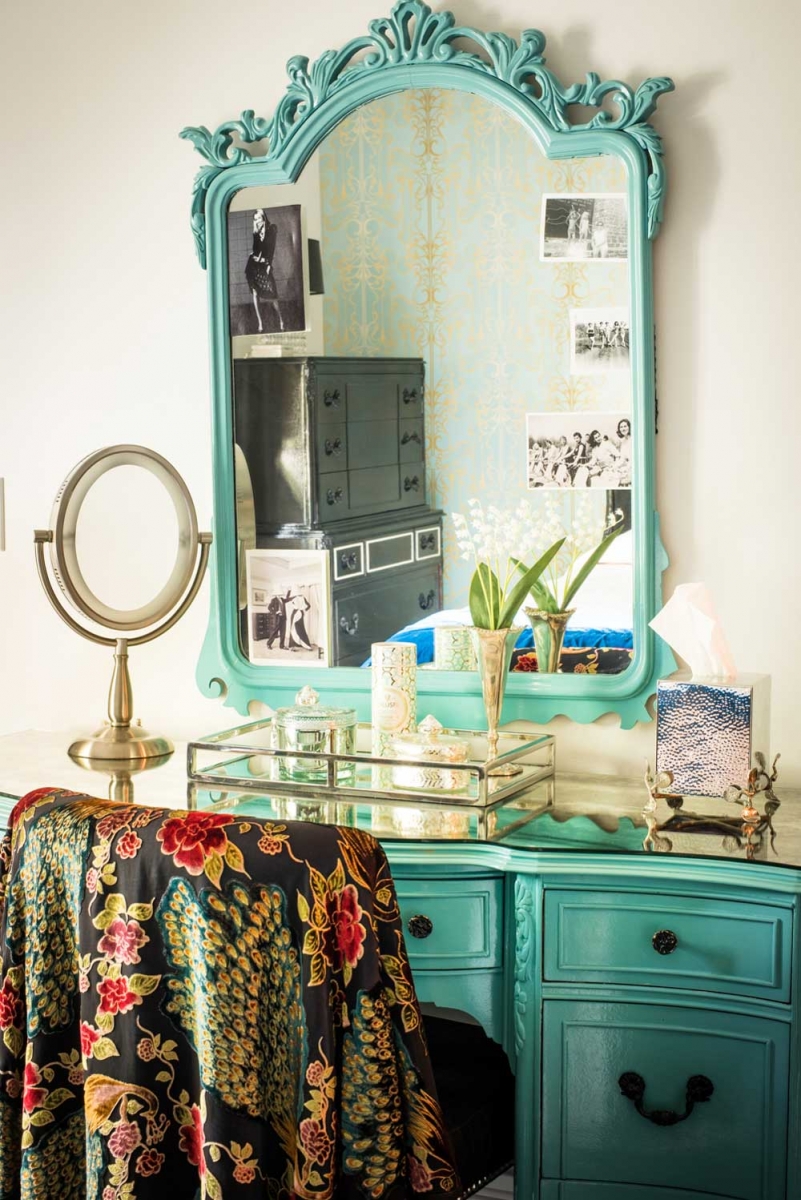 This striking vanity adds even more colour to the guest bedroom.