Designers Colin and Justin took an old cabin and literally elevated it-they lifted the building up a level-into a luxury income property.
For interior designers Colin McAllister and Justin Ryan the first step in starting a new renovation is to stop.
"So many people that we see do it the wrong way," says Ryan. "They buy their cabin or their condo and, in a kind of fit of elevated excitement, they run at their opportunity and they don't plot it."
But no matter how much you plot or budget, not everything is going to go according to plan. At least, that's how it went for the Scottish designers while working on an income property in the third season of their cottage country reno show Colin And Justin's Cabin Fever which airs starting March 20 on Cottage Life.
The pair battled Mother Nature, rotting rural construction held together by God's will and even dealt with some impulse spending when Ryan's passion for vintage vehicles took precedent over budgetary concerns.
Armed with the last $20,000 of their budget, Ryan went off with a cameraman and director to purchase drywall only to return with it in the back of vintage Chevy truck – price tag $20,000 – he'd spotted off the highway. While Ryan says he was proud of himself for saving $100 in delivery costs, the math didn't quite add up for McAllister who was less than impressed.
"In the story line, all hell breaks loose," Ryan says.
"It's not cause I'm a killjoy," McAllister says. "But we'd no money. So he's out buying a truck and I'm actually going through this house thinking 'Is there anything I can take back?'"
True to his word though, McAllister proves he's not afraid to spend money where it needs to be spent. He warns of the culture of the "weekend warrior" that plagues cottage renos.
"People will work really hard from Monday to Friday. Then they go up and ruin their entire weekend by doing botched DIY, devaluing their cabin and actually never finishing it," he says. "It will be this endless job that they will eventually die at 92 and never finish that bedroom.
Instead, he advises would-be renovators to take out a loan, get the work done and spend the rest of their time enjoying the work.
"Without overstretching," Ryan is quick to add.
A Game Of Chuck, Keep Or Up-cycle With Colin And Justin
After three cottage renos, it's safe to say Colin and Justin have seen just about everything when it comes to quintessential cottage decor. So we decided to round up some classic Ontario cottage mainstays to see what the guys would chuck, keep or up-cycle.
Loon Statue KEEP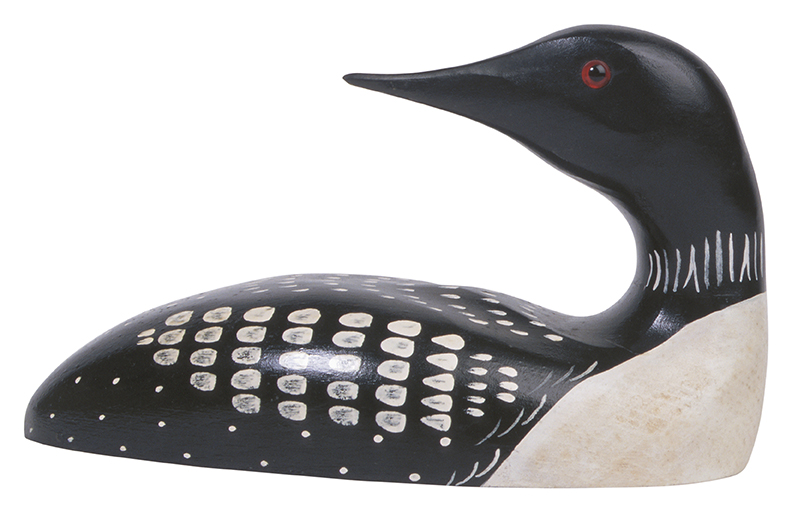 Justin: Oh my God, we have exactly that. Not just similar to that. I have two of them.
Colin: Loon lovers.
Justin: Oh, absolutely. Keep. I do love a loon call, that melancholic sound.
Colin: If you're going to have them, the decoy ones are nice, the antique ones are nice and the timber ones are great. Do not have wallpaper that's printed of it. You don't want a shower curtain covered in loons. And, please don't wear anything with loons on them.
Kerosene Lamp KEEP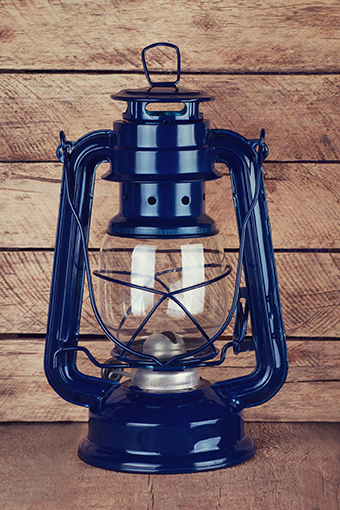 Justin: Keep. It's gorgeous. That is such a classic piece. And the reason that endures and is still made today as it was 200 years ago is because it's classic.
Colin: Something like that is really inexpensive. So don't buy one of them. Buy many of them. Dot them down a table. Create a look with it.
Log Bedroom CHUCK
Justin: Who doesn't like a lot of wood in the bedroom? There's too much wood there. I wouldn't have done a wooden bed. I'd take all the shine off for a start because shellacked wood isn't particularly nice. You want to buff your wood gently and make it much less shiny.
Colin: There's just too much wood going on there. So, the wood is beautiful, but don't be afraid to put up some art up.
Justin: And those curtains are inexcusable. So that's chuck. Chuck most of that. Restrain it. Limit it.
Floating Dock UP-CYCLE

Colin: You know what you would do with that? You would dress it. We had a floating dock at our log cabin and, rather than have it look like that, we had custom outdoor cushions made in waterproof fabrics and stripes so that it wasn't bare. It just looked like the kind of thing where you would find Marilyn Monroe swimming up, taking off her swimming cap and then having a shoot. So we had little tables and we created this little oasis of luxury. So don't leave it bare. That's the thing, there's no point in having a beautiful floating dock if you're not going to dress it up.
Floral Curtains CHUCK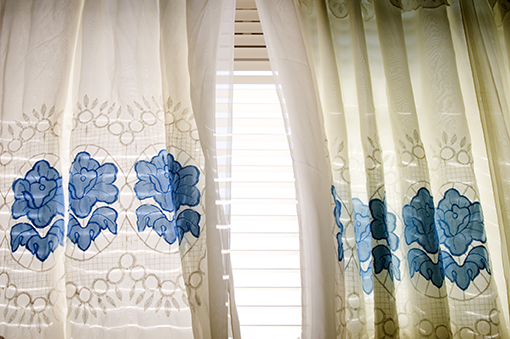 Justin: Oh, chuck. Whatever the frig they are.
Together: Chuck, chuck, chuck.
Chuck: It looks like a gay shroud. It's bizarre. You don't actually need privacy in cottage country because you can't see your neighbours. Design it in with your planting. It might be that you do a little something structural outside that's architectural and gives you privacy as well. We like to plant it in. So we can't see our neighbours at all.
Mint Fridge KEEP
Justin: Keep. I don't know if that's an original or a Smeg, but whether or it's an original or a reproduction Smeg, I'd keep that. Especially in that kind of minty 1920s colour.
Colin: It's kind of like having a classic car in the kitchen, isn't it?
Water Pump KEEP
Justin: Keep, keep, keep. I mean, you'd have a new version of that but you'd have the old one lying about on the counter looking really sexy. But you probably wouldn't be using it to suck the water from your ground anymore.
Colin: But you're not going to have it in a big basket full of potpourri. Sometimes these things can be quite twee. You don't have to be twee with industrial anymore because we're all into that whole hipster kind of thing.
Retro Dining Set CHUCK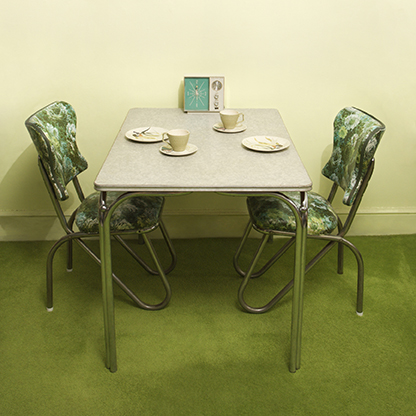 Justin: Oh, ditch. Oh for God's sake, ditch. Under all circumstances. There's nothing good about that. Sometimes retro's good.
Colin: Is that velour covers on those chairs? Absorbent fabrics in the kitchen are not a good look. I mean, does that suggest luxury lifestyle to you? You know, it looks like when you go and visit someone in prison and you sit opposite them with a cup of tea? Ditch. You know, I may keep the clock.
Stag's Head KEEP
Justin: Keep! We've got a stag's head in our house in Glasgow. We didn't put any stuffed animals into our current cabin because, if we do, viewers go crazy. So we didn't do any of that. Plus for renters, it's a really polarizing thing. I really like them. The one that we've got in our house in Glasgow was shot by my great-great-grandfather and it was shot and eaten. It was shot legitimately as food.
Crock KEEP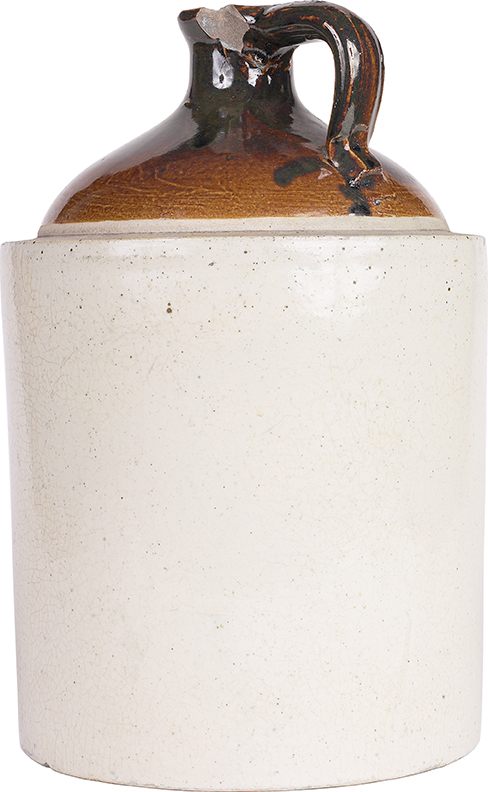 Justin: Keep, keep, keep. Do you like them, Colin?
Colin: You love a vessel.
Justin: Oh, I do love a vessel. I won't lie. Especially if it's glazed at the top and matte at the bottom.
Colin: What you do with that? Get three. You want a tall, medium and small so you can group them together. There's no point in having one little, lonely jar sitting there doing nothing. So think about how you can actually use things to create a greater good. Keep that and buy some more.
Colin And Justin's Cabin Pressure airs March 20 at 7 p.m. on Cottage life.