Laura Sharp is the potter and ceramic artist behind White Owl Clay, and a co-founder of the New Craft Coalition. She studied at the Kootenay School of the Arts and at the Alberta College of Art + Design, and now works in Calgary at her home studio. Her pieces are all one-of-a-kind, hand thrown, hand carved and hand painted. She is best known for her translucent porcelain tableware with hand-carved exteriors and luminous turquoise-blue interiors. Some of Laura's pieces are made using the paper clay method, with paper fiber blended into the clay. The paper fibers lend greater structural strength to the clay – when fired, the paper burns away, resulting in tall, delicate porcelain pieces that are surprisingly light in the hand. We met in her home studio to talk about her fine craft practice.
What got you started in this field doing this type of work?
The first school I went to was in Nelson, BC: the Kootenay School of the Arts. I was doing the writing program there. We were required to do a studio option, and I chose a clay class and just totally fell in love with it. Throwing on the pottery wheel requires you to just feel, it just becomes a kinesthetic memory. Moving from such a heady occupation as writing, it was just so refreshing to get out of my head, to just be in my body and work with my hands.
So do you call yourself a ceramic artist, or a potter, or an artist?
I'm OK with any of those. I do call myself a potter, and consider myself more of a potter than a ceramic artist because for some reason in my mind a ceramic artist would be way better at glazing, and understanding the technology and chemistry behind glazing. Whereas I make pots, I love making pots. That's what really enticed me about working with ceramics in the first place was specifically pots. I think there's something really endearing and seductive and mysterious and evocative about pots – whether it's functional or a vessel, I really love the form.
Where are you most productive?
When you have kids you have to be more disciplined with your time – It's almost a natural schedule you fall into where you have to get everything done during the day so that then you can devote your attention to your kids. I get up every single morning at 6, and I spend some time by myself. I do a little meditation, and then I write. I do lists of what I have to accomplish for the day in my studio or planning for the show, and then my reward for getting through all that is that I get to do some sketching, and dreaming. Then I go exercise. So when you ask where I'm most productive, it's out of my house. Because I go, I leave after I do my meditation. I get up and I ride my bike down to do my workout at the Y, but I go to the Good Earth first. I get a coffee, I spread out, nobody's bothering me, and I have that time to answer myself, which is awesome.
How were you inspired to start this project or line of work?
I can show you actually, the first piece I ever did. It's this little tumbler I had, and my studio mate had all this black slip [a fluid suspension of clay in water], so I painted it all over and I carved it, and there were some students doing a wood firing, so I put it in with their things, and I just loved it when it came out.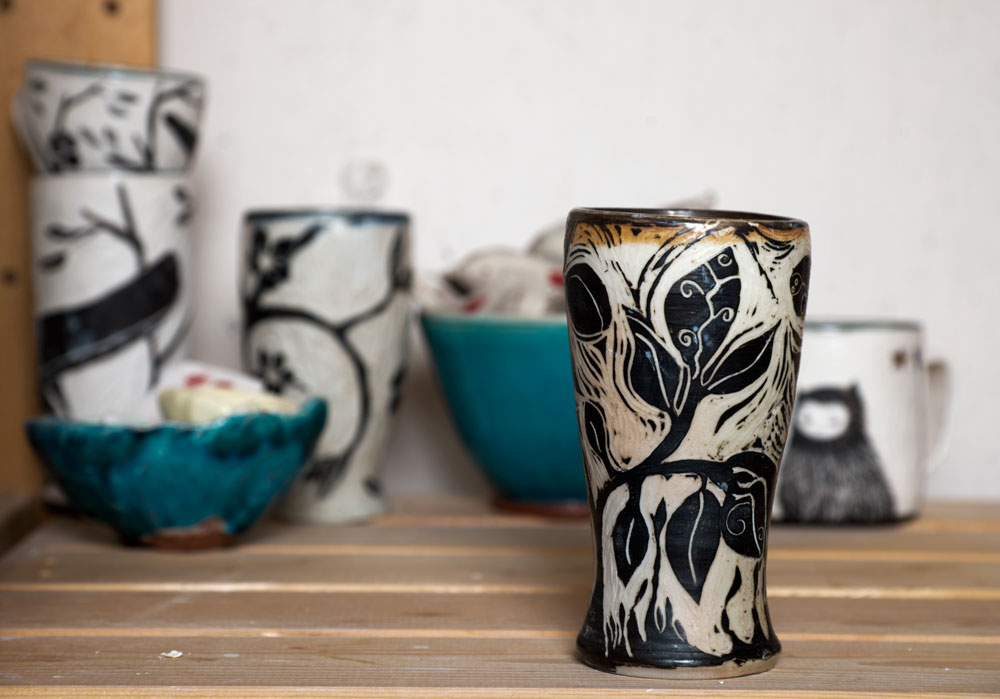 At the time I was already working on something else, I was actually throwing these huge sculptural vessels, as big as would fit in the kiln. I had nine of these huge pieces, and I went into the studio one day and found a note on them, someone had knocked them all over and they were ruined. So my teachers were trying to help me figure out how to get over this, really this kind of tragedy, and I just decided to take them and start carving into them. Because they weren't going to be what I had wanted them to be, I just kind of used them to experiment on. So I carved all of them and just really got addicted to carving. I really like the idea of putting images on work and with this method, you never lose the image through glazing or firing, it always really stands out.
Where do you see this line of work going?
I'm always trying to push myself further in my understanding of material, so while I do have a standard production line, I'm always trying to add new imagery in, or to create new forms but use the same surface treatment. I've also discovered a new type of surface treatment that still involves slip and glaze that I tried on some pieces that are just about to come out of the kiln, and I'm excited to see if they turned out or not.
What are you planning next?
I'm working on a collaborative project with a friend who is a printmaker. It's sort of a conversation back and forth between us, where we take turns responding to each other's work. My friend is awesome; she's very academic and intellectual. She reads a lot, she has a lot of questions, and she challenges me a lot. We're working towards having a show in May 2016.
I'm also interested in working with galleries more. I like the idea of working with a gallery and moving into a more sculptural plan – bigger vessels. I feel like I'm doing all this production work and developing my skill and discipline to work on a larger body of work, towards more gallery-focused shows, where you have 4 or 5 months to consider a single smaller body of work. For the show that I'm having at the Midtowne Gallery, I'm trying to do bigger pieces, more sculptural, less about function and everyday use and more about the presence of the object itself.
I'd like to see about applying for some awards, or funding so that I can get out of the studio and maybe travel to Northern Europe to do research.
Who are some of your favorite/most inspiring makers?
I have a ton of ceramic artists that I love. I'm constantly finding new ones, like today I just came across this old-school potter from Britain, John Ward. I've been pinning his pots for a while, but didn't really know who he was. They're pots, they're vessels, but they're so contained, so realized.
Kathryn Finnerty, she's a Canadian artist who moved to the states.
Sara Pike, a Canadian potter who also shows her work at New Craft Coalition.
Another one of my favorites, Julia Galloway, was a visiting artist at ACAD once, and she left a teapot there. When I was in 3rd or 4th year, my teachers gave it to me to have in my studio, so I had it there with me for 6 months. Ceramics are so tactile so I could explore the piece that way, but visually as well. And later I had the chance to meet her at Red Deer College, and I told her, "You don't know me, but I feel like I know you, like you spent 6 months in my studio with me," and she understood that completely.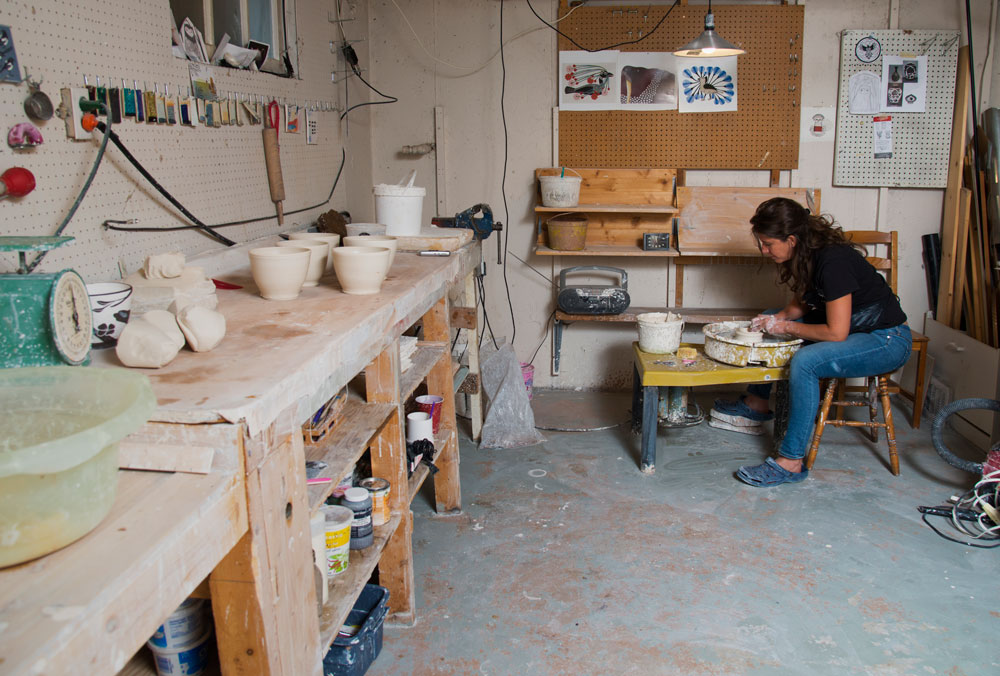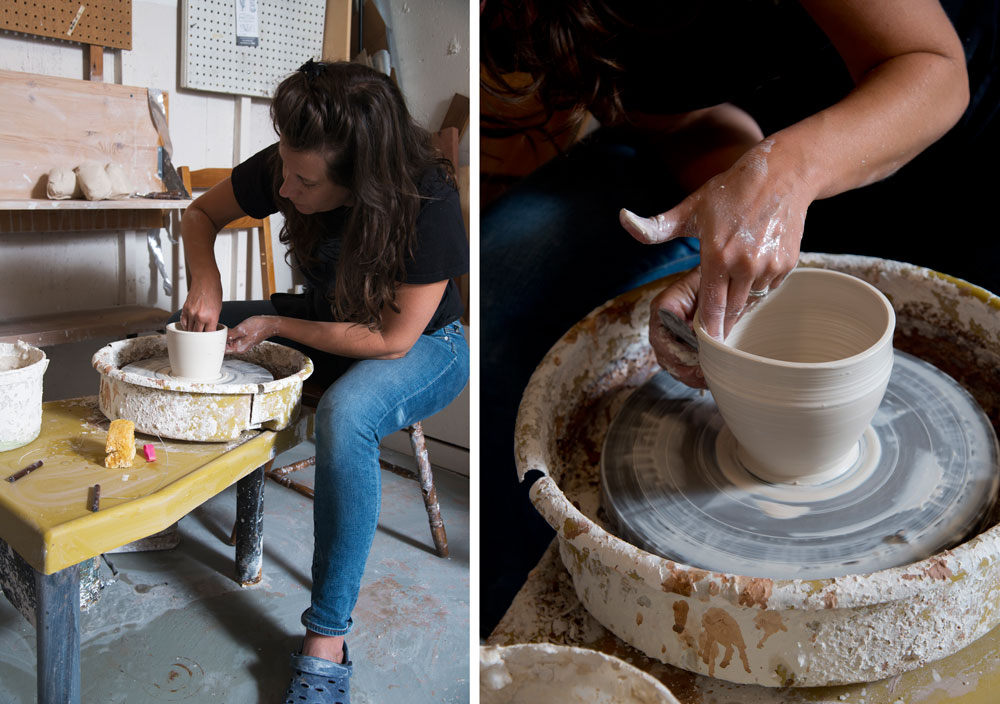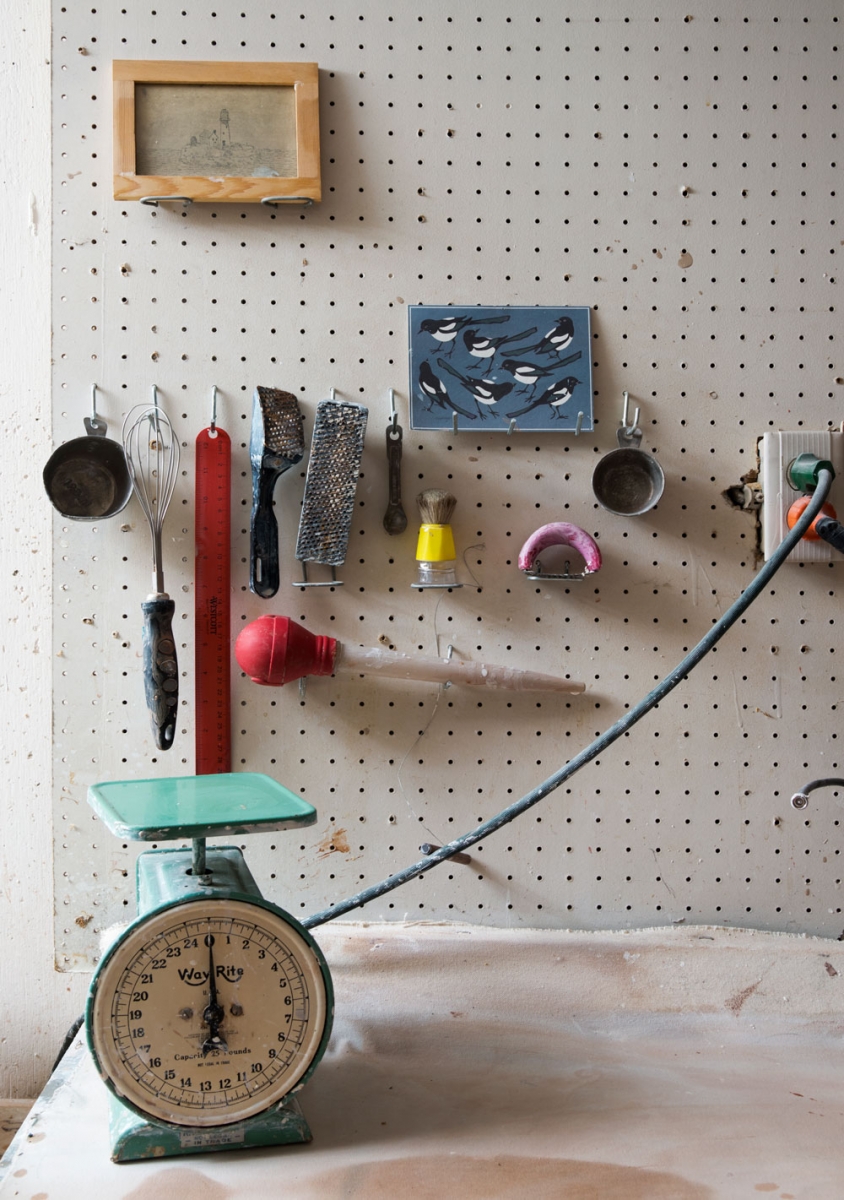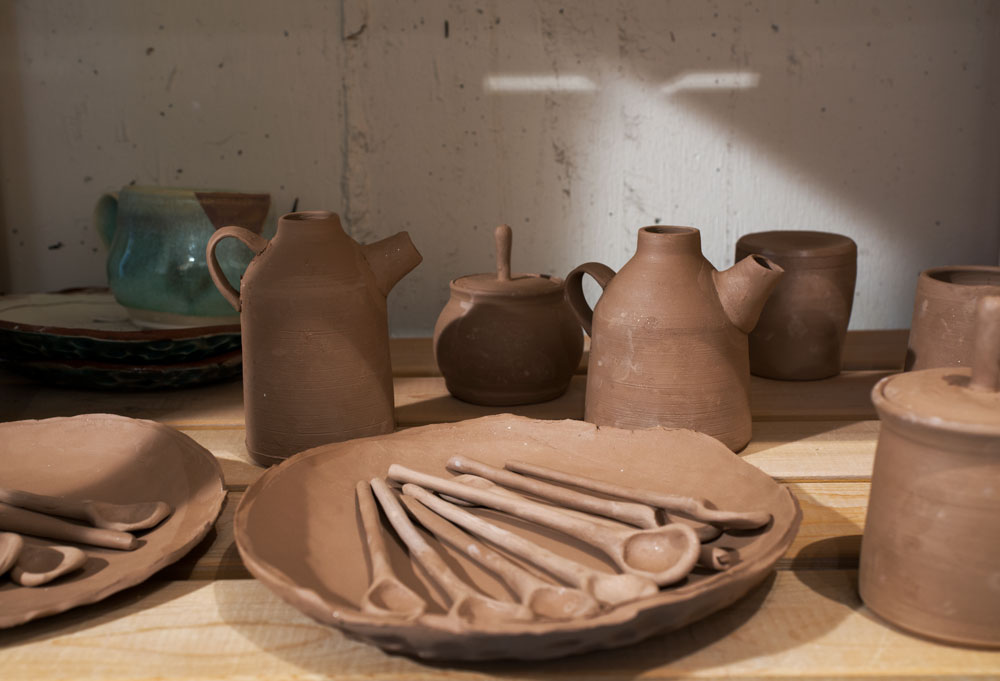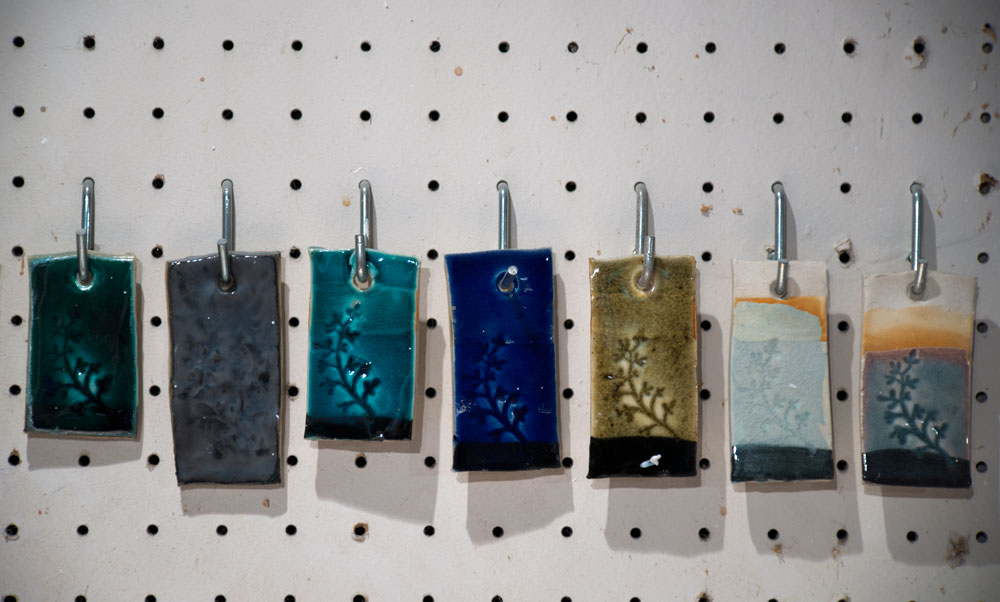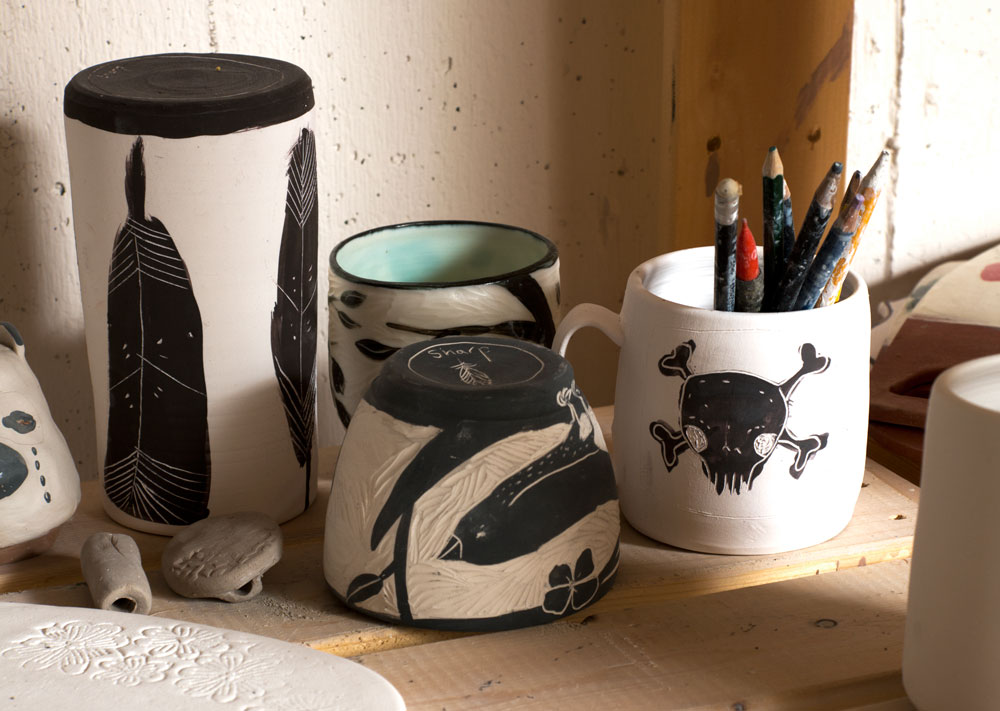 Where to find White Owl Clay
Laura Sharp's work will be exhibited at Midtowne Gallery in the group show Mostly Monochromatic Set from October 10 to 31.
Sharp will also be selling work at the New Craft Coalition fall sale October 16 and 17 at Festival Hall.
See more photos of Sharp's pieces and a list of galleries and shops that carry her work at whiteowlceramicstudio.com.