On February 8, 2019, Nina Kharey presented her fall/winter 2019 Nonie collection at New York Fashion Week with some of Calgary's top style professionals in tow. This was Kharey's second time showing at the premier fashion event, and despite a rapturous response to her spring/summer 2019 collection shown back in September, she knew she wanted to do things a bit differently this time around.
"I think we had about 700 people come out, but we had to close the doors because we were at capacity," she recalls. "The second time around I wanted to do a bit more of an intimate show, so I only had about 110 seats." These exclusive 110 seats were reserved for invited editors, buyers and influencers — each of whom was handpicked by Kharey.
Another very deliberate part of the planning process was selecting a team of hometown talent. Here, Kharey invited loyal comrades whose work she believed in to share the experience of the presentation with her. She collaborated on hair with Hedkandi Salon (with Tessa Mills in the lead hair role), citing the company's early and ongoing support of her work dating back to 2015. She also used talent from Calgary-based Mode Models, whose professionalism has continually impressed her over the years. Finally, Kara Chomistek and Jessie Li from Park came along to assist and Avenue contributor Nickol Walkemeyer took lead on makeup.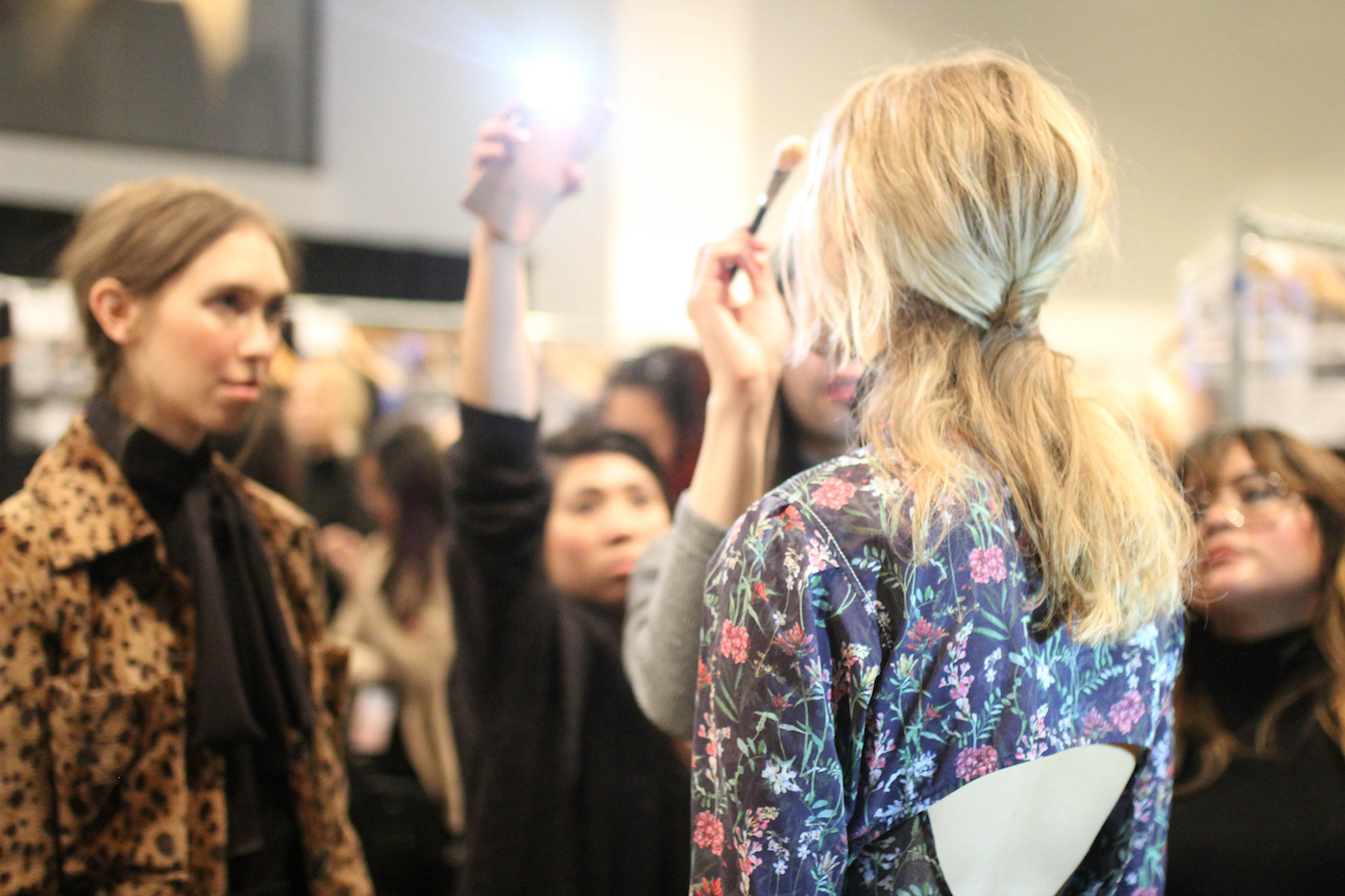 The process of putting together a show for NYFW is a bit more breakneck than you might expect. Kharey recalls beginning the design phase in October, choosing fabrics and doing a venue walkthrough in November, and then little of the months following. "December and January are just a blur," she says. "Hair, makeup, music… There's just so many details, and then eventually it comes together in February for one big show that's about eight minutes long."
But the results are oh so worth it. Kharey's collection, like all of her work, was made here in Canada. The earth-toned jumpsuits, dresses, trench coats, blouses and skirts denote a certain executive badass quality, designed for the woman with the world on her shoulders but a simultaneous glint of mischief in her eyes.
"My style has always been minimal, and this collection that we're showing is inspired by the working woman; someone in the corporate world, but who is also a little bit rebellious," she says. "So I want her to look like she basically just got out of bed, freshened up a little bit and went to work. The hair I've asked for is kinda bedhead, but pushed back. Simple, a little bit of texture and tucked behind the ears." This is where Hedkandi came in. Founder Jereme Bokitch repeated Kharey's description of the hair design nearly verbatim during our interview, adding "perfectly undone" as a rather evocative description of the final look.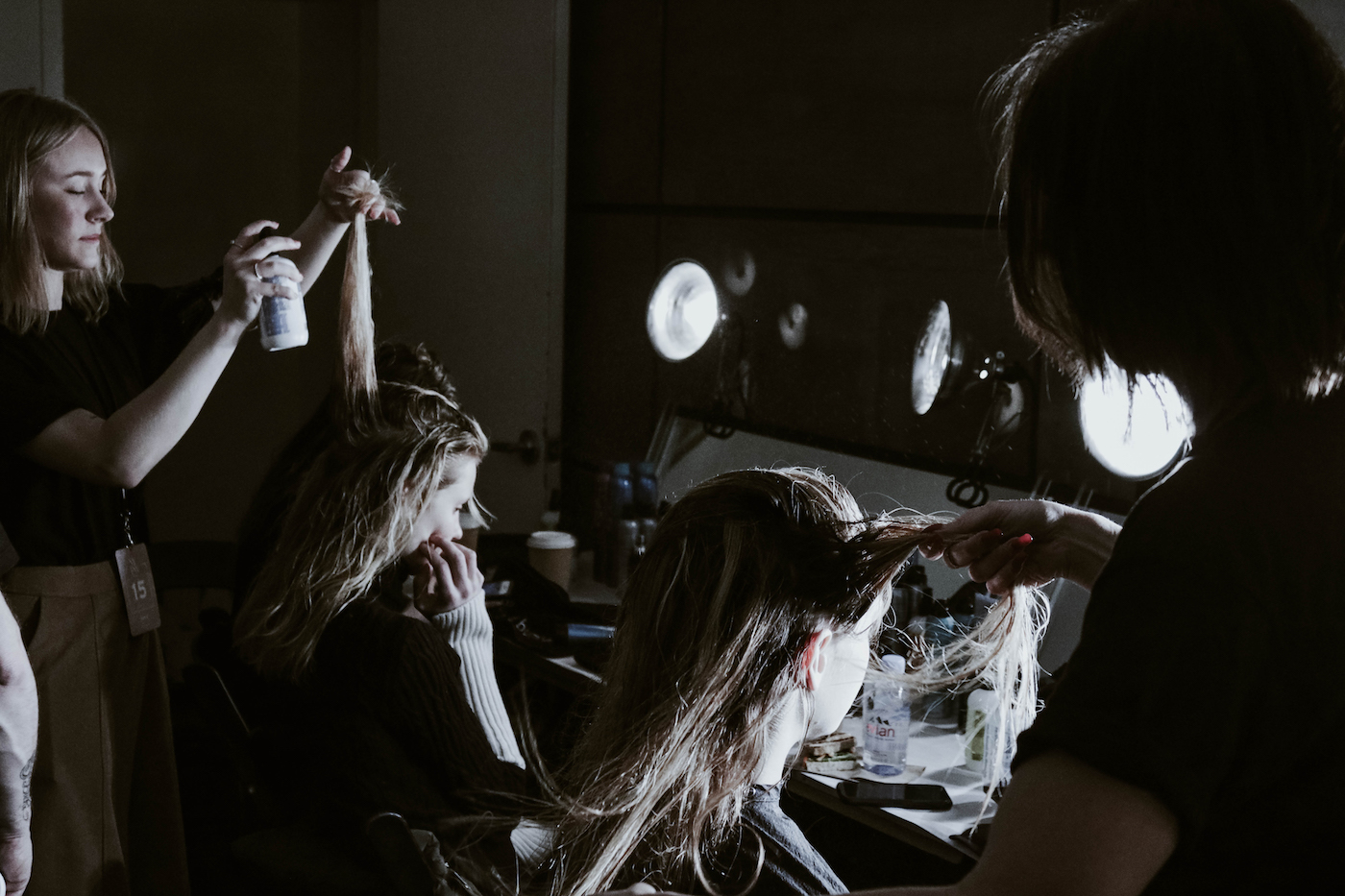 As the interview with Kharey neared its end, the subject of Meghan Markle, Duchess of Sussex, sporting Nonie this past summer arose. So, if Kharey could see any celebrity rocking her fall/winter collection, who would it be?
"Michelle Obama," she says without hesitation. "I'm always targeting women who are not just influential but are leaders themselves in a positive way, socially and in all ways. She just embodies all of that for me."
You can view video of the full show on the official New York Fashion Week website now, and pre-orders for select collection items will be available in March. You can join the Nonie mailing list to keep track of that, and to find out about the Calgary unveiling of the collection where prospective shoppers are invited to see and touch the garments for themselves.
Correction: A previous version of this story incorrectly described Mode Models as Edmonton based and stated that the show used exclusively Mode Models talent. In actuality, Mode Models is based in Calgary and some models from outside the agency were used for the show.