Sunjeev Prasad is the sartorially conscious image consultant behind Street Gentlemen, a personal styling business for professional thirtysomething men. Prasad also authored an e-book, Men's Style Mastery: A Proven Guide for Busy Professionals and writes weekly posts on his Street Gentlemen website. His goal with Street Gentlemen is to help men feel more confident in their personal style – whether to help them feel more attractive for dating or more polished for career success.
With his hybrid preppy-streetwear look, Prasad describes his own style as being somewhere between The Fresh Prince of Bel-Air's Carlton and Will. He documents his outfit-of-the-day on his Instagram account, a quick stop for style ideas and inspiration and to show the evolution of his own personal style.
How did you end up with a career in image consulting?
When I was younger I had no idea what I was doing when it came to style. I often share my "before" photos on social media and you'll see that I wore oversized pants and extra-large sweaters when, really, I was a small or medium. It came to the point where I realized that my confidence, my self-esteem and my dating life weren't where I envisioned them being. I knew something had to change and I felt that the fast way to get to that point was to improve my image. When you look good, you feel good. I just started slowly figuring out style. It was pretty great that both my mom and grandpa are very stylish people and one of my best friends is a designer – I started working with him on his streetwear company 6streets back in 2013. Between that and working in men's retail, I learned about proper fits and how to put outfits together. When I realized that it had become my passion, I decided to launch my business.
What do you take into consideration when creating a wardrobe for a new client?
I like to find out what they want their style to be and get an idea of what's holding them back. We develop some goals and then we start building the foundation wardrobe, the timeless pieces that every guy needs. I prefer to stay away from overly trendy items that will disappear or look dated in less than a year. I usually audit their wardrobe and help them decide what pieces they need to add. The second step is shopping for it all. Once we've put it together, we plan outfits and actually shoot a lookbook of them wearing each outfit so they can reference it later.
What appeals to you the most about men's fashion?
It is something I love to talk about all day, every day. I love to learn about it, read about it and find inspiration seven days a week. I've seen the difference style can make in someone's confidence and I want to help people feel empowered by that. Something as simple as changing a few things or trying a new fit can really lift someone's spirits. A lot of men do not enjoy shopping and do not explore style by trying new things on so they never really evolve out of their comfort zone.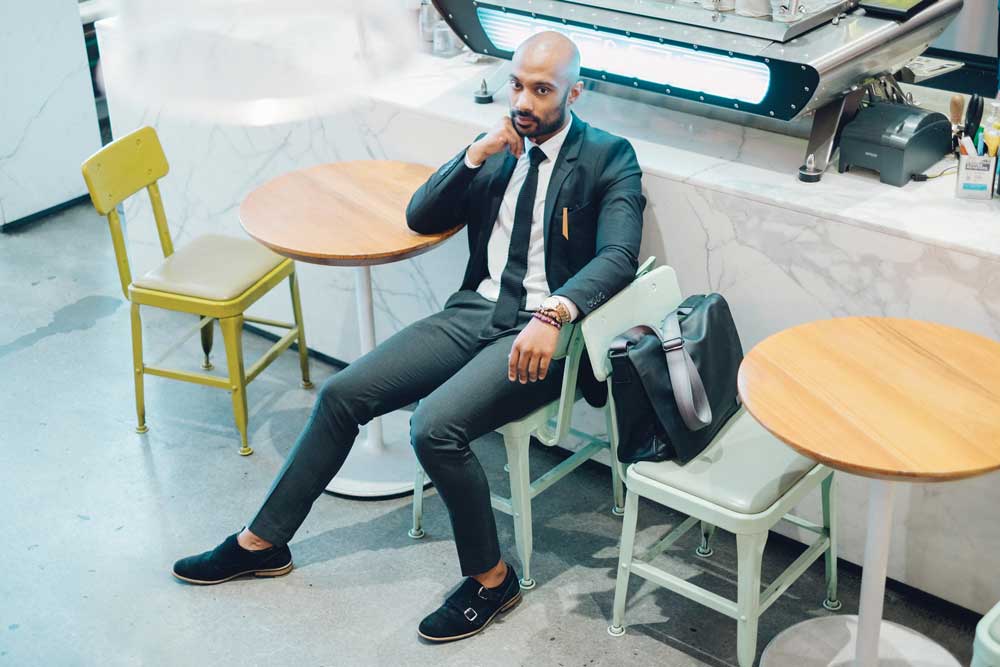 Suit jacket, dress pants and shoes all from Topman; shirt and tie from personal collection; bag by Calvin Klein; watch by Vestal; bracelets by Playfield Co.
Where does your inspiration come from?
Instagram, for sure, is where I love to gather inspiration from style bloggers, suit designers and other brands. I'm pretty lucky that my three best friends are all pretty stylish guys. I can always rely on them to help me with ideas and ask for their feedback. We are all pretty honest with each other – if something isn't working we will call each other out on it.
How would you describe your own personal style?
My company's name, Street Gentlemen is inspired by my own personal style. I love a suited-up preppy look, but I also really love athleisure street looks.
Is comfort important to you when it comes to fashion?
I would totally choose fashion over comfort. I'm willing to sacrifice my comfort for skinny jeans.
Do you have a favourite fashion find – something you are over the moon about?
My favourite streetwear brand is called A Bathing Ape from Japan. I'm really drawn to their design and colours – people like Pharrell and Kanye West have worn their stuff. A shirt from them is definitely an investment piece.
Why is fashion important to you?
It is a really good chance to express who you are without having to say anything – some days you just want to wear all black, a hat and hide out in a coffee shop, other days you want to be more outgoing and approachable and you like what you are wearing, you feel great.
What does the future hold?
I'm going to be focusing on the digital side of things for my company. I'll be shooting more videos and doing more writing.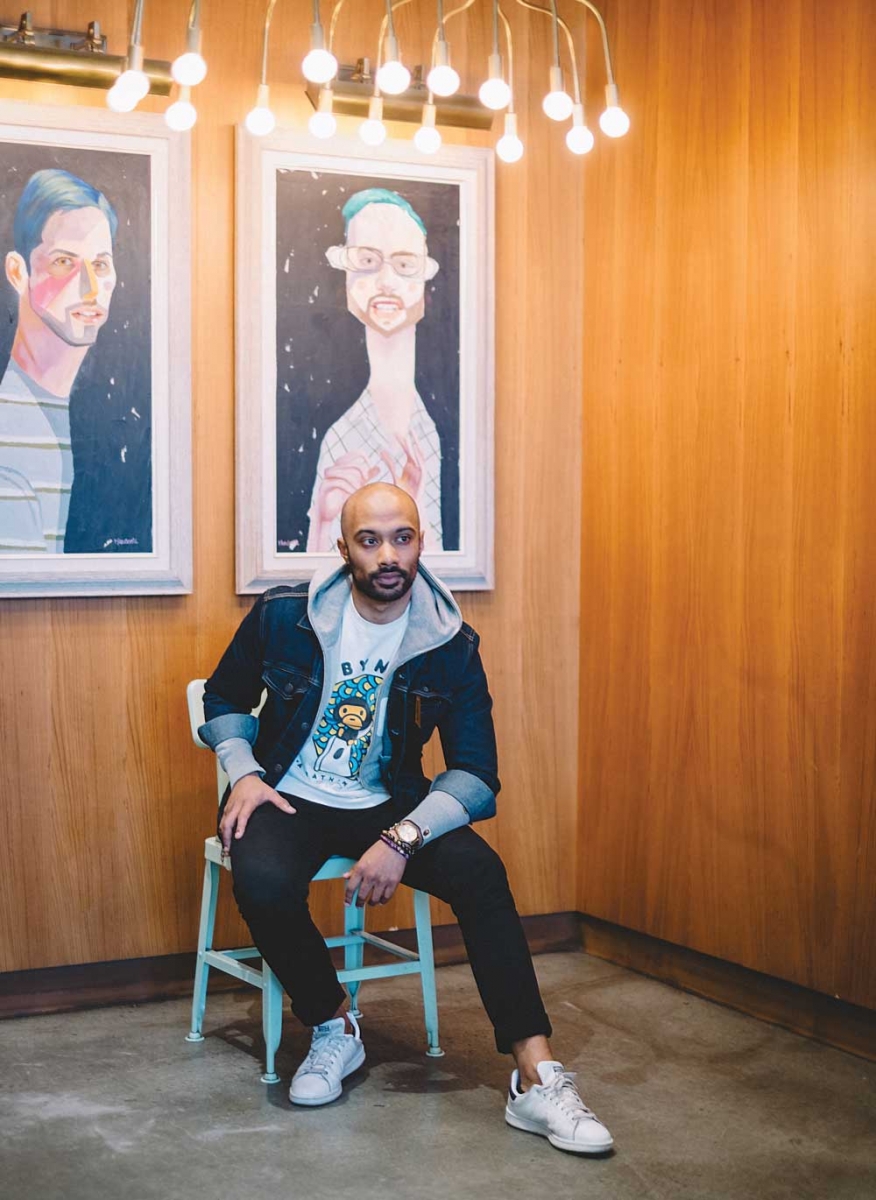 T-shirt and hoodie both by A Bathing Ape; denim jacket from Levi's; jeans from Topman; shoes Adidas Stan Smith; watch by Vestal; bracelets by Playfield Co.
Lightning Round with Sunjeev Prasad
Where do you shop locally?
Modern Menswear, Brooklyn Clothing and Understudy.
What about home decor?
West Elm is great; I'm in love with their chairs.
Favourite hangout?
Phil & Sebastian on 4th Street.
Favourite place to work?
When I want to be really productive I go to Philosafy Coffee on 17th Ave. S.W.
Favourite local brand?
6streets – it's my friend's company.
What do you do in your spare time?
I love going for coffee. And I work out at Goodlife Fitness five times a week.
Daily must-have item?
A really nice cologne. My favourite is Yves Saint Laurent La Nuit de l'Homme.
Recent fashion splurge?
I just designed my first pair of sneakers on Nike ID.
Favourite magazines?
GQ and Sharp Magazine.
Favourite Instagram accounts?
@mr.danielocean, @menwithstreetstyle, @menwithclass, @keymanstyle, @aleksmusika