Store Spotlight: LESS17
LESS17 is one of the latest shops in Calgary to offer high-end casual menswear, footwear and accessories.
By Aldona Barutowicz
LESS17 offers a well-curated collection of denim, outerwear, shoes, sunglasses, bags and more.
Photography by Aldona Barutowicz
Name: LESS17
Where to find it: 930 17 Ave. S.W., 403-228-9199, lessoneseven.com, @lessoneseven
Origins: LESS17 (which stands for Limited Edition Source Supply, and pronounced "less one seven") opened in July 2014 and is owned by The Source Skateboards and Snowboards, the same company that's brought the snow and skate world to Calgary since 1992.
Sells: LESS17 sells a combination of menswear apparel brands such as Adidas Originals, Levi's Made & Crafted, Naked & Famous, Palace and Filson, among many others. It also carries footwear, accessories, personal care items, watches, wallets and skateboarding goods. If you're unable to visit its 17th Avenue location, their website offers online shopping.
The Space: The most distinguishable feature of the space is the ceiling adorned with black-and-white photographs. The clothing displays are set on a wooden of concrete walls or on shelves held up by thick chains. Everything is clean, well laid out and easy to shop. The downstairs area includes a good selection of denim, outerwear and T-shirts, a seating area near the change rooms and an art gallery space that is ever-changing with new artwork installations.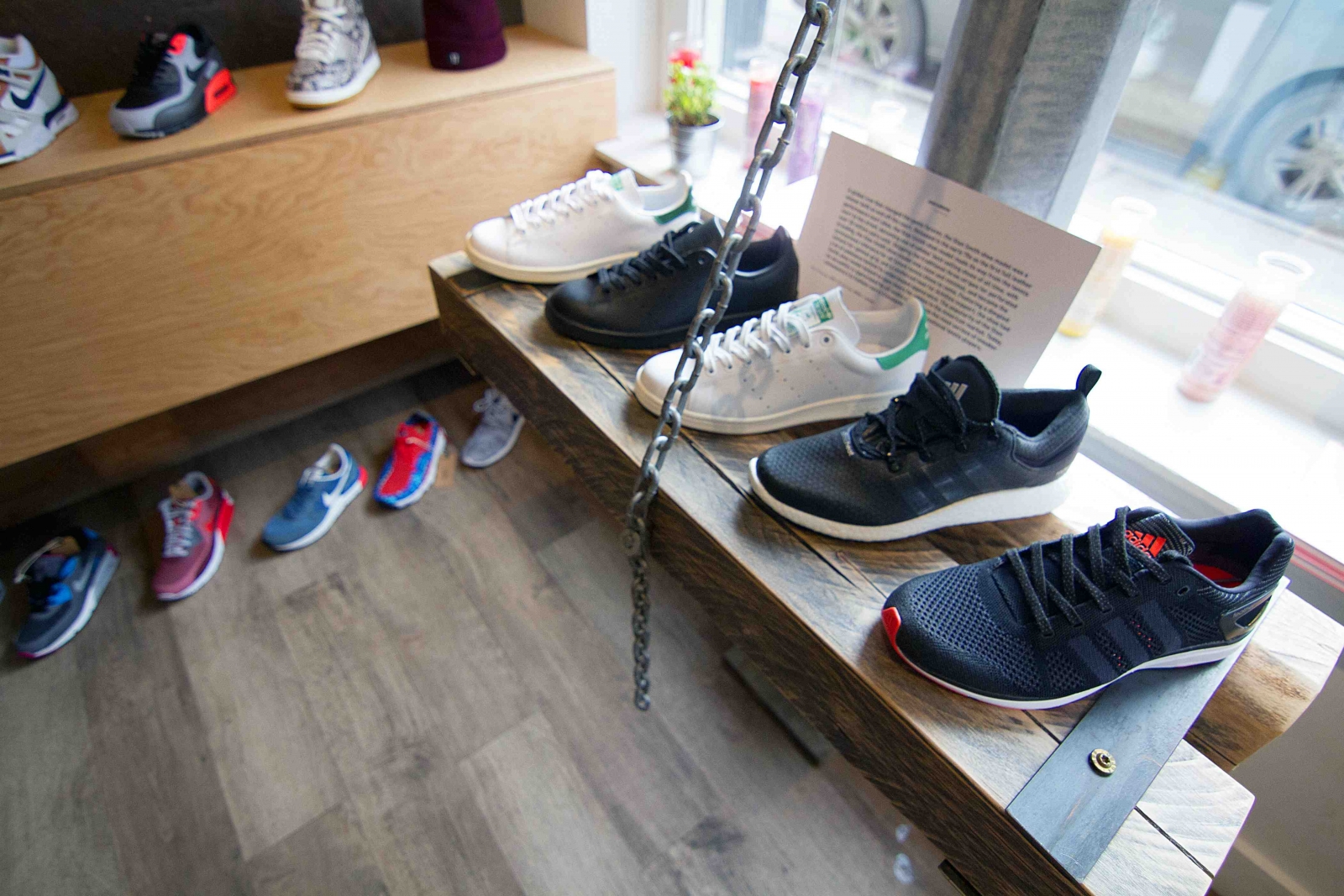 LESS17 carries an excellent selection of sneakers from brands including Nike, Adidas and Converse.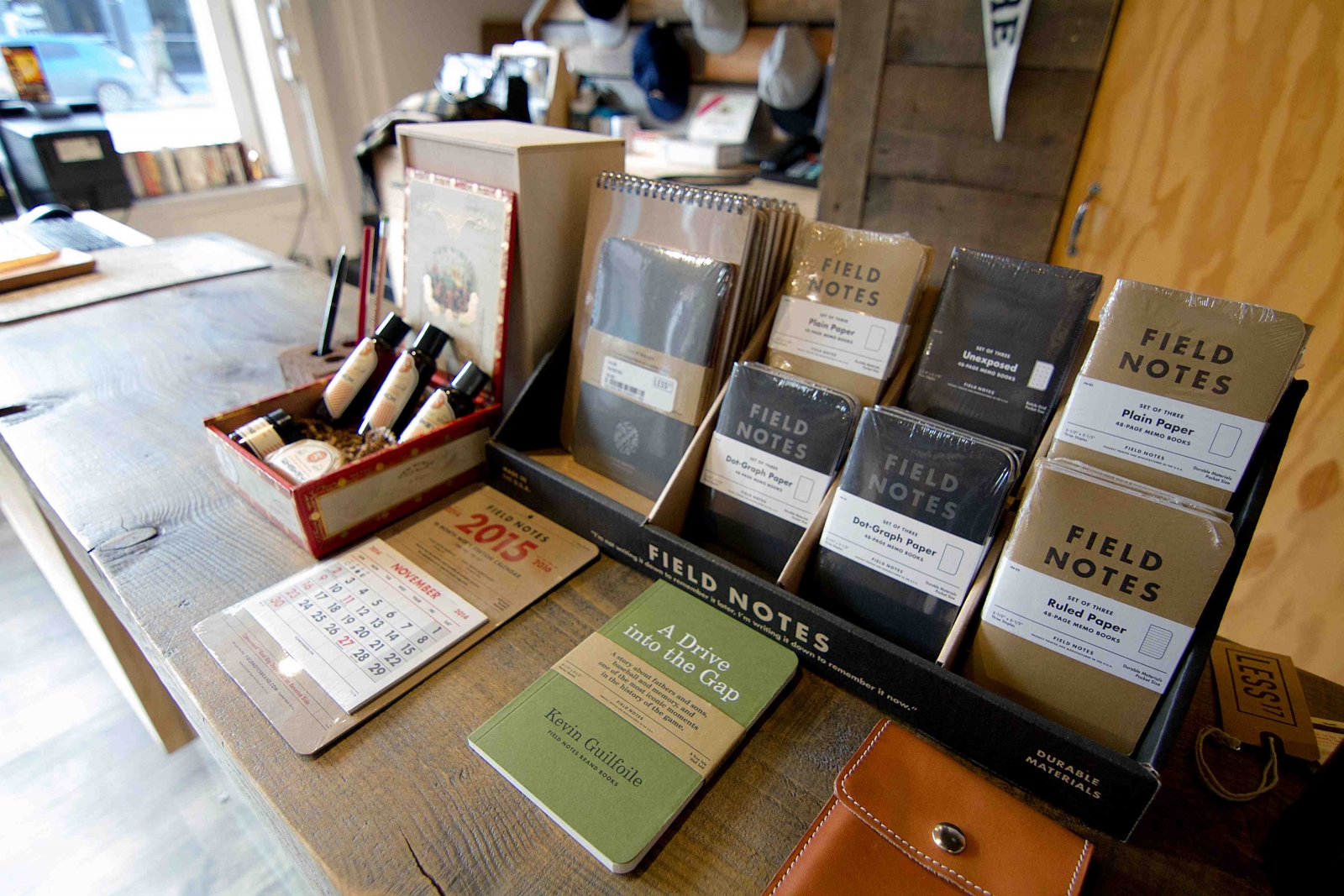 Grooming products, giftware and accessories round out the fashion finds at LESS17.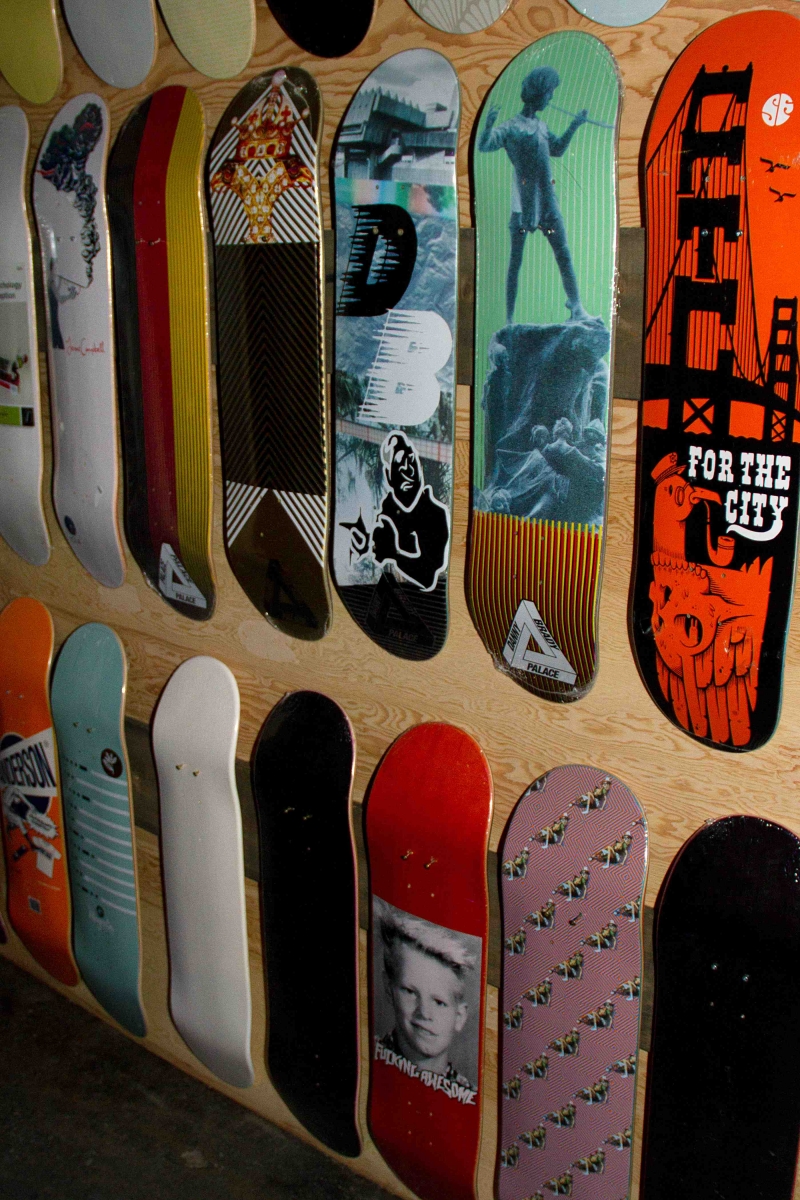 True to their skateboarding roots, LESS17 carries a selection of decks.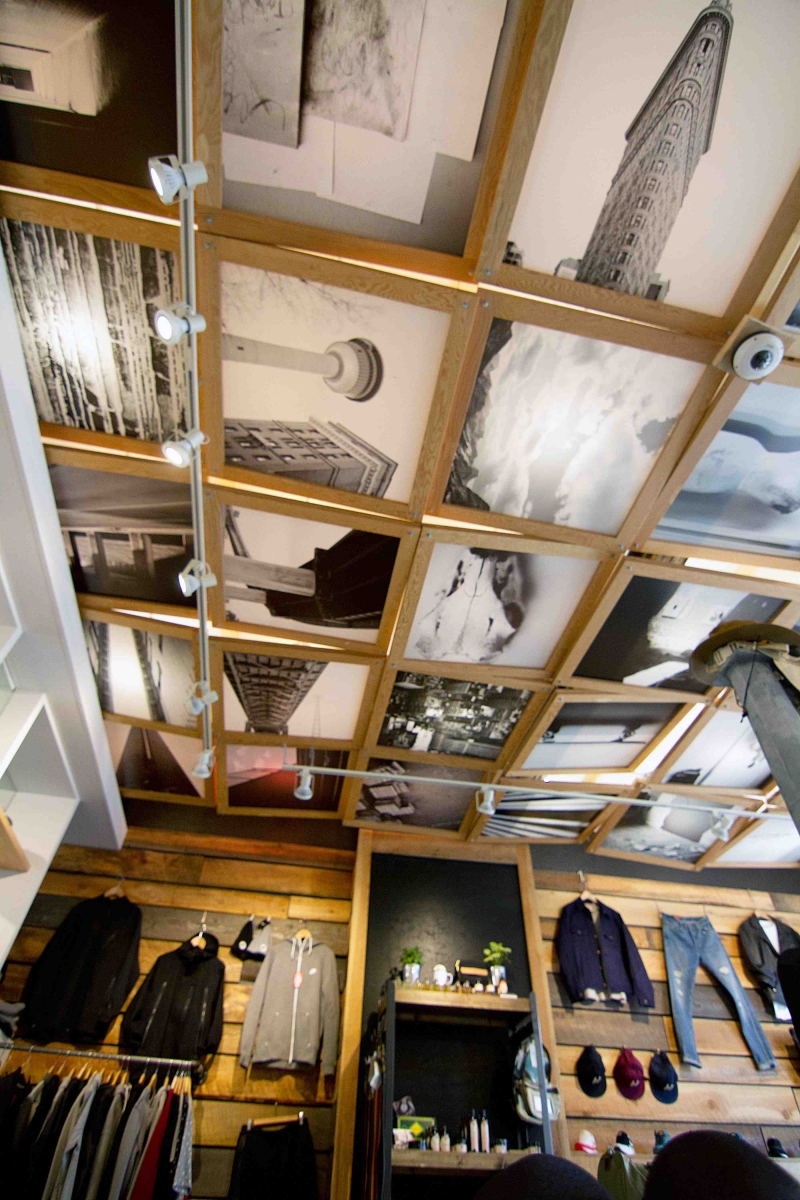 When you enter the 17th Avenue store, look up. The ceiling is tiled with beautiful black-and-white photography.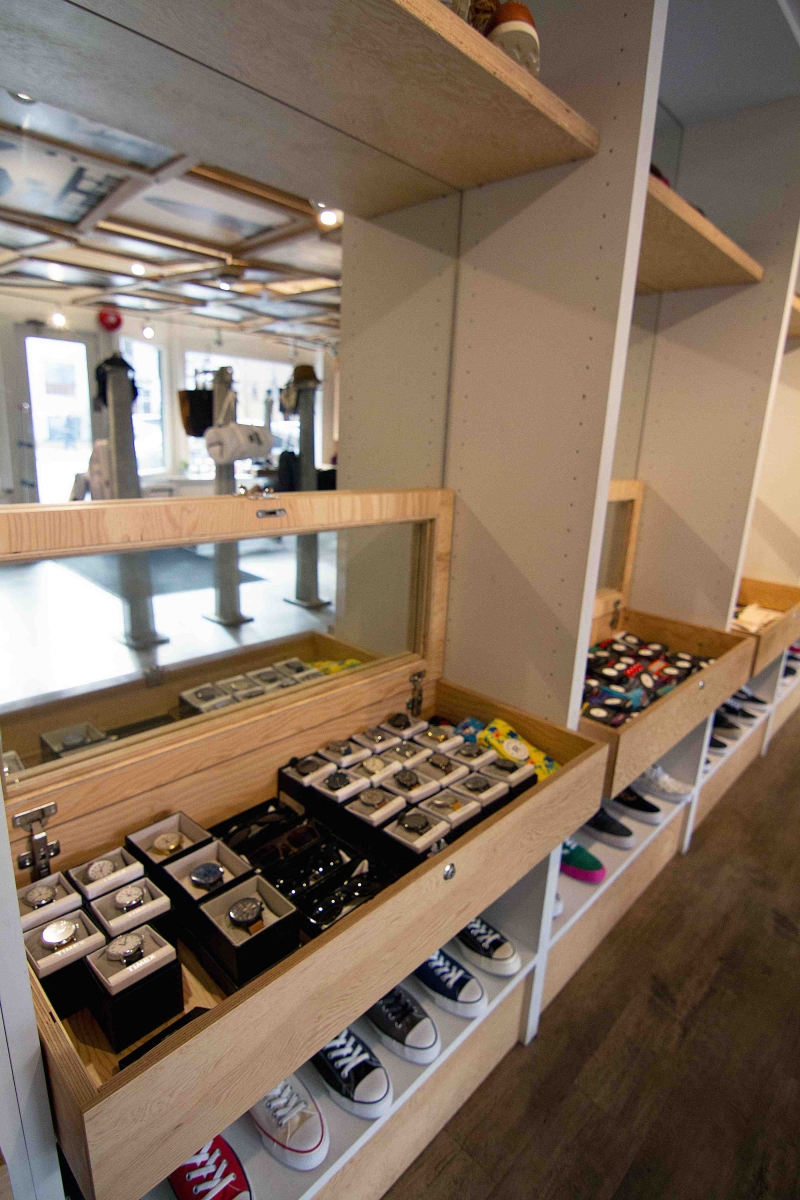 photo by aldona barutowicz
The entire back wall at LESS17 is lined with watches, sunglasses, shoes and socks. Wall-to-wall mirrors ensure you get a frame that looks good on you.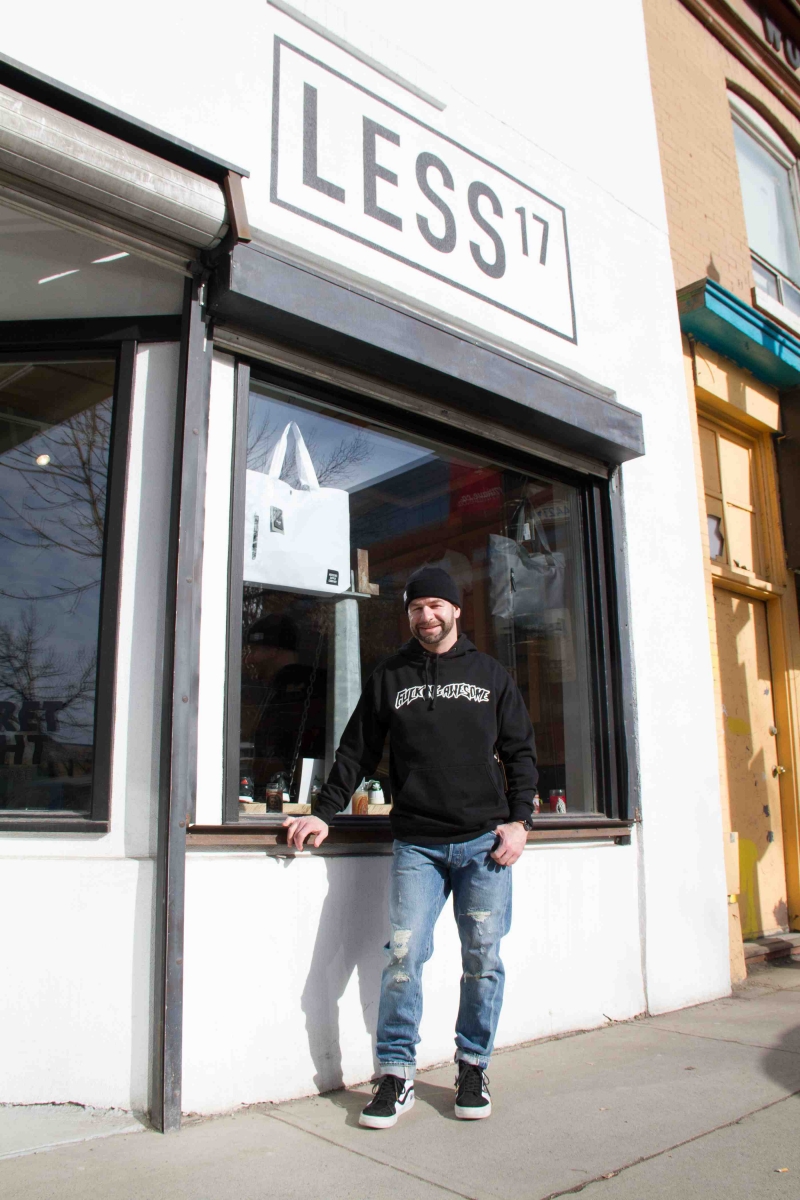 photo by aldona barutowicz
Store manager Zev Klymochko pictured outside LESS17.
---
This story was part of Avenue's free weekly Style Newsletter. Sign up now and get home decor and fashion information and advice in your inbox every week.