Homeowner Tricia Flanagan describes the bungalow she and her husband created with Marvin DeJong as "the perfect home." Home design by Marvin DeJong, DeJong Design Associates Ltd; Interior design by Chris Kuzmanovich (CVK); General contractor Newgrowth Fine Homes, 403-270-0264, newgrowth.ca
After Tricia and Mike Flanagan hit retirement and their three kids moved away, they were ready to move on and move out of their 3,800-square-foot, two-storey nest in the 'burbs. But condo-living was not an option. "We have a large family on both sides. We have a lot of sporting equipment. Plus, we don't want some other group to determine what we can or cannot do with our yard, driveway or home," says Tricia.
Three years of planning and designing later, the couple moved into a low-maintenance bungalow on a xeriscaped corner lot in inner-city Calgary.
"Bungalows rock," says Mike. "We're not running up and down stairs. I'm getting to be an old guy, but I also need a yard; I need to be able to be outside … I need to be able to putz around. And I don't like the idea of elevators. I did that all my working life and I'm tired of that."
So they created a 2,100-square-foot, one-storey, one-bedroom home for two – albeit with a fully developed basement with a separate entrance, mudroom and storage, as well as another three bedrooms to accommodate family, guests or a future caregiver. Extra-wide hallways, doorways and doors, as well as walk-in showers that sit flush with the bathroom floor were all designed with the couple's future accessibility needs in mind.
Pieces of furniture from the Flanagans' previous home were redressed and reupholstered for the living-room area.
Clerestory windows provide natural light without sacrificing privacy and leave ample wall space for the homeowners' art collection.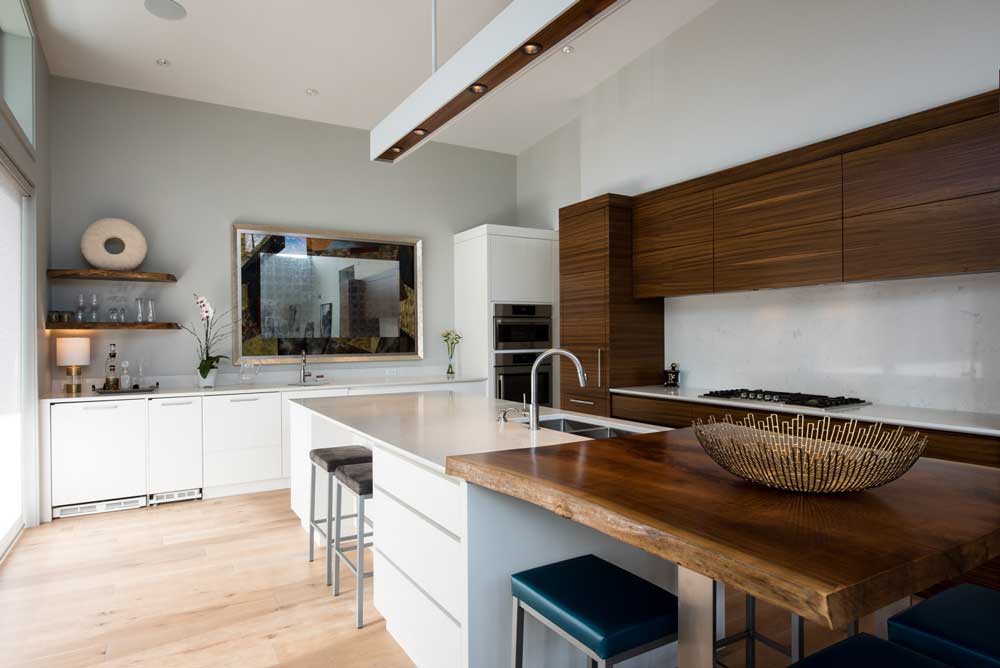 The kitchen opens up to the living- and dining-room areas of the home.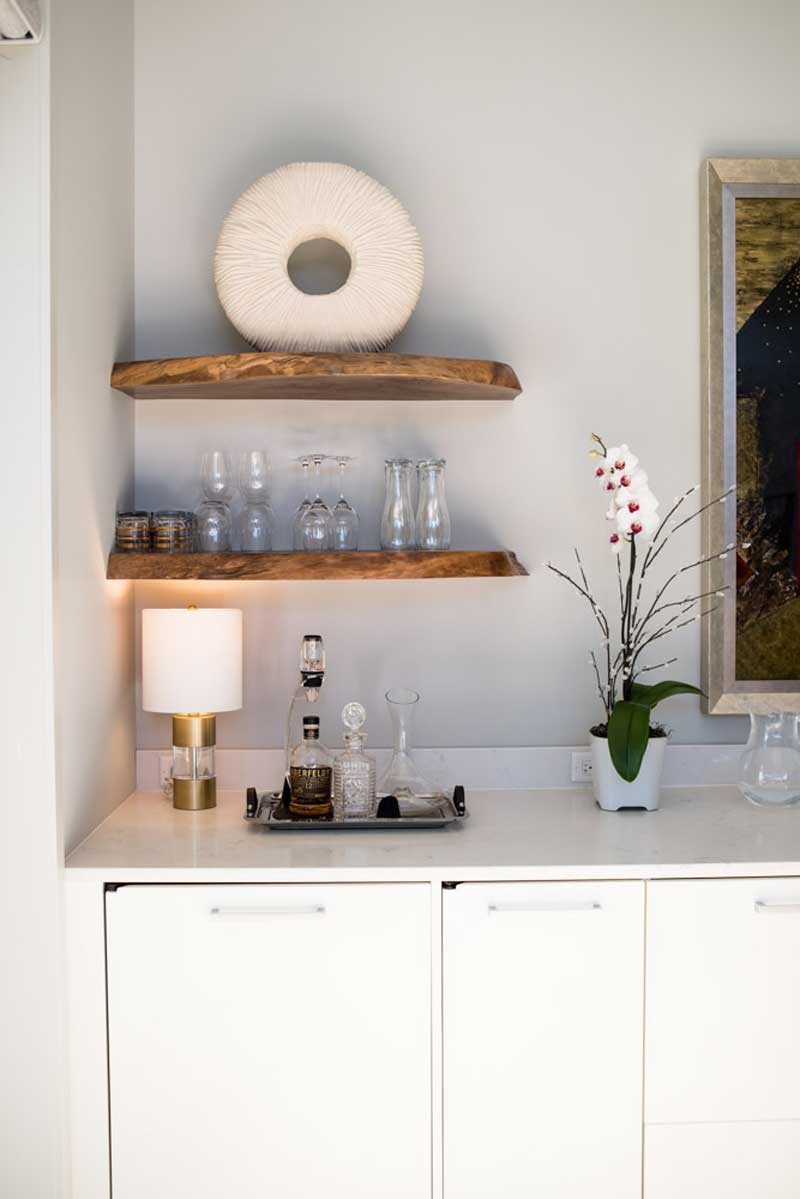 A closer look inside the Flanagans' kitchen.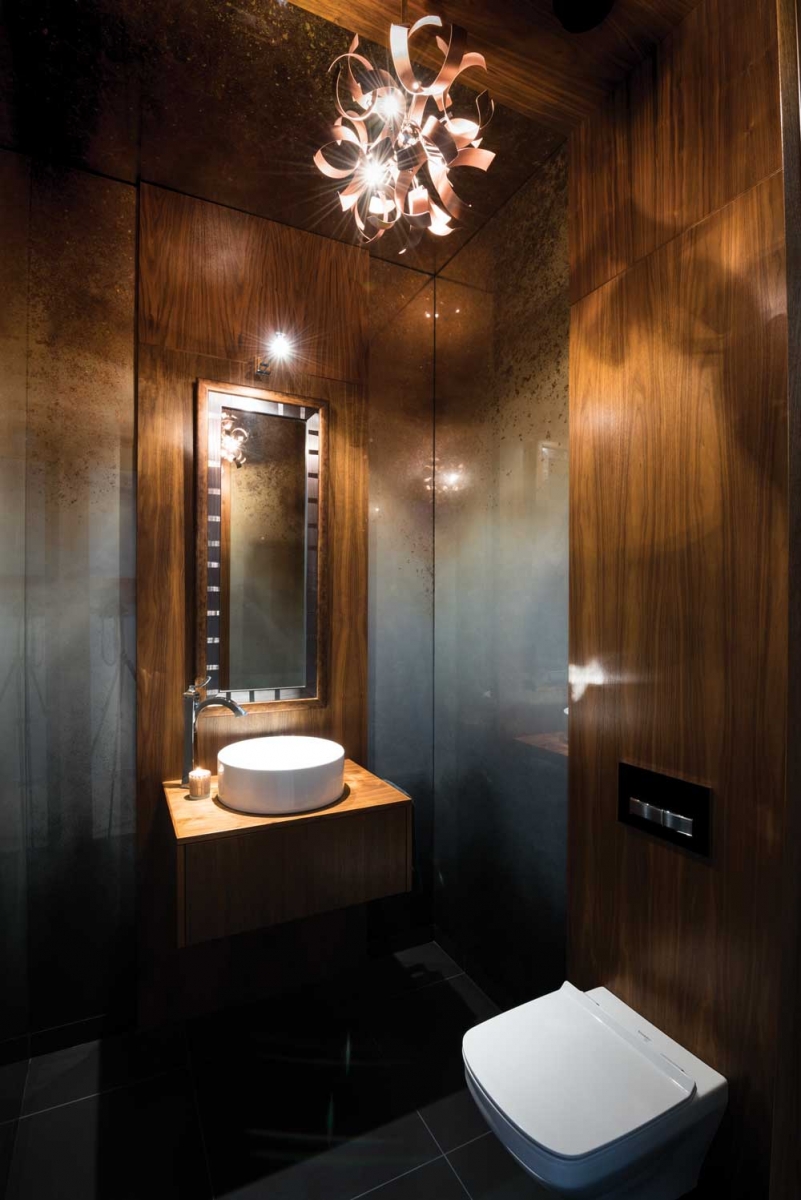 Homeowner Tricia Flanagan's brother Peter Gorman of Vancouver-based Gorman Studios collaborated on the artfully designed main-floor powder room.
"I think this is the perfect home," says Tricia, who enlisted a team of talent, including Marvin DeJong, principal of DeJong Design Associates, to make their wish list come true.
DeJong notes that more clients are looking for bungalows these days, particularly mature families. "It's a bit of a trend," he says.
DeJong emphasizes that finding the perfect lot is the first step to creating a dream home and the Flanagans landed an ideal corner lot in the inner city. Corner lots come with their own set of challenges, however. "When you're on a corner lot, you can be very vulnerable to the street," says DeJong. "You don't want to be on display all the time."
To address this, DeJong incorporated clerestory windows to allow an abundance of natural light without compromising privacy. The strategically sized and placed windows also leave ample wall space to exhibit the Flanagans' contemporary Canadian art collection, which includes several local artists. The powder room is a work of art in and of itself, designed in collaboration with Tricia's brother Peter Gorman of Gorman Studios, a renowned decorative arts studio in Vancouver. "It truly is a little jewel box," says Tricia.
Chris Kuzmanovich, a Calgary artist and the interior designer on the home, describes the Flanagans' new house as a departure in style from their previous residence, which was very traditional. Even so, they were still able to use the living-room furniture from the previous house. Kuzmanovich redressed two custom-built chairs in a smoky, charcoal alligator-textured fabric and had a stout traditional armchair reupholstered in a funky, turquoise zigzag motif. A blue rug ties everything together. "Chris is an amazing designer who is fastidious about designing within budget and with exquisite taste," Tricia says. "We couldn't have completed this project successfully without his guidance and talent."
Kuzmanovich notes that Tricia loves the colour blue and he used that as well as shades of grey throughout the home. "You can see little bits of the same colour in different areas and that was done on purpose for one room to relate to the next, but not have it be in-your-face at the same time," he says. "Nothing too matchy-matchy."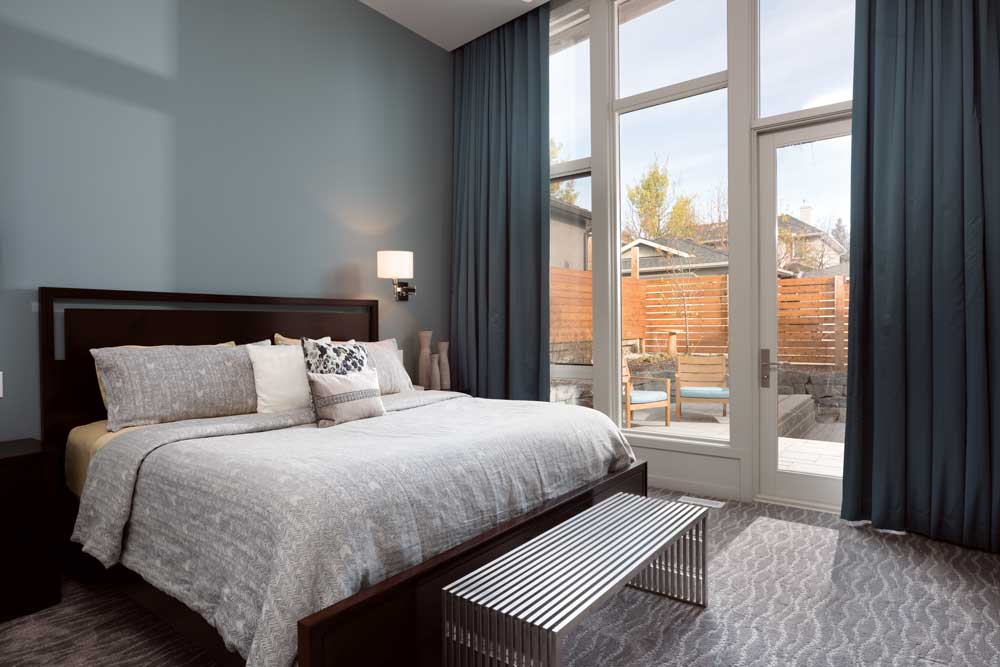 The main bedroom stays true to the home's overall colour palette of blues and greys.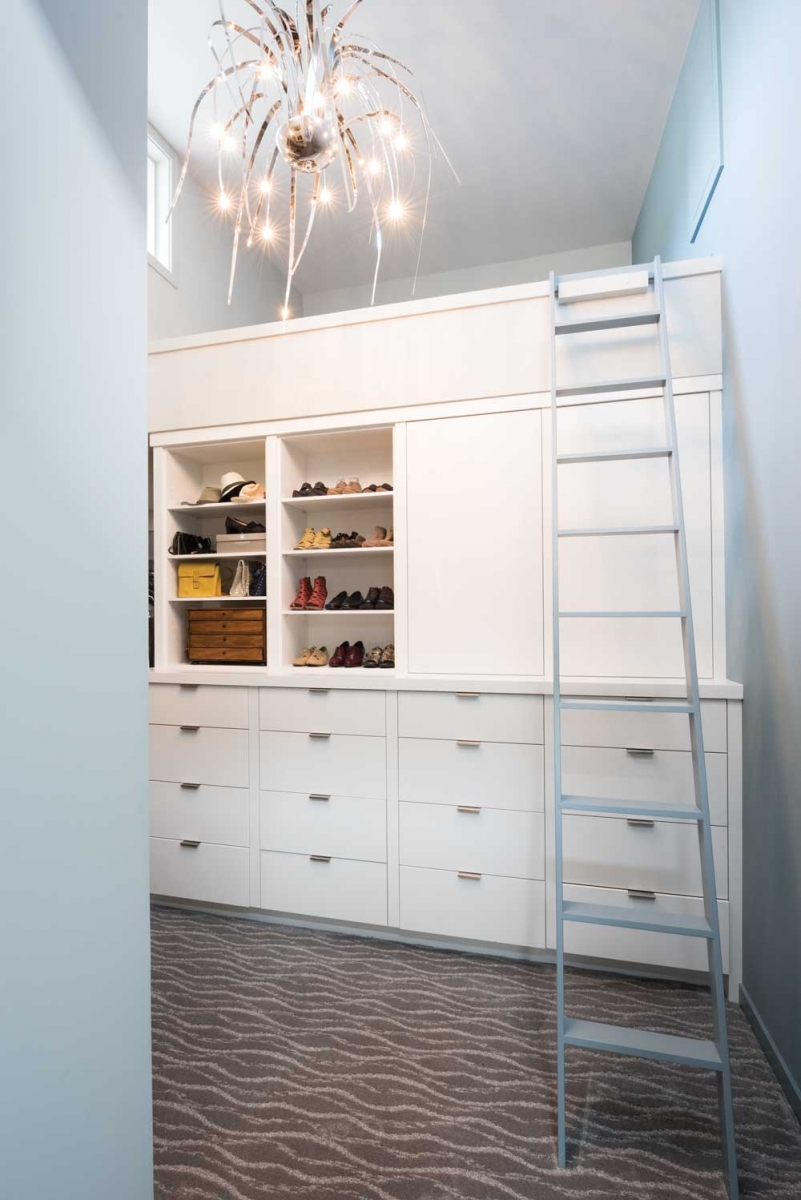 A ladder-accessed loft in the main bedroom closet provides extra storage space (or a potential play area for future grandkids).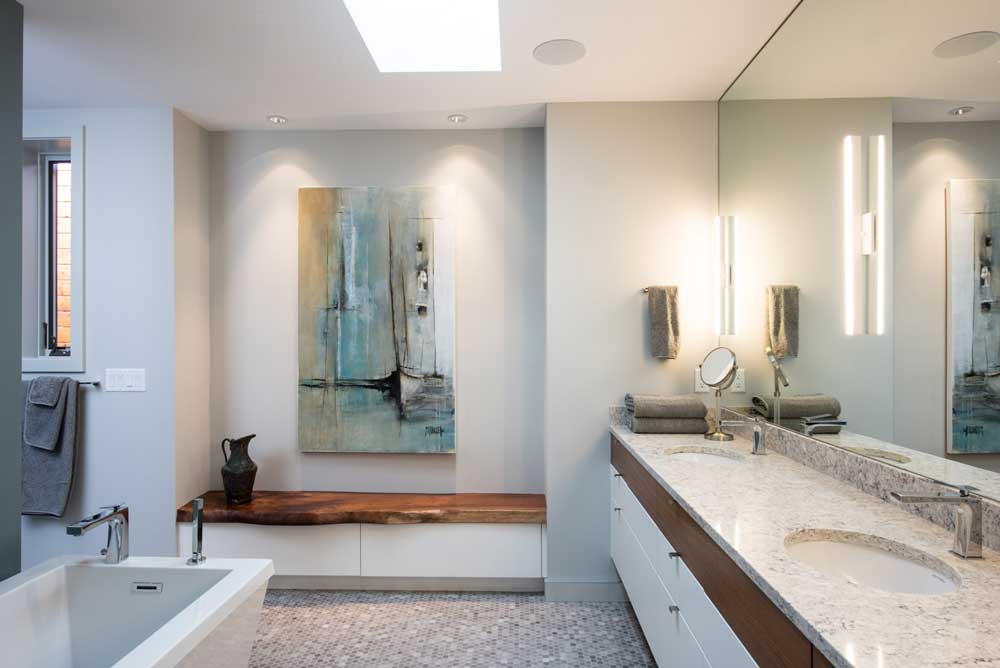 The spa-like main bathroom is illuminated by a skylight.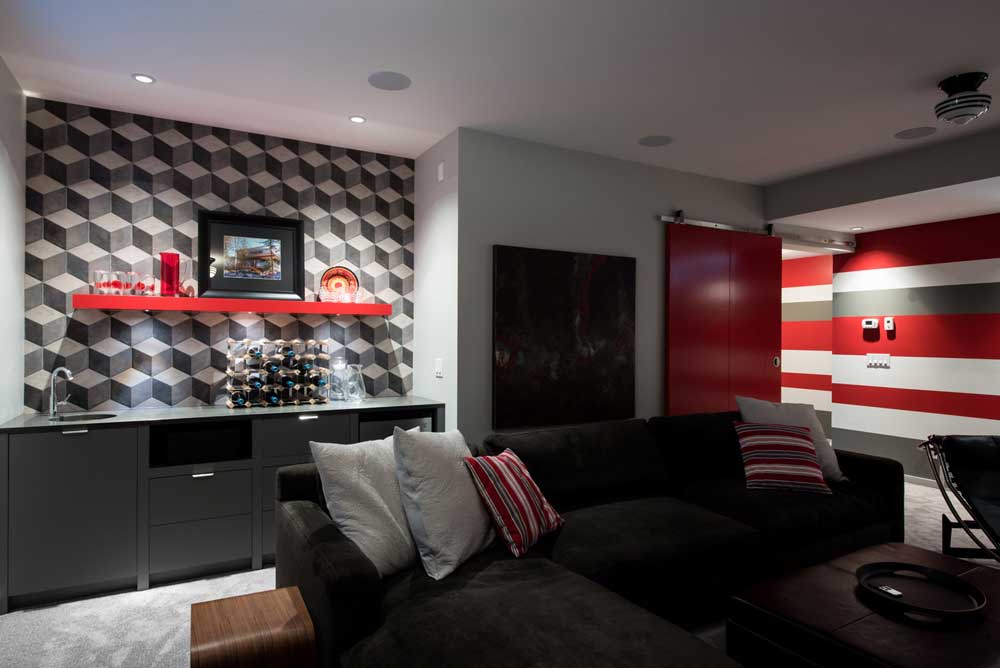 The basement living room area in the Flanagan home.
DeJong emphasizes that when it comes to one-level living it's essential to separate the public spaces from the private. "It's automatic when you have a two-storey house – the bedrooms are upstairs and not in public view. But [in a one-level house] you have to protect that. If you're in the public part of the house, you should never see a bed or a toilet. I think it's an absolute [design] failure if you're sitting at a kitchen island and you can see a toilet," he says.
In the Flanagan home, a solid section of wall along the stairs serves as a buffer between the main bedroom and the living-dining room. The front entrance is also partially closed off from the rest of the home. These design principles cater to privacy concerns, but also create an element of visual interest and surprise. "I like to be drawn into houses where you wonder, 'what's around the corner?'" says DeJong. "To do that you have to provide something to focus on."
The bedroom suite is an apt display of this philosophy. To the left of the entry is a spa-like bathroom illuminated by a skylight, with the toilet hidden around a corner from the large soaker tub. Exiting the ensuite through the bedroom closet reveals a silver ladder up to a loft area between the top of the storage features and the 15-foot ceiling.  "Overflow sleeping for snoring issues," laughs Tricia, "or someday if we have grandkids, it'll be a great little play area."
The home also features a range of outdoor spaces that could provide future play areas – the private stone courtyard just beyond the wall of floor-to-ceiling glass in the bedroom, or the outdoor living room off the kitchen equipped for year-round use with built-in overhead heaters and a tabletop fireplace.
"We use the whole house," says Tricia. "Every room gets used, even with just the two of us. There are no atrophied rooms in this house."

The homeowners xeriscaped the property (a style of landscaping designed to minimize the use of water, fertilizer and labour) for easy maintenance.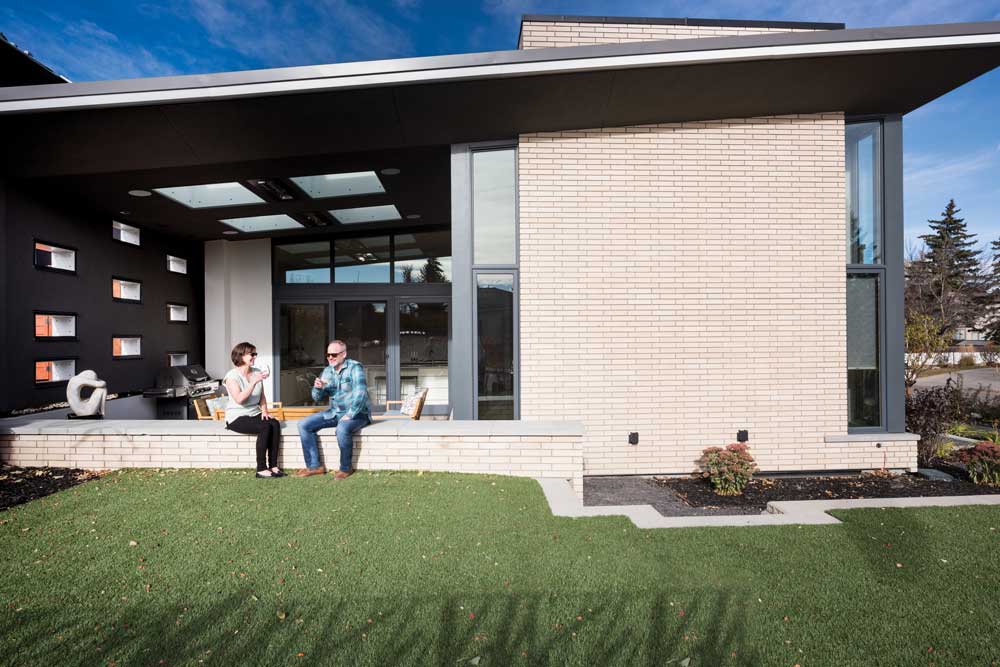 Building an inner-city bungalow allowed homeowners Tricia and Mike Flanagan to downsize for retirement but not at the expense of having a yard for "putzing around."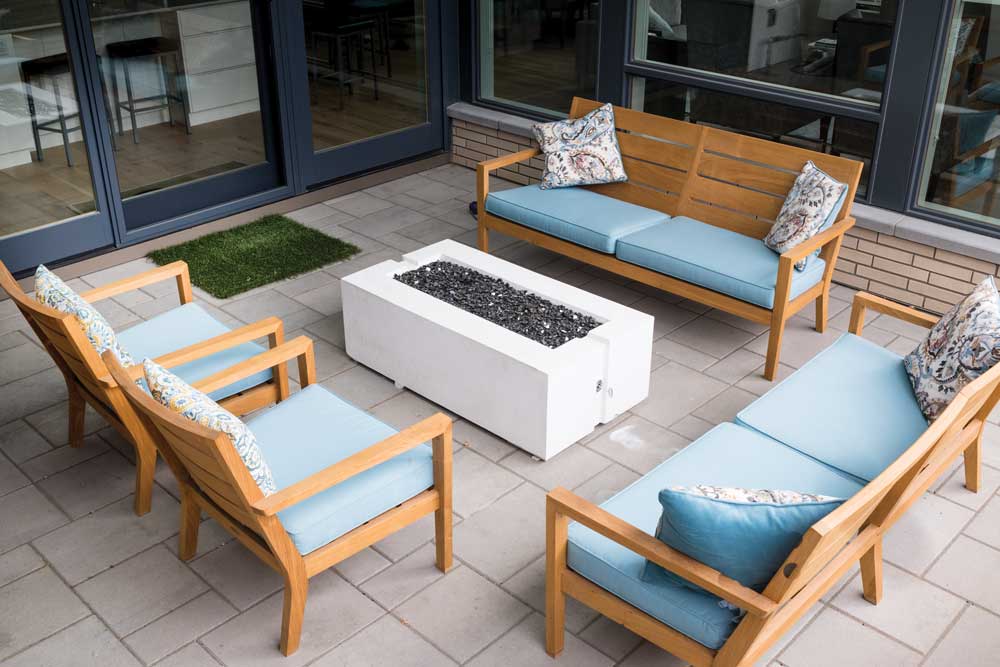 The home features an outdoor living room with tabletop fireplace and overhead heaters.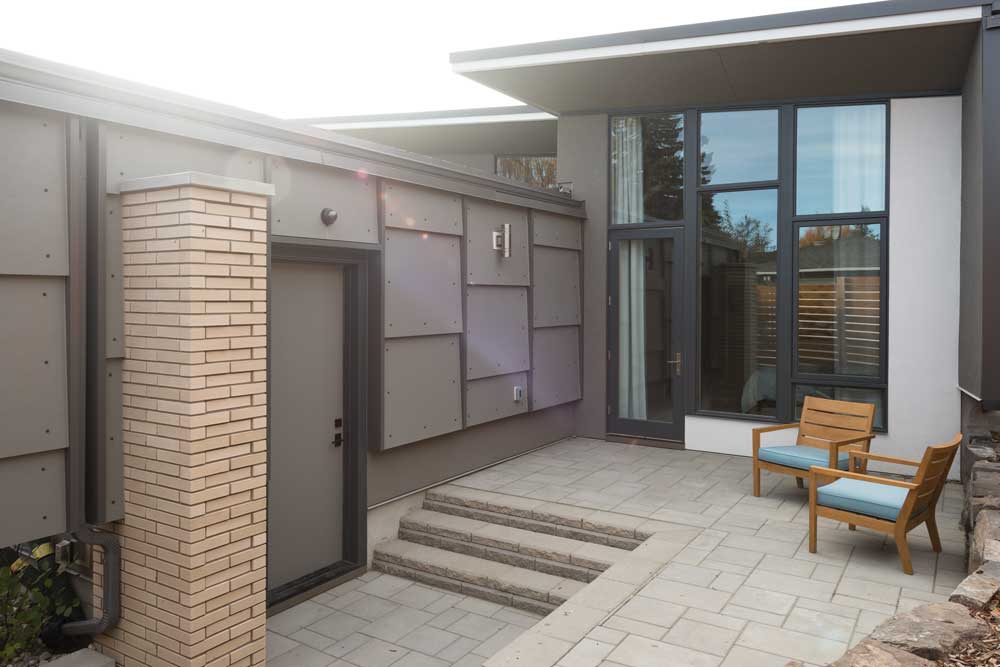 The bedroom opens out to a private courtyard.
5 tips to turn everyday materials into something fresh and new
Even if you're using ubiquitous building materials, being creative with the way you use them can make your home stand out, says home designer Marvin DeJong. "Your house can come from Home Depot," he says, "but it doesn't have to look like it."
1. Cut up HardiePlank in different configurations to create a unique siding look. "With the Flanagan home, we wanted to use the panels to create something unique, as the house really did not suit typical bevelled siding and stucco didn't offer the texture we wanted," DeJong says.
2. Use flush railings on a flight of stairs (just be aware of the strict building codes for height and clearance of railings).
3. Create a walk-in European-style shower room by having the shower basin flush with the rest of the bathroom floor. Keep in mind that this requires the floor below the shower basin to be at least four-inches lower than the adjacent floor. It's very difficult to achieve if the house is already framed or if the basement floor is already poured, says DeJong, so make sure it's in the plans from the beginning.
4. Get creative with excess space above shelves or below stairs – depending on the space it can become a loft bed or a hideout/play space for kids.
5. On upper kitchen cabinets increase the wow factor by selecting a wider door and changing the hardware to an upswing mechanism. "I am also a big believer in below-counter drawers," says DeJong. "There is less bending and things tend not to get lost in the back of a drawer."