As summer winds down and the back-to-school routine ramps up, we've got you covered when it comes to healthy lunches. We took the classic wrap and created options for keto, low-carb, gluten-free and vegan. There's something deliciously healthy for everyone.

Italian Sub Wraps
KETO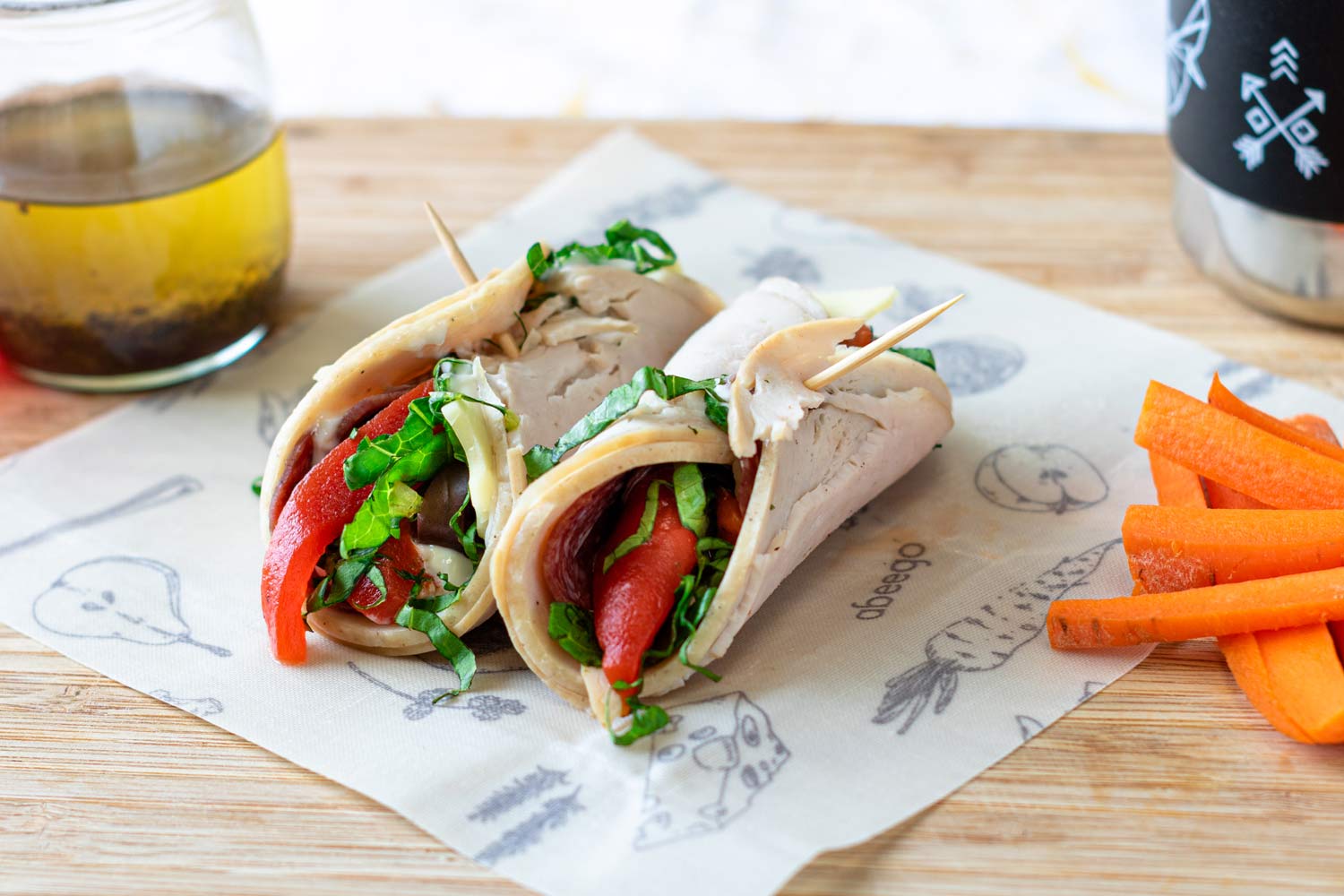 16 slices of your favourite deli meats
4 slices Provolone cheese
Avocado oil mayo
Shredded lettuce
Banana peppers
Roasted red peppers
Sliced black olives
Toothpicks
For dipping sauce:
Olive oil
Apple cider Vinegar
Italian seasoning
INSTRUCTIONS
Layer the meat slices from largest to smallest. Spread a thin layer of mayo on the meat. Add a slice of provolone on top of the mayo, in the middle of the meat slices. Add a small handful of lettuce, peppers and olives. Then roll and secure with a toothpick. Serve with a side of the dipping sauce.

Buffalo Cauliflower Lettuce Wraps
VEGAN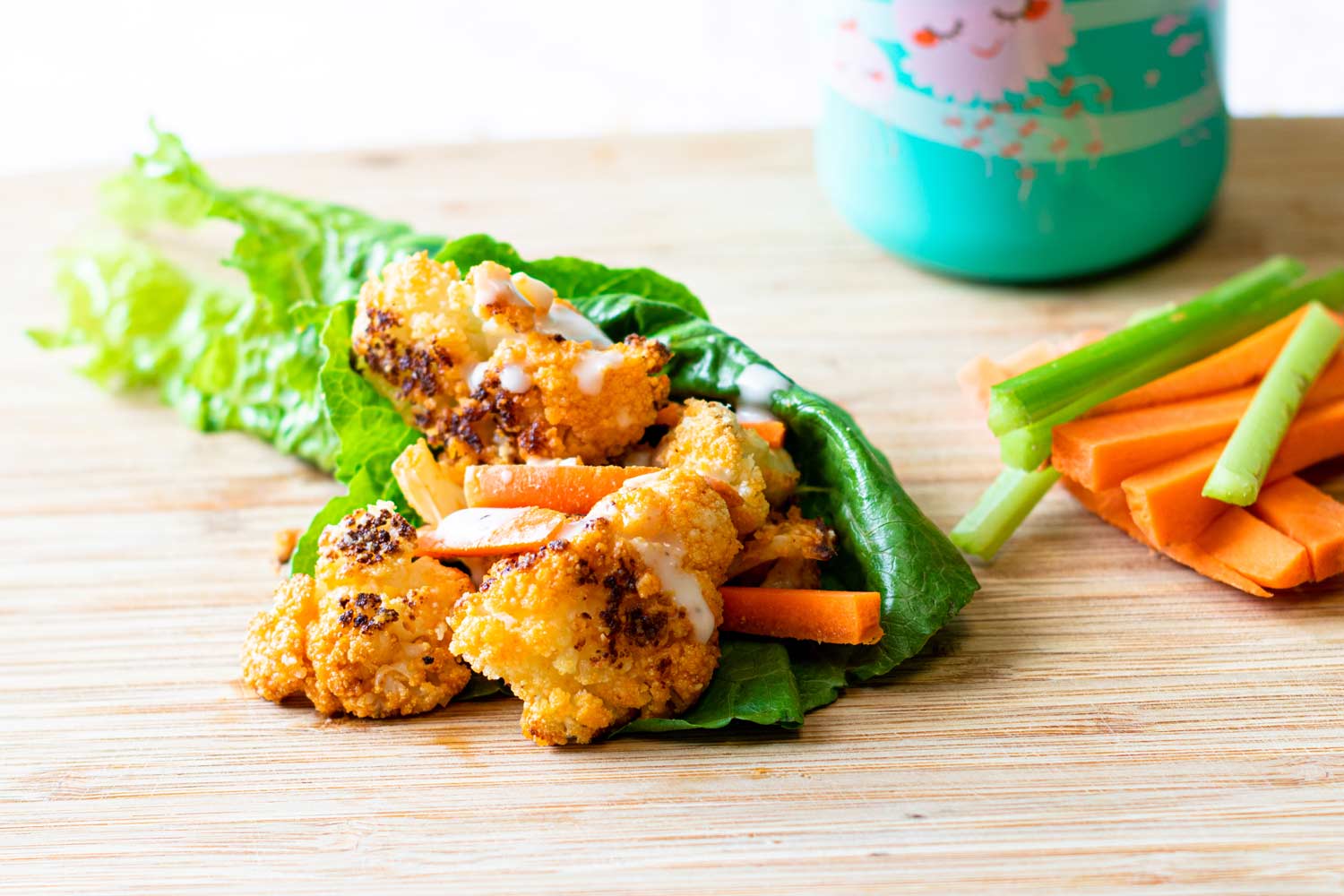 For the cauliflower:
¾ cup almond flour
¼ teaspoon fine sea salt
¼ teaspoon pepper
8 cups cauliflower florets
1 tablespoon coconut oil, melted
½ cup hot sauce (like Frank's)
For the wraps:
8 butter lettuce leaves
1 stalk celery, sliced into matchsticks
1 carrot, sliced into matchsticks
For the blue cheese dressing:
¼ block of extra firm organic tofu
½ tsp garlic powder
1 cup vegan mayonnaise
¼ tsp tahini
1 tsp lemon juice
1 tsp apple cider vinegar
INSTRUCTIONS
Chill the dressing for at least an hour in the fridge to allow all the flavours to meld.
For the cauliflower: Preheat oven to 450 F. In a large bowl, drizzle the olive oil over the cauliflower and toss to coat well. Add almond flour and toss to coat. Pour cauliflower onto a parchment-lined baking sheet and spread out into one layer. Roast for 20 minutes or until cauliflower starts to get tender. Take out of oven and pour back into the large bowl.
Pour hot sauce over cauliflower and toss to coat. Place back on baking sheet and roast for another 10-15 minutes or so, until cauliflower starts to get crispy on the edges.
For the dressing: In a medium bowl, mix all ingredients except the tofu until you have a nice creamy dressing-like consistency. Crumble tofu into the dressing mixture to resemble blue cheese crumbles.
To assemble: Line butter lettuce leaves with dressing and then top with carrot and celery matchsticks and a few pieces of cauliflower. Roll and eat.

Maple Sausage Breakfast Wraps
LOW CARB

4 large eggs
¼ cup milk
1 tbsp butter
6 Spolumbo maple breakfast sausages, cooked
1 ½ cups cheddar, grated
1 avocado, thinly sliced
3 handfuls of raw spinach
½ cup cherry tomatoes
1 tbsp chopped chives
Sea salt and pepper
INSTRUCTIONS
Whisk the eggs and milk. Season with salt and pepper. Melt butter in a skillet and pour 1/3 egg mixture into the skillet, moving around to create a thin layer that covers the entire pan. Cook for 2 minutes. Add ½ cup cheddar, cover and cook for 2 more minutes. Add sausage, avocado, spinach and tomatoes in the center of the egg wrap. Using a spatula, fold egg in half. Repeat with remainder of ingredients.

Dill Pickle Chicken Salad Lettuce Wraps
GLUTEN FREE
3 cups shredded cooked chicken
1 cup sliced Bubbies dill pickles
½ cup red onion, finely diced
2 stalks of celery, finely copped
⅔ cup of mayonnaise
¼ tsp Dijon mustard
1 tbsp fresh dill, finely chopped
½ tsp red pepper flakes
Salt and pepper to taste
Butter lettuce, for serving
INSTRUCTIONS
In bowl combine the chicken, pickles, onion and celery. In another bowl mix together the mayonnaise, mustard, dill and red pepper flakes. Combine the two. Add salt and pepper to taste. Serve by putting a few spoonfuls of salad mixture in the middle of the butter lettuce leaves.
For more recipes, visit our new online store. You can shop for products based on ingredient, lifestyle and dietary preferences and health concerns.
This content was supplied by the advertiser for commercial purposes. It is not written by and does not necessarily reflect the views of Avenue staff.