Local artists are illuminating our weekend winter nights from February 13 to 28 in downtown Calgary for the inaugural Chinook Blast, powered by Shaw.
The Chinook Blast Hub, an outdoor art park running from East Village, past Municipal Plaza and Olympic Plaza, down Stephen Avenue and up 3rd St. S.W, is a mash-up of art, science, culture, music and sport.
Expect dazzling art installations at ground level, suspended high above the street and projected on buildings. You can experience The Hub your way — there's no right or wrong starting point or recommended flow. Bring your small cohort and build your own Chinook Blast adventure. Each weekend of this winter celebration is a little different, so be sure to check out the website to see what's happening.
Beyond the Chinook Blast Hub are Partner Pop-Ups in the neighbouring communities of Chinatown, Kensington, Victoria Park, Crescent Heights and Inglewood, each offering unique programming that celebrates winter with local art and culture.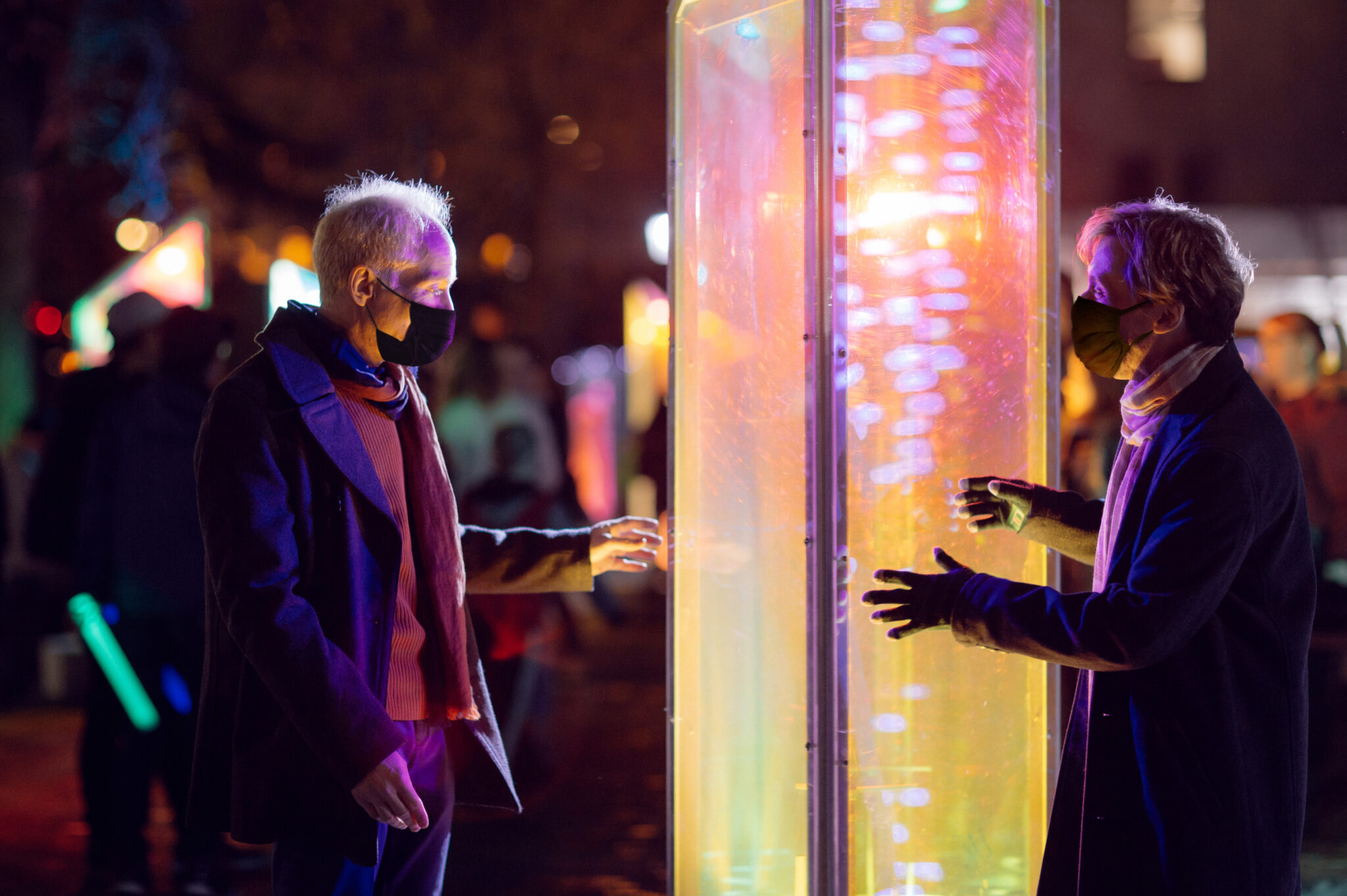 Chinook Blast encourages Calgarians to bundle up, show up and warm up — a message that hasn't changed since the inception of this winter initiative. What has changed are the programming plans, which have shifted to be completely in line with current health guidelines and restrictions due to the pandemic. For its inaugural year, Chinook Blast will include safe, outdoor, socially distanced displays. And in years to come, Chinook Blast will be anchored by three iconic events — High Performance Rodeo, Calgary Folk Music Festival's Block Heater and Glow Festival — as well as other interactive activities.
When it comes to safety, Chinook Blast is not leaving anything to chance. Masks are required to experience The Hub and all its Partner Pop-Up locations, and all displays will respect gathering limits. Staff will be on-site to monitor the number of people in all areas to ensure safety and comfort.
While there is an ongoing pandemic, there is no better time to brighten spirits. Chinook Blast will help Calgarians embrace the season. After all, we don't hibernate when temperatures fall — we bundle up and head out to enjoy all that winter has to offer.
For more information on Chinook Blast, visit chinookblast.ca.
This content was supplied by the advertiser for commercial purposes. It is not written by and does not necessarily reflect the views of Avenue staff.