Feeling too busy to snack on the best and healthiest food you can eat? With Thrive Provisions Wagyu beef bars, you don't have to sacrifice quality for convenience. Thrive's beef bars are a healthy, conscious alternative to snacking. These all-natural, sustainably sourced protein bars give you the energy you need for active living.
Grown, sourced, and prepared right here in Alberta, Thrive Provisions has a legacy of care and quality from the cow to the bar. Since 1940, and over four generations, Thrive has grown high-quality beef at its heritage farm on a prairie near the edge of the Rockies.
Flavourful Clean Eating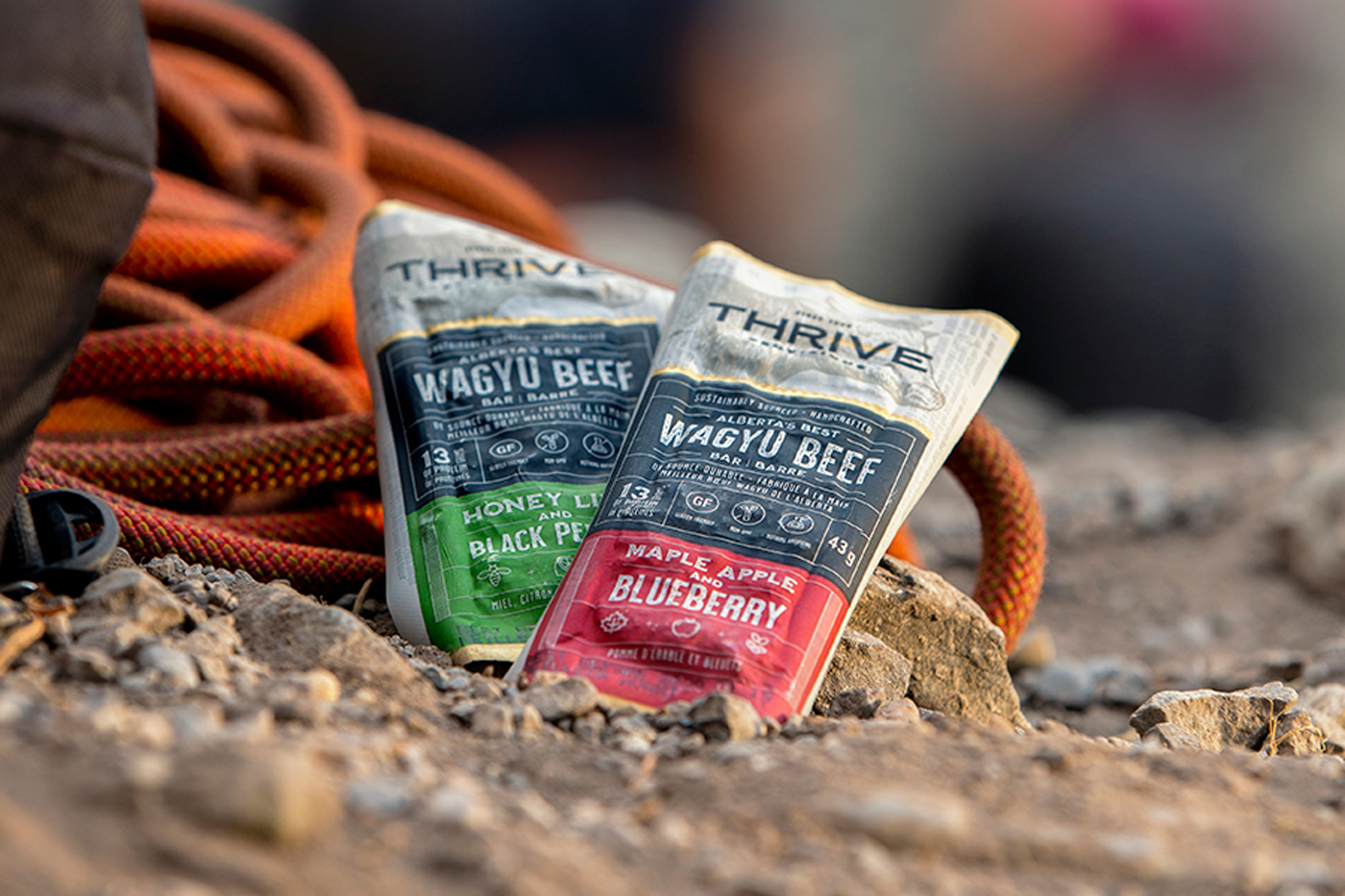 As far as taste goes, this is NOT beef jerky. Wagyu beef bars are made with a family recipe and come in Maple Apple & Blueberry and Honey Lime & Black Pepper flavours, giving options to those who like their food rich or spicy. The Maple Apple & Blueberry bars are a perfect marriage of beef, maple, apples, dates and blueberries. The Honey Lime & Black Pepper flavour offers a savoury combo of black pepper, lime, honey and dates. Each bar is also gluten-friendly, keto-friendly, and contains no dairy, nuts, grains, or soy. Plus, they're not genetically modified or made with any artificial ingredients.
Thrive aims to help people practice better eating habits and maximize living. Made with the highest-quality Alberta Wagyu beef, these grab 'n' go bars offer long-lasting energy and many natural health benefits. In other words, each bar is 43 grams of happiness.
Whether your big adventure is epic wall climbs in Kananaskis or all-day marathon Zoom meetings, a Thrive Provisions Wagyu beef bar will you give you the boost you need. Power up at any time, any day, guilt-free!
Want a tastier, healthier way to snack? Head to ThriveProvisions.ca and buy your Wagyu beef bars today!
This content was supplied by the advertiser for commercial purposes. It is not written by and does not necessarily reflect the views of Avenue staff.