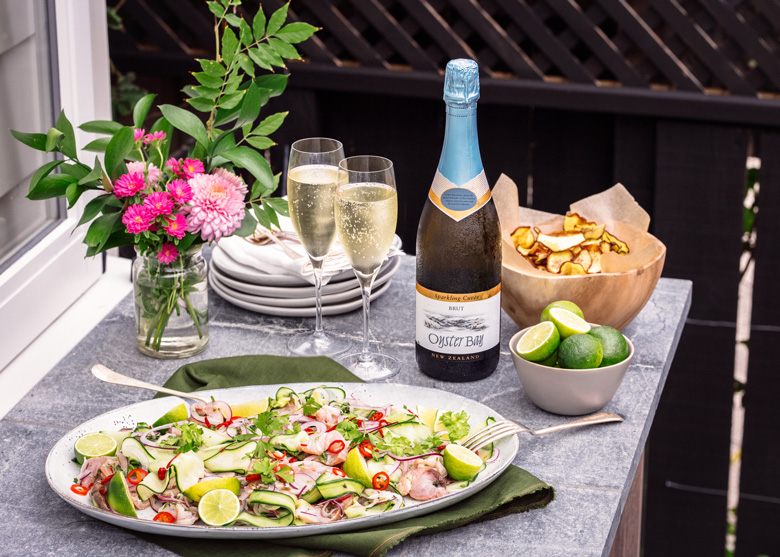 With the holiday season swiftly approaching, it's easy to get buried in a frenzy of errands, stressful shopping and last-minute planning. That's why it's vital to always have a few classic celebration staples at hand to make all the holiday hosting and entertaining just a little bit easier.
One hot tip for simple, stress-free entertaining is to keep some premium sparkling wine on hand and on ice at all times to delight expected (or unexpected) guests.
Whether you're marking a special occasion or adding a sparkle to your day, you'll find Oyster Bay Sparkling Cuve Brut a perfectly versatile sparkling wine. This cool-climate wine from New Zealand is elegant and contemporary, with a finely bubbled palate and a zesty fruit vibrancy that make it the ideal accompaniment to any moment. One sip and you'll understand why.
Oyster Bay Sparkling Cuve Brut works perfectly as an aperitif or matched with fish, shell fish, tempura, creamy sauces and goat's cheese. Try it with this easy sea bass ceviche for a hassle-free yet spectacular entertaining option.
Sea Bass & Lime Ceviche with Sweet Potato Chips
Ceviche
2 red chilies (or 1 tsp. chili paste)
4 limes, juice only
600g fresh sea bass fillets, skinned and boned, kept over ice in the fridge
1 red onion, thinly sliced
1 small bunch fresh coriander, finely chopped, with extra whole leaves for serving
1 cucumber, peeled into ribbons
Extra limes, sliced into wedges for serving
Bring a small pot of water to a boil. Add chilies for 5 minutes then remove from the pan and drain. When cool enough to handle, peel off the skin and remove the seeds. Place chilies in a mortar, add a squeeze of lime juice, salt and pepper, and grind to a paste. Set aside.
Thinly slice the sea bass and place in a bowl with the remaining lime juice. Add red onion, some of the chili paste, and season with salt and pepper. Mix together. Taste and adjust heat by adding more chili paste. Stir in chopped coriander and cucumber. Marinate for 20 minutes, then serve on a platter topped with fresh coriander with sweet potato chips on the side.
Sweet Potato Chips
2 medium sweet potatoes (kumara)
Drizzle olive oil
Salt to season
Preheat oven to 200C (400F). Slice the sweet potato into very thin slices. In a large bowl, toss slices with oil and salt to coat lightly. Lay the slices in a single layer on a flat tray lined with baking paper. Bake for 15 minutes. Turn over each chip and bake for 5 minutes more or until chips are crisp. Watch carefully at the end so they don't burn.
Serves 4
---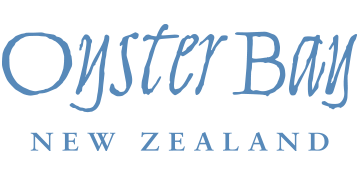 ABOUT OYSTER BAY
The philosophy of Oyster Bay is to produce fine, distinctively regional wines that capture the special character of New Zealand.
Oyster Bay Sparkling Cuve Brut is made from 100% Chardonnay grapes which give the wine elegance, finesse and minerality. The vines are grown on ancient alluvial river terraces and produce concentrated, pure varietal flavour along with a natural zesty acidity, which is ideal for creating Super Premium sparkling wine. The lively bubbles in Oyster Bay Sparkling Cuve Brut are a result of natural secondary fermentation, which brings to life its delightful and refreshing character.
Oyster Bay Sparkling Cuve Brut has flavours and aromas of radiant lime, citrus and white peach, leaving you with a crisp and refreshing finish. This wine is New Zealand at its sparkling best.
This content was supplied by the advertiser for commercial purposes. It is not written by and does not necessarily reflect the views of Avenue staff.