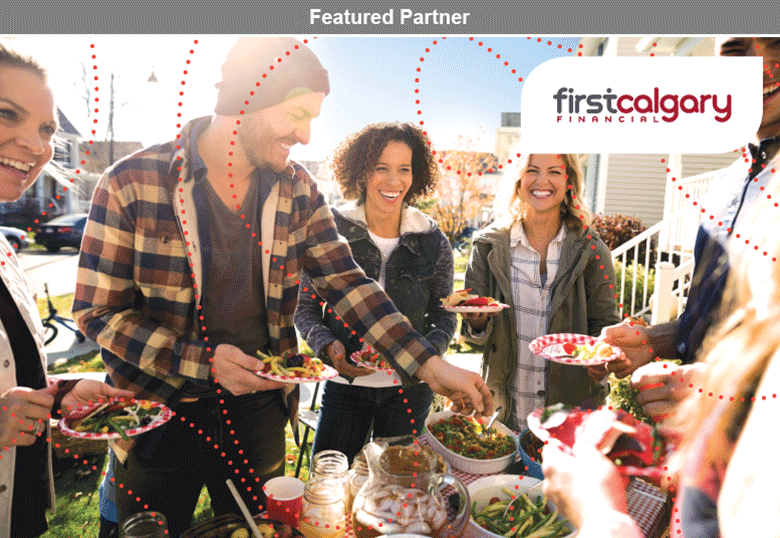 In a year that's been tough for many Calgarians, it makes sense to support local communities. The team at First Calgary Financial, a division of Connect First Credit Union, believes local banking is a cornerstone of every vibrant community — and that being part of a community means investing in it.
"Community is everyone's responsibility," says Shelley Vandenberg, president of First Calgary Financial. "When you're our member, your money is making a difference — a genuine and lasting contribution to the financial success of Calgary."
Last year, First Calgary Financial employees gave more than 970 hours to non-profit organizations, and supported more than 110 Calgary community organizations with funds, time and talent. "Calgary is filled with people who tackle the challenges head on. Our team has that same spirit," Vandenberg says.
Making an Impact in Calgary
Through a series of partnerships, First Calgary Financial is finding creative ways to connect its credit union with local needs in order to support Calgarians. The organization is involved with projects that help Calgarians access affordable housing; obtain career, entrepreneurship and financial skills; and feel pride and a sense of connection to their neighbourhoods.
Here are three partnerships that are helping First Calgary Financial give back to Calgary.
1. Accessible Housing Calgary's RAD (Residential Accessible Design) Program
For Calgarians with disabilities, homelessness is a very real threat. RAD works with homeowners and landlords to assess existing residences and offer design solutions that allow people with mobility issues to stay in their homes close to their communities, families and support systems.
First Calgary Financial provides employee volunteers to help with RAD home renovation projects, as well as interest-free bridge financing to get the projects started as soon as provincial grant funds are approved.
2. Stepping Stones Grassroots Grant Program with The Calgary Foundation
These small grants, a joint project of First Calgary Financial and The Calgary Foundation, encourage active citizenship by funding creative projects that benefit communities. Micro-grants of $100 to $600 help Calgarians put modest but meaningful projects in motion, from knitting circles and bike swaps to free family carnivals raising awareness about local poverty. Applications are due by midnight on the first of every month.
3. Cash Crunch Loan with Momentum
First Calgary Financial wants to provide an alternative to the payday lending industry, which leads to bad debt cycles and causes unnecessary financial stress on the city's vulnerable population.
Through a community loan-referral program with Momentum, First Calgary Financial is helping people avoid potentially destructive payday loan debt, by providing a better loan model that places people on a sustainable debt repayment schedule. Learn more.
Watch for this community-minded team at events around Calgary this year, and find out more about First Calgary Financial.
---
FirstCalgary.com/local
Find a branch near you | 403-520-8000
This content was supplied by the advertiser for commercial purposes. It is not written by and does not necessarily reflect the views of Avenue staff.