Strong foundations are built on solid ground — which is why Mattamy Homes uses the natural world as the backbone of their community and home design.
"We design for natural amenities — such as creeks, wetlands and parks — to ensure we maximize residents' access to, and views of, these features," says Joe Case, director of land development at Mattamy Homes, North America's largest privately owned home builder and designer of five Calgary-area communities.
The proximity to Canada's Rocky Mountains, expansive prairies and rolling foothills have inspired the construction, landscaping and overall concept at Yorkville, Mattamy Homes' first planned community in Southwest Calgary.
The development, which is located at 19515 Sheriff King Street SW, is designed to strike a balance between preserving and enhancing the natural environment and building a beautiful, unique community for a wide variety of residents. Homes available include urban townhouses, rear lane duplexes and single-family homes with single- or double-car garages.
"Yorkville includes two preserved wetland features that are ecologically significant to the area, and we're taking great care to ensure their health is maintained, and even enhanced, through the development process," Case notes.
The Mattamy Homes team also worked with a number of developers in the area to create what they're referring to as the "green spine": a pedestrian connection which links the Priddis Wetland Reserve to the east of the community and Radio Tower Creek to the west — two regionally significant areas that will connect residents to the natural beauty that South West Calgary has to offer.
In addition to being in the heart of a stunning natural setting, Yorkville is also situated to provide easy access to retail, recreational and cultural amenities. A commercial site is being built in the southeast corner of the community, and nearby attractions include the Silverado Shopping Centre, the Spruce Meadows equestrian facility (which will be home to a professional 5,000- to 7,000-seat soccer stadium next year) and the Sirocco Golf Club, a 940-acre course which includes a restaurant and a driving range.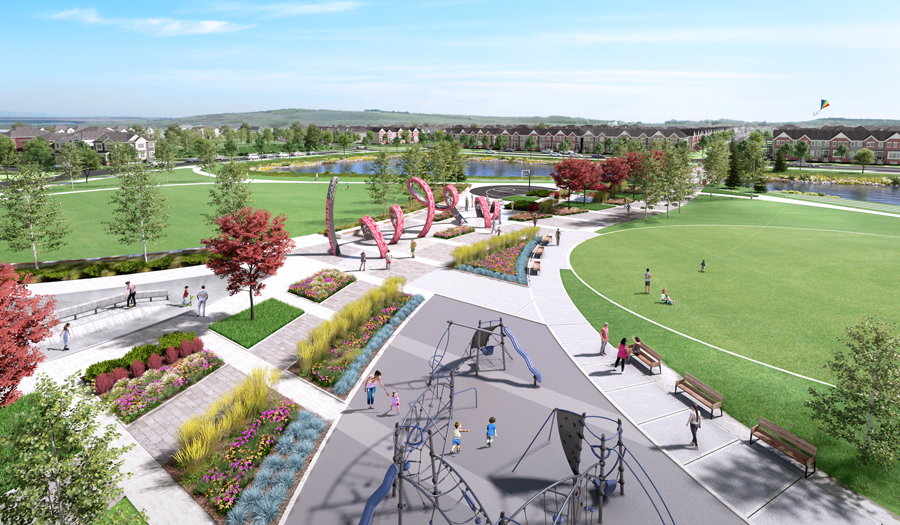 Whether you're a lover of the great outdoors, an art enthusiast or a family of four, Yorkville offers something for everyone. This is exemplified in the park area that's being built in the centre of the community, which will feature a large pond with walking paths and a connecting bridge, skateboard park, playground, basketball court, plenty of greenspace and sculptural art installations. Plus, families with children can look forward to the completion of two new schools.
This Mattamy Homes community prides itself on being able to offer everything its residents could possibly want within a stone's throw of their home. But when it comes to amenities outside of the community, the Albertan landscape itself provides endless opportunities for exploration.
"Because Yorkville is nestled at the toe of the foothills, as soon as you hit Radio Tower Creek just to the west of the community, the geography changes from prairie to rolling hills and ultimately to mountains," says Case. "And it's a quick bike ride or scenic drive to the west on Highway 22X."
The community's beauty isn't limited to the natural environment, either; thoughtful human touches make its design stand out even more. The name "Yorkville" takes a page out of Toronto's style book, with brownstone-inspired architecture (think strong, red brick and stone) throughout.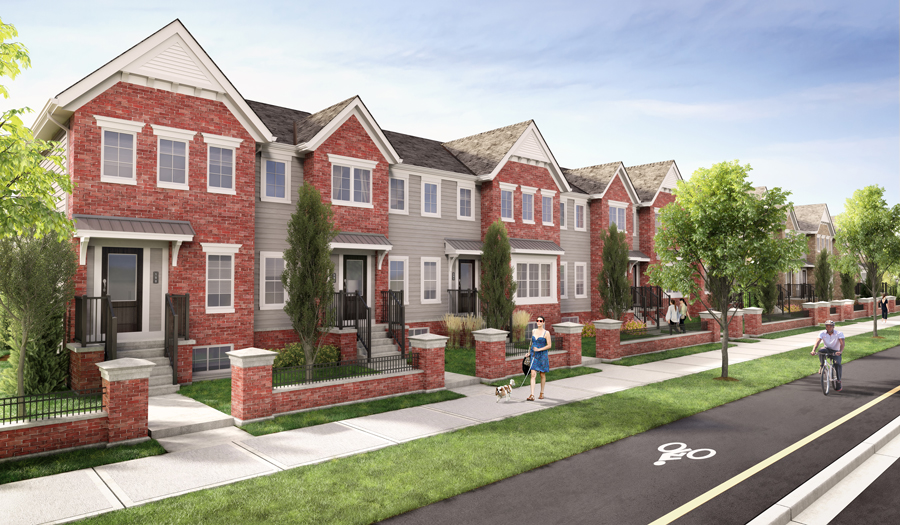 "This a unique feature in suburban Calgary and will create an immediate impression that Yorkville is different; that it's something special," Case says.
What's more, all homes are constructed with James Hardie Board, which is built to withstand all the Alberta elements — extreme heat, hail, wind and even wildlife, such as woodpeckers.
"It's important to consider the use of materials on the exterior of the home," Case explains. "In Calgary, we experience extremes in every season. Whether it's a blizzard in the middle of the freezing-cold winter, or extreme hail storms in the summer, your house has to weather it all."
Yorkville proves that it's possible to live somewhere that has both the natural connection of a home in the country and the convenience of a home in the city. This unique Calgary community extends a warm welcome to potential residents from all walks of life, from those seeking to buy their first house to those hoping to downsize from their current one.
"When Mattamy designs a community, we pay special attention to what attracts people to an area and what will inspire them to explore," Case says. But above all, he adds, their goal is to "build a sense of belonging and attachment to the community for residents."
This content was supplied by the advertiser for commercial purposes. It is not written by and does not necessarily reflect the views of Avenue staff.