A newly curated space coming to the heart of Calgary's work-eat-play neighbourhood in the Beltline will offer a unique dining concept sure to create sharable moments for Calgarians. The District at Beltline ("The District") is a redevelopment that includes a new food hall featuring six eateries each conceptualized by renowned Calgary chefs. 
The District has revitalized the former IBM Corporate Park through the food hall and several other restaurant and brewery offerings slated to open this Spring in the shared space between 11th and 12th Ave. S.W. The 5,600 sq. ft. eatery will encourage professionals and residents alike to enjoy the space and sample dishes that include Korean/Mexican fusion, vegan comfort food and much more.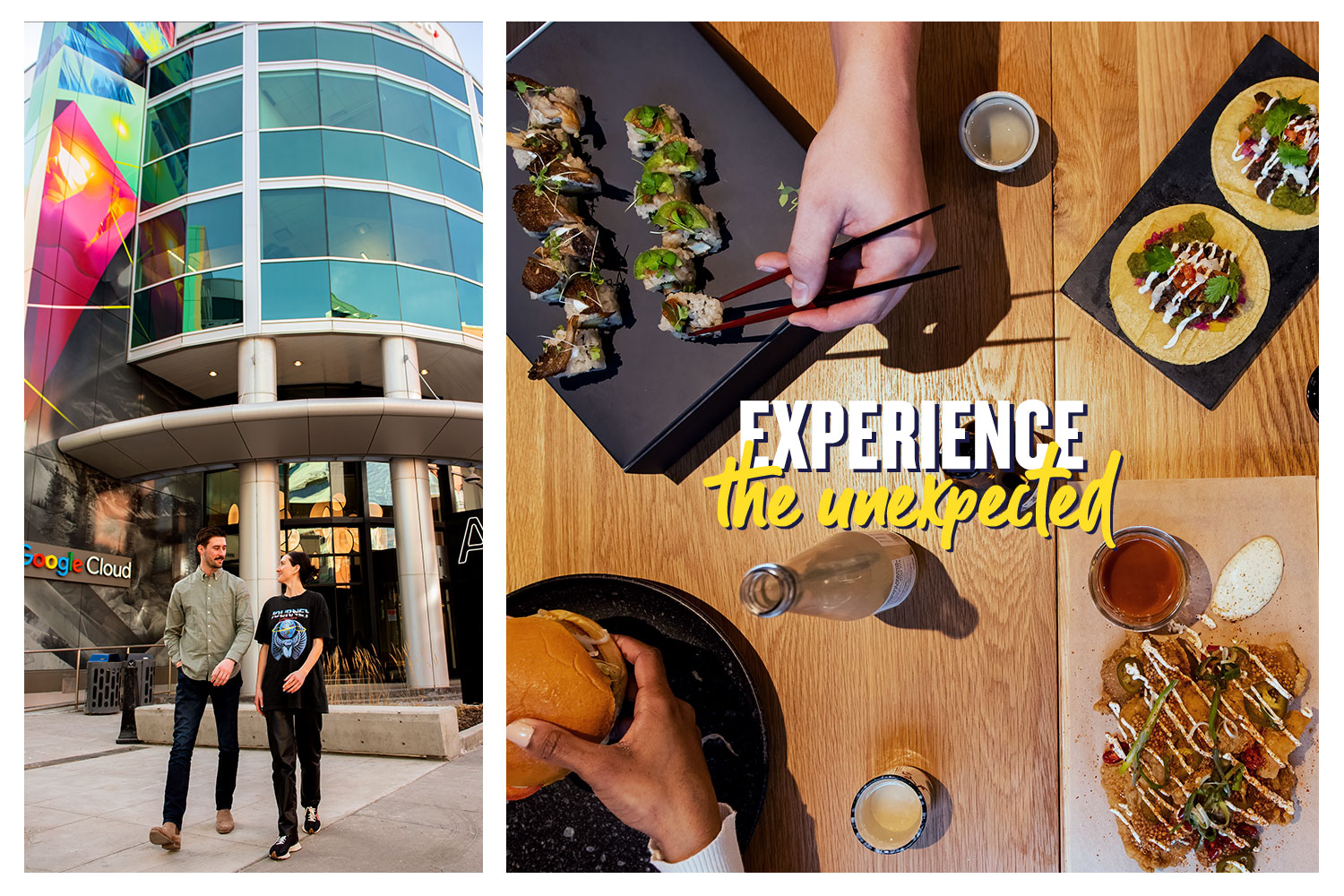 "In mixed developments, main floor retail is typically established to amenitize the overarching development. In this case, we didn't just look at our retail as a service to the surrounding office buildings, but as a service to the whole community," says John Moss, senior vice-president at CBRE Limited, the leasing management group responsible for The District. "The District's one-of-a-kind approach considers the office tenants, but also brings a central community hub and entertainment district to the Beltline that will support both daytime and evening patronage."
Takori by Chef Duncan Ly will bring Asian-Mexican fusion cuisine with a selection of unique dishes like crispy tofu steamed buns, honey butter potato chips and squid ink spaghetti. Inspired by the South Korean Pojangmacha or Pocha––mobile tents set up by vendors for quick bites after work––Takori likewise offers an informal but fun gathering place to eat, drink and relax after work.
Greenfish by Chef Darren MacLean offers the first fully sustainable, quick-service sushi restaurant in Canada with compostable takeaway containers and plastic-free packaging. The goal is to make choosing sustainability as easy as choosing a delicious dish from the half vegan and gluten-free options.
Oishidesu Ramen Shack by Chef Arce Morales was inspired after his travels to Japan, where he both fell in love with Japanese cuisine and the popular ramen shacks. Familiar ramen dishes are presented in creative new ways like the Samurai ramen with braised beef and bamboo shoots. Chef Morales will also offer other Japanese inspired fare, such as his popular poke with Ahi tuna, fresh veggies, fruits and microgreens.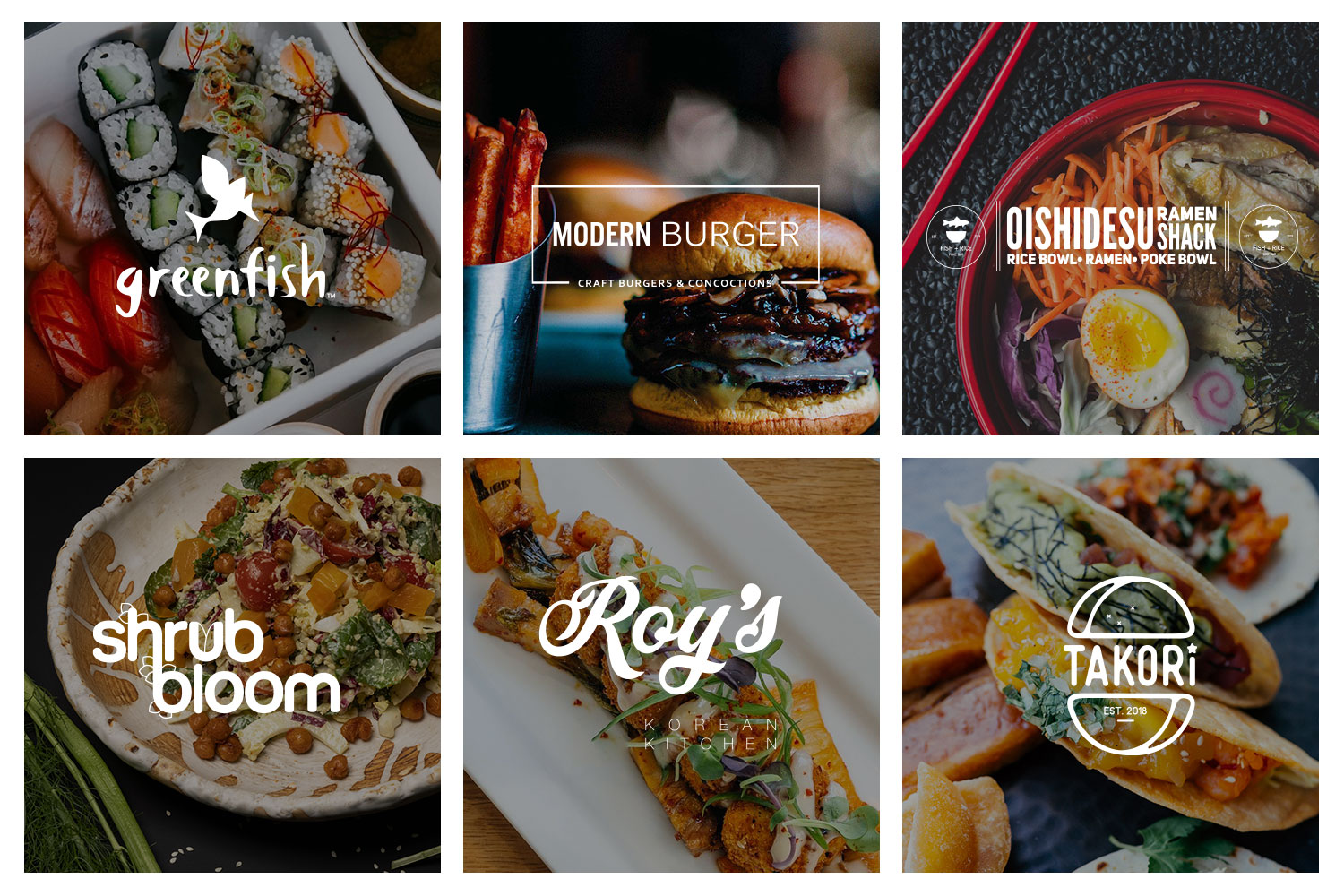 Roy's Korean Kitchen by Chef Roy Oh brings comfort foods from Korea, but with a Canadian twist. Having grown up eating burgers and pizza alongside kimchi stew and Korean barbecue, Chef Oh brings that same union through dishes like crispy tofu with maple sesame kimchi and spicy salmon tacos.
Shrub Bloom by Chef Adam Ryan takes familiar vegan dishes and concepts and gives them  a unique spin. Try the vegan grilled cheese with spicy cashew "cheese" or the stewed tomato gnocchi with red fox fungi mushrooms. There's comfort and flavour in every veggie-forward option. Chef Ryan will also be opening another vegan restaurant at The District called Fire and Flora.
Modern Burger by Stephen Deere brings mouth-watering ingredients sourced from local ranchers, farmers, bakers and food purveyors. Take a bite from a classic burger, a wagyu beef hotdog or indulge in an ice cream milkshake.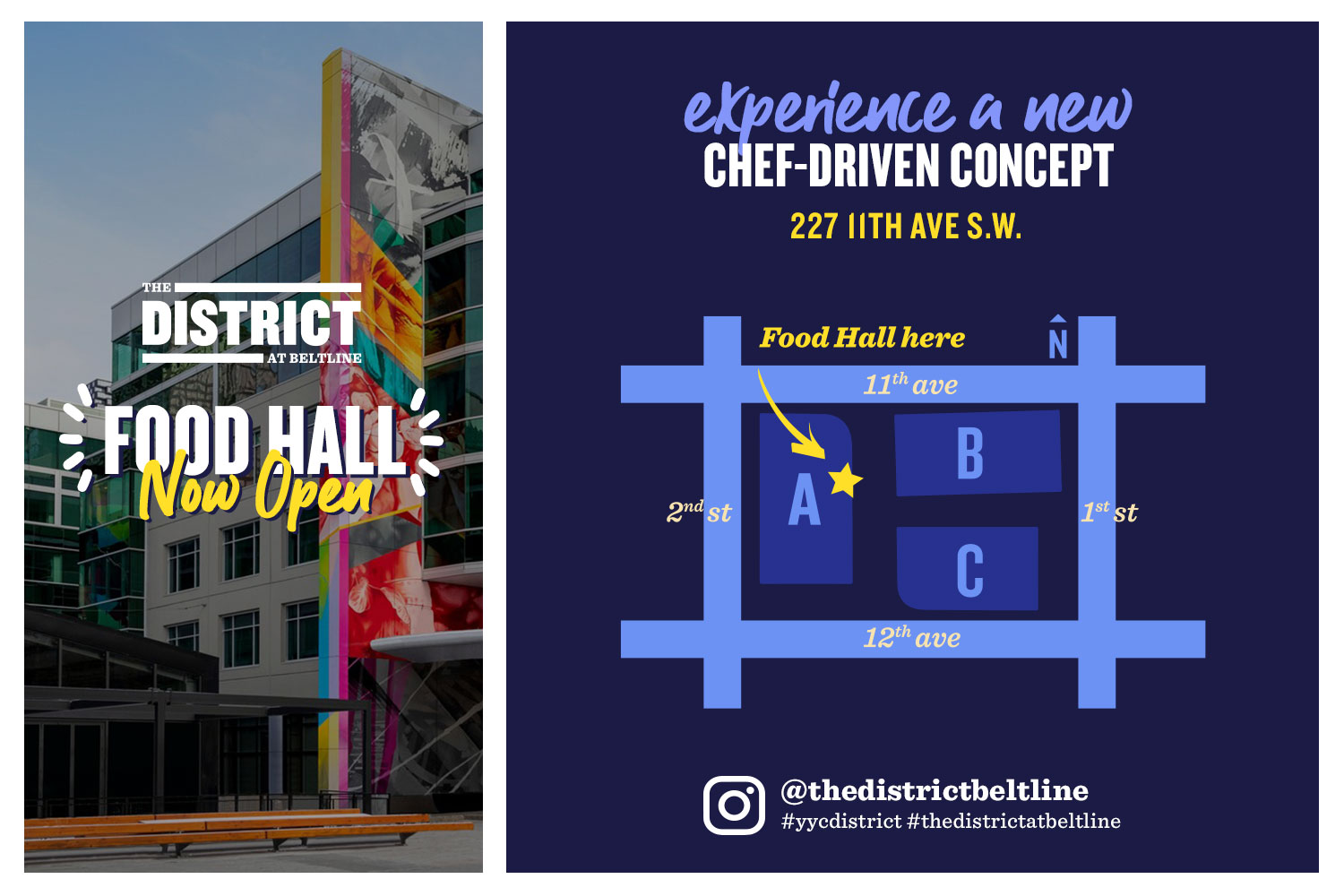 This one-of-a-kind, multi-cultural dining experience is now open, so come by and experience one, two or six delicious dishes for yourself.
The District will open March 3, seven days a week from 11 a.m. to 8 p.m. For more information, visit thedistrictbeltline.com.
This content was produced for the advertiser by RedPoint Media for commercial purposes. It is not written by and does not necessarily reflect the views of Avenue staff.